25 Tropic Thunder Quotes That Will Make You Laugh
These Tropic Thunder quotes will lift your mood and make you want to rewatch the film.
Is Tropic Thunder worth watching? It is a hilarious satire, and stars comic geniuses Jack Black, Ben Stiller (who also directed the film), and Robert Downey Jr., so for that reason alone I would say yes!
You may also enjoy our article on:
According to Google Trends, searches for "Tropic Thunder quotes" have remained steady over the past five years, indicating continued interest and nostalgia for the movie's humor.
The fact that people are still seeking out and sharing Tropic Thunder quotes online suggests that the movie's appeal is not limited to its initial release.
The film, which is set in Vietnam, but filmed in Hawaii, portrays what happens when a group of prima donna actors attempts to make a War film.
Fun fact, it was the largest production filmed on the island of Kaua'i!
The plot thickens when the trio of 'actors' is dropped in the middle of a jungle, by their director.
They have to rely on their acting skills in order to survive the real danger they face.
It parodies several famous war films.
In addition to the lead cast, it features many other star-studded appearances by actors like Tom Cruise, Nick Nolte, Matthew McConaughey, and Bill Hader.
The three main characters even had fake websites that credited their fictional films.
Keep reading through these Tropic Thunder quotes if you are still on the fence, and I am sure you will laugh so hard you have to go watch the film.
Don't forget to also check out these BoJack Horseman quotes from the hit Netflix show.
Check out our most popular quote article, a list of short inspirational quotes for daily inspiration.
If you enjoy this collection, check out our inspirational quotes category page.
Funny Tropic Thunder Quotes
Rotten Tomatoes, a popular review aggregator website, gives Tropic Thunder an 82% approval rating based on over 250 reviews.
The movie's critical acclaim and positive reception by audiences suggest that Tropic Thunder quotes stood the test of time.
1. "I am playing a role within a role within a role so I know who I am." — Kirk Lazarus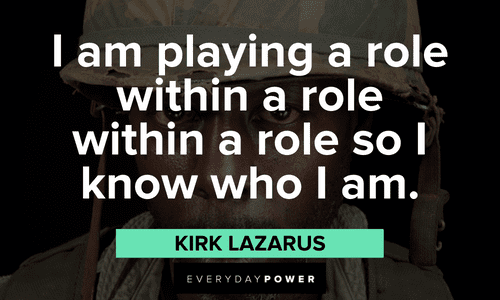 You will also enjoy our article on Top Gun quotes.
2. "The universe… is talking to us right now. You just gotta listen." — Les Grossman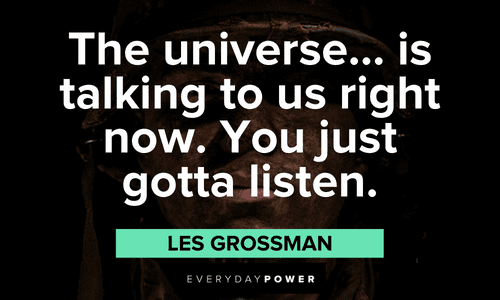 You will also enjoy our article on priority quotes.
3. "I don't get out of my character until the DVD is done." — Kirk Lazarus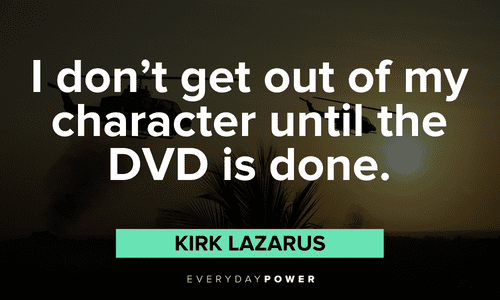 You will also enjoy our article on rain man quotes.
4. "I was wrong! Blow the bridge! Blow the f**k**g bridge." — Tugg Speedman
You will also enjoy our article on Gravity Falls quotes.
5. "I just corn syrup you guys! Blood flavored… corn syrup." — Tugg Speedman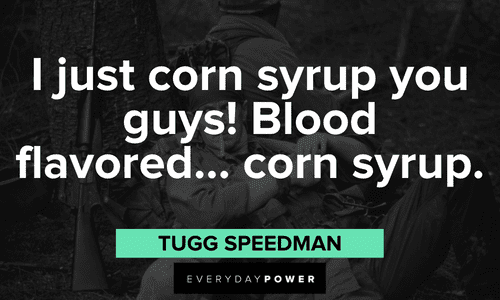 6. "I don't read the script. The script reads me." — Kirk Lazarus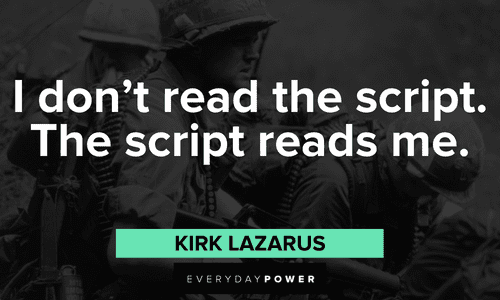 7. "Or are you a dude who has no idea what dude he is and claims to know what dude he is? " — Tugg Speedman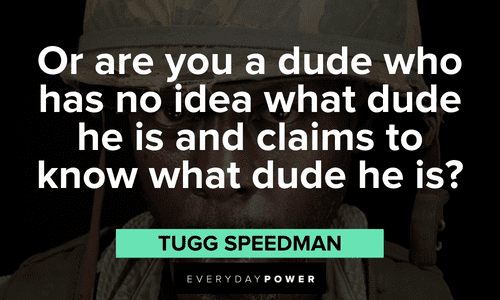 8. "What do you mean? Writers don't always tell the truth." — Four Leaf Tayback
9. "I'm like a child who plays with himself whenever he's scared." — Kirk Lazarus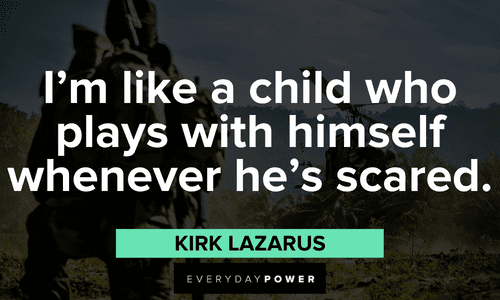 10. "What, Alpa Chino? He's like ten girls deep, 24/7." — Kevin Sandusky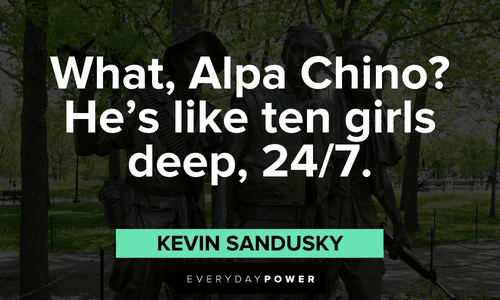 You will also enjoy our article on acting quotes.
Tropic Thunder quotes about being emotional
Box Office Mojo reports that Tropic Thunder grossed over $188 million worldwide upon its release in 2008, making it one of the highest-grossing R-rated comedies ever.
The financial success is a testament to Tropic Thunder quotes appeal to the fans.
11. "I can see why you're upset, but I have to deal with a bunch of divas. Tugg can't be emotional. He's not able to cry." — Damien Cockburn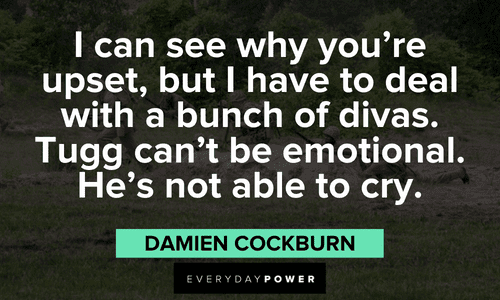 12. Kirk Lazarus: "Are we finishing this scene or does everyone have to be emotional?"
Damien Cockburn: "We're not cutting the scene. We all have to be emotional."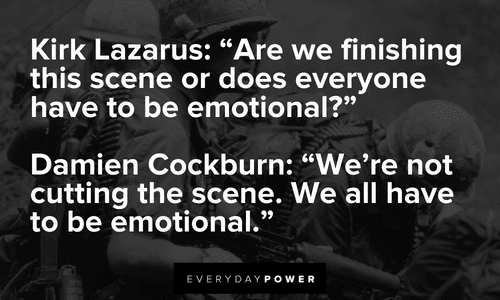 You will also enjoy our article on Matthew McConaughey quotes.
13. "You know what the problem is, Damien. Not to get into his business, but if I'm feeling emotional, does Osiris have to be emotional too?" — Tugg Speedman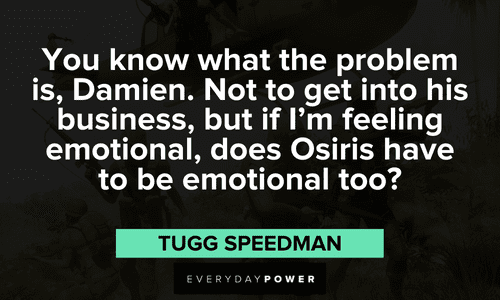 14. Tugg Speedman: "You can be emotional too."
Kirk Lazarus: "Thanks for the permission."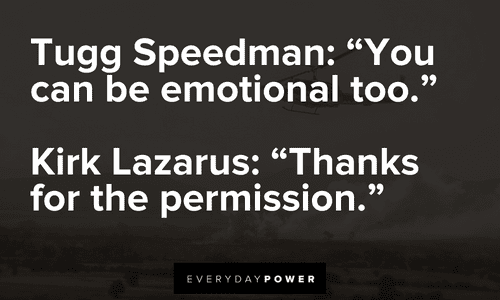 15. "It went badly. Lazarus got emotional. When he was crying, he started spitting, which wasn't needed because the script didn't call for it." — Tugg Speedman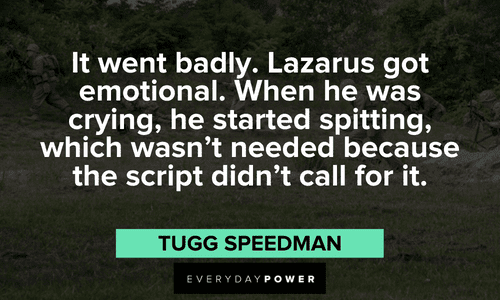 16. "You need to man up. It doesn't matter if Lazarus is more talented than you. If he's being emotional, you be even more emotional. Didn't you have a sick dog when you were younger? You should think of that while you're acting." — Rick Peck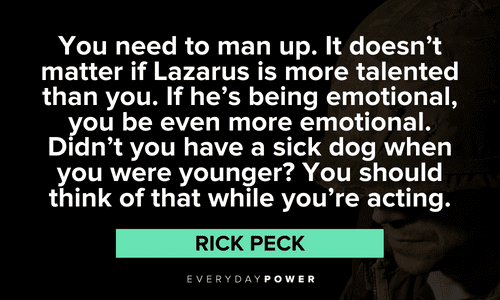 17. "An actor's job is no different from anybody else's job. I just have what it takes to show emotion." — Kirk Lazarus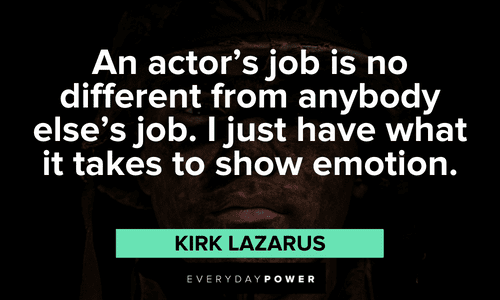 Tropic Thunder quotes about filming a movie and being an actor
18. Tugg Speedman: "Are you trying to mess up these takes?"
Kirk Lazarus: "There ain't gonna be no takes. There ain't gonna be no movie."
Tugg Speedman: "Are you sure about that?"
Kirk Lazarus: "Yes, I am."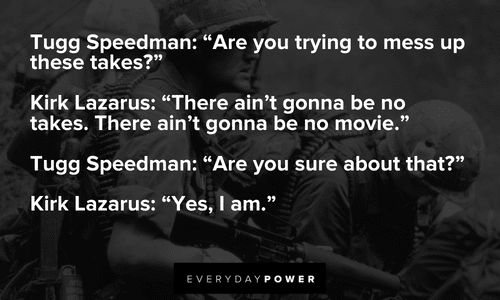 19. Kevin Sandusky: "Any movie the director backs is usually a big hit, but every PlayStation has a blue-ray DVD player in it."
Kirk Lazarus: "Who are you talking to?"
Kevin Sandusky: "I thought I was talking to the person listening to me."
20. "That actor that played the part of Rain Man looked like something was wrong with him, but there wasn't anything wrong. He was able to do different things, but he didn't have anything wrong with him. When Tom Hanks played Forrest Gump, he was considered slow and perhaps mentally ill. He had braces on his legs, but he was able to get along with the President and won a competition. He wasn't mentally unstable. The character Peter Sellers played in the movie, Being There, was immature, but he didn't have anything mentally wrong with him. You should never act completely crazy. If you don't believe that, talk to Sean Penn. In the movie, I Am Sam, he went completely crazy and didn't get the Oscar." — Kirk Lazarus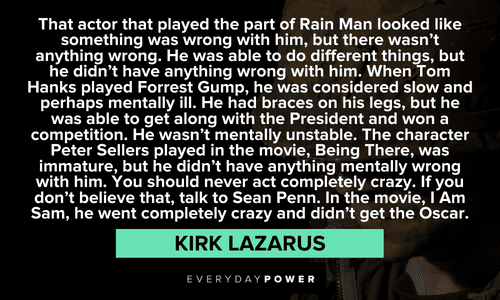 21. "As for why I'm in this movie, maybe I just knew I had to represent. Cause they one good part in this movie for a Black man and they gave it to Crocodile Dundee." — Alpa Chino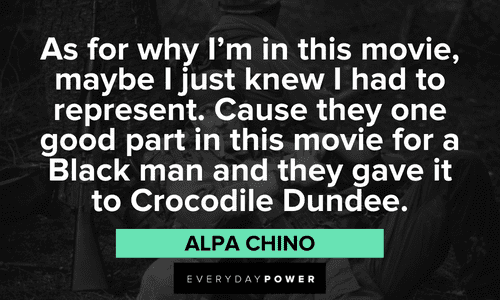 22. "I know who I am! I'm a dude playing the dude, disguised as another dude!" — Kirk Lazarus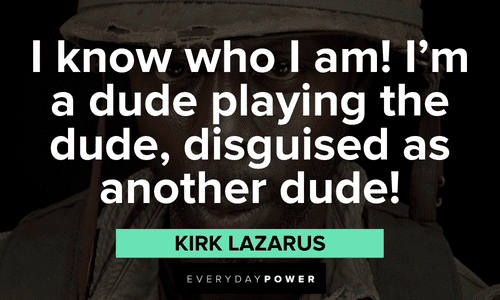 23. "This is insane. Are you really going to abandon this movie? We're supposed to be a unit!" — Tugg Speedman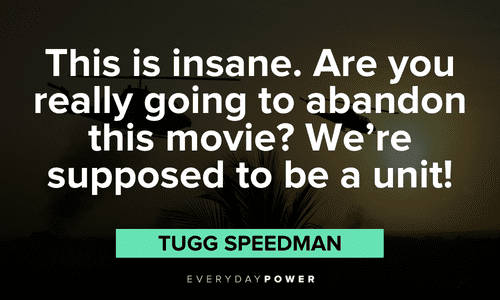 24. "Don't take this personally, Kirk. I know you're a big star, but I have done more movies like this than you have. I think I can tell when I see a fake head. The blood you guys think you see is fake. The corn syrup tastes like blood. It's all pretend. This is an old trick Hollywood has been using in the movie business." — Tugg Speedman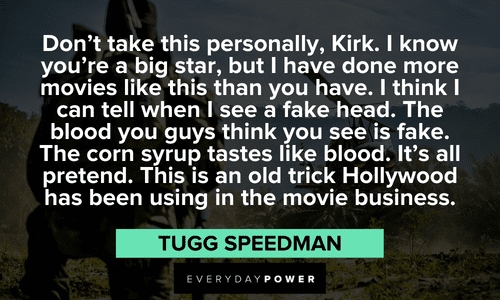 Tropic Thunder quotes about and from people of Hollywood
25. "I want to admit something to everyone. People keep insulting me. They have the nerve to say that my project was just about bodily functions. That project was about family togetherness. F*** You! Don't try to do the things I do." — Jeff Portnoy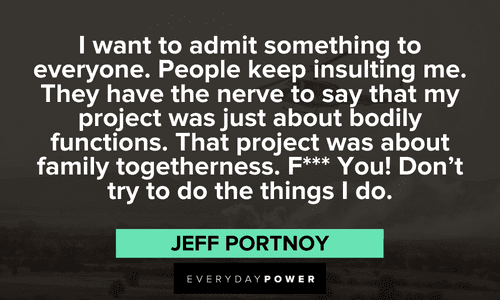 Which of these Tropic Thunder quotes is your favorite?
The film received mixed reviews, with some critics applauding the characters, story, and effort put into the faux trailers.
Most critics praised the performances of Stiller, Downey, Black, and Cruise.
However, Vaildaily.com does refer to the movie as' painfully unfunny.'
There were a few other parts of the film that did receive negative feedback, including Downey in black face and the way the film depicted the mentally handicapped.
Despite the controversy, the film earned $26 million during its North American opening weekend and clung to the number one spot for three weeks.
It also grossed more than $188 million worldwide.
Downey was nominated for several awards including an Academy Award, a BAFTA Award, and a Screen Actors Guild Award.
Cruise and Downey also received a nomination for the Golden Globe Award.
Did you enjoy reading these Tropic Thunder quotes and lines?
Let us know what you thought of Tropic Thunder in the comment section below, and if you haven't seen it yet, you might want to give it a chance!
If you enjoyed this collection, check out these happy birthday quotes for a friend.