25 Shakespeare Love Quotes From His Greatest Plays
The prolific playwright had a lot to say about love, as you will see with these Shakespeare love quotes from some of his most notable plays.
While "love is blind" may have originated from Chaucer's Merchant's Tale, it gained popularity as a Shakespeare quote.
It was one of his favorite lines and appeared in Two Gentleman of Verona, Henry V, and The Merchant of Venice.
"Love looks not with the eyes, but with the mind, and therefore is wing'd cupid painted blind," from A Midsummer's Night Dream is one of my favorite renditions of this line!
Antony and Cleopatra is one of Shakespeare's memorable romances, but the play has also been called a history play (though historical accounts were not strictly adhered to), a tragedy, a comedy, and a problem play.
It wouldn't be an article about Shakespeare's love quotes without some words from Romeo and Juliet or Petruchio and Katherine from The Taming of the Shrew.
(Check out these quotes from Patrick and Katherine in 10 Things I Hate About You!)
Enjoy these Shakespeare love quotes from your favorite play and keep reading to learn more about his own love story!
If you like this article, we suggest you explore our most popular quotes article, a list of short inspirational quotes for daily encouragement.
Check out more inspirational quotes on our motivational quotes category page.
Shakespeare Love Quotes from Antony & Cleopatra
1. "If it be love indeed, tell me how much." — Cleopatra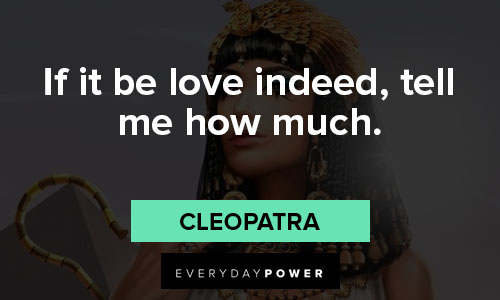 2. "The heart of brothers govern in our loves." — Antony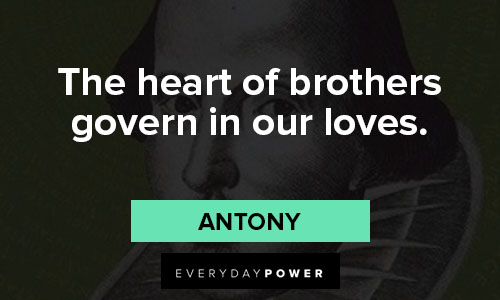 You will also enjoy our article on Cleopatra quotes.
3. "Sir, you and I have loved, but there's not it." — Cleopatra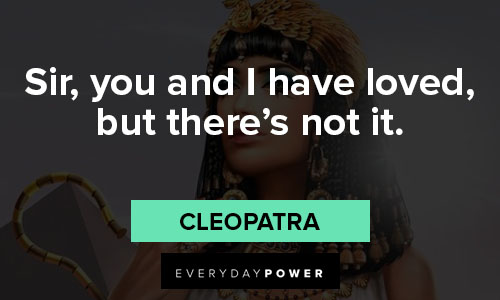 4. "There's beggary in love that can be reckoned." — Antony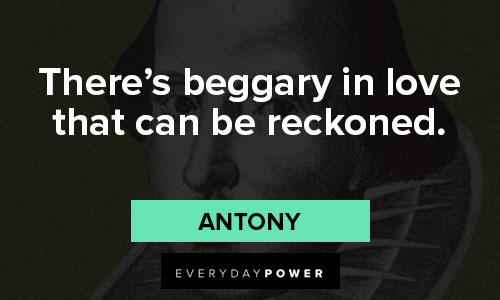 5. "My heart was to thy rudder tied by th' strings." — Antony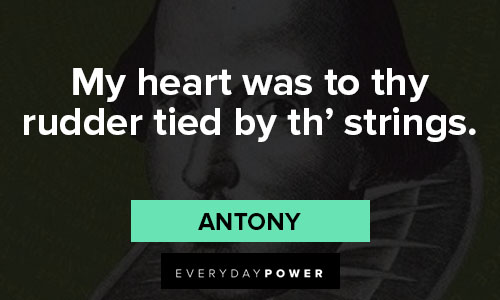 6. "In praising Antony, I have dispraised Caesar." — Cleopatra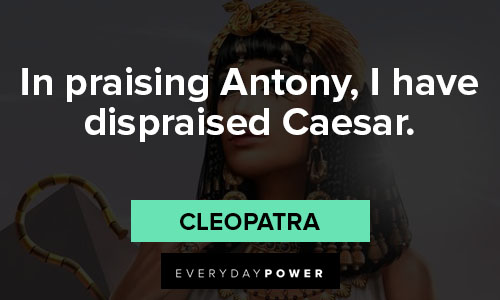 7. "Why did he marry Fulvia, and not love her?" — Cleopatra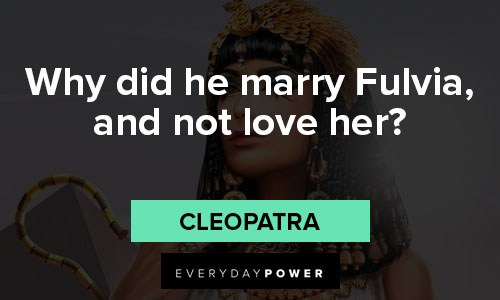 8. "The armourer of my heart. False, false. This, this!" — Antony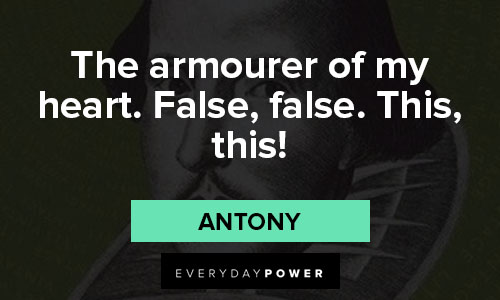 9. "The stroke of death is as a lovers pinch, which hurts and is desired." — Cleopatra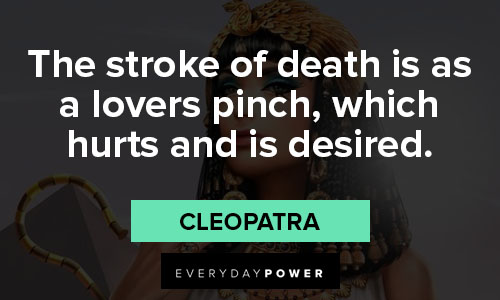 10. "I made these wars for Egypt, and the Queen, whose heart I thought I had, for she had mine." — Antony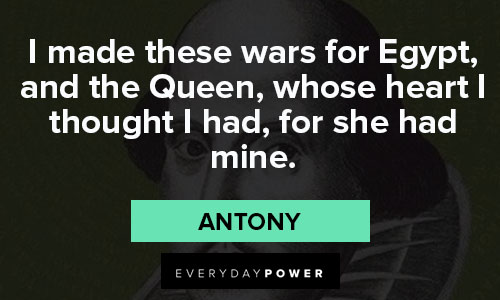 Shakespeare Love Quotes from Romeo & Juliet
11. "Under loves heavy burden do I sink." — Romeo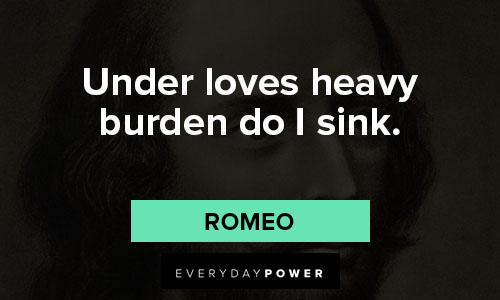 12. "Out of her favour, where I am in love." — Romeo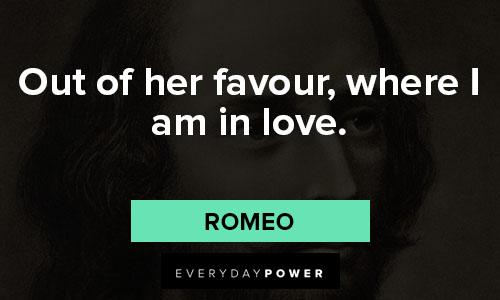 13. "Love is a smoke and is made with the fume of sighs" — Romeo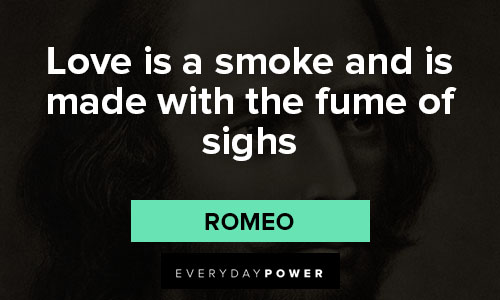 14. "Did my heart love till now… For I ne'er saw true beauty till this night" — Romeo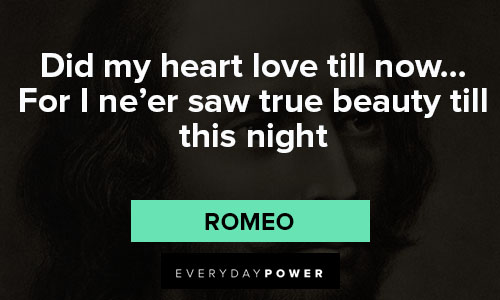 15. "Parting is such sweet sorrow, that I shall say good night till it be morrow." — Juliet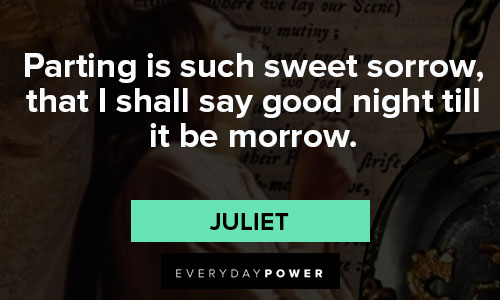 16. "But my true love is grown to such excess I cannot sum up sum of half my wealth." — Juliet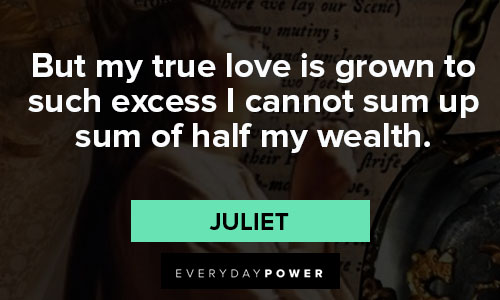 17. "This bud of love by summer's ripening breath, May prove a beauteous flower when next we meet." — Juliet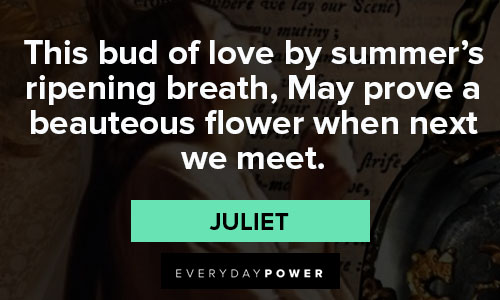 18. "Come what sorrow can, It cannot countervail the exchange of joy, That one short minute gives me in her sight" — Romeo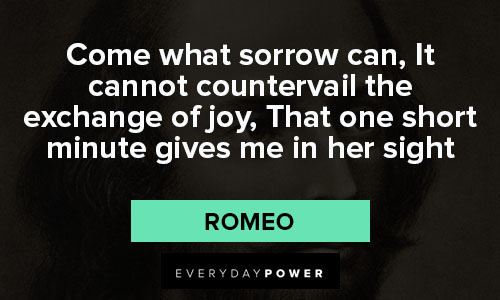 19. "See how she leans her cheek upon her hand, O that I were a glove upon that hand that I might touch that cheek!" — Romeo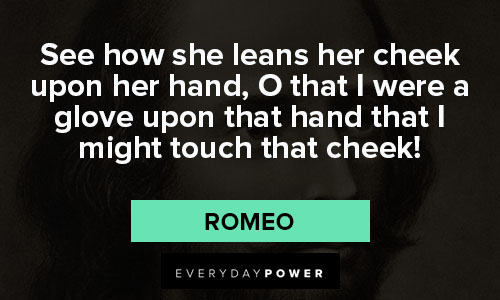 20. "My bounty is as boundless as the sea, My love as deep; the more I give to thee, The more I have, for both are infinite." — Juliet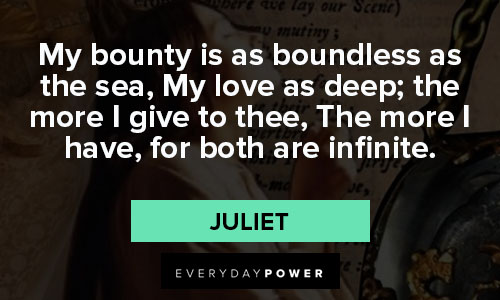 Shakespeare Love Quotes from Orsino and Viola
21. "I'll do my best to woo your lady." — Viola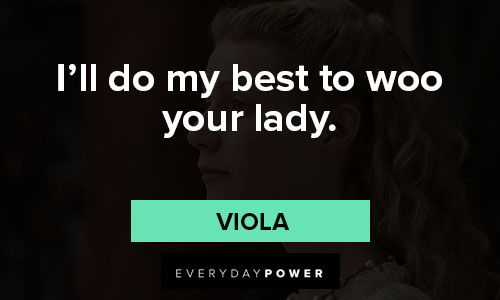 22. "If music be the food of love, play on." — Orsino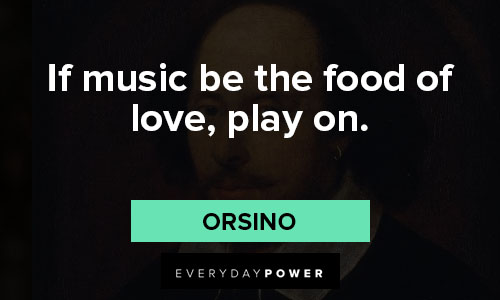 23. "Most radiant, exquisite, and unmatchable beauty." — Viola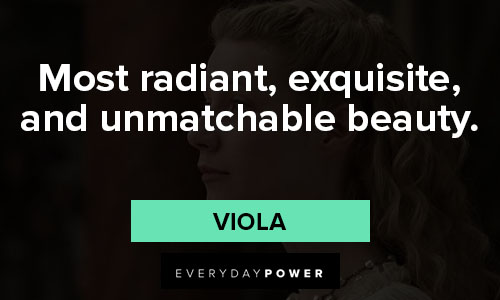 24. "Then let thy love be younger than thyself, Or thy affection cannot hold the bent." — Orsino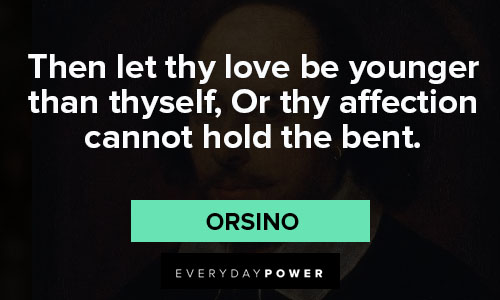 25. "Poor lady, she were better love a dream. Disguise, I see thou art a wickedness." — Viola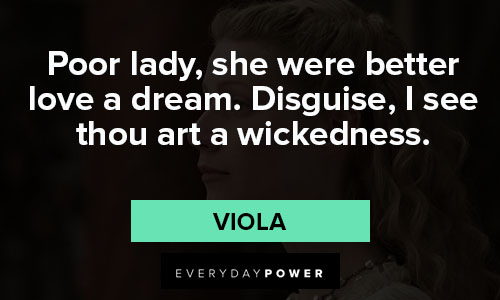 Shakespeare's own love story
There is not much that is known about Shakespeare's personal love story.
The facts are that he was married to Anne Hathaway in 1852.
He was 18 and she was 26, and pregnant.
They remained married until he died in 1616.
The couple got married quickly and their first child was born about six months later.
A little less than two years later the couple had twins.
However, Shakespeare lived apart from his wife and children for many years.
This had led to many questions about whether the man who wrote so passionately about love, loved his wife.
There has also been speculation that the woman in his later sonnets is not his wife.
His earlier sonnets also speak about his love for a man, leading some to question his sexuality.
With a lack of evidence and the fact that we are not sure that the sonnets are autobiographical, we may never know the love story of the famous poet.
Share some of your favorite Shakespeare love quotes and sayings with us in the comment section below.
And if you liked these quotes, you might want to check out our Canterbury Tales quotes!