Selena Gomez Quotes That Will Make You Stop and Look at Her Now
April 2, 2020 7:00 AM EST
Listen to article
4 minutes
Check out these Selena Gomez quotes about life, love, and beauty.
Have you been wondering what happened to Selena Gomez?
She had a rough couple of years, what with her public breakups, Lupus diagnosis, and kidney transplant.
Thankfully, she has a great relationship with her family, and her kidney came from her best friend!
Support like that can keep you from truly losing yourself!
She is certainly hitting the world by storm with her new music!
"Lose You to Love Me" and "Look at Her Now", were both great songs.
Hopefully, she has a lot more where those came from especially considering that she is only 26 years old!
It is so "Rare" that one so young can sound so wise!
Below is our collection of inspirational, wise, and thoughtful Selena Gomez quotes and lyrics.
Also check out these Stevie Wonder quotes from the iconic soul artist.
Check out our most popular quote article, a list of short inspirational quotes for daily inspiration.
Check out our inspirational quotes category page for more inspirational life quotes.
Selena Gomez quotes about life
1. "You have every right to a beautiful life." — Selena Gomez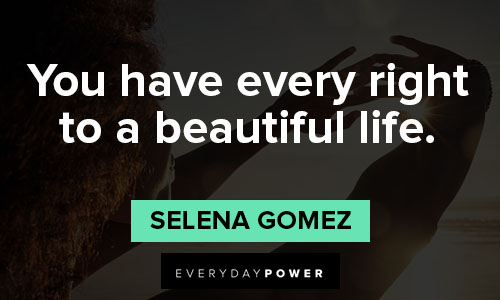 2. "People are put into your life for seasons, for different reasons, and to teach you lessons." — Selena Gomez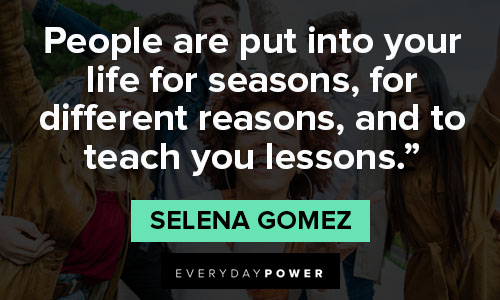 3. "I'd love to do my own music for sure. I'd love to have a band." — Selena Gomez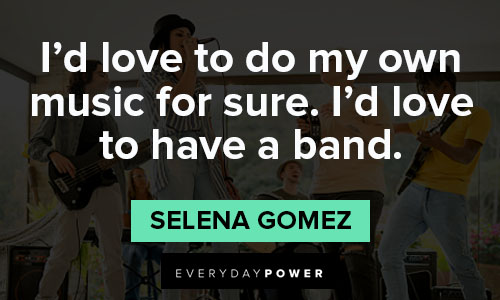 4. "I'm at a place in my life where I know what I deserve and what I don't deserve, so I just want to make sure I can be the best I can be." — Selena Gomez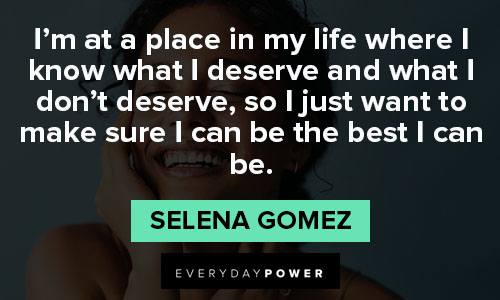 5. "A lot of people would be embarrassed to admit that they were on 'Barney', but I embrace the fact. I just had such a wonderful time doing that show. I learned what a camera and prop is, and all that. I learned my manners too, so I guess that's a good thing!" — Selena Gomez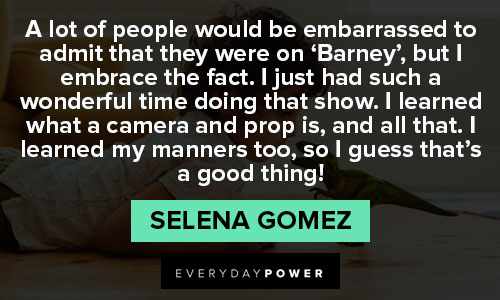 6. "If you have three people in your life that you can trust, you can consider yourself the luckiest person in the whole world." — Selena Gomez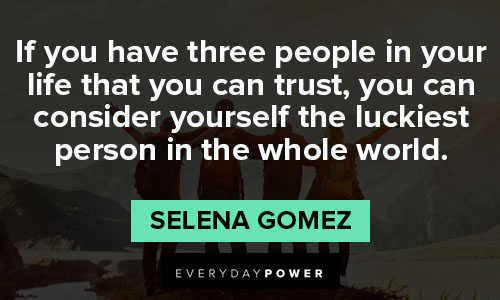 7. "I believe in second chances, but I don't believe in third or fourth chances." — Selena Gomez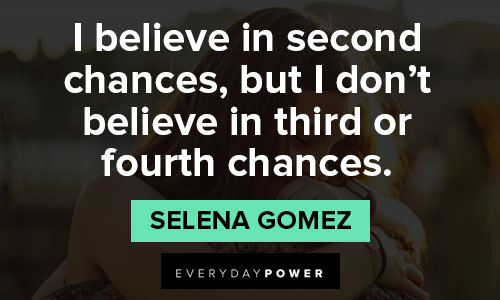 If you're enjoying these quotes, you'll love our collection of second chances quotes that will inspire you to take life by the horns and give that goal another go.
8. "I drive the same car that I've driven since I was 16. That's who I am." — Selena Gomez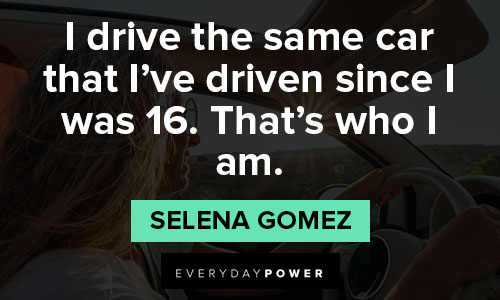 9. "Every day, I start with a workout; I do vocal lessons, I do piano lessons." — Selena Gomez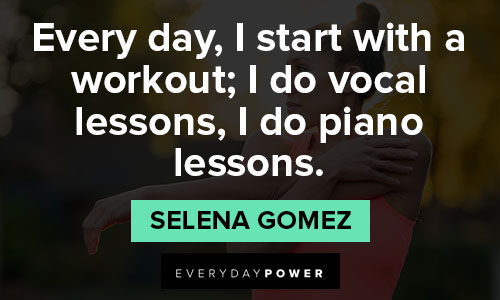 10. "I think it's healthy to gain a perspective on who you are deep down, question yourself, and challenge yourself; it's important to do that." — Selena Gomez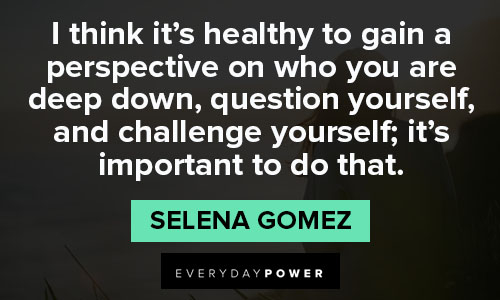 11. "I think life is very, very, very hard, and I've never had anything come super easy to me, no matter what people may think." — Selena Gomez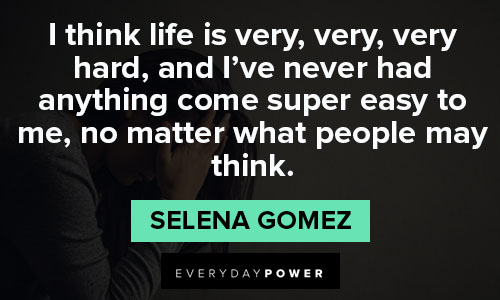 12. "We only have one life, and it is very precious, and there's a lot we can do, and there's a lot we should do." — Selena Gomez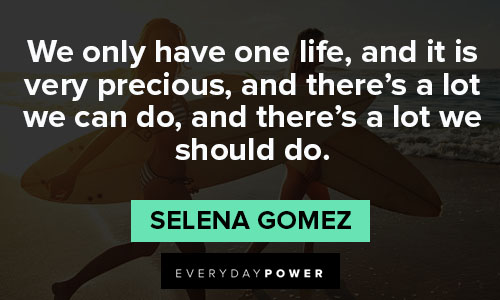 13. "It's all about baby steps and trying to figure out how to slowly, elegantly become an adult." — Selena Gomez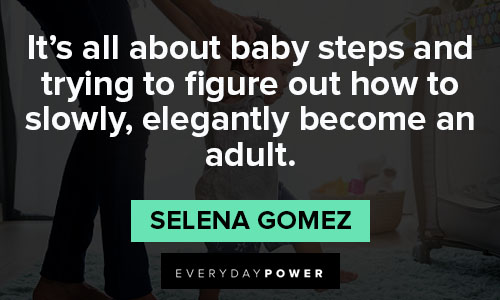 14. "I'm not different from what I put out there. I've been very vulnerable with my fans, and sometimes I say things I shouldn't. But I have to be honest with them. I feel that's a huge part of why I'm where I am." — Selena Gomez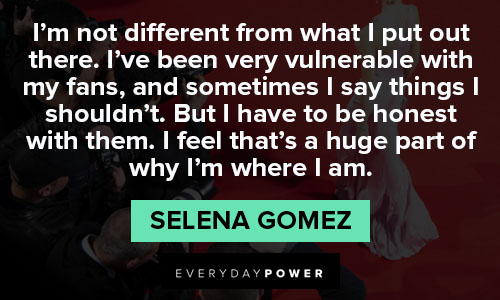 Selena Gomez quotes on love
15. "I want someone honest, someone, who's very sweet to my family and friends, and polite to the other people around me." — Selena Gomez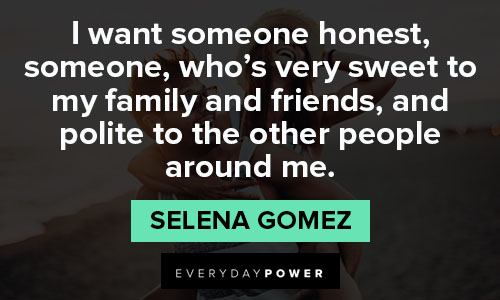 16. "My perfect guy wears converse, is totally laid back, and doesn't worry about being cool." — Selena Gomez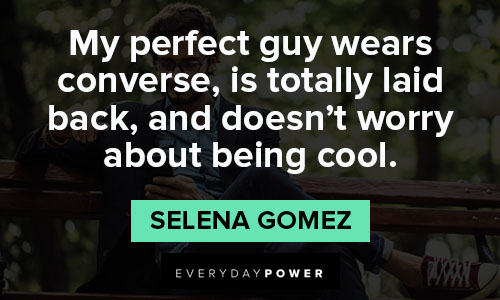 17. "I'm in love with love and totally believe in marriage, but that's not even on my radar right now. I am not putting energy into dating." — Selena Gomez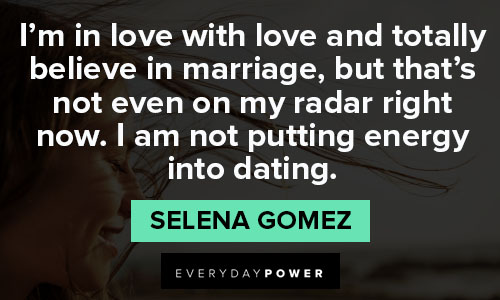 18. "You fall in love, and it completely consumes you." — Selena Gomez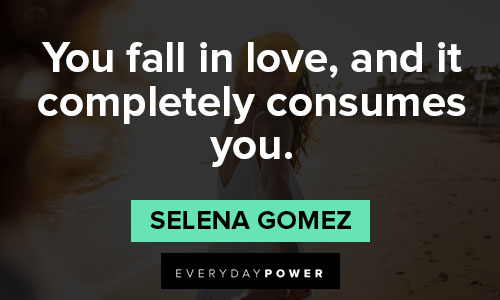 19. "I want someone who can make me laugh and just be normal and understand my lifestyle and how I wanna live it."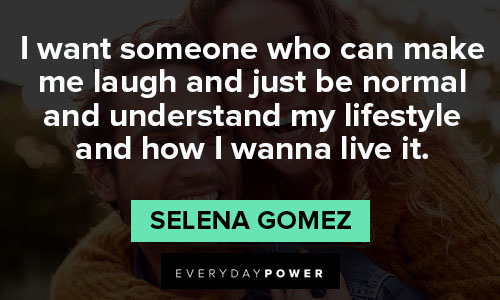 20. "I think love is blind. You don't see it; you don't hear what people are saying or what you're saying. You don't see what you're doing. All you see is the person in front of you. That's it." — Selena Gomez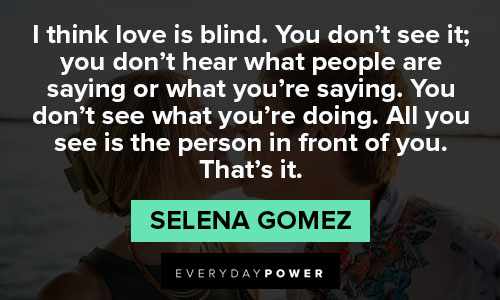 21. "There's a million reasons why I should give you up. But the heart wants what it wants." — Selena Gomez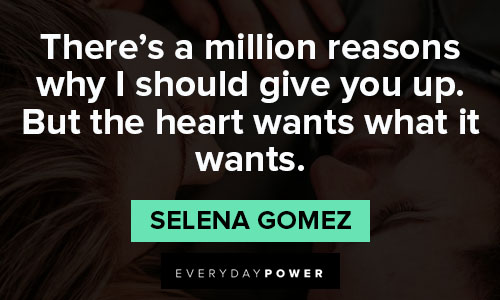 You might also like these inspirational Madonna quotes that will make you love yourself and go for your dreams.
Selena Gomez quotes on beauty
22. "I don't really like dressing up. Some people probably think actresses dress up everywhere they go. I'm in sweatpants half the time with my hair in a ponytail." — Selena Gomez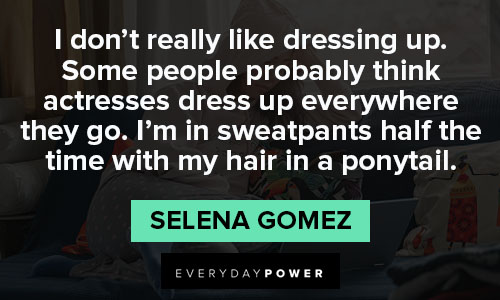 23. "I promise you that each and every one of you is made to be who you are and that's what's so attractive and beautiful." — Selena Gomez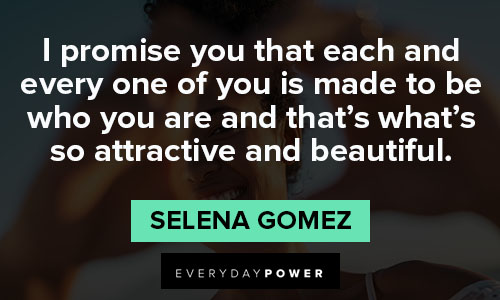 24. "I realize everybody wants what they don't have. But at the end of the day, what you have inside is much more beautiful than what's on the outside!" — Selena Gomez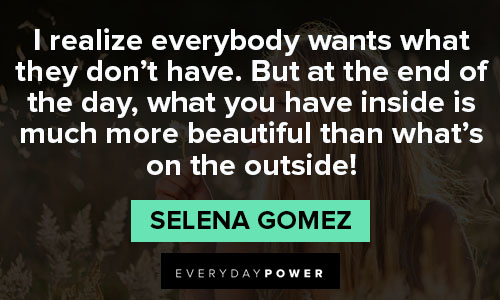 25. "This is a very superficial job. I sit in a chair for two hours and get hair and makeup done and talk about myself in interviews. That's a very vain thing to do. And I do get caught up in it sometimes." — Selena Gomez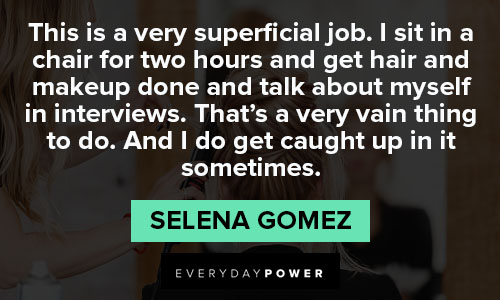 If you're enjoying these quotes, make sure to read our collection of makeup quotes about the power of looking good.
26. "I'm learning that you can be comfortable and still look beautiful." — Selena Gomez
27. "I did gain weight, but I don't care." — Selena Gomez
28. "There's a certain standard women are held to… So many women nowadays are so loud about it. We need to cause a bit of uproar because I've seen it. I've experienced it. It's absurd." — Selena Gomez
Powerful Selena Gomez quotes
29. "I've learned there's power deep down inside yourself, and you can find it when you don't give up on yourself and when you ask for help." — Selena Gomez
30. "If you are able to look yourself in the mirror every day with the decisions that you make, that's where power starts." — Selena Gomez
31. "If you know who you are, it takes all the power away from that negativity. I promise." — Selena Gomez
32. "I feel very empowered and confident and comfortable with where I am." — Selena Gomez
33. "I don't think I took the time to notice how being a woman in my position is really a gift. I want to make sure I utilize all that power." — Selena Gomez
34. "I feel confident. I feel empowered. I feel in control." — Selena Gomez
35. "Whenever you have a goal, whether you want to be a doctor or a singer, people will find a way to bring you down… I always tell people that if you have something you're really passionate about, don't let anyone tell you that you can't do it." — Selena Gomez
36. "I just want to be happy. If that's me just being myself, then I don't really care." — Selena Gomez
37. "It's about being strong, which means being comfortable with who I am… I think women, especially my age, can relate. You're figuring out who you are and there are so many different levels of emotions that you go through. The best is when you feel confident, beautiful, and comfortable with yourself." — Selena Gomez
Don't forget to also read these awesome Ed Sheeran quotes that will put a smile on your face and make your day better.
Inspirational Selena Gomez quotes
38. "I'm going to hang out with people, and I'm going to explore myself, and I'm okay with that." — Selena Gomez
39. "I never really said I want to be a role model. But then when it happened I was so down for it." — Selena Gomez
40. "I feel like I'm just starting, but I think I'd be fine if it all went away." — Selena Gomez
41. "I don't take anything in my personal life too seriously. I have great friends and a solid group of people I love. I feel like everything else will come organically." — Selena Gomez
42. "All the people who knock me down, only inspire me to do better." — Selena Gomez
43. "You can't be afraid of what people are going to say because you're never going to make everyone happy." — Selena Gomez
44. "The older I've gotten, the more I've learned that I have to open myself up to all opportunities. Maybe I'll get burned and not meet the right people, but I won't know until I do it." — Selena Gomez
45. "You are who you surround yourself with. I know that's such a cliche quote, but it's true." — Selena Gomez
46. "Success is nothing if you don't have the right people to share it with; you're just gonna end up lonely." — Selena Gomez
47. "Sometimes you have to lie to yourself to get through the criticism, and then you're in your closet crying. It's been like that for me a couple of times, but I only want to learn from those things." — Selena Gomez
48. "Ever since I was 16, I've had this lower register, what I thought was a very manly voice, and I was insecure about that. But once I started acting more, I realized it was an asset, and I didn't want to force myself to aim for the highest note possible." — Selena Gomez
49. "If you are broken, you do not have to stay broken." — Selena Gomez
50. "I have my moments of insecurity and figuring out what's going on and what I'm supposed to do, but if you don't push yourself, you're not growing, so where do you go?" — Selena Gomez
More Selena Gomez quotes and sayings
51. "There's nothing wrong with a woman being comfortable, confident." – Selena Gomez
52. "Nobody really knows everything, and they can only assume." – Selena Gomez
53. "Every now and then, I deserve to say what I feel." – Selena Gomez
54. "I want people to really be inspired, to believe they can do whatever they want." – Selena Gomez
55. "You want to do what you love, but stuff overshadows it, so it makes it a little harder for people to take me seriously." – Selena Gomez
56. "People are so mean, it's exhausting." – Selena Gomez
57. "Live like there's no tomorrow." – Selena Gómez
58. "Always be yourself, there's no one better!" – Selena Gomez
59. "Everything happens for a reason and, something better will come along for me!" – Selena Gomez
60. "Being yourself is all it takes. If you want to impress someone don't be someone else just be yourself." – Selena Gomez
Also check out these Justin Bieber quotes from the former childhood star.
Which of these Selena Gomez quotes resonated with you best?
It is so strange picturing Selena Gomez as the little girl on "Barney"!
I remember seeing her on there but didn't really start paying attention until my daughter began watching Wizards of Waverly Place.
I remember thinking Selena Gomez just seemed to be such a nice girl.
Once I heard her singing I realized how talented she was.
Her hardships seem to have strengthened her and brought her further along her journey.
I can't wait to see where life takes her next!
Do you have a favorite Selena Gomez quote or song you want to share?
Use the comment section below to let us know your favorite Selena Gomez facts.