20 SZA Quotes About Life and Being Yourself
Get to know the famous R&B star SZA through these SZA quotes.
While professionally known as SZA, the R&B singer's name is Solána Imani Rowe.
Her stage name is a combination of influences from RZA, the word savior or sovereign, Zig-Zag, and Allah.
Rowe grew up attending a Muslim prep school.
After the September 11th attacks she was bullied in middle school when wearing her hijab.
However, she still connects with and respects the religion.
She attended several colleges before dropping out, working odd jobs to make money, and eventually succeeding in a music career.
Her debut album hit number three on the US Billboard 200 in 2017.
The album then made Rolling Stone's 500 Greatest Albums of All Time list.
She recently released a deluxe version of the album to celebrate its 5th anniversary, which included seven unreleased songs.
Her music has been influence by many past and present stars such as Ella Fitzgerald, Lauryn Hill, Red Hot Chili Peppers, Macy Gray, Wu, Nas, and Mellah, among others.
In 2022, SZA, Usher, and Mariah Carey are scheduled to the headliners at the Global Citizen Festival.
To learn more about SZA, take a look at the SZA quotes.
Check out our most popular quote article, a list of short inspirational quotes for daily inspiration.
If you enjoy this collection, check out our inspirational quotes category page.
SZA quotes about life
See what makes SZA who she is with these quotes below. Do any of the quotes stand out to you?
1. "I don't want to speak negativity into existence." ― SZA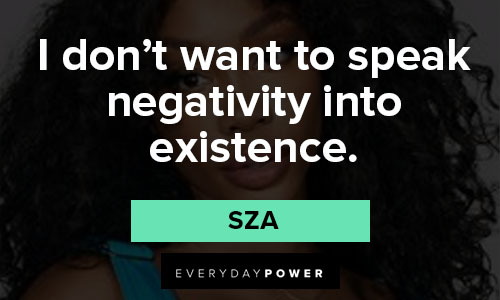 2. "It's interesting to all of a sudden be considered valuable." ― SZA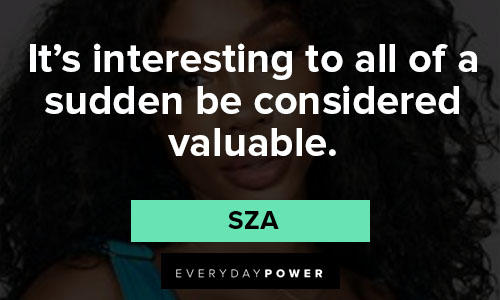 You will also enjoy our article on Monty Python and the Holy Grail quotes.
3. "I'm very into details, so I watch movies just for the details." ― SZA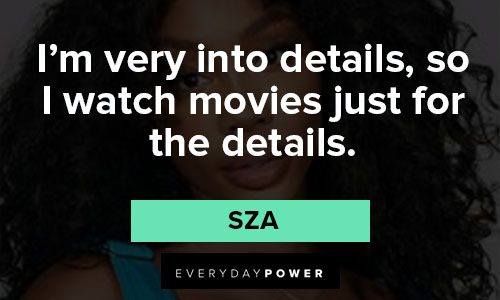 4. "I have an abundant amount of love in my life, and I'm grateful for that." ― SZA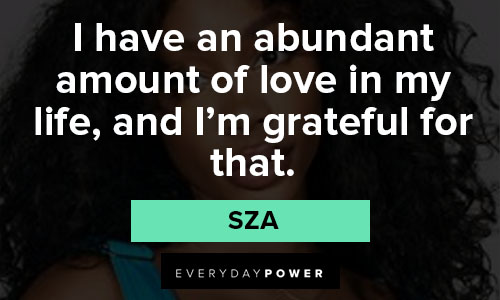 5. "We're changing little girls' lives across the world, and we didn't even know what we were doing when we started." ― SZA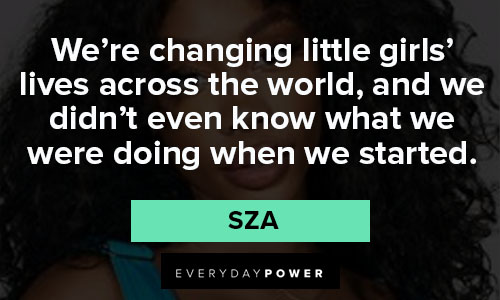 6. "I definitely get inspiration from the 'gram. I mean, Instagram is Google, essentially. I love looking at pictures of beautiful women." ― SZA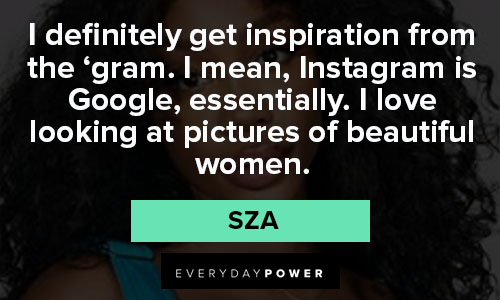 7. "I don't feel ashamed to be loud, which is an argument I've had with lots of men, who thought I was too sassy and unladylike." ― SZA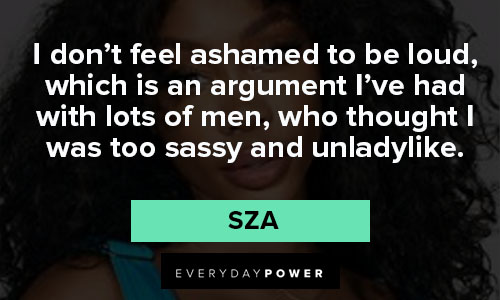 8. "I don't have any control over what actually happens except for that I have full control over my will for myself, my intention, and why I'm there. That's all that matters." ― SZA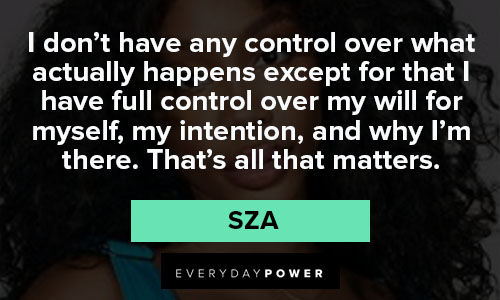 9. "As long as you're being honest and there's intention in what you're doing, then I think that energy permeates your field and becomes like a homing signal for other people with like energies." ― SZA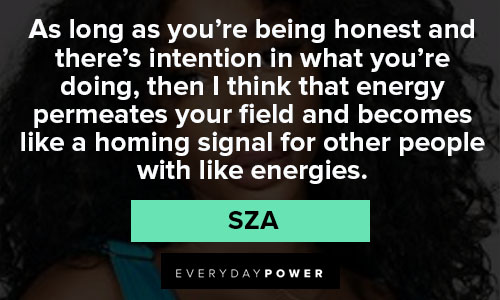 10. "I don't think I'm inherently feminist. I think the universe wants me to be feminist, and I think I resonate with that. I think it just chose me to be this female energy… thing. And I'm very drawn to female energy, but I don't really have any prerequisites in feminism. I just roll with it." ― SZA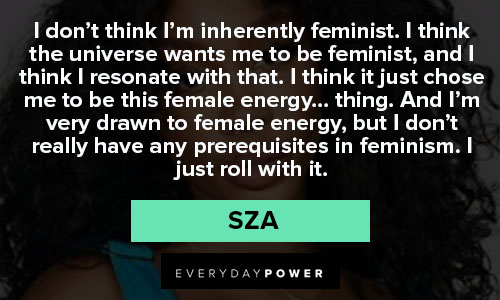 SZA quotes on knowing yourself
It is always important to know yourself, before you can even like yourself. Check out some of these SZA quotes where she is vulnerable and honest.
11. "I make bad decisions frequently. They're fun." ― SZA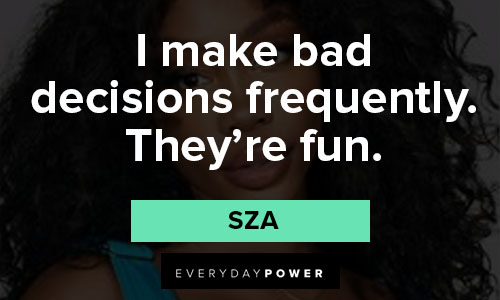 12. "My anxiety stems from my lack of control no matter what." ― SZA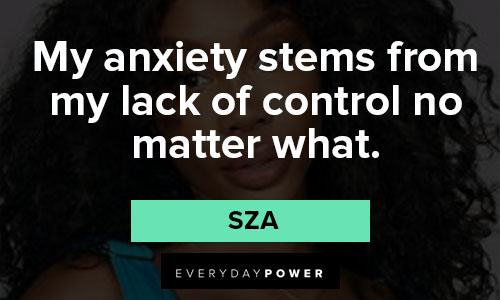 13. "I want to excel at something, to follow through, to not be afraid." ― SZA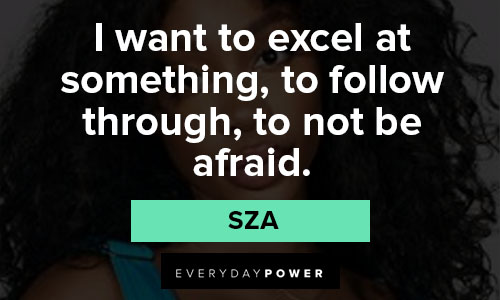 14. "You can take care of your body, and it will low-key show you respect in turn." ― SZA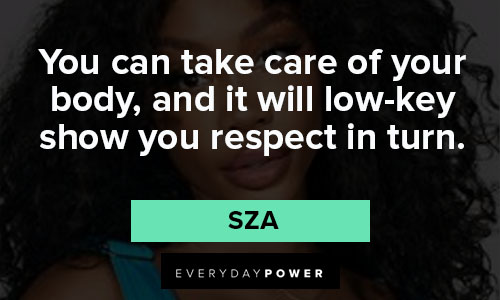 15. "It starts with trusting yourself, even if people are telling you you're too young to trust yourself." ― SZA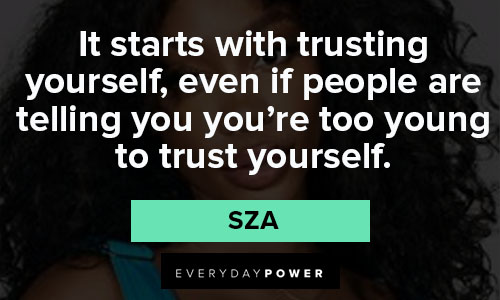 16. "Every day, I grapple between 'I'm going to get married' and 'I'm going to spend the rest of my life alone with a poodle.'" ― SZA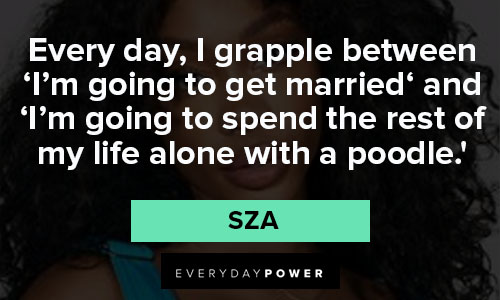 17. "I love empowering women. I think it's crazy: if you ever try to belittle women, you're playing yourself – I ride with whoever rides with me." ― SZA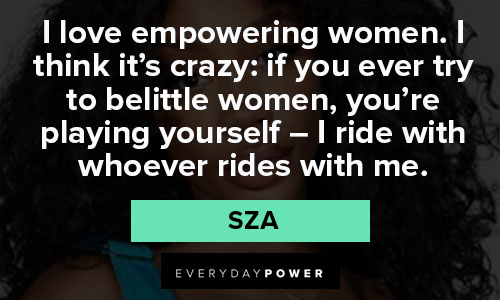 18. "I just think I have too much anxiety to listen to music. Sometimes it feels like noise, and sometimes it's so affecting that I can't recover from it." ― SZA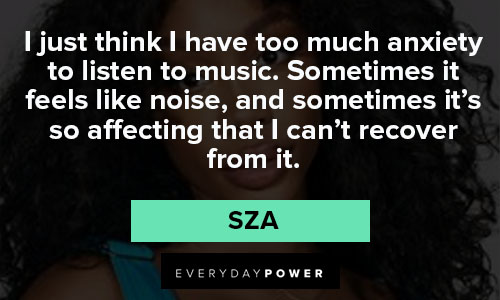 19. "I've been known to wear pajamas onstage for the sole reason of wanting to make sure I'm free enough to execute new things vocally onstage and give my best performance possible." ― SZA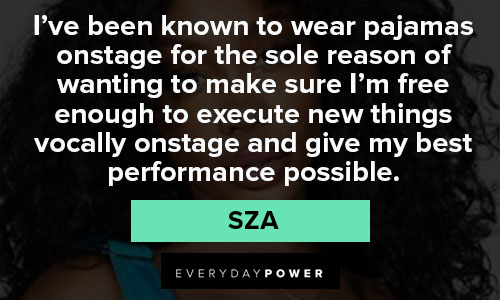 20. "In the real world, I kind of, like, thrived a little bit. The things that were awkward about me at school, like being hyper-passionate… I realized, 'Oh, I'm my own person, and I have my own idiosyncrasies and nuances that I don't mind.'" ― SZA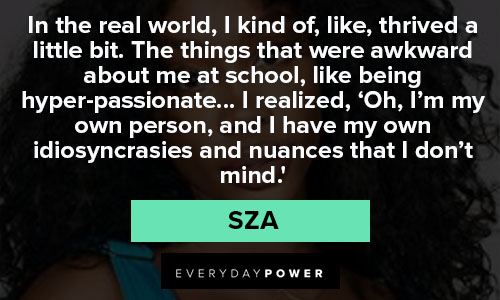 Did the SZA quotes make you a bigger fan or a new fan?
SZA loves to move freely around the stage so she is known for wearing clothes that resemble pajamas or baggy clothes.
She also likes to show off the natural lift and tight curls of her hair.
SZA has completed three tours as the headliner and was in a supporting role on tour before that for Jhené Aiko, Jessie J, and Bryson Tiller.
She has received fourteen Grammy nominations and won one Grammy Award.
She has also earned BET Awards, MTV Video Music Awards, an American Music Award, Billboard Music Award, Soul Train Music Award for Best New Artist in 2017, and Billboard Women in Music "Rulebreaker Award" in 2018.
Did the SZA quotes change how you think about the R&B star?
Post to get friends opinions and comment below to keep the conversation going.