25 Hilarious W.C. Fields Quotes On Laughing At Life
These W.C. Fields quotes from the cantankerous comedian are sure to make you laugh.
W.C. Fields was born as William Claude Dunkenfield in January of 1880.
He left home at 18 to become a juggler in Vaudville.
Within the next three years, he would rise up to be a headline star on the stage.
After Vaudville, Fields found success on Broadway and from there made his way to the silver screen.
Fields starred in over a dozen films before he really started to make a name for himself in Hollywood.
In the early 1930s, he signed a deal for four comedy shorts and introduced the world to his comedic persona: a pessimistic, antisocial man with a liking for alcohol.
We hope you enjoy this collection of W.C. Fields quotes.
Don't forget to also check out these hilarious Larry David quotes from the writer of Seinfeld.
If you like this article, we suggest you explore our most popular quotes article, a list of short inspirational quotes for daily encouragement.
Read more related content on our inspirational quotes category page.
Funny W.C. Fields quotes
1. "Some weasel took the cork out of my lunch." — W.C. Fields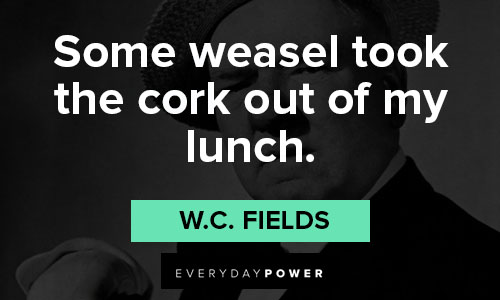 You will also enjoy our article on Waterboy quotes.
2. "Start off every day with a simple smile and get it over with." — W.C. Fields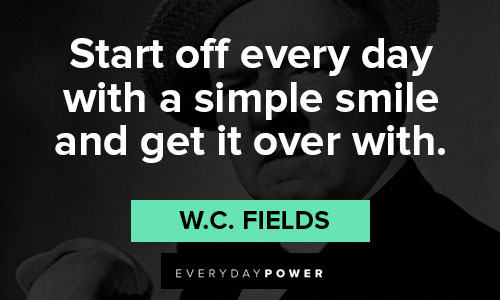 3. "All the men in my family were bearded, and most of the women." — W.C. Fields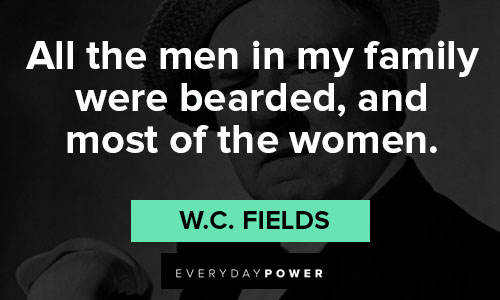 4. "The clever cat eats cheese and breathes down rat holes with baited breath." — W.C. Fields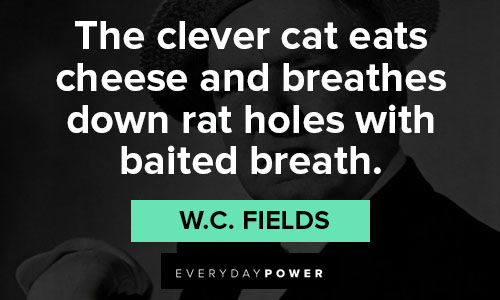 5. "Don't worry about your heart, it will last you as long as you live." — W.C. Fields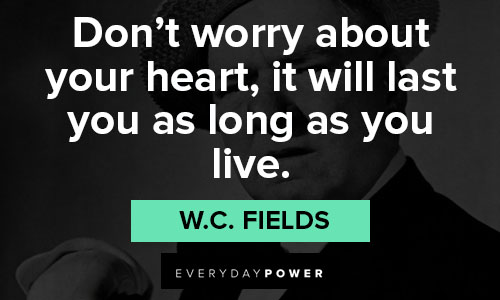 6. "Ah, the patter of little feet around the house. There's nothing like having a midget for a butler." — W.C. Fields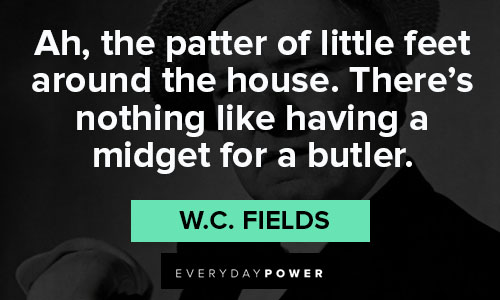 7. "Here lies W.C. Fields. I would rather be living in Philadelphia." — W.C. Fields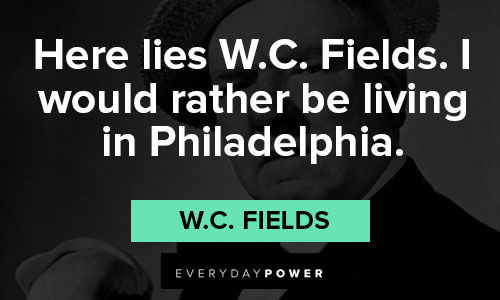 8. "Never cry over spilt milk, because it may have been poisoned." — W.C. Fields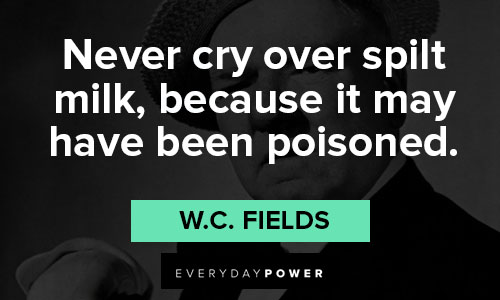 9. "Horse sense is the thing a horse has which keeps it from betting on people." — W.C. Fields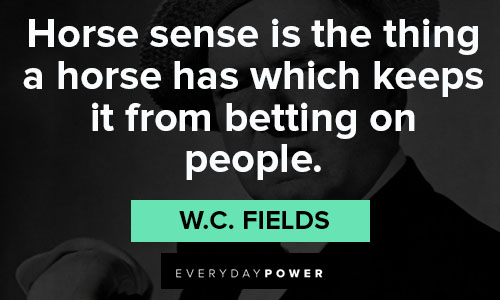 10. "Cross my heart and hope to eat my weight in goslings." — W.C. Fields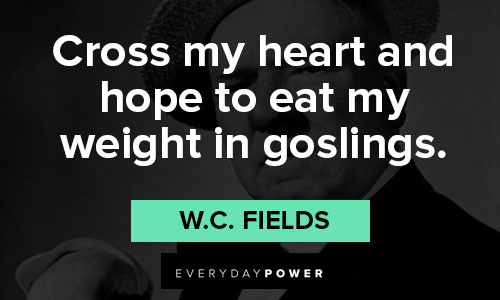 Funny W.C. Fields quotes on people
11. "I never met a kid I liked." — W.C. Fields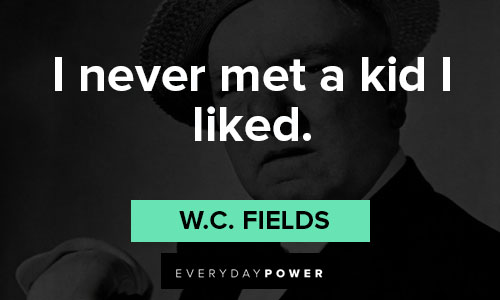 12. "I like children – fried." — W.C. Fields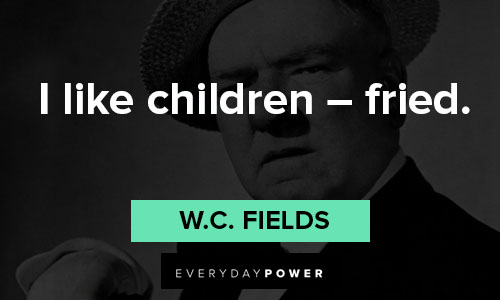 13. "A rich man is nothing but a poor man with money." — W.C. Fields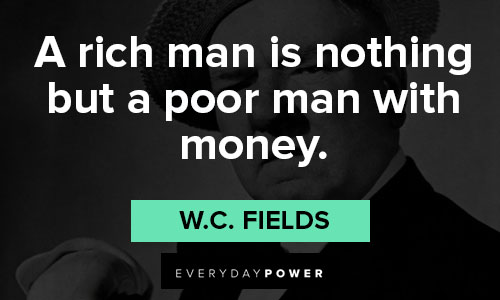 14. "Anyone who hates children and animals can't be all bad." — W.C. Fields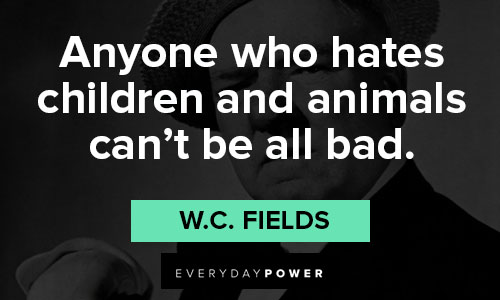 15. "I am free of all prejudices. I hate everyone equally." — W.C. Fields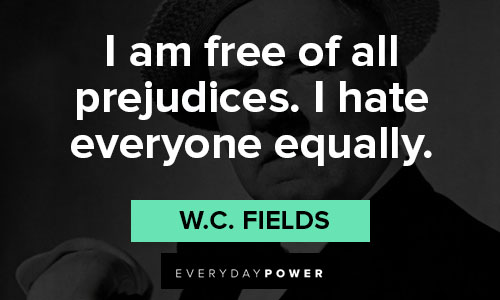 16. "Women are like elephants. I like to look at 'em, but I wouldn't want to own one." — W.C. Fields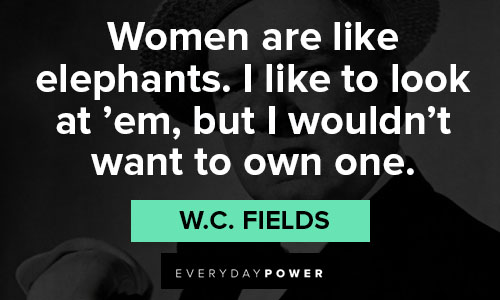 17. "The laziest man I ever met put popcorn in his pancakes so they would turn over by themselves." — W.C. Fields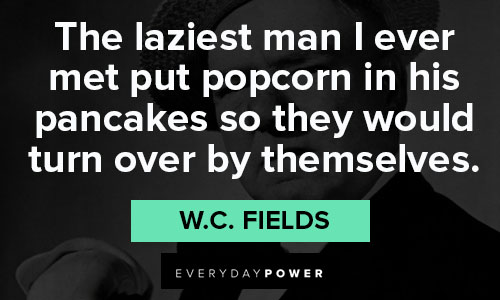 18. "Never try to impress a woman, because if you do she'll expect you to keep up the standard for the rest of your life." — W.C. Fields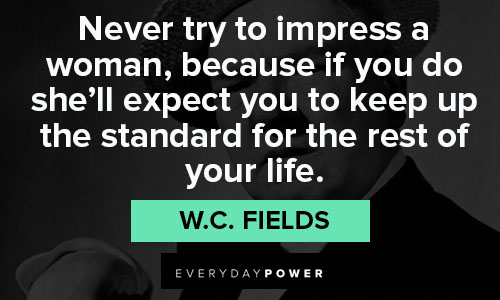 19. "Marry an outdoors woman. Then if you throw her out into the yard on a cold night, she can still survive." — W.C. FIelds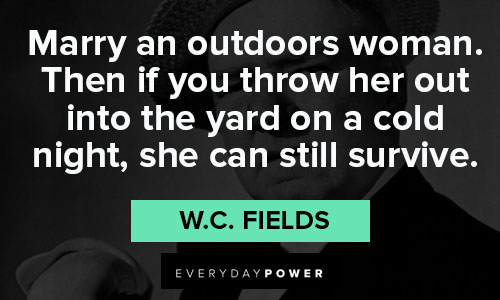 20. "Children should neither be seen nor heard from — ever again." — W.C. Fields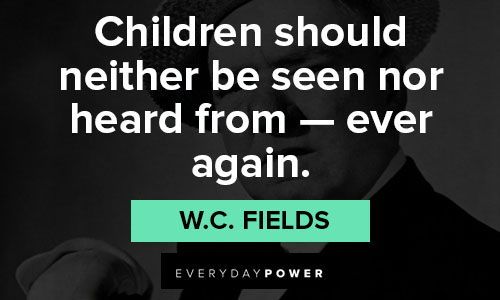 21. "Well, her face was so wrinkled it looked like seven miles of bad road. She had so many gold teeth . . . she used to have to sleep with her head in a safe." — W.C. Fields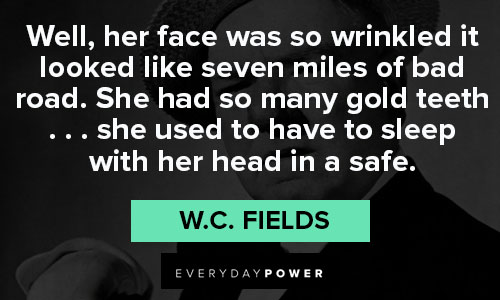 22. "No doubt exists that all women are crazy; it's only a question of degree." — W.C. Fields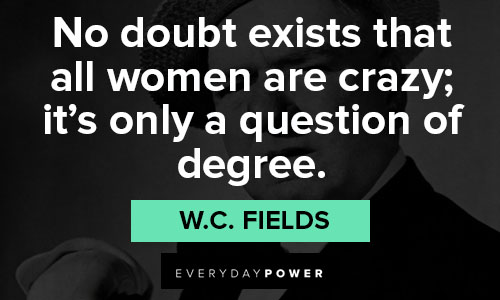 Funny W.C. Fields quotes about his love for the drink
23. "I never drink water because of the disgusting things that fish do in it." — W.C. Fields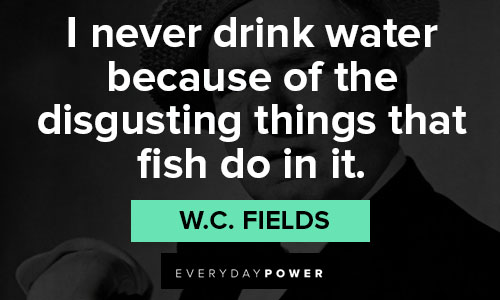 24. "I never worry about being driven to drink; I just worry about being driven home." — W.C. Fields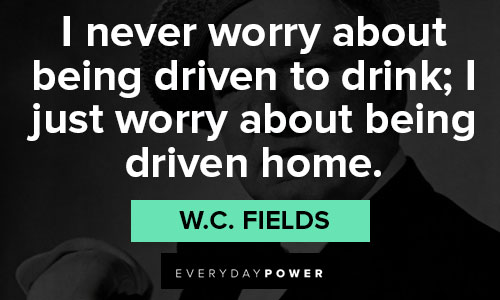 25. "I must have a drink of breakfast." — W.C. Fields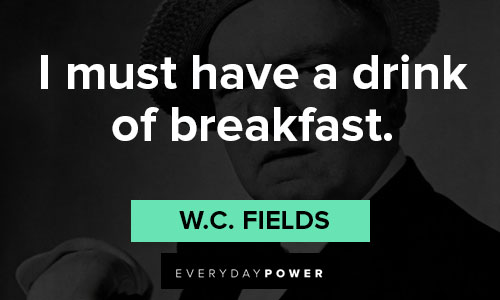 Did these W.C. Fields make you laugh?
No matter what kind of day you're having, you're probably having a better day than W.C.
Fields' comedic persona.
Portrayed as a continuously grumpy and pessimistic person, it's natural for people to relate while watching the grouchy grump complain on stage or screen.
W.C. Fields had a successful comedic career and is considered by many to be one of America's greatest comics.
Fields had a presence on screen that has since become legendary.
He wrote most of his own scripts, and though he worked with directors, Fields' films were known to be his creation.
Did you enjoy these W.C. Fields quotes and lines?
Let us know in the comments below.