20 Bob Saget Quotes by the Popular American Comedian
The Bob Saget quotes below will help you remember the life of the comedian and actor.
Bob Saget was an American actor and comedian known mainly for his role as Danny Tanner in the American sitcom Full House.
Saget was picked for the role of Danny in 1987, and he kept that role until the show ended in 1995.
In addition to his acting in Full House, Saget was also known for being a stand-up comedian.
While starring in Full House, Saget was also the original host of the television show America's Funniest Home Videos.
He remained with the show from 1989 to 1997. Then, in 2009, Saget made an appearance on AFV once again, for the twentieth-anniversary episode.
If you like this article, we suggest you explore our most popular quotes article, a list of short inspirational quotes for daily encouragement.
Read more related content on our inspirational quotes category page.
Bob Saget Quotes From the Comedian
Sometimes when someone is gone, there words can mean even more. Enjoy these Bob Saget quotes as you remember him.
1. "There's just something about the audiences in Detroit that I've always felt connected to. Detroit is different." – Bob Saget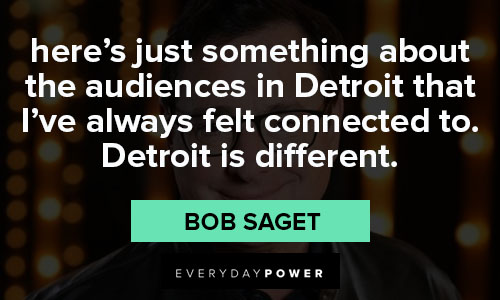 2. "My confidence wavers between being genuine and being insecure." – Bob Saget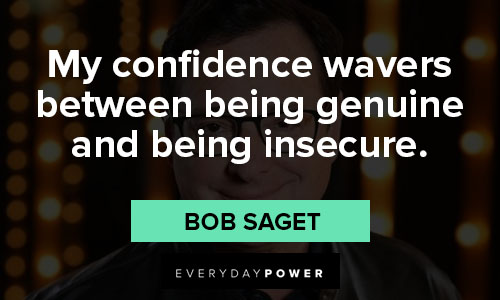 3. "I was so depressed for so many years over trying to become a working comedian that my sense of self-worth would plummet." – Bob Saget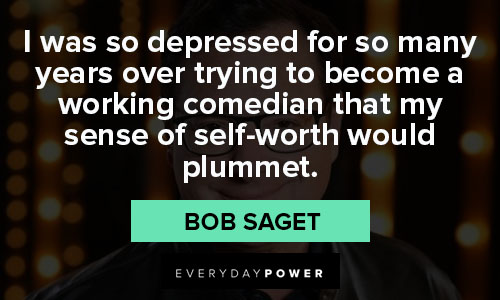 4. "I become a chameleon for wherever I am." – Bob Saget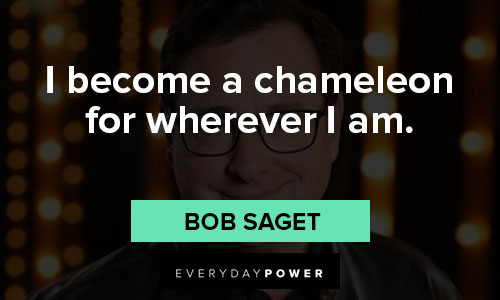 5. "I really love making people laugh." – Bob Saget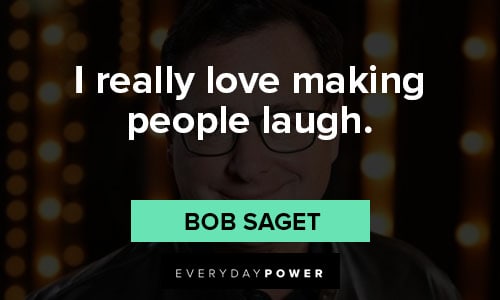 You will also enjoy our article on Dom Mazzetti quotes.
6. "It's interesting to talk to young comedians. I love it because it makes me go, 'Oh, that's how I can be funny.'" – Bob Saget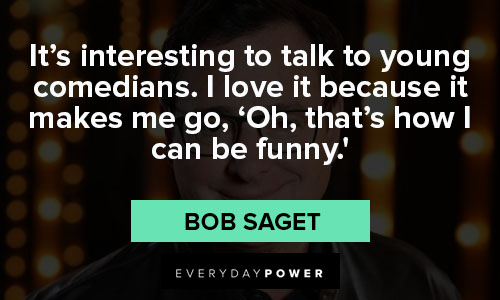 7. "I don't like the negative of reality tv – the 'you're no good, so you have to leave, I choose you, but I thought you really loved me.' It's all about how bad people are, and I just hate that." – Bob Saget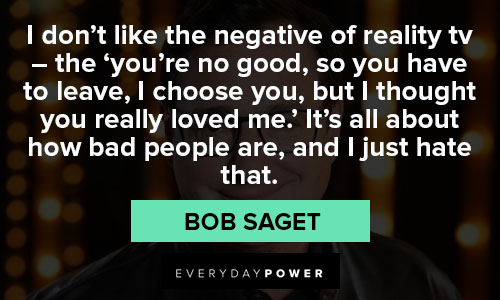 8. "Like with any good art form, if you can entertain people and make them think, it's an honor. It's just an honor to be a comedian." – Bob Saget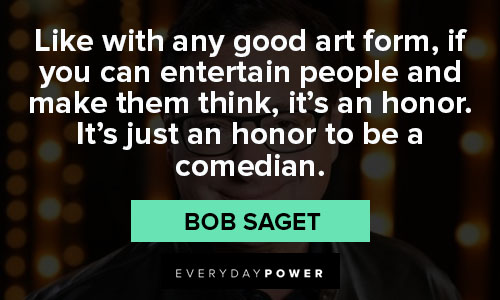 9. "One of the first things I ever did was 'Critical Condition.' That was before 'Full House.' It was a Richard Pryor movie. I didn't have a giant part, but I was in it throughout." – Bob Saget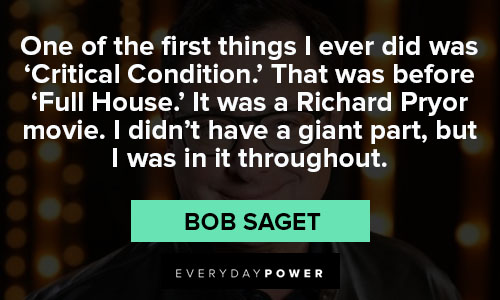 10. "Today is the first day of the rest of your life. And if that doesn't work out for you, tomorrow is the first day of the rest of your life." – Bob Saget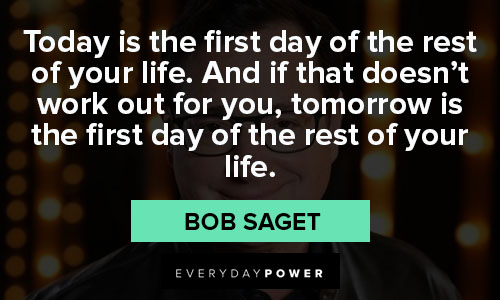 If you enjoy this article, check out our collection of Cheech and Chong quotes from the comedy duo.
More Bob Saget Quotes From the Life of the Actor and Comedian
He had a successful career for the time that he had. These quotes give you a small glimpse.
11. "I had enough therapy to know when I broke it down, it became clearer to me: Yes, comedy was kind of a cleansing thing for me to do." – Bob Saget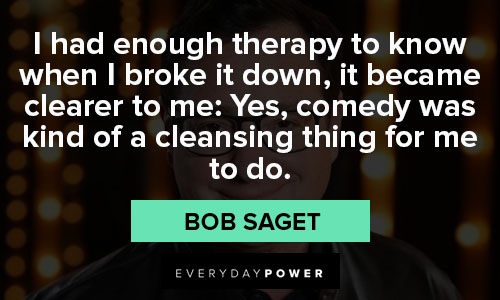 You will also enjoy our article on Theo Von quotes.
12. "If you don't wake up every day happy, change something." – Bob Saget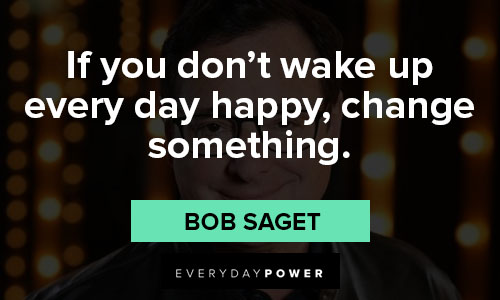 13. "I really love standup because it's something that I've been literally doing for 40 years, which means I'm a thousand years old." – Bob Saget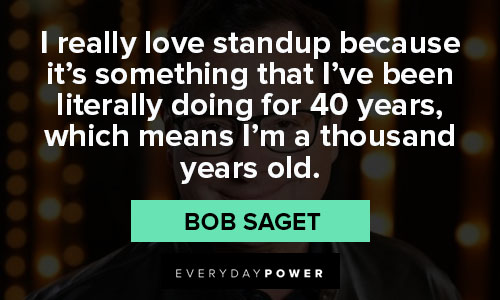 14. "I have nine compartments in my brain, and four of them don't stop." – Bob Saget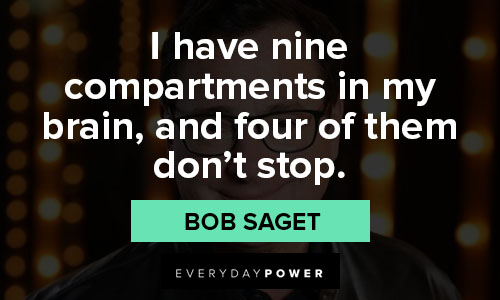 15. "No one gets a free ride. Except maybe bus drivers." – Bob Saget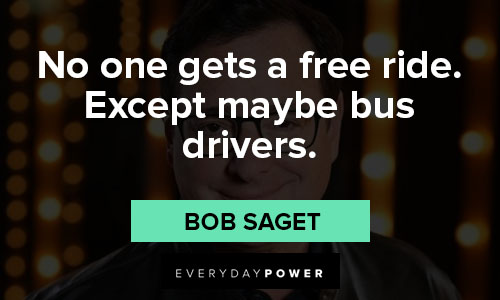 16. "When you have a good time, there is no time." – Bob Saget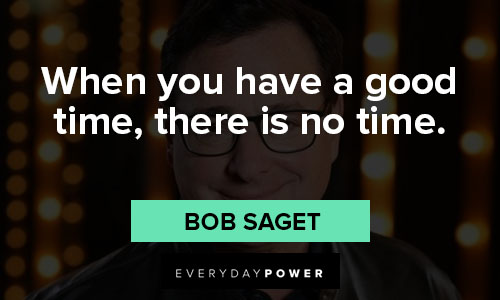 17. "Celebrity is a word that I find offensive. That's the c-word. I hate it. It means no discernible talent. It means all you want is to be famous." – Bob Saget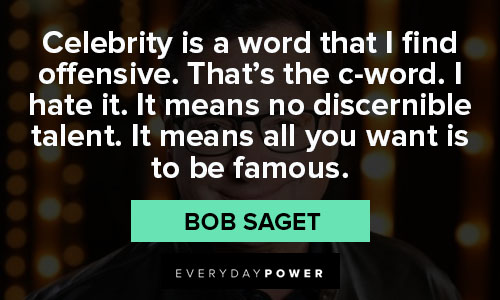 18. "Think well of yourself, and others will too." – Bob Saget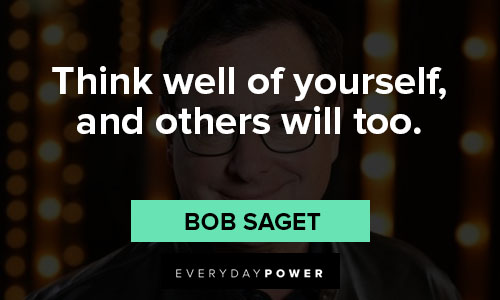 19. "I've never not felt relevant." – Bob Saget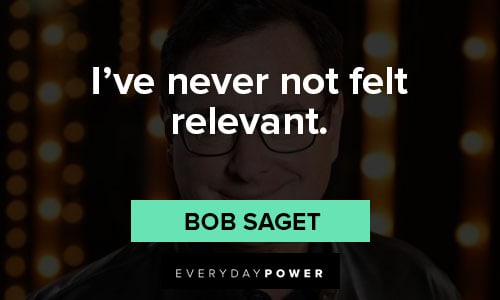 20. "My father once told me, and it's stuck with me to this day: As you walk through life, every time you fart it pushes you forward." – Bob Saget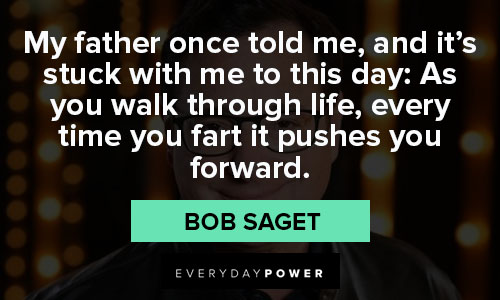 You might also like these Bo Burnham quotes from the multi-talented comedian.
What was your favorite Bob Saget role?
Bob Saget returned to television screens as Danny Tanner for guest appearances on Full House's spin-off show, Fuller House.
In addition, Saget also narrated the television show How I Met Your Mother, which aired from 2005 to 2014.
However, in early January 2022, Saget was found dead in his hotel room in Florida while on a stand-up tour.
His cause of death was unknown until an autopsy report released in February showed that Saget died of blunt head trauma.
Afterward, Saget was honored by his Full House co-stars. In addition, America's Funniest Home Videos began to honor Saget's legacy in the newest episodes by replaying clips of Saget hosting the show.
We hope these Bob Saget quotes help you remember your favorite moments watching the comedian. Share your favorite with us below.