Volleyball Quotes To Serve Hard and Win
Want to up your volley game? These awesome volleyball quotes are exactly what you need!
Volleyball is a challenging sport that takes incredible skill, endurance, and motivation.
If you want to take your game to the next level, then these volleyball quotes are just what you need to read today.
An awesome sport that can be played year round by people of different ages and skill levels, there are many reasons to love volleyball.
Besides the pure enjoyment of the game, you can reap many benefits by playing it.
First, it's a fun way to reach fitness goals.
Playing volleyball can help you burn calories, improve muscle strength and tone, as well as boost hand-eye coordination, reflexes, and balance.
Volleyball is also good for your emotional and mental health.
It's an enjoyable exercise that can reduce stress and anxiety, as well as help in managing mood swings and even abate depression.
Last but not least, playing volleyball is a great social activity that enhances teamwork and communication.
It's an entertaining way to bond with family, friends or coworkers.
Whatever your reasons may be, you can reap many different benefits by playing volleyball.
Below is our collection of fun, inspiring, and motivating volleyball quotes, volleyball sayings, and volleyball proverbs, collected from a variety of sources over the years.
Also, read these golf quotes will gave you the motivation to keep playing and practice.
Check out our most popular quote article, a list of short inspirational quotes for daily inspiration.
If you enjoy this collection, check out our inspirational quotes category page.
Volleyball Quotes To Serve Hard and Win
1. "Volleyball rules are simple. If it is on the floor, pick it up and get it into the air. If it is in the air, keep it off the floor." – John Kessel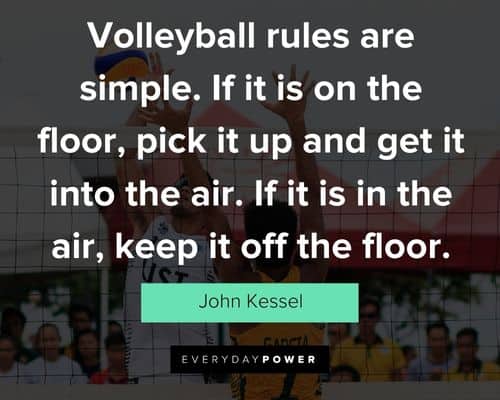 2. "The sterner the discipline, the greater the devotion." – Pete Carroll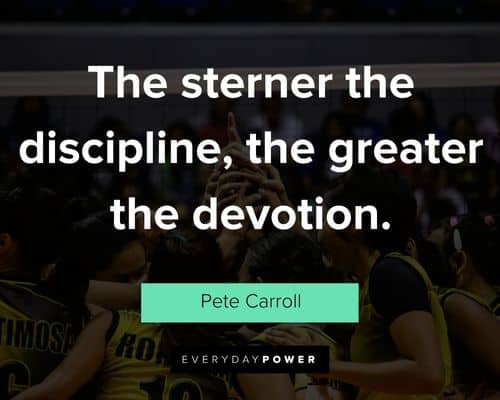 3. "Volleyball anchored me at a time in my life when I needed it. It gave me a reason for being this big, big girl." – Gabrielle Reece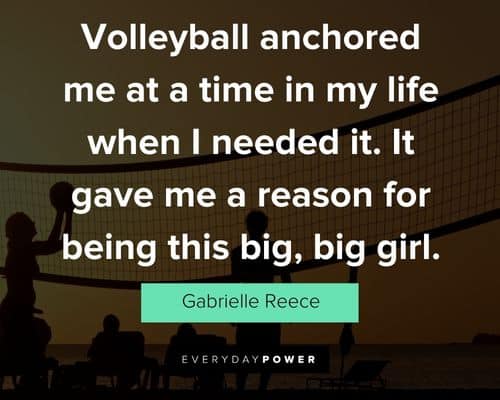 4. "Don't just beat them, make a lasting impression that makes them never want to see your face again." – Mia Hamm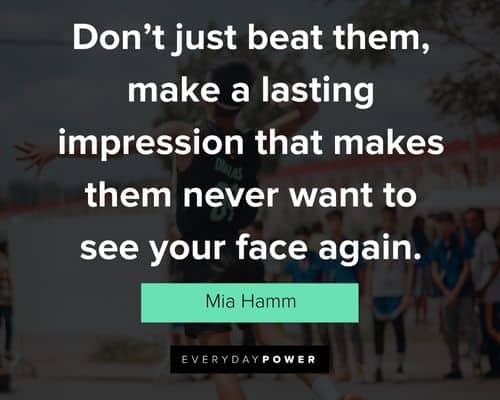 5. "Every game is an opportunity to measure yourself against your own potential." – Bud Wilkinson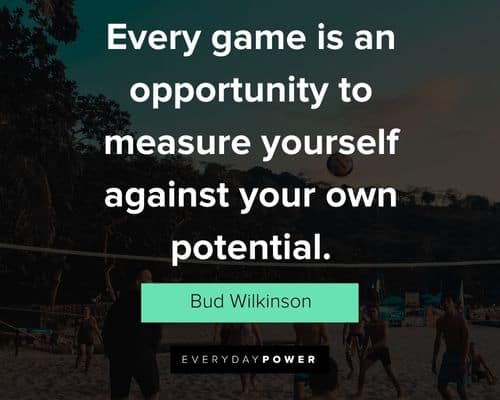 6. "The difference between a successful person and others is not a lack of strength, not a lack of knowledge, but rather a lack of will." – Vincent T. Lombardi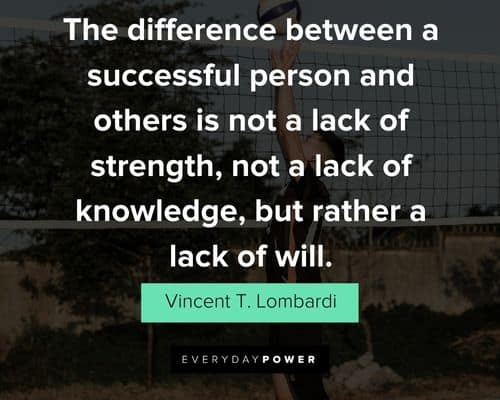 7. "Be so good they can't ignore you." – Steve Martin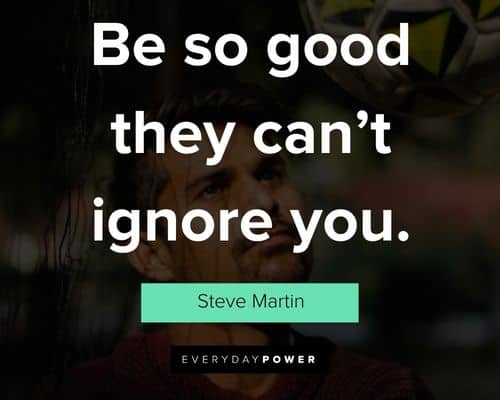 8. "It's supposed to be hard. If it wasn't hard, everyone would do it. The hard is what makes it great." – Tom Hanks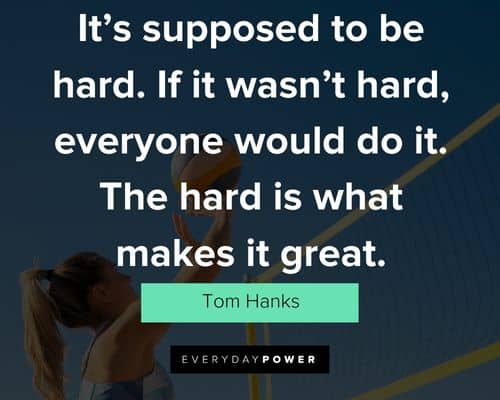 9. "Champions keep playing until they get it right." – Billie Jean King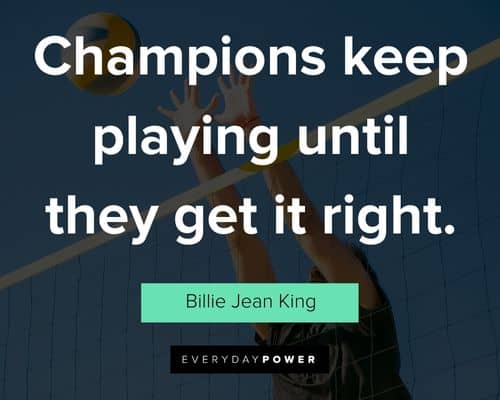 10. "You learn you can do your best even when it's hard, even when you're tired and maybe hurting a little bit. It feels good to show some courage." – Joe Namath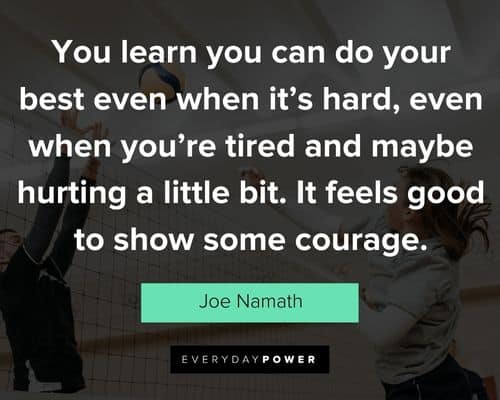 You will also enjoy our article on Sports Quotes.
Volleyball quotes that will inspire you to take your game to the next level
11. "Be bold. If you are going to make an error, make a doozy, and don't be afraid to hit the ball." — Billie Jean King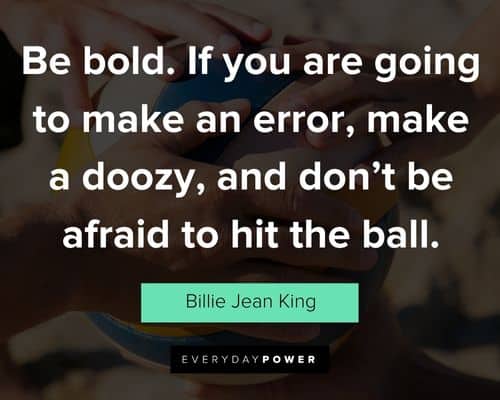 12. "My boyfriend told me I had to choose between him and volleyball….big mistake…I'm really gonna miss him." – Jean-Claude Killy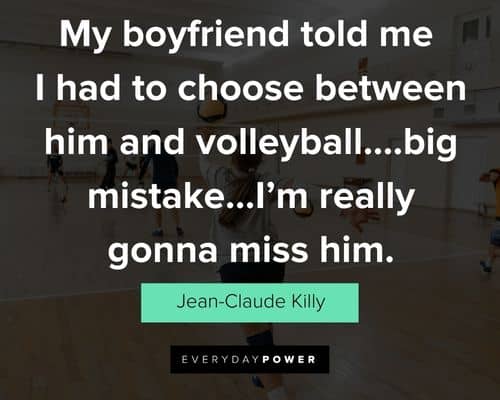 13. "You have to perform consistently at a higher level than others. That's the mark of a true professional." – Joe Paterno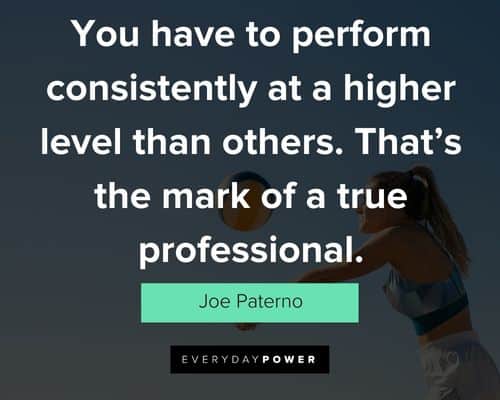 14. "Coaches must be critical thinkers, not protectors of the status quo." – Mike Herbert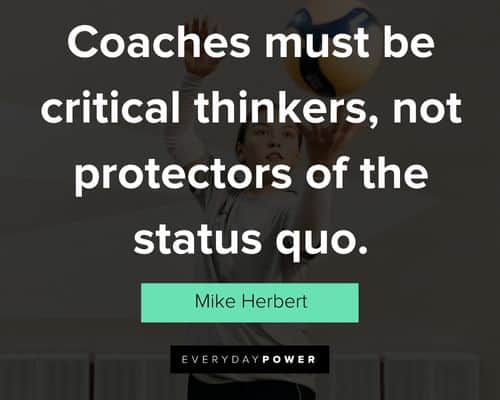 15. "It takes a lot of hard work and dedication just like any pro sport. Especially for beach volleyball you don't have to be tall or as fast as other sports. You just have to have the skills." – Misty May-Treanor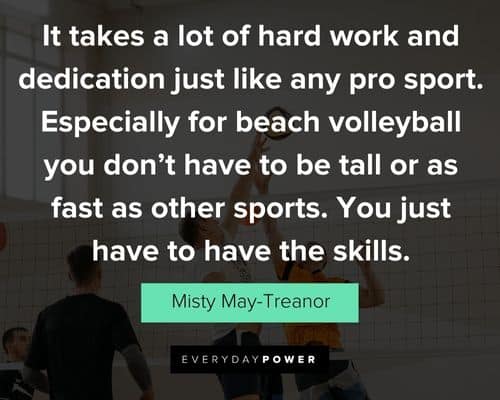 16. "Shoot for the moon, even if you miss you'll land on the stars." – Unknown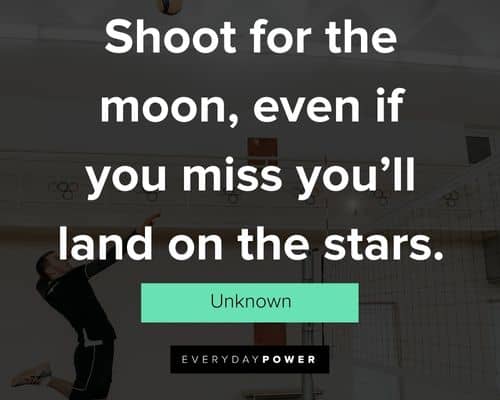 17. "I got the nickname Spitfire for a reason. I burned inside to play volleyball. I loved the competition of it." – Summer Altice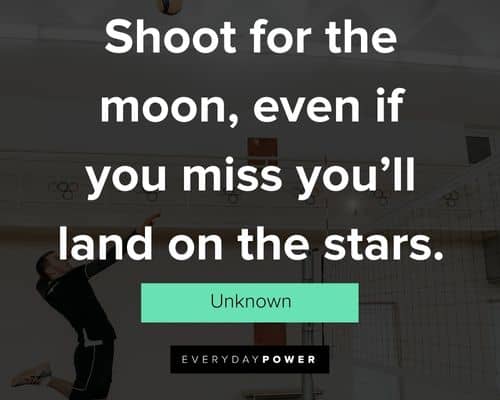 18. "Face your deficiencies and acknowledge them. But do not let them master you." – Helen Keller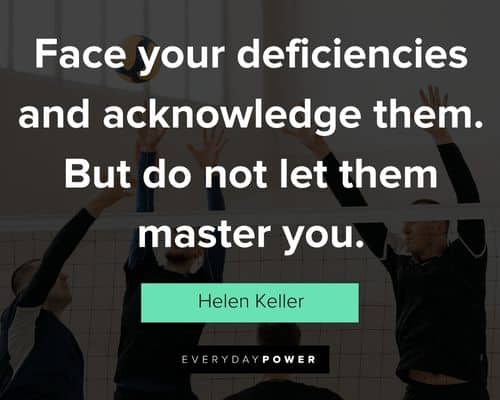 19. "You have to be willing to fail, to improve." — Al Scates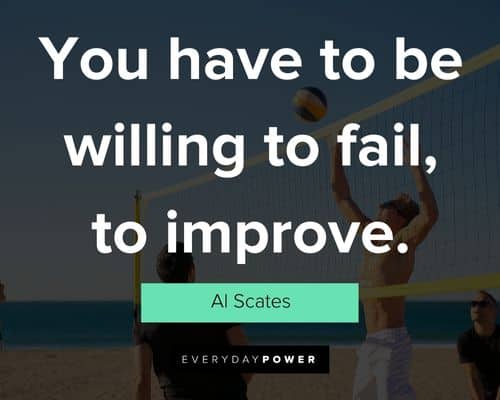 20. "Volleyball is one of the most interactive games going. It is a game of intuition, imagination, improvisation – but most of all, of reciprocity – of teamwork. There is no way to freelance in volleyball." – Marv Dunphy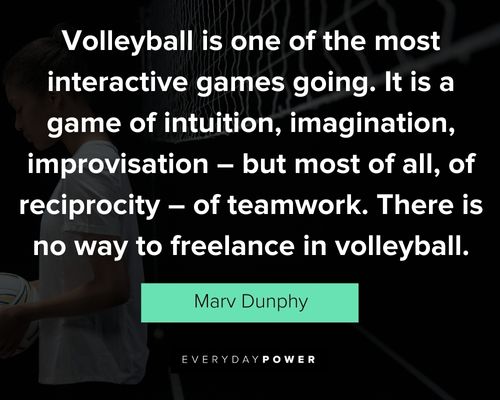 You might also like these Yogi Berra quotes on life to make you smile.
Volleyball quotes to make you strong
21. "Volleyball: Invented by men, perfected by women." – Unknown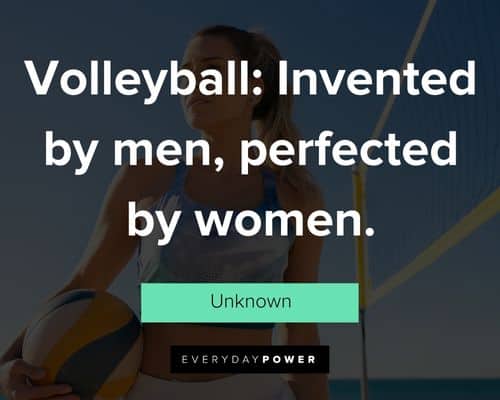 22. "No matter how far life pushes you down, no matter how much you hurt, you can always bounce back." – Sheryl Swoopes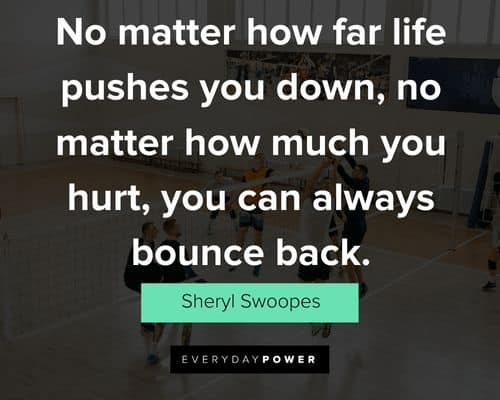 23. "Don't measure yourself by what you have accomplished, but by what you should have accomplished with your ability." – John Wooden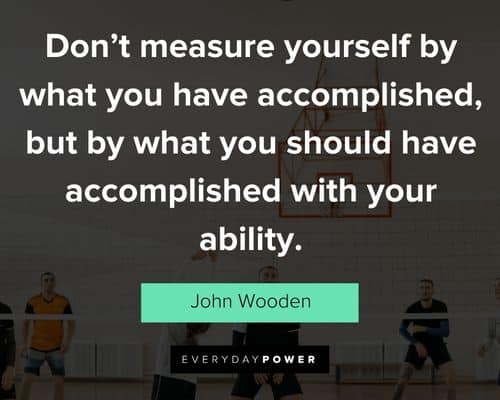 24. "Volleyball is life; everything else is details." – Unknown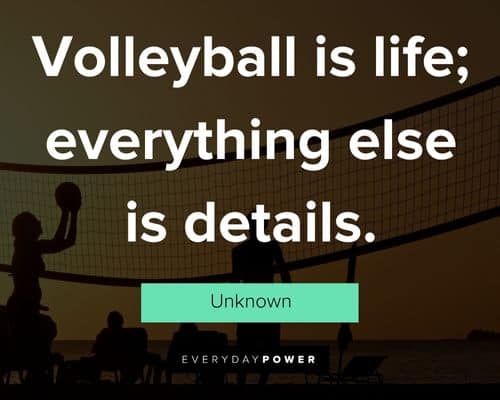 25. "Being able to hold my own against the best in the world, on the beach or indoors, is something I'm very proud of." – Wilt Chamberlain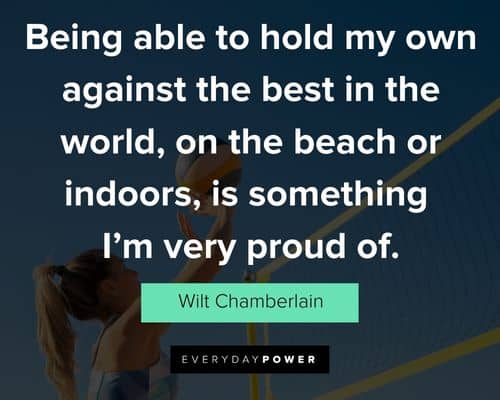 26. "I love that our sport is sexy. I think it is appropriately so." – Kerri Walsh
27. "The backbone of success is usually found in old-fashioned, basic concepts like hard work, determination, perseverance and good planning." – Mia Hamm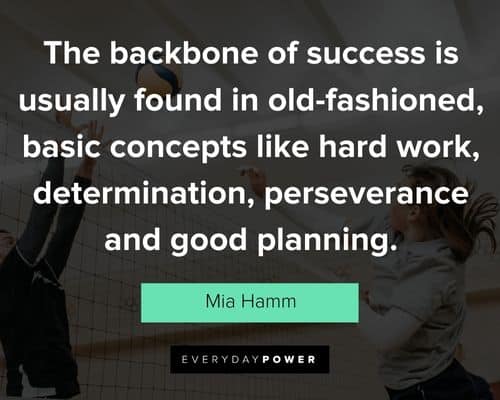 28. "The Six W's: Work will win when wishing won't." – Todd Blackledge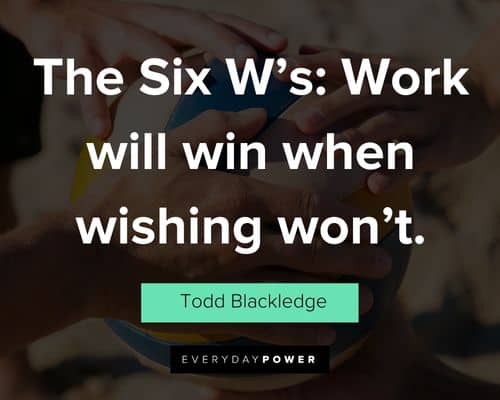 29. "Don't fire your opponents up. If they're down, don't tick them off. Let them stay down." – Sinjin Smith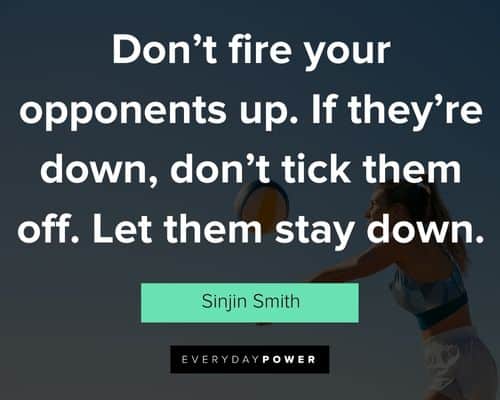 30. "All I want out of life is that when I walk down the street folks will say, "There goes the greatest hitter that ever lived." – Ted Williams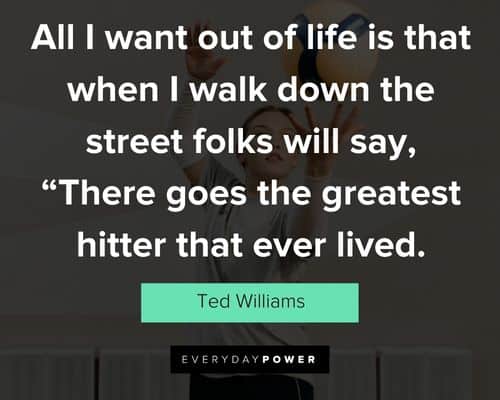 Volleyball quotes to inspire and motivate you
31. "Adversity cause some men to break; others to break records." – William A. Ward
32. "I learned that if you want to make it bad enough, no matter how bad it is, you can make it." – Gale Sayers
33. "You can't just beat a team, you have to leave a lasting impression in their minds so they never want to see you again." – Mia Hamm
34. "If you care at all, you will get some results. If you care enough, you will get incredible results." – Jim Rohn
35. "Anyone serious about playing indoor, you should play outdoor." – Sean Scott
36. "Volleyball is the sport through which I am able to express my God-given talents of being an athlete. It is a sport which involves relating, pushing, and encouraging your teammates. It has helped evolve me into the person I am today." – David Beard
37. "To be prepared is half the victory." – Miguel Cervantes
38. "On beach volleyball: You touch every other ball and, if you screw up, you only have one more person to back you up. You can't go hide in the corner." – Kerri Walsh
39. "Unless you are willing to go, fail miserably, and have another go, success won't happen." – Philip Adams
40. "Whoever said, "It's not whether you win or lose that counts," probably lost." – Martina Navratilova
41. "Never let your head hang down. Never give up and sit down and grieve. Find another way." – Satchel Paige
42. "If volleyball was easy it would be called football." – Unknown
43. "Perfection is not attainable, but if we chase perfection, we can catch excellence." – Vince Lombardi
44. "A great defensive play is worth about five points in emotion." – Caren Kemner
45. "Somewhere behind the athlete you've become and the hours of practice and the coaches who have pushed you is a little girl who fell in love with the game and never looked back—play for her." — Mia Hamm
46. "It's lack of faith that makes people afraid of meeting challenges, and I believed in myself." – Muhammad Ali
47. "I have had to change the game to one that is a match of wits rather than brawn to give myself a fighting chance." — Todd Rogers
48. "Don't ever let the ball hit the ground without a body hitting the ground with it." – Unknown
49. "Breathe, believe, and battle. My former coach, Troy Tanner, told us that before each match. Breathe – be in the moment. Believe – have faith that you can rise above it. Battle – you gotta be prepared to go for as long as it takes." – Kerri Walsh
50. "There is pressure on every play. You can't make a mistake, but that also means your opponent can't make a mistake. It makes the matches more exciting to watch." – Holly McPeak
More volleyball quotes and sayings
51. "Volleyball is a Jewish sport. It's fun, and nobody can get hurt." – Gail Parent
52. "Volleyball was the hardest thing Ive ever had to do." – Liam Hemsworth
53. "Think positive, real volleyball happens too fast to think any other way." – John Kessel
54. "Volleyball, I could be pretty good. After a few practices, I could be that striker, or whatever they call it." – LeBron James
55. "I'm a really big surfer, and I have also been playing a ton of volleyball on the beach on the weekends." – Teddy Sears
56. "The guy that designed girls' volleyball uniforms definitely never had daughters." – Jay Mohr
57. "Volleyball is not like a formula so we must give players some freedom." – Karch Kiraly
58. "It's the attitude of the players, not their skills, that is the biggest factor in determining whether you win or lose." – Harry Sinden
59. "In my opinion, the teaching of volleyball technique, …, must always be correlated with tactical tasks." – Viacheslav Platonov
60. "The real glory is being knocked to your knees and then coming back. That's real glory. That's the essence of it." – Vince Lombardi
Volleyball quotes to appreciate this sport more
61. "I love sports – I used to play volleyball really competitively…I went to Junior Olympic qualifiers, and I've ridden horses my whole life." — Gigi Hadid
62. "I got an award for Most Improved Player for volleyball in tenth grade that I cared about a lot." — Ari Shaffir
63. "It's really easy to get caught up in all the catty-ness of the volleyball." — Brooke Sweat
64. "You think about all the years that a USA volleyball team has been in the Olympics and have tried and have fallen short. Then to feel like you're pushing for something and you're trying to find that edge and then you finally do it, it's like, Whoa, it worked!'" — Jordan Larson
65. "My mentality has always been, If I'm not the best at something, then I might as well be the best at something else. I realized that I wasn't going to be an Olympic volleyball player, but I knew I could model at that level." — Gigi Hadid
66. "A mere forty years ago, beach volleyball was just beginning. No bureaucrat would have invented it, and that's what freedom is all about." — Newt Gingrich
67. "I've always played sport, ever since I was little. I played volleyball and I believe sport teaches you a lot, such as teamwork, respect and discipline." — Gisele Bundchen
68. "Being 5′ 10, I was supposed to be too short to play college volleyball. So that gave me the hunger and the fire to say, Oh yeah? I'd just hit the crap out of the ball." — Summer Altice
69. "I used to sleep, eat, breathe volleyball. Now I have that with my kids." — Kerri Walsh Jennings
70. "I have actually been sporty right from my childhood. I was quite chubby in the first eight years of my life. But then I began playing volleyball in school. That did it. I lost all my baby fat and became slim." — Shilpa Shetty
Volleyball Quotes From Volleyball Players
71. "I enjoy sports, and love being involved in any outdoor sport from volleyball to softball. I'm not being immodest when I say I'm a natural athlete." — Ginger Rogers
72. "I was born and raised in Huntington Beach, California. I was very athletic, playing volleyball and softball. I did gymnastics for about ten years, too." — Jasmine Tookes
73. "Once I got past my anger toward my mother, I began to excel in volleyball and modeling." — Gabrielle Reece
74. "Most volleyball players are made in the winter, spring and summer, for come fall, everyone practices equal time." — John Kessel
75. "I love outdoor sports, like volleyball, and I play them whenever I can." — Gisele Bundchen
76. "I was a volleyball player as a kid. I played volleyball all the time." — Danny Strong
77. "Besides surfing, I play tennis, volleyball, I swim, I run hills, or I do high-intensity, high-interval workouts. I'm up at 5 A.M. every day." — Bethany Hamilton
78. "My dream was to be either a volleyball player or a veterinarian." — Gisele Bundchen
79. "There are two basic situations in volleyball – either you got the ball or you don't." — John Kessel
80. "I was captain of the volleyball team and the basketball team, and I ran track." — Sarah Shahi
Did you enjoy these volleyball quotes?
Volleyball is one of the world's most popular sports.
According to figures, it's played by over 800 million people around the world at least once a week.
Whether you play it indoors or outdoors, you are sure to enjoy many benefits of playing volleyball.
So what are you waiting for, grab a few friends, head to the beach or the gym and have some fun.
Did you enjoy these volleyball quotes?
Which of the quotes is your favorite?
Let us know in the comment section below.
Also, don't forget to share with your friends and followers.