Chuck Norris Quotes so Tough Only He Could Say Them
'Time waits for no man.
Unless that man is Chuck Norris.'
'The dinosaurs looked at Chuck Norris the wrong way once.
You know what happened to them.'
These are just a sample of the Chuck Norris quotes and jokes circulating on the internet.
We could share Chuck Norris memes for days, but they would probably break the internet.
Sorry, I couldn't resist that one.
Who is the real Chuck Norris, though?
And why does everyone think he is so invincible?
Chuck Norris is an Air Force Veteran.
His experience in the Air Force led to him being introduced to martial arts while stationed at Osan Air Base, South Korea.
When he returned to the US, he applied to be a police officer in California.
And while he was waiting to hear back, he opened up his martial arts studio.
He took part in various competitions and events in an attempt to promote his new business venture.
He was featured in Black Belt magazine for winning the triple crown and made his acting debut in the film, The Wrecking Crew, in 1969.
It's not surprising that these Chuck Norris quotes include his thoughts about politics, government, acting, and martial arts.
Don't forget to also check out these Tom Hardy quotes on acting, fame, and finding happiness.
Check out our most popular quote article, a list of short inspirational quotes for daily inspiration.
If you enjoy this collection, check out our inspirational quotes category page.
Profound Chuck Norris quotes about life in general
1. "Men are like steel. When they lose their temper, they lose their worth." — Chuck Norris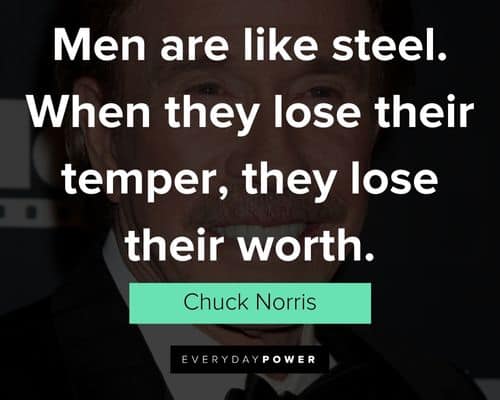 2. "A lot of times people look at the negative side of what they feel they can't do. I always look on the positive side of what I can do." — Chuck Norris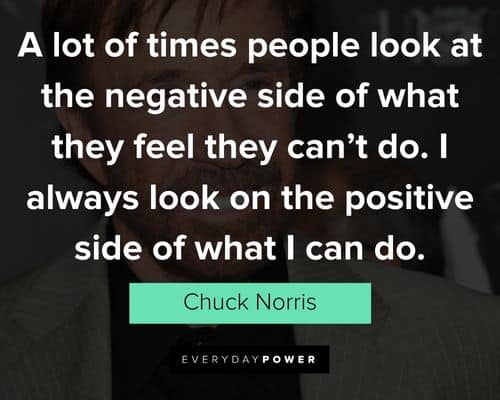 You will also enjoy our article on The Karate Kid quotes.
3. "I've always found that anything worth achieving will always have obstacles in the way, and you've got to have that drive and determination to overcome those obstacles on route to whatever it is that you want to accomplish." — Chuck Norris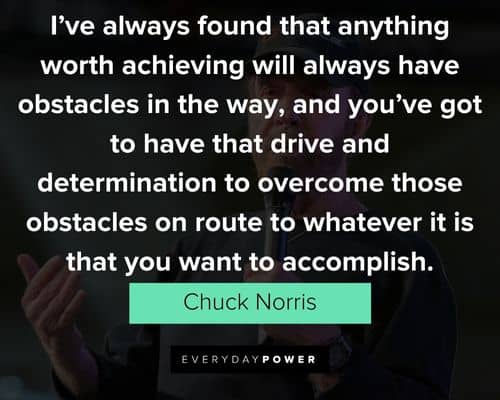 4. "I think setting a goal, getting a visual image of what it is you want. You've got to see what it is you want to achieve before you can pursue it." — Chuck Norris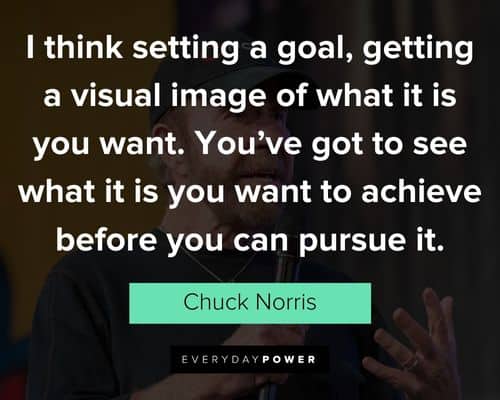 5. "I think you can learn from history." — Chuck Norris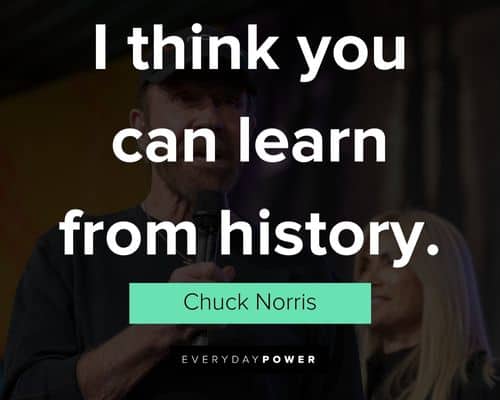 6. "Exercise, prayer, and meditation are examples of calming rituals. They have been shown to induce a happier mood and provide a positive pathway through life's daily frustrations." — Chuck Norris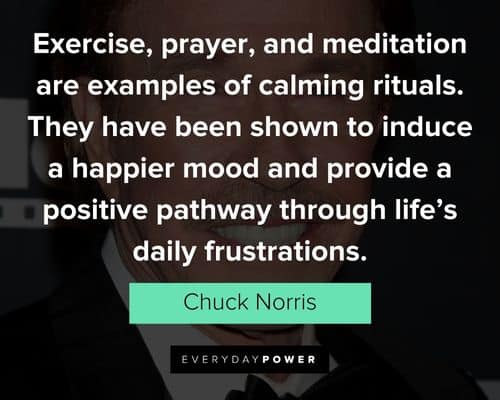 7. "A lot of people give up just before they're about to make it. You know, you never know when that next obstacle is going to be the last one." — Chuck Norris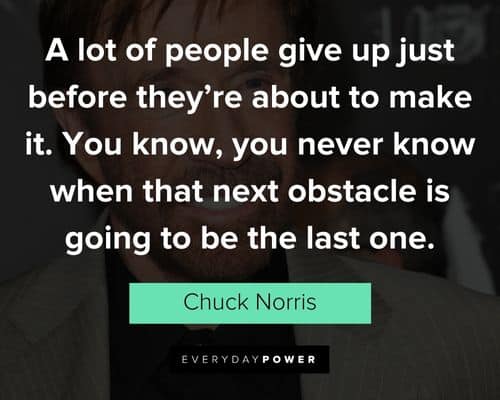 8. "You can always tell a person's real character and personhood by those who closely surround him, especially if they're family." — Chuck Norris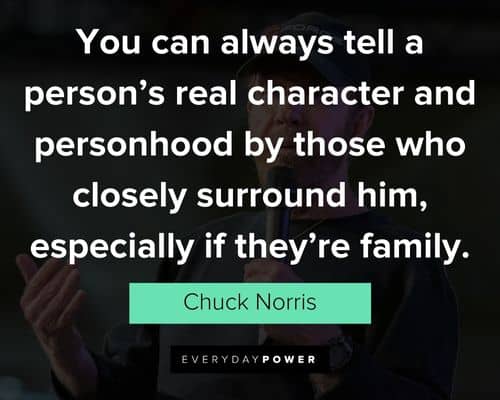 9. "Long ago made it a principle of my life to cultivate a positive frame of mind, to strive to project it, and to share it with those I meet. It is a principle that has served me well." — Chuck Norris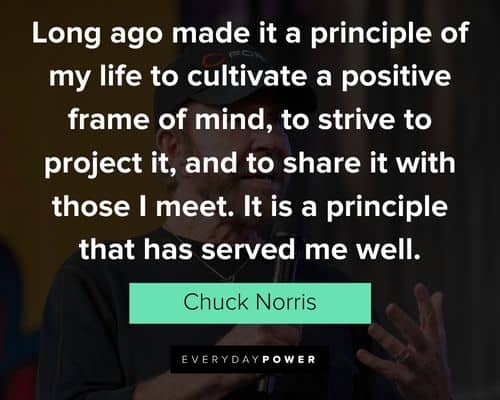 10. "A walk in nature is a perfect backdrop to combine exercise, prayer, and meditation while enhancing the benefit of these activities." — Chuck Norris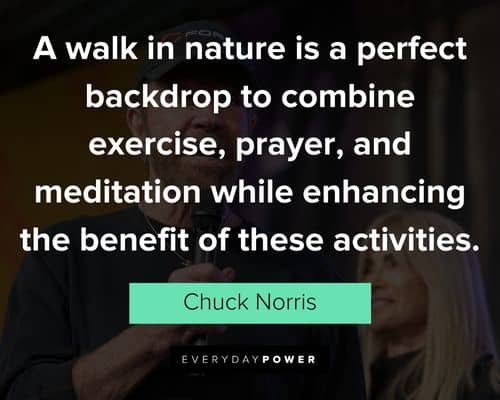 Chuck Norris quotes on the US government, including military service
11. "As a former Airman First Class in the United States Air Force, like many veterans in America, my military experience played an important part in instilling in me a sense of character and discipline that has served me throughout my life." — Chuck Norris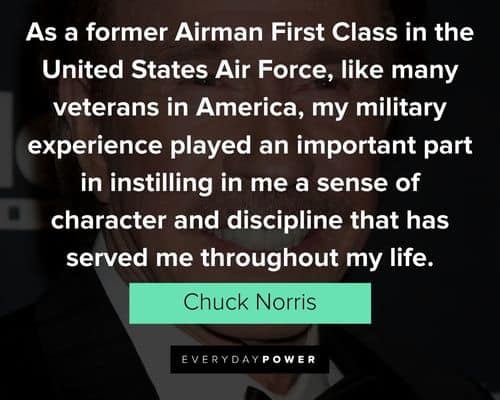 12. "God bless all who serve or have served our country." — Chuck Norris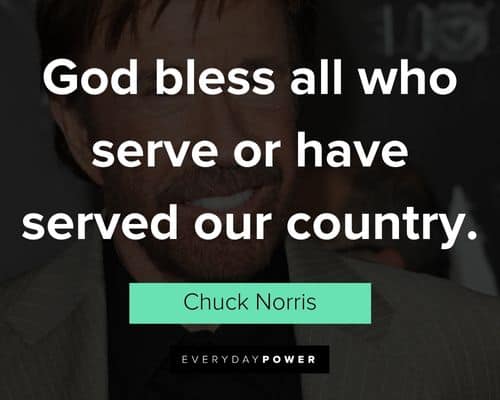 13. "The final line in the Second Amendment says, 'The right of the people to keep and bear arms shall not be infringed.' That means not by the president, not by Congress." — Chuck Norris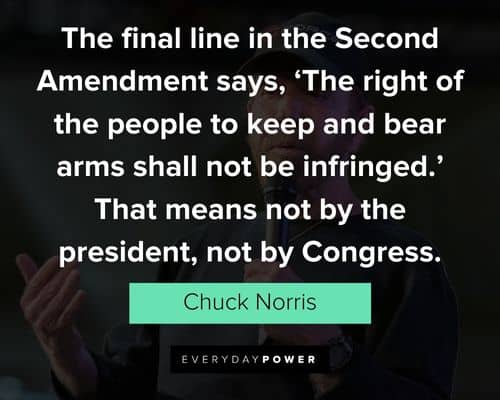 14. "Moral Injury is differentiated from PTSD in that it directly relates to guilt and shame veterans experience as a result of committing actions that go against their moral codes. Therapists who study and treat moral injury have found that no amount of medication can relieve the pain of trying to live with these moral burdens." — Chuck Norris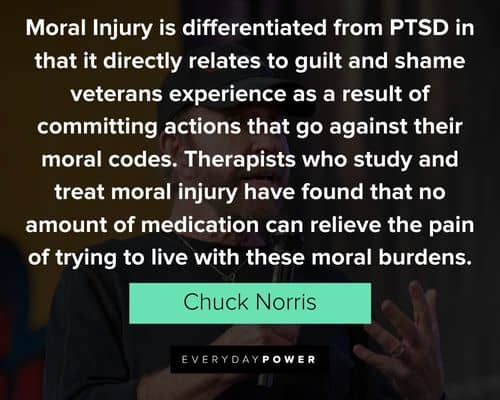 15. "Unfortunately, people are re-interpreting the Constitution as a living document, and it's not. It's a solid-based document and it shouldn't be played with." — Chuck Norris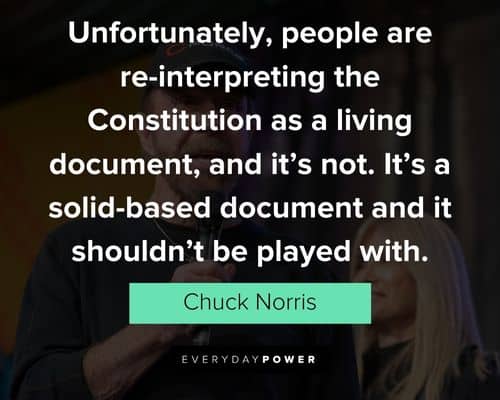 16. "In 2007, I was given the humbling privilege of being made an honorary member of the United States Marine Corps in recognition of my visits to troops during the Iraq War." — Chuck Norris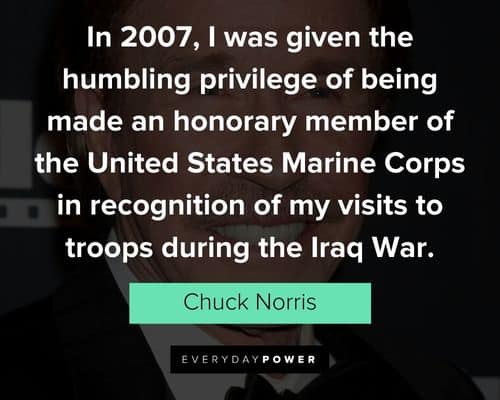 17. "If the citizens of the United States are to turn away from the Communist Manifesto and preserve the purpose of the Declaration of Independence, the U.S. Constitution, and our Bill of Rights, we must first thoroughly reexamine and learn about each of them, and uphold America's founding documents by testing every political action in light of them." — Chuck Norris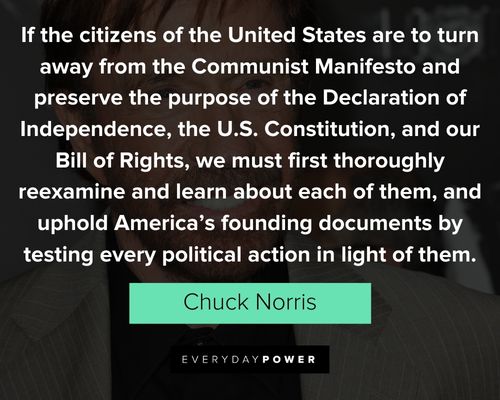 18. "Between income taxes and employment taxes, capital gains taxes, estate taxes, corporate taxes, property taxes, Social Security taxes, we're being taxed to death." — Chuck Norris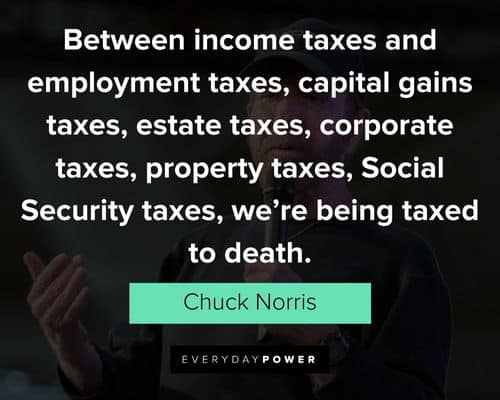 19. "Despite what Washington thinks or does on this 15th anniversary, we the people will never forget those who perished and the lessons learned on Sept. 11, 2001." — Chuck Norris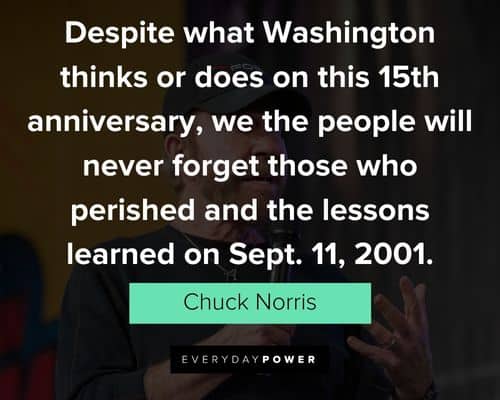 If you're enjoying these quotes, you'll love our collection of Bruce Lee quotes about life, love and water to inspire you.
Chuck Norris quotes about violence and karate
20. "Violence is my last option." — Chuck Norris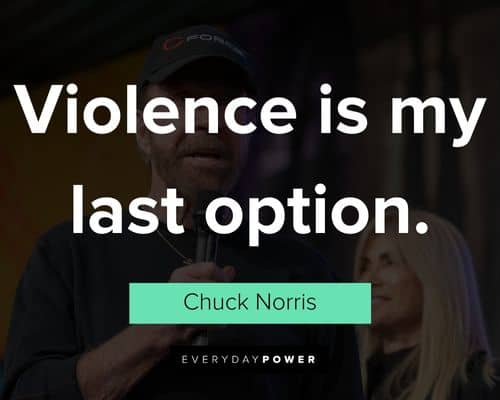 21. "I don't initiate violence; I retaliate." — Chuck Norris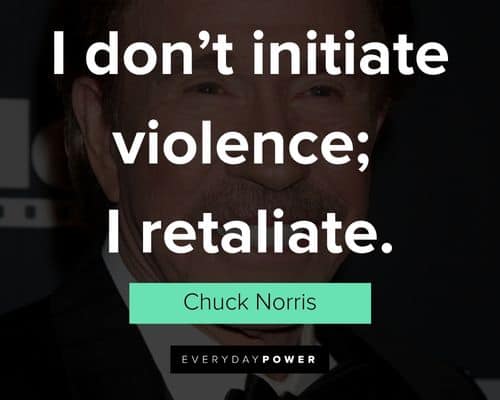 22. "Whatever luck I had, I made. I was never a natural athlete, but I paid my dues in sweat and concentration and took the time necessary to learn karate and become world champion." — Chuck Norris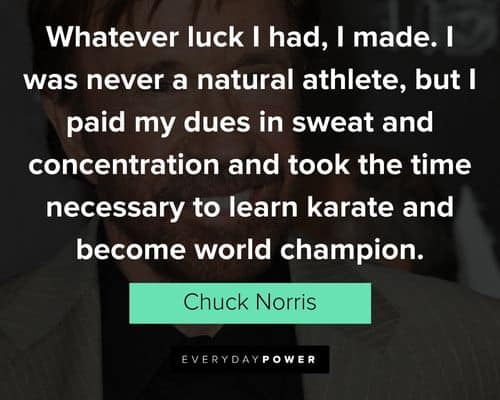 23. "From 1964 to 1968, I won many state, national, and international amateur karate titles." — Chuck Norris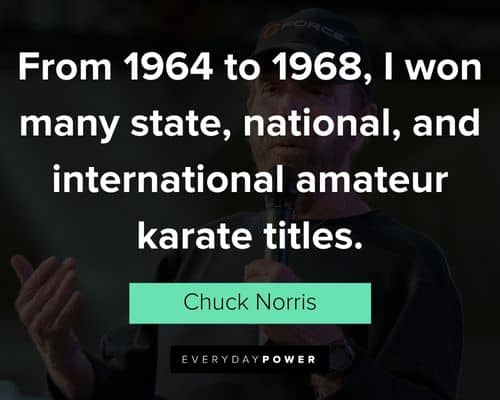 24. "I've got a bulletin for you, folks. I am no superman. I realize that now, but I didn't always." — Chuck Norris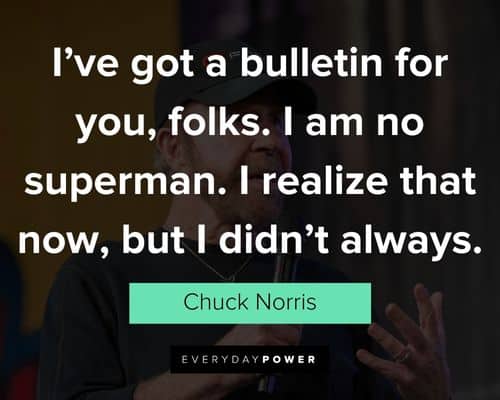 25. "As a six-time world karate champion and then a movie star, I put too much trust in who I was, what I could do, and what I acquired. I forgot how much I needed others, and especially God." — Chuck Norris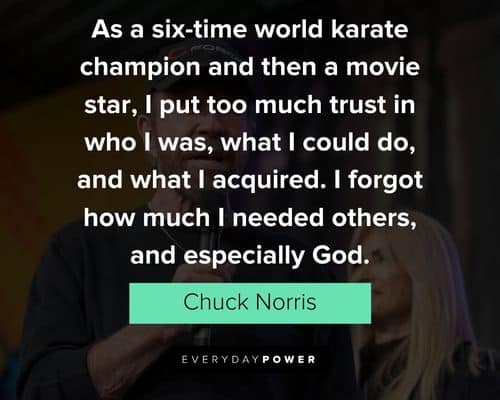 26. "In 1968, I fought and won the world middleweight karate championship by defeating the world's top fighters. I then held that title until 1974, when I retired undefeated." — Chuck Norris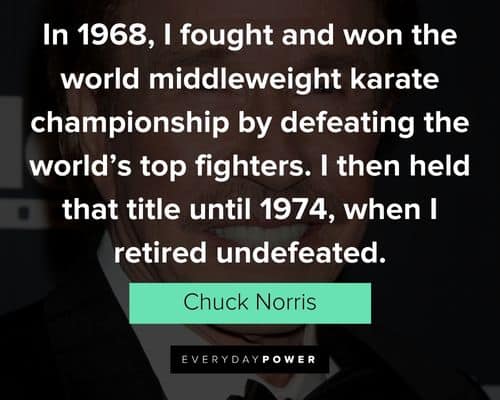 27. "Martial arts was really the first thing in my life that I followed through on and accomplished a degree of proficiency for." — Chuck Norris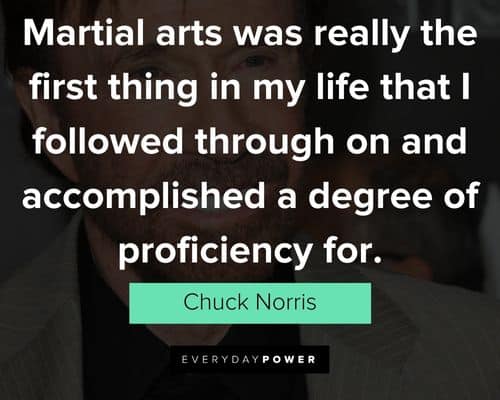 28. "It wasn't until I went to Korea out of high school and got exposed to the martial arts for the first time and was just completely enamored with the physical ability of the martial arts and making my black belt." — Chuck Norris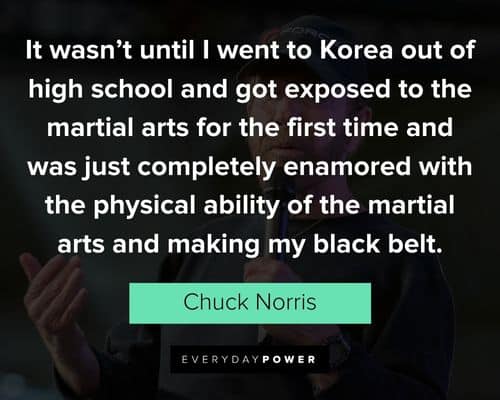 Chuck Norris quotes about his career
29. "Anytime you get action legends together, it has to be a classic." — Chuck Norris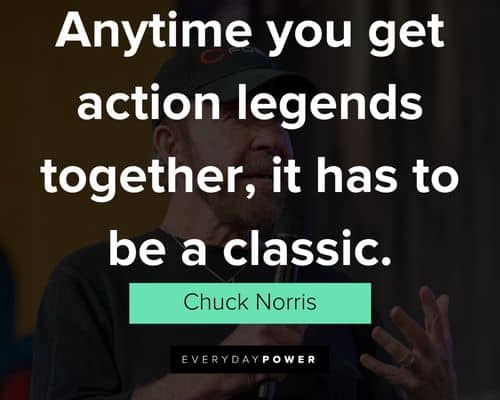 30. "What was Bruce Lee like? How did you meet? What was it like to choreograph the fight scene in Rome with him? Did you spend much time together off-screen? Those are a small sampling of the inquiries I'm asked often wherever I go around the world." — Chuck Norris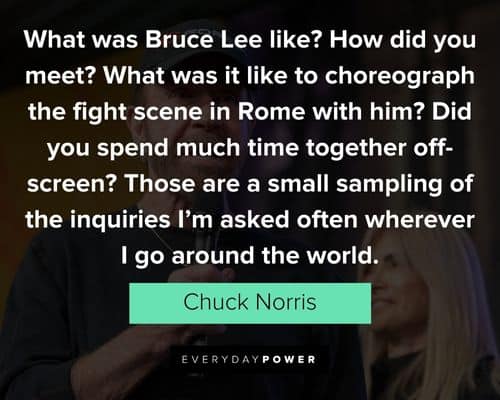 31. "As I travel the world, it seems that younger people identify me merely with some of the folklore in the 'Chuck Norris Facts' – those hyperbolic sayings that elevate my abilities beyond my capabilities. Others view me in light of the character I played in 'Walker, Texas Ranger' or in one of my 20 tough-guy films." — Chuck Norris
32. "While I filmed the 'Walker, Texas Ranger' series for eight and a half years, I had never had much time to read, except for screenplays of the episodes." — Chuck Norris
33. "When I got into the film business, my aim was to adopt a positive persona, of a guy who fights against injustice. And it saved me because my acting was atrocious, to say the least!" — Chuck Norris
34. "I'm – you know, I'm not a good actor." — Chuck Norris
35. "I've been very fortunate to be able to use my series as a platform to show a good message for the kids." — Chuck Norris
36. "Truthfully, I'm proud of each of my films in a certain way." — Chuck Norris
37. "I wasn't offered a role in 'Expendables 1,' and I'm a guest star in 'Expendables 2.'" — Chuck Norris
38. "People need to realize what real happiness and success is, because success as an actor is fleeting. You can be up there one day and gone the next." — Chuck Norris
Chuck Norris quotes on health and health care
39. "The key to the future in an aging society is not found in increasing just our life span; we need to increase our healthspan at the same time." — Chuck Norris
40. "It's important to concede that modern pesticides have helped to make farming more productive and to increase yields." — Chuck Norris
41. "When we drink a cup of coffee or spoon heated chicken noodle soup or chili out of a Styrofoam cup, we are also taking in small doses of chemicals that leach from the container. Heat activates this transfer, as does oil, acids, and alcohol." — Chuck Norris
42. "Parks represent an efficient, cost-effective way to improve public health." — Chuck Norris
43. "Getting kids into the kitchen preparing the food they and their families will eat results in them viewing food in an entirely new way. If given the right ingredients, that act alone can raise the standards of the quality of the food both they and their family eat." — Chuck Norris
44. "Taking in too much-added sugar from highly marketed sugary foods and drinks displaces healthier foods in the diet." — Chuck Norris
45. "Every day, we are bombarded with a multitude of toxins in the environment. We know that the negative health impacts from this constant exposure can add up." — Chuck Norris
46. "Getting into a sleep routine before the first week of school will aid in easing the shock of waking up early." — Chuck Norris
47. "Many things influence a person's eating habits. Knowledge of what is considered healthy and what is not would be one, but I doubt it would make it to the top of the list." — Chuck Norris
48. "You can benefit from even a small amount of added movement each week and uncomplicated exercises like walking. Some will always be better than none; to start, do that to which you're comfortable committing." — Chuck Norris
49. "A small behavioral change can also lead to embracing a wider checklist of healthier choices." — Chuck Norris
50. "Nutritionists have known for some time now that in order to get people to change what they eat, we need to provide them with more access to affordable, healthy food as well as information on how to cook and prepare it." — Chuck Norris
Which of these Chuck Norris quotes is your favorite?
A few years after that first movie, in 1972, he played Bruce Lee's nemesis in the widely acclaimed martial arts movie Return of the Dragon.
This film set records at the box office and is credited for launching his career as an action star.
He had a few roles in some smaller movies before publishing his first book, Winning Tournament Karate, in 1975.
Good Guys Wear Black was met with resistance from the studios, as in, no one wanted to release it.
Norris and his producers rented theaters and would keep whatever money the movie brought in.
The film established Chuck Norris as the first American martial arts star.
Norris filmed several action movies between 1984 and 1993 that cemented his place in Hollywood.
In 1993, he landed the lead role in Walker, Texas Ranger, based on his film Lone Wolf McQuade.
His martial arts and film careers are impressive, but few others in either industry have accumulated the cult following that Chuck Norris has.
His standing in American culture is a phenomenon!
Share your favorite Chuck Norris quotes or jokes in the comment section below!