Cobra Kai Quotes That Remind Us Why We Love This Karate Kid Spin-Off
These Cobra Kai quotes will remind you of your childhood and everything you loved about The Karate Kid.
Let us know your favorite Cobra Kai moment in the comment section below.
The Karate Kid is a nostalgic part of American 80s culture, and when Netflix reunited Daniel LaRusso (Ralph Macchio) and Johnny Lawrence (William Zabka) in the show Cobra Kai, they struck TV gold!
Many of the original The Karate Kid cast have appeared in the show.
Sadly, Mr. Miyagi (Pat Morita) passed away in 2005, and while we may not get to see him, he is definitely there in spirit!
These Cobra Kai quotes also include some gems from new cast members who play Daniel's daughter Sam and Johnny's son Robby.
Cobra Kai is most assuredly a comedy-drama, and some of these Cobra Kai quotes are so funny they will practically have you rolling on the floor.
Johnny delivers some of the best jokes on this show!
Cobra Kai premiered on Netflix in 2018, and the story picks up 34 years after the iconic All Valley Karate Tournament that started it all!
Keep reading through these Cobra Kai quotes and learn what we know about Season 4!
Don't forget to also check out these adventurous Jumanji quotes from the original movie.
Check out our most popular quote article, a list of short inspirational quotes for daily inspiration.
Our inspirational quotes category page has all of our motivational quotes for all the different areas of life.
Inspirational Cobra Kai quotes from Daniel and Sam LaRusso
1. "When negative feelings overwhelm you, look for the good within yourself." — Daniel LaRusso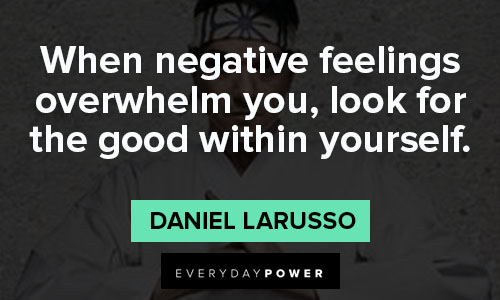 You will also enjoy our article on Ace Ventura quotes.
2. "If you have hate in your heart, then you have already lost." — Daniel LaRusso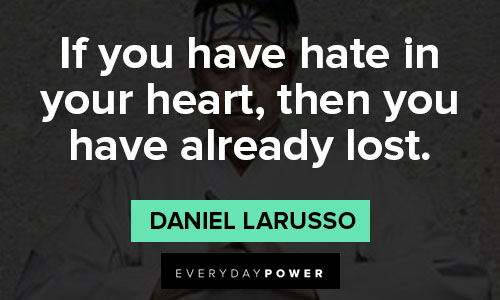 You will also enjoy our article on snake quotes.
3. "You do the right thing cause it's the right thing to do." — Daniel LaRusso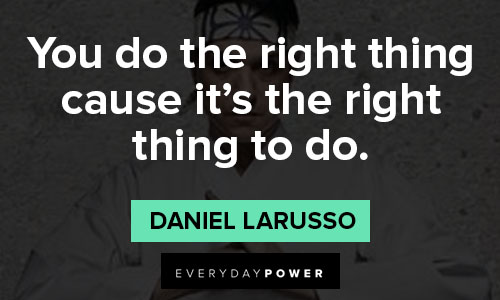 4. "You are the only one who can get up when you are down." — Daniel LaRusso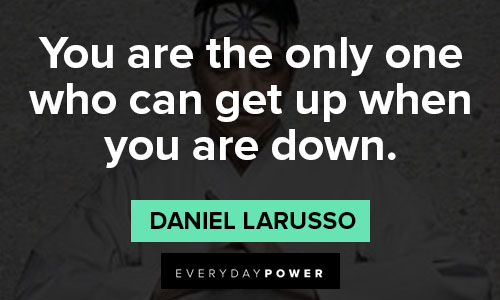 You will also enjoy our article on The Karate Kid quotes.
5. "Sometimes the scars you can't see are the ones that hurt the most." — Samantha LaRusso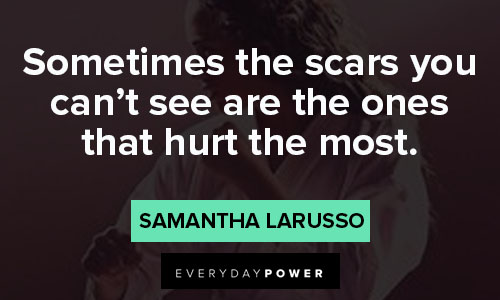 6. "Everyone's got a sob story, that doesn't give you the right to be a bully." — Samantha LaRusso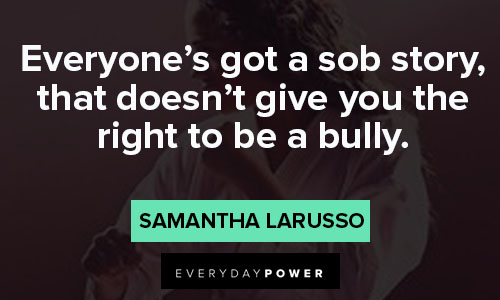 7. "Alone we are nothing, but if we work together, we have a shot." — Samantha LaRusso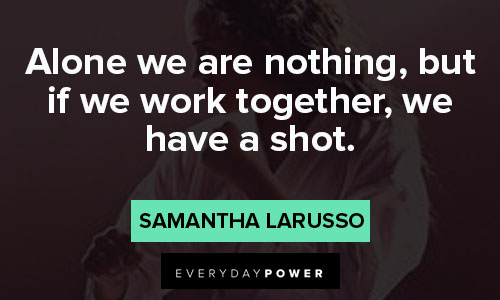 If you enjoy this article, check out our collection of Big Trouble in Little China quotes.
Cobra Kai quotes about striking first, no mercy, strength, and the enemy
8. "What, do you want those kids at school to keep dumping shit on your head? You want all the girls to think you're a wang-less dork? Coz you can stop your training right now, and you can walk outside and let the whole world know you're a loser. Or you can plant your feet, look your enemy in the eyes AND PUNCH HIM IN THE FACE!" — Johnny Lawrence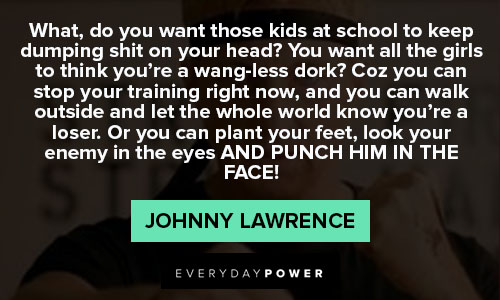 9. "If your enemy insists on war, then you take away their ability to wage it." — Chozen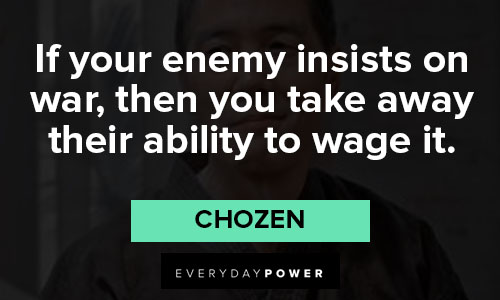 10. "The older you get the more you're going to learn that life isn't fair. You wake up one morning feeling great and then life throws a spinning heel kick to your balls and takes a big steaming shit in your mouth… That's how it goes. Life shows no mercy so neither do we. We do whatever it takes to keep our heads above water. We do whatever it takes to keep moving forward. We do whatever it takes to win. Remember who you are. You're badass. You don't give a shit. You kick ass. You're Cobra Kai." — Johnny Lawrence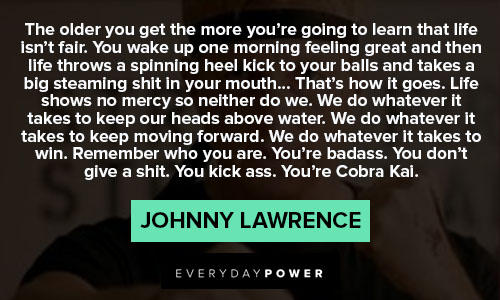 11. "The world shows no mercy, so, why should we? Some people have it good, but the rest of us, we have to fight for every inch of what's ours. Not just to score a point. For everything." — Tory Nichols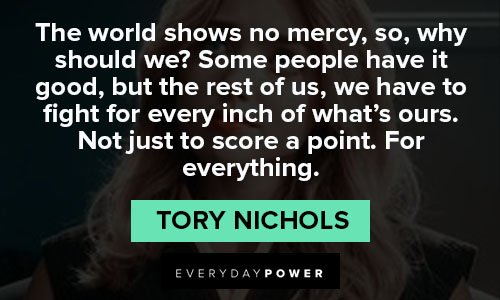 12. "All that Miyagi-Do mumbo jumbo, that might score you points in a tournament. But now you're in the real world kid, you might wanna learn to strike first." — John Kreese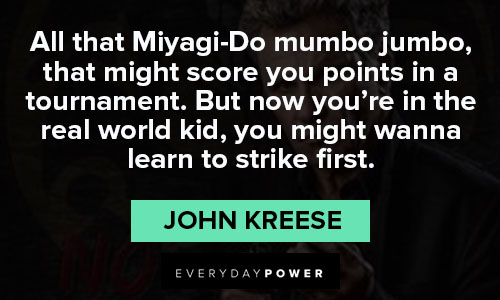 13. "We do not train to be merciful here. Mercy is for the weak. Here, in the streets, in competition." — John Kreese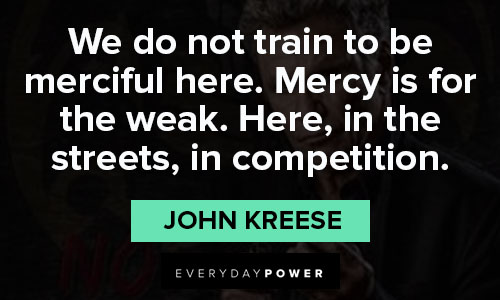 14. "I'm not just gonna teach you how to conquer your fears. I'm going to teach you how to awaken the snake within you. And once you do that, you'll be the ones who's feared. You'll build strength. You'll learn discipline. And when the time is right, you'll strike back." — Johnny Lawrence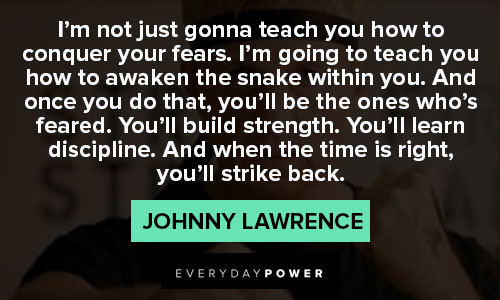 15. "Cobra Kai is about strength, if you're not strong on the inside, then you can't be strong on the outside." — Johnny Lawrence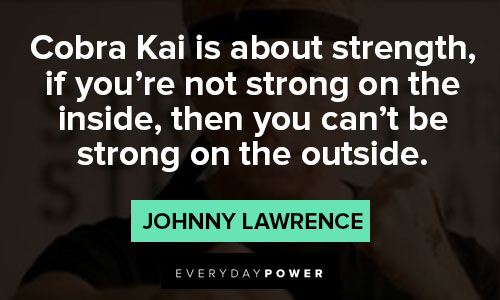 Cobra Kai quotes from Hawk, Miguel, and the rest of the karate kids
16. "There's no honor in being merciless." — Miguel Diaz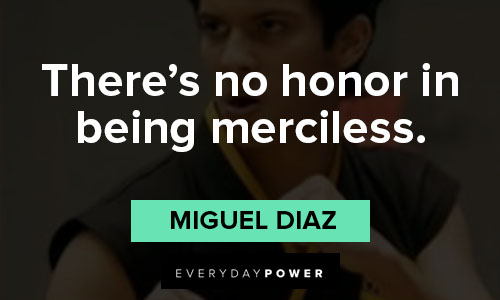 17. "We don't take no for an answer." — Miguel Diaz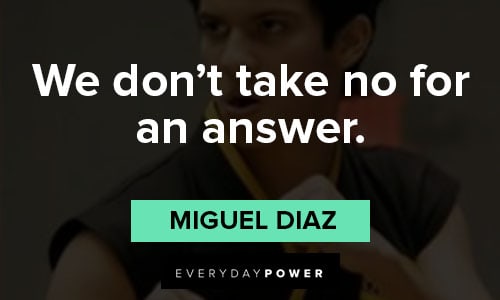 18. "You just gotta feel the energy and just live in the moment, you know?" — Hawk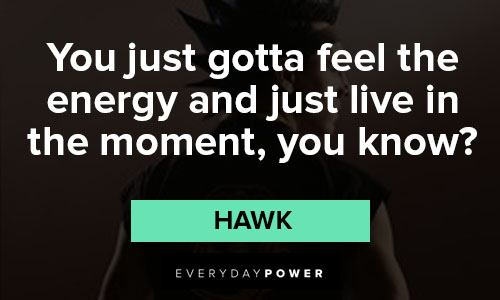 19. 35. "Defeat does not exist." — Hawk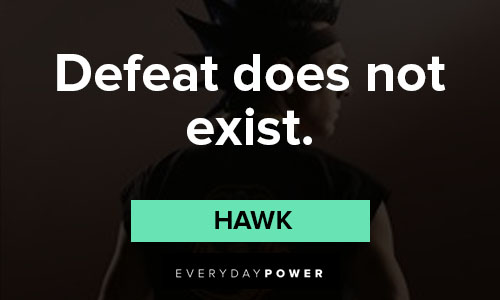 20. "At least I know who I am. You are still trying to be something you're not." — Tory Nichols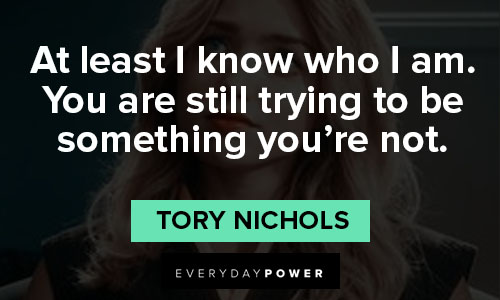 21. "I just don't need to drink to pretend to be cool." — Robby Keene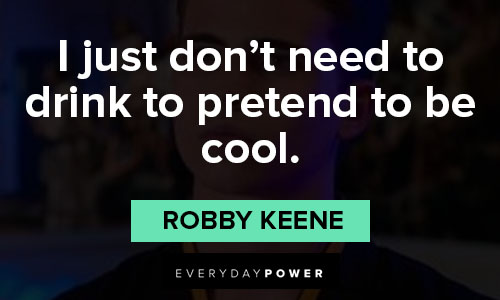 22. "I'm gonna have to face him sooner or later. Might as well be today." — Robby Keene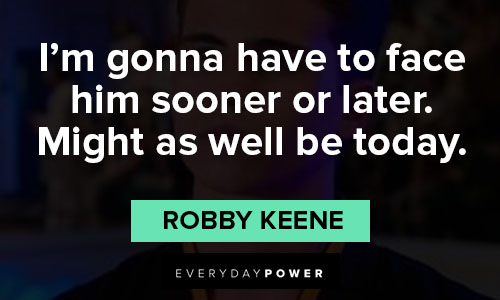 Funny Cobra Kai quotes and sayings
23. "Cool story. Try telling it to someone who gives a shit." — Robby Keene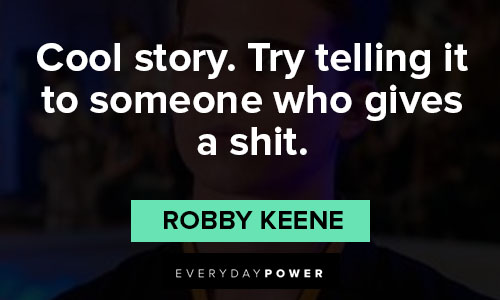 24. "Stop drinking the butter!" — Johnny Lawrence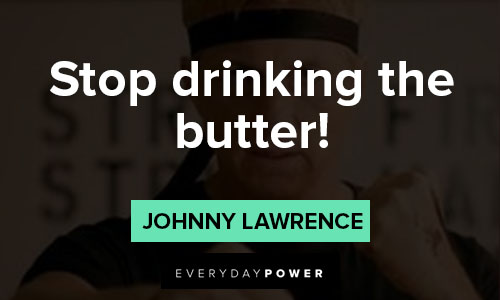 25. "Did you just flinch virgin?" — Johnny Lawrence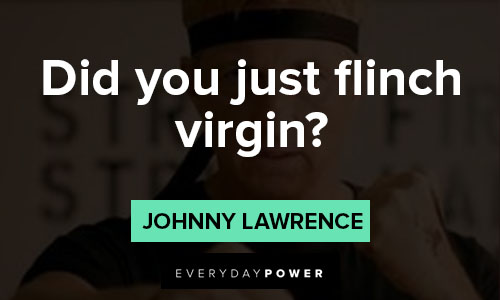 Which of these Cobra Kai quotes is your favorite?
You might wonder when season 4 will come out, and Netflix has confirmed that it will be out in 2021!
It seems likely that we will get to watch the next installment of The Karate Kid spinoff in the last quarter, making a premier between October and the end of December!
There are some fresh additions to the cast, like Dallas Dupree Young and Oona O'Brien, although not much is known about their characters at this point.
That isn't too much longer, and fans also got a bit more news from Netflix when they confirmed that there is a lot more story to tell and picked the show up for the 5th season.
So, no, Cobra Kai has not been canceled!
The show has a built-in fan base, a great story, and killer talent, so hopefully, it doesn't go anywhere, anytime soon!
What is your favorite moment from Cobra Kai so far?
Let us know in the comment section below!