David Attenborough Quotes by the English Broadcaster
These David Attenborough quotes depict his passion for nature and conservation.
David Attenborough is an English broadcaster who was born in the mid-1920s.
Attenborough started working for the English news company BBC in the 1950s. However, he first worked as a producer and not as a broadcaster.
He later began to work as a news broadcaster, mainly focusing on nature, a job he is now known for.
Attenborough has won many awards throughout his life because of his popular nature broadcasts.
In 1985, Attenborough won the Founder's Gold Medal and the BAFTA Fellowship award in 1980.
He has also won the International Emmy Founders Award, which he won in 1985.
These are just a few of the many awards Attenborough has received.
You can learn more about him in the David Attenborough quotes below.
If you like this article, we suggest you explore our most popular quotes article, a list of short inspirational quotes for daily encouragement.
Look through our complete collection of inspirational quotes here.
David Attenborough Quotes From the Popular Broadcaster
Attenborough used his platform and voice to speak out about the changes he wanted to see in the world. These quotes give us a taste of his thoughts.
1. "We are going to have to live more economically than we do. And we can do that, and I believe we will do it more happily, not less happily. And that the excesses the capitalist system has brought us, have got to be curbed somehow." – David Attenborough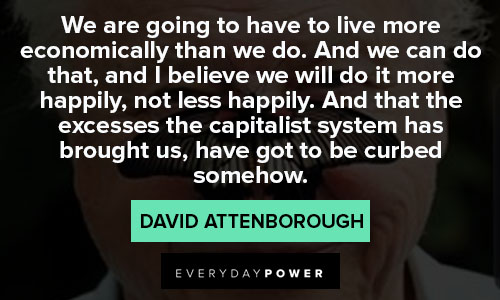 2. "We destroy plants at our peril. Neither we nor any other animal can survive without them." – David Attenborough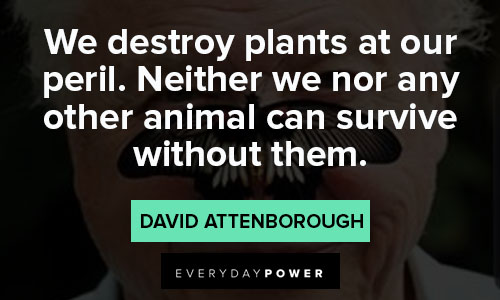 3. "I just wish the world was twice as big and half of it was still unexplored." – David Attenborough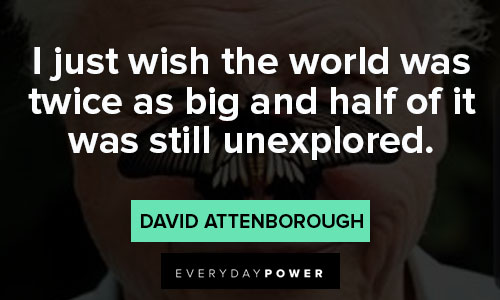 4. "Now, over half of us live in an urban environment. My home, too, is here in the city of London." – David Attenborough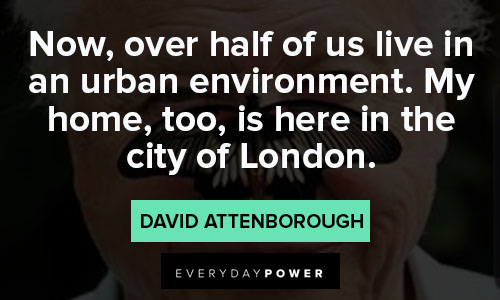 5. "Many individuals are doing what they can. But real success can only come if there is a change in our societies and in our economics and in our politics."- David Attenborough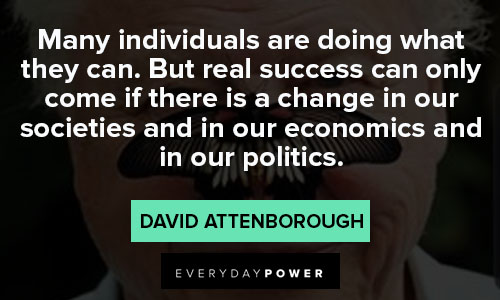 6. "I'm sure things are going to get worse before they get better. But I believe they can get better." – David Attenborough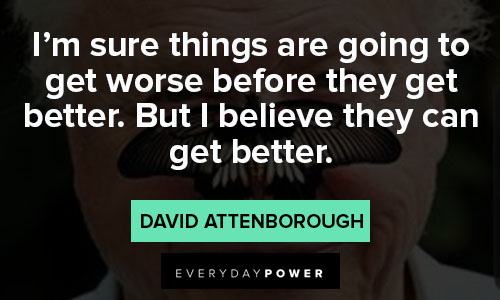 7. "Since I started filming in the 1950s, on average, wild animal populations have more than halved." – David Attenborough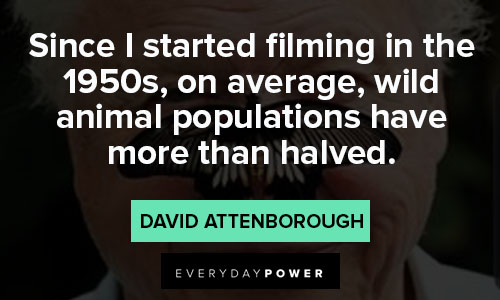 8. "We can now destroy, or we can cherish, the choice is ours." – David Attenborough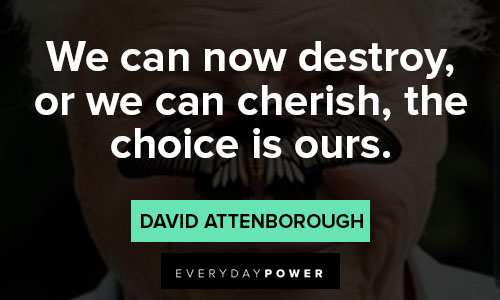 9. "No one will protect what they don't care about, and no one will care about what they have never experienced." – David Attenborough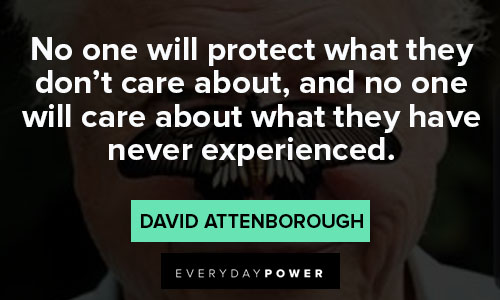 10. "Bringing nature into the classroom can kindle a fascination and passion for the diversity of life on earth and can motivate a sense of responsibility to safeguard it." – David Attenborough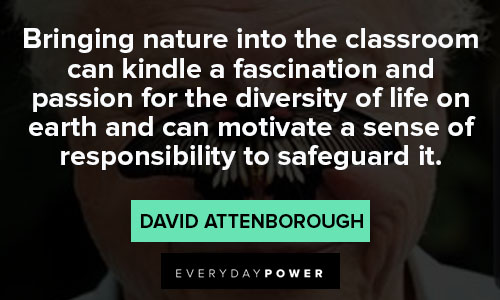 David Attenborough's Thoughts on Conservation
Protecting nature and the animals in it was important to Attenborough. These quotes speak to his passion for conservation.
11. "The fun is in delighting in the animals, but if you do that, you owe them something, so you have an obligation to speak out and to do what you can to protect them." – David Attenborough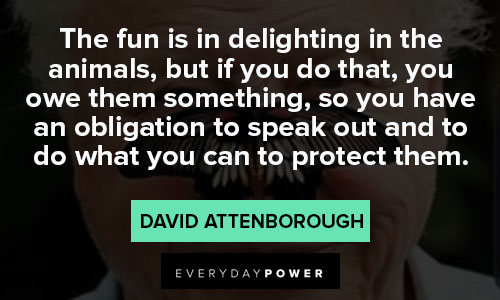 12. "People who are going to be around in 10 years time, in 20 years time, will blame us profoundly if we don't do anything about it." – David Attenborough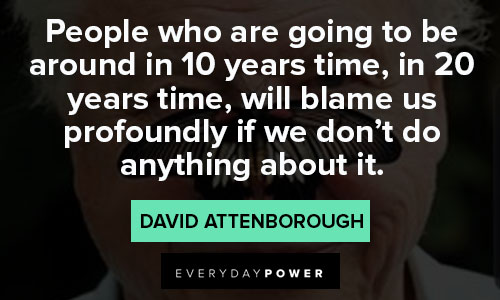 13. "You can wreck one rainforest then move, drain one area of resources and move onto another, but climate change is global." – David Attenborough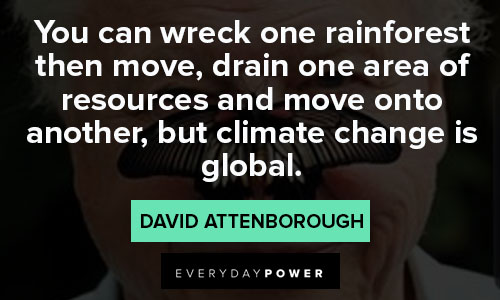 14. "The question is, are we happy to suppose that our grandchildren may never be able to see an elephant except in a picture book?" – David Attenborough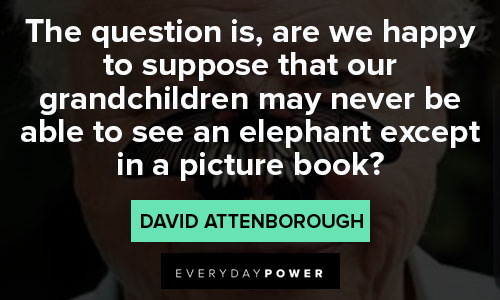 15. "The best motto to think about is not to waste things. Don't waste electricity; don't waste paper; don't waste food." – David Attenborough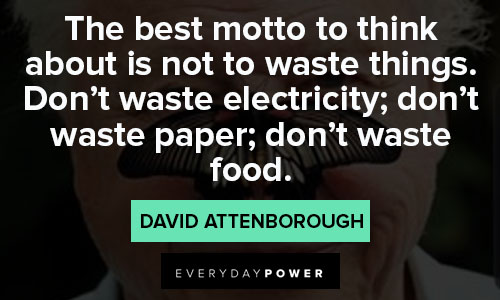 16. "Right now, eight million tonnes of plastics end up in the oceans every year…the actions of just one of us may seem to be trivial and to have no effect. But the knowledge that there are thousands of, hundreds of thousands of people who are doing the same thing – that really does have an effect." – David Attenborough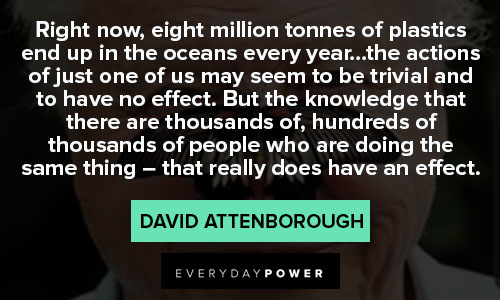 17. "Birds are the most accomplished aeronauts the world has ever seen. They fly high and low, at great speed, and very slowly. And always with extraordinary precision and control." – David Attenborough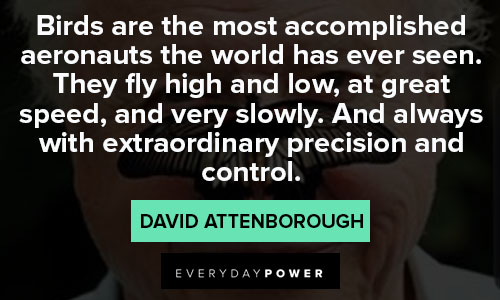 18. "Those that live in the air have to fight in the air." – David Attenborough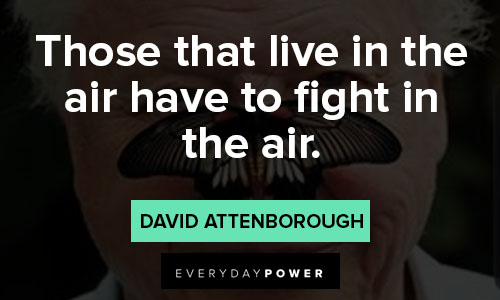 19. "Reptiles and amphibians are sometimes seen as simple, primitive creatures….The fact that they are solar-powered means that their bodies require only 10% of the energy that mammals of a similar size require." – David Attenborough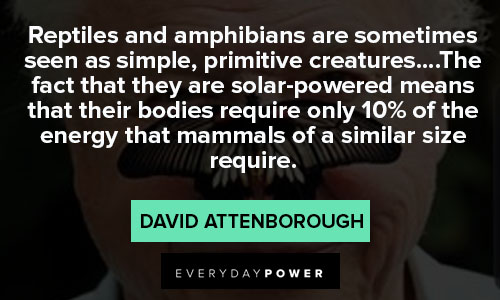 20. "The coral's stinging armory isn't used only for collecting food; they also use it to fight. As has been discovered only comparatively recently, corals, like many animals that live on land, are extremely territorial." – David Attenborough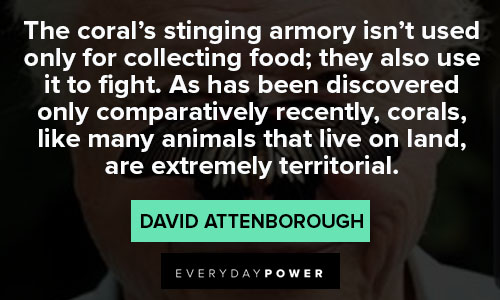 How do you feel about David Attenborough's opinions?
As a child, Attenborough had an early interest in nature, especially stones and fossils, both of which he collected.
Before Attenborough began to work for BBC, he served time in the Royal Navy.
During that time, he was stationed for two years in the Firth of Forth and North Wales.
When Attenborough completed his service in the Royal Navy, he worked editing kids' science textbooks before he began broadcasting work.
David Attenborough went to college in Cambridge at Clare College.
He had won a scholarship to get into the school. Then, he graduated with a natural sciences degree.
Attenborough is now 96 years old and lives in Richmond.
Did his quotes motivate you to want to pay attention to nature and the world around you more?