85 Empowering Breast Cancer Quotes to Raise Awareness
So, to inspire hope, perseverance, and strength among the millions of women and men affected by this disease, we have curated these motivational breast cancer quotes.
Did you know 1 in 8 women will develop breast cancer throughout their lifetime (as reported by Breastcancer.org)?
Has breast cancer affected your family?
Tell us your story in the comment section below.
What are the benefits of reading these breast cancer quotes?
If you are currently dealing with this disease, remember that there is still a light at the end of the tunnel.
Mortality rates continue to decrease because of:
the advancement in treatments
early detection
increased awareness
Whether you or someone you love is suffering from breast cancer, the below quotes provide inspiration and motivation to keep fighting.
Look at the quotes below and remember that you are not alone in your suffering.
We also have a collection of fighting cancer quotes to encourage and comfort.
Also, check out our most popular quote article, a list of short inspirational quotes for daily wisdom.
See the rest of our quote database for even more inspirational ideas and thoughts.
Breast cancer quotes about persevering through illness
1. "We have two options, medically and emotionally: give up or fight like hell." – Lance Armstrong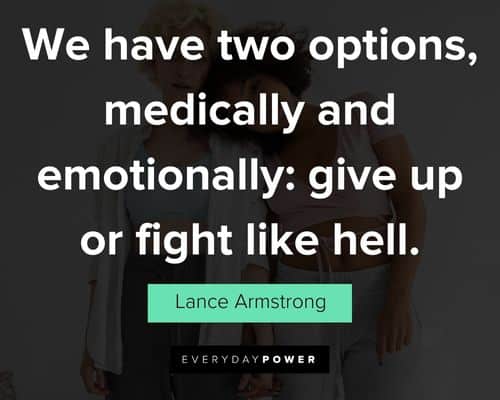 2. "No matter what the statistics say, there is always a way." – Bernie Siegel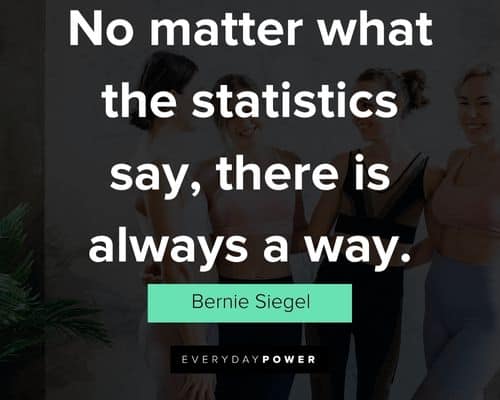 3. "I'm here today because I refused to be unhappy. I took a chance." – Wanda Sykes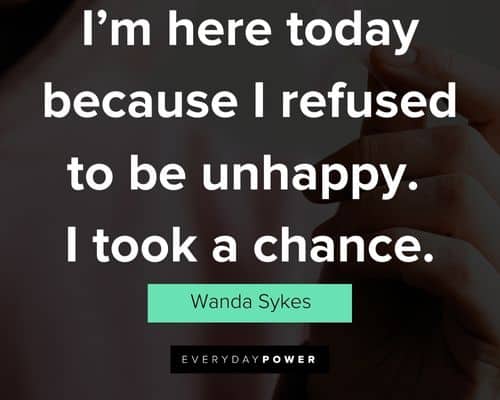 4. "Don't let breast cancer take away the motivation to achieve your dreams." – Diana Cohen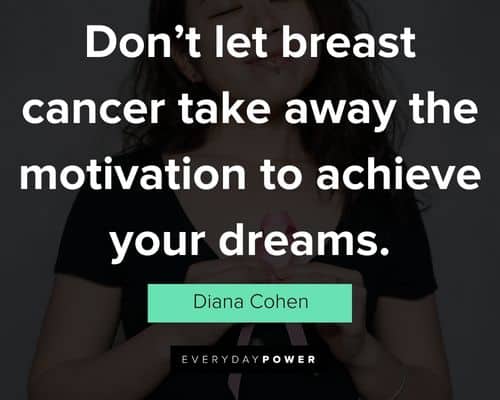 5. "My relationship with my body has changed. I used to consider it as a servant who should obey, function, give pleasure. In sickness, you realize that you are not the boss. It is the other way around." – Federico Fellini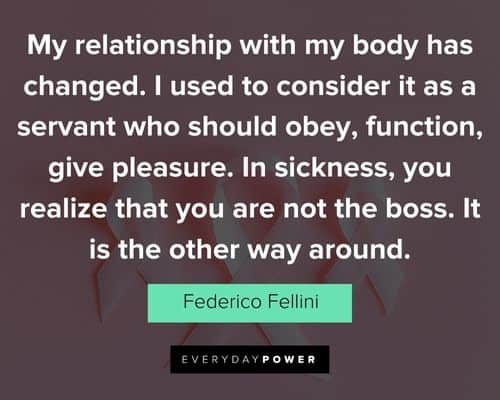 6. "Cancer didn't bring me to my knees, it brought me to my feet." – Michael Douglas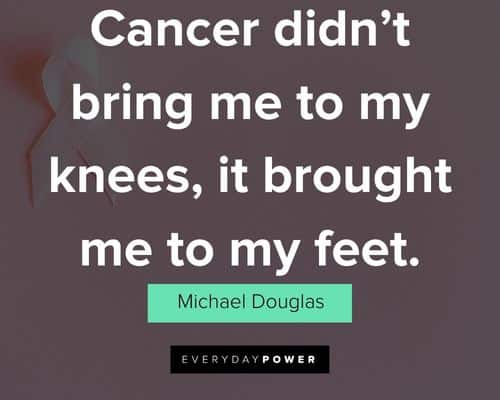 7. "Cancer opens many doors. One of the most important is your heart." – Greg Anderson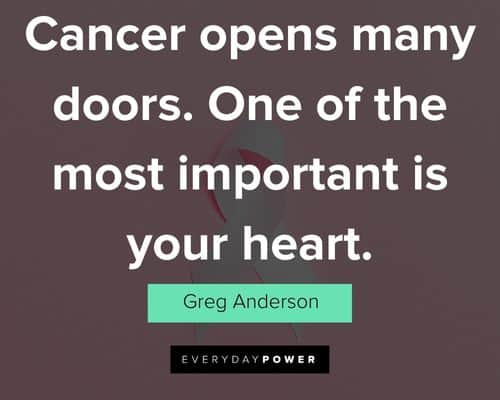 8. "The most important thing in illness is never to lose heart." – Nikolai Lenin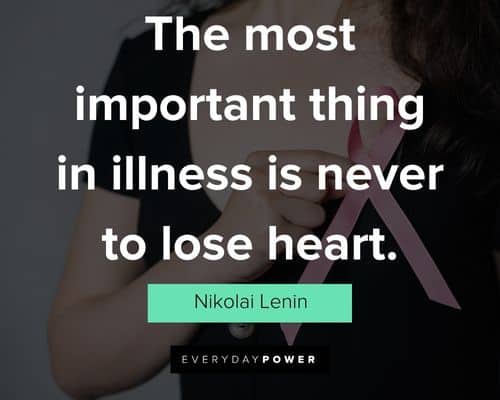 9. "The ultimate measure of a man is not where he stands in moments of comfort and convenience, but where he stands at a time of challenge and controversy." – Dr. Martin Luther King Jr.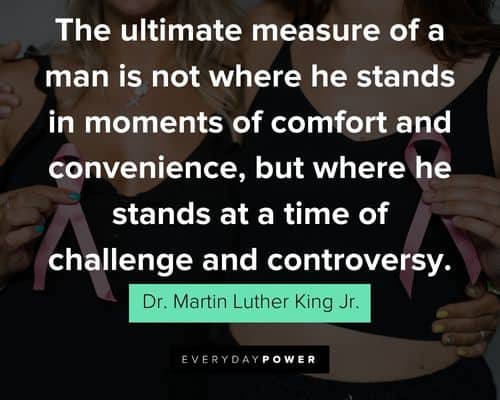 10. "Cancer is messy and scary. You throw everything at it, but don't forget to throw love at it. It turns out that might be the best weapon of all." – Regina Brett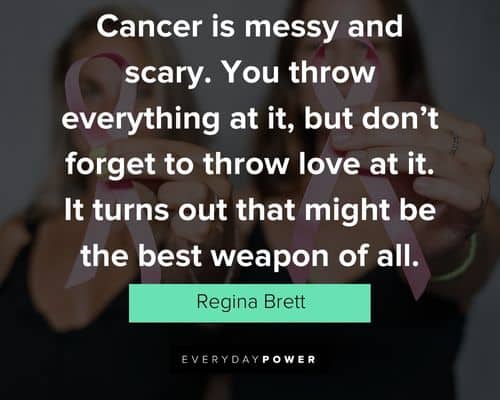 You will also enjoy our article on nephew quotes.
Breast cancer quotes to remind you that there is still a light at the end of the tunnel
11. "My will, my faith, and my body have been challenged. But make no mistake, my heart is strong and my resolve to fight will never be broken." – Anastacia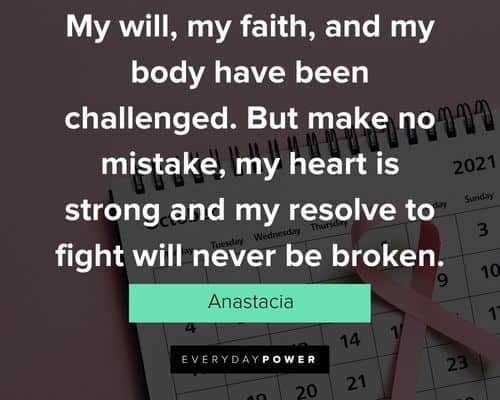 12. "I think cancer is a hard battle to fight alone or with another person at your side, but I will say having someone to pick you up when you fall, stand by your side through every appointment and delivery of bad news, is priceless." – Jenna Morasca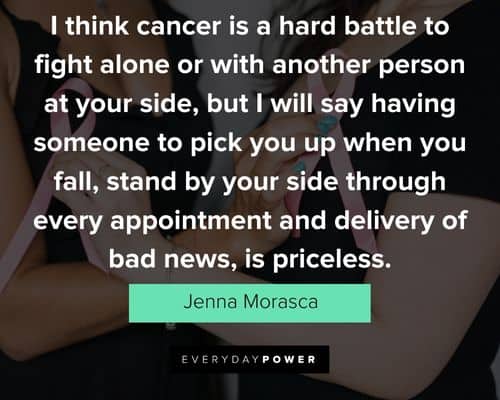 13. "Cancer can take away all of my physical abilities. It cannot touch my mind, it cannot touch my heart, and it cannot touch my soul." – Jim Valvano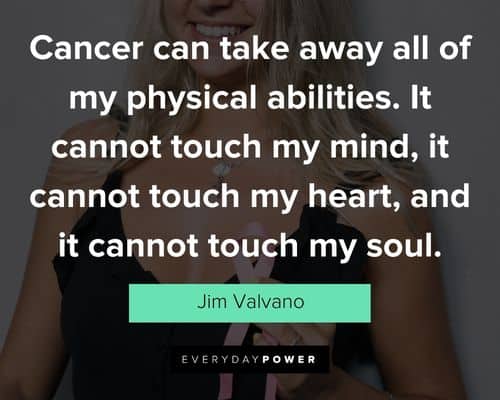 14. "To fear is one thing. To let fear grab you by the tail and swing you around is another." – Katherine Paterson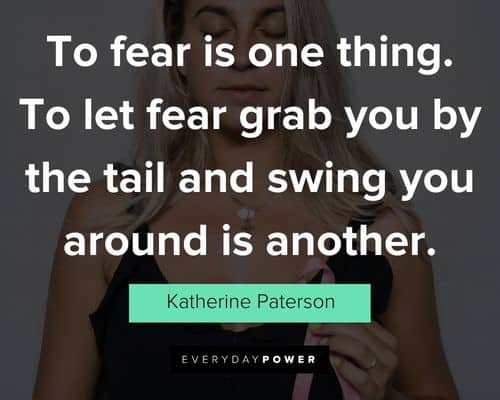 15. "You never know how strong you are until being strong is the only choice you have." – Cayla Mills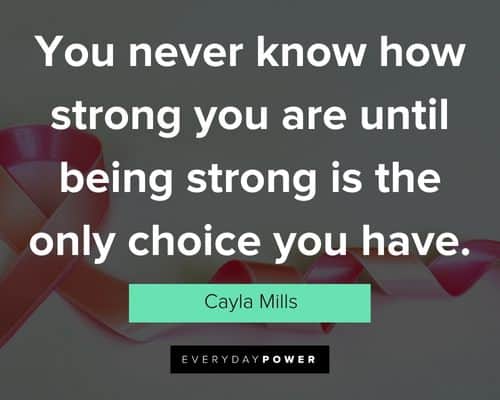 16. "The hardest thing you can do is smile when you are ill, in pain, or depressed. But this no-cost remedy is a necessary first half-step if you are to start on the road to recovery." – Allen Klein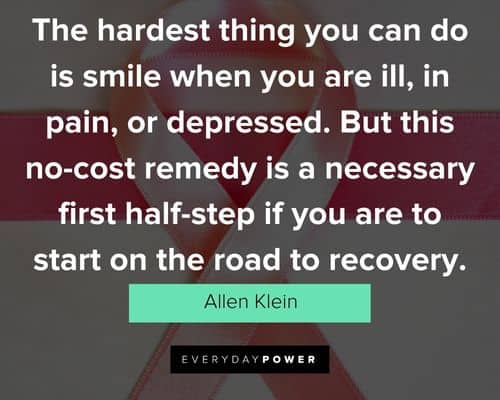 If you're enjoying these quotes, you'll love our collection of powerful depression quotes that will provide perspective.
17. "Toughness is in the soul and spirit, not in muscles." – Alex Karras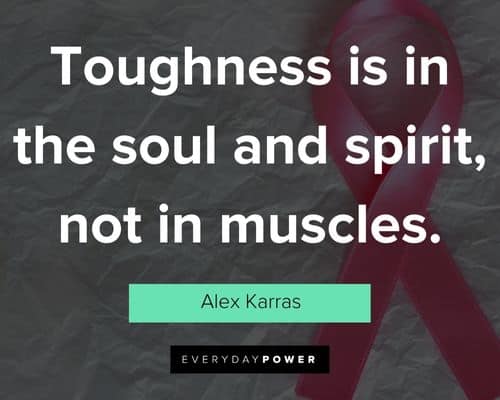 18. "If you have a friend or family member with breast cancer, try not to look at her with 'sad eyes.' Treat her like you always did; just show a little extra love." – Hoda Kotb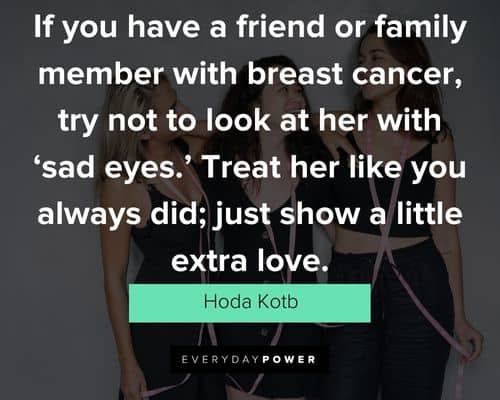 19. "There is no medicine like hope, no incentive so great, and no tonic so powerful as expectation of something tomorrow." – Orison Swett Marden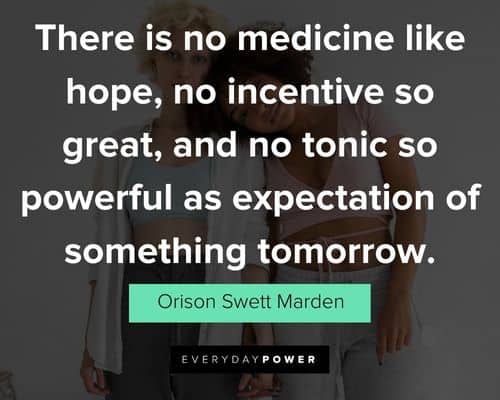 20. "I'm battling cancer. It's another battle I intend to win" – Arlen Specter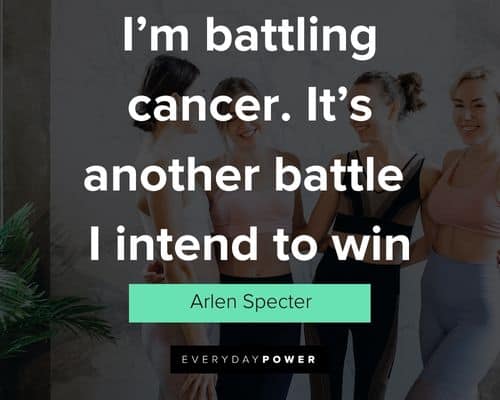 You might also like these get well soon quotes and wishes that will help you know what to say when someone you love is feeling sick.
Breast cancer quotes about life after cancer
21. "There can be life after breast cancer. The prerequisite is early detection." – Ann Jillian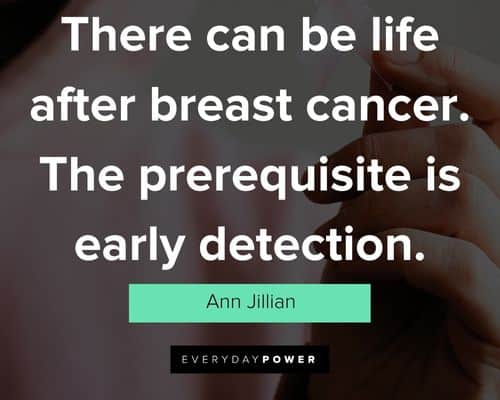 22. "Once I overcame breast cancer, I wasn't afraid of anything anymore." – Melissa Etheridge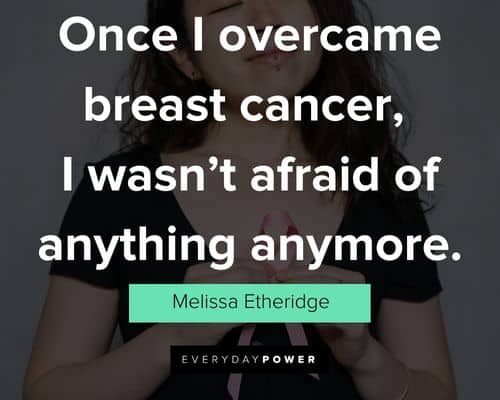 23. "More than 10 million Americans are living with cancer, and they demonstrate the ever-increasing possibility of living beyond cancer." – Sheryl Crow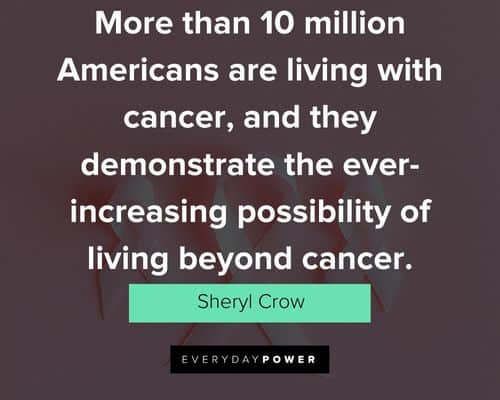 24. "Life's better now. I wouldn't do it all again, though. It's funny how life works. Maybe it was meant to happen for many reasons because my life in many ways is richer." – Giuliana Rancic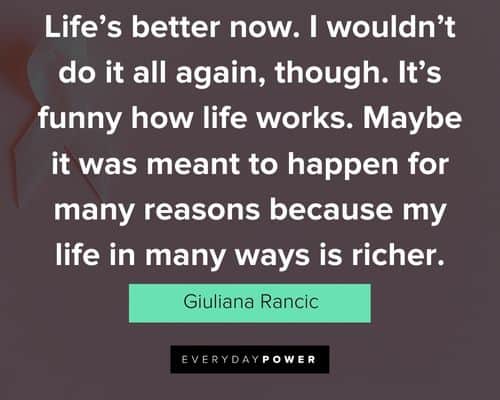 25. "Since I had cancer I've realized that every day is a bonus." – Geoffrey Boycott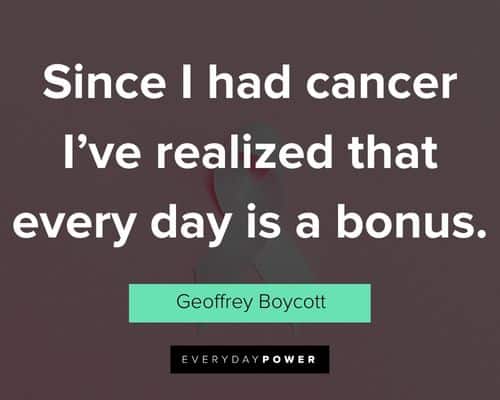 Breast cancer quotes about raising awareness
26. "Breast cancer, whether I like it or not, is part of my family's story. That's why I am so passionate about raising awareness because I have seen firsthand how it can impact others." – DeAngelo Williams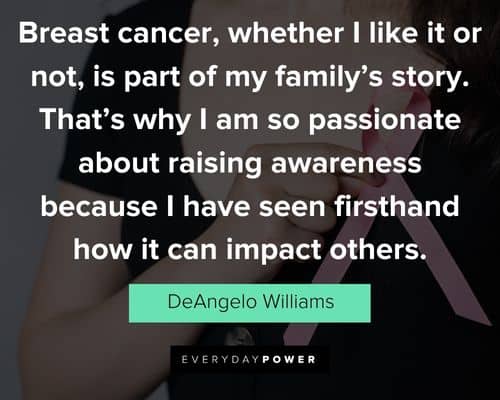 27. "Whether you're a mother or father, or a husband or a son, or a niece or a nephew or uncle, breast cancer doesn't discriminate.' – Stephanie McMahon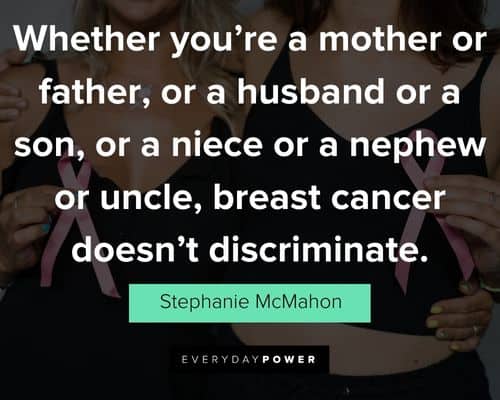 28. "Every woman needs to know the facts. And the fact is, when it comes to breast cancer, every woman is at risk." – Debbie Wasserman Schultz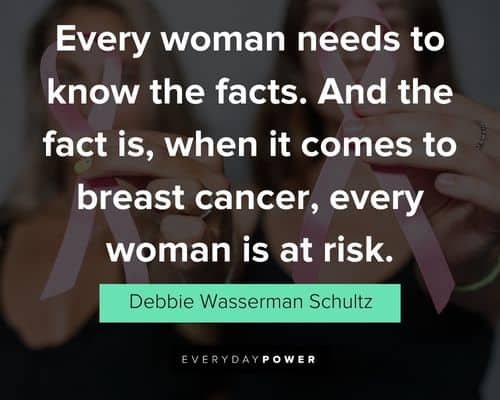 29. "Breast cancer deaths in America have been declining for more than a decade. Much of that success is due to early detection and better treatments for women. I strongly encourage women to get a mammogram." – Larry Craig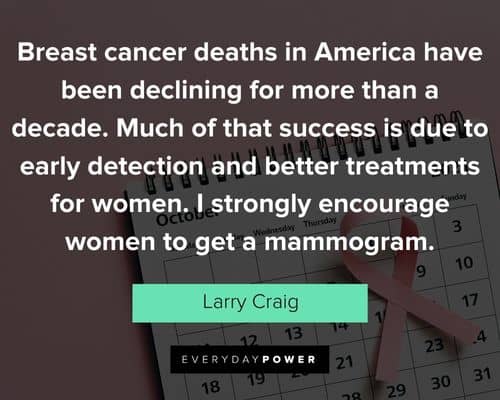 30. "With breast cancer, it's all about detection. You have to educate young women and encourage them to do everything they have to do." – Bill Rancic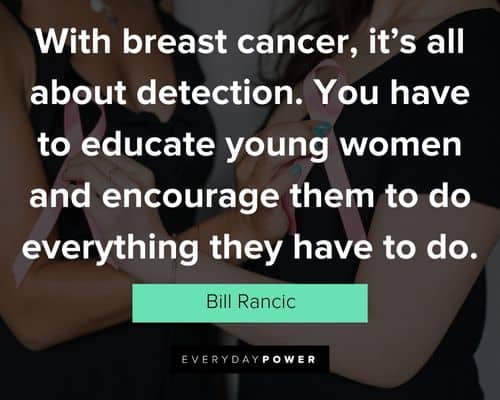 If you're enjoying these quotes, make sure to check out our collection of international Women's Day quotes celebrating womanhood.
31. "Cancer affects all of us, whether you're a daughter, mother, sister, friend, coworker, doctor, or patient." – Jennifer Aniston
Breast cancer quotes about optimism
32. "Become a possibilitarian. No matter how dark things seem to be or actually are, raise your sights and see possibilities – always see them, for they're always there." – Norman Vincent Peale
33. "Fearlessness is like a muscle. I know from my own life that the more I exercise it, the more natural it becomes to not let my fears run me." – Arianna Huffington
34. "With the new day comes new strength and new thoughts." – Eleanor Roosevelt
35. "Each day comes bearing its own gifts. Untie the ribbons." – Ruth Ann Schabacker
36. "Some days there won't be a song in your heart. Sing anyway." – Emory Austin
37. "The human spirit is stronger than anything that can happen to it." – C.C. Scott
38. "Once you choose hope, anything's possible." – Christopher Reeve
39. "When everything seems to be going against you, remember that the airplane takes off against the wind, not with it." – Henry Ford
40. "When we embrace uncertainty, it can be very liberating. If you can accept the uncertainty, it allows you to live life every day." – Victor Gospodinoff
Breast cancer quotes to make you strong
41. "Courage doesn't always roar. Sometimes courage is the little voice at the end of the day that says I'll try again tomorrow." – Mary Anne Radmacher
42. "Attitude is a little thing that makes a big difference." – Winston Churchill
43. "Optimism is the foundation of courage." – Nicholas Murray Butler
44. "Never, never, never give up." – Winston Churchill
45. "Life's not about how hard of a hit you can give… it's about how many you can take, and still keep moving forward." – Sylvester Stallone
46. "Enjoy the little things, for one day you may look back and realize they were the big things." – Robert Brault
47. "A woman is like a teabag, you cannot tell how strong she is until you put her in hot water." – Nancy Reagan
48. "You were given this life because you are strong enough to live it." – Ain Eineziz
49. "The answer to every adversity lies in courageously moving forward with faith." – Edmond Mbiaka
50. "Seeds of faith are always within us; sometimes it takes a crisis to nourish and encourage their growth." – Susan Taylor
Breast cancer quotes to encourage and comfort
51. "Knowing it exists is not enough. Get informed. Pass it on." – Unknown
52. "From every wound, there is a scar, and every scar tells a story. A story that says 'I survived'." – Kim
53. "When fear knocks, let faith answer the door." – Robin Roberts
54. "Let your faith be bigger than your fear." – Alicia
55. "Breast cancer is scary and no one understands that like another woman who has gone through it too." – Mindy Sterling
56. "Fearless does not mean you aren't afraid; it means you accept the fear and move forward anyway." – Brianne Joseph
57. "Keep putting one foot in front of the other. That's all you need to do right now." – Jen
58. "I had cancer, cancer did not have me!" – Micha
59. "Life is much better when you choose happy. Despite your uncontrollable circumstances you have the choice to choose happy and to choose life." – Lakeia Clark
60. "You beat cancer by how you live, why you live and in the manner in which you live."- Unknown
More breast cancer quotes
61. "If it takes a village to raise a child, it takes a bloody army to battle cancer." – Niyati Tamaskar
62. "If a relative has suffered Ovarian or Breast Cancer, get the genetic screening. It saves lives." – Lisa Jey Davis
63. "Surviving cancer treatment is like coming home from war." – Saskia Lightstar
64. "Do not partner with fear to help you make decisions." – Jeannette Gregory
65. "Don't delegate your survival to the doctors and hope for the best. You have to participate in your own cure. You have to fight." – Lawrence Wray
Breast cancer quotes to ponder on
66. "Don't wait for tomorrow to live a life you love today." ― Kara Adams
67. "Now move forward. It is not in death we should be afraid. It is in life, if we don't live it. It is a gift." ― Arlene M. Karole
68. "Breast cancer, I can now report, did not make me prettier or stronger, more feminine or spiritual. What it gave me, if you want to call this a "gift," was a very personal, agonizing encounter with an ideological force in American culture that I had not been aware of before—one that encourages us to deny reality, submit cheerfully to misfortune, and blame only ourselves for our fate." ― Barbara Ehrenreich
69. "When I was in medical school, I embarrassed myself horribly when I found a 'lump' in my breast and frantically ran to one of the older doctors to find out if I had cancer. I found out I had a rib." ― Susan M. Love
70. "Having cancer does make you try to be better at everything you do and enjoy every moment. It changes you forever. But it can be a positive change." — Jaclyn Smith
71. "Cure sometimes, treat often, comfort always." — Hippocrates
72. "The only person who can save you is you." — Sheryl Crow
73. "The goal is to live a full, productive life even with all that ambiguity. No matter what happens, whether the cancer never flares up again or whether you die, the important thing is that the days that you have had you will have lived." — Gilda Radner
74. "Yesterday I dared to struggle. Today, I dare to win." — Bernadette Devlin
75. "Breast cancer changes you, and the change can be beautiful." — Jane Cook
Breast Cancer Quotes That There is Life After Cancer
76. "I feel so fortunate and grateful to be a survivor of breast cancer. I see it as a gift." — Olivia Newton-John
77. "My mum [who has breast cancer] is a fighter. I've got that from her, I know she's a fighter." — Naomi Campbell
78. "My efforts to join the fight against breast cancer all began around the fact that women were getting short-changed in the medical arena." — Evelyn Lauder
79. "I'm a huge breast cancer awareness advocate because my mom went through breast cancer recently. It really brought our family closer." — Brenda Song
80. "I personally know women who are Breast Cancer survivors and will do all I can to support the cause. Besides, I love boobies!" — Jane Wiedlin
81. "Upon hearing the results of her breast examination, the First Lady said – 'I guess it's my turn.'" — Nancy Reagan
82. "The women with high social pressure seem to be amongst the strongest carriers of the possibility of breast cancer." — Caroline Myss
83. "My mom, she's a breast cancer survivor and because of that I had started getting mammograms once a year, starting at age 30." — Kate Walsh
84. "I heard those words that every woman fears and never wants to hear, 'You have breast cancer." — Joan Lunden
85. "Women who have been recently diagnosed with breast cancer can learn a tremendous amount from women who have already been treated." — Anne Wojcicki
What quotes do you turn to for a boost in morale?
As mentioned above by Stephanie McMahon, breast cancer doesn't discriminate.
Women and men of every age, nationality, income, and religion can come face to face with breast cancer.
If you or someone you love has dealt with this diagnosis, a world of support is available for you.
The breast cancer quotes and sayings listed above clearly reflect that.
Check out the resources available on the Susan G. Komen organization's website to find support in your area.
These resources will be helpful whether you are currently dealing with the disease, are a survivor, or are a loved one of someone diagnosed with breast cancer.
What quote above is the most inspirational for you?
Tell us what your favorites are in the comments section below.