Doja Cat Quotes from the American Rapper
These Doja Cat quotes will give you insight into the life of the popular rapper.
Doja Cat is the stage name of American rapper and singer Amala Ratna Zandile Dlamini.
When she was a teenager, she started making music and publishing it on SoundCloud.
She eventually gained attention and signed a joint record deal with RCA Records and Kemosabe when she was 17 years old.
Doja Cat's first EP was released in 2014. When her first album came out in 2018, there was not much of a response.
However, she became a popular internet meme that went viral from her song Mooo!
She was able to capitalize on this attention, and her second studio album reached the US Billboard 200's top 10.
Check out our most popular quote article, a list of short inspirational quotes for daily inspiration.
If you enjoy this collection, check out our inspirational quotes category page.
Doja Cat Quotes from the Famous Rapper
It's easy to make assumptions about famous people. But these words from Doja Cat give you insight into her real thoughts on life.
1. "Truth is, I love everyone that is a good person regardless of what they look like, walk like, or who they love." – Doja Cat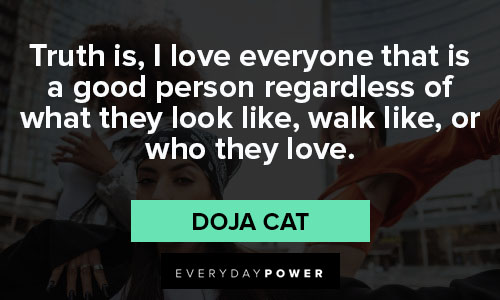 2. "The Internet is such… it's so not real. But it's big, and it feels big when you're on it." – Doja Cat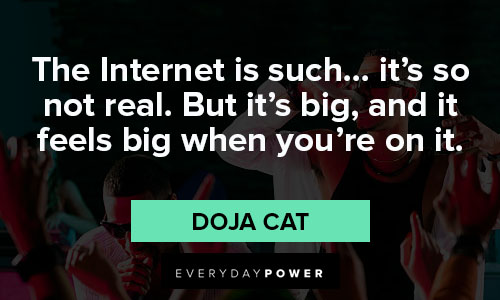 3. "I'm a bit of a tomboy but then a girly girl. And I feel like you can be both." – Doja Cat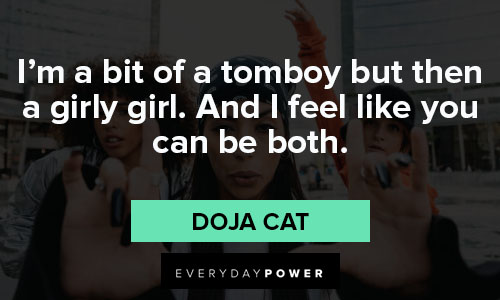 4. "I want to feel the way I feel about other's music about my music. I'm gonna keep trying. It's not for y'all. I'm looking for it for myself." – Doja Cat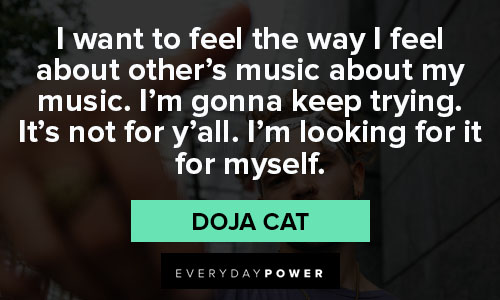 5. "Why complicate what could be so easy?" – Doja Cat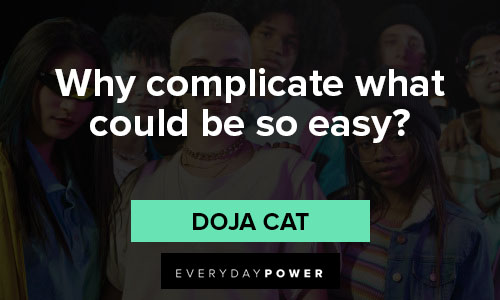 6. "They say talk that talk. Walk, but please avoid the streets." – Doja Cat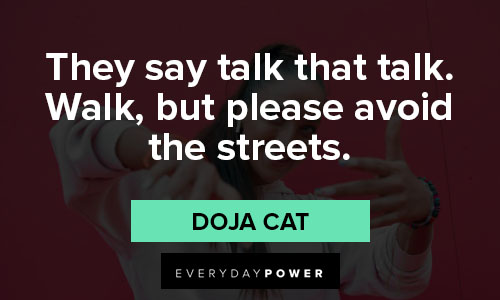 7. "I don't want to name my fandom; I want them to name themselves. If I'm cool with it, I'm cool with it." – Doja Cat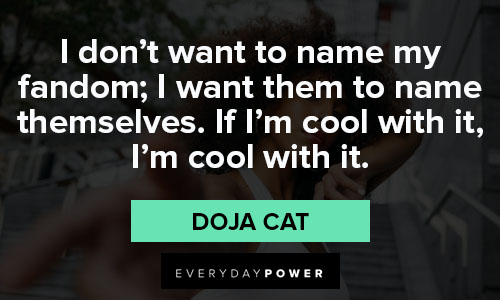 8. "They want to pit us against each other when we succeed." – Doja Cat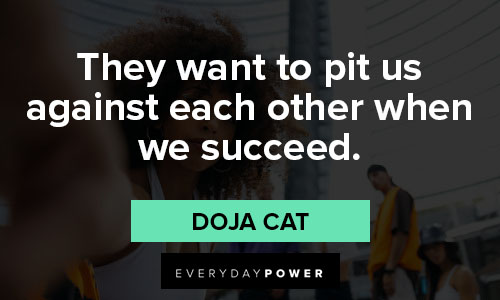 9. "People can smell when things are genuine." – Doja Cat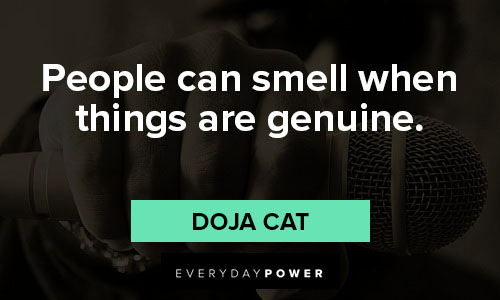 10. "I hustle, I'll do what I can to get this money." – Doja Cat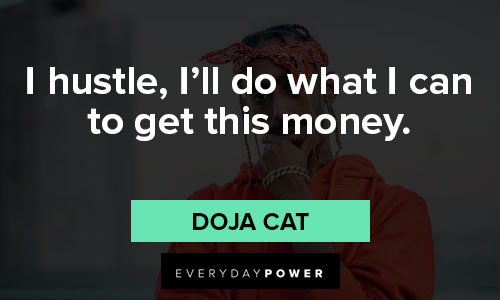 Doja Cat Quotes For Her Biggest Fans
Chances are good that you're already a fan if you're reading this. So, the following quotes are for you.
11. "The only challenge I ever had was addiction." – Doja Cat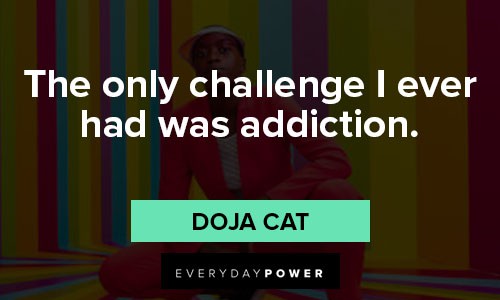 12. "If your only intent is to be seen, you'll never be seen. If your intent is to be happy, comfortable, genuine, and true in craft, you're destined to be noticed." – Doja Cat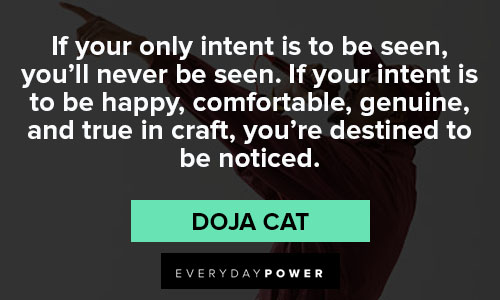 13. "I don't mean to pressure you, but I want a man to stand and fight – stand and fight for me." – Doja Cat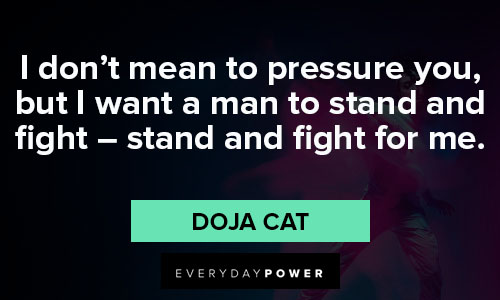 14. "You can't have everything you want in this world and that's something I learned growing up. You should learn that too." – Doja Cat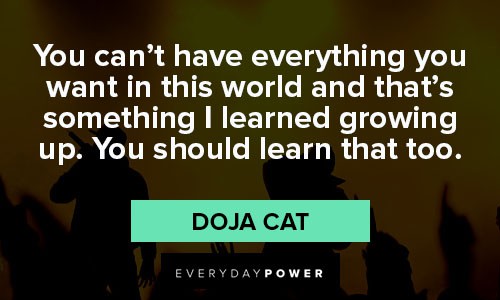 15. "You stand up for what you believe in." – Doja Cat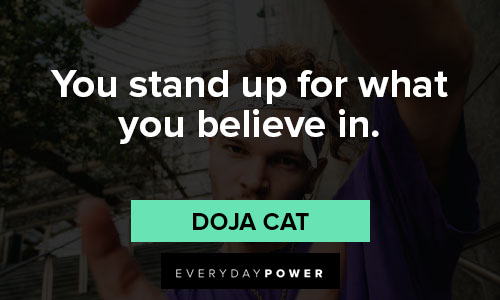 16. "Some people take a longer time to realize that it doesn't benefit them to hold on to something that stresses them deeply and not learn that the world is ever-evolving." – Doja Cat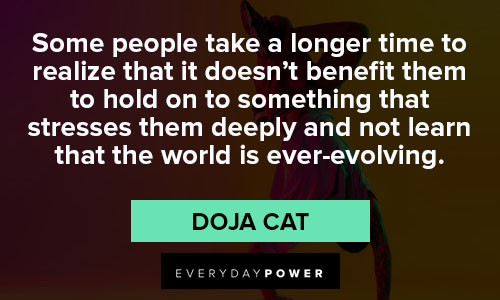 17. "No one's going to save you from yourself. No one is going to want you if you cry for help." – Doja Cat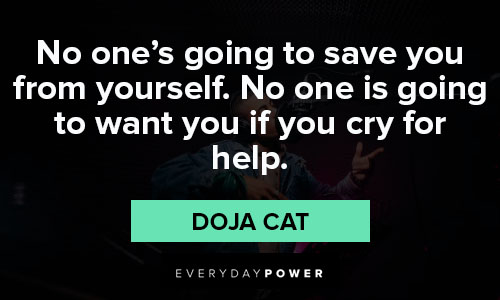 18. "I just like to do the fun stuff. If I'm not having fun with it, I'm not going to do it for the rest of my life." – Doja Cat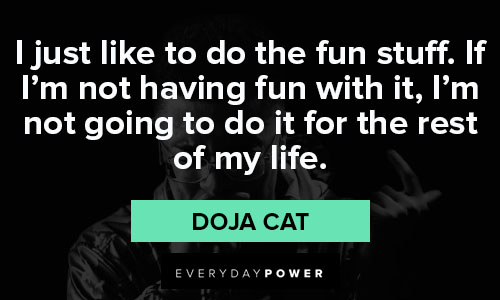 19. "We should all learn from our experiences, but I don't think hatred is the best way to deal with ignorance." – Doja Cat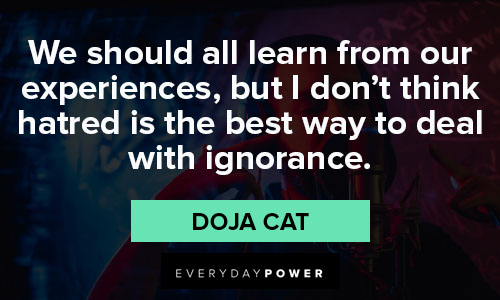 20. "If you love someone back who hates you, we all win because that person then learns that you are capable of love and you both can share it at some point." – Doja Cat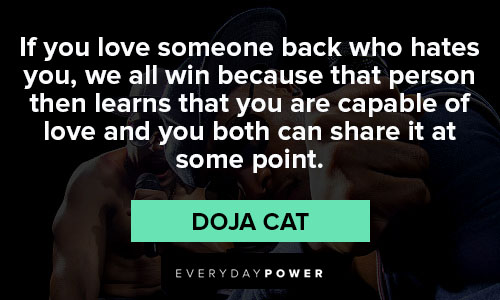 Are you a Doja Cat fan?
Doja Cat is well known on social media. She creates songs and videos for platforms like TikTok and has a large online presence.
But her recognition extends well beyond social media.
She has earned five Billboard Music Awards, eleven Grammy nominations and one award, three MTV Video Music Awards, and five American Music Awards.
Doja Cat was involved in several controversies. Several past videos resurfaced that were not well received by individuals for the use of the word "faggot" and lyrics that seemed to mock certain African American victims of police brutality.
Her most recent album, Planter Her, was released in 2021 and was received well.
Which of these Doja Cat quotes did you connect with the most?