The Best Firefly Quotes From the Cowboys in Space Series
Firefly is one of the few shows that has an incredible fan base, even though it only ever aired one season.
Perhaps that's because of just how quotable the dialog is.
The show's lines are so good, in fact, that we've created our own list of the best Firefly quotes from the series.
The series was created by writer and director Joss Whedon, who is best known for being the creator of the cult-classic television show, Buffy The Vampire Slayer and its spinoff series, Angel.
He is more recently recognized for his efforts in the cinematic comic book world as writer and director in both the Marvel Cinematic Universe and the DC Extended Universe.
Less popular, but still beloved, Whedon is also the creator of the "Cowboys in Space" television series, Firefly.
Despite being well-received by fans and critics alike, Firefly was sadly canceled after just one season.
The series won a Primetime Emmy Award in 2003, and TV Guide ranked it at No. 5 on their 2013 list of 60 shows that were "Cancelled Too Soon".
Though the series never met its full potential, the show lives on through these Firefly quotes.
Don't forget to also check out these inspiring Interstellar quotes about love and humanity.
Check out our most popular quote article, a list of short inspirational quotes for daily inspiration.
Our inspirational quote category page has even more inspirational and educational quotes.
Funny Firefly quotes and catchphrases
1. "Jayne, your mouth is talking. You might wanna look to that." — Mal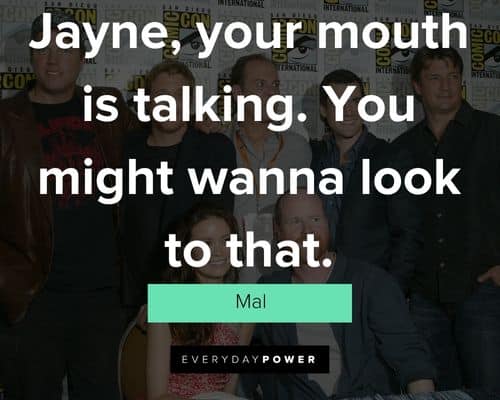 You will also enjoy our article on actions speak louder than words quotes.
2. Zoe: "First rule of battle, little one … don't ever let them know where you are."
Mal: "WHOO-HOO! I'M RIGHT HERE! I'M RIGHT HERE! YOU WANT SOME O' ME?! YEAH YOU DO! COME ON! COME ON! AAAAAH! Whoo-hoo!"
Zoe: "'Course, there're other schools of thought."
3. "Yes sir, Captain Tightpants!" — Kaylee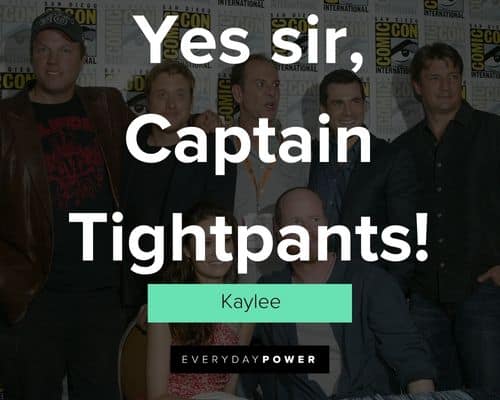 You will also enjoy our article on serenity quotes.
4. "Curse your sudden but inevitable betrayal!" — Wash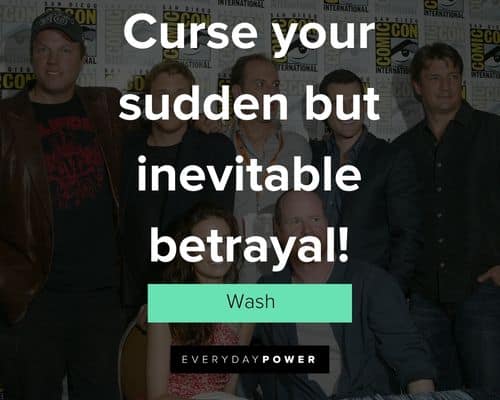 5. Simon: "Are you Alliance?"
Jubal Early: "Am I a lion?"
Simon: "What?"
Jubal Early: "I don't think of myself as a lion. You might as well, though, I have a mighty roar."
Simon: "I said 'Alliance.'"
Jubal Early: "Oh, I thought … "
Simon: "No, I was … "
Jubal Early: "That's weird."
6. "Ten percent of nothin' is … let me do the math here … nothin' into nothin' … carry the nothin' … " — Jayne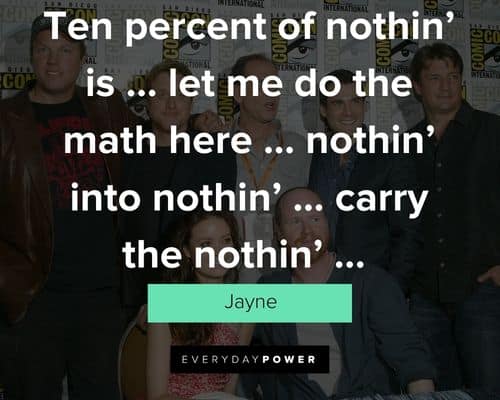 7. Badger: "'Course you couldn't buy an invite with a diamond the size of a testicle, but I got my hands on a couple."
Mal and Jayne: sniggering
Badger: " … of invites!"
You will also enjoy our article on beth dutton quotes.
Best Firefly quotes from Mal
8. "Well, my time of not taking you seriously is coming to a middle." — Mal (to Jayne)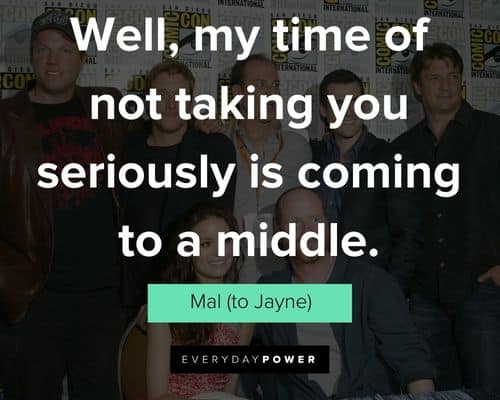 9. "Someone ever tries to kill you, you try to kill 'em right back!" — Mal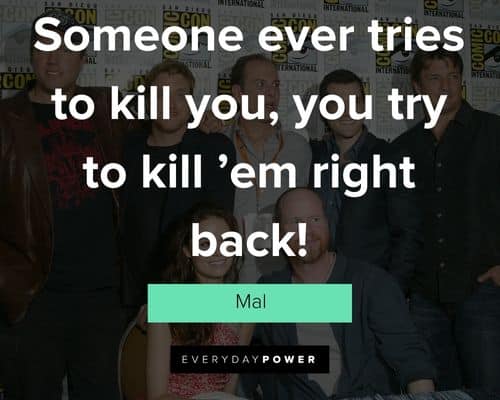 10. "Well, maybe I'm not a fancy gentleman like you, with your … very fine hat. But I do business. We're here for business." — Mal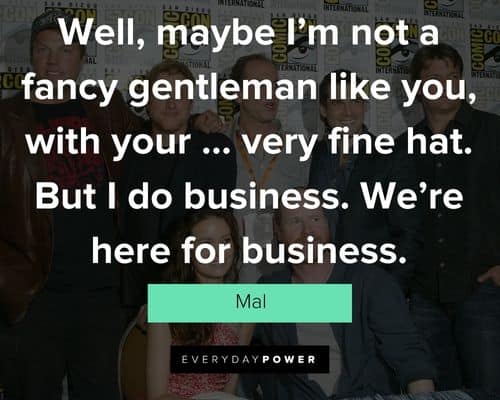 11. "Next time you want to stab me in the back, have the guts to do it to my face." — Mal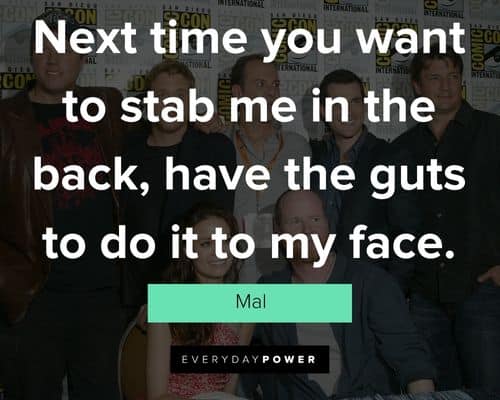 12. "You're welcome on my boat. God ain't." — Mal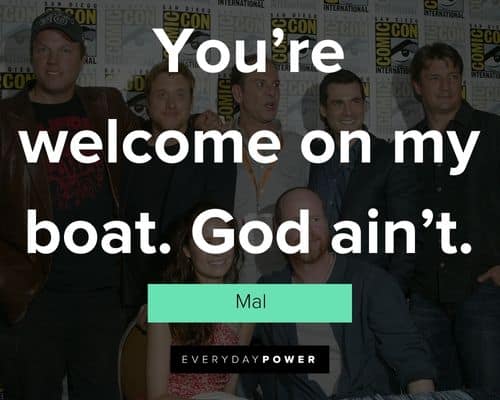 13. "We've done the impossible, and that makes us mighty." — Mal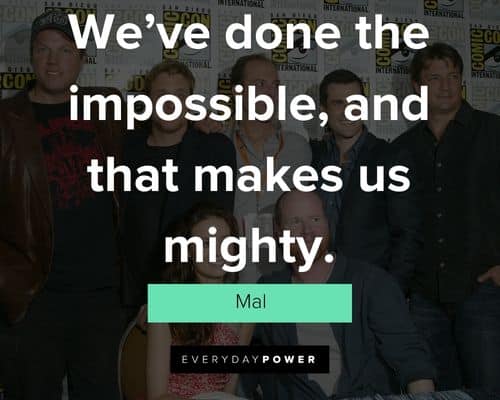 14. "Did something just fly off my gorram ship?" — Mal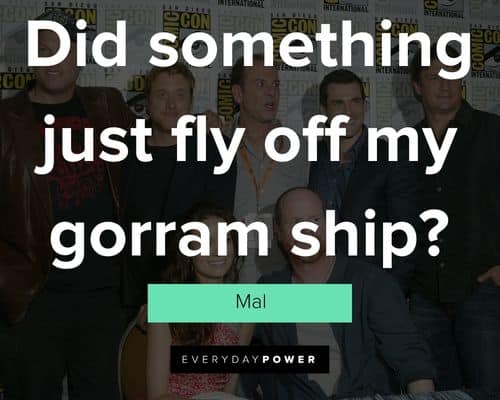 15. "We're not gonna die. We can't die, Bendis. You know why? Because we are so very pretty. We are just too pretty for God to let us die." — Mal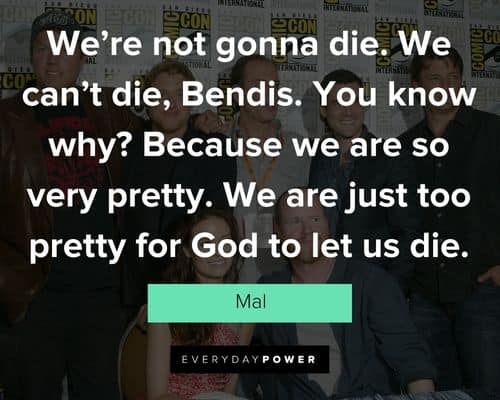 16. "Been a long time since Patience shot me and that was due to a perfectly legitimate conflict of interest. I got no grudge." — Mal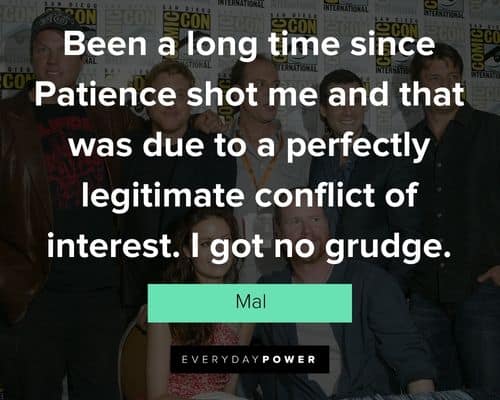 17. Book: Captain, you mind if I say grace?
Mal: Only if you say it out loud.
18. "Well, we may not have parted on the best of terms. I realize certain words were exchanged. Also, certain… bullets." — Mal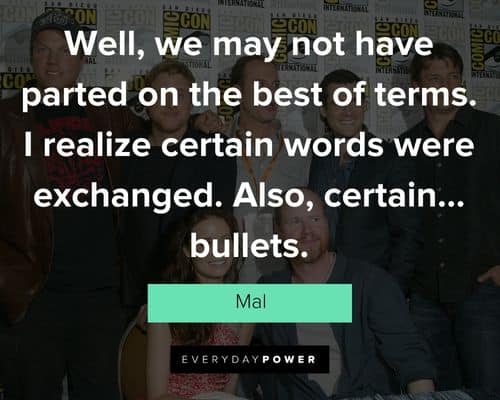 19. Mal: Well, you were right about this being a bad idea.
Zoë: Thanks for sayin', sir.
20. "Now I did a job. I got nothing but trouble since I did it, not to mention more than a few unkind words as regard to my character so let me make this abundantly clear. I do the job. And then I get paid." — Mal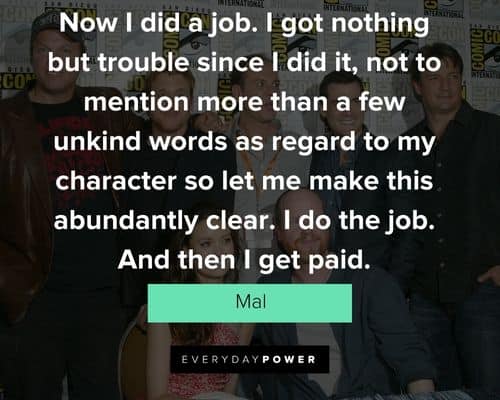 21. "Like woman, I am a mystery." — Mal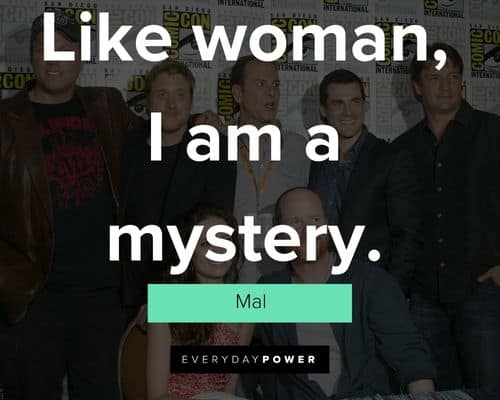 Favorite Firefly quotes from Wash
22. "Every man there go back inside or we will blow a new crater in this little moon." — Wash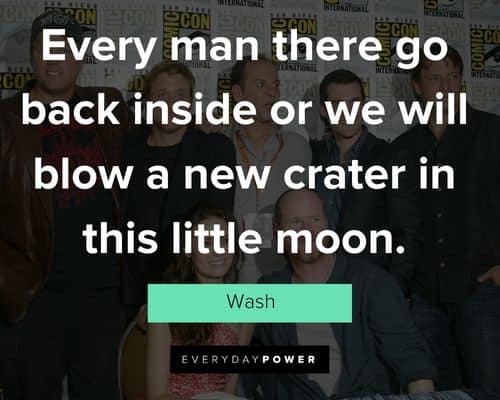 23. "Here lies my beloved Zoe, my autumn flower … somewhat less attractive now that she's all corpsified and gross." — Wash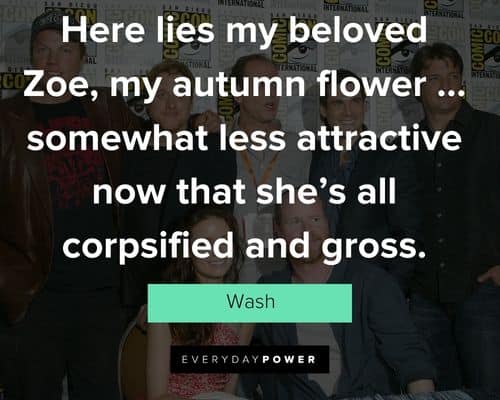 24. "Terse? I can be terse. Once, in flight school, I was laconic." — Wash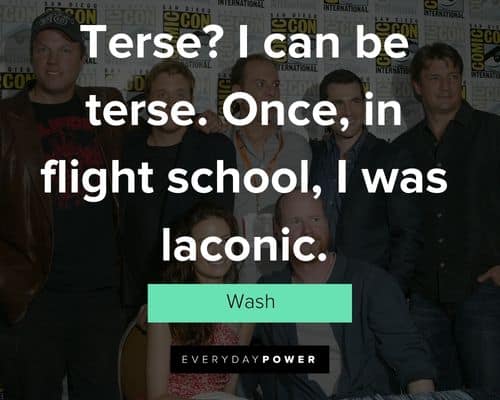 25. "Wash, we got some local color happening. A grand entrance would not go amiss." — Wash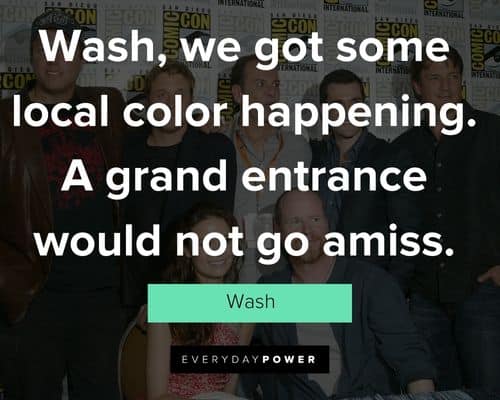 Which Firefly character do you think is the most quotable?
Due to a series of unfortunate events, Firefly was never granted a perfect send-off into the television world.
A classic western world set in a futuristic space society is a pretty interesting concept, but one that the executives at Fox never quite understood.
Because of this, the show received mismatched advertisements and was given the death slot – airing on Friday nights.
The network even aired Firefly's episodes out of order, confusing viewers.
It's no wonder that the show received low ratings, ultimately causing a quick end to the series.
Despite having only 11 out of 14 episodes air, Firefly gained itself a hugely passionate fan base.
Luckily, this convinced Universal Pictures to produce a cinematic conclusion to the show.
Serenity gave closure to Firefly's loyal fan base, though we have been left wondering if we will ever receive more.
Did you enjoy these Firefly quotes and lines?
Which quote is your favorite?
Let us know in the comments below.