90 Calming Serenity Quotes About Hope
These uplifting quotes will calm your mind and bring you a sense of serenity.
It's important to have serenity and harmony in your life for your mental and physical well being.
Too much stress and chaos can lead to serious ailments, including anxiety, depression, and chronic pain.
If you've been feeling overwhelmed lately, try reading these inspiring serenity quotes to calm your mind.
You may also enjoy our article on:
According to a study published in the Journal of Health Psychology, people who perceive higher levels of stress in their lives tend to experience poorer physical and mental health, as well as lower overall life satisfaction.
Reading calming serenity quotes about hope may help reduce stress and promote well-being.
How do you achieve serenity?
There are many different paths to take on your journey to a peaceful life.
These serenity quotes will inspire you to bring hope and harmony into your daily experiences.
Even though dealing with work, family, relationships, and personal problems can be stressful, it is possible to experience peacefulness.
Read these calming words of wisdom whenever you need to bring yourself a sense of serenity.
Share this list of serenity quotes with your loved ones to help them find peace.
If you enjoy this article, check out our most popular quote article, a list of short inspirational quotes for daily motivation.
Browse our entire collection of inspirational quotes for more motivating ideas and concepts.
Serenity quotes to calm your mind
The American Institute of Stress found that job-related stress is the most common source of stress for American adults, with a significant majority (80%) reporting that they feel stress on the job.
Reading calming serenity quotes about hope may help manage job-related stress and promote a more peaceful state of mind.
1. "Every breath we take, every step we make, can be filled with peace, joy and serenity." – Thich Nhat Hanh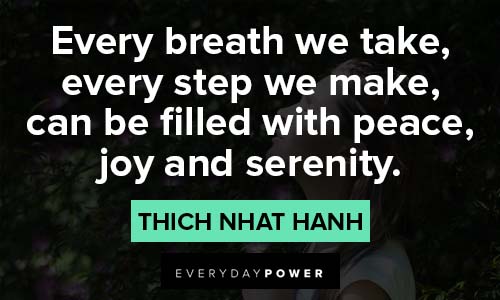 You will also enjoy our article on contentment quotes.
2. "I think that the ideal space must contain elements of magic, serenity, sorcery and mystery." – Luis Barragan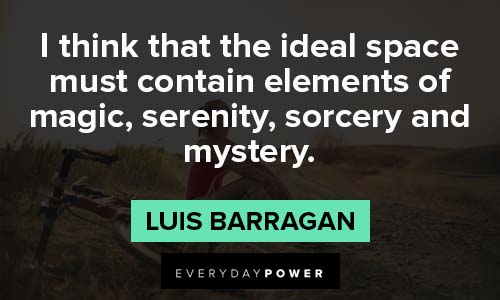 3. "Serenity is knowing that your worst shot is still pretty good." – Johnny Miller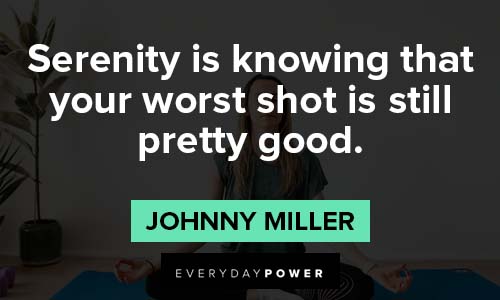 You will also enjoy our article on namaste quotes.
4. "What I dream of is an art of balance, of purity and serenity devoid of troubling or depressing subject matter – a soothing, calming influence on the mind, rather like a good armchair which provides relaxation from physical fatigue." – Henri Matisse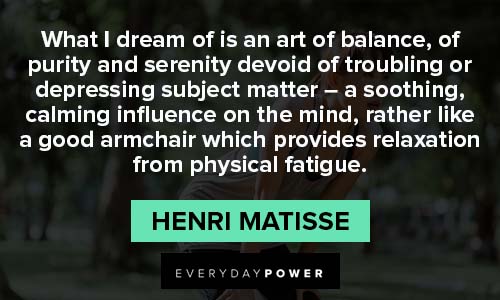 5. "God grant me the serenity to accept the things I cannot change, the courage to change the things I can, and the wisdom to know the difference." – Reinhold Niebuhr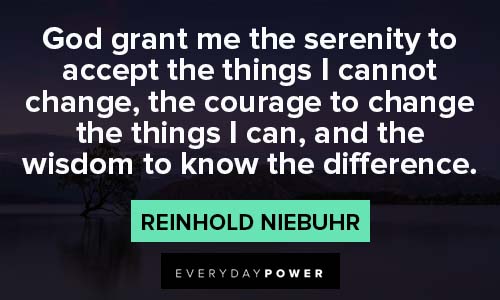 6. "The purpose of art is not the release of a momentary ejection of adrenaline but is, rather, the gradual, lifelong construction of a state of wonder and serenity." – Glenn Gould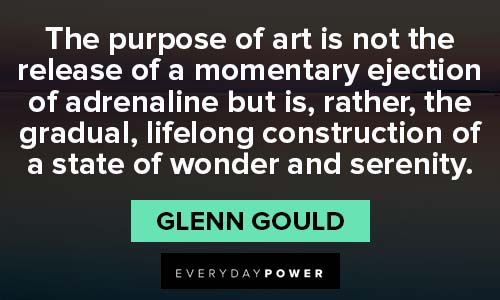 7. "There is a kind of serenity in love which is almost a paradise." – Alain Badiou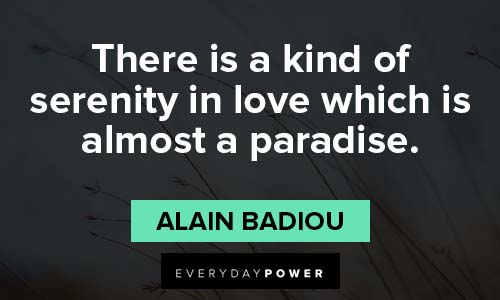 You will also enjoy our article on water quotes.
8. "Serenity is the balance between good and bad, life and death, horrors and pleasures. Life is, as it were, defined by death. If there wasn't death of things, then there wouldn't be any life to celebrate." – Norman Davies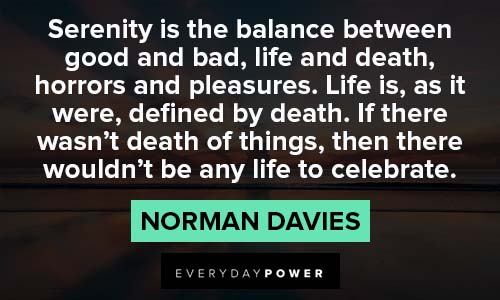 9. "Your days are short here; this is the last of your springs. And now in the serenity and quiet of this lovely place, touch the depths of truth, feel the hem of Heaven. You will go away with old, good friends. And don't forget when you leave why you came." – Adlai Stevenson II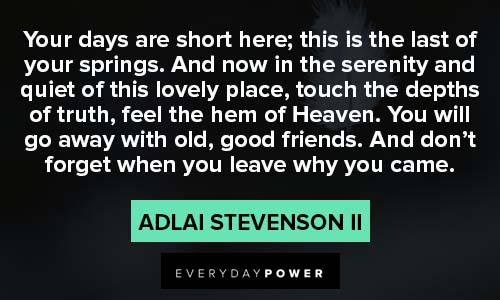 You will also enjoy our article on gratitude quotes.
10. "To become mindfully aware of our surroundings is to bring our thinking back to our present moment reality and to the possibility of some semblance of serenity in the face of circumstances outside our ability to control." – Jeff Kober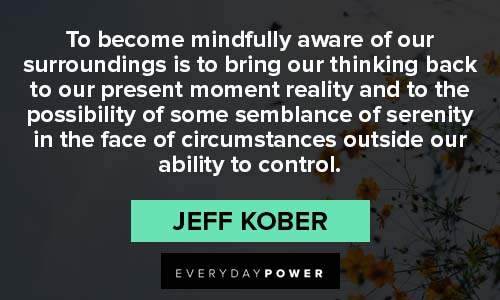 Serenity quotes to inspire you to live a harmonious life
A study published in the Journal of Personality and Social Psychology found that individuals who experience more positive emotions, such as peace and contentment, tend to report better physical health, greater life satisfaction, and stronger social connections.
Reading calming serenity quotes about hope may help cultivate positive emotions and promote overall well-being.
11. "Good humor is a tonic for mind and body. It is the best antidote for anxiety and depression. It is a business asset. It attracts and keeps friends. It lightens human burdens. It is the direct route to serenity and contentment." – Grenville Kleiser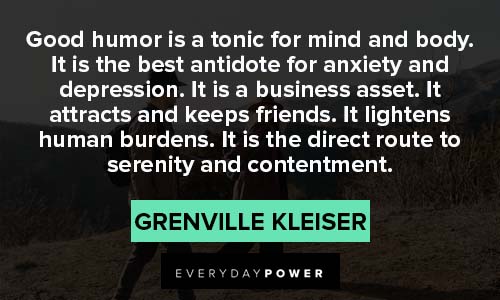 You will also enjoy our article on sky quotes.
12. "I used to find that I could get mental serenity surrounded by chaos." – Alexis Knapp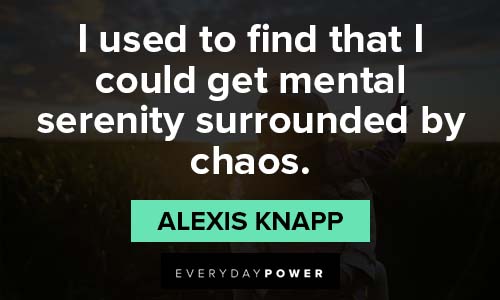 You will also enjoy our article on sunset quotes.
13. "The love of learning, the sequestered nooks, And all the sweet serenity of books." – Henry Wadsworth Longfellow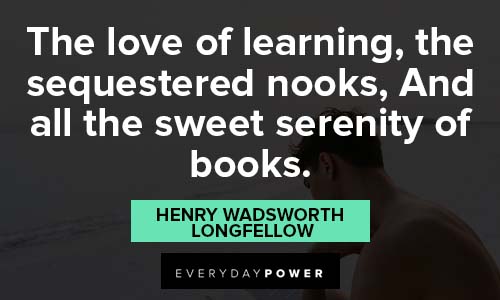 14. "The only thing I was trying to portray was serenity. Also, innocence, vulnerability and elegance." – Sylvia Kristel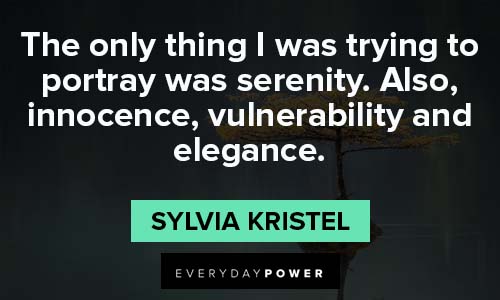 15. "Boredom is the feeling that everything is a waste of time; serenity, that nothing is." – Thomas Szasz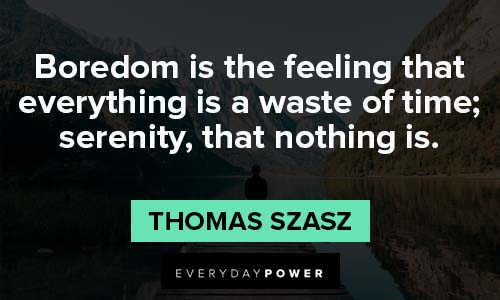 16. "Peace is not a relationship of nations. It is a condition of mind brought about by a serenity of soul. Peace is not merely the absence of war. It is also a state of mind. Lasting peace can come only to peaceful people." – Jawaharlal Nehru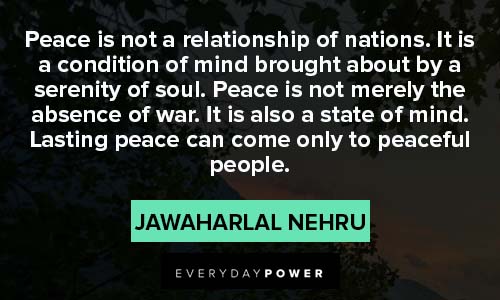 17. "A garden must combine the poetic and the mysterious with a feeling of serenity and joy." – Luis Barragan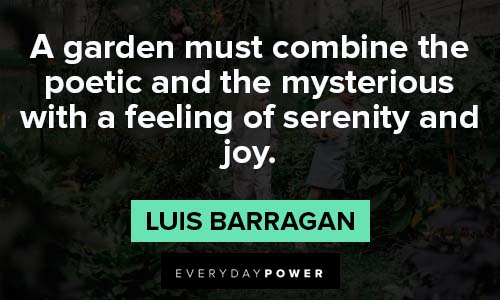 18. "We run around so much – with the best intentions: I want to save the rain forest. I've gotta clean up the oceans. I've gotta save the dolphins. All worthy efforts, but if you're not centered and you don't have the serenity in your life you need to accomplish that task, you're not going to do a very good job." – Ed Begley, Jr.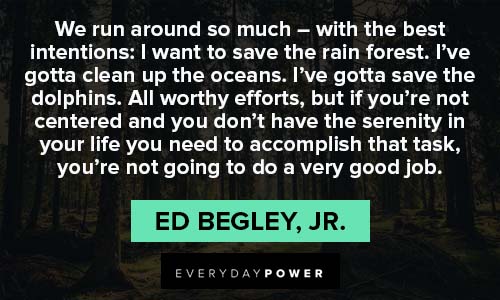 If you're enjoying these quotes, make sure to read our collection of forest quotes about the beauty of the trees.
19. "The sole art that suits me is that which, rising from unrest, tends toward serenity." – Andre Gide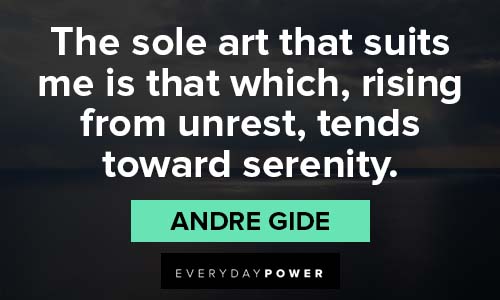 20. "The final wisdom of life requires not the annulment of incongruity but the achievement of serenity within and above it." – Reinhold Niebuhr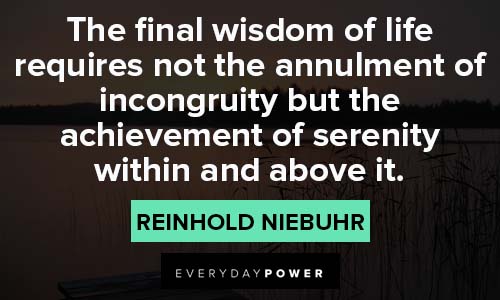 Serenity quotes to relax your mind
21. "In struggling against anguish one never produces serenity; the struggle against anguish only produces new forms of anguish." – Simone Weil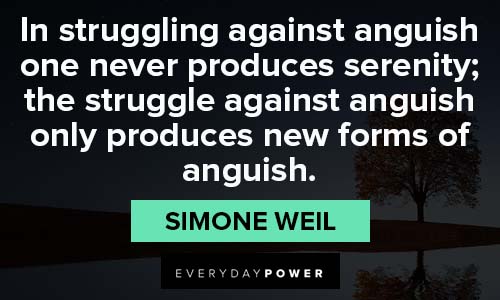 22. "Do not suffer pain and torment without reason. Somebody All-Powerful and All-Compassionate owns everything. Rely on His Power and do not accuse His Compassion. Renounce grief and anxiety and accept relief. Be rid of your troubles and find serenity." – Said Nursi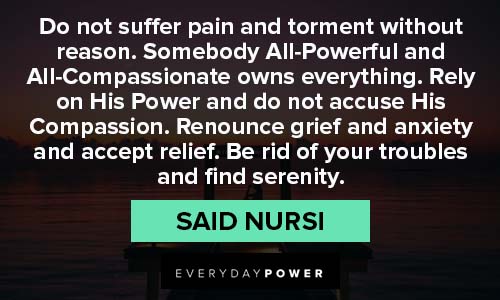 23. "For me, it is essential to have the inner peace and serenity of prayer in order to listen to the silence of God, which speaks to us, in our personal life and the history of our times, of the power of love." – Adolfo Perez Esquivel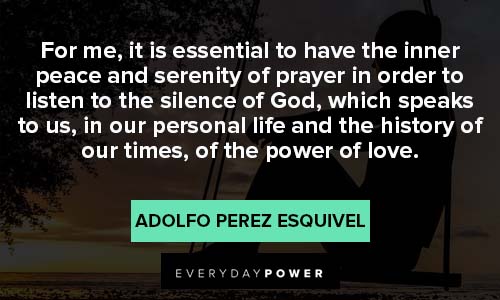 24. "I just focus on working hard and play with serenity." – Fabio Quagliarella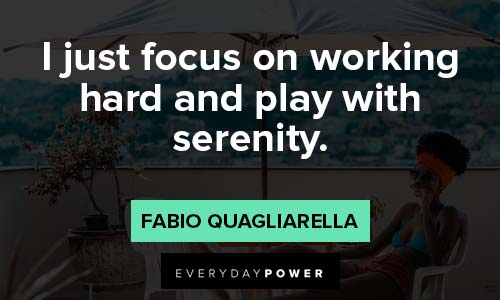 25. "As we start to get a little bit older, boy, keep your house in order. That's the key thing. It's not about the thrills anymore. It's about contentment, about having some serenity." – Jim Irsay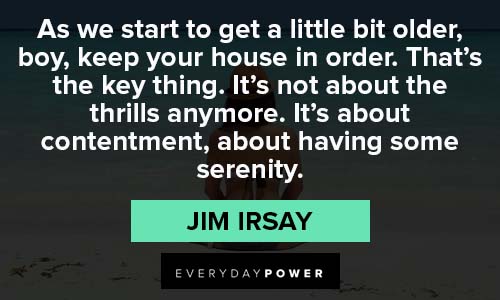 26. "Journey with me to a true commitment to our environment. Journey with me to the serenity of leaving to our children a planet in equilibrium." – Paul Tsongas
27. "Despair is the damp of hell, as joy is the serenity of heaven." – John Donne
28. "As we move towards resolution and understanding and greater serenity in all aspects of our life, love's pretty elemental and that's nice to know. I think rock 'n' roll is the same. I don't pretend to understand it; it feels confusing and frightening and wonderful." – Gord Downie
29. "Supreme serenity still remains the Ideal of great Art. The shapes and transitory forms of life are but stages toward this Ideal, which Christ's religion illuminates with His divine light." – Franz Liszt
30. "For those of us learning the way to financial serenity and solvency, the envelope system teaches prudence, patience, and perseverance. You can only spend what you have." – Sarah Ban Breathnach
Serenity quotes to help bring you peace
31. "Young people need the serenity that comes from a stable home, safe streets, regular income, opportunities for travel and study, affordable transport, and a real stake in the future." – Luciana Berger
32. "I am very willing to share whatever I know or feel I know about finding some serenity in this lifetime." – Dirk Benedict
33. "My idea of serenity – that wonderful word that everybody's trying to get into their life – is call-waiting." – Elaine Stritch
34. "What some people interpret as brooding melancholy is serenity. I don't feel required to grasp all the time." – David Guterson
35. "Habit allows us to go from 'before' to 'after,' to make life easier and better. Habit is notorious – and rightly so – for its ability to direct our actions, even against our will; but by mindfully shaping our habits, we can harness the power of mindlessness as a sweeping force for serenity, energy, and growth." – Gretchen Rubin
36. "What I really try to do is photograph people at rest, in a state of serenity." – Irving Penn
37. "I started running around my 30th birthday. I wanted to lose weight; I didn't anticipate the serenity. Being in motion, suddenly my body was busy and so my head could work out some issues I had swept under a carpet of wine and cheese. Good therapy, that's a good run." – Michael Weatherly
38. "Rhyme is an attempt to reassemble and reaffirm the possibility of paradise. There is a wholeness, a serenity, in sounds coupling to form a memory." – Derek Walcott
39. "Peace is the simplicity of heart, serenity of mind, tranquility of soul, the bond of love." – Pio of Pietrelcina
40. "I love being able to pass from a feeling of euphoria to one of calm and serenity." – Jo-Wilfried Tsonga
Serenity quotes to inspire and teach
41. "Smiling always with a never fading serenity of countenance, and flourishing in an immortal youth." – Isaac Barrow
42. "I wouldn't know how to handle serenity if somebody handed it to me on a plate." – Dusty Springfield
43. "Philosophy as practice does not mean its restriction to utility or applicability, that is, to what serves morality or produces serenity of soul." – Karl Jaspers
44. "I have learned to like myself for the first time and to have some serenity." – Keith Miller
45. "When you do the right thing, you get the feeling of peace and serenity associated with it. Do it again and again." – Roy T. Bennett
46. "Learn silence. With the quiet serenity of a meditative mind, listen, absorb, transcribe, and transform." – Pythagoras
47. "I wish everybody finds the serenity that good, strong faith brings." – Ann Jillian
48. "I don't like being angry all the time; it's not good for me. I have to have serenity or else go to war." – Luis Alberto Urrea
49. "Serenity comes when you trade expectations for acceptance." – Gautama Buddha
50. "The key to serenity is trusting that the universe has your back." – Gabrielle Bernstein
More serenity quotes
51. "Life is a series of natural and spontaneous changes. Don't resist them; that only creates sorrow. Let reality be reality. Let things flow naturally forward in whatever way they like." – Lao Tzu
52. "The best fighter is never angry." – Lao Tzu
53. "There are two ways to get enough. One is to continue to accumulate more and more. The other is to desire less." – G.K. Chesterton
54. "Never respond to an angry person with a fiery comeback, even if he deserves it…Don't allow his anger to become your anger." – Bohdi Sanders
55. "Death, therefore, the most awful of evils, is nothing to us, seeing that, when we are, death is not coming, and, when death is coming, we are not." – Epicurus
56. "One man practicing kindness in the wilderness is worth all the temples this world pulls." – Jack Kerouac
57. "I will be calm. I will be mistress of myself." – Jane Austen
58. "Be calm. God awaits you at the door." – Gabriel García Márquez
59. "It is difficult to make a man miserable while he feels worthy of himself and claims kindred to the great God who made him." – Abraham Lincoln
60. "Nothing is so aggravating as calmness." – Mahatma Gandhi
Serenity Quotes That Make You Relax In Whatever Situation
61. "We can be serene even in the midst of calamities and, by our serenity, make others more tranquil. Serenity is contagious." ― Sri S. Satchidananda
62. "Rule your mind with serenity rather than with force and manipulation." ― Lao Tzu
63. "Learn to be quiet enough to hear the sound of the genuine within yourself so that you can hear it in others." ― Marian Wright Edelman
64. "Well being, serenity and service to others are the ultimate measures of true wealth, success and power." ― Brendon Burchard
65. "Serenity is the final word of all the teachings; reflection is the response to all manifestations." ― Hongzhi Zhengjue
66. "Compassion, tolerance, forgiveness and a sense of self-discipline are qualities that help us lead our daily lives with a calm mind." ― Dalai Lama
67. "It is the stillness that will save and transform the world." — Eckhart Tolle
68. "Great tranquility of heart is his who cares for neither praise nor blame." ― Thomas A. Kempis
69. "If our thoughts are peaceful, calm, meek, and kind, then that is what our life is like." ― Elder Tadej Štrbulović
70. "Nothing can bring you peace but yourself. Nothing can bring you peace but the triumph of principles." ― Ralph Waldo Emerson
Serenity Quotes To Find Inner Peace
71. "Going in faith does not necessarily mean going with serenity or without doubts. Faith can be difficult." — John Ortberg
72. "She knew that she could not have reached this white serenity except as the sum of all the colors, of all the violence she had known." — Ayn Rand
73. "I gained an inner peace, the serenity of a prisoner, so to speak." — Nadezhda Tolokonnikova
74. "Before I was abducted, I think that happiness was related to success. Nowadays happiness is related, for me, to rest, peace, serenity." — Ingrid Betancourt
75. "Cross over children. All are welcome. All welcome. Go into the Light. There is peace and serenity in the Light." — Zelda Rubinstein
76. "Pray with perseverance, with faith, with calmness and serenity." — Pio of Pietrelcina
77. "Do not try to drive pain away by pretending it is not real. If you seek serenity in oneness, pain will vanish of its own accord." — Sengcan
78. "I used to be the kind of person who needed to have a lot of people around. That's where I found my serenity." — Jessica Simpson
79. "Writing, to be memorable, must be done in a state of impassioned serenity." — Edna Ferber
80. "For an artist to do creative work, he needs at once physical health and some physiomental ill health. He needs both serenity and gloom." — Yukio Mishima
Serenity Quotes To Help You Compose Yourself
81. "Serenity is not the conclusion of a soul journey, it is the acceptance of being on a soul journey." ― Lorraine Nilon
82. "Spend time with yourself. It is where everything begins. It is in this serene space of solitude that you will find clarity, peace and direction." ― Miya Yamanouchi
83. "Go slow, my life, go slow. Let me enjoy the beauty of silence, serenity, and solitude." ― Debasish Mridha
84. "Sometimes bliss can only be found in the serenity of darkness." ― Saim A. Cheeda
85. "Serenity of mind produces an expanding awareness that fosters creative selflessness, which in turn enables us to experience unabashed harmony communing in rhythmical bliss with nature." ― Kilroy J. Oldster
86. "Happiness is not found in serenity, tranquility or surrealism. It is found in harmony of thoughts, actions, and reality." ― Debasish Mridha
87. "Every moment is precious and beautiful, filled with love, joy, peace, tranquility, and serenity." ― Debasish Mridha
88. "Live each day with ecstatic serenity." ― Lailah Gifty Akita
89. "Serenity is the guard that soothes your soul and keeps your mind at ease." ― Courtney Brooks
90. "Do not allow outer chaos disturb your inner tranquility, serenity, and peace." ― Debasish Mridha
What are your favorite serenity quotes that bring you hope?
The true meaning of serenity is based on your own perspective and judgement.
What brings joy and harmony to one person may bring stress and chaos for another.
Read these serenity quotes to find out what would bring you peace.
Keep these words of wisdom in mind as you meditate and invite calmness into your life.
Do you want to have a more peaceful life?
These serenity quotes will help you feel less overwhelmed and anxious.
Repeat these calming mantras to yourself as a way to relax your mind whenever you feel despair setting in.
Spread the love and harmony by sharing these quotes about serenity with your friends and family.
What are your favorite serenity quotes and sayings that inspire you to live a harmonious life?
Let us know in the comment section below.