20 Fran Lebowitz Quotes Featuring Her Outspoken Opinions
These Fran Lebowitz quotes are short and to the point while sharing her thoughts and opinions.
Fran Lebowitz is a public speaker, American author, and social commentator.
She has become known for her direct, observational humor and shares her opinion on a wide range of topics, including politics, literature, New York City, and gentrification.
Fran openly shares she is a lesbian who is not good at romantic relationships.
She was raised in a Jewish family but has been an atheist since a young age.
In her early years, she repeatedly got into trouble in school and eventually took a high school equivalency test to finish.
Shortly after completing school, she moved to New York City and worked many different odd jobs to support herself.
She eventually took on different writing positions and connected with people like Andy Warhol, Peter Hujar, and Robert Mapplethorpe.
Lebowitz is an avid reader and has authored many books over the years.
You can learn more about her in the Fran Lebowitz quotes below.
If you like this article, we suggest you explore our most popular quotes article, a list of short inspirational quotes for daily encouragement.
Look through our complete collection of inspirational quotes here.
Fran Lebowitz quotes about reading, writing & life
As an author and avid reader, Fran Lebowitz enjoys talking about her joy of reading. See if you can relate with any of her quotes here.
1. "Humility is no substitute for a good personality." ― Fran Lebowitz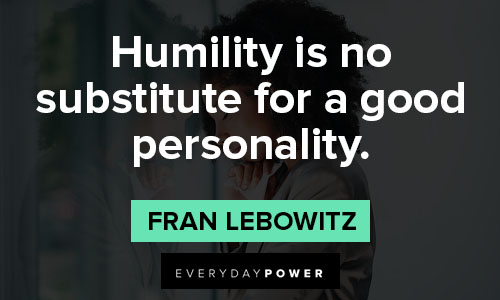 2. "A book is not supposed to be a mirror. It's supposed to be a door." ― Fran Lebowitz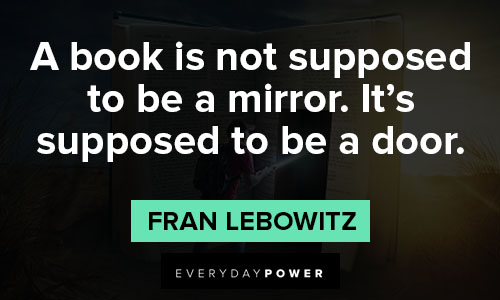 3. "Reading is better than life. Without reading, you're stuck with life." ― Fran Lebowitz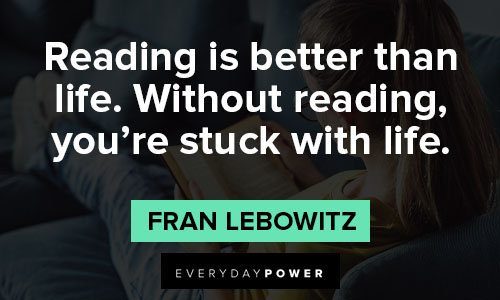 4. "Think before you speak. Read before you think." ― Fran Lebowitz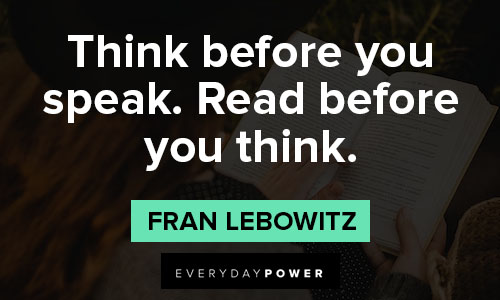 5. "I write so slowly, I could write with my own blood and not hurt myself." ― Fran Lebowitz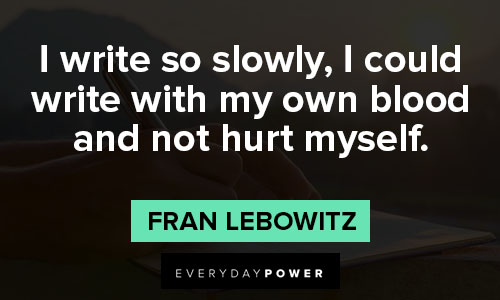 6. "Life is something that happens when you can't get to sleep." ― Fran Lebowitz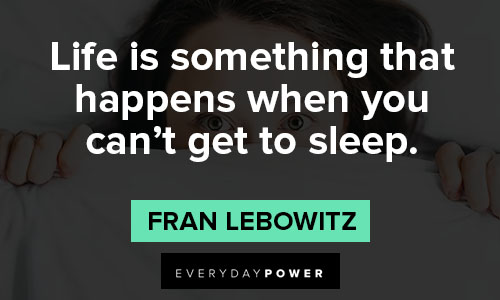 7. "Success didn't spoil me. I've always been insufferable." ― Fran Lebowitz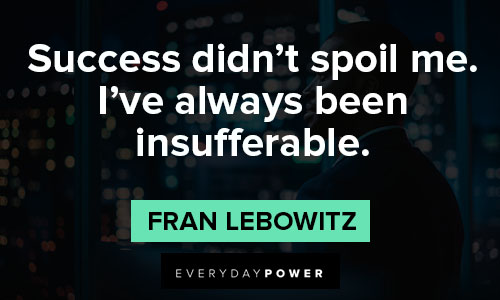 8. "The opposite of talking isn't listening. The opposite of talking is waiting." ― Fran Lebowitz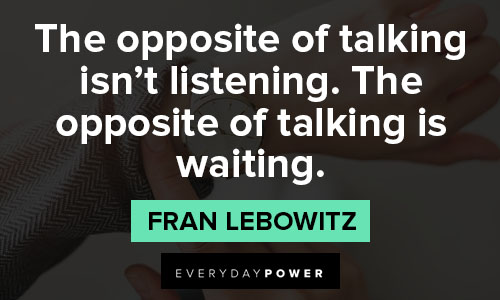 9. "The second I learned to read in first grade when I was 5, I preferred it to life. And I still do." ― Fran Lebowitz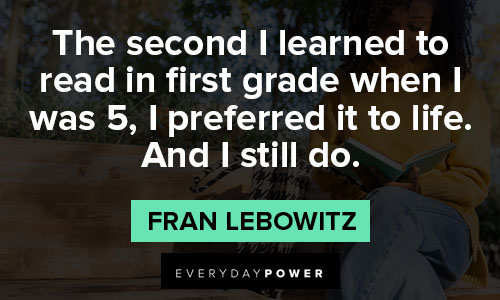 10. Nature is by and large to be found out of doors, a location where it cannot be argued, there are never enough comfortable chairs." ― Fran Lebowitz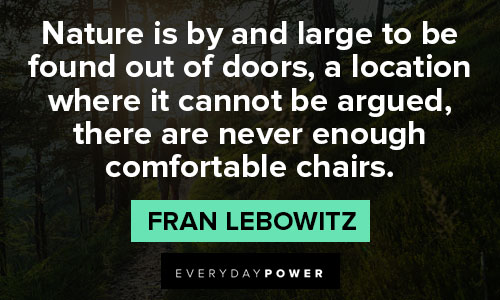 Quick and to the point, Fran Lebowitz quotes
Fran Lebowitz is known for her direct commentary and witty comments. These quotes give you a taste of who she is and what she thinks.
11. "Stand firm in your refusal to remain conscious during algebra. In real life, I assure you, there is no such thing as algebra." ― Fran Lebowitz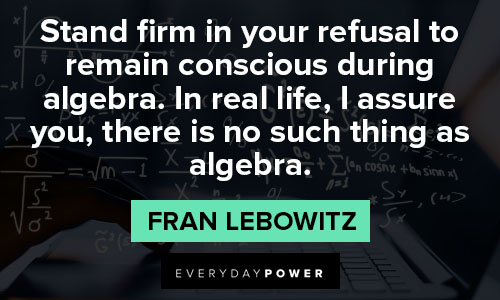 12. "I never met anyone who didn't have a very smart child. What happens to these children, you wonder, when they reach adulthood?" ― Fran Lebowitz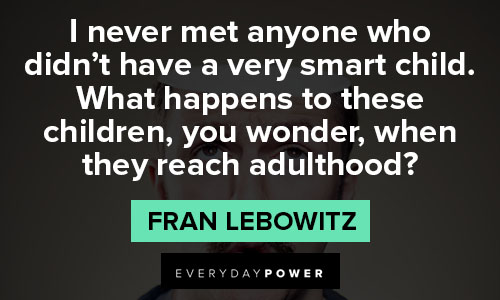 13. "To lose yourself in a book is the desire of the bookworm. I mean to be taken. That is my desire." ― Fran Lebowitz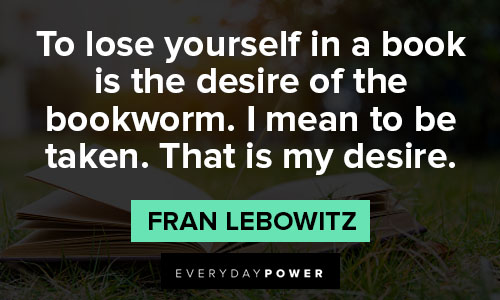 14. "Human nature is not that great. That's why they call it human nature and not human heart." ― Fran Lebowitz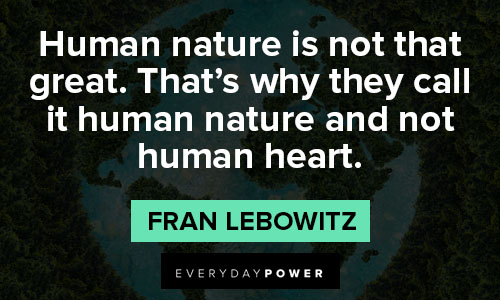 15. "Great people talk about ideas, average people talk about things, and small people talk about wine." ― Fran Lebowitz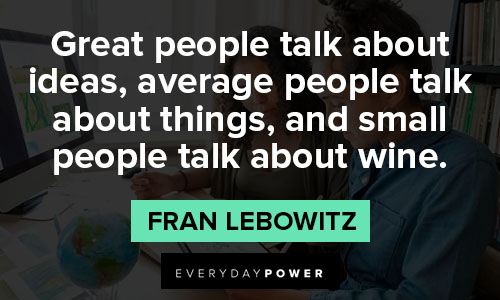 16. "You can't go around hoping that most people have sterling moral characters. The most you can hope for is that people will pretend that they do." ― Fran Lebowitz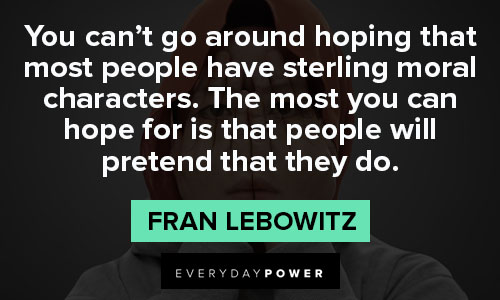 17. "The best fame is a writer's fame. It's enough to get a table at a good restaurant, but not enough to get you interrupted when you eat." ― Fran Lebowitz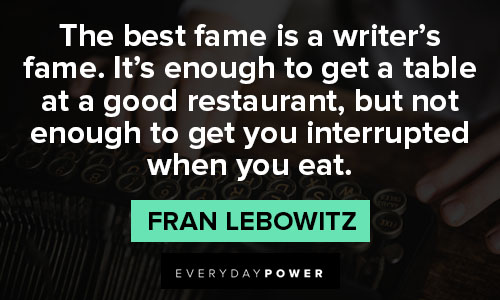 18. "I must take issue with the term 'a mere child,' for it has been my invariable experience that the company of a mere child is infinitely preferable to that of a mere adult." ― Fran Lebowitz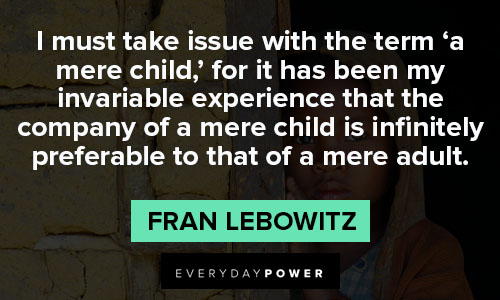 19. "I figure you have the same chance of winning the lottery whether you pay or not." ― Fran Lebowitz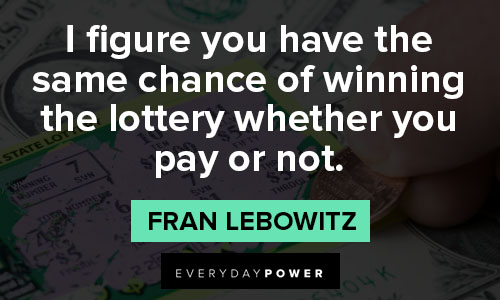 20. "I write with a pen. Then I read it to someone who writes it onto the computer. What are those computer letters made of anyway? Light? Too insubstantial. Paper, you can feel it. A pen. There's a connection. A pen goes exactly at your speed, whereas that machine jumps. And then, that machine is waiting for you, just humming 'uh-huh, yes?'" ― Fran Lebowitz
Do you agree with the opinions in these Fran Lebowitz quotes?
Fran Lebowitz has shared she's struggled with writer's block since the mid-1990s.
Instead, she focuses on speaking and enjoys sharing her opinions in interviews.
Due to this shift, she has been further in the public eye and gained the attention of younger generations, who have become familiar with her tendencies and outright way of speaking.
Lebowitz's television appearances include The Late Show with David Letterman, Charlie Rose, Law & Order, Late Night with Jimmy Fallon, Real Time with Bill Maher, Pretend It's a City, and Ziwe, among others.
She has also starred in several documentaries in recent years.
Are you familiar with her work? If you're a fan, share your favorite Fran Lebowitz quote with others below.