25 Hedy Lamarr Quotes about Life, Love, and Stardom
Hedy Lamarr was one of the biggest stars during the Golden Age of Hollywood.
She was also an artist and a total genius.
We hope you enjoy these Hedy Lamarr quotes about life, love, and stardom.
Known as "the most beautiful woman in film," Hedy Lamarr was born in Austria in 1914.
She began starring in Austrian films at the age of 17 and soon caught the attention of Hollywood.
In 1932, she signed a contract with MGM and immigrated to America where she would soon become one of the most sought-after actresses of her time.
Hedy wasn't just beautiful and talented, she was also incredibly smart and an inventor.
In 1942, she co-invented the "Secret Communication System" with Hollywood composer George Antheil.
This system proved to be very important to military communication as well as the eventual invention of the cell phone.
Don't forget to also check out these Katharine Hepburn quotes on love and marriage.
Check out our most popular quote article, a list of short inspirational quotes for daily inspiration.
If you enjoy this collection, check out our inspirational quotes category page.
Hedy Lamarr quotes about men
1. "I have always felt that if a man gives you a solid gold key to his door he is entitled to the courtesy of a visit." — Hedy Lamarr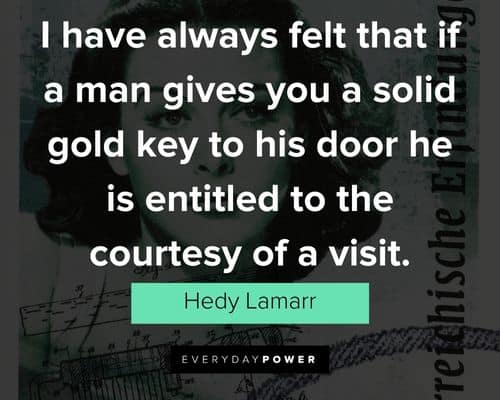 You will also enjoy our article on Navy quotes
2. "I am not ashamed to say that no man I ever met was my father's equal, and I never loved any other man as much." — Hedy Lamarr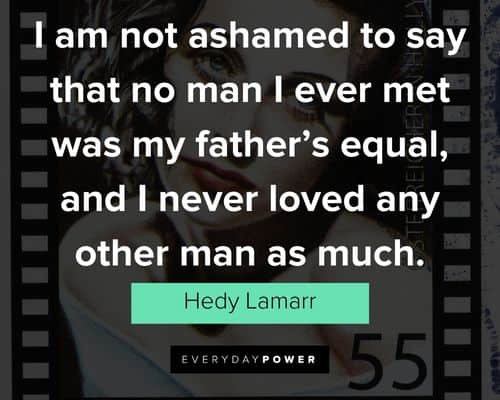 3. "American men, as a group, seem to be interested in only two things, money, and breasts. It seems a very narrow outlook." — Hedy Lamarr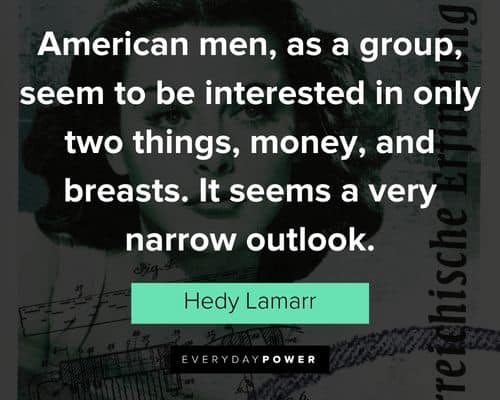 4. "I enjoy countless hundreds pursuing me. I love those who love me the most. I am sort of flattered by men showing attention to me." — Hedy Lamarr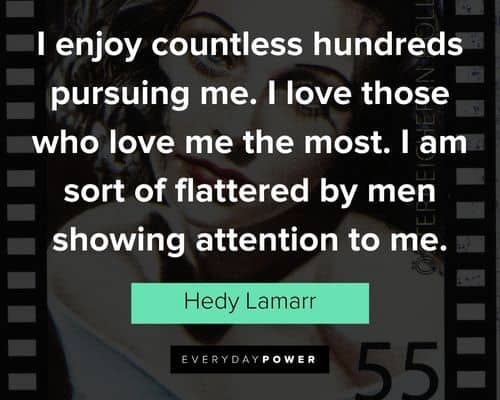 5. "I have never seen a wrestling match or a prize fight, and I don't want to. When I find out a man is interested in these sports, I drop him." — Hedy Lamarr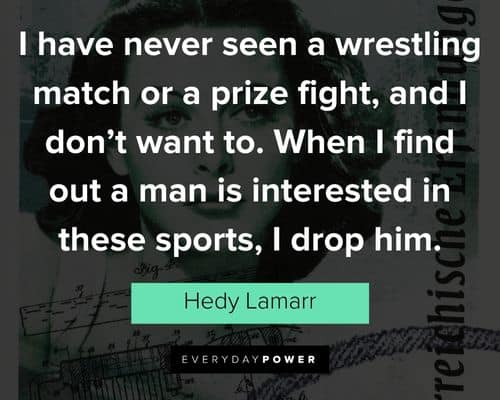 6. "Dirt makes a man look masculine. Let your hair blow in the wind, and all that. It's OK. All you have to do is look neat when you have to look neat." — Hedy Lamarr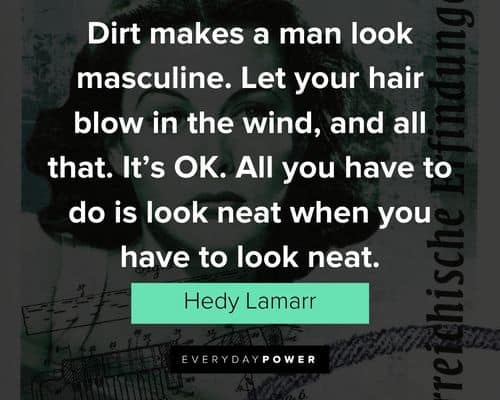 7. "Men are most virile and most attractive between the ages of 35 and 55. Under 35 a man has too much to learn, and I don't have time to teach him." — Hedy Lamarr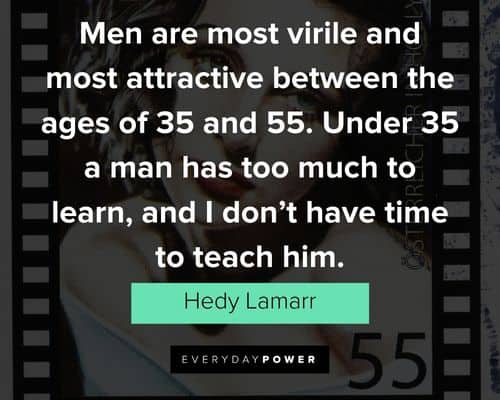 8. "Some men like a dull life – they like the routine of eating breakfast, going to work, coming home, petting the dog, watching TV, kissing the kids, and going to bed. Stay clear of it – it's often catching." — Hedy Lamarr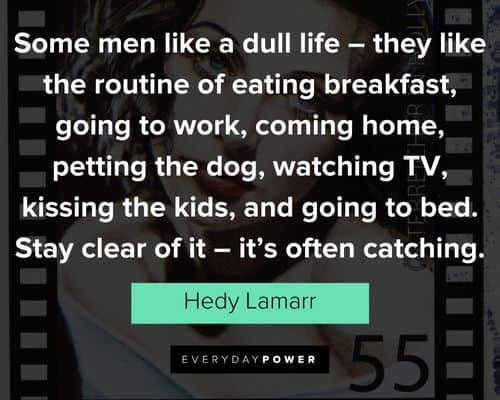 Hedy Lamarr quotes about relationships
9. "All my six husbands married me for different reasons." — Hedy Lamarr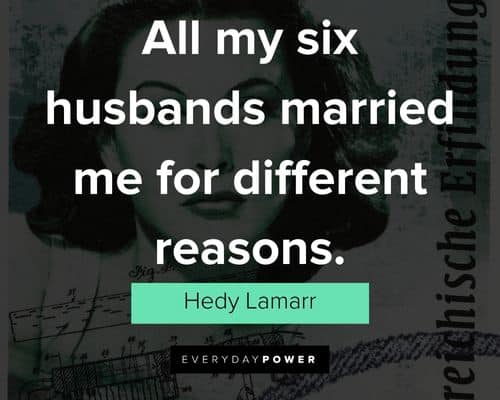 10. "Lawyers know how to take isolated complaints in a divorce case and build them into one big one." — Hedy Lamarr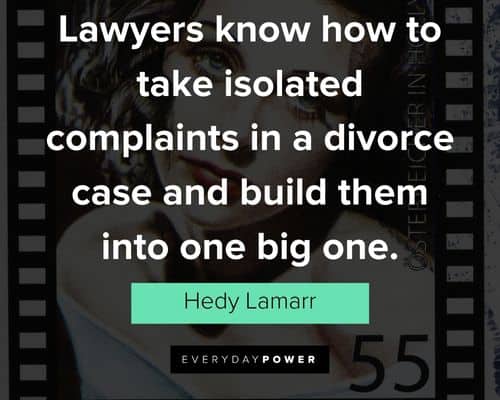 11. "When I attained a certain advanced intimacy with a man, and I don't just mean sex, I married him." — Hedy Lamarr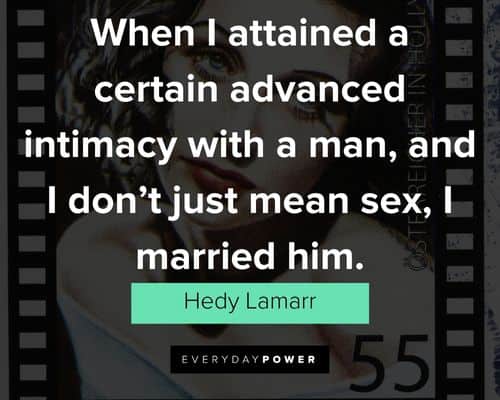 12. "I've been an important star and lived a full life, yet I only have three close friends. I guess that's all anyone can expect." — Hedy Lamarr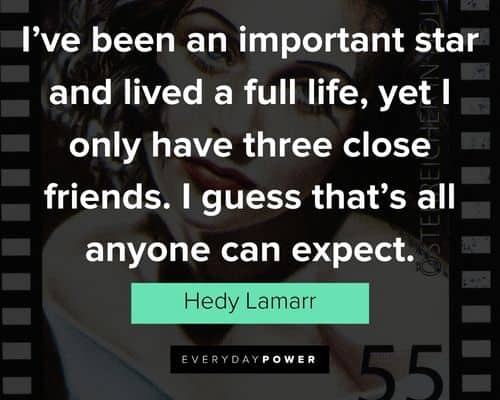 13. "I must quit marrying men who feel inferior to me. Somewhere there must be a man who could be my husband and not feel inferior." — Hedy Lamarr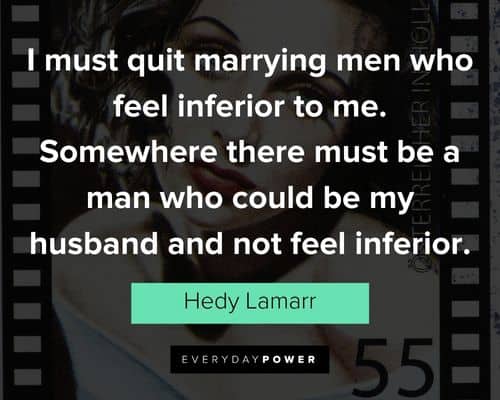 14. "I don't have any gnawing guilt over contributing to any unhappiness suffered by my husbands. They were as much to blame as I was." — Hedy Lamarr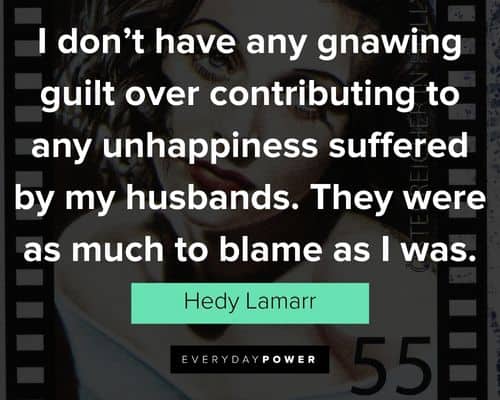 15. "It's funny about men and women. Men pay in cash to get them and pay in cash to get rid of them. Women pay emotionally coming and going. Neither has it easy." — Hedy Lamarr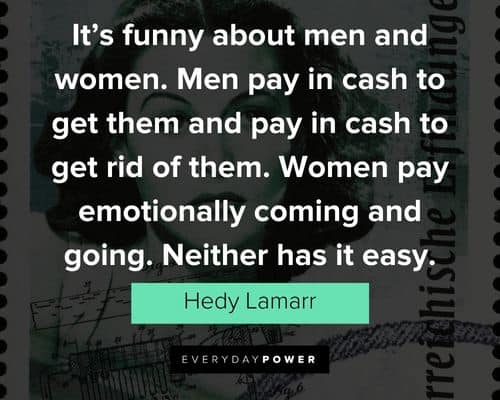 16. "Dates with actors, finally, just seemed to me evenings of shop talk. I got sick of it after a while. So the more famous I became, the more I narrowed down my choices." — Hedy Lamarr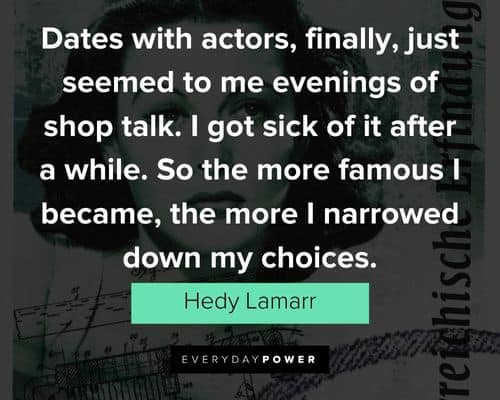 17. "I find very often that very ugly women have really handsome men and vice versa because they don't have any competition. Sometimes handsome men have avoided me." — Hedy Lamarr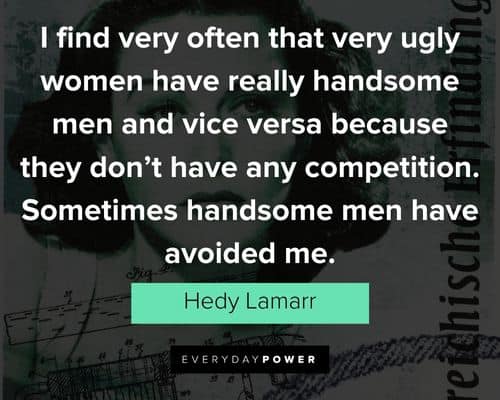 18. "Perhaps my problem in marriage-and it is the problem of many women-was to want both intimacy and independence. It is a difficult line to walk, yet both needs are important to a marriage." — Hedy Lamarr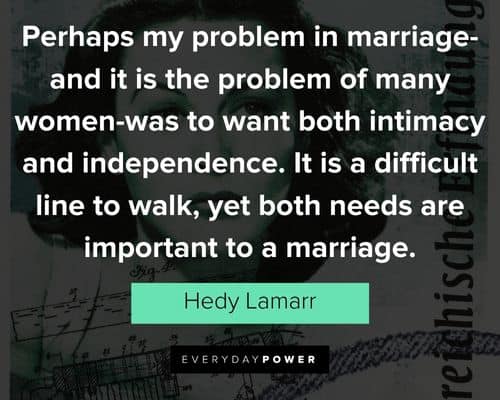 Hedy Lamarr quotes about art
19. "All creative people want to do the unexpected." — Hedy Lamarr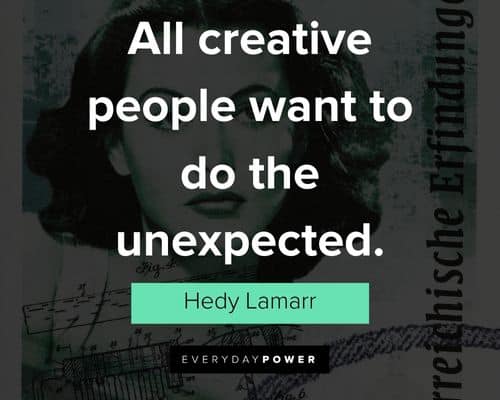 20. "I'm a sworn enemy of convention. I despise the conventional in anything, even the arts." — Hedy Lamarr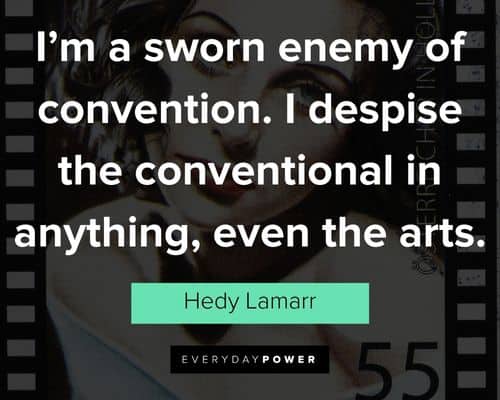 21. "A good painting to me has always been like a friend. It keeps me company, comforts and inspires." — Hedy Lamarr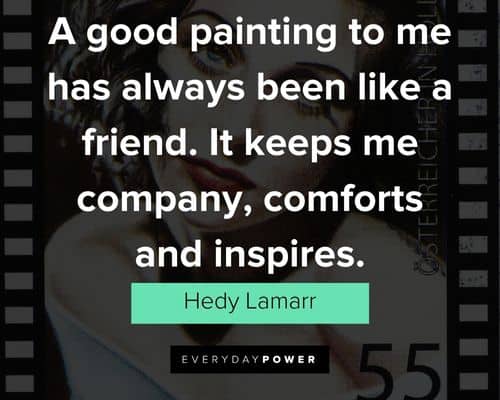 22. "I paint canvasses on the floor and drove one art teacher out of his mind. But that's just the way I paint best." — Hedy Lamarr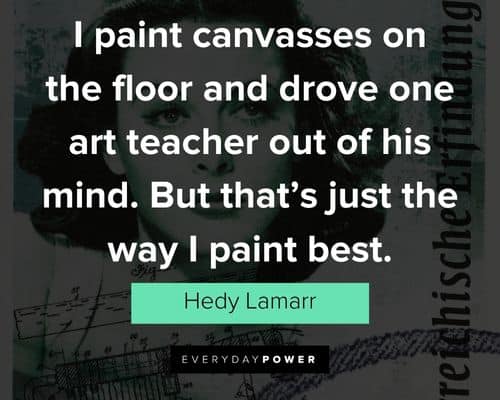 Hedy Lamarr quotes about life
23. "The unknown was always so attractive to me…and still is." — Hedy Lamarr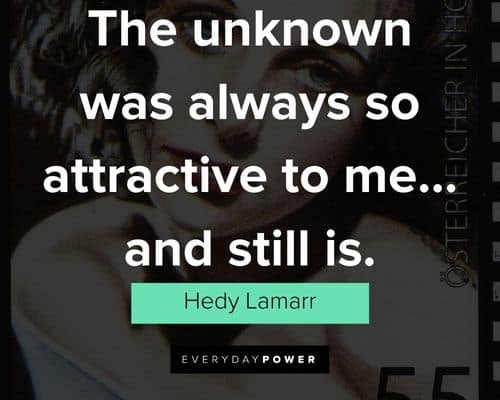 24. "I don't fear death because I don't fear anything I don't understand. When I start to think about it, I order a massage and it goes away." — Hedy Lamarr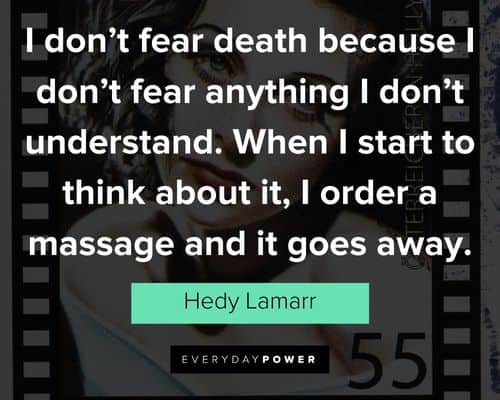 25. "I've met the most interesting people while flying or on a boat. These methods of travel seem to attract the kind of people I want to be with." — Hedy Lamarr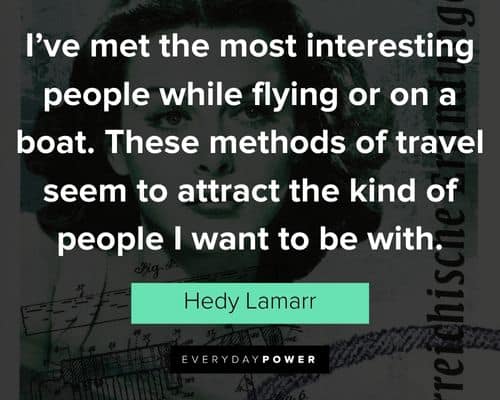 What did you think of these Hedy Lamarr quotes?
Known for her acting and beauty, Hedy was much more than just a force to be reckoned with on-screen.
Before she moved to America, Hedy left an abusive marriage with a man named Fritz Mandl.
During their marriage, Hedy was forced to be "an object of art," something for men to look at but without the freedom to have a mind of her own.
Mandl would host dinner pirates and many of Mandl's attendees were members of the Nazi party.
Hedy's fly on the wall status left her to an advantage to learn about various weaponry that the Nazi's would use in World War II.
When Hedy moved to the United States, she used this knowledge to help her and Antheil invent their communication system, which allowed "frequency hopping."
This system prevented the interception of radio waves, allowing torpedoes to hit their mark.
Ultimately, the Navy decided against using Hedy's system, however, the technology would later be used to help in the invention of cell phones.
Did you enjoy these Hedy Lamarr quotes and sayings?
Which quote was your favorite?
Let us know in the comments below.