NBA YoungBoy Quotes to Motivate You to Hustle
NBA YoungBoy is a rising star in the rap game, gathering millions of fans across the globe.
The NBA YoungBoy quotes below feature his takes on love, success, and his tumultuous upbringing.
What's your favorite NBA YoungBoy song?
Born in 1999, Kentrell Desean Gaulden, known professionally as NBA YoungBoy, YoungBoy Never Broke Again, or simply YoungBoy, is a popular American rapper and songwriter.
His highest-charting single, "Outside Today", reached double platinum after its release in early 2018.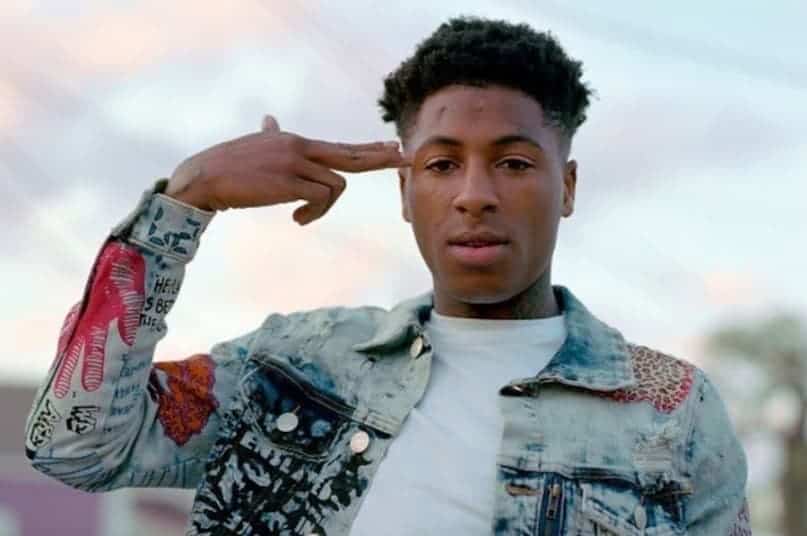 Over three short years, NBA YoungBoy has released eight projects, including his 2018 studio album Until Death Call My Name. 
Below are quotes that dig into the life of NBA YoungBoy through lyrics from his most popular songs and interviews with major publications.
Don't forget to also check out our collection of Juice WRLD quotes and lyrics.
Inspirational NBA YoungBoy quotes
1. "Without loyalty, you won't accomplish anything." – NBA YoungBoy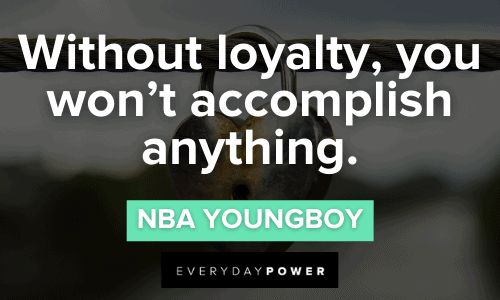 2. "Gotta keep my head above water, gotta make it through." – NBA YoungBoy, "Untouchable"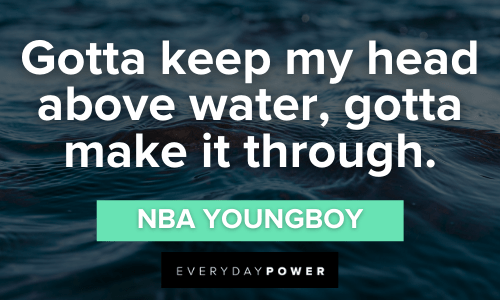 3. "I ain't got nothing to prove to nobody." – NBA YoungBoy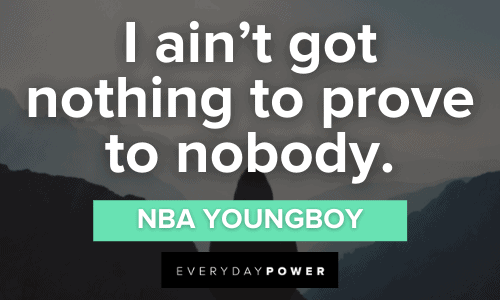 4. "Stuntin' on everybody, whoever slept on me." – NBA YoungBoy, "Can't Stop, Won't Stop"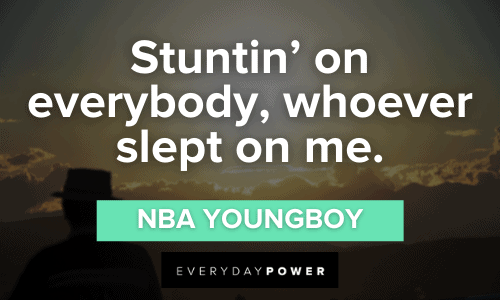 Relatable NBA YoungBoy quotes
5. "I don't really talk that much. I just watch and observe." – NBA YoungBoy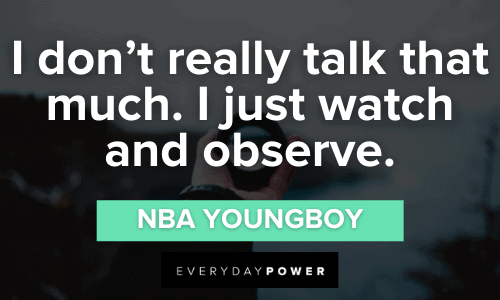 6. "All this sh*t that I go through just make me stronger. Came out the cave now they heard me conquer." – NBA YoungBoy, "Hell and Back"
7. "I'm just a lonely child who wants someone to help him out." – NBA YoungBoy, "Lonely Child"
8. "I don't really trust nobody." – NBA YoungBoy
9. "The only thing that scares me is dying." – NBA YoungBoy
10. "I pay for therapy because my thoughts ahead of me." – NBA YoungBoy, "Lonely Child"
11. "I'm leaving and never coming back." – NBA YoungBoy
12. "I'ma keep it a hundred, I don't like you." – NBA YoungBoy
13. "I know I'm young but I feel like it's nothing I can't handle." – NBA YoungBoy
14. "Look what I accomplished, I know you see me shining. I know you in the sky you looking down here watching." – NBA YoungBoy, "Life"
15. "Won't show no sympathy 'cause it's a dirty game. I know they don't feel my pain. Can't let 'em end my name." – NBA YoungBoy, "Changed"
16. "Ain't no pretending, we live like this no acting." – NBA YoungBoy, "Trappin'"
You might also like these insightful quotes from The Weeknd.
NBA YoungBoy quotes about love
17. "Baby you so hot, all these diamonds cool you down." – NBA YoungBoy, "No. 9"
18. "Your love is poison so no more I can't take it." – NBA YoungBoy, "Love Is Poison"
19. "I'm sorry that I don't know how to love." – NBA YoungBoy, "How to Love"
20. "I just wanna wrap you up and hold you in my arms for the night. You been gone for so long, let's celebrate that we unite." – NBA YoungBoy, "Ranada"
21. "At night I need someone on side me just to hold me …I'm tired of thuggin', now I'm tryna see where the love at." – NBA YoungBoy, "Where the Love At"
22. "I was falling in love with you, I ain't take you as no dub. You something else, you don't know what to do with yourself." – NBA YoungBoy, "Ranada"
23. "I know we got one thing in common: we both want the dough." – NBA YoungBoy, "Down Chick"
24. "I can make you fall in love with all these diamonds." – NBA YoungBoy, "Like Me"
25. "I cannot sit here just stress about our situation. I just gotta look at the bigger picture, baby." – NBA YoungBoy, "Twilight"
NBA YoungBoy quotes about his upbringing
26. "I think music made me who I am. Music taught me what was gutter and what wasn't. Music taught me how to live." – NBA YoungBoy
27. "I got my way with my grandma. I used to get whoopings with my mom, but my grandma spoiled me." – NBA YoungBoy
28. "I wrote my first song in the first or second grade." – NBA YoungBoy
29. "Locked in that cell missed a lot of things. Thinkin' bout to take over the game. I gotta make my way outta the ring. My heart full of hatred, my chest full of pain." – NBA YoungBoy, "Trappin'"
30. "I come from a rare place. It's a different culture, different atmosphere, police crooked. Different emojis, and when I say emojis I mean personalities." – NBA YoungBoy
31. "I ain't never had a role model, watched Chief Keef growing up." – NBA YoungBoy, "They Ain't With Me"
32. "It's either jail or death, like, literally. Ain't no living out there." – NBA YoungBoy
33. "In that cell realized I ain't got no friends." – NBA YoungBoy, "Dark Into Light"
34. "I hate school, I really don't think it's important. I got money without school. You go to school to become somebody and get a job and get some decent money, I got it without it." – NBA YoungBoy
35. "When my grandma left couldn't do nothing but cry. Got on my knees send my prayers to the sky. I asked em why I swear so many times.", – NBA Youngboy, "Life"
36. "They smile up in my face but they don't know what I been through. Whole lotta nights I went to sleep and I ain't had no food. – NBA YoungBoy, "Untouchable"
Also read these relatable Lil Baby quotes on wealth, music, and more.
NBA YoungBoy quotes about success
37. "I just keep recording. You never know what you'll come up with." – NBA YoungBoy
38. "I got a lot of money, but when you wealthy, that mean that your children is ballin', your grandchildren is ballin'." – NBA YoungBoy
39. "I'm just trying to be myself – make music how I make music." – NBA YoungBoy
40. "Success make these niggas mad I know how it is." – NBA YoungBoy, "Ride On 'Em"
41. "You probably can overcome what you're going through from listening to my music." – NBA YoungBoy
42. "I always try to make my next song better than the last." – NBA YoungBoy
43. "When I'm in public people see me they screaming my name. Just a few days ago I was locked up in them chains. Now I'm in back of the Maybach with a lot of bands. I ain't worry 'bout 'em dissin' naw, I don't hear a thing they sayin'" – NBA YoungBoy, "Untouchable"
44. "I wake up seven or eight in the morning and just smoke and write. It'll be quiet as a beach, I'll walk off or some sh*t. Sh*t just be coming to me. I really just rap about how I be feeling, the sh*t I be speaking about I done went through or I'm going to do." – NBA YoungBoy
45. "Everybody depend on me. I can't f*ck up. I ain't the only person that I'm hurting. If I was given a billion dollars to do life in jail, I'd do it and give that sh*t to my fam." – NBA YoungBoy
46. "I just know what I go through, and I know how to speak on it in an interesting way." – NBA YoungBoy
47. "In the Maybach alone, I don't need nobody." – NBA YoungBoy, "Came From"
48. "Time is money I ain't wasting time. I'm feelin like Kobe I'm in my prime." – NBA YoungBoy, "Hell and Back"
49. "You gotta pay the cost to be the boss. Always been my dream for me to make it to the top. They act like they don't believe me but sh*t I promise I won't stop" – NBA YoungBoy, "What I Was Taught"
50. "F*ck the industry, won't let 'em take me under." – NBA YoungBoy, "All I Want"
Also read these Lil Nas X quotes and lyrics that will make your day.
What's your favorite viral moment involving NBA YoungBoy?
Whether you love him or hate him, one thing that NBA YoungBoy knows how to do well is hustle.
His work ethic is undeniable. It's one of the main reasons the popularity of his music has grown so rapidly.
YoungBoy is currently sitting at number 2 on YouTube's music charts, with his viewership spanning from Brazil to Canada. 
Take a page from NBA YoungBoy's playbook and prioritize consistency and productivity within your work. Those are often the factors that separate those who are good from those who are stellar.
Did we forget any of your favorite NBA YoungBoy quotes and lyrics? Let us know your favorites in the comments section below.

February 8, 2020 7:09 AM EST
Click to view