80 Kitchen Quotes About More Than Just Food
If the kitchen is your favorite place to hang out, you'll love these kitchen quotes.
A kitchen seems like such a simple yet necessary room in the house.
You may also enjoy our article on:
We all need to eat, so it only makes sense that we need a place to cook and prepare food in our house.
However, there is so much more to the kitchen than that.
The kitchen tends to be the room that people congregate in.
It's where the meals are prepared and shared, but there's also a lot more shared in the kitchen.
People teach each other things, learn things, and build memories together.
The kitchen is about a lot more than food as you'll see in these kitchen quotes.
Don't forget to also check out these healthy eating quotes celebrating better food choices.
If you enjoy this article, check out our most popular quote article, a list of short inspirational quotes for daily motivation.
Browse our entire collection of inspirational quotes for more motivating ideas and concepts.
Cute kitchen quotes about memories
1. "Kitchens should be designed around what's truly important – fun, food, and life." – Daniel Boulud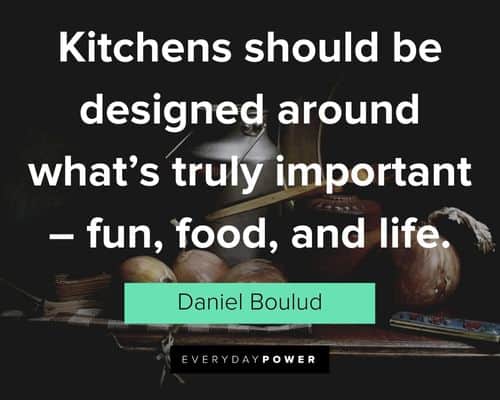 You will also enjoy our article on home quotes.
2. "Cooking is one of the strongest ceremonies for life." – Laura Esquivel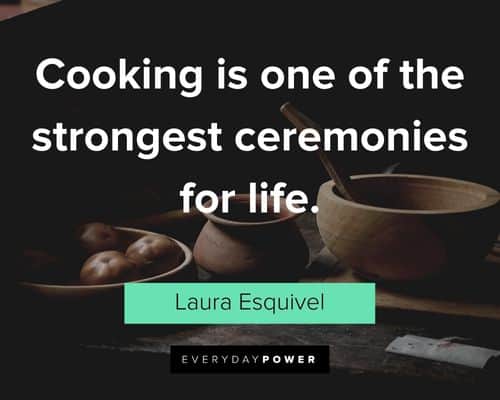 You will also enjoy our article on food quotes.
3. "A sharp knife is the best tool you can have in the kitchen." ― Chris Morocco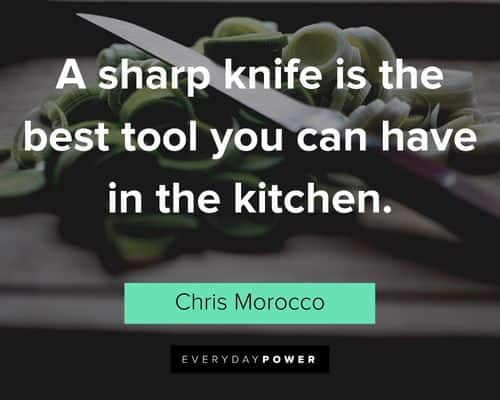 You will also enjoy our article on cooking quotes.
4. "I've been my mom's kitchen helper since I was a little kid." – Taylor Swift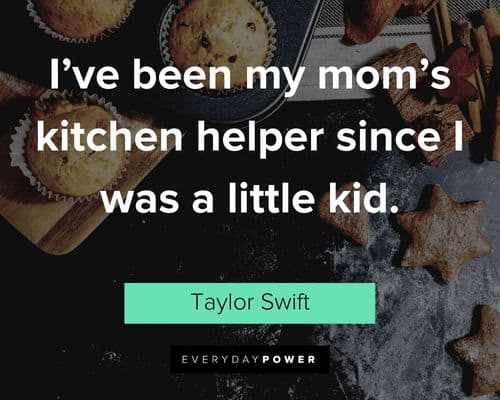 You will also enjoy our article on baking quotes.
5. "The kitchen oven is reliable, but it's made us lazy." – Jamie Oliver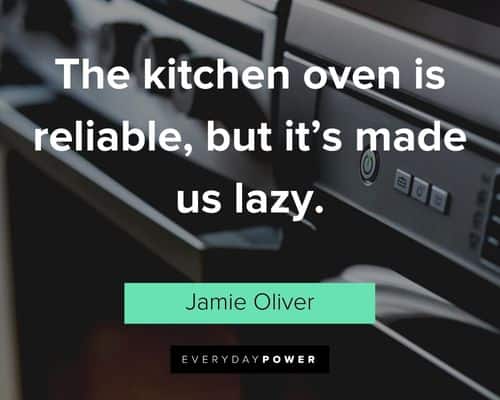 You will also enjoy our article on ratatouille quotes.
6. "Kitchens are hard environments, and they form incredibly strong characters." – Gordon Ramsay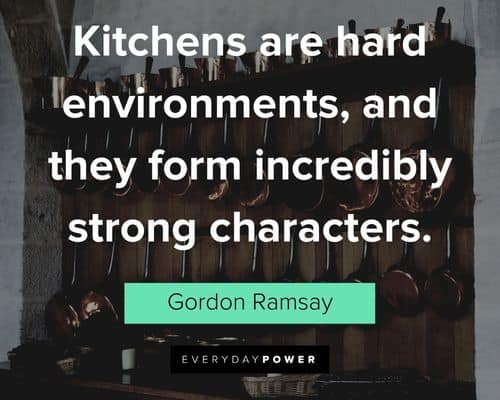 You will also enjoy our article on julia child quotes.
7. "Happiness is a small house, with a big kitchen." – Alfred Hitchcock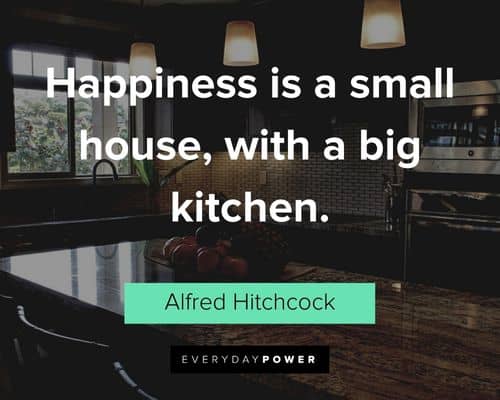 You will also enjoy our article on brunch quotes.
8. "I like to have friends in the kitchen and make a big mess and use every pot in the kitchen." – Ted Allen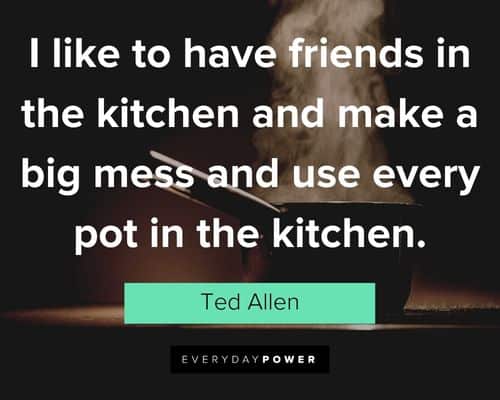 You will also enjoy our article on sunday quotes.
9. "A kitchen is a good place to be, almost always the best place in the house." – Michael Ruhlman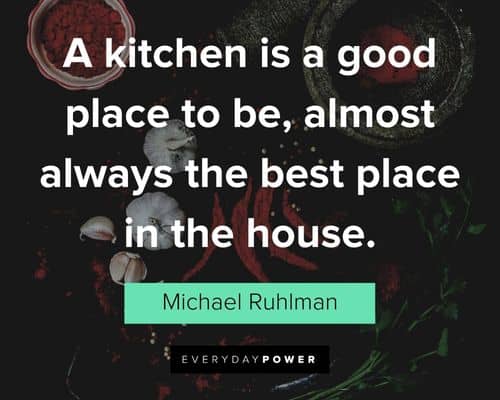 You will also enjoy our article on madea quotes.
10. "Afterwards, they always had tea in the kitchen, much the nicest room in the house." – Flora Thompson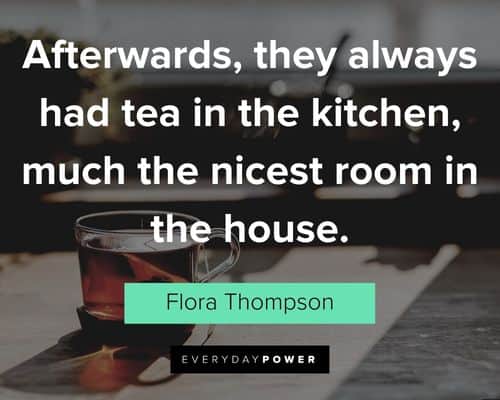 Funny kitchen quotes about what happens there
11. "In the childhood memories of every good cook, there's a large kitchen, a warm stove, a simmering pot, and a mom." – Barbara Costikyan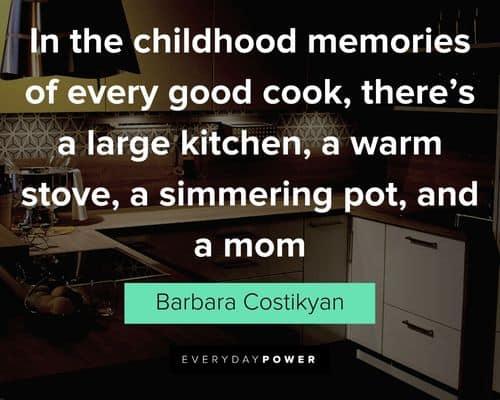 You will also enjoy our article on january quotes.
12. "My kitchen is a mystical place, a kind of temple for me. It is a place where the surfaces seem to have significance, where the sounds and odors carry meaning that transfers from the past and bridges to the future." – Pearl Bailey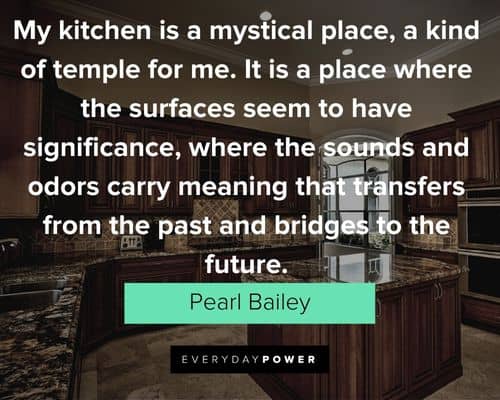 You will also enjoy our article on rodney dangerfield quotes.
13. "The kitchen is the most important place in any house. Visit your family, and that's where you'll end up. Got to a party, that's where everyone congregates." – Michelle Dockery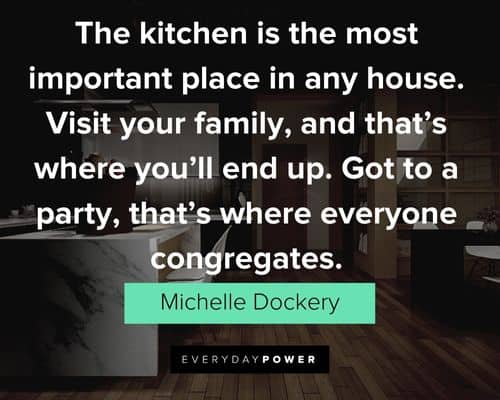 You will also enjoy our article on funny wine quotes.
14. "The kitchen is the great laboratory of the household and much of the 'weal and woe' as far as regards bodily health, depends on the nature of the preparations concocted within its walls." – Isabella Beeton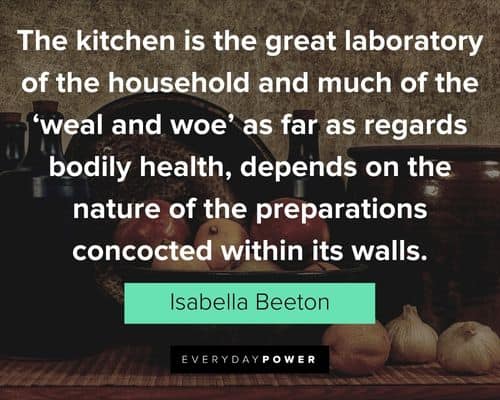 15. "For me, the kitchen is the most special room in the house. It's a place for adventure – not drudgery, but discovery, sharing and showing off with friends, trying new ideas." – Ted Allen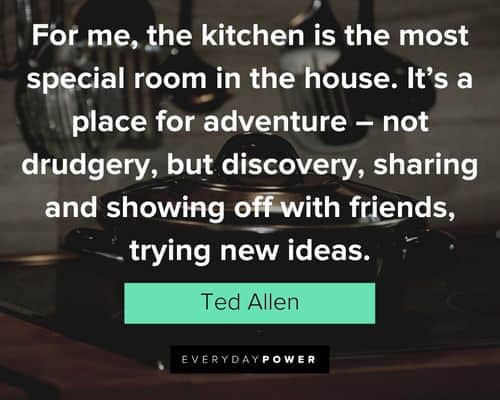 16. "The kitchen really is the castle itself. This is where we spend our happiest moments and where we find the joy of being a family." – Mario Batali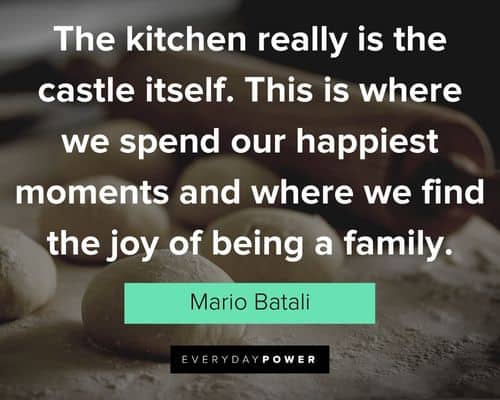 Short kitchen quotes about cooking
17. "The kitchen is the heart of every home, for the most part. It evokes memories of your family history." – Debi Mazar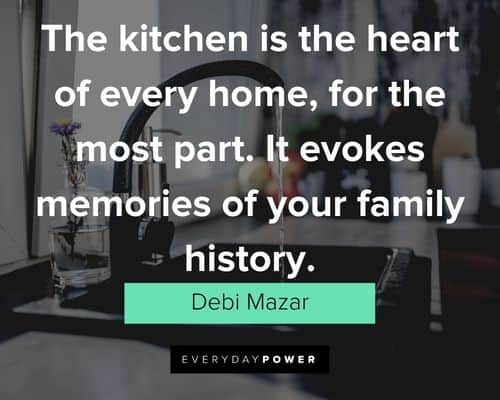 18. "Keep it simple in the kitchen. If you use quality ingredients, you don't need anything fancy to make food delicious; just a knife, a cutting board, and some good nonstick cookware, and you're set." – Curtis Stone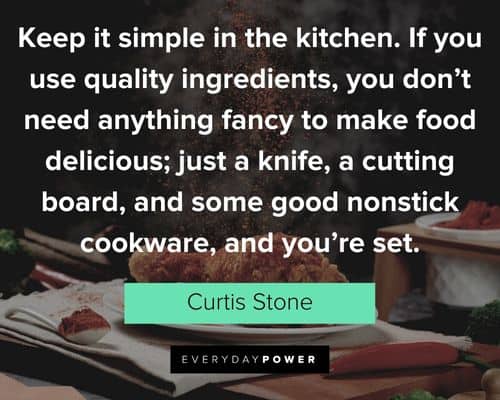 19. "My favorite hobby is cooking and eating. There is nothing I can do well if I have not eaten well." – Darnell Lamont Walker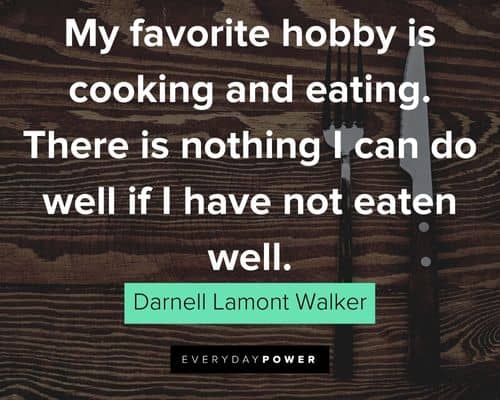 20. "On the good days, my mother would haul out the ukulele and we'd sit around the kitchen table – it was a cardboard table with a linoleum top – and sing." – Carol Burnett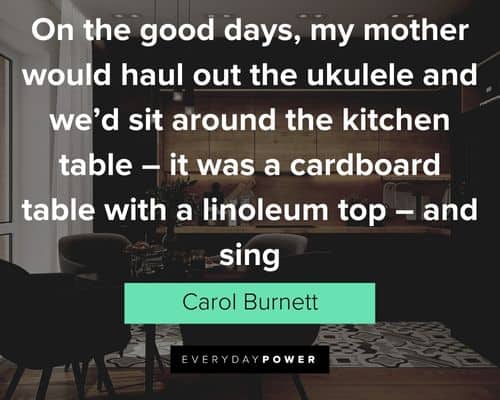 21. "If you let too many cooks in the kitchen it could cloud your vision of what you want to do." – Mary Elizabeth Winstead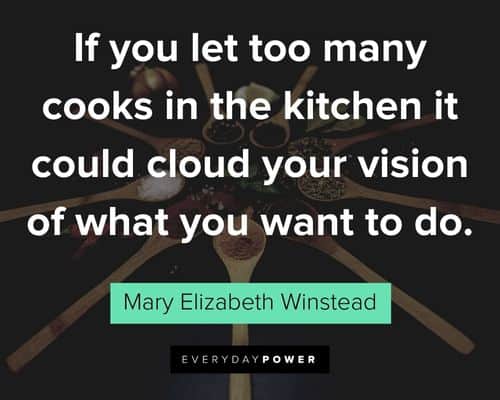 22. "For me, a kitchen is like science fiction. I only go there to open the refrigerator and take something out." – Ann Margaret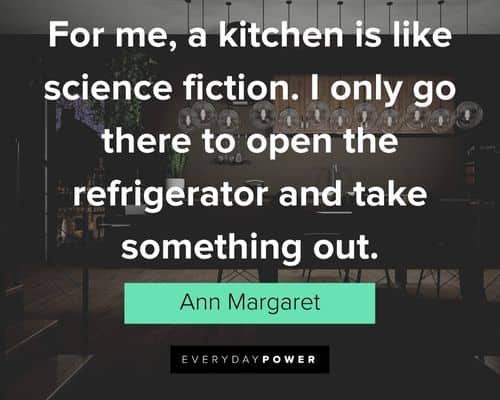 23. "The kitchen is where you put all the ingredients together. No matter what you do in life, you have to have a plan and put it together." – Yo Gotti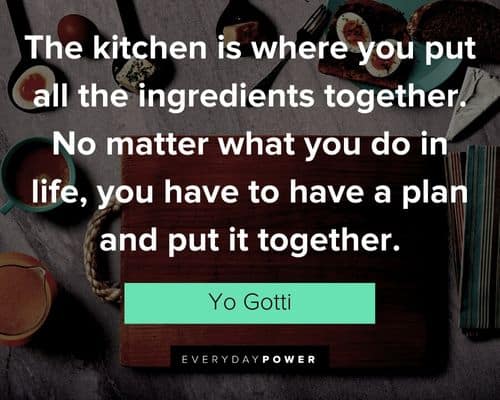 24. "Our kitchen is a kitchen that makes food designed to be tasted with the five senses and it requires concentration to appreciate all that we want to express." – Ferran Adria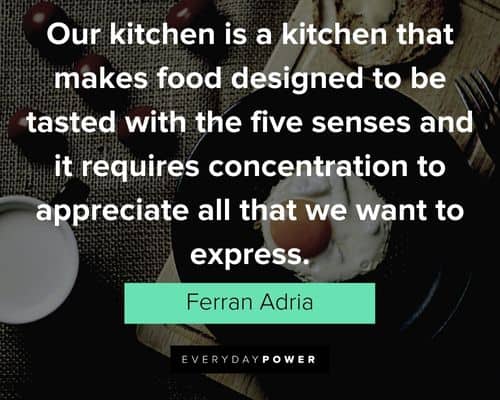 25. "My worst habit in the kitchen is not allowing anybody to help me. I like to cook by myself." – Eva Longoriavalue to humans and elevates their spiritual qualities. If you take a frozen box and stick it in the microwave, you became connected to the factory." – Laura Esquivel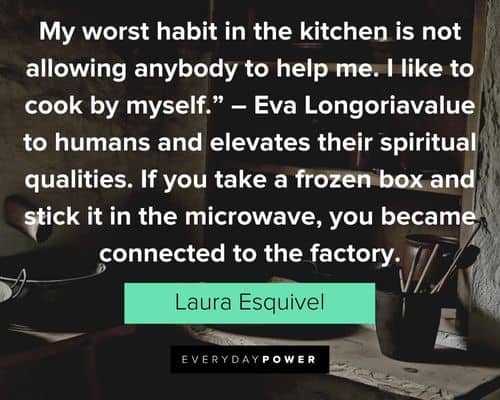 26. "Cooking is one of the strongest ceremonies for life. When recipes are put together, the kitchen is a chemical laboratory involving air, fire, water, and the earth. This is what gives." – Unknown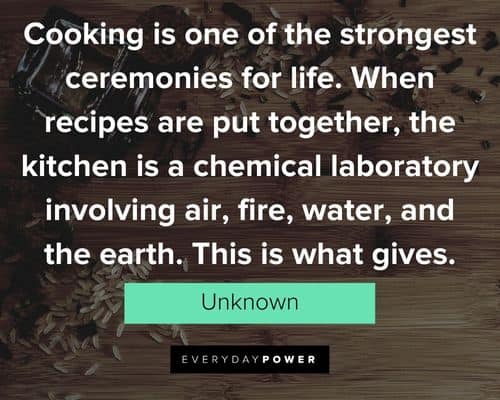 27. "I train my chefs completely different to anyone else. My young girls and guys, when they come to the kitchen, the first thing they get is a blindfold. They get blindfolded and they get sat down at the chef's table… Unless they can identify what they're tasting, they don't get to cook it." – Gordon Ramsay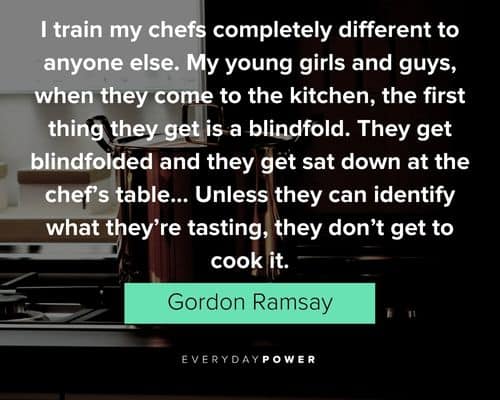 28. "The more you know, the more you can create. There's no end to imagination in the kitchen." – Julia Child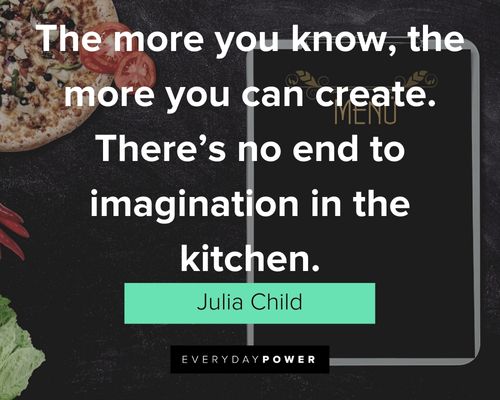 29. "There is nothing nicer than a kitchen really made for a cook. Things that are designed to be used always have an innate beauty." – Julia Child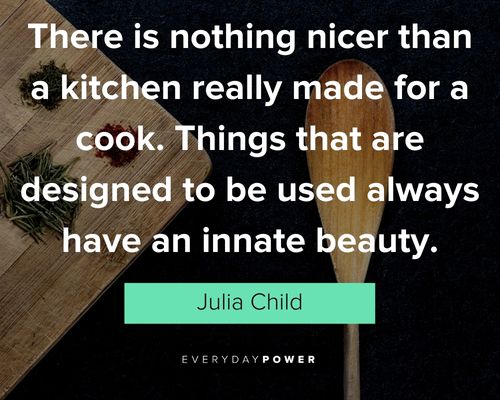 Kitchen quotes about life
30. "In the kitchen of your life', you have a choice as to what ingredients you want to use to build yourself up." – Selorm Betepe Alfred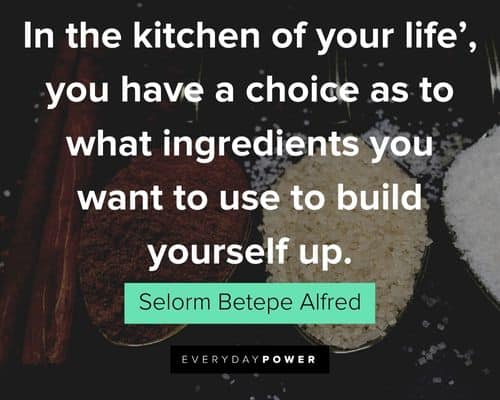 31. "My life at home gives me absolute joy. There are some days when, as soon as you've finished cooking breakfast and cleaning up the kitchen, it's time to start lunch, and by the time you've done that, you're doing dinner and thinking, 'There has to be a menu we can order from.'" – Julia Roberts
32. "If I walked into the kitchen without washing my hands as a kid, I'd hear a loud 'A-hem!' from my mother or grandmother. Now I count on other people to do the same." – Maya Angelou
33. "My favorite room in the house is my kitchen. It's definitely the heart and soul of our home. It's where we gather in the morning as a family to start the day, and it's where we down at night over supper." – Kimberly Schlapman
34. "As our friends and families hover in the kitchen let's remember they are hungering for more than physical food. I believe the light in a home shines brightest in the kitchen, Let Your Light Shine!" – Mary Jo Montanye
35. "The love the whole process of making them, just out in the kitchen together making pancakes on a Sunday morning." – Ronda Rousey
36. "The kitchen may not get cleaned, and I have to accept that, I do the important things." – Jasmine Guy
37. "The kitchen is a place of adventure and entirely fun, not drudgery. I can't think of anything better to do with family and friends than to be together to create something." – Ted Allen
38. "The kitchen is a place I know well. It's my favorite room wherever I am living, and it has to be completely open and social." – Chrissy Teigen
39. "God bless my kitchen as your own where I love to be, Bless me as I prepare food for my family and friends." – Catherine Pusifer
More kitchen quotes and sayings
40. "Our taste buds do sommersaults over Grandma's homemade nut bread, cookies, cobblers, cakes, and pies. But a grandmother's kitchen goes beyond good aesthetics – it's like a bakery plus love." – Books Barbour
41. "There are times when wisdom cannot be found in the chambers of parliament or the halls of academia but at the unpretentious setting of the kitchen table." – E.A. Bucchianeri
42. "Thanksgiving Day is the day that your kitchen is going to turn into the most wonderful beautiful place in the world." – Polly Ann Lewis
43. "The place I like best in this world is the kitchen. No matter where it is, no matter what kind, if t's a kitchen, if it's a place where they make food, it's fine with me. Ideally, it should be well broken in. Lots of tea towels, dry and immaculate. Where tile catching the light (Ting! Ting!)." – Banana Yoshimoto
44. "The sight of iniquity, immorality, pure evil perhaps the world's end; a kitchen in disorder." – Kate Quinn
45. "My kitchen looks like the one from my childhood – very homey, with a little bit of Alice in Wonderland!" – Paris Hilton
46. "If you organize the kitchen, you can organize your life." – Louis Parrish
47. "When you're the conscious captain in your kitchen, you'll feel better mentally and physically." – Kris Carr
48. "If your kitchen smells good, your food lost something." – Nathan Myhrvold
49. "Everything happens in the kitchen. Life happens in the kitchen." – Andrew Zimmern
50. "If you can't stand the heat, get out of the kitchen." – Harry S. Truman
More fascinating kitchen quotes
51. "Storytelling tastes best in the kitchen, told deep inside the aroma of cooking, told with stomachs growling and mouths salivating. In the kitchen, partnerships formed, bargains began, forgiveness came with the sharing of food." ― Brenda Sutton Rose
52. "I always had a fantasy of being a chef, because I like kitchen life." ― Geoffrey Rush
53. "I'm at the age where food has taken the place of sex in my life. In fact, I've just had a mirror put over my kitchen table." ― Rodney Dangerfield
54. "The kitchen's a laboratory, and everything that happens there has to do with science. It's biology, chemistry, physics. Yes, there's history. Yes, there's artistry. Yes, to all of that. But what happened there, what actually happens to the food is all science." ― Alton Brown
55. "The kitchen is the heart of every home, for the most part. It evokes memories of your family history." ― Debi Mazar
56. "Good food and a warm kitchen are what makes a house a home. I always tried to make my home like my mother's, because Mom was magnificent at stretching a buck when it came to decorating and food. Like a true Italian, she valued beautification in every area of her life, and I try to do the same." ― Rachael Ray
57. "No matter what the recipe, any baker can do wonders in the kitchen with some good ingredients and an upbeat attitude!" ― Buddy Valastro
58. "Their kitchen is their shrine, the cook their priest, the table their altar, and their belly their god." ― Charles Buck
59. "My grandmother was the greatest cook in the world. She could just go in there, the whole kitchen would look like a tornado hit it and then she'd come out with the best food. Then she'd sit at the table and she wouldn't eat!" ― Edie Brickell
60. "Our fondest memories are made gathered around the table with family and friends." – Unknown
Funny Kitchen Quotes That Will Make You Smile
61. "Best way to get rid of kitchen odors: Eat out." ― Phyllis Diller
62. "They say the way to our hearts is through our stomachs, so the kitchen must be the heart of the home." ― Emma Reed
63. "A really posh kitchen, all metal. What happened to the doors, though? Did you run out of money?" ― Terry Nation
64. "What my mother believed about cooking is that if you worked hard and prospered, someone else would do it for you." ― Nora Ephron
65. "The fondest memories are made when gathered around the table." ― Emma Reed
66. "No one became a great cook just by reading the recipes." ― Amit Kalantri
67. "The worst mistake of a woman is to go to the kitchen, because then she never gets out of there." ― Shakira
68. "You have to run the kitchen, you can't let the kitchen run you." ― Sharon Trojan
69. "It does not matter how expensive your kitchen is if you are a bad cook." ― Loesje
70. "There was no pressure to perform, just to find my feet in the kitchen." ― Rachel Kelly
Kitchen Quotes That Will Inspire You
71. "The time I spend with my family, in the kitchen and out, is precious and priceless." ― Jeff Henderson
72. "A good home must be made, not bought. In the end, it's not track lighting or a sun room that brings light into a kitchen." ― Joyce Maynard
73. "When I'm old and gray, I want to have a house by the sea. And paint. With a lot of wonderful chums, good music, and booze around. And a damn good kitchen to cook in." ― Ava Gardner
74. "Family fun is as necessary to modern living as a kitchen refrigerator." ― Walt Disney
75. "The kitchen is a pharmacy; whereas, it is also a poison-room; it depends on you, what you make of it?" ― Ehsan Sehgal
76. "We owe much to the fruitful meditation of our sages, but a sane view of life is, after all, elaborated mainly in the kitchen." ― Joseph Conrad
77. "A kitchen without a knife is not a kitchen." ― Masaharu Morimoto
78. "The wisest advice I ever received regarding the kitchen came from my mother: 'Do the dishes while you're cooking." ― Lela Rose
79. "My happy place is you teaching me how to dance in the kitchen at two in the morning." ― Lidia Longorio
80. "The kitchen is a sacred space." ― Marc Forgione
What did you learn from these kitchen quotes?
One of the greatest things about the kitchen is that it holds its power regardless of its size.
You can have the biggest, most luxurious kitchen in the world or a simple galley kitchen with the bare necessities and there's still something about it that draws people in.
Food connects people and food happens in the kitchen.
It doesn't matter if you're whipping up a five-course meal or simply opening up a bag of chips, there's just something about the kitchen that holds so much life.
So, clear off those counters, break out the food and let the adventures begin!
What's your biggest takeaway from these kitchen quotes and sayings?
Do you have any other favorite quotes to add?
Let us know in the comment section below.