40 Lady Gaga Quotes On Love, Being Yourself and Fame
Allow these inspirational Lady Gaga quotes to find your inner superstar.
These Lady Gaga quotes give deep insights into her sincerity and humility.
They will also will inspire you to love yourself no matter who you are.
The world knows her as the over the top pop sensation who always dazzles us with her booming voice and catchy lyrics, but there's so much more to Lady Gaga than what you see on the surface.
Born Stefani Joanne Angelina Germanotta on March 28, 1986, she took the stage name Lady Gaga on her path to becoming one of the best-selling and most popular music acts of our time.
A classically trained singer and pianist from New York City, the Italian-American performer inspires the world and her devoted fans to believe in themselves and practice kindness.
She was nominated for Best Actress for her portrayal as Ally in 2018's A Star Is Born, and even won the Oscar for Best song for the film's smash hit duet "Shallow."
The world is continually amazed to see all that Lady Gaga can do, and these inspirational Lady Gaga quotes will help you find the star inside you, too.
Don't forget to also check out these BTS quotes and lyrics from the platinum-selling South Korean boy band.
1. "We need fantasy to survive because reality is too difficult." – Lady Gaga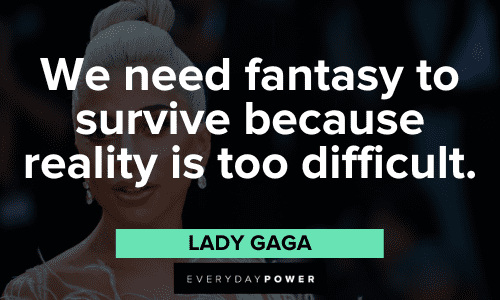 You will also enjoy our article on xxxtentacion quotes and lyrics.
2. "If you don't have any shadows you're not in the light." – Lady Gaga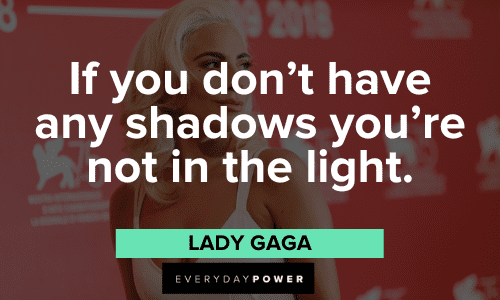 3. "When you leave here tonight, know that at least one person believes in you." – Lady Gaga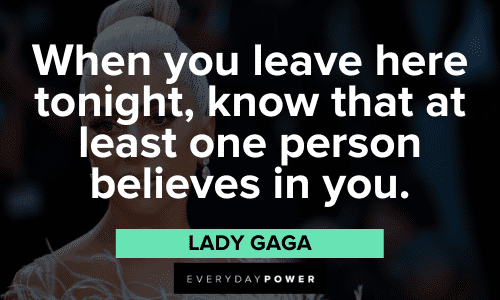 4. "You define beauty yourself, society doesn't define your beauty." – Lady Gaga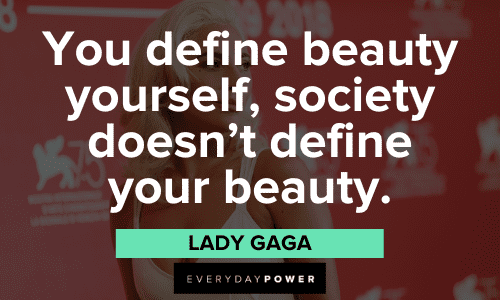 5. "You have to be unique and different and shine in your own way." – Lady Gaga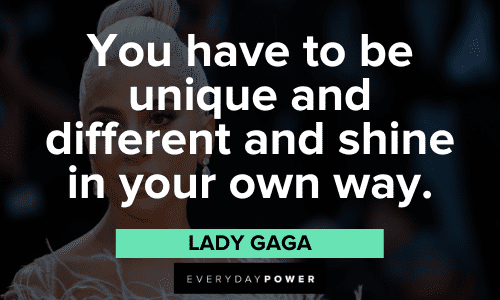 6. "Don't be insecure if your heart is pure." – Lady Gaga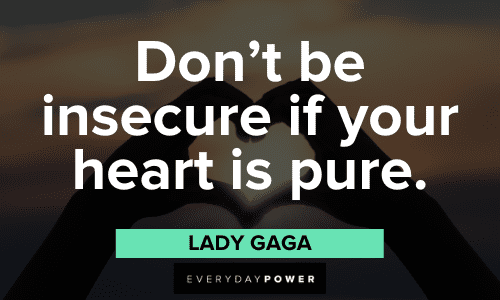 7. "At the end of the day, you won't be happy until you love yourself." – Lady Gaga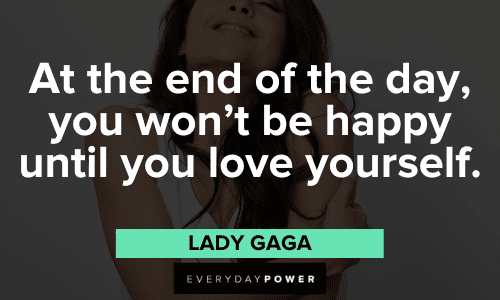 8. "Money can run out but talent is forever." – Lady Gaga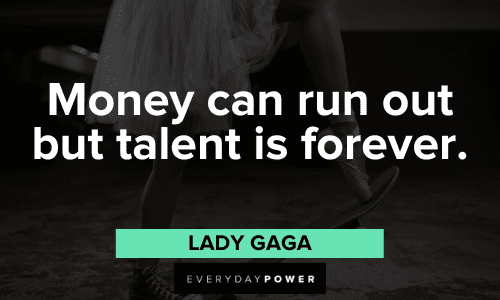 9. "I don't wanna be alone forever but I can be tonight." – Lady Gaga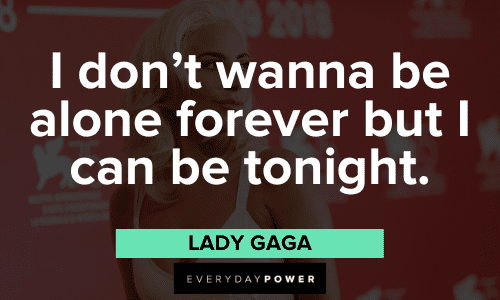 10. "If you're a strong female you don't need permission." – Lady Gaga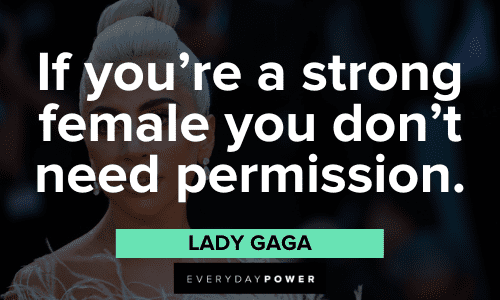 Lady Gaga Quotes About Love
11. "Trust is like a mirror, you can fix it if it's broken, but you can still see the crack in that reflection." – Lady Gaga
12. "Don't you ever let a soul in the world tell you that you can't be exactly who you are." – Lady Gaga
13. "Do not allow people to dim your shine because they are blinded. Tell them to put on some sunglasses, cuz we were born this way!" – Lady Gaga
14. "Sometimes in life you don't always feel like a winner, but that doesn't mean you're not a winner." – Lady Gaga
15. "I want women — and men — to feel empowered by a deeper and more psychotic part of themselves. The part they're always trying desperately to hide. I want that to become something that they cherish." – Lady Gaga
Lady Gaga Quotes about greatness
16. "Whether I'm wearing lots of makeup or no makeup, I'm always the same person inside. I had this dream, and I really wanted to be a star. And I was almost a monster in the way that I was really fearless with my ambitions." – Lady Gaga
If you're enjoying these quotes, make sure to read our collection of makeup quotes about the power of looking good.
17. "Every bit of me is devoted to love and art. And I aspire to try to be a teacher to my young fans who feel just like I felt when I was younger. I just felt like a freak. I guess what I'm trying to say is I'm trying to liberate them, I want to free them of their fears and make them feel that they can make their own space in the world." – Lady Gaga
18. "You have to be careful about how much you reveal to people that look up to you so much." – Lady Gaga
19. "I think that promoting insecurity in the form of plastic surgery is infinitely more harmful than an artistic expression related to body modification." – Lady Gaga
20. "I am my own sanctuary and I can be reborn as many times as I choose throughout my life." – Lady Gaga
21. "I feel like if you're a really good human being, you can try to find something beautiful in every single person, no matter what." – Lady Gaga
Lady Gaga Quotes About Being Born This Way
22. "Some women choose to follow men, and some women choose to follow their dreams. If you're wondering which way to go, remember that your career will never wake up and tell you that it doesn't love you anymore." – Lady Gaga
23. "Why spend your whole life trying to be somebody that you're not? It's so much more fun to be yourself **** what everybody says." – Lady Gaga
24. "If you're laying in bed next to someone that really doesn't make you feel like the goddess that you are, you need to rediscover what it is that you truly want and need." – Lady Gaga
25. "I used to be so delusional. I always imagined I could be more than I was, and eventually I grew and evolved into that person." – Lady Gaga
26. "I won't give up on my life as a warrior queen live passionately tonight." – Lady Gaga
Lady Gaga Quotes about Destiny
27. "It's always wrong to hate but its never wrong to love." – Lady Gaga
28. "Even if the whole world turns their back on you, you'll always have yourself." – Lady Gaga
If you're enjoying this article, you might also like these XXXTentacion quotes to help weave through the darkness within.
Lady Gaga Quotes about life
29. "You laugh at me because I'm different. I laugh at you because you are all the same." – Lady Gaga
30. "Born this way" is about being yourself, and loving who you are and being proud." – Lady Gaga
31. "Don't judge anyone but don't trust anyone." – Lady Gaga
32. "I want you to let go of all of your insecurities. I want you to reject anyone of anything that ever made you feel like you don't belong." – Lady Gaga
33. "When you're around me and really see that all I do is live and breathe for my work, it's not strange, it's just Gaga." – Lady Gaga
34. "Be brave and celebrate with us your 'perceived flaws,' as society tells us. May we make our flaws famous, and thus redefine the heinous." – Lady Gaga
35. "Acceptance, tolerance, bravery, compassion. These are the things my mom taught me!" – Lady Gaga
36. "I think tolerance and acceptance and love is something that feeds every community." – Lady Gaga
37. "Celebrate all the things you don't like about yourself. love yourself." –Lady Gaga
38. "If you were to ask me what I want to do – I don't want to be a celebrity, I want to make a difference." – Lady Gaga
39. "Stand up for those who cannot stand up for themselves; its your responsibility." – Lady Gaga
40. "My fans are who I am. You give meaning to my life. You will never know the connection I feel to you." – Lady Gaga
Which of these Lady Gaga quotes is your favorite?
Did we feature your favorite Lady Gaga quote?
What other quotes would you add to the list?
Let us know in the comment section below.