Lash Quotes to Honor Your Beautiful Eyes
If there's something about lashes that draws you to them, you can't get enough of these lash quotes.
Eyelashes have a real purpose to serve. They are there to protect our eyes from being harmed by getting things in them. They are very practical, always there working in our favor. But that's not how many people think of lashes.
Throughout history, long dark lashes have become associated with beauty. In ancient days, women would put a black putty on their lashes to help them stand out. In modern days, we have things like mascara and eyeliner to give them that extra boost we want them to have. As you read these lash quotes, you'll see how important they are to some people.
Don't forget to also check out these eyes quotes that will open yours to the windows of the soul.
Lash Quotes About Love and Emotions
1. "Your eyelashes will write on my heart the poem that could never come from the pen of a poet." – Rumi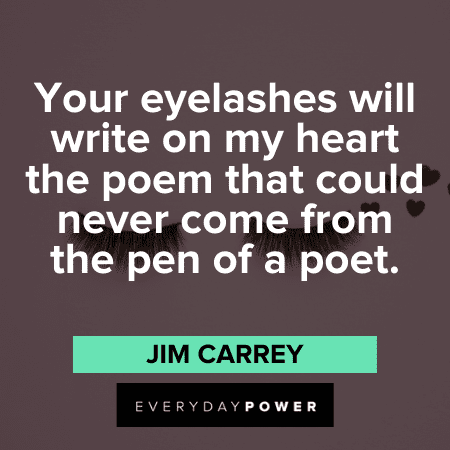 2. "I always wear boot polish on my eyelashes, because I am a very emotional person and it doesn't run when I cry." – Barbara Cartland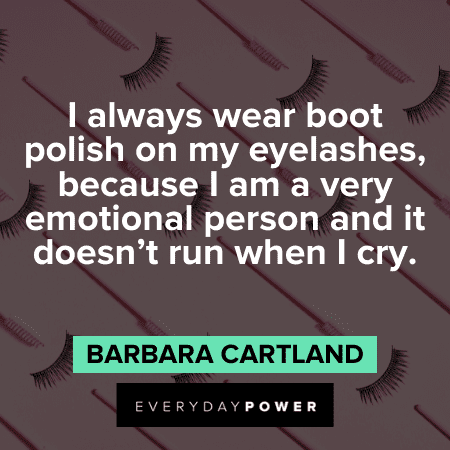 3. "Take the whole universe all at once and put it on your eyelashes." – Yunmen Wenyan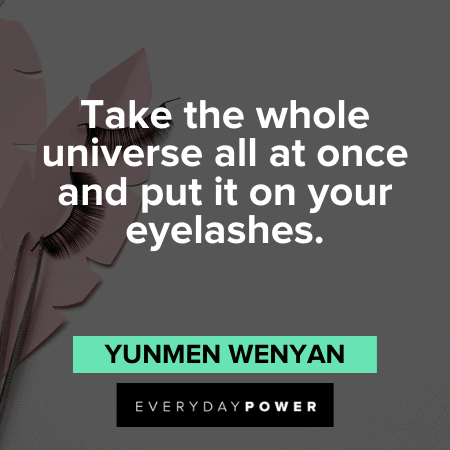 4. "The password is a flicker of an eyelash." – Adrienne Rich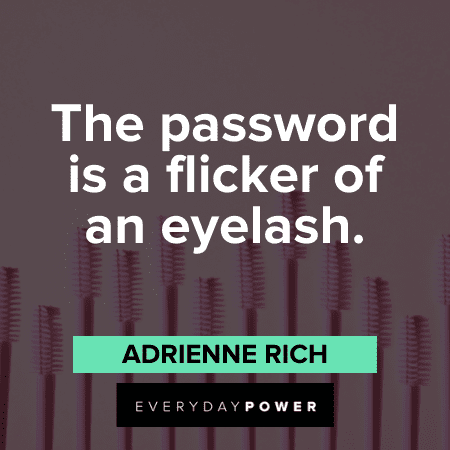 5. "Now I'm going to put my eyelashes on and stretch my legs out and do a show." – Nana Visitor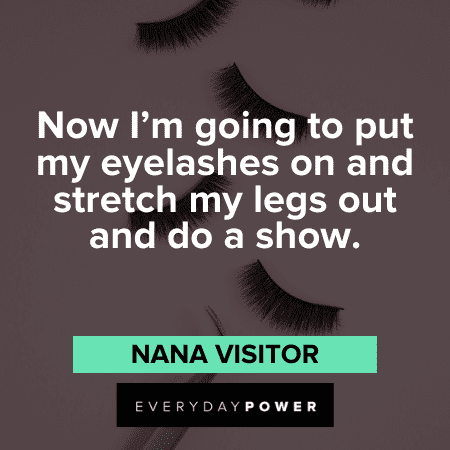 6. "One day you will take me completely out of myself, I'll do what the angels cannot do. Your eyelash will write on my cheek the poem that hasn't been thought of." – Rumi
7. "I loved most when his eyelashes twitched and he blinked, and suddenly happiness was there inside his eyes. Unmistakable. Like a single word printed on a clean white page." – Augusten Burroughs
8. "And being an obsessive man he did things normal men did not! Like he knew the number of strands of hair that her eye-lashes had!" – Avijeet Das
9. "Kiss me with rain on your eyelashes, come on, let us sway together, under the trees, and to hell with thunder." – Edwin Morgan
Lash Quotes About Hope and Courage
10. "I have an extra set of eyelashes because you never know. I could cry or laugh, or it could be windy, and I'll need a standby pair." – Niecy Nash
11. "It is delightful to kiss the eyelashes of the beloved–is it not? But never so delightful as when fresh tears are on them." – Walter Savage Landor
12. "She brushed her eyelashes against his chest." – Jonathan Safran Foer
13. "It was close, but that's the way it is in war. You win or lose, live or die – and the difference is just an eyelash." – Douglas MacArthur
14. "I'm motivated every second by my work; it doesn't switch off. The pictures I make come from every blink of my lashes." – Sam Taylor-Johnson
15. "Attack your lashes with the wand. I think there's nothing wrong with doing that." – Poppy Delevingne
16. "Just give me lashes and watch me make it happen." – Anonymous
17. "Confidence is 10% hard work and 90% lashes." – Anonymous
18. "Need therapy? Get your lashes done." – Anonymous
19. "May your day be as flawless as your lashes." – Anonymous
20. "Keep your lashes long and your standards high." – Anonymous
21. "A lash and a wink gets you further than you think." – Anonymous
22. "Brush your lashes, drink some coffee, put on gangsta rap, and handle it." – Anonymous
Lash Quotes About Beauty and Identity
23. "She was made of flesh and eyelashes." – Leonard Cohen
24. "I have to have my lashes. For me, it all sets the tone: I'm getting ready to go to work." – Michelle Carter
25. "I always wear fake lashes – they just look so darn good on camera!" – Cheryl Burke
26. "Honey, I am going to my grave with my eyelashes and my makeup on." – Tammy Faye Bakker
27. "I only have to do three things to look halfway decent. Curl my eyelashes, fill in my eyebrows, and put some lipstick on." – Courtney Cox
28. "Thank God for Redbull and fake eyelashes." – Jeffree Star
29. "The eyebrow pencil and false eyelashes were essential; my mother didn't feel dressed without them." – Lorna Luft
30. "I've got a perfect body, 'cause my eyelashes catch my sweat." – Regina Spektor
31. "A beauty neither of fine color nor long eyelash, nor penciled brow, but of meaning, of movement, of radiance." – Charlotte Bronte
32. "I first learned how to do hair from drag queens. I learned eyelashes are the key to life because they make everyone look fabulous." – Tabatha Coffey
33. "I feel like it's always important to curl your eyelashes. I always do when I wake up and you know you look tired, when you curl eyelashes and put mascara it makes such a huge difference, so that's the trick that I always use." – Doutzen Kroes
34. "Don't save bold lashes and red lips for nighttime – do it in the day!" – Tyra Banks
35. "The one product I can't live without is my mascara. I'm addicted to long eyelashes and think girls just look so pretty with long lashes!" – Abbey Clancy
36. "Boys always get the best eyelashes; it's like some kind of cosmic law. And half-breed kids get some kind of extra help there from genetics, too." – Lilith Saintcrow
37. "Everyone knows I'm a lash girl by now. When I don't have my lashes, I feel naked." – Nicki Minaj
38. "I find that fake lashes really bump the beauty up a notch and make me feel great." – Eva Amurri
39. "My eyes are so big that, weirdly, I feel like an alien if my eyelashes don't match their intensity." – Sarah Hyland
40. "I don't really wear eyeshadow. I'm pretty much always about my lashes and my lips, and then I let the rest of it do its own thing." – Madelaine Petsch
41. "A mask looks better with a fresh set of lashes." – Anonymous
42. "I tend to gravitate toward the more powerful roles. As opposed to the doe-eyed girl who bats her eyelashes and runs around in towels, you know what I mean?" – Julia Stiles
Lash Quotes About Reality and Life Representations
43. "Sometimes I think the difference between what we want and what we're afraid of is about the width of an eyelash." – Jay McInerney
44. "A good set of lashes can fix anything… even a mugshot." – Tinsley Mortimer
45. "What I have to say is far more important than how long my eyelashes are." – Walter Scott
46. "We ordinary people can see neither our own eyelashes, which are so close nor the heavens in the distance." – Nichiren
47. "All men are afraid of eyelash curlers. They don't understand them, and they don't want to get near them. I sleep with one under my pillow, instead of a gun." – Rita Rudner
48. "I batted my eyelashes and did my best to appear dumb as a board." – Ilona Andrews
49. "I pull my eyelashes when I'm tired of thinking – it's a nervous thing." – Sheridan Smith
50. "Lashes are the new breasts. Women are obsessed with getting a bigger, better pair." – Vogue Magazine
51. "Sprinkle beauty with the twinkle of your lash." – Unknown
52. "For makeup, a bit of blusher — what you call bronzer — a bit of an eye, and an eyelash curler."— Kate Moss
53. "We create a masterpiece out of eyelashes." – Unknown
54. "I once made the mistake of going for a whole row of false eyelashes, which was just wrong as it gave me a sad, puppy-eyed look."— Sienna Miller
55. "Get more attention with your long lashes." – Unknown
Which of these lash quotes is your favorite?
It's funny how much powerful something as small as an eyelash seems to hold over some people. Little girls bat their eyes to get their dad to cave and give them their way. Women bat their eyes to attract attention from men. And it's even believed that some people flutter their eyelashes when they are having an internal struggle and they end up blinking more than normal.
While eyelashes are something that at first sight seem like they would have little significance, they can be very telling. If you start to pay attention more, you just may start picking up on some little signs people show with their lashes.
Did you enjoy reading these lash quotes and sayings? Which of the quotes is your favorite? Let us know in the comment section below.
December 17, 2021 6:00 AM EST
Be the first one to leave a comment!