Legends of Tomorrow Quotes From The Superhero TV Series
These Legends of Tomorrow quotes give an exciting and comedic vibe to help you relax as you read them.
DC's Legend of Tomorrow is a superhero TV series created in the same comic and cinematic universe of DC and shares the same continuum with the iconic shows of The Flash and Green Arrow.
It is the fourth installation to the Arrowverse after the Arrow, The Flash, and Supergirl.
It follows the story of an unlikely team of superheroes composed of the Atom, White Canary, Firestorm, Hawkgirl, Hawkman, Captain Cold, and Heatwave.
Time Master Rip Hunter tasks this team to defeat Vandal Savage and save both the present world and the future.
Enjoy these Legends of Tomorrow quotes!
Don't forget to also check out these Flash quotes from the world's fastest crime fighter.
Also, check out our most popular quote article, a list of short inspirational quotes for daily wisdom.
See the rest of our quote database for even more inspirational ideas and thoughts.
Legends of Tomorrow quotes from Amaya Jiwe
1. "You have her strength and the strength of all others who've come before her. But there is danger coming, and your people need to stand up for them." — Amaya Jiwe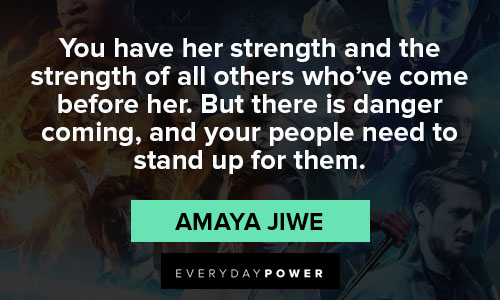 You will also enjoy our article on Jabba the Hutt quotes.
2. "OK, hold hands. Clear your minds, and focus on your breath. Imagine a perfect warrior of justice, mercy, and light." — Amaya Jiwe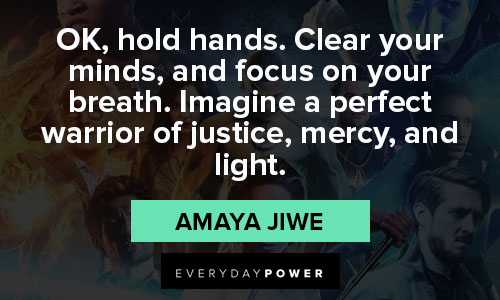 3. "She didn't even show up to her own ceremony. Her head is always somewhere else. She doesn't know what she wants." — Amaya Jiwe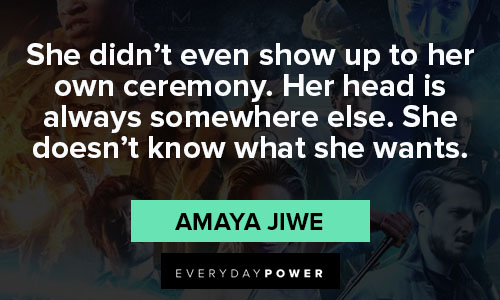 4. "I have to save my granddaughter. I have to save my family. And no one is going to stop me." — Amaya Jiwe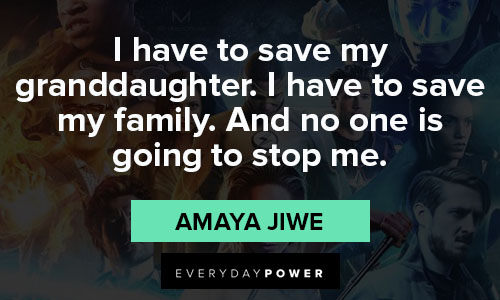 You will also enjoy our article on TV Series Arrow quotes.
5. "Because if I chose to come back here, after everything we've been through, then erasing you would be the only way that I could be the protector my people deserve. Otherwise, I'd always be split in two. And part of me would be in love with you." — Amaya Jiwe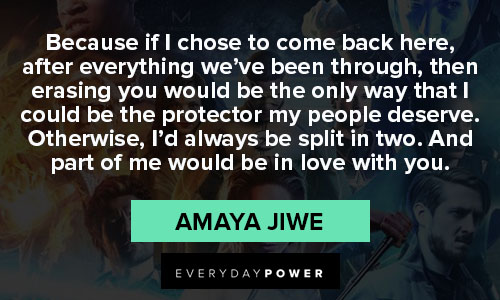 6. "My birthright, it's always dictated the path I choose. It's like a compass that just points the way." — Amaya Jiwe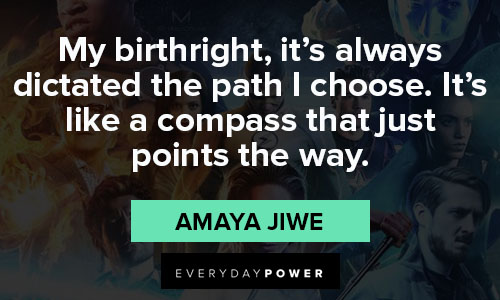 7. "What totem would choose a guitar-toting choir boy as its bearer?" — Amaya Jiwe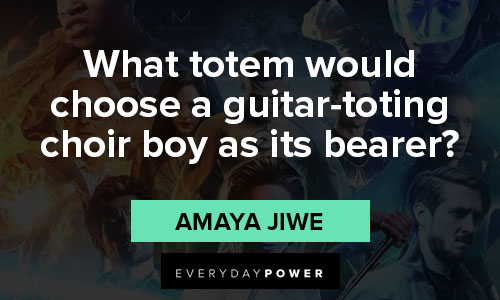 8. "Some days, I wish I had never heard of time travel." — Amaya Jiwe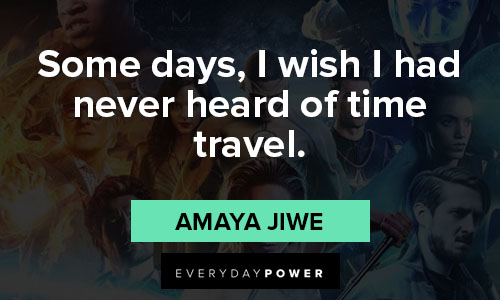 9. "I'm mortified, Nathaniel. I mean, we could've permanently derailed the history of France." — Amaya Jiwe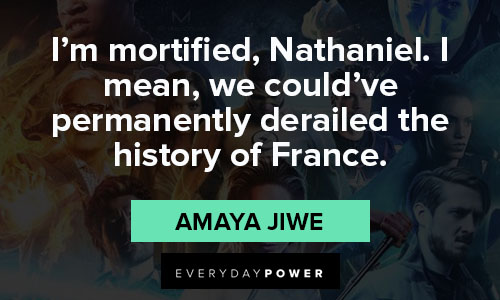 10. "I've always believed that objects can connect us to our ancestors." — Amaya Jiwe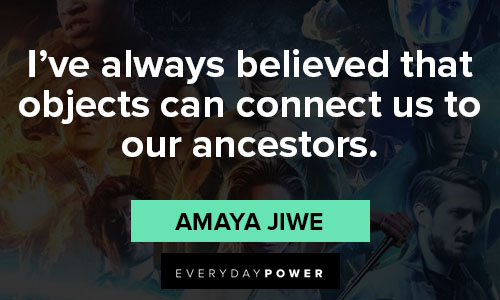 11. "I don't know what's waiting for us on the other side of this journey, but whatever it is, it beats cowering in some alleyway waiting for your black beard to turn gray." — Amaya Jiwe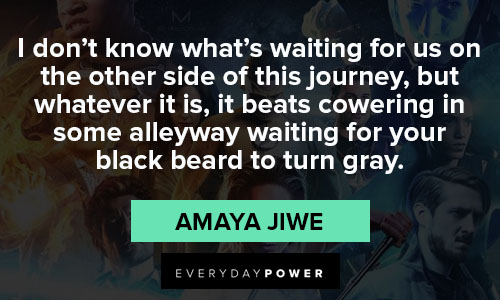 12. "What if I summoned a rhino and I crashed through the hull of the ship? Or a lion and I mauled someone?" — Amaya Jiwe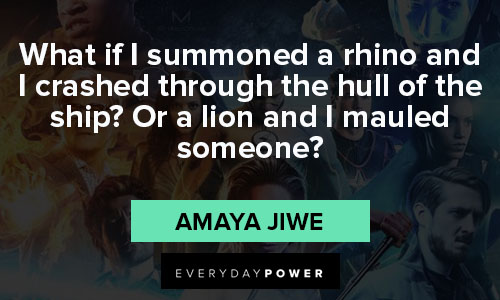 13. "I feel paralyzed. Every step I take, it feels like it could just have disastrous consequences." — Amaya Jiwe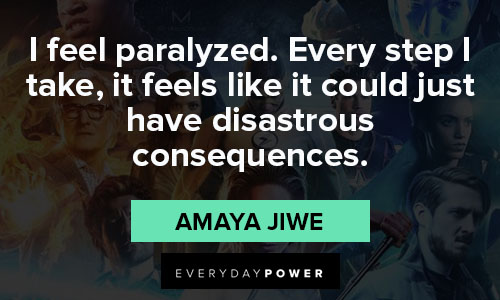 14. "Don't deny the animal. But don't let it control you either." — Amaya Jiwe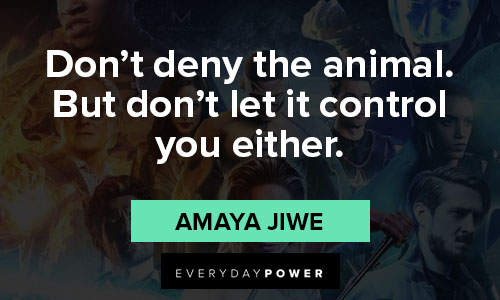 Legends of Tomorrow quotes from Mick Rory/ Heat Wave
15. "A true pirate doesn't live for tomorrow, they only live for the moment." — Mick Rory / Heat Wave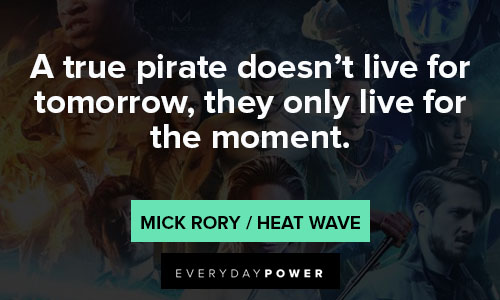 16. "Being an outsider is a good thing. It's a great thing. I've been an outsider my whole life. You get to tell people to go shove it." — Mick Rory / Heat Wave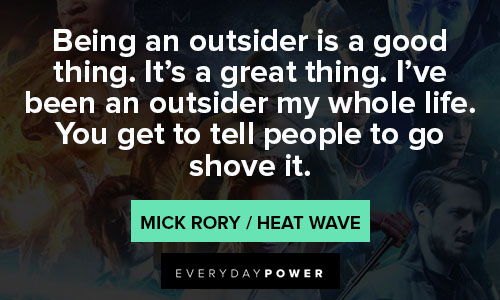 17. "Every time they do that, I get hungry for chicken." — Mick Rory / Heat Wave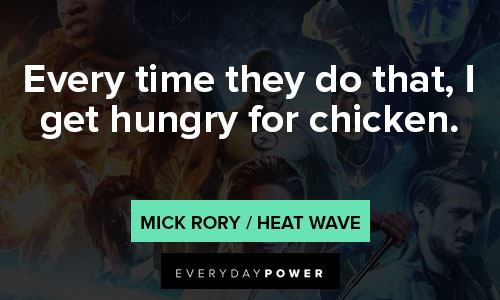 18. "I have no desire to save the world. Especially 100 years after I'm dead." — Mick Rory / Heat Wave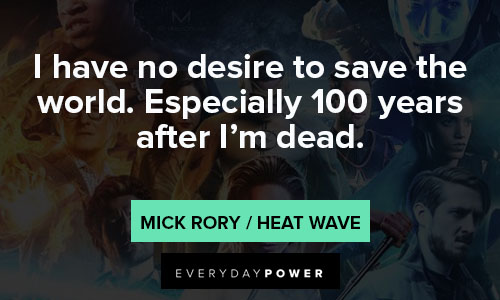 19. "I used to think the most beautiful thing on Earth was fire. Now I know it's vengeance." — Mick Rory/ Heat Wave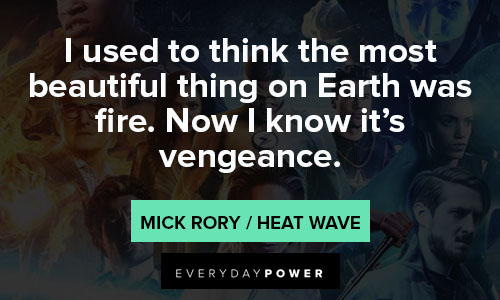 20. "If there's one thing pirates love more than treasure, it's a good story." — Mick Rory / Heat Wave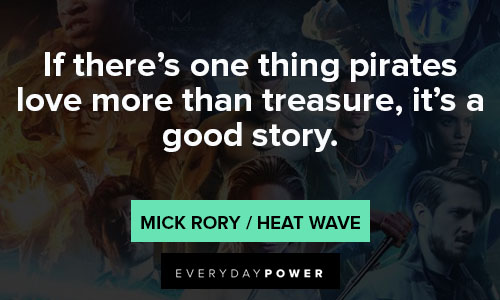 21. "More drinking, less feeling." — Mick Rory / Heat Wave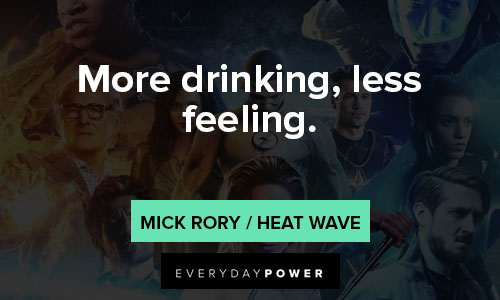 Legends of Tomorrow quotes from Ray Palmer/ The Atom
22. "Can't live with somebody putting a cap on my destiny. Spent my whole life working to be something greater by becoming something smaller. Then some guy comes along and tells me that being the Atom is as insignificant as an actual atom." — Ray Palmer / The Atom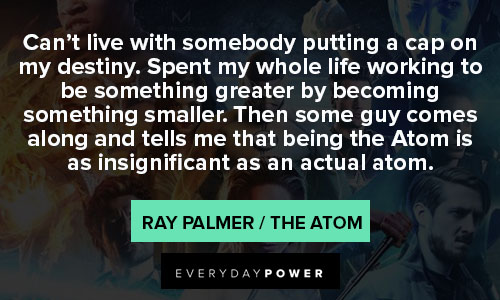 23. "Call me Haircut again and I'll ice you." — Ray Palmer / The Atom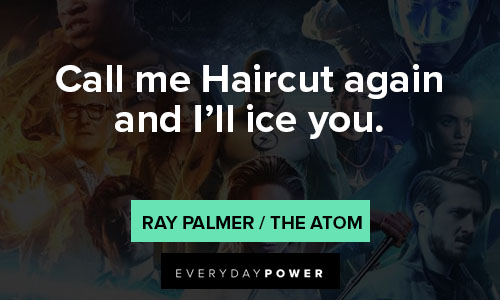 24. "Come with me if you want to live. I always wanted to say that." — Ray Palmer / The Atom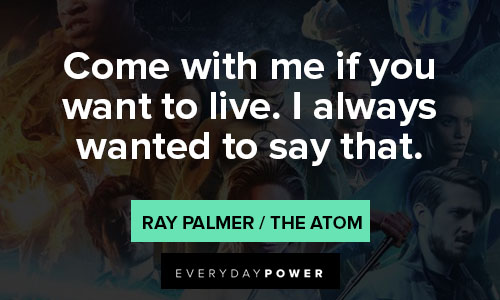 25. "Great, we've gone from infanticide to child abduction. Progress." — Ray Palmer / The Atom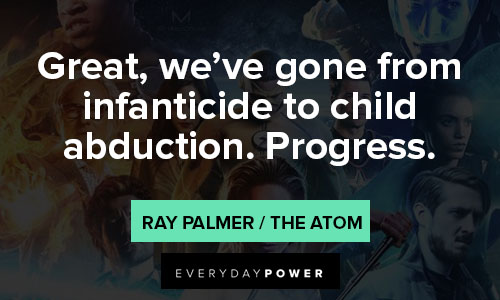 The series caused the DC comic fans to review their superhero knowledge and lore.
Anyone who will watch this series will surely get excited for the multiple crossovers and jam-packed action that will definitely bring out the child in you.
This superhero spin-off is packed with action, comedy, and adventure elements which will make you look forward to the next episode.
It is a perfect series to binge-watch alone or with the family, especially the kids.
So, after reading these Legends of Tomorrow quotes and sayings, this is an excellent time to find some of your DC comics and see if you have a volume featuring Legends of Tomorrow characters and relive your joy and excitement.