Evolve Quotes to Motivate You Towards Growth and Change
Life is much better when you consider growth and change, as these evolve quotes show.
One thing that is certain in life is that everything will evolve.
To evolve is to change and we are constantly changing as well as the things around us.
There can be comfort, or there can be fear in that knowledge.
The good thing is that bad things or times will not last forever, just as good things will not.
That realization should keep you constantly striving to grow.
You may also enjoy our article on:
If you choose to try and stay stagnant, things around you will still grow and you will be left behind.
As you take the time to read through the following evolve quotes, please think about how they apply to you.
Don't forget to also check out these growing up quotes about change, growth and life.
Check out our most popular quote article, a list of short inspirational quotes for daily inspiration.
If you enjoy this collection, check out our inspirational quotes category page.
Evolve quotes to inspire growth and change
1. "Look around you. Everything changes. Everything on this earth is in a continuous state of evolving, refining, improving, adapting, enhancing…changing. You were not put on this earth to remain stagnant." ― Steve Maraboli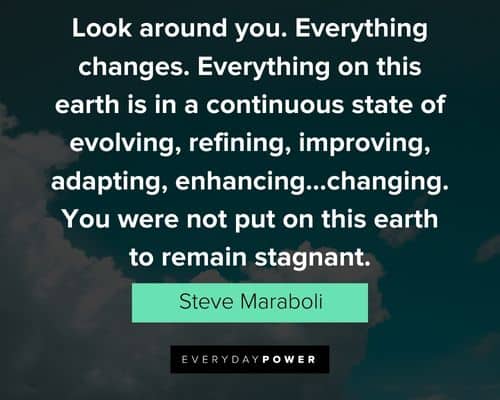 You will also enjoy our article on transformation quotes.
2. "We are constantly evolving as we are interacting with the world. Mindfulness and growth mindset drives our evolution faster and on right tracks." ― Amit Ray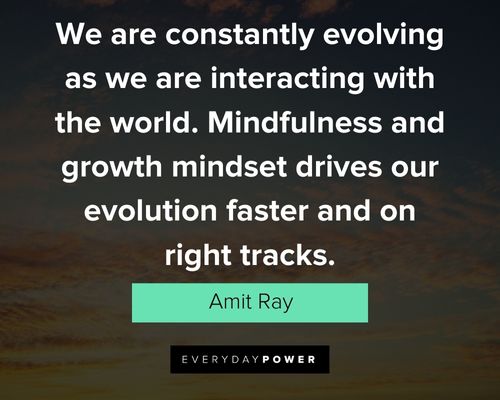 You will also enjoy our article on Personal Growth Quotes.
3. "Life is the proving ground of an evolving soul." ― Will Craig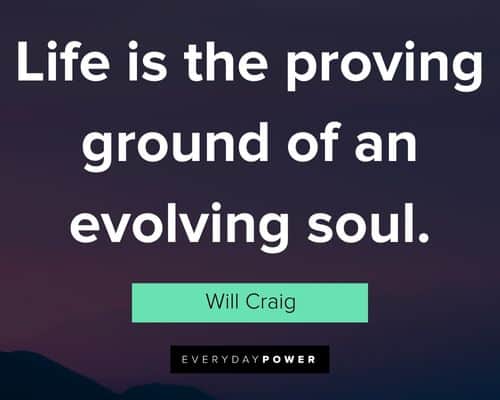 You will also enjoy our article on quotes on change growth.
4. "There isn't anything that should ever be considered permanent, as everything is evolving or changing in some way." ― Steven Redhead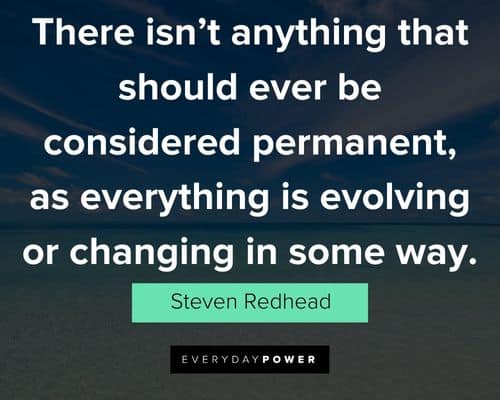 You will also enjoy our article on quotes about new beginning.
5. "Evolve with every experience." ― Lailah Gifty Akita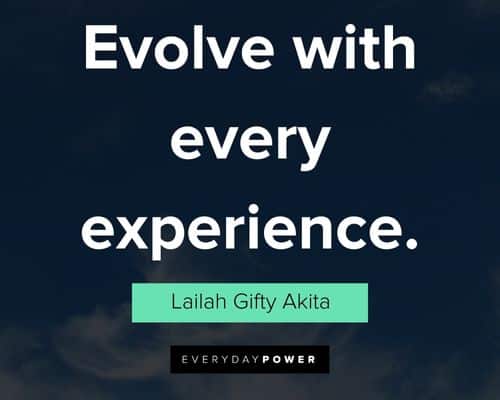 You will also enjoy our article on perfection quotes.
6. "Nothing exists without a purpose. Every experience you have in this lifetime was written for you to grow into the light you were meant to become." ― Suzy Kassem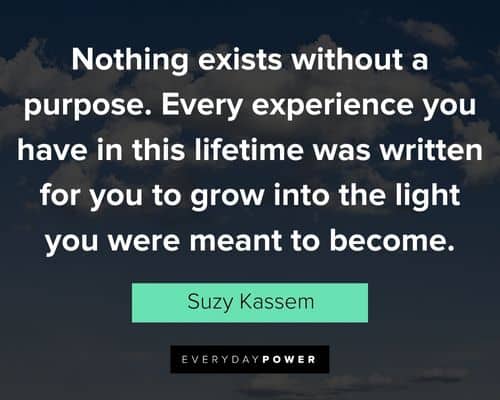 You will also enjoy our article on spiritual awakening quotes.
7. "Relationships don't remain constant, but are in a constant state of evolving, either positively or negatively." ― Steven Redhead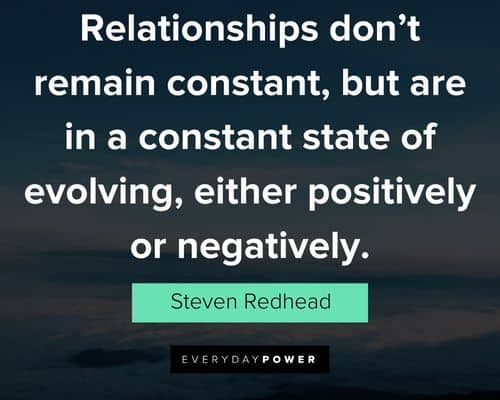 You will also enjoy our article on charles darwin quotes.
8. "Life is either a daring adventure or nothing. To keep our faces toward change and behave like free spirits in the presence of fate is strength undefeatable." – Helen Keller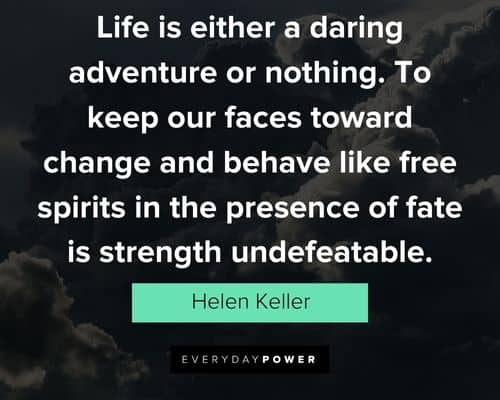 If you're enjoying these quotes, make sure to read our collection of fate quotes that will remind you to take each day one at a time.
Evolve quotes on why you need to grow
9. "Progress is impossible without change, and those who cannot change their minds cannot change anything." – George Bernard Shaw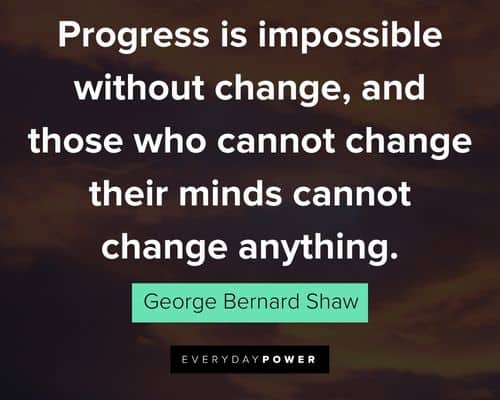 You will also enjoy our article on challenge quotes.
10. "Don't live the same day over and over again and call that a life. Life is about evolving mentally, spiritually, and emotionally." ― Germany Kent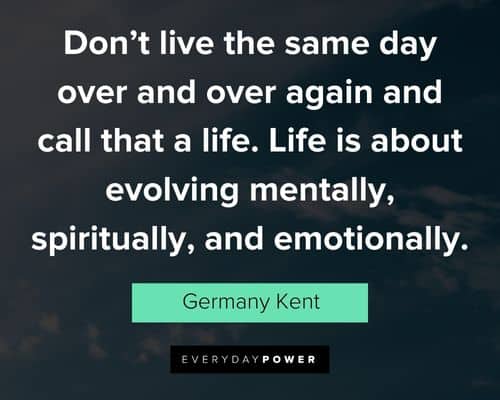 You will also enjoy our article on inspirational failure quotes.
11. "My style is constantly evolving. Style has been something that I think has been the hardest thing for me to come to terms with." – Jesse J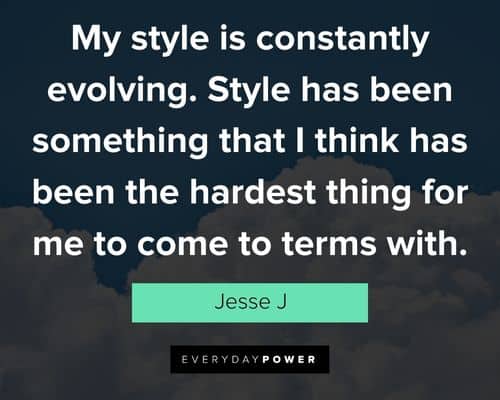 You will also enjoy our article on butterfly quotes.
12. "You are an endless project… changing, evolving, surprising." – James Patterson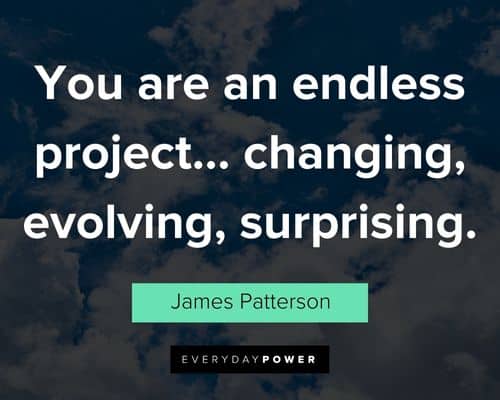 You will also enjoy our article on soccer quotes.
13. "You will evolve past certain people. Let yourself." ― Mandy Hale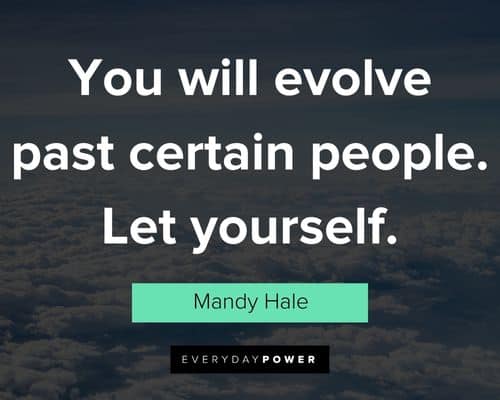 You will also enjoy our article on family quotes and sayings.
14. "Man must evolve for all human conflict a method which rejects revenge, aggression and retaliation. The foundation of such a method is love." – Martin Luther King Jr.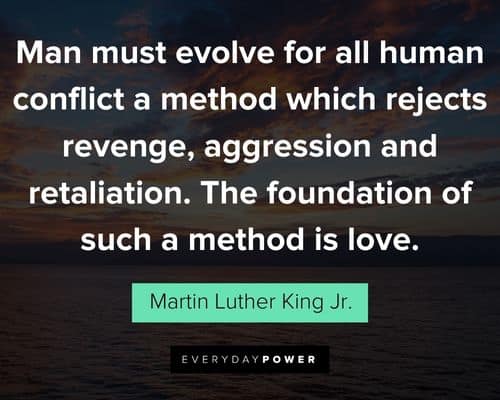 You will also enjoy our article on quotes about losing a loved one.
15. "As an artist, you have a path that you're on that evolves with the kinds of stories you want to tell." – Daniel Radcliffe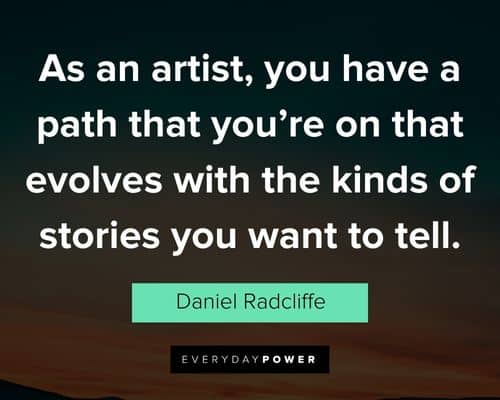 You will also enjoy our article on quotes about change.
16. "It's Hard To Beat Somebody That Doesn't Quit. Don't Quit. Evolve." ― Wesam Fawzi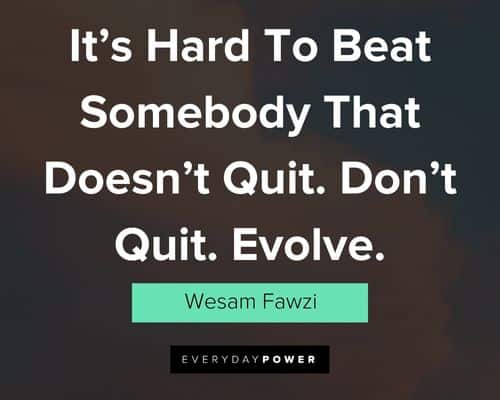 You will also enjoy our article on alan watts quotes.
17. "You can't reach your potential by remaining in a past due season. Your breakthrough is coming. Strongholds are breaking. Get Ready!" ― Germany Kent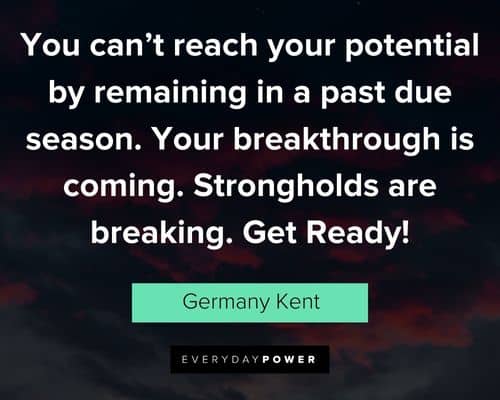 18. "We can't be afraid of change. You may feel very secure in the pond that you are in, but if you never venture out of it, you will never know that there is such a thing as an ocean, a sea." – C. JoyBell C.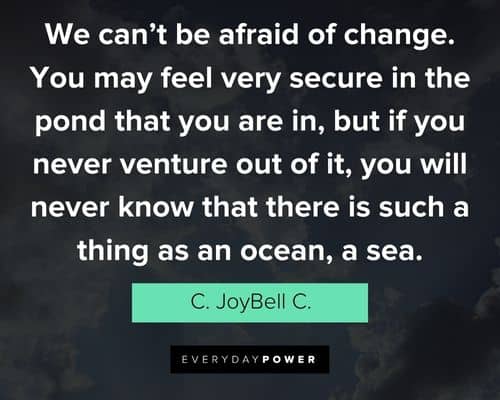 Insightful evolve quotes
19. "Are we as a species evolving toward the best in ourselves or the worst? Let's not lose sight of who we are and who we wish to be." ― Laurence Overmire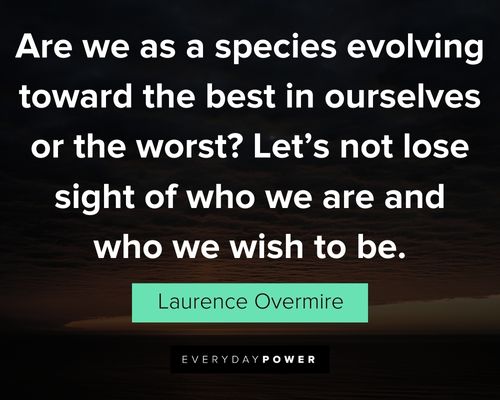 20. "Humanity is evolving in the direction of not doing what it does." ― Anatoly Agulyansky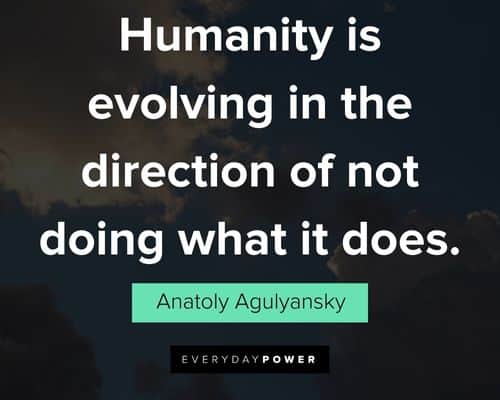 21. "A mistake is an experience, choice or concept it is necessary for us to have or make in order to evolve beyond it. Errors can be the launchpad of great ideas." ― Stewart Stafford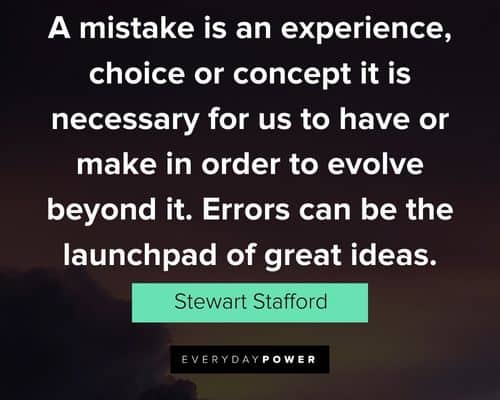 22. "The whole point of being alive is to evolve into the complete person you were intended to be." – Oprah Winfrey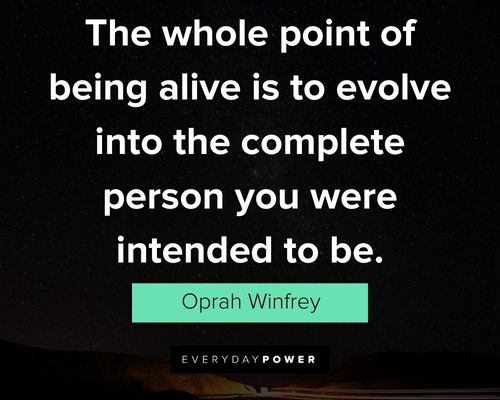 23. "Evolving increases our value, and when we know our value, we navigate toward those with whom we share a genuine interest and appreciation. The rest, in my estimation, is bondage." ― Kyrian Lyndon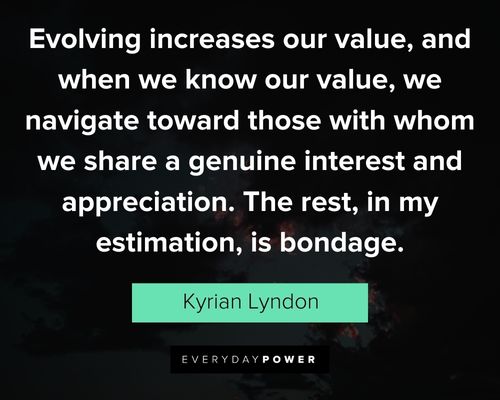 24. "For the world, I am fading but I know I am evolving into someone I've always wanted to be." ― Nitya Prakash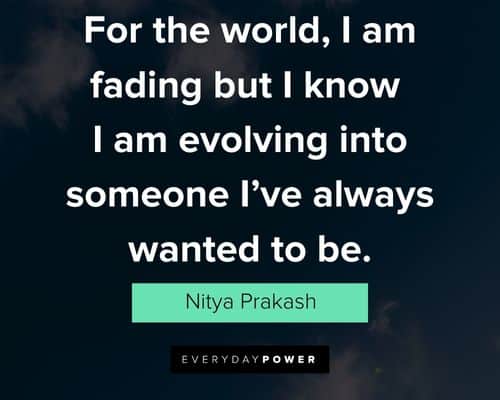 Evolve quotes on how to grow
25. "Only I can change my life. No one can do it for me." – Carol Burnett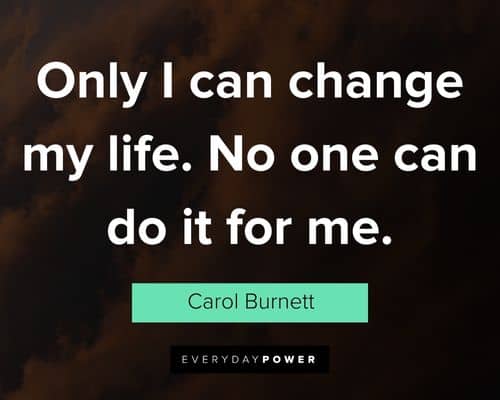 26. "Personal development and spiritual growth happens when you begin to laugh at yourself, accept your mistakes and embrace your flaws." ― Germany Kent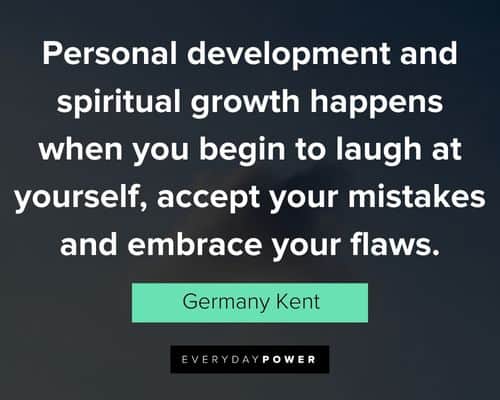 27. "Part of evolving and becoming who we're meant to be – whoever that is – requires respecting our inner selves so that we may be centered. Only then can we truly be happy." ― Martika Shanel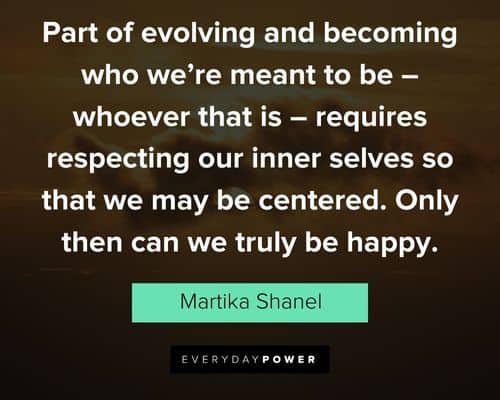 28. "Imperfection is the best gift we got as a human, this is how you evolve, some fails and some succeeds, but we do evolve" ― Kumar Pranay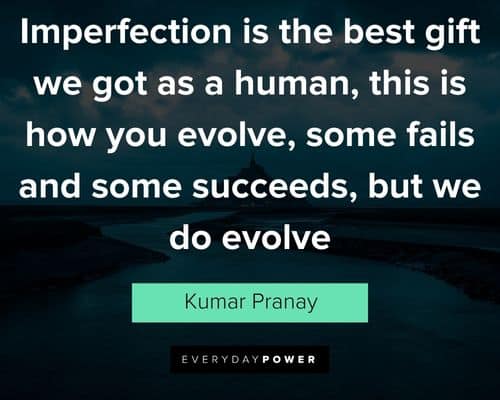 If you're enjoying these quotes, make sure to read our collection of imperfection quotes about embracing your flaws.
29. "Some think to evolve; many believe to fear." ― Aniekee Tochukwu Ezekiel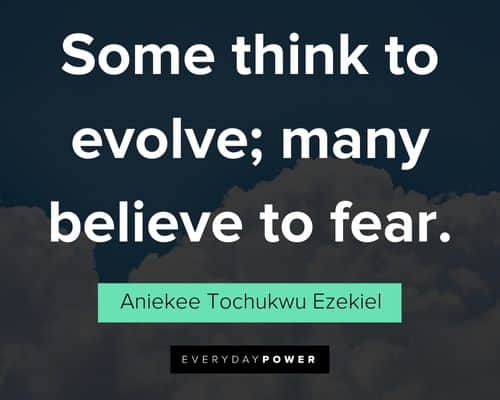 30. "Changing a Habit is Never Difficult. Difficult is to Address Your Unwillingness to do it" ― Vineet Raj Kapoor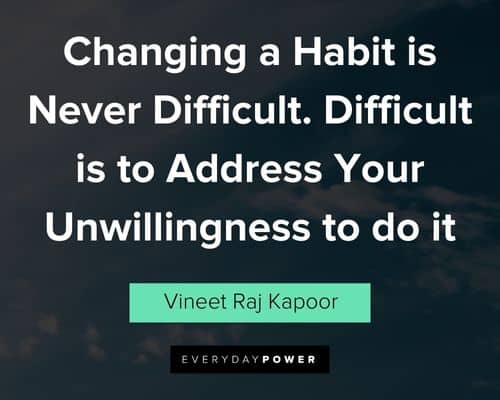 31. "The only way to make sense out of change is to plunge into it, move with it, and join the dance." – Alan Watts
32. "The only things that evolve by themselves in an organization are disorder, friction and malperformance." – Peter Drucker
33. "Optimism is the most important human trait, because it allows us to evolve our ideas, to improve our situation, and to hope for a better tomorrow." – Seth Godin
34. "As your life evolves, so should your circle." ― Izey Victoria Odiase
35. "Progress occurs where truths are questioned." ― Aniekee Tochukwu Ezekiel
36. "Change will not come if we wait for some other person or some other time. We are the ones we've been waiting for. We are the change that we seek." – Barack Obama
More evolve quotes
37. "The purpose of life is to obey the hidden command which ensures harmony among all and creates an ever better world. We are not created only to enjoy the world, we are created in order to evolve the cosmos." ― Maria Montessori
38. "It seems as though our ability to change technology happens so quickly, and our ability to evolve as creatures is still very slow." – Church Klosterman
39. "At some point in your life, if you're lucky, you get to design the way in which things evolve." – Daniel Day-Lewis
40. "Humanity evolves because of those who are unafraid to chart their own course." ― Dipa Sanatani
41. "Time may change me, but I can't trace time." – David Bowie
If you're enjoying these quotes, make sure to read our collection of David Bowie quotes that will inspire you to live a life that is anything but boring.
42. "In the offseason, you should be working, reading, developing, growing, evolving, and becoming your best self. " ― Germany Kent
43. "I reserve the right to evolve. What I think and feel today is subject to revision tomorrow." – Laurence Overmire
44. "I don't want to just revolve. I want to evolve. As a man, as a human, as a father, as a lover." – Matthew McConaughey
If you're enjoying these quotes, make sure to read our collection of Matthew McConaughey quotes that will give you a glimpse inside the mind of the Oscar-winning actor.
45. "Evolve, experiment." ― Lailah Gifty Akita
46. "The moment of change is the only problem." – Adrienne Rich
47. "I say never be complete, I say stop being perfect, I say let… lets evolve, let the chips fall where they may." – Chuck Palahniuk
48. "Evolving is not arrogance. It is confidence that won't be pulled backwards, by those that feel left behind." ― Shannon L. Alder
49. "Ethics evolve naturally, and we trample upon them with laws created by reason and experience." – Winston Churchill
50. "To exist is to change, to change is to mature, to mature is to go on creating oneself endlessly." – Henri Bergson
Evolve quotes for when you're seeking to change
51. "It's never too late to change what you are, it took me a long time to figure that out." ― Erin Morgenstern
52. "Your evolve happens at the rate and quality of your involve." ― Felicia Miracle Hankins
53. "Sometimes you watch a view for a long time and the view watches you too! And then things evolve into what is seen, you become the view because your mind has gone there, and the view becomes you because its mind has also come to you!" ― Mehmet Murat ildan
54. "Unconditional love has the power to change and evolve human life." ― Purvi Raniga
55. "Only when we accept that there is always someone who can do what we are doing, we will learn to evolve." ― Pooja Agnihotri
56. "A sense of sacrifice is a must for someone who aspires to spiritually evolve." ― Hingori S
57. "Here's the new reality: evolve or become irrelevant. Innovate or die." ― Lebo Grand
58. "Endure to evolve." ― Lailah Gifty Akita
59. "If you love them, give them space to grow. And yourself the strength to accept that they might evolve and change." ― Nitya Prakash
60. "You will grow and evolve because of your willingness to fail, to suck, to navigate murky waters, and to trust regardless of what happens." ― Peta Kelly
More evolve quotes to help you progress in life
61. "Happy are those who evolve from within." ― Amit Abraham
62. "Forget luxury; as a great company you have to keep evolving." ― Angela Ahrendts
63. "To sustain longevity, you have to evolve." ― Aries Spears
64. "Unless you continually work, evolve, and innovate, you'll learn a quick and painful lesson from someone who has." ― Cael Sanderson
65. "But you know you haven't done it all because you know everything keeps evolving and changing; and you know you can evolve with it if you grow and develop as a human being."
― Conrad Hall
66. "It's evolve or die, really, you have to evolve, you have to move on otherwise it just becomes stagnant." ― Craig Charles
67. "Evolve solutions; when you find a good one, don't stop." ― David Eagleman
68. "I'm trying to consciously evolve myself. I have no delusions of grandeur." ― El-P
69. "Time to eliminate things that no longer evolve me." ― Erykah Badu
70. "The world is not a static place. People change, evolve." ― Mahesh Bhatt
Evolve Quotes That Bring Change
71. "The Christian life does not just evolve. It also requires specific decisions and public commitments to deepen our faith and obedience." — Mark Galli
72. "We have a tendency to want the other person to be a finished product while we give ourselves the grace to evolve." — T. D. Jakes
73. "I'm not getting old, I'm evolving." — Keith Richards
74. "The human mind evolved to believe in the gods. It did not evolve to believe in biology." — E. O. Wilson
75. "Endless forms most beautiful and most wonderful have been, and are being evolved." — Charles Darwin
76. "Mankind is not likely to salvage civilization unless he can evolve a system of good and evil which is independent of heaven and hell." — George Orwell
77. "Be the change you want to see." — Mahatma Gandhi
78. "You can't just stick with what you know, you have to evolve." — Vilmos Zsigmond
79. "Like butterflies, we evolve; but as Beings of Light we continuously evolve when we are fully present." — Michelle Cruz
80. "Let anxious anticipation evolve into effective preparation." — Quentin Smith
Growing and evolving quotes
81. "Explore, experience, evolve, and exceed your expectations! – No Excuses!"― Lorii Myers
82. "Change takes time, forethought and knowledge, as well as an envisioned goal."― Obiora Embry
83. "Try evolving as much as you cry."― Darnell Lamont Walker
84. "You are moving forward one way or another."― Bryant McGill
85. "If you're not changing, evolving with the times, there's a pretty good chance that you're stagnant, dying, already dead, or just a rock in someone's shoe."― Ray Palla
86. "Never seek to please anyone. Seek to evolve thyself."― Lailah Gifty Akita
87. "You don't evolve with fake friends or people that are not on your level. It's much better to stay alone, then you can evolve."― Cristi Cris
88. "What's dangerous is not to evolve."― Jeff Bezos
89. "Evolving and bettering yourself is wonderful, but not if the set of standards and values you adopt smothers you into oblivion in the process."― Bryant McGill
90. "Evolution is constant. Evolving better is an individual's conscience."― Pradeepa Pandiyan
Evolve Quotes To Stay Advanced
91. "I enjoy directing. I don't know whether it's improving or not, but it's certainly evolving in different directions." — George Clooney
92. "Your personal style should evolve with age. To say you want the same style at 25 as at 45 is a mistake." — Stacy London
93. "You have to evolve as an artist, and this is really a lifelong process." — Mary Beth McKenzie
94. "I'm always trying to evolve and I'm always trying to learn new things. The mind is the most powerful weapon you have." — Myles Jury
95. "Thanks to his willingness to face me, my life takes shape, my path evolves." — Georges St-Pierre
96. "A personal website is vital, but it needs to change and evolve." — Cory Trepanier
97. "All natural capacities of a creature are destined to evolve completely to their natural end." — Immanuel Kant
98. "Kids are constantly evolving, learning, and growing. They aren't who they were yesterday." — Rachel Vail
99. "Always, in your career and personal life, be evolving with technology." — Pete Cashmore
100. "You have to be involved to evolve." — Glen Plake
Evolve Quotes to Embrace Change
101. "We, too, must change as circumstances evolve." ― Baldwin Spencer
102. "If history tells us anything, it is that human culture and knowledge are constantly evolving." ― James Redfield
103. "Love is ever evolving and it takes compromise, work and patience." ― Jessica Alba
104. "I love everything about fashion. I even love the fittings and watching it evolve from a pattern to a muslin to the final product." ― Linda Evangelista
105. "To consciously evolve, we require clear vision of a compassionate future that draws out our enthusiastic participation in life." ― Duane Elgin
106. "I think there comes a time in any comedian's career where they can either coast or keep growing and evolving." ― Ted Alexandro
107. "Beauty type or hair styles constantly evolve through time. Hence, a woman shouldn't be reduced to the current trends." ― Maria Borges
108. "I think once you've allocated an actor to the role that the character will evolve slightly." ― Nathalie Emmanuel
109. "Trust is not about what you can or cannot do in the name of love but who you are and what you choose to reveal as things progress and evolve." ― Randeep Hooda
110. "The mind is the cutting edge of the evolving event system." ― Terence McKenna
What did you learn from these evolve quotes?
Now that you have finished reading these quotes about evolving I hope they have inspired you to make some changes or continue changing yourself.
Think of evolving as a challenge.
If we were born with all of our knowledge, personality, interests, and skills, then what would be the fun of learning new things and experiencing the unexpected?
Learn to love the evolution of yourself as a person throughout the seasons of life that you may experience.
Challenge yourself to learn something new and try new things each year.
You will be amazed at how much you change as a person over just a few years.
What's your biggest takeaway from these evolve quotes and sayings?
Do you have any other favorite quotes to add?
Let us know in the comment section below.