Lionel Messi Quotes from the Superstar Athlete
Every athlete and sports fan can appreciate these Lionel Messi quotes from one of the greatest of all time.
When it comes to professional footballers, you don't get better than Lionel Messi.
He's often referred to as the best player in the world.
Messi was listed as the top-earning footballer for multiple years and has earned over $1 billion throughout his career in the sport.
But it's not just the world of sport that recognized his successes.
Time magazine named him as one of the most influential people for multiple years.
With all of his accomplishments, there's a lot that can be learned from his words and the comments that people notice about him.
Don't forget to also check out these Cristiano Ronaldo quotes on success and soccer.
If you like this article, we suggest you explore our most popular quotes article, a list of short inspirational quotes for daily encouragement.
Check out more inspirational quotes on our motivational quotes category page.
Inspirational Lionel Messi quotes
1. "You have to fight to reach your dream. You have to sacrifice and work hard for it." – Lionel Messi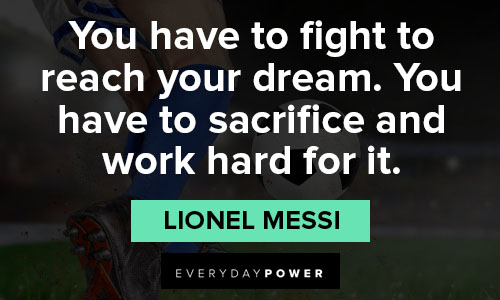 2. "The best decisions aren't made with your mind, but with your instinct." – Lionel Messi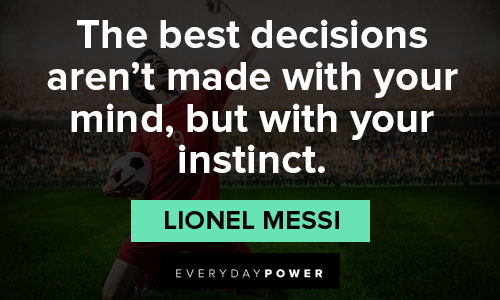 3. "I am successful because I made sacrifices for success." – Lionel Messi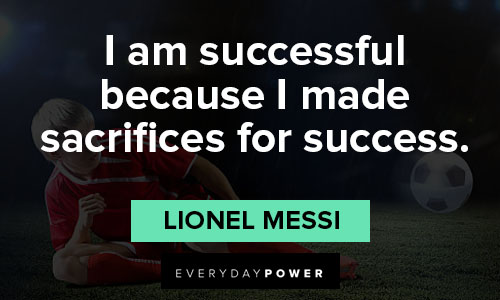 4. "Being a bit famous now gives me the opportunity to help people who really need it, especially children." – Lionel Messi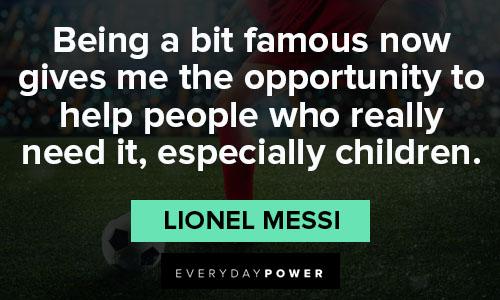 5. "Sometimes you have to accept you can't win all the time." – Lionel Messi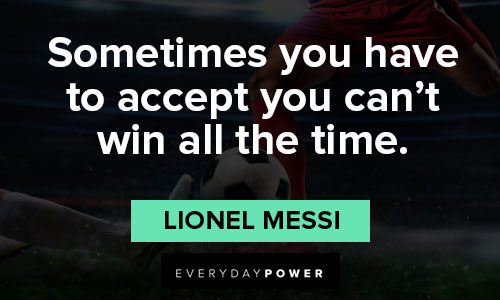 6. "I have fun like a child in the street. When the day comes when I'm not enjoying it, I will leave football." – Lionel Messi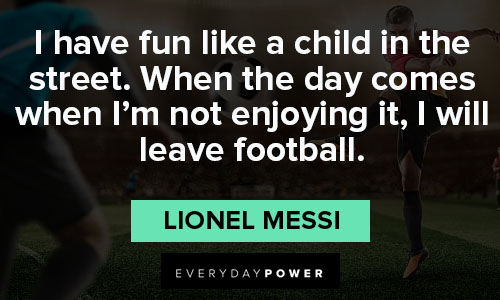 7. "I have many years to get better and better, and that has to be my ambition. The day you think there is no improvements to be made is a sad one for any player." – Lionel Messi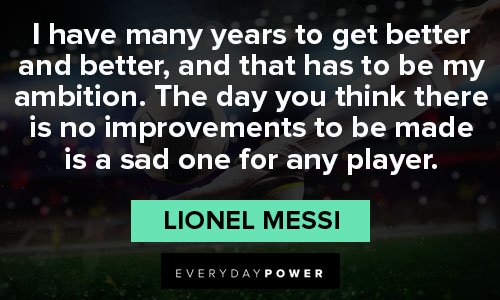 8. "My ambition is to always get better and better." – Lionel Messi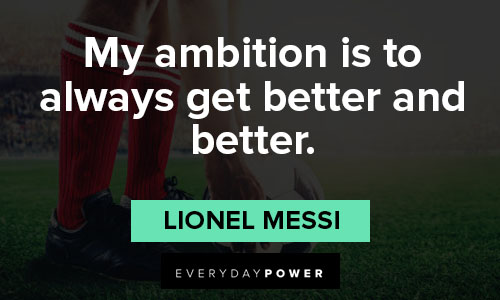 9. "You can overcome anything. If and only if you love something enough." – Lionel Messi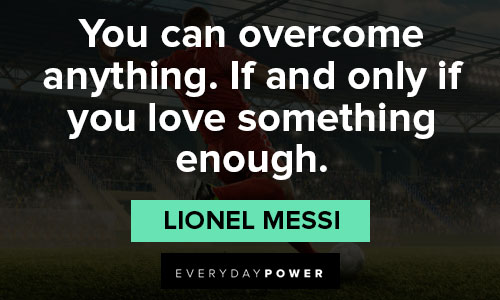 10. "There are more important things in life than winning or losing a game." – Lionel Messi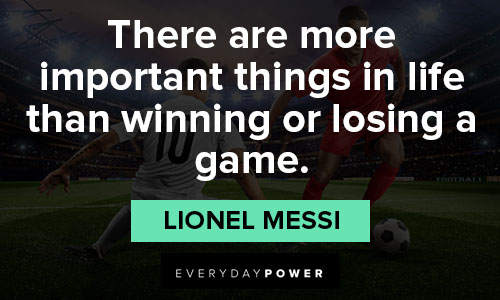 Lionel Messi quotes about his career
11. "Every year I try to grow as a player and not get stuck in a rut. I try to improve my game in every way possible. But that trait is not something I've worked on, it's part of me." – Lionel Messi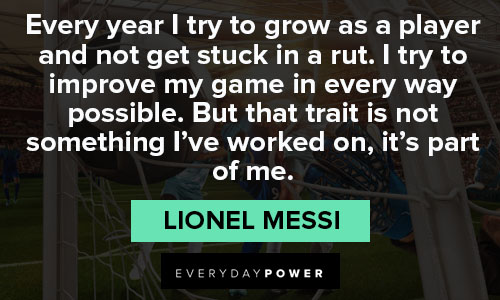 12. "Football has been my life since I was a kid. My style remains the same, I love every single minute I get on the pitch. I know I have a great responsibility, and that there are objectives to accomplish, but I try to have fun too, because that's what I love to do." – Lionel Messi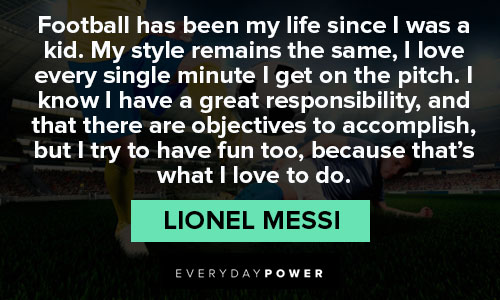 13. "Whether it's a goal, or winning a game, I'm never satisfied." – Lionel Messi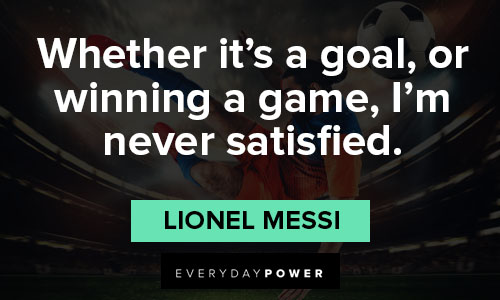 14. "On a personal note, I think it won't be until after I've retired that I'm fully aware of what I've done or what I've gone on to achieve in my career." – Lionel Messi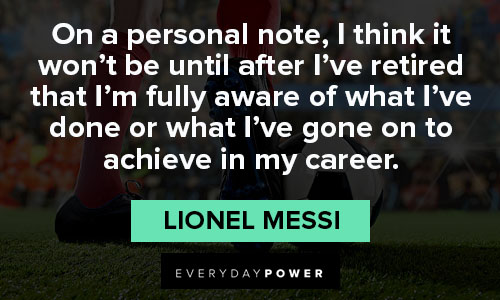 15. "I start early, I stay late, day after day after day, year after year. It took me 17 years and 114 days to become an overnight success." – Lionel Messi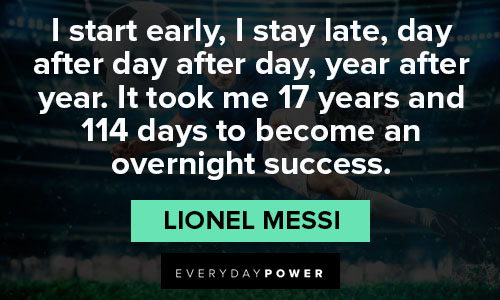 16. "I always want more. Whether it's a goal or winning a goal, I'm never satisfied." – Lionel Messi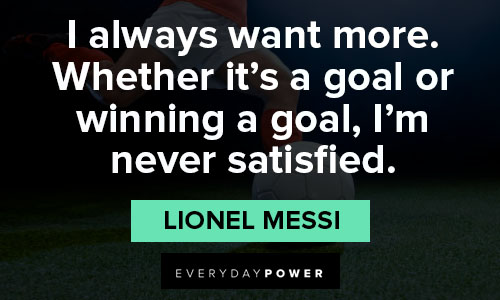 17. "Whether it's a friendly match, or for points, or a final, or any game I play the same. I'm always trying my best, first for my team, for myself, for my fans, and to try to win." – Lionel Messi
18. "Money is not a motivating factor. Money doesn't thrill me or make me play better because there are benefits to being wealthy. I'm just happy with a ball at my feet. My motivation comes from playing the game I love. If I wasn't paid to be a professional footballer I would willingly play for nothing." – Lionel Messi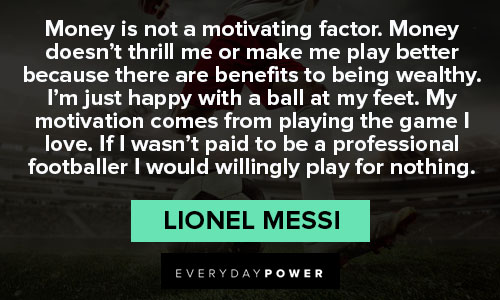 19. "I prefer to win titles with the team ahead of individual awards or scoring more goals than anyone else. I'm more worried about being a good person than being the best football player in the world. When all this is over, what are you left with? When I retire, I hope I am remembered for being a decent guy." – Lionel Messi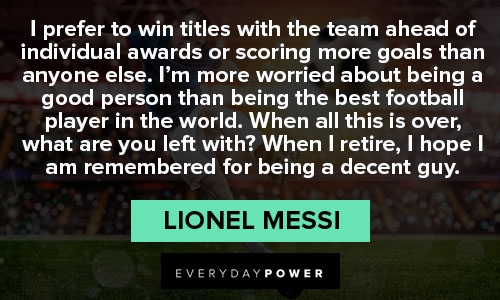 20. "What I do is play soccer, which is what I like." – Lionel Messi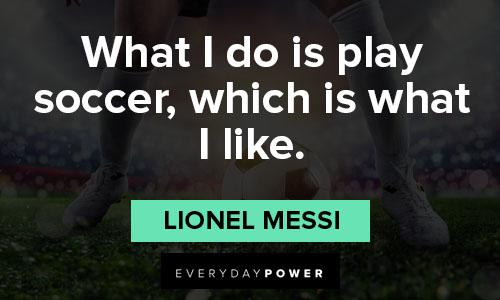 People talking about Lionel Messi quotes
21. "Messi has a divine gift." – Dani Alves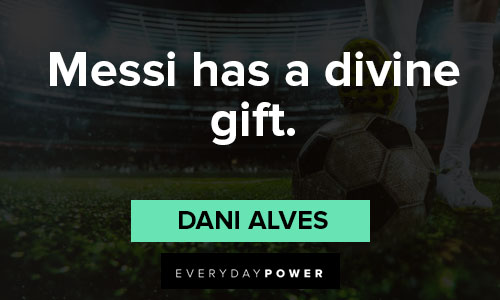 22. It feels good to be in the same generation as him. I believe he's the best player in the history of the sport." – Gerald Pique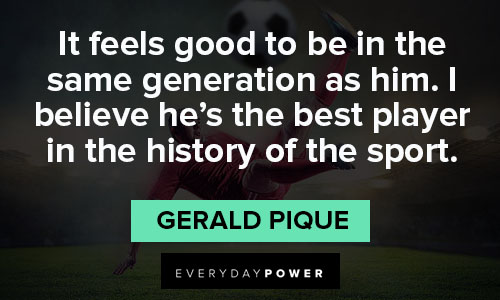 23. "Messi or Ronaldo best player in the world? In the world, I would say Ronaldo. Messi is from another planet." – Turkish International Arda Turan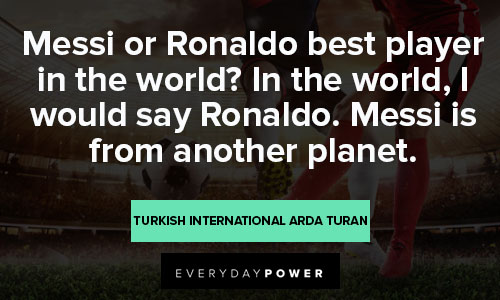 24. "I like Messi a lot, he's a great player. Technically, we're practically at the same level." – Pelé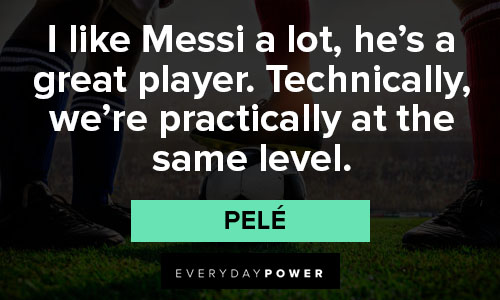 25. "I wear the number 10 Jersey for the US National Team in honour of the Greatest athlete I have ever seen: Messi." – Kobe Bryant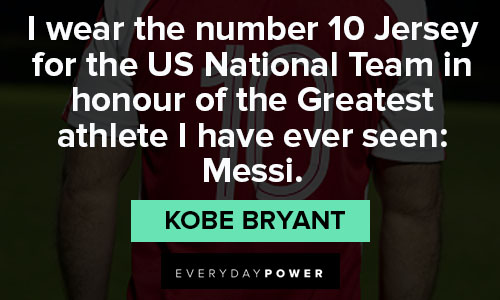 26. "I have seen the player who will inherit my place in Argentine football and his name is Messi. Messi is a genius." – Diego Maradona
27. "He does not really seem human to me." – Luis Enrique
28. "Although he may not be human, it's good that Messi still thinks he is." – Javier Masherano
29. "He is always going forwards. He never passes the ball backwards or sideways. He has only one idea, to run towards the goal. So as a football fan, just enjoy the show." – Zinedine Zidane
30. "Once they said they can only stop me with a pistol. Today you need a machine gun to stop Messi." – Hristo Stoichkov
You might also like these soccer quotes to inspire and motivate you.
Which of these Lionel Messi quotes is your favorite?
Kobe Bryant was famous for being one of the greatest athletes in America and is a name that many people recognize even if they aren't familiar with the sport.
Bryant is quoted above saying that Lionel Messi is the greatest athlete he had ever seen.
That's saying a lot from someone who was also a great himself.
Some athletes have natural talent.
Others work hard to be successful.
Then there are the ones like Messi who are incredibly skilled but have the passion and desire that leads them to continually better their performance above what others could possibly imagine.
That's what makes him one of the greats.
Are you a fan of sports?
Which of these Lionel Messi quotes and sayings is your favorite?
Let us know in the comment section below.