The Hunger Games Quotes You Can't Help But Remember
These Hunger Games quotes will have you flashback to reading the books or watching the movies.
There are few series that grabbed the attention of the world like The Hunger Games by Suzanne Collins.
They were loved so much that they were quickly turned into a movie series as well.
Are you a fan of The Hunger Games?
The story follows the main character Katniss.
She lives in a world controlled by a government that forces children to fight to the death in a reality television show type setting.
Katniss and Peeta, a boy from her local area, decide to take the game into their own hands which changes everything.
Don't forget to also read these great Princess Bride quotes from the 80s classic film.
Check out our most popular quote article, a list of short inspirational quotes for daily inspiration.
If you enjoy this collection, check out our inspirational quotes category page.
The Hunger Games quotes about people
1. "The idea of actually losing Peeta hit me again and I realized how much I don't want him to die. And it's not about the sponsors. And it's not about what will happen back home. And it's not just that I don't want to be alone. It's him. I do not want to lose the boy with the bread." – The Hunger Games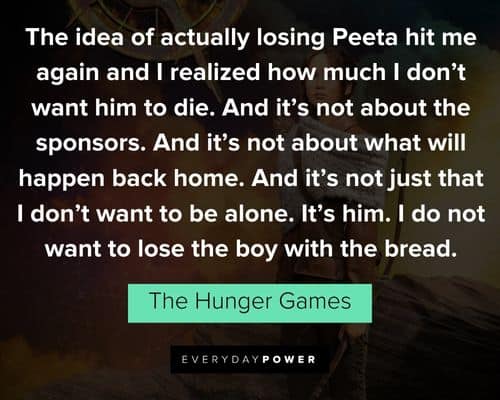 You will also enjoy our article on Naruto quotes.
2. "Gale gave me a sense of security I'd lacked since my father's death. His companionship replaced the long solitary hours in the woods. I became a much better hunter when I didn't have to look over my shoulder constantly, when someone was watching my back…Being out in the woods with Gale…sometimes I was actually happy." – The Hunger Games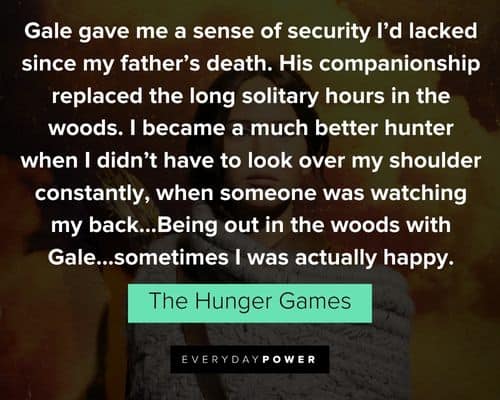 You will also enjoy our article on lighthouse quotes.
3. "Remember, we're madly in love, so it's all right to kiss me anytime you feel like it." – The Hunger Games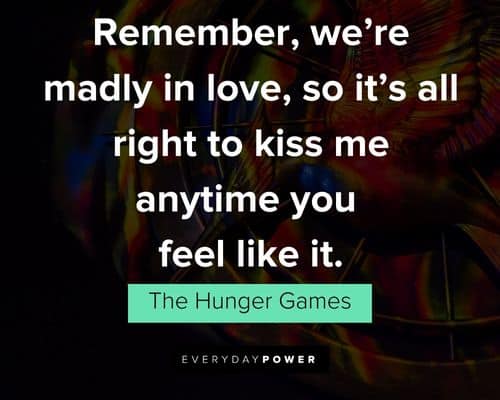 4. "My nightmares are usually about losing you. I'm okay once I realize you're here." – The Hunger Games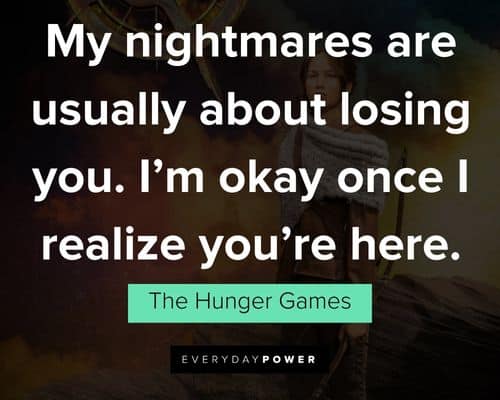 5. "I always channel my emotions into my work. That way, I don't hurt anyone but myself." – The Hunger Games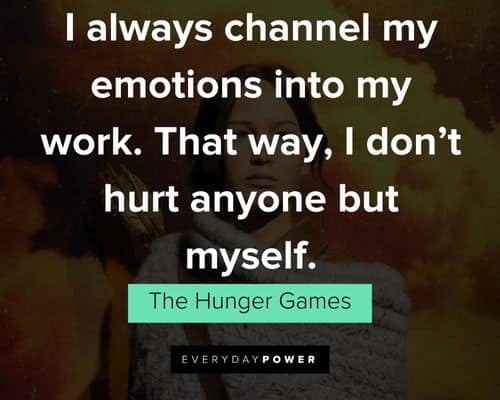 6. "You don't forget the face of the person who was your last hope." – The Hunger Games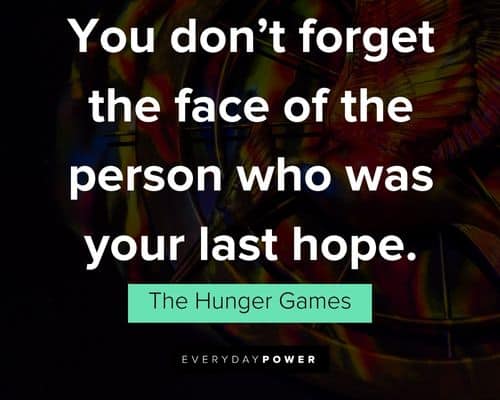 7. "I'm not very good at making friends." – The Hunger Games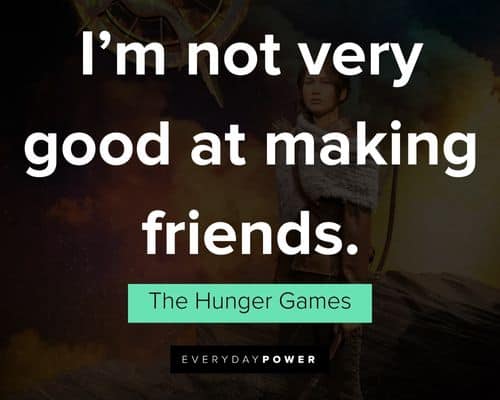 8. "Our lives aren't just measured in years, they're measured in the lives of the people we touch around us." – The Hunger Games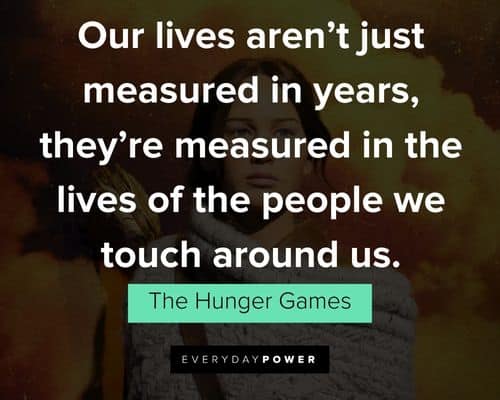 9. "You can't turn out again. No. You can't. Not like when Dad died. I won't be there for her anymore, you're all she has. And no matter what you feel, you're going to be there for her, do you understand?" – The Hunger Games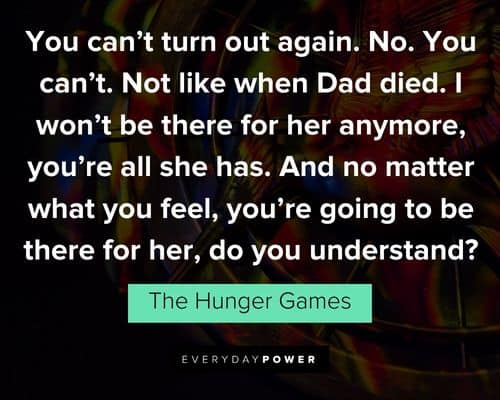 You might also like these Star Trek quotes that will help you go where no man has before.
The Hunger Games quotes on life lessons
10. "Stupid people are dangerous." – The Hunger Games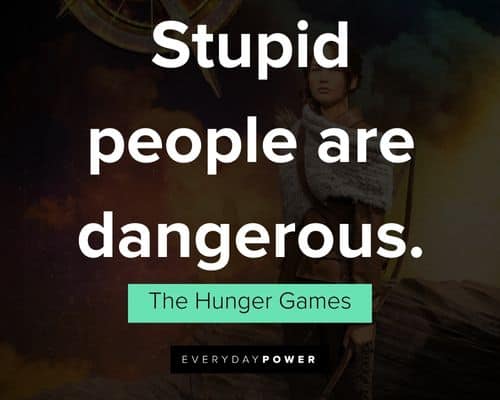 11. "As long as you can find yourself, you'll never starve." – The Hunger Games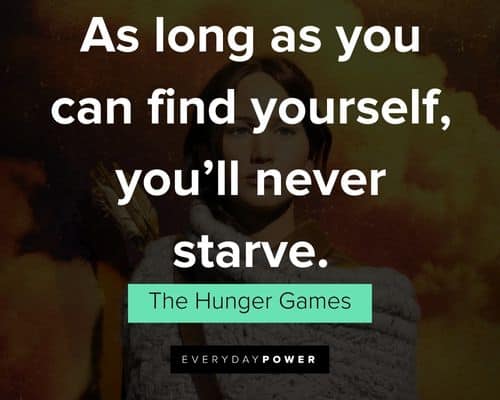 12. "It takes ten times longer to put yourself back together than it does to fall apart." – The Hunger Games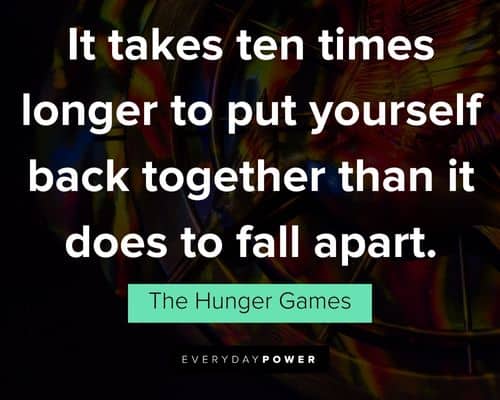 13. "Destroying things is much easier than making them." – The Hunger Games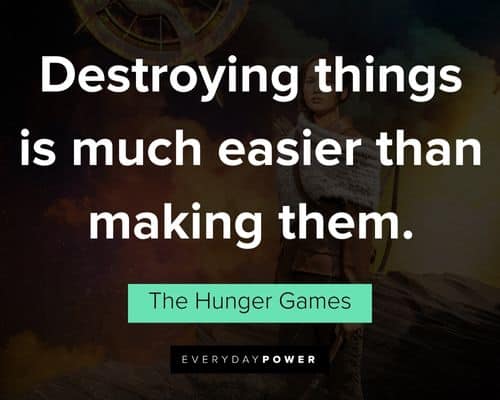 14. "Why don't you just be yourself? … No one can help but admire your spirit." – The Hunger Games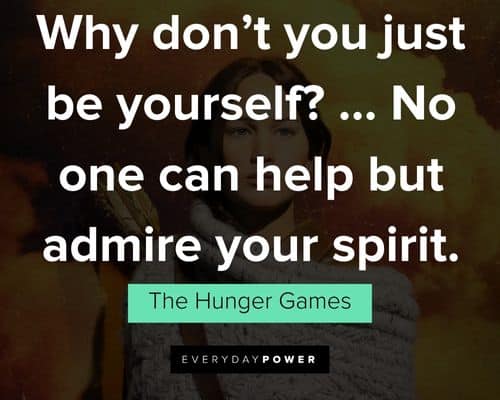 15. "Some walks you have to take alone." – The Hunger Games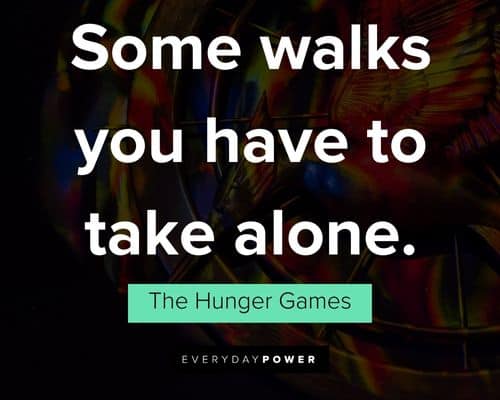 16. "Hope. It is the only thing stronger than fear. A little hope is effective. A lot of hope is dangerous." – The Hunger Games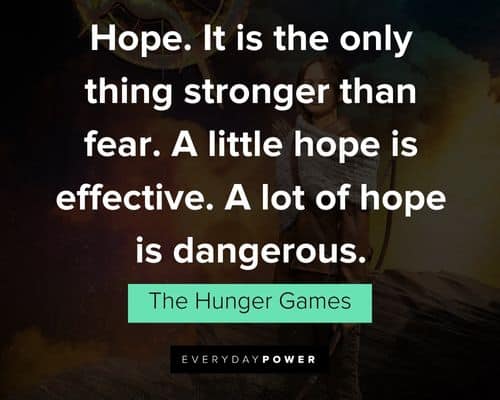 17. "Everything old can be made new again, like democracy." – The Hunger Games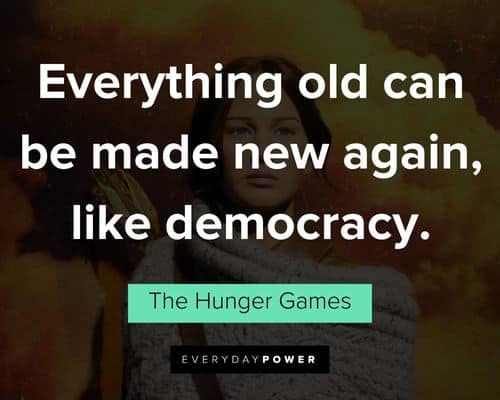 18. "You really wanna know how to stay alive? You get people to like you. Oh! Not what you were expecting. Well, when you're in the middle of the games, and you're starving or freezing, some water, a knife or even some matches can mean the difference between life and death. And those things only come from sponsors, and to get sponsors, you have to make people like you. And right now, sweetheart, you're not off to a real good start." – The Hunger Games
If you're enjoying these quotes, make sure to read our collection of This Is Us quotes from the award-winning series.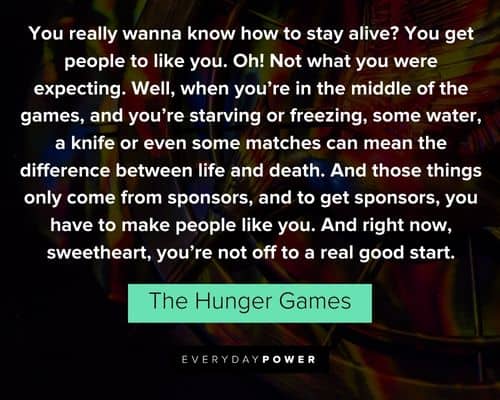 The Hunger Games quotes on taking a stand
19. "Rue's death has forced me to confront my own fury against the cruelty, the injustice they inflict upon us. But here, even more strongly than at home, I feel my impotence. There's no way to take revenge on the Capitol. Is there?" – The Hunger Games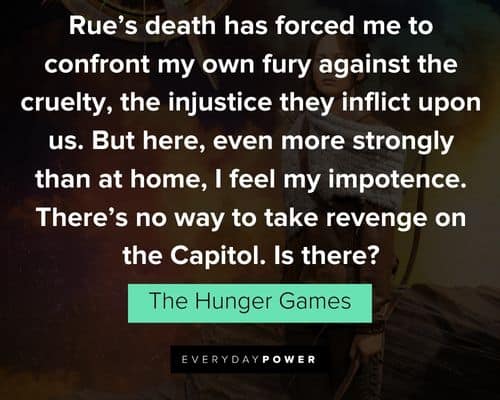 20. "I just don't want to be another piece in their game, you know?" – The Hunger Games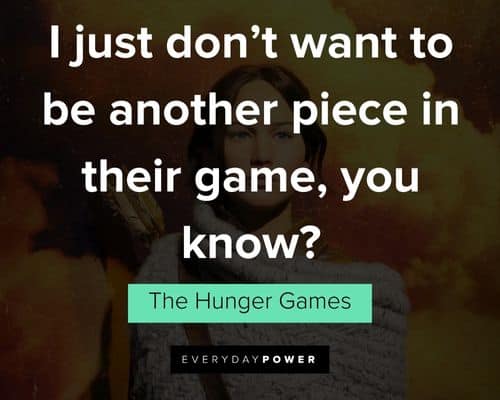 21. "Our lives were never ours. They belong to Snow, and our deaths do too. But if you kill him, Katniss if you end all of this. All those deaths, they mean something." – The Hunger Games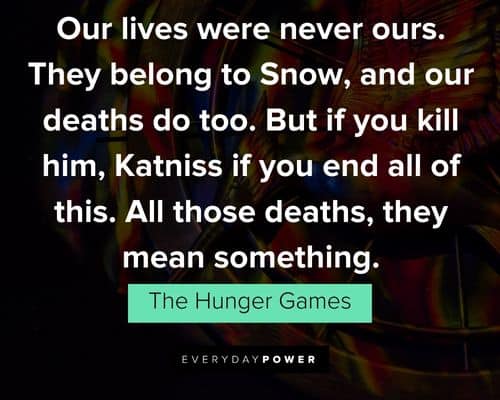 22. "I just keep wishing I could think of a way to show them that they don't own me. You know, if I'm going to die, I want to still be me." – The Hunger Games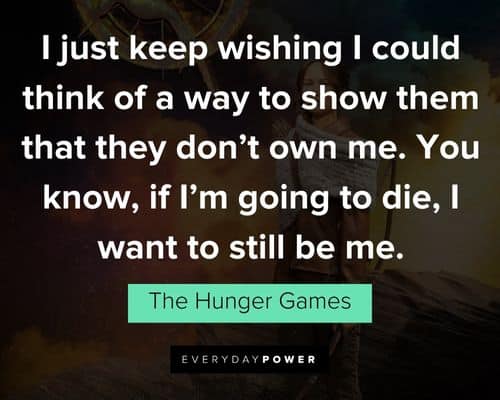 23. "'Safe to do what?' he says in a gentler tone. 'Starve? Work like slaves? Send their kids to the reaping? You haven't hurt people – you've given them an opportunity. They just have to be brave enough to take it." – The Hunger Games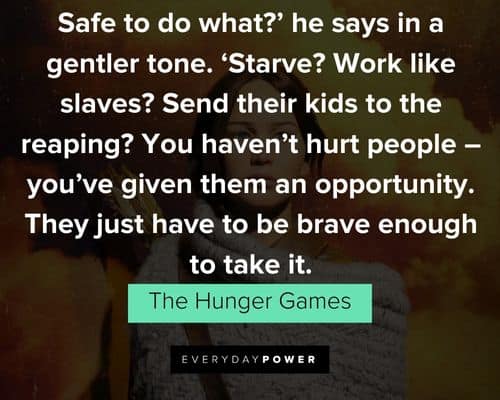 24. "I never asked to be The Mockingjay. I just wanted to save my sister and keep Peeta alive." – The Hunger Games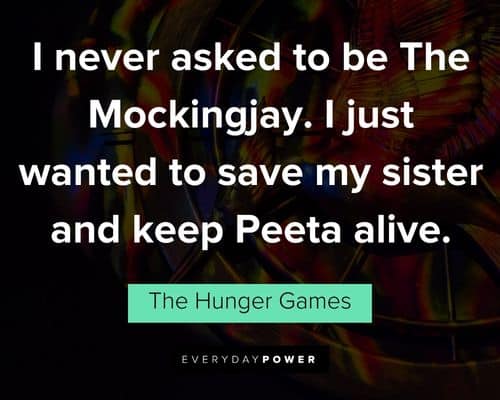 Don't forget to also read these classic Hocus Pocus quotes
The Hunger Games quotes and movie lines
25. "Happy Hunger Games! And may the odds be ever in your favor." – The Hunger Games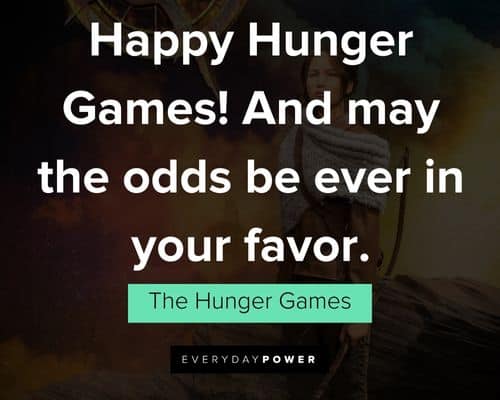 Also check out these inspirational quotes from Naruto about life, success and relationships.
Did you enjoy these Hunger Games quotes?
Are you a fan of The Hunger Games?
Have you read the books and watched the movies?
Were you sad when the series ended?
The movies take you through a range of emotions and keep you on your toes.
It's scary to think about a world where something like this could exist.
If you haven't read the book and watched the movie before, it's one that you're going to want to add to your list.
It's hard not to put yourself in the shoes of Katniss as you read or watch and cheer her on as she works to take on the Capitol.
Which of these Hunger Games and lines is your favorite?
Do you have any other quotes to add?
Let us know in the comment section below.