Morgan Wallen Quotes from the Country Music Star
Check out these Morgan Wallen quotes to learn more about this famous country music singer and songwriter.
He started gaining attention during season six of The Voice, where he was eliminated in the playoffs.
However, in 2015, he signed with Panacea Records.
A year later, he signed with Big Loud, and If I Know Me, his first album, debuted.
Since then, he released another album, Dangerous: The Double Album.
Wallen has been nominated for and received many awards, including Country Music Association Awards' New Artist of the Year, iHeart Radio Music Awards' Best New Country Artist, Billboard Music Awards Top Country Artist, Top Country Male Artist, and Top Country Album, and the Academy of Country Music Awards 2022 Album of the Year.
These Morgan Wallen quotes will give you a glimpse of his talent and charisma!
Also, check out our most popular quote article, a list of short inspirational quotes for daily wisdom.
See the rest of our quote database for even more inspirational ideas and thoughts.
Morgan Wallen Quotes On Continuously Improving
1. "There's a lot of things we go through, and we don't even know why… At the end of the day, God has a purpose and a plan for you, and that's kind of how I take that." – Morgan Wallen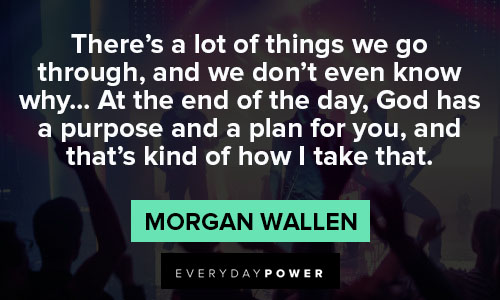 2. "I didn't even know what 'The Voice' was, but my mom said, 'I signed you up for this singing show,' and I was like, 'All right, I guess.'" – Morgan Wallen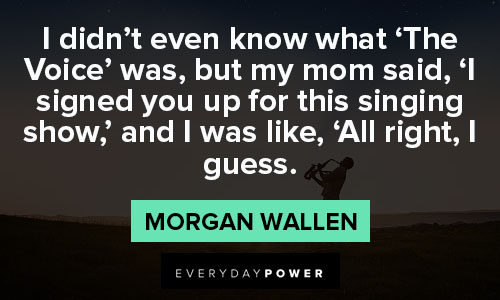 You will also enjoy our article on Tyler Childers quotes.
3. "I think it takes a little bit of time for people to take you seriously." – Morgan Wallen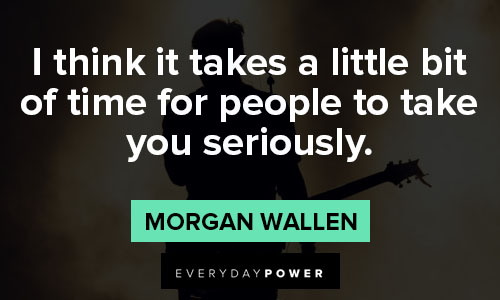 4. "You never know the plan. I just try to focus on one day at a time." – Morgan Wallen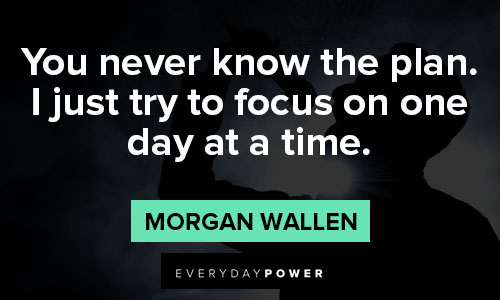 5. "I didn't want to act like I'm too cool for school or anything like that." – Morgan Wallen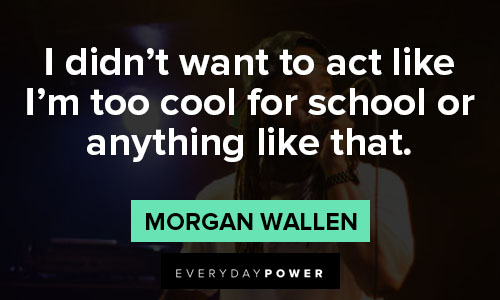 6. "I know it takes more than one album to stay around." – Morgan Wallen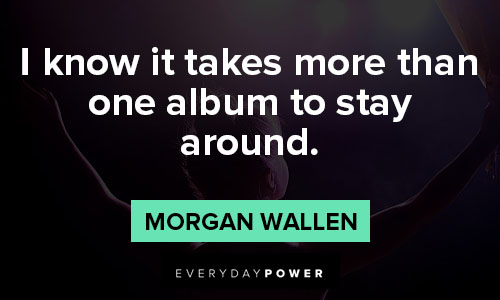 7. "I didn't do anything but write for six months after I got my publishing deal. That was just trying to get better and figure out my sound and the way I like to do it." – Morgan Wallen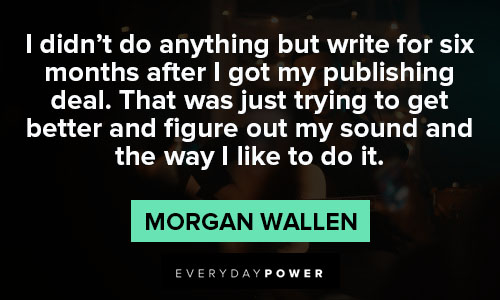 8. "I listened to Country music a little bit, but it didn't enter my life until I started listening to Eric Church." – Morgan Wallen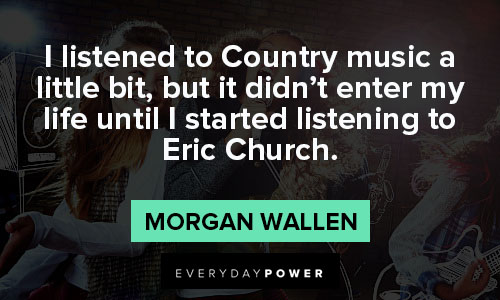 9. "I'm not a huge award type person. That's not really what lights my fire." – Morgan Wallen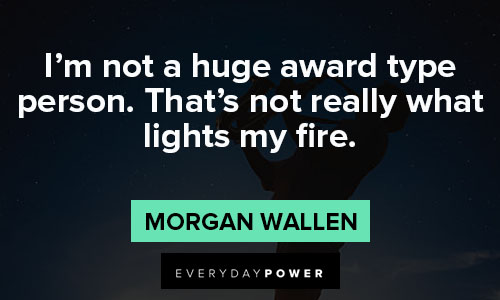 10. "I'm by no means the person that I strive to be. I don't think that anyone is the person that we strive to be. But I try." – Morgan Wallen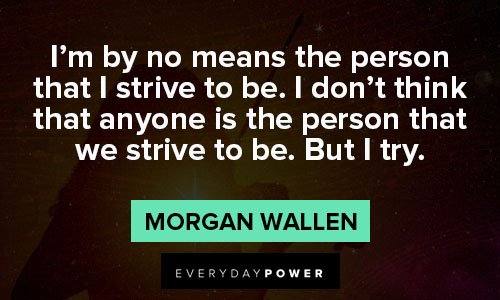 Morgan Wallen Quotes On His Personal Life
You probably know a little about Morgan Wallen the famous singer. These next quotes show you some more about his personal life.
11. "I would play around bonfires with my friends, and people were telling me that I was good." – Morgan Wallen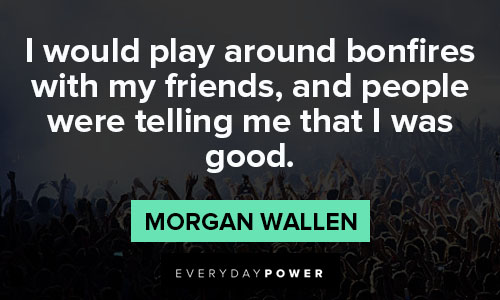 12. "I didn't necessarily grow up with country being my first priority as a music listener. I grew up listening to classic rock and Christian music." – Morgan Wallen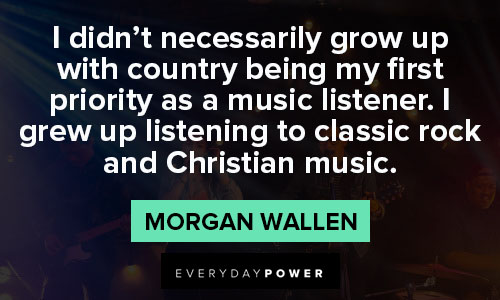 13. "I've always liked all kinds of different types of music." – Morgan Wallen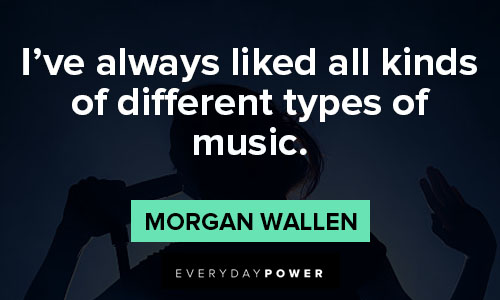 14. "My whole life, baseball was my first love. I was gonna go play college, but during my senior year, I tore my ACL, and college kind of faded away with their offer, which I understand, obviously. That was a dark time in my life." – Morgan Wallen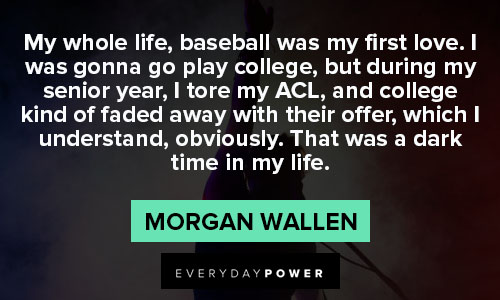 15. "I feel like that's my foundation and my roots, what I believe in – no matter where life takes me, I'll always be the same guy and same person at heart." – Morgan Wallen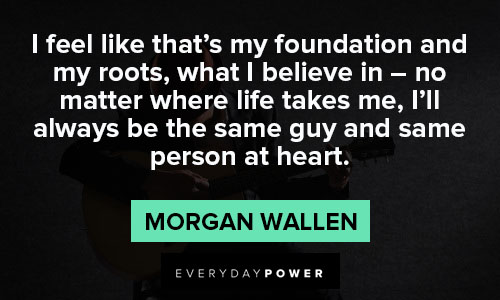 16. "I still dabble in different types of music, but I'm sticking to my Country roots." – Morgan Wallen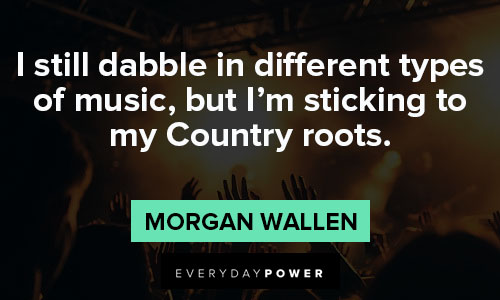 17. "I wanted to put a song out there to let people know who I was and, at the same time, help me set apart from a lot of different people in country radio." – Morgan Wallen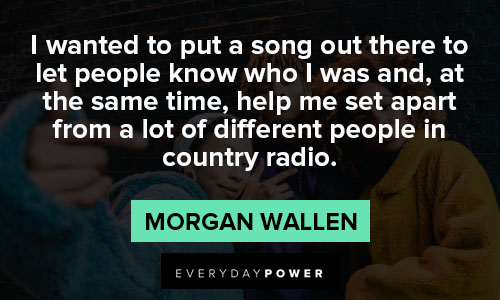 18. "My voice is obviously real southern; I automatically lean country." – Morgan Wallen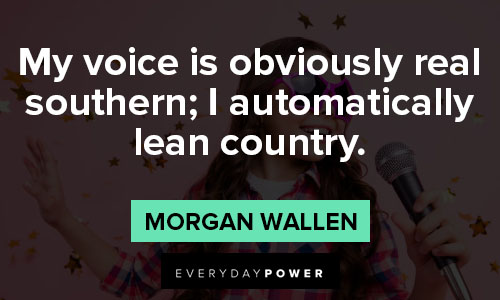 19. "I got a rebel side in me, but I'm not mean!" – Morgan Wallen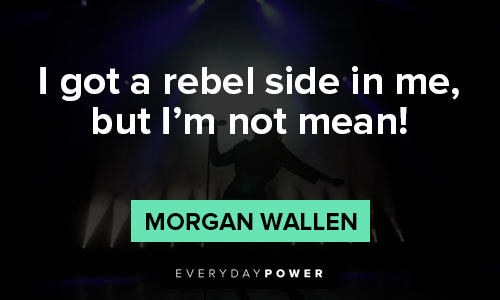 20. "I believe in God. I believe that He's real, and I believe He has control over a lot of things, and I think throughout history there has been a lot of countries that have turned their back on Him, and the result is not great." – Morgan Wallen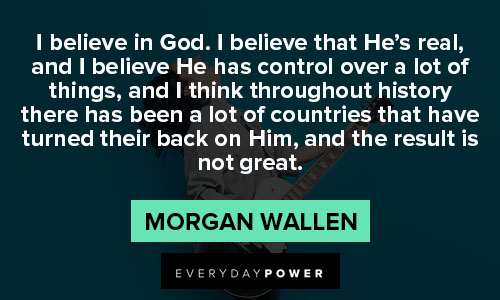 Morgan Wallen Has Been In Trouble…
Morgan Wallen has been involved in several controversies in the past few years.
He was arrested in 2020 for disorderly conduct and public intoxication in downtown Nashville.
He broke social distancing guidelines in October 2020, which received bad press.
In addition, in early 2022, videos surfaced of Wallen using the n-word when speaking to friends.
This resulted in his music being temporarily removed from multiple streaming devices.
He also became ineligible to accept any awards at the Annual Academy of County Music Awards and the 2021 American Music Awards.
He was counseled by multiple people and donated $300,000 to the Black Music Action Coalition in their names.
Nevertheless, throughout these troubles his music remained popular with fans.
Many men and women, not just famous people have made bad decisions.
Morgan Wallen will now have to show that he has learned from his past mistakes and that he is a better man for it.
Hopefully after reading the Morgan Wallen quotes you see that he is a real person with real struggles, but is trying to be better.
What are your thoughts about the talented singer?
Share with your friends and post your thoughts below to keep the conversation going.