Best Senior Year Quotes for Graduation and the Yearbook
Oh, how it flies…Remember your last year with these epic senior quotes!
With graduation on the horizon, let these amazing senior year quotes remind you of this truly magical time in your life.
And if they mean something special to you, don't forget to share them with your other senior friends, too!
As you try to make the most of what's left of high school, you'll have to deal with a lot of emotions and uncertainties about your future.
The past three years of high school went by extremely quickly and now there are only a few short months left to enjoy it!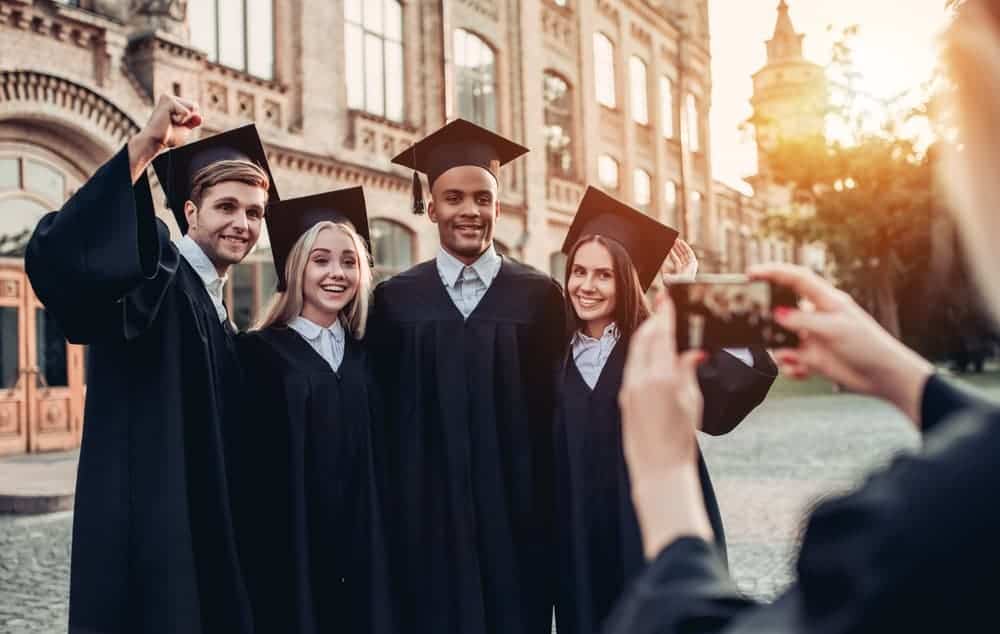 You've probably spent the previous years dreaming about graduating, and are now seeing the light at the end of the tunnel. But like most things in life, your expectations don't always align with reality.
For you to have a smooth sailing during your senior year, it helps to know what to expect and how to deal with it. For starters, senior year is a time to remain focused on ending the year strong and keeping your grades up.
To avoid succumbing to senioritis, make sure you set realistic goals throughout the year and stay focused on achieving them.
Since you'll be extremely busy, develop your time management skills and keep your schedule organized. Besides, make sure you get started with your college applications early to avoid making any last-minute mistakes.
When the year draws to an end, you'll have a chance to pick a quote for graduation and your yearbook. Here are some great senior year quotes to inspire you for when that time comes.
For an additional lift, check out our list of inspirational happiness quotes and more. Enjoy!
Best senior year quotes for graduation and the yearbook
1. "Whenever you remember times gone by, remember how we held our heads so high." — Carrie Underwood
2. "One person's craziness is another person's reality." – Tim Burton
3. "Now that you've graduated, just remember: Bosses don't usually accept notes from your mother." — Melanie White
4. "This is nothing but a hive, and I am the one and only Queen Bee." – Brian A Castle
5. "I haven't even begun to peak." – Dennis Reynolds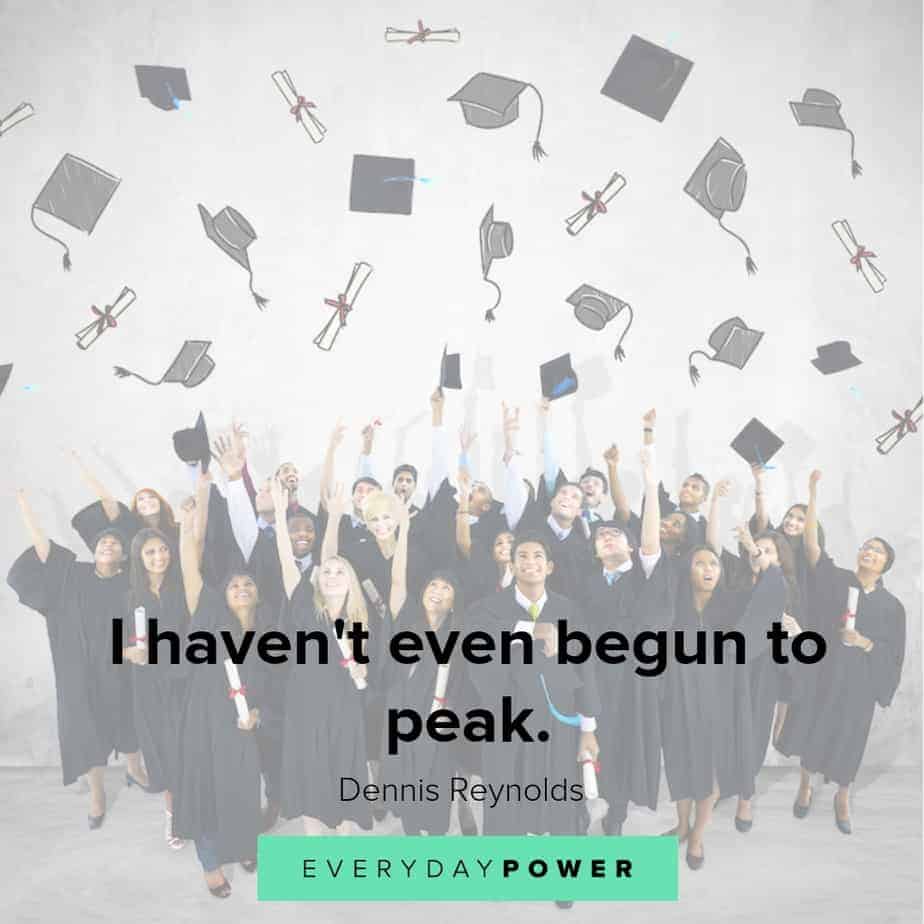 6. "It will take a nation of millions to hold me back." – Timothy Howard
7. "I'm a senior, but I stay freshman." – Martin Alvarado
8. "The roof is not my son, but I will raise it." – Anonymous
9. "I'm gonna go stand outside. If anyone asks, I'm outstanding." – Taylor Bass
10. "Remember to always be yourself, unless you suck. Then pretend to be someone else." – Mitchel Wieland
Senior year quotes that inspire
11. "We've arrived because we stuck together, champions one and all." — Sharpay Evans
12. "All through my senior year, luckily, I didn't have too many hard classes, just a lot of electives. I was able to spend most of my time at the practice space." – Brendon Urie
13. "When it rains, look for rainbows. When it's dark, look for stars." – Anonymous
14. "Change your life today. Don't gamble on the future, act now, without delay." – Simone de Beauvoir
15. "The past cannot be changed. The future is yet in your power." – Unknown
16. "It is not in the stars to hold our destiny but in ourselves." – William Shakespeare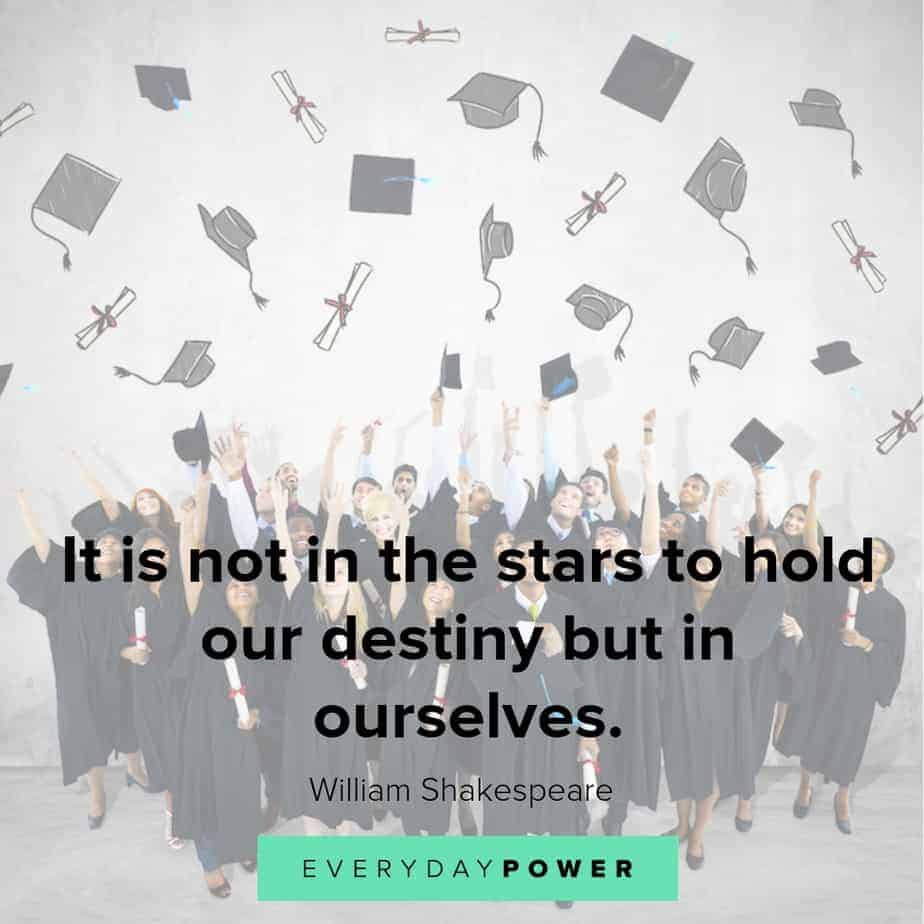 17. "Memories are the key not to the past, but to the future." – Corrie Ten Boom
18. "What you do today will determine your future." – Catherine Pulsifer
19. "The longer you look back, the farther you can look forward." – Winston Churchill
20. "It's amazing how a little tomorrow can make up for a whole lot of yesterday." ― John Guare
Also check out our collection of inspirational first day of school quotes.
Best Yearbook quotes to inspire you to pursue your dreams
21. "Build your own dreams, or someone else will hire you to build theirs." — Farrah Gray
22. "It doesn't matter that your dream came true if you spent your whole life sleeping." — Jerry Zucker
23. "My wish, for you, is that this life becomes all that you want it to, your dreams stay big, your worries stay small." — Rascal Flatts
24. "Go confidently in the direction of your dreams. Live the life you have imagined." — Henry David Thoreau
25. "Keep looking up! Learn from the past, dream about the future and look up." – Rachel Boston
26. "Let us make our future now, and let us make our dreams tomorrow's reality." – Malala Yousafzai
27. "My dreams are my dress rehearsals for my future." – David Copperfield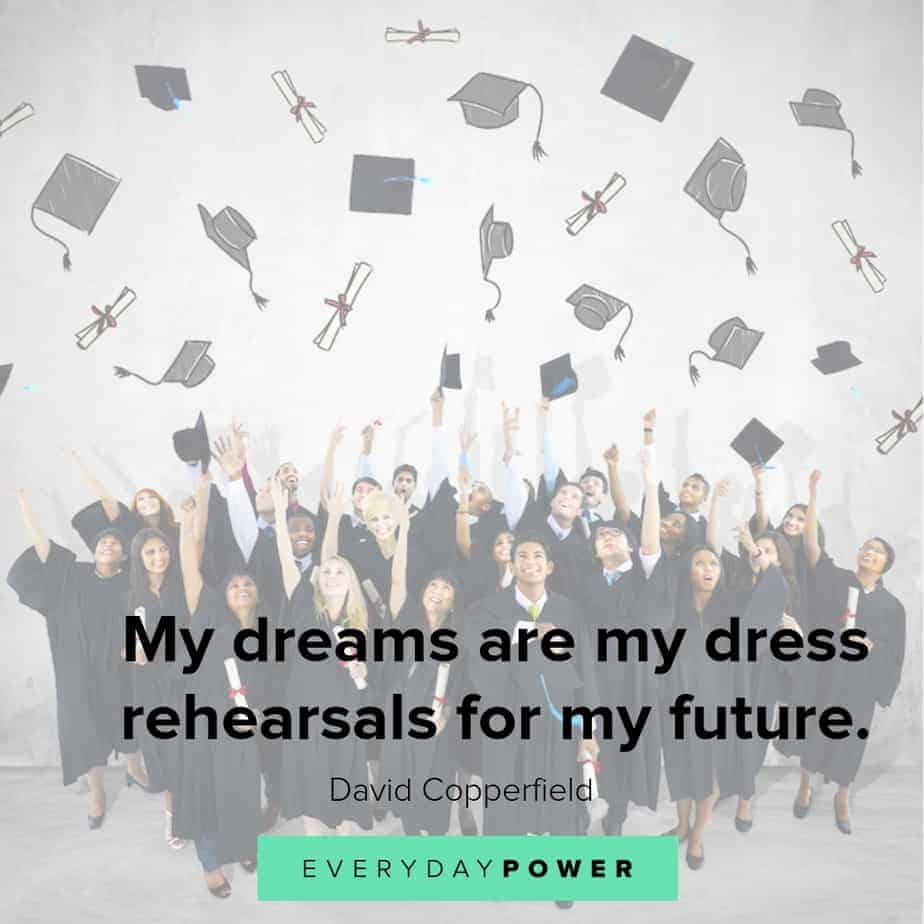 28. "The future belongs to those who believe in the beauty of their dreams." ― Eleanor Roosevelt
29. "Dreams are often most profound when they seem the most crazy."- Sigmund Freud
30. "Yesterday is gone. Tomorrow has not yet come. We have only today. Let us begin." ― Mother Theresa
Senior year quotes to inspire success
31. "Success is like a mountain that keeps growing ahead of you as you hike it… Err in the direction of kindness." — George Saunders
32. "My head may be big, my eyes may be small, but my heart is just the right size." – Alan Nguyen
33. "You cannot escape the responsibility of tomorrow by evading it today." – Abraham Lincoln
34. "The future belongs to those who prepare for it today." – Malcolm X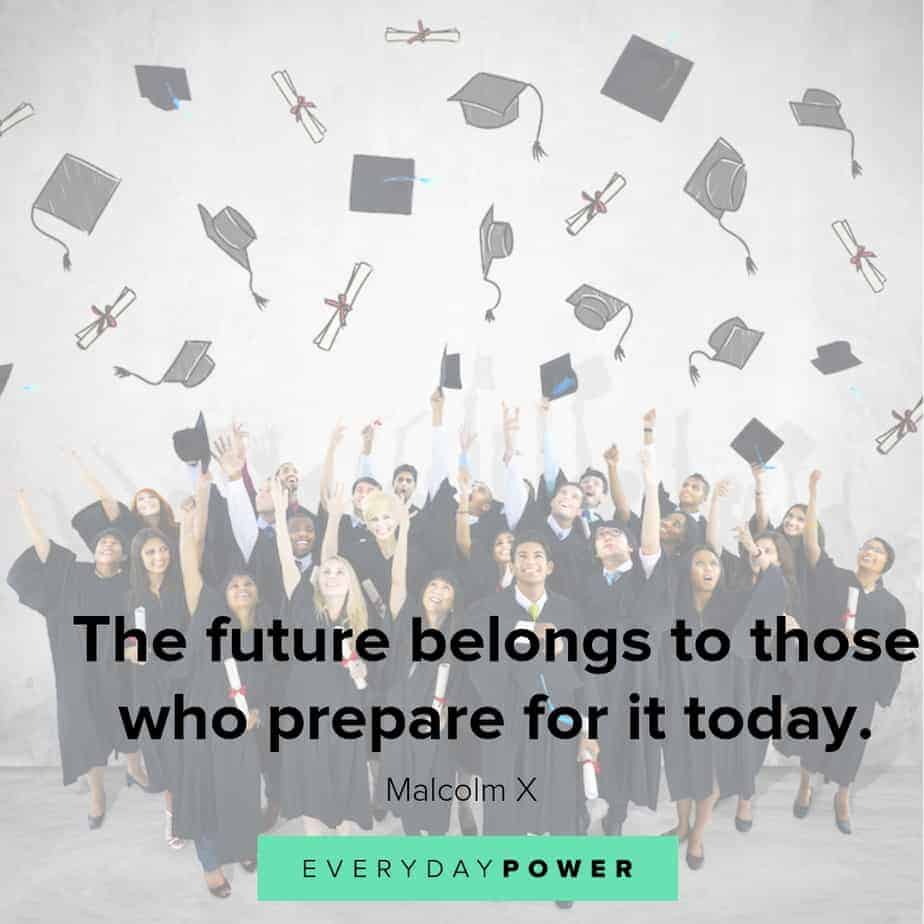 35. "There are no secrets to success. It is the result of preparation, hard work, and learning from failure." – Colin Powell
36. "Life can only be understood backwards; but it must be lived forwards." ― Søren Kierkegaard
37. "Luck is great, but most of life is hard work." – Iain Duncan Smith
38. "You do have a future. There is light at the end of that inky black tunnel." – Willow Cross
39. "Success is no accident. It is hard work, perseverance, learning, studying, sacrifice and most of all, love of what you are doing or learning to do." – Pele
40. "Without hard work, nothing grows but weeds." – Gordon B. Hinckley
Senior year quotes to inspire you
41. "I was told in high school that the last game during your senior year stays with you forever, which is true." – Jim Otto
42. "The past is always tense, the future perfect." ― Zadie Smith
43. "Will we think about tomorrow like we think about now?" — Vitamin C
44. "I'm looking forward to the future, and feeling grateful for the past." – Mike Rowe
45. "The future depends on what you do today." ― Mahatma Gandhi
46. "It's hard to beat a person who never gives up." ― George Herman Ruth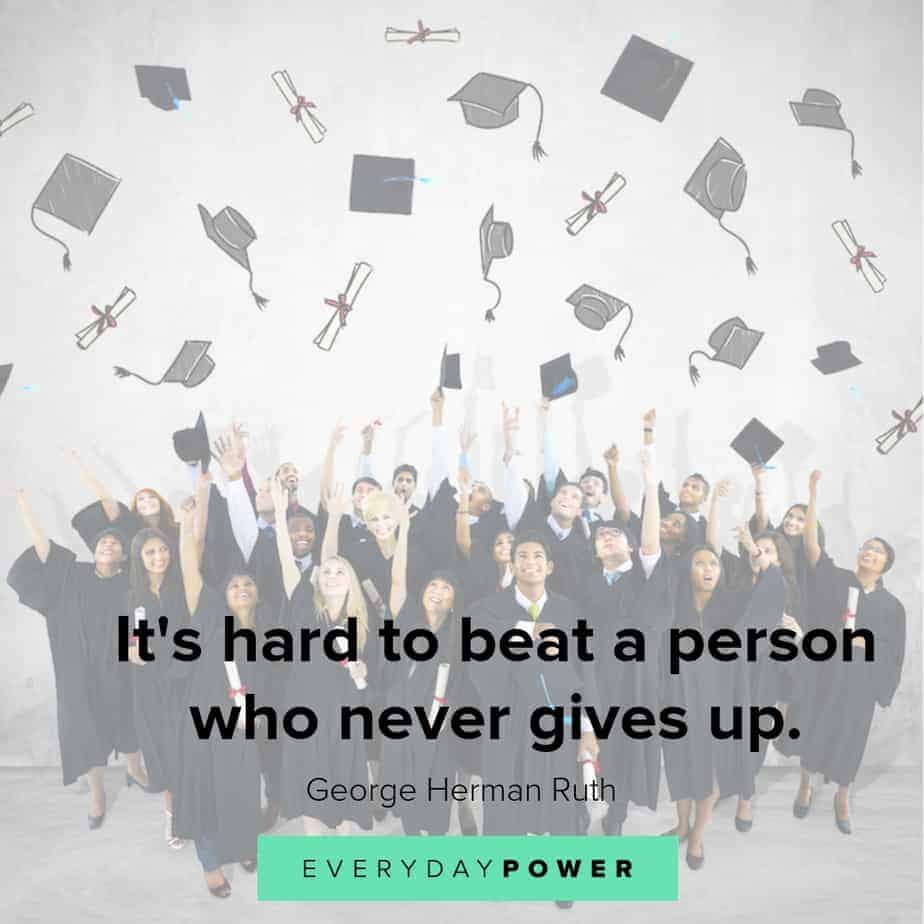 47. "Don't wish it were easier. Wish you were better." ― Jim Rohn
48. "Action is the foundational key to all success." —Pablo Picasso
49. "There are no shortcuts to any place worth going." ― Beverly Sills
50. "The difference between ordinary and extraordinary is that little extra." ― Jimmy Johnson
Senior year quotes to motivate and empower you
51. "Believing that no one is better than the other. You know I grew up in the South. My senior year there was a very big racial tension." – Herschel Walker
52. "Be who you are and say what you feel, because those who mind don't matter and those who matter don't mind."— Dr. Seuss
53. "The saddest thing in life is wasted talent."— A Bronx Tale
54. "Education makes a people easy to lead, but difficult to drive: easy to govern, but impossible to enslave."—Henry Peter Brougham
55. "What we learn with pleasure we never forget."—Alfred Mercier
56. "Life is my college. May I graduate well, and earn some honors!"—Louisa May Alcott
If you're enjoying these quotes, make sure to read our collection of college quotes that will motivate you to study, learn, and succeed.
57. "It is absolutely still possible to make a difference."—Michelle Obama
58. "The old rules are crumbling and nobody knows what the new rules are. So make up your own rules."—Neil Gaiman
59. "The highest result of education is tolerance."—Helen Keller
60. "Start where you are. Use what you have. Do what you can."—Arthur Ashe
Inspirational Yearbook quotes
61. "Don't judge each day by the harvest you reap but by the seeds that you plant." – Robert Louis Stevenson
62. "Everything you've ever wanted is on the other side of fear." – George Addair
63. "Make each day your masterpiece." – John Wooden
64. "Perfection is not attainable, but if we chase perfection we can catch excellence." – Vince Lombardi
65. "Wherever you go, go with all your heart." – Confucius
66. "Write it on your heart that every day is the best day in the year." – Ralph Waldo Emerson
67. "Put your heart, mind, and soul into even your smallest acts. This is the secret of success." – Swami Sivananda
68. "It is never too late to be what you might have been." – George Eliot
69. "The day is what you make it! So why not make it a great one?" – Steve Schulte
70. "The roots of education are bitter, but the fruit is sweet." – Aristotle
If you're enjoying these quotes, make sure to read our collection of education quotes about learning and success.
71. "Learn from the mistakes of others. You can't live long enough to make them all yourselves!" – Chanakya
72. "Believe and act as if it were impossible to fail." – Charles Kettering
73. "Don't regret the past, just learn from it." – Ben Ipock
74. "Keep your face always toward the sunshine – and shadows will fall behind you." – Walt Whitman
75. "Be not afraid of going slowly, be afraid only of standing still." – Chinese Proverb
Senior year quotes about success and the future
76. "Success is not final; failure is not fatal: It is the courage to continue that counts."- Winston S. Churchill
77. "The future is a hundred thousand threads, but the past is a fabric that can never be rewoven."― Orson Scott Card
78. "It is better to fail in originality than to succeed in imitation."- Herman Melville
79. "Why don't you focus on where you're going and less on where you came from?" ― Amy Harmon
80. "The road to success and the road to failure are almost exactly the same." – Colin R. Davis
81. "You don't destroy what you want to acquire in the future."― Suzanne Collins
82. "Opportunities don't happen. You create them."- Chris Grosser
83. "The best way to predict the future is to create it." – Abraham Lincoln
84. "Don't be afraid to give up the good to go for the great."- John D. Rockefeller
85. "Do something today that your future self will thank you for." – Anonymous
Yearbook quotes to inspire you
86. "I find that the harder I work, the more luck I seem to have." – Thomas Jefferson
87. "Hold fast to dreams, for if dreams die, life is a broken-winged bird that cannot fly." – Langston Hughes
88. "Never give in except to convictions of honor and good sense." – Winston Churchill
89. "A dream you dream alone is only a dream. A dream you dream together is reality." – John Lennon
90. "If you are not willing to risk the usual, you will have to settle for the ordinary." – Jim Rohn
91. "Dreams are today's answers to tomorrow's questions." – Edgar Cay
92. "Do one thing every day that scares you." – Anonymous
93. "The future starts today, not tomorrow." – Pope John Paul II
94. "All progress takes place outside the comfort zone." – Michael John Bobak
95. "Follow your dreams, they know the way." – Kobe Yamada
Senior year quotes to broaden your thoughts
96. "If you want to achieve greatness stop asking for permission." – Unknown
97. "The distance between insanity and genius is measured only by success." – Bruce Feirstein
98. "To live a creative life, we must lose our fear of being wrong." – Unknown
99. "Knowledge is being aware of what you can do. Wisdom is knowing when not to do it." – Unknown
100. "All our dreams can come true if we have the courage to pursue them." – Walt Disney
101. "You may only succeed if you desire succeeding; you may only fail if you do not mind failing." – Philippos
102. "Just when the caterpillar thought the world was ending, he turned into a butterfly." – Proverb
103. "It is little keys that open up big doors."― Lamine Pearlhear
104. "Don't raise your voice, improve your argument." – Unknown
105. "Mistakes are the foundation of achievement."― Steven Magee
Yearbook quotes to elevate your perspective
106. "Things work out best for those who make the best of how things work out." – John Wooden
107. "When you stop chasing the wrong things you give the right things a chance to catch you." – Lolly Daskal
108. "If you are not willing to risk the usual you will have to settle for the ordinary." – Jim Rohn
109. "The starting point of all achievement is desire." – Napoleon Hill
110. "Success is walking from failure to failure with no loss of enthusiasm."- – Winston Churchill
111. "Realize, rise and act – make mistakes, fall hard, then rise again and try again."― Abhijit Naskar
112. "A successful man is one who can lay a firm foundation with the bricks others have thrown at him." – David Brinkley
113. "If talent is the floor and character the ceiling, then work-ethic is the altitude of personal achievement."― Orrin Woodward
114. "What seems to us as bitter trials are often blessings in disguise." – Oscar Wilde
115. "Accept no limitations and you'll have no limitations."― Clyde Lee Dennis
Senior year quotes that will inspire you to achieve your dreams
116. "Ever tried. Ever failed. No matter. Try Again. Fail again. Fail better."
– Samuel Beckett
117. "The best revenge is massive success." – Frank Sinatra
118. "The only thing that will stop you from fulfilling your dreams is you."
– Tom Bradley
119. "If you want to make a permanent change, stop focusing on the size of your problems and start focusing on the size of you!" – T. Harv Eker
120. "Dream no small dreams for they have no power to move the hearts of men." – Johann Wolfgang von Goethe
121. "The art of living lies less in eliminating our troubles than growing with them." – Bernard M. Baruch
122. "To accomplish great things, we must not only act, but also dream; not only plan, but also believe." – Anatole France
123. "If you want to turn your life around, try thankfulness. It will change your life mightily." – Gerald Good
124. "It may be that those who do most, dream most." – Stephen Butler Leacock
125. "Motivation is what gets you started. Habit is what keeps you going." –Jim Ryun
Senior year quotes to help you conquer your goals
126. "The only thing worse than starting something and failing … is not starting something." – Seth Godin
127. "Though no one can go back and make a brand-new start, anyone can start from now and make a brand new ending." – Carl Bard
128. "You don't have to see the whole staircase, just take the first step."
– Martin Luther King, Jr.
129. "Be happy with what you have. Be excited about what you want." – Alan Cohen
130. "Much of the stress that people feel doesn't come from having too much to do. It comes from not finishing what they started." – David Allen
131. "Keep your fears to yourself, but share your courage with others." –Robert Louis Stevenson
132. "Do not be embarrassed by your failures, learn from them and start again." – Richard Branson
133. "Focus on the journey, not the destination. Joy is found not in finishing an activity but in doing it." – Greg Anderson
134. "The indispensable first step to getting the things you want out of life is this: decide what you want." – Ben Stein
135. "Life is all about taking risks. If you never take a risk, you will never achieve your dream." – Unknown
Yearbook quotes to inspire and motivate
136. You can't knock on opportunity's door and not be ready." – Bruno Mars
137. "The limit does not exist." – Cady, "Mean Girls"
If you're enjoying these quotes, make sure to read our collection of Mean Girls quotes that will make your life more fetch.
138. "What's money? A man is a success if he gets up in the morning and goes to bed at night and in between does what he wants to do." – Bob Dylan
If you're enjoying these quotes, read our collection of Bob Dylan quotes from the iconic Folk singer.
139. "You ought to spend a little more time trying to make something of yourself and a little less time trying to impress people." – Vernon, "The Breakfast Club"
If you're enjoying these quotes, make sure to read our collection of Breakfast Club quotes from the hit movie.
140. "I would rather die of passion than of boredom." – Vincent van Gogh
141. "Life moves pretty fast. If you don't stop and look around once in a while you might miss it." – Ferris Bueller
If you're enjoying these quotes, make sure to read our collection of Ferris Bueller quotes from the hit comedy.
142. "We don't make mistakes, just happy little accidents." – Bob Ross
143. "And this is the part where you find out who you are." – The Maine, "Whoever She Is."
144. "Those who do not want to imitate anything, produce nothing." – Salvador Dali
145. "I am ready to face any challenge that might be foolish enough to face me." – Dwight Shrute, The Office
If you're enjoying these quotes, make sure to read our collection of The Office quotes from the iconic hit show.
Senior year quotes to brighten your day
146. "Don't spend time beating on a wall, hoping to transform it into a door." — Coco Chanel
147. "Everything you can imagine is real."― Pablo Picasso
148. "Creativity is intelligence having fun." — Albert Einstein
149. "Impossible is just an opinion." – Paulo Coelho
150. "Optimism is the one quality more associated with success and happiness than any other." — Brian Tracy
151. "When life gives you Monday, dip it in glitter and sparkle all day." – Ella Woodward
If you're enjoying these quotes, make sure to read our collection of monday motivation quotes to help you get the week started.
152. "Always keep your eyes open. Keep watching. Because whatever you see can inspire you." — Grace Coddington
153. "Without hustle, talent will only carry you so far." – Gary Vaynerchuk
154. "What you get by achieving your goals is not as important as what you become by achieving your goals." — Henry David Thoreau
155. "Some people want it to happen, some wish it would happen, others make it happen." – Michael Jordan
Senior year quotes to motivate you
156. "Have the end in mind and every day make sure you're working towards it." – Ryan Allis
157. "It wasn't raining when Noah built the ark." — Howard Ruff
158. "Paying attention to simple little things that most men neglect makes a few men rich." – Henry Ford
159. "Take your dreams seriously." — Unknown
160. "What the mind of man can conceive and believe, it can achieve." – Napoleon Hill
161. "There is no way to happiness. Happiness is the way." — Thich Nhat Hanh
162. "Be content to act, and leave the talking to others." – Baltasa
163. "Champions keep playing until they get it right." — Billie Jean King
164. "Success is liking yourself, liking what you do, and liking how you do it." – Maya Angelou
165. "A comfort zone is a beautiful place, but nothing ever grows there." —Unknown
Senior year quotes to elevate your mind
166. "Invest in yourself. Become the best you can possibly be." – William Scaec
167. "You can fail at what you don't want, so you might as well take a chance on doing what you love." – Jim Carrey
168. "Dwell in possibility." – Emily Dickinson
169. "Practice looking forward to possibilities." – Shadonna Richards, RN
170. "It is difficult to steer a parked car, so get moving." – Henrietta Mears
171. "Your time is limited, so don't waste it living someone else's life." – Steve Jobs
172. "Do a little more each day than you think you possibly can." – Lowell Thomas
173. "There are no traffic jams along the extra mile." – Roger Staubach
174. "Try to be a rainbow in someone's cloud." – Maya Angelou
175. "Seek to understand before you seek to be understood." – Stephen Covey
Motivational senior year quotes and sayings
176. "A very interesting theory makes no sense at all." – Groucho Marx
177. "Many a time I have wanted to stop talking and find out what I really believed." – Walter Lippman
178. "All things excellent are as difficult as they are rare." – Baruch Spinoza
179. "Never underestimate the power of thought; it is the greatest path to discovery." – Idowu Koyenikan
180. "Despite your best efforts, not everyone wants to be helped. Make a difference where you can and be at peace with the rest." – Gary Hopkins
181. "The merit of all things lies in their difficulty." – Alexandre Dumas
182. "Experience is not what happens to you; it's what you do with what happens to you."– Aldous Huxley
183. "Life is in ourselves and not in the external." – Fyodor Dostoevsky
184. "Life isn't about finding yourself. Life is about creating yourself."
– George Bernard Shaw
185. "We do not remember days, we remember moments." ― Cesare Pavese
Senior year quotes to elevate your perspective
186. "Graduation is not the end; it's the beginning." – Orrin Hatch
187. "If you think education is expensive, try ignorance." – Derek Bok
188. "You can steer yourself in any direction you choose." – Dr. Seuss
189. "You can never cross the ocean until you have the courage to lose sight of the shore." – Christopher Columbus
190. "People will never forget how you made them feel." – Maya Angelou
191. "Life shrinks or expands in proportion to one's courage." –Anais Nin
192. "Openness isn't the end. It's the beginning." – Margaret Heffernan
193. "Happiness is not something readymade. It comes from your own actions." –Dalai Lama
194. "The fireworks begin today. Each diploma is a lighted match. Each one of you is a fuse." – Ed Koch
195. "In order to succeed, your desire for success should be greater than your fear of failure." –Bill Cosby
Senior year quotes that will get you thinking
196. "Don't let the noise of others' opinions drown out your own inner voice." – Steve Jobs
197. "Winning isn't everything, but wanting to win is." –Vince Lombardi
198. "If opportunity doesn't knock, build a door." – Milton Berle
199. "Either you run the day, or the day runs you." –Jim Rohn
200. "Just about a month from now I'm set adrift, with a diploma for a sail and lots of nerve for oars." – Richard Halliburton
201. "Certain things catch your eye, but pursue only those that capture the heart." – Ancient Indian Proverb
202. "Do not follow where the path may lead." – Ralph Waldo Emerson
203. "If you want to lift yourself up, lift up someone else." –Booker T. Washington
204. "Don't settle, as with all matters of the heart you'll know when you find it." – Steve Jobs
205. "Dream big and dare to fail." – Norman Vaughan
Senior year quotes that will make your day
206. "Every next level of your life will demand a different you." – Unknown
207. "Live your beliefs and you can turn the world around." – Henry David Thoreau
208. "The scariest moment is always just before you start." – Stephen King
209. "The world is full of magic things, patiently waiting for our senses to grow sharper." – W.B. Yeats
210. "Little by little, one travels far." – J. R. R. Tolkien
211. "If you're willing to bleed a little every day, you may win big later." – Naval Ravikant
212. "Paths are made by walking." – Franz Kafka
213. "Never confuse a single defeat with a final defeat." – F. Scott Fitzgerald
214. "From error to error one discovers the entire truth." – Sigmund Freud
215. "You will become as small as your controlling desire; as great as your dominant aspiration." – James Allen
More senior year quotes and sayings
216. "Who looks outside, dreams; who looks inside, awakes." – Carl Jung
217. "Say no to instant gratification so you can say yes to massive long-term gains." – Maxime Lagacé
218. "The wisest men follow their own direction." – Euripides
219. "If you are not willing to risk the unusual, you will have to settle for the ordinary." – Jim Rohn
220. "We know what we are, but know not what we may be." – William Shakespeare
221. "Great things are not accomplished by those who yield to trends and fads and popular opinion." – Jack Kerouac
222. "Learn to sell. Learn to build. If you can do both, you will be unstoppable." – Naval Ravikant
223. "The secret of getting ahead is getting started." – Mark Twain
224. "It will be the toughest thing you'll ever do, but your heart is never wrong." – Maxime Lagacé
225. "Always do your best. What you plant now, you will harvest later." – Og Mandino
How did you find these senior year quotes?
During your senior year, you're bound to experience disappointment, make some wonderful memories, experience a lot of emotions and do a lot of growing up within a short period of time.
If you stay focused and prepared by knowing what to expect and how to handle it, you'll have no problem making it through, ready to tackle the next phase of your life. Hopefully, the senior year quotes above have inspired and motivated you to create the best future for you.
Did you enjoy these senior year quotes? Which of the yearbook quotes was your favorite? We would love to hear all about it in the comment section below.
February 2, 2021 6:00 AM EST
Click to view