Moulin Rouge Quotes From The 'Spectacular' Movie
These Moulin Rouge quotes from the romantic musical drama will have you singing along, and wondering where you can stream the movie right this minute.
The answer—Moulin Rouge is available on Amazon Prime Video and Vudu, for sure!
(I heard that it might also be making its way to Disney+.)
Nicole Kidman is absolutely enchanting as Satine, a cabaret actress and courtesan.
Satine falls in love with an impoverished poet named Christian, played by Ewan McGregor.
The banter between Christian and Satine is funny at times, passionate at others, and incredibly devastating too.
You will see the full range of emotions in these Moulin Rouge quotes about love, including love and sex for money, and heartbreak.
There are so many things to love about Moulin Rouge, aside from the poignant story!
The acting is superb, the costumes are bright and sultry, and the soundtrack is to die for.
It is no wonder this movie was a box office smash.
Keep reading through these Moulin Rouge quotes and you will want to rewatch the film, or watch it "for the very first time."
Don't forget to also check out these Venom quotes from the thrilling Marvel movie.
Moulin Rouge quotes about love and jealousy
1. "I can't fall in love with anyone." — Satine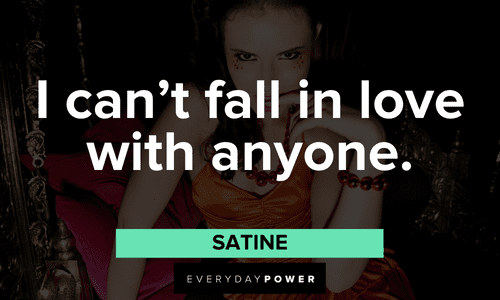 2. "Can't… fall in love? But a life without love… that's terrible!" — Christian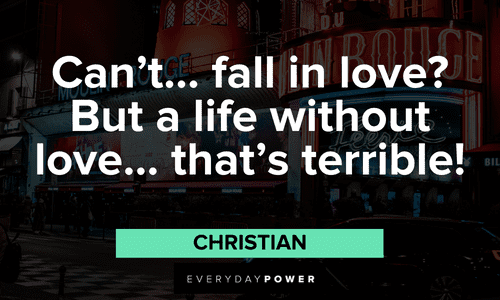 3. "The greatest thing you'll ever learn is just to love and be loved in return!" — Christian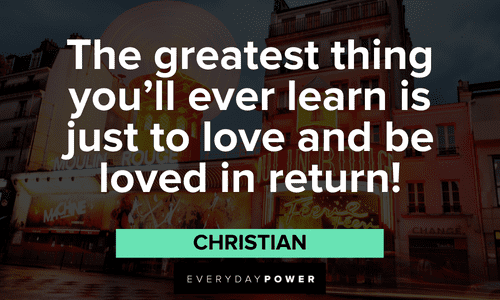 4. "Come what may, I will love you until my dying day." — Christian and Satine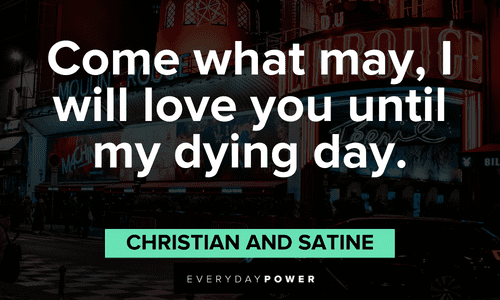 5. "Seasons may change, winter to spring… I love you 'til the end of time." — Satine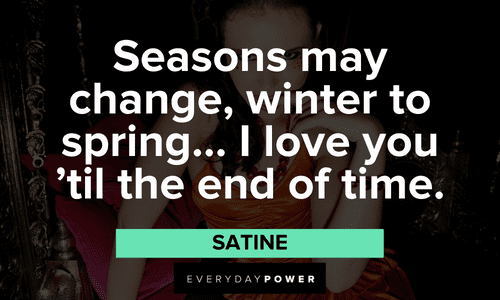 6. "I can't believe it. I'm in love. I'm in love with a young, handsome, talented duke." — Satine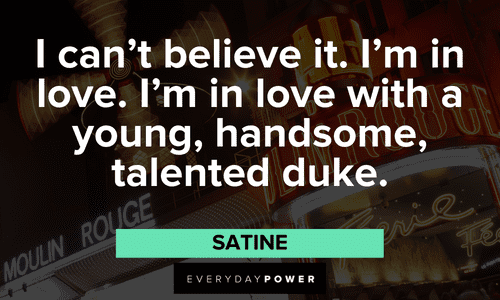 7. "The French are glad to die for love. They delight in fighting duels. But I prefer a man who lives… and gives expensive jewels." — Satine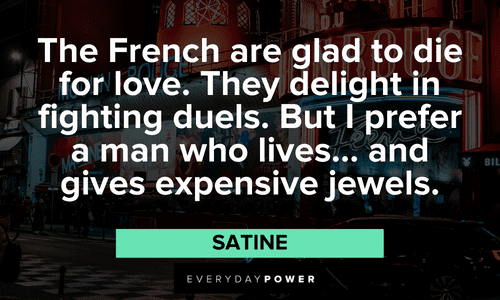 8. "A story about a time, a story about a place, a story about the people. But above all things, a story about love. A love that will live forever." — Christian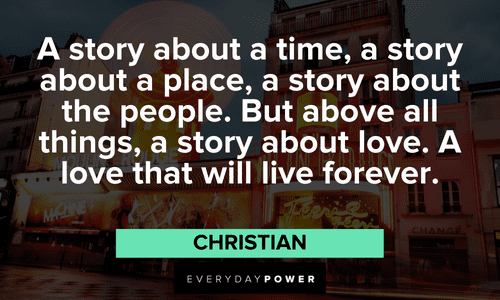 9. "I had come to write about truth, beauty, freedom, and that which I believed in above all things: love." — Christian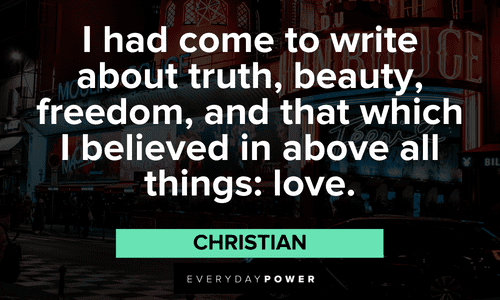 10. "He loves me, Harold. And that is worth everything! We're going away from you, away from the Duke, away from the Moulin Rouge!" — Satine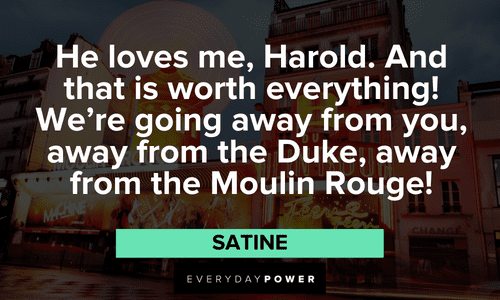 11. "Jealousy, yes, jealousy will drive you mad." — The Unconscious Argentinean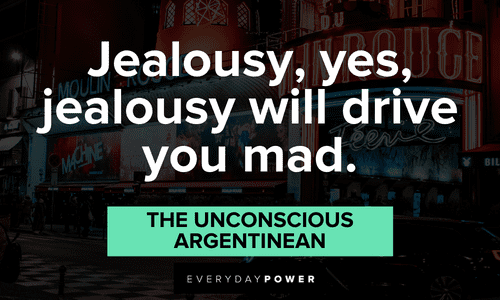 Moulin Rouge quotes about love and sex for money
12. "I'm a courtesan. I'm paid to make men believe what they want to believe." — Satine
13. "The Moulin Rouge. A nightclub, a dance hall and a bordello. Ruled over by Harold Zidler. A kingdom of nighttime pleasures." — Christian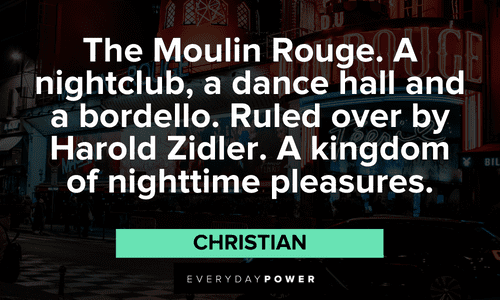 14. "Where the rich and powerful came to play with the young and beautiful creatures of the underworld." — Christian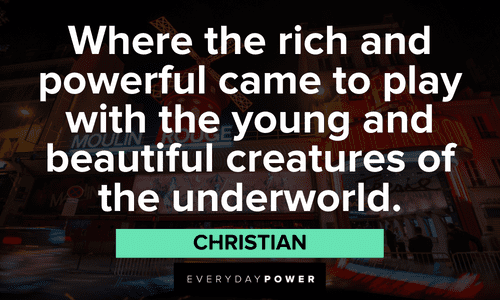 15. "Satine. A courtesan. She sold her love to men. They called her the "Sparkling Diamond", and she was the star of the Moulin rouge." — Christian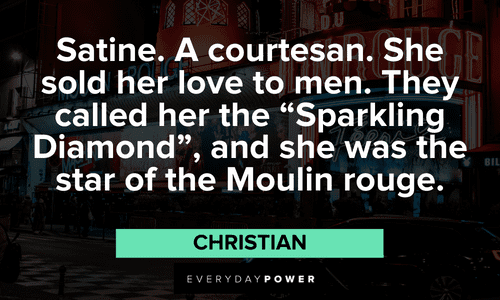 16. "I don't need you anymore! All my life you made me believe I was only worth what someone would pay for me!" — Satine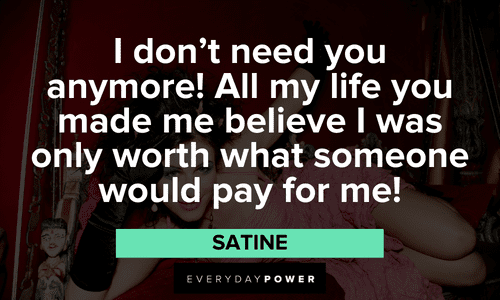 17. "We have a dance in the brothels of Buenos Aires. It tells the story of the prostitute and a man who falls in love with her." — The Unconscious Argentinean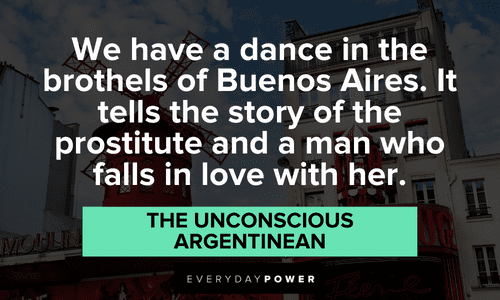 18. "When love is for the highest bidder, there can be no trust. Without trust, there can be no love." — The Unconscious Argentinean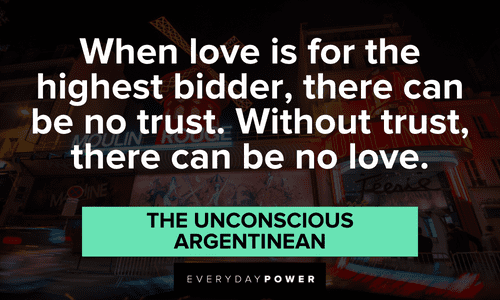 19. "Never fall in love with a woman who sells herself. It always ends bad!" — The Unconscious Argentinean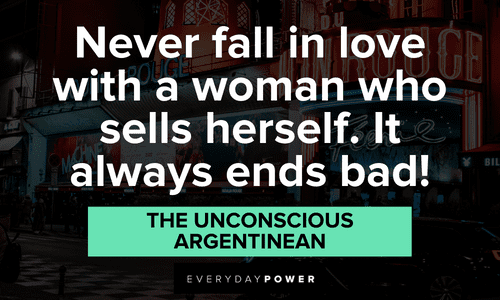 20. "Please, tell me you're not one of Toulouse's so talented, charmingly bohemian, tragically impoverished writers." — Satine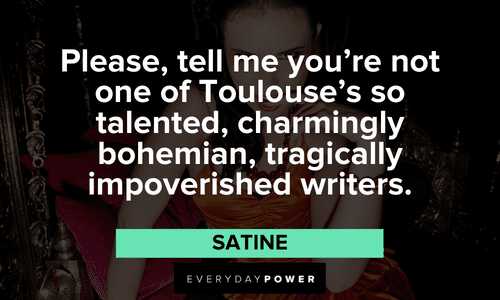 21. "This woman is yours now. I've paid my whore." — Christian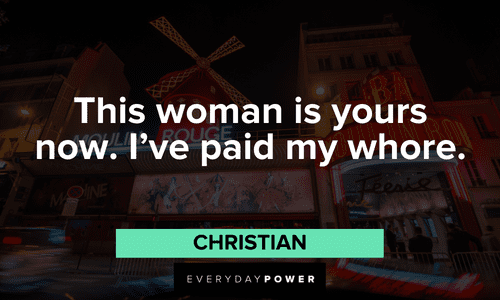 22. "Christian, you may see me only as a drunken, vice-ridden gnome whose friends are just pimps and girls from the brothels. But I know about art and love, if only because I long for it with every fiber of my being." — Toulouse-Lautrec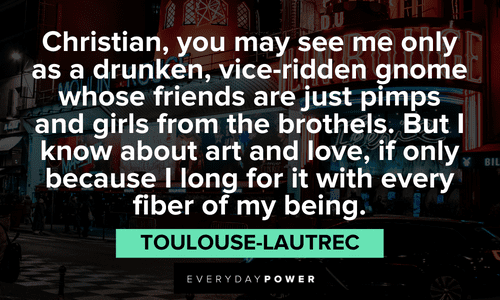 Moulin Rouge quotes from The Duke
23. "It's a little bit funny, this feeling inside." — The Duke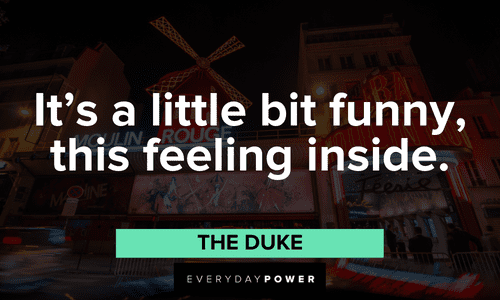 24. "I'm not a jealous man. I just don't like other people touching my things." — The Duke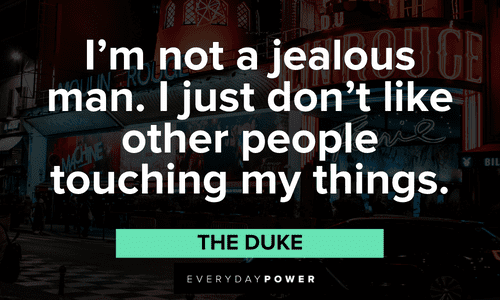 25. "Confessing?! What kind of imbecile do you take me for, Zidler?!" — The Duke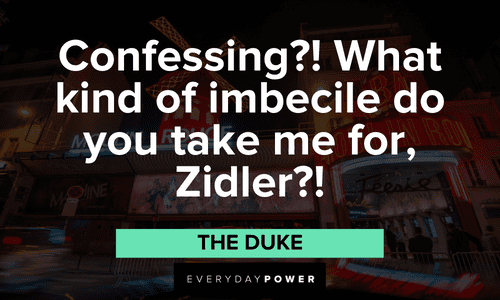 Which of these Moulin Rouge quotes is your favorite?
This movie is a tragic love story right from the beginning. Moulin Rouge hits us right in the feels with the "star-crossed lovers" theme as soon as the characters meet.
Satine mistakes Christian for the duke she was supposed to meet with.
Satine is supposed to belong to The Duke, as part of a business deal, but Christian wins her heart.
I won't spoil all the drama and the songs (Spectacular, Spectacular) used to tell the tale of the pair falling in love or The Duke's jealousy, but suffice it to say—it's pretty epic!
Then the tragedy hits and this time Moulin Rouge leaves us in a puddle of tears.
However, the show must go on, and we do get to see how the remaining characters move forward with their lives.
If you have watched Moulin Rouge, you are probably crying now.
If you haven't, then you should stream it!
September 29, 2022 5:00 AM EST
Be the first one to leave a comment!