Nicholas Sparks Quotes from the Bestselling Author
The written word is often best by talented writers, as shown in these Nicholas Sparks quotes.
Nicholas Sparks is a New York Times bestselling author who has sold over 115 million copies of his books in over 50 different languages.
He has published more than 20 novels and a few non-fiction books throughout his career.
Sparks moved around the country with his family as a child and lived in several states before settling in California at 8.
When he received a full-ride track and field scholarship to the University of Notre Dame, he enrolled in the school to major in business finance.
However, while in college, he began to write.
At the encouragement of his mother, Sparks wrote his first novel in 1985. However, he struggled to get it published.
He spent several years with two unpublished pieces working random jobs. Eventually, he co-wrote a non-fiction piece that was published.
Then, in 1995, a literary agent picked up one of his books, and he received a $1 million advance.
Soak in these Nicholas Sparks quotes from the famous author.
If you love this quote collection, read out our most popular quote article about short inspirational quotes for daily motivation.
If you need more inspirational quotes, check out our motivational quotes category page.
Nicholas Sparks Quotes from his popular works
If you are a fan of Nicholas Sparks' works, you may recognize the following quotes. See if there are any you remember.
1. "Love is like the wind, you can't see it, but you can feel it." – Nicholas Sparks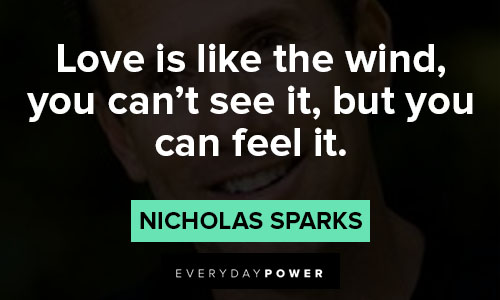 2. "The reason it hurts so much to separate is because our souls are connected." – Nicholas Sparks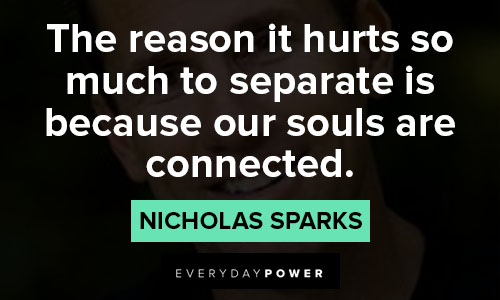 3. "Nothing that is worthwhile is ever easy. Remember that." – Nicholas Sparks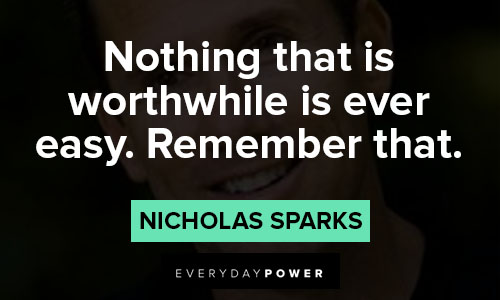 4. "Without suffering, there'd be no compassion." – Nicholas Sparks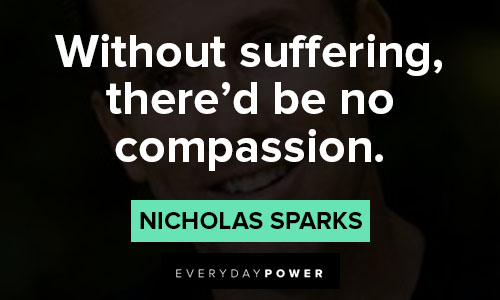 5. "I don't know that love changes. People change. Circumstances change." – Nicholas Sparks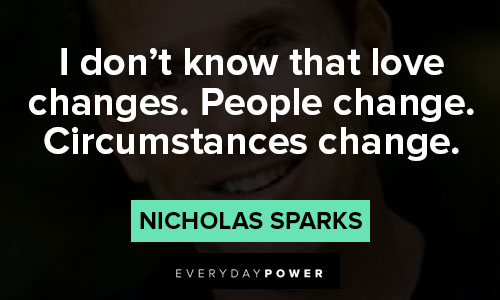 6. "True love is rare, and it's the only thing that gives life real meaning." – Nicholas Sparks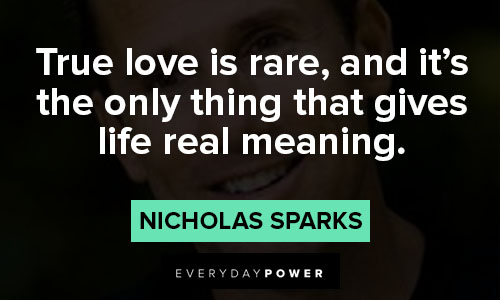 7. "You always have a choice. It's just that some people make the wrong one." – Nicholas Sparks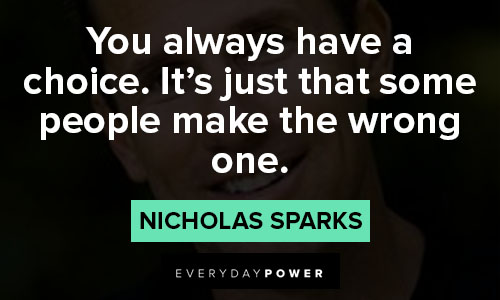 8. "Love, I've come to understand is more than three words mumbled before bedtime." – Nicholas Sparks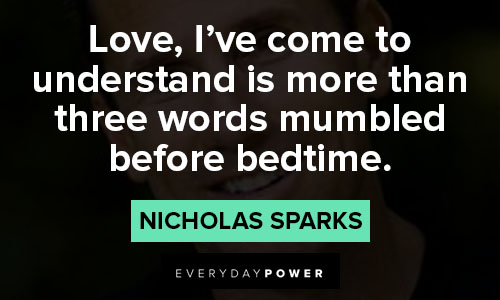 9. "The emotion that can break your heart is sometimes the very one that heals it." – Nicholas Sparks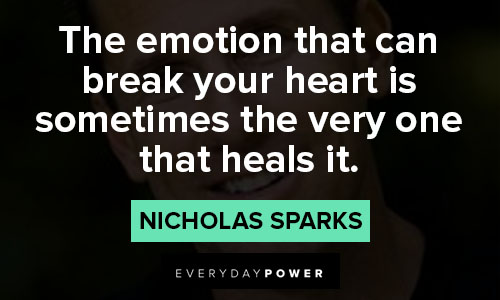 10. "You have to love something before you can hate it." – Nicholas Sparks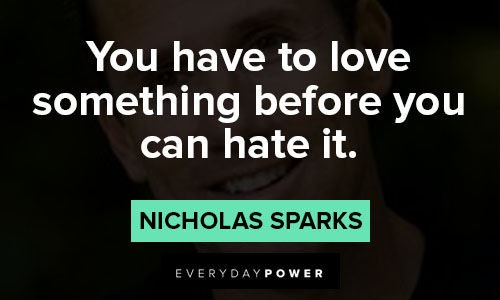 If you enjoy this article, check out our collection of Andy Frisella quotes from the American entrepreneur and bestselling author.
Nicholas Sparks quotes for fans to enjoy
Nicholas Sparks' works are known for being emotional stories. You can pick up on that through these quotes as well.
11. "You can't live your life for other people. You've got to do what's right for you, even if it hurts some people you love." – Nicholas Sparks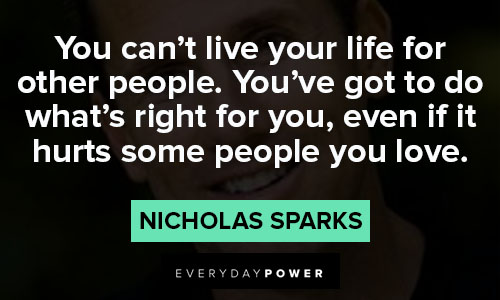 12. "I mean, if the relationship can't survive the long term, why on earth would it be worth my time and energy for the short term." – Nicholas Sparks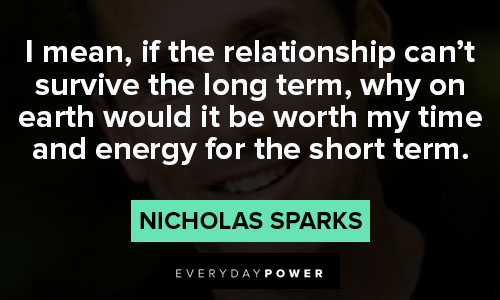 13. "Sometimes you have to be apart from people you love, but that doesn't make you love them any less. Sometimes you love them more." – Nicholas Sparks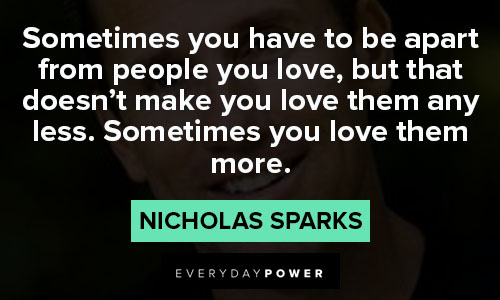 14. "You're going to come across people in life who will say all the right words at all the right times. But in the end, it's always their actions you should judge them by. It's actions, not words, that matter." – Nicholas Sparks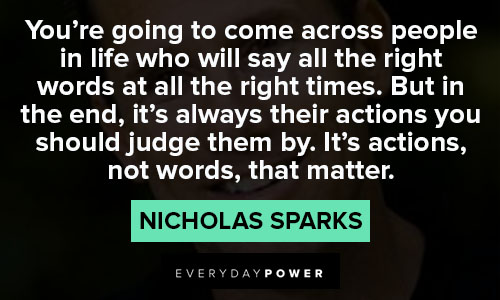 15. "The saddest people I've ever met in life are the ones who don't care deeply about anything at all. Passion and satisfaction go hand in hand, and without them, any happiness is only temporary, because there's nothing to make it last." – Nicholas Sparks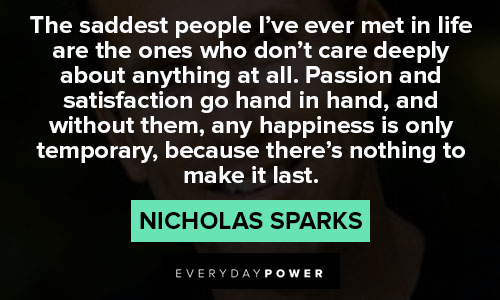 16. "Our story has three parts: a beginning, a middle, and an end. And although this is the way all stories unfold, I still can't believe that ours didn't go on forever." – Nicholas Sparks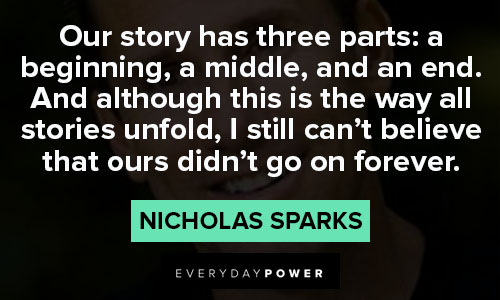 17. "I finally understood what true love meant…love meant that you care for another person's happiness more than your own, no matter how painful the choices you face might be." – Nicholas Sparks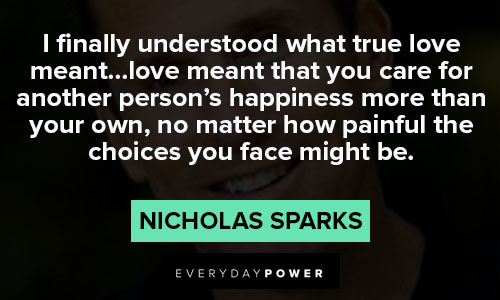 18. "Everyone is always going through tough things. The irony in it is that everyone thinks what they're going through is just as hard as what you are." – Nicholas Sparks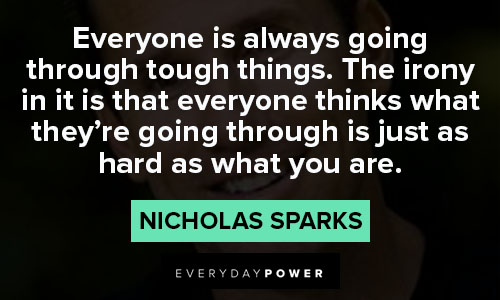 19. "I love you, not just for now, but for always, and I dream of the day that you'll take me in your arms again." – Nicholas Sparks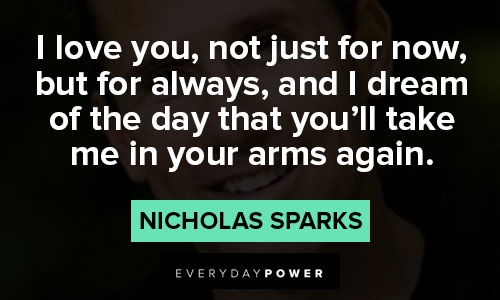 20. "Romance is thinking about your significant other when you are supposed to be thinking about something else." – Nicholas Sparks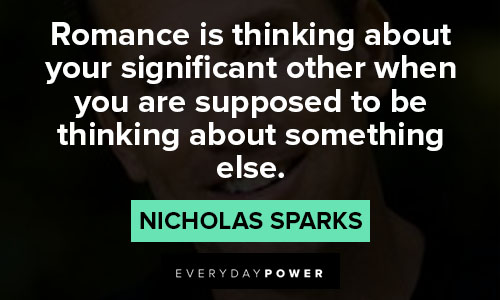 If you enjoy this article, check out our collection of Charlie Mackesy quotes from the best-selling author.
Did any of these Nicholas Sparks quotes sound familiar?
In addition to his writing success, 11 of Nicholas Sparks' books have been turned into films, including Message in a Bottle, Safe Haven, The Notebook, A Walk to Remember, Dear John, and The Last Song, among others.
Every book he has published has been an international or New York Times bestseller.
Sparks' success has led to an estimated net worth of $40 million.
In addition, he founded the nonprofit Nicholas Sparks Foundation, which focuses on providing global educational experiences for students to help improve their cultural and international understanding.
Sparks has also contributed to other charities, including funding scholarships to the University of Notre Dame's Creative Writing Program.
It has been reported that Sparks has donated $15 million+ across different scholarships, charities, and projects.
Are you a fan of his work? If so, share your favorite quote in the comments.