College Quotes About Education To Inspire You
These university and college quotes will motivate you to study, learn, and succeed.
Attending college could be the most fun or the most stressful time of your life. The journey towards higher education is a path of dedication, patience, and hard work.
These college quotes will inspire you to get good grades while still having a memorable experience.
Throughout university, you'll make new friends, learn a vast number of things, and experience unique lifestyles and perspectives.
Read this collection of college quotes to truly appreciate the achievements and struggles of being a university student.
If you understand the importance of education, the college experience will appeal to you. These college quotes about higher education highlight the realities of attending university.
Remember these inspirational sayings and proverbs the next time you're walking around campus.
Whether you spend most of your time at parties or in the library, you'll love these incredible university insights.
Share this list of college quotes with all the students, professors, and alumni that you know.
You might also like these graduation quotes on success, dreams and your future.
College quotes to motivate you on your quest for knowledge and success
1. "Education is the most powerful weapon which you can use to change the world." – Nelson Mandela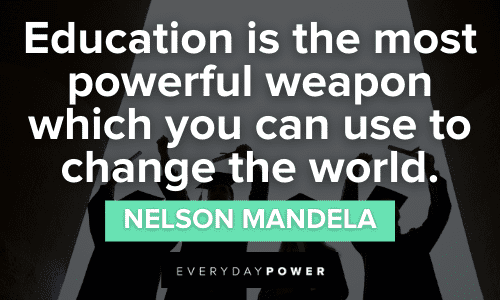 2. "No man should escape our universities without knowing how little he knows." – J. Robert Oppenheimer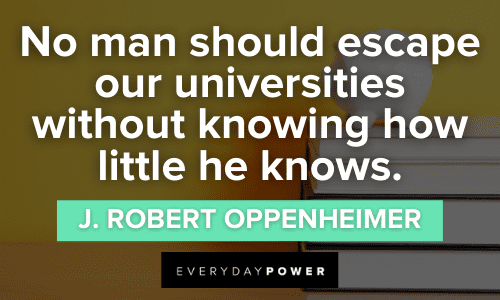 3. "An investment in knowledge always pays the best interest." – Benjamin Franklin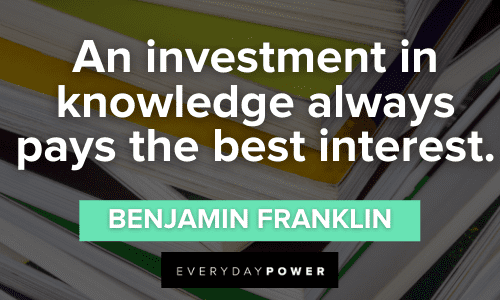 4. "College has given me the confidence I need to fail." – Jarod Klintz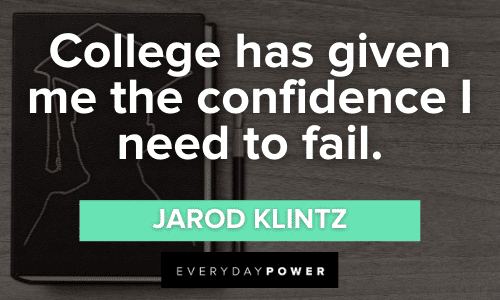 5. "Definition of a college professor: someone who talks in other people's sleep." – W.H. Auden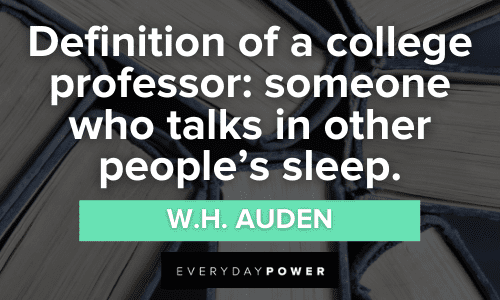 6. "The aim of the college, for the individual student, is to eliminate the need in his life for the college; the task is to help him become a self-educating man." – George Horace Lorimer
7. "The things taught in schools and colleges are not an education, but the means to an education." – Ralph Waldo Emerson
8. "Education is the passport to the future, for tomorrow belongs to those who prepare for it today." – Malcolm X
9. "Every year, many, many stupid people graduate from college. And if they can do it, so can you." – John Green
10. "Educating yourself does not mean you were stupid in the first place, it means that you are intelligent enough to know that there is plenty left to learn." – Melanie Joy
College quotes to open you up to new opportunities
11. "College is the reward for surviving high school." – Judd Apatow
12. "A college degree is not a sign of a finished product but an indication a person is prepared for life." – Reverend Edward A. Malloy
13. "You can lead a boy to college but you can't make him think." – Elber Hubbard
14. "Education is the best provision for life's journey." – Aristotle
15. "Months are different in college, especially freshman year. Too much happens. Every freshman month equals six regular months –– they're like dog months." – Rainbow Rowell
16. "College inspired me to think differently. It's like no other time in your life." – Lari Oleynik
17. "The function of education is to teach one to think intensively and to think critically. Intelligence plus character –– that is the goal of true education." – Dr. Martin Luther King Jr.
18. "College is the best time of your life. When else are your parents going to spend several thousand dollars a year just for you to go to a strange town and get drunk every night?" – David Wood
19. "A mind is a fire to be kindled, not a vessel to be filled." – Plutarch
20. "College is like a fountain of knowledge and the students are there to drink." – Chuck Palahniuk
If you're enjoying these quotes, you'll love our collection of knowledge quotes for those who love learning.
College quotes that will motivate you to study hard
21. "I've learned one thing, and that's to quit worrying about stupid things. You have four years to be irresponsible here, relax. Work is for people with jobs. You'll never remember class time, but you'll remember the time you wasted hanging out with your friends. So stay out late. Go out with your friends on a Tuesday when you have a paper due on Wednesday. Spend money you don't have. Drink 'til sunrise. The work never ends, but college does." – Tom Petty
22. "Seriousness is stupidity sent to college." – P. J. O'Rourke
23. "You have to stay in school. You have to. You have to go to college. You have to get your degree. Because that's the one thing people can't take away from you is your education. And it is worth the investment." – Michelle Obama
24. "The American Dream is one of success, homeownership, college education for one's children, and have a secure job to provide these and other goals." – Leonard Boswell
If you're enjoying these quotes, make sure to read our collection of American dream quotes that will inspire you to achieve your own version of success.
25. "College is a refuge from hasty judgment." – Robert Frost
26. "Unemployment rates among Americans who never went to college are about double that of those who have a postsecondary education." – Bill Gates
27. "The aim of a college education is to teach you to know a good man when you see one." – William James
If you're enjoying these quotes, make sure to read our collection of education quotes about learning and success.
28. "When I was in college, I wanted to be involved in things that would change the world." – Elon Musk
29. "If you want to get laid, go to college. If you want an education, go to the library." – Frank Zappa
30. "In my bright, utopian future world, they will hand out college educations like cups of water at the end of the L.A. Marathon." – Henry Rollins
College quotes to inspire your academic journey
31. "My favorite college experience was probably leaving college." – Marshawn Lynch
32. "In college, you learn how to learn. Four years is not too much time to spend at that." – Mary Oliver
If you're enjoying these quotes, make sure to read our collection of Mary Oliver quotes that will give you a brand new perspective on life.
33. "All men cannot go to college, but some men must; every isolated group or nation must have its yeast, must have, for the talented few, centers of training where men are not so mystified and befuddled by the hard and necessary toil of earning a living as to have no aims higher than their bellies and no God greater than Gold." – W. E. B. Du Bois
34. "When bright young minds can't afford college, America pays the price." – Arthur Ashe
35. "When people criticize the computer generation, the high tech generation, and say they neglect the body –– well, just walk through a college campus, and you'll see the healthiest, most physically conscious and alert group of human beings I've ever met. So they're not nerds at all." – Timothy Leary
36. "I couldn't go to college, so I went to the library three days a week for 10 years." – Ray Bradbury
37. "It is not hard for me to remember when I was in college. I loved many things about college life: I loved learning. I loved the comradery. And I loved football." – Joseph B. Wirthlin
38. "Every young man or woman should weigh the matter well before concluding that a college education is out of the question." – Orison Swett Marden
39. "People who graduate are more resilient financially, and they weather economic downturns better than people who don't graduate. And, throughout their lives, people who graduate are more likely to be economically secure, more likely to be healthy, and more likely to live longer. Face it: A college degree puts a lot in your corner." – Elizabeth Warren
If you're enjoying these quotes, make sure to check out our collection of Elizabeth Warren quotes on capitalism, politics, and more.
40. "Going to college made me realize you have to have real spaces of privacy, and you have to establish those early." – Cole Sprouse
Other college and university quotes to inspire you
41. "The same independence that got me into trouble in high school got me praise in college." – Alan Dershowitz
42. "Free speech is the foundation of an open and liberal democracy from college campuses to the White House." – Hasan Minhaj
43. "Study without desire spoils the memory, and it retains nothing that it takes in." – Leonardo da Vinci
44. "If you have four years to complete your college education, do it." – Bo Jackson
45. "The privilege of a university education is a great one; the more widely it is extended the better for any country." – Winston Churchill
46. "The purpose of education is to replace an empty mind with an open one." – Malcolm Forbes
47. "An education isn't how much you have committed to memory, or even how much you know. It's being able to differentiate between what you know and what you don't." – Anatole France
48. "A man who has never gone to school may steal from a freight car; but if he has a university education, he may steal the whole railroad." – Theodore Roosevelt
49. "The roots of education are bitter, but the fruit is sweet." – Aristotle
50. "Education doesn't cease when you leave college or leave the university. Education is a lifetime process." – Jim Rohn
Don't forget to also check out these senior year quotes for graduation and the yearbook.
More college quotes and sayings
51. "You educate a man; you educate a man. You educate a woman; you educate a generation." – Brigham Young
52. "Educating the mind without educating the heart is no education at all." – Aristotle
53. "Education is not the filling of a pail, but the lighting of a fire." – William Butler Yeats
54. "Formal education will make you a living; self-education will make you a fortune." – Jim Rohn
55. "Educate a boy, and you educate an individual. Educate a girl, and you educate a community." – Adelaide Hoodless
56. "Education is education. We should learn everything and then choose which path to follow. Education is neither Eastern nor Western, it is human." – Malala Yousafzai
57. "Education is a weapon, whose effect depends on who holds it in his hands and at whom it is aimed." – Joseph Stalin
58. "What you learn today, for no reason at all, will help you discover all the wonderful secrets of tomorrow." – Norton Juster
59. "Education is what survives when what has been learned has been forgotten." – B.F. Skinner
60. "Education is the movement from darkness to light." – Allan Bloom
Don't forget to also check out these graduation quotes from famous films about success.
Which of these college quotes inspires you to go back to school?
A college degree is an extremely valuable asset to have in life. Being well educated can boost your potential and open you up to new opportunities.
This collection of quotes about university will motivate you on your quest for knowledge and success.
If you want to expand your horizons, attending college is the perfect path for you. Remember these inspirational quotes throughout your academic journey as a student.
If you need some motivation to help you study, take a break and read this collection of inspirational college quotes.
The university lifestyle can be hectic and stressful, so it's important to remember your goals and maintain a positive attitude.
Keeping these words and insights in mind can help you keep a clear perspective.
What are your favorite college quotes about education? Let us know in the comment section below.
March 2, 2021 6:00 AM EST
Be the first one to leave a comment!