Paul Walker Quotes to Celebrate His Life
If you were a fan, these Paul Walker quotes will help you remember and appreciate the man and actor that he was.
Paul Walker is most commonly known for his role in the wildly popular Fast and Furious movies although his list of roles is much more expansive than just that.
His life was cut short at the age of 40 when he died in a car crash.
While he left this world too soon, the following Paul Walker quotes are a great way to remember, pay tribute to, and appreciate the person that he was when he was here.
Don't forget to also read these famous movie quotes from your favorite characters.
Check out our most popular quote article, a list of short inspirational quotes for daily inspiration.
If you enjoy this collection, check out our inspirational quotes category page.
Paul Walker quotes about acting and movies
1. "There's more to life than movies." – Paul Walker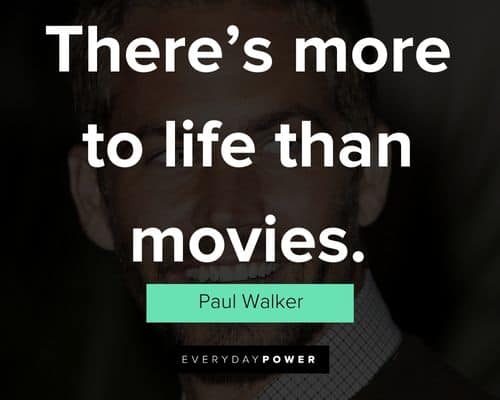 You will also enjoy our article on car quotes.
2. "My parents never looked at my acting as a career. They saw it as a way to help provide for the household."- Paul Walker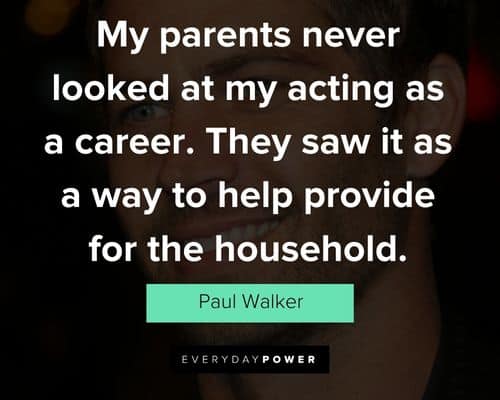 3. "I'm into being a dad, that's where my focus is most of the time. I'm an actor that's my job, but it's not my life. I have a lot of other interests too."- Paul Walker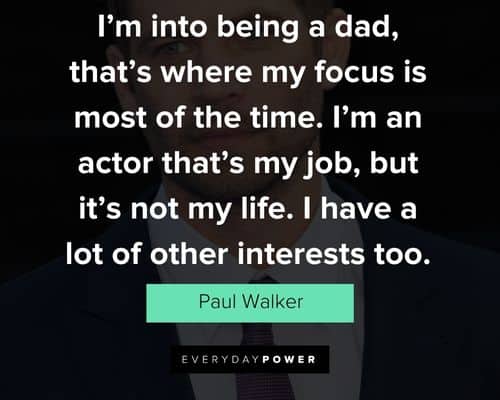 4. "I almost sabotaged my career. 'The Fast and Furious' didn't let me, and I'm grateful now. That franchise gave me the opportunity."- Paul Walker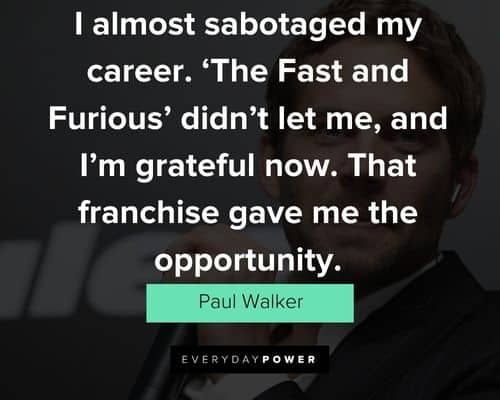 5. "It's not about working anymore, it's about doing work I can be proud of."- Paul Walker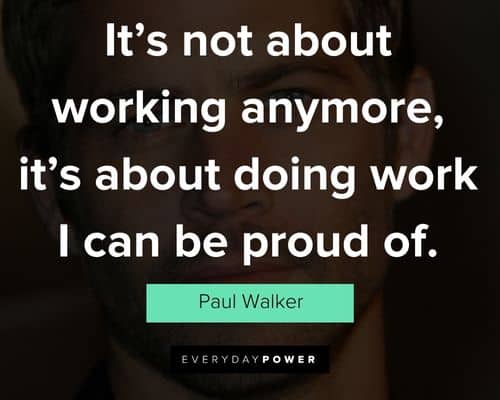 6. "As for Hollywood, I've got a killer job, and I'm having a blast. I have the luxury to go on trips whenever I want and invite my friends who can't afford it. And, God willing, I'll be able to do all that till the day I die."- Paul Walker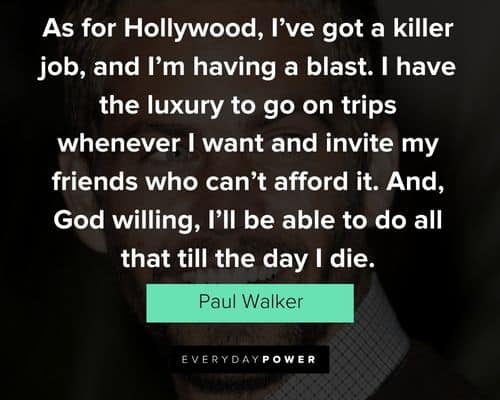 7. "Basically, you're selling a world as an actor, right? I mean it's like any salesperson: if you believe in your product, you know your product, you sell it a lot better."- Paul Walker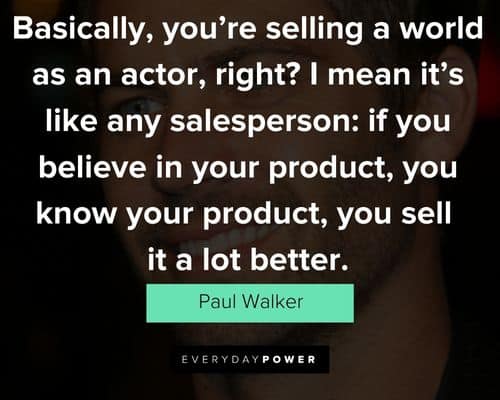 8. "I believe in fate, that films happen when they are supposed to."- Paul Walker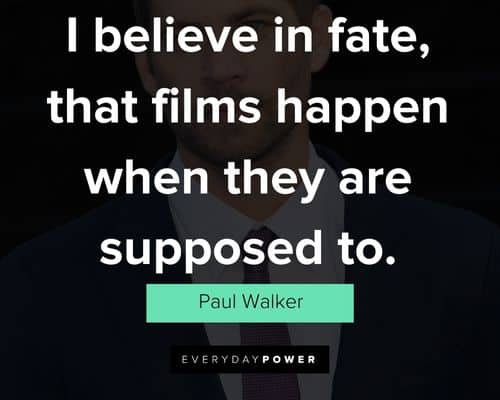 9. "I never thought I was going to be an actor. And I never really thought of myself as one. Even though I keep working. I thought I'd just do a wave of movies, and then I'd burn out. They just kept coming together."- Paul Walker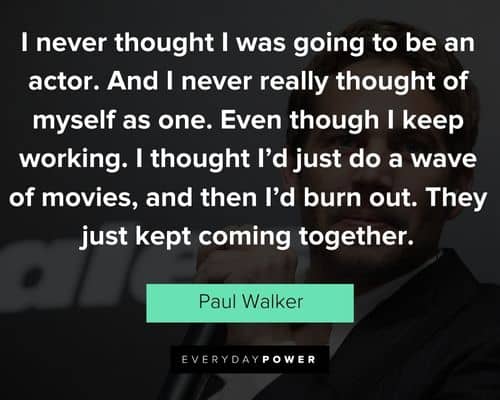 10. "I always find film-making a pleasurable experience."- Paul Walker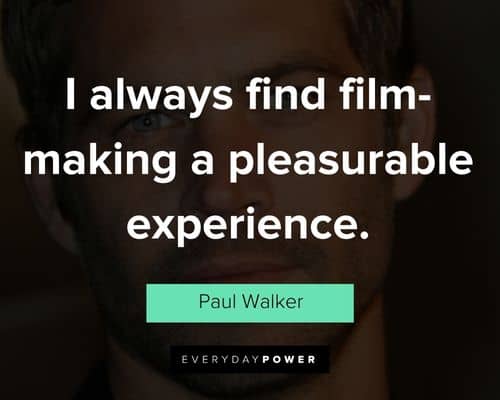 Paul Walker quotes about cars
11. "If speed one day kills me, don't be sad because I was smiling."- Paul Walker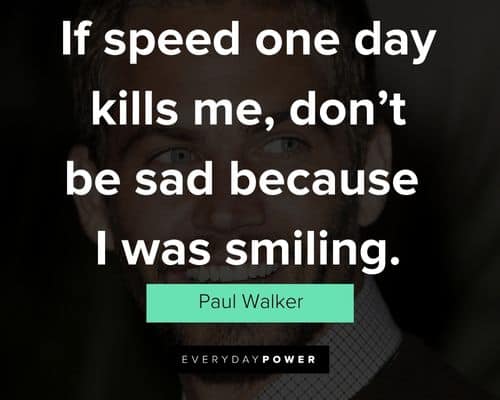 12. "I'm a crazy car guy. I've got an airplane hangar full of cars."- Paul Walker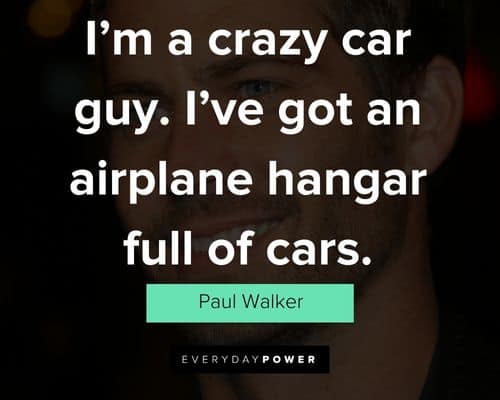 13. "I grew up hunting and fishing. I've always been into archery. I've always been into cars… In my family, that was just stuff we did. That's just the way it was."- Paul Walker
If you're enjoying these quotes, you'll love our collection of fishing quotes that will make you want to head out on the water.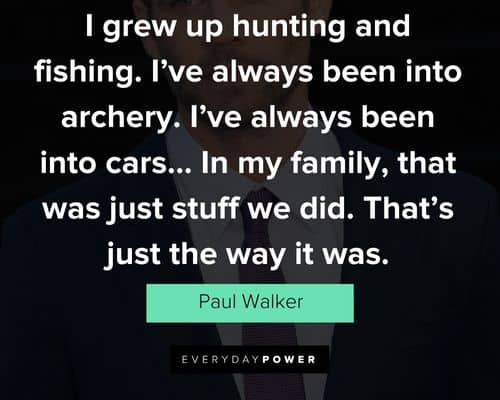 14. "I've always wanted to race cars, ever since I was a young boy, as I think a lot of guys have."- Paul Walker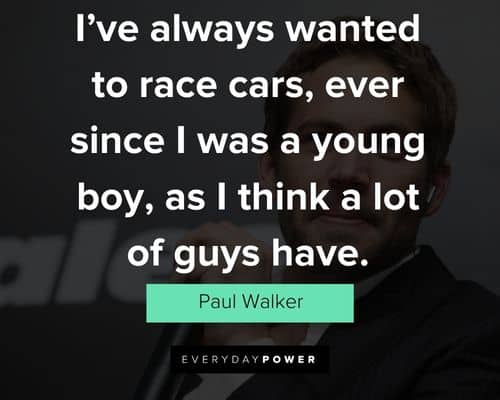 15. "I wish I could be behind the wheel for every stunt."- Paul Walker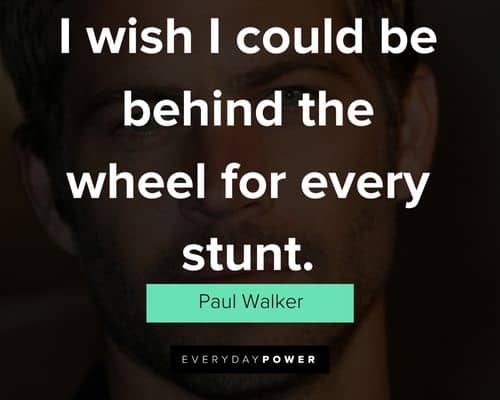 Paul Walker quotes about life
16. "You know, all that really matters is that the people you love are happy and healthy. Everything else is just sprinkles on the sundae."- Paul Walker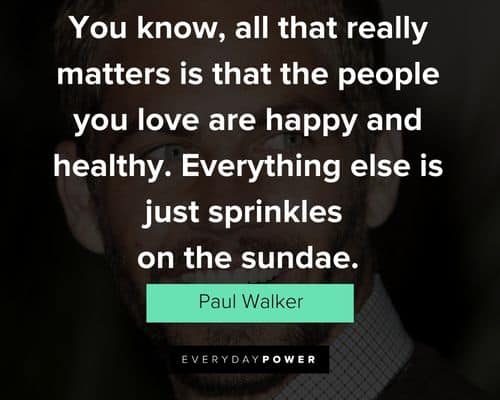 17. "I'm one of those people that think certain things happen at certain times for all the right reasons."- Paul Walker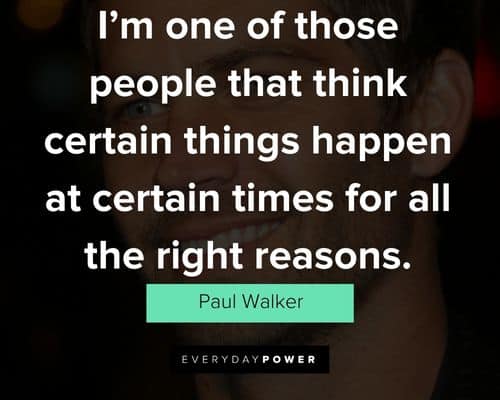 18. "If you spend any time with a man, you'll realize that we're all still little boys."- Paul Walker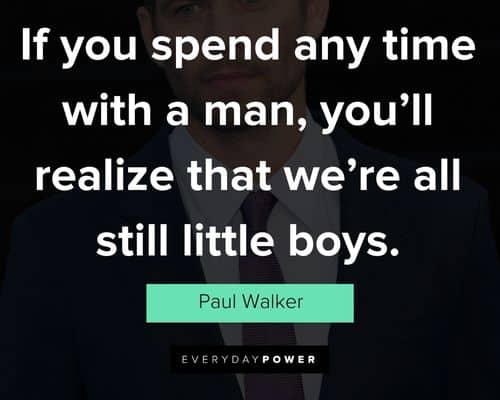 19. "My perfect weekend… anything to do with nature."- Paul Walker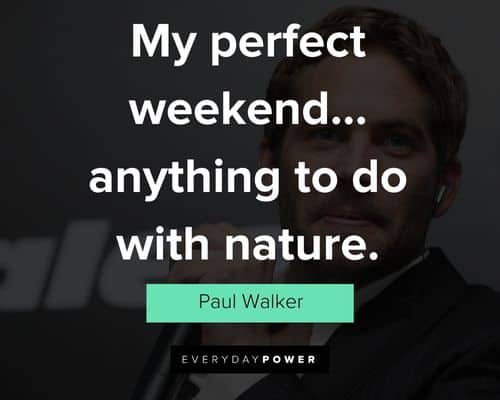 If you're enjoying these quotes, you'll love our collection of relaxing weekend quotes to power your workweek.
20. "I'm a Christian now. The things that drove me crazy growing up was how everyone works at fault-finding with different religions. The people I don't understand are atheists. I go surfing and snowboarding and I'm always around nature. I look at everything and think, 'Who couldn't believe there's a God? Is all this a mistake?' It just blows me away."- Paul Walker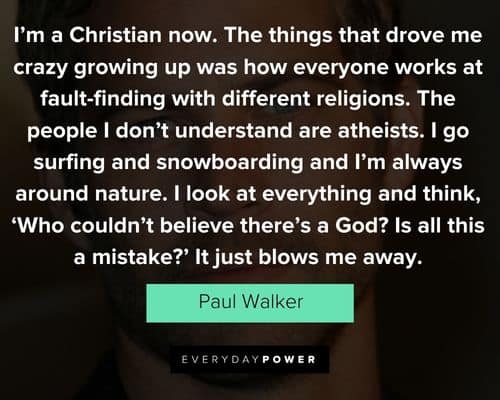 21. "I live by 'Go big or go home.' That's with everything. It's like either commit and go for it or don't do it at all. I apply that to everything. I apply that to relationships, I apply that to like sports, I apply that to everything. That's what I live by. That's how I like it."- Paul Walker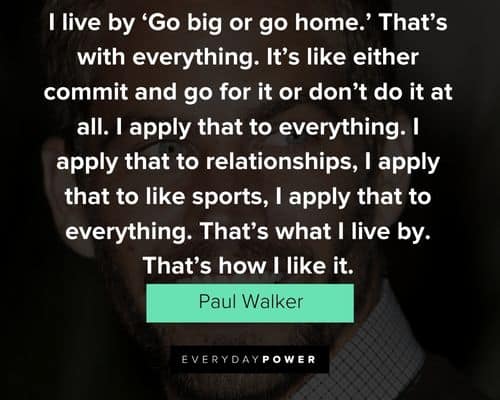 22. "I want to have the freedom to do whatever I want."- Paul Walker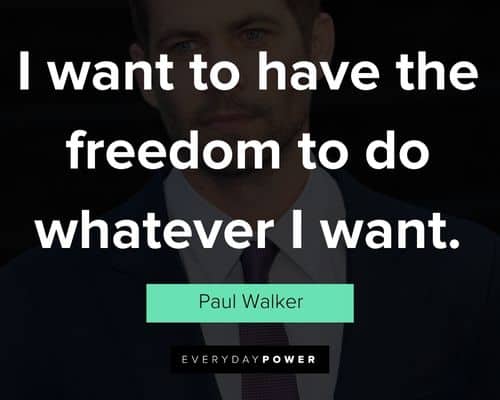 23. "What I find really difficult is making career decisions. Normally it will take me two weeks, until the very last minute and I have to say yes or no. For a couple of weeks, I will tune everyone out who is giving me advice, so that I can make a clear decision on my own and it takes time."- Paul Walker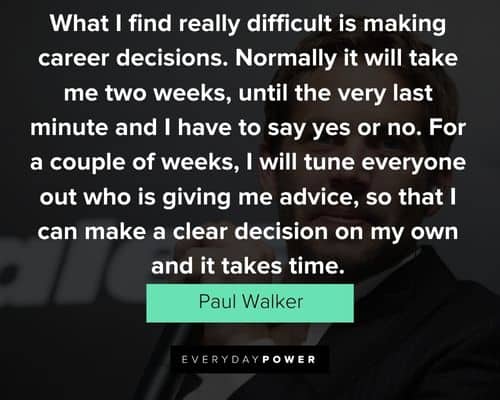 24. "When I was younger, the pressure was just being cool. I never thought of myself as a cool guy. I always thought of myself as more of the goofy guy."- Paul Walker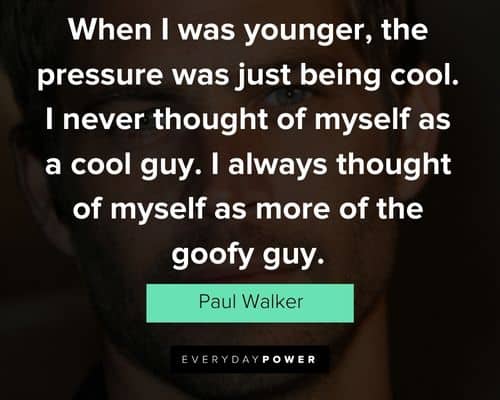 25. "I like having to figure out how to pull things off, how to sell it, how to make it look real, but not just real, make it look better."- Paul Walker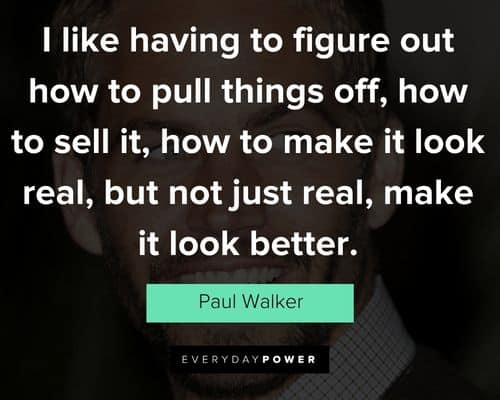 Did these Paul Walker quotes inspire you to make each day count?
Unfortunately, Paul Walker was not able to live a long life.
But as you can see from these quotes, when he was alive he did the things that he enjoyed and was passionate about.
He used the days that he had on this planet instead of letting them all slip by.
Are you making each day count?
Are you investing in the things that you're passionate about and the people that you love?
Remember that we aren't guaranteed to live into old age, so it's important that we make the most of each day that we are given right now.
Which of these Paul Walker quotes and sayings is your favorite?
Do you have any other motivational quotes to add?
Let us know in the comment section below.