Fishing Quotes that will Make You Want to Take Up a Fishing Pole
If you don't already love fishing, these fishing quotes will make you want to head out on the water and try it.
Tell us some of your favorite fishing memories in the comment section below.
What are the benefits of reading these fishing quotes?
There are usually two thoughts that people have about fishing.
The first is that they love it and would rather be out in a boat or casting from the side of a stream than doing just about any other thing in the world.
Then, there are the people who think the hobby is incredibly boring and just can't understand why anyone would want to participate.
If you love fishing, you'll love these quotes.
If you hate fishing, these quotes might just make you think twice about it.
Fishing can teach you quite a few lessons about life, though, like:
how to be patient
perseverance pays off
how to stay present and be aware of your surroundings
Check out our most popular quote article, a list of short inspirational quotes for daily inspiration.
Our inspirational quotes category page has all of our motivational quotes for all the different areas of life.
Fishing quotes on life lessons
1. "Sharing the fun of fishing turns strangers into friends in a few hours." – Eugene Clark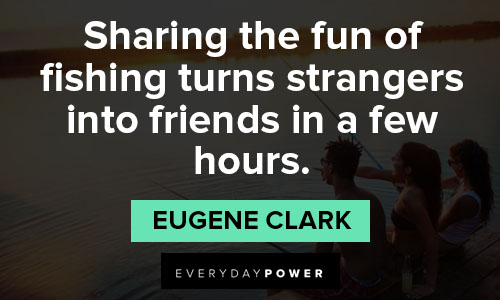 2. "Having a fishing rod in your hand is merely an excuse to explore out-of-sight depths and reveal mysteries that previously only existed in dreams." – Fennel Hudson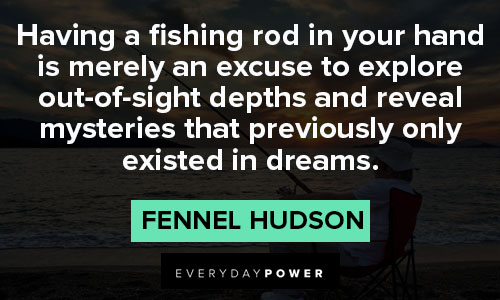 3. "Give a man a fish, and you feed him for a day. Teach a man to fish, and you feed him for a lifetime." – Anne Ritchie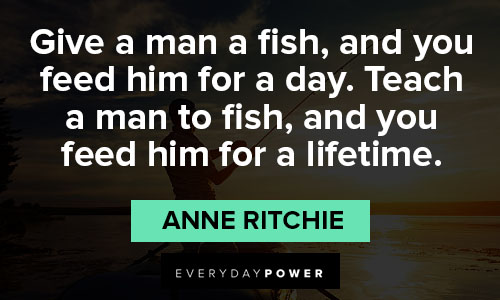 You will also enjoy our article on Cigar quotes.
4. "Many men go fishing all of their lives without knowing that it is not fish they are after." – Henry David Thoreau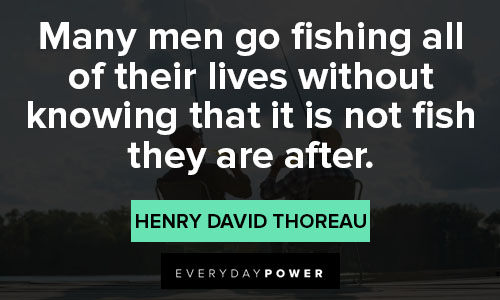 5. "Creeps and idiots cannot conceal themselves for long on a fishing trip." – John Gierach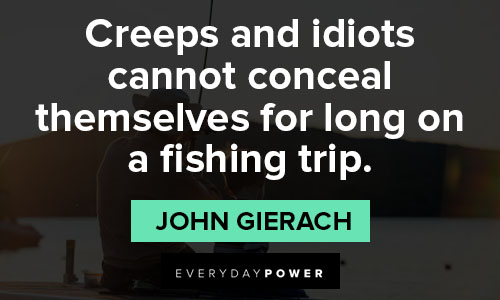 You will also enjoy our article on steven wright quotes.
6. "If people concentrated on the really important things in life, there'd be a shortage of fishing poles." – Doug Larson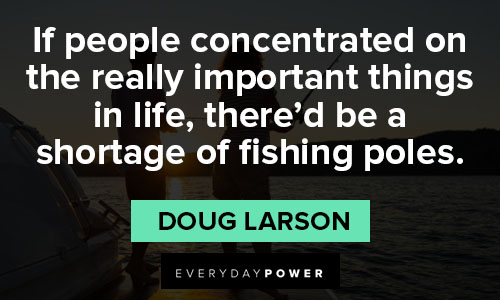 7. "Be patient and calm—for no one can catch fish in anger." – Herbert Hoover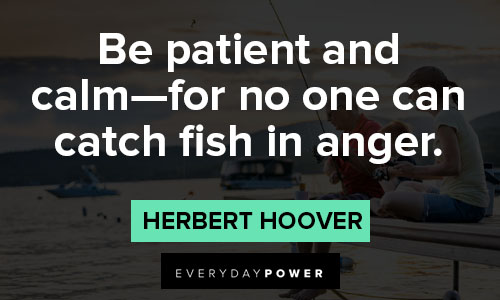 8. "Govern a family as you would cook a small fish—very gently." – Chinese proverb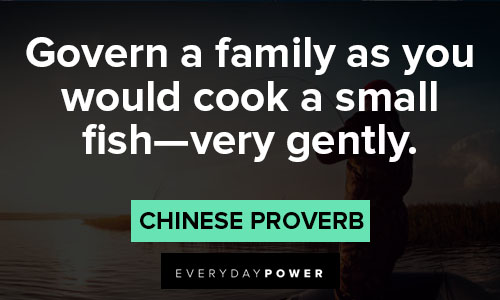 9. "There is certainly something in angling that tends to produce a serenity of the mind." – Washington Irving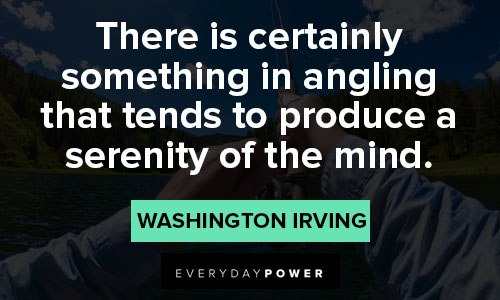 10. "This world needs more tackle boxes and less X-boxes." – Earl Dibbles Jr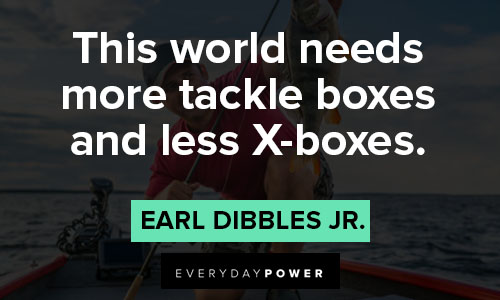 11. "The charm of fishing is that it is the pursuit of what is elusive but attainable, a perpetual series of occasions of hope." – John Buchan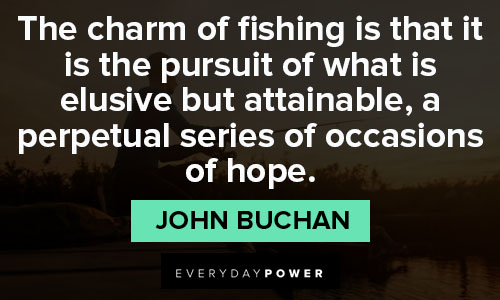 12. "If your concentration is getting bad, take up bass fishing. It will really improve your ability to focus. If you aren't ready when that fish hits, you can't set the hook." – Lee Trevino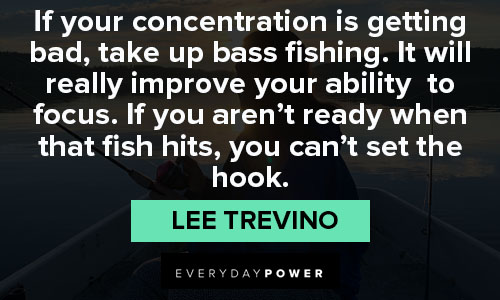 Inspirational Fishing Quotes
13. "The act of fishing—for fish, dreams or whatever magic is available—is enough. It transports us to a special world, and a state of mind, where we are free." – Fennel Hudson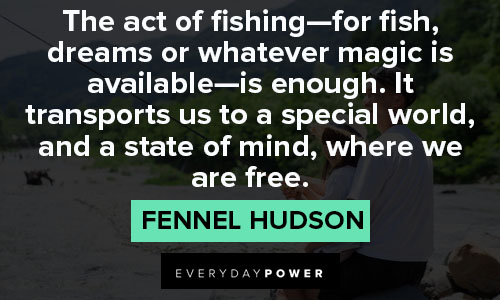 14. "Some go to church and think about fishing, others go fishing and think about God." – Tony Blake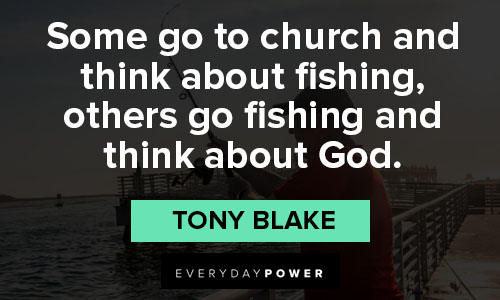 15. "In this ever-changing world, there are few things that have remained constant for me. The chance of hooking a nice trout still excites and thrills me to this day… just as it did when I was a kid. I like that!" – M.A. Bookout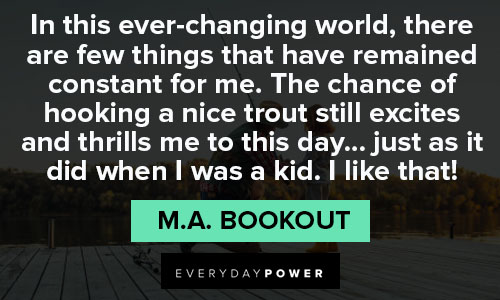 16. "Fishing is not an escape from life, but often a deeper immersion into it." – Harry Middleton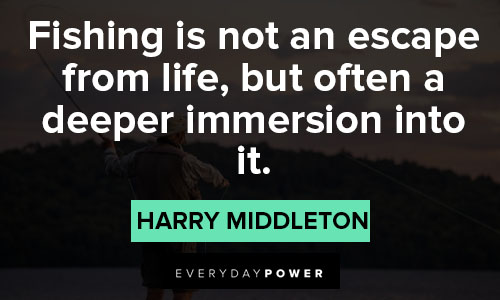 17. "Fishing is much more than fish. It is the great occasion when we may return to the simplicity of our forefathers." – Herbert Hoover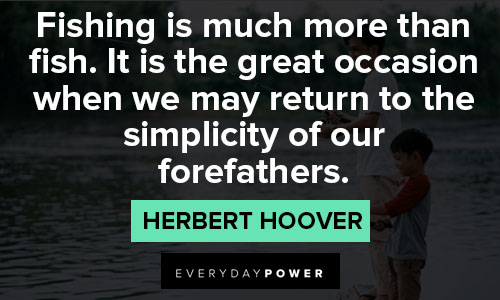 18. "Fishing in a place is a meditation on the rhythm of a tide, a season, the arc of a year, and the seasons of life." – Carl Safina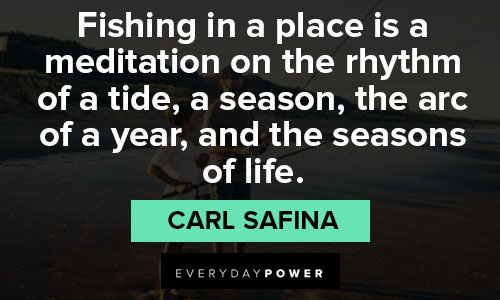 19. "Fishing provides that connection with the whole living world. It gives you the opportunity of being totally immersed, turning back into yourself in a good way. A form of meditation, some form of communion with levels of yourself that are deeper than the ordinary self" – Ted Hughes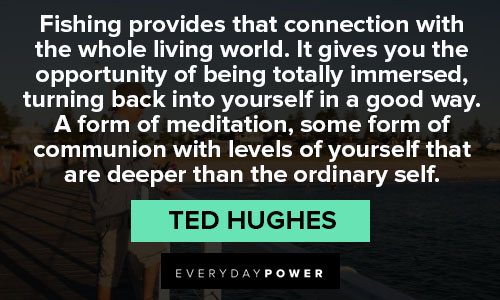 20. "There are always new places to go fishing. For any fisherman, there's always a new place, always a new horizon." – Jack Nicklaus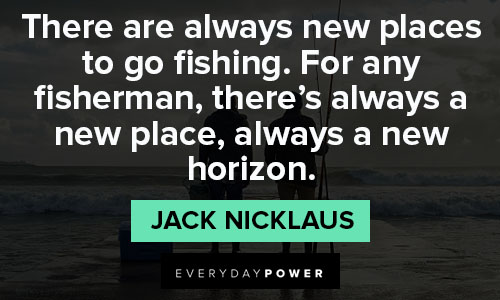 21. "I fish to scratch the surface of those mysteries, for nearness to the beautiful, and to reassure myself the world remains. I fish to wash off some of my grief for the peace we so squander. I fish to dip into that great and awesome pool of power that propels these epic migrations. I fish to feel—and steal—a little of that energy." – Carl Safina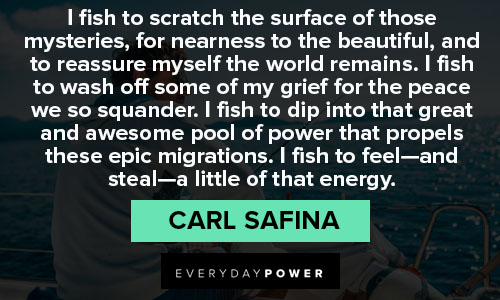 22. "Most of the world is covered by water. A fisherman's job is simple: Pick out the best parts." – Charles Waterman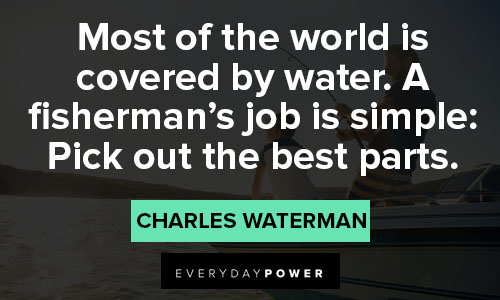 Funny Fishing Quotes
23. "There's a fine line between fishing and just standing on the shore like an idiot." – Steven Wright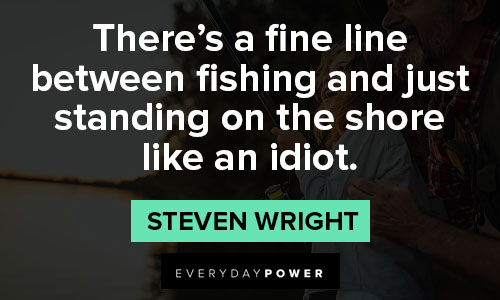 24. "The fishing was good; it was the catching that was bad." – A. Best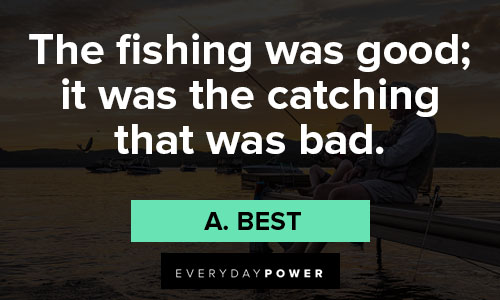 25. "Give a man a fish and he will eat for a day. Teach him how to fish, and he will sit in a boat and drink beer all day." – George Carlin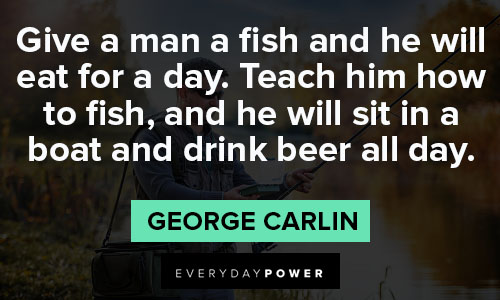 26. "Fly fishermen are born honest, but they get over it." – Ed Zern
27. "My Biggest worry is that when I'm dead and gone, my wife will sell my fishing gear for what I said I paid for it." – Koos Brandt
28. "Somebody just back of you while you are fishing is as bad as someone looking over your shoulder while you write a letter to your girl." – Ernest Hemingway
29. "Do not tell fish stories where the people know you. Particularly, don't tell them where they know the fish." – Mark Twain
30. "It has always been my private conviction that any man who pits his intelligence against a fish and loses has it coming." – John Steinbeck
31. "I don't exaggerate—I just remember big." – Chi Chi Rodriguez
32. "Nothing makes a fish bigger than almost being caught." – Unknown
33. "A bad day of fishing is better than a good day of work." – Unknown
34. "… of all the liars among mankind, the fisherman is the most trustworthy." – William Sherwood Fox
35. "Guests, like fish, begin to smell after three days." – Benjamin Franklin
Fishing Quotes from athletes and celebrities
36. "I'm just a simple guy. I love being at my house with my family. I love playing dominos and card games and hunting and fishing. That's just what I like to do." – Jase Robertson
37. "One guy that I wish was here right now is Ted Williams. He helped me so much, our long talks… not about hitting baseballs but about fishing, one of Ted's passions… and I wish he was here today to share this with me because I owe so much to Ted Williams." – Wade Boggs
38. "There are only two occasions when American respect privacy, especially in Presidents. Those are prayer and fishing." – Herbert Hoover
39. "If fishing is religion, fly fishing is high church." – Tom Brokaw
40. "I've managed to convince my wife that somewhere in the Bible it says, "Man cannot have too many shotguns and fishing poles'." – General Norman Schwarzkopf
41. "I can really fish… I've been fishing since I was a little kid." – Deion Sanders
42. "The fishing is a great relief for me. When I'm out, there's no cell phone ringing. I'm out there fishing with bears. I'm in the middle of God's country, catching tons of fish. I just absolutely love it." – Rich Barry
43. "The two biggest things that translate from a pitching mound to hunting and fishing are patience and perseverance. When you're on the mound, you have to take the game one pitch at a time, regardless of the score, and that approach helps when I'm in the woods or out on the water as well." – Jon Lester
If you're enjoying these quotes, you'll love our collection of hunting quotes that will make you want to head outdoors.
44. "Fishing is a hard job. Fishing at night. Rain. Day, night… You have to be wise and smart. And quick." – Mariano Rivera
Other interesting fishing quotes
45. "I thoroughly enjoy getting away from the game and going out fishing because it's so relaxing, so quiet, and peaceful. I mean, there's no noise other than nature… and it's so different from what I do in a tournament situation that it just eases my mind." – Tiger Woods (see more Tiger Woods quotes)
46. "Anytime I can sneak in a moment to fish and ride horses, I'm a happy camper!" – George Foreman
47. "I do hunt and I do fish, and I don't apologize to anybody for hunting and fishing." – General Norman Schwarzkopf
48. "I worry about kids today not having time to build a tree house or ride a bike or go fishing. I worry that life is getting faster and faster." – John Lasseter
49. "There's an absolute surety to the hands-on conservation lifestyle of hunting, fishing, and trapping where you know you're going to consume today," – Ted Nugent
50. "Like they say, you can learn more from a guide in one day than you can in three months fishing alone." – Mario Lopez
Famous Fishing Quotes For Anglers
51. "I fish better with a lit cigar; some people fish better with talent." — Nick Lyons
52. "If I fished only to capture fish, my fishing trips would have ended long ago." — Zane Grey
53. "I go fishing not to find myself but to lose myself." — Joseph Monninger
54. "The two best times to fish is when it's raining and when it ain't." — Patrick F. McManus
55. "It is to be observed that 'angling' is the name given to fishing by people who can't fish." — – Stephen Leacock
56. "Calling fishing a hobby is like calling brain surgery a job." — Paul Schullery
57. "Fly-fishing is the most fun you can have standing up." — Arnold Gingrich
58. "I love fishing. You put that line in the water, and you don't know what's on the other end." — Robert Altman
59. "Fishing is a delusion entirely surrounded by liars in old clothes." — Don Marquis
60. "Game fish are too valuable to be caught only once." — Lee Wulff
Fishing Quotes By Fennel Hudson
61. "Angling is a recreation. It's supposed to be fun." ― Fennel Hudson
62. "There are million-and-one ways to enjoy a day's angling. Catching fish is but one of them." ― Fennel Hudson
63. "People fish because they are searching for something. Often it is not for a fish." ― Fennel Hudson
64. "I go fishing for reasons other than catching fish." ― Fennel Hudson
65. "I am an old-fashioned angler seeking to fish in a peaceful and relaxing way in traditional surroundings. Other anglers are too noisy, too busy, and catch fish that might break my landing net." ― Fennel Hudson
66. "There's always an opportunity to fish for something – even if it's just for laughs or ideas."
― Fennel Hudson
67. "Night fishing accentuates the atmosphere of a lake. It is as if, once darkness falls, the character of the pool announces, "I am here." ― Fennel Hudson
68. "There is a moment during every fight with a strong fish when you wonder whether it or you will win the battle." ― Fennel Hudson
69. "Catching fish is secondary to the immeasurable joys of the watery world."― Fennel Hudson
70. "Traditional angling is a mindset. So, have you set your mind?" ― Fennel Hudson
Thought-Provoking Fishing Quotes To Inspire Anglers
71. "Last year, I went fishing with Salvador Dali. He was using a dotted line. He caught every other fish." — Steven Wright
72. "I've gone fishing thousands of times in my life, and I have never once felt unlucky or poorly paid for those hours on the water." — William Tapply
73. "One thing becomes clearer as one gets older and one's fishing experience increases and that is the paramount importance of one's fishing companions." — John Ashley Cooper
74. "The solution to any problem — work, love, money, whatever is to go fishing, and the worse the problem, the longer the trip should be." — John Gierach
75. "By the time I had turned thirty, I'd realized two important things. One, I had to fish. Two, I had to work for a living." — Mallory Burton
76. "The best time to go fishing is when you can get away." — Robert Traver
77. "Everyone should believe in something. I believe I'll go fishing." — Henry David Thoreau
78. "I don't want to sit at the head table anymore. I want to go fishing." — George Bush
79. "I like to fish. Fishing is always a way of relaxing." — Tom Felton
80. "Give a man a fish, and you'll feed him for a day. Teach a man to fish, and he'll buy a funny hat. Talk to a hungry man about fish, and you're a consultant." — Scott Adams
Fishing Quotes To Make You Grab Your Fishing Rod
81. "I'm an outdoor nut. If I'm not working, I'm on a tractor on my farm, hunting, fishing or climbing a mountain." ― Jeff Foxworthy
82. "Most fishing rods work better if you grasp them at the thick end. If you grasp a fisherman at the thick end, you may get a thumb bit off." ― Ed Zern
83. "[On fishing:] Greatest rest in the world for the brain." ― Mary Roberts Rinehart
84. "I am my father's daughter. It was not up to me growing up. I was his hunting and fishing buddy, so I've been shooting my whole life." ― Amber Heard
85. "Fishing is not a benign activity; it is hunting in the water." ― Sharon Gannon
86. "They should call fishing what it really is… tricking and killing!" ― Demetri Martin
87. "Sadly, my hobby is what I do for work, so I don't go off and go fishing. I go home and veg, and then I go back to work." ― Andrew Stanton
88. "I love fishing. It's transcendental meditation with a punchline." ― Billy Connolly
89. "We all love being outdoors. Grandma was in her garden or fishing; Mama loves to fish and I love to be outside. We all love the Lord." ― Reba McEntire
90. "Every city has a town outside with a lake. I pull out my fishing pole and fish. I've been doing that for a long time." ― Brandi Carlile
Which of these fishing quotes is your favorite?
As you can see, fishing is a hobby or lifestyle that people of all different statuses enjoy taking part in.
There are quotes here from traditional outdoorsmen to United States presidents.
The fishing quotes above show the fun in it, the competition in it, and the pure enjoyment that it can bring.
If it's been a while since you tried fishing, it might be time to try it again.
And, if you love fishing, it might be a great day to call in sick and head out to the water.
You never know if it could be the perfect day for the fish to be biting.
Which of these fishing quotes and sayings resonated with you best?
Do you have any other favorite quotes to add?
Let us know in the comment section below, and don't forget to hit the share button.