GOAT Polo G Quotes That Showcase the Young Rapper
These Polo G quotes show he is on his way to being known as one of the greatest of all time, thanks to his lyrical magic and talent.
Polo G, (Taurus Tremani Bartlett), is a rapper from Chicago. He has had several Billboard hits including his single 'Pop Out' and his debut album 'Die a Legend.' He is only 21 years old, but his songs express the struggles of one much older.
His newest song, Epidemic, is about losing people close to him. It is a witty play on words, as it ties into what is going on with COVID-19, but is about a different disease.
While rapping out the intro to the song he says, "I'm so sick of farewells and R.I.P.'s / In the trenches yellin', "Gang gang," mob ties what I bleed / Don't claim to be an opp, 'cause ****** die from that disease."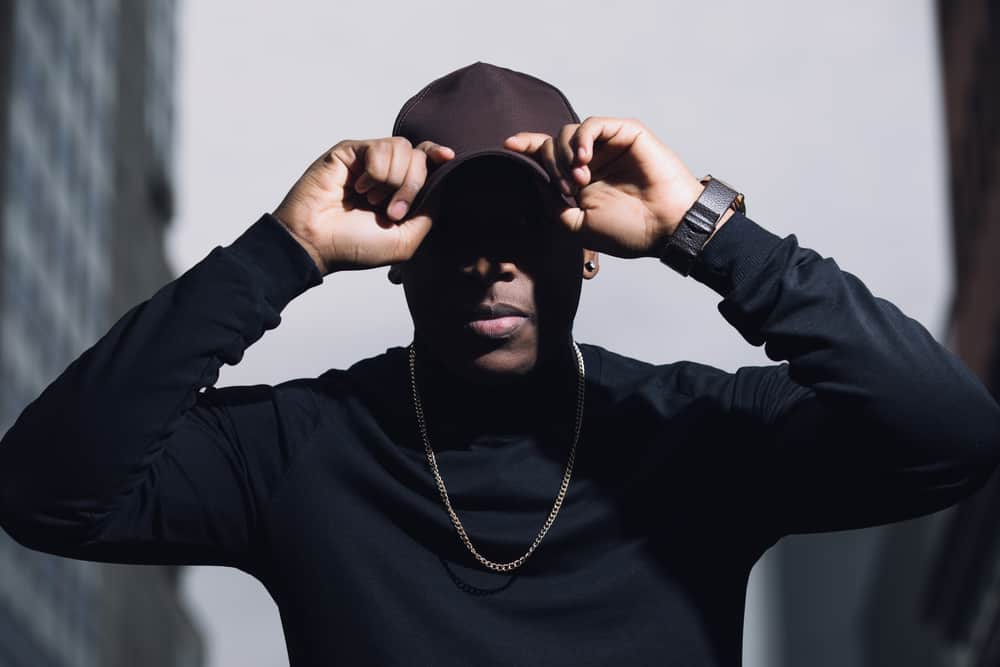 Growing up in an economically poor area of Chicago, and having a run-in with the law for possession of weed, which resulted in jail time, influences the young rapper's view on the world.
These Polo G quotes include lyrics from some of his songs. He also speaks of how music and singing have affected his life. His words of encouragement can relate to many of us, even if we don't understand his personal strife.
Don't forget to also check out these great Tyler the Creator quotes from the Grammy-Winning artist.
Polo G quotes from his song lyrics
1. "I've been scarred by your love, left my heart bleeding." ― Polo G (Deep Wounds)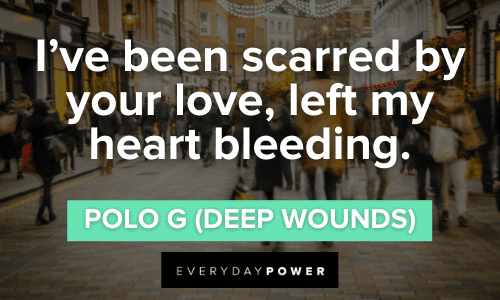 2. "I ain't really hop off the porch 'til a nigga got older, but I been on the block since a child." ― Polo G (Lost Files)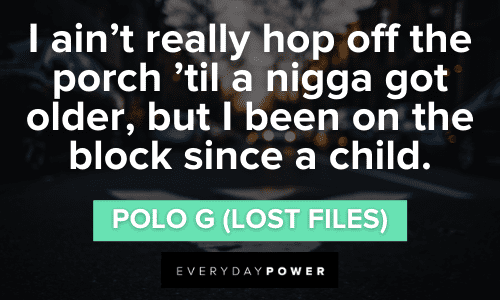 3. "Everything was all good way back in the day, then whole hood really went wild." ― Polo G (Lost Files)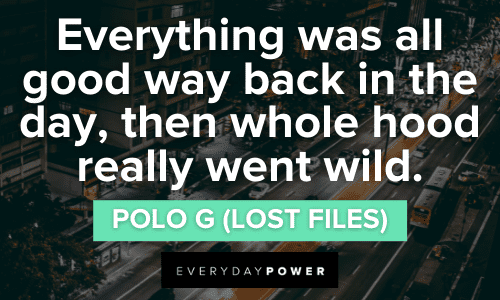 4. "I've been servin' fiends all day, out there posted with the gang." ― Polo G (21)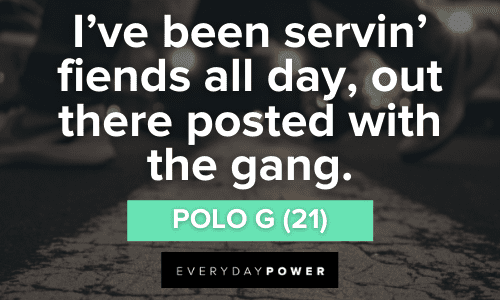 5. "I been on my grind every day, don't believe in takin." ― Polo G (21)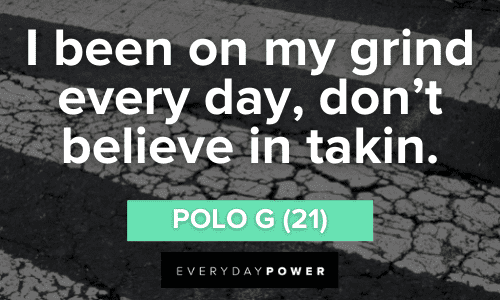 6. "Now I live like a king, I got on, now I'm blessing my team told my brother, "I got your back." ― Polo G (Effortless)
7. "My life a movie, ever since birth, it's been lights, camera, action." ― Polo G (Effortless)
8. "I come from a dark place, I'll never be there again." ― Polo G (Effortless)
9. "Depend on what you do today You gotta live with each decision that you chose to make." ― Polo G (Deep Wounds)
Polo G quotes about his music and singing
10. "I have only so many songs to choose from when I'm deciding on the album. So I learned that I'm a little slow as far as dishing out music, but I learned to be patient with myself and not rush anything." ― Polo G
11. "Since I was 9 years old, I knew how to make a song. But when I got older, I used it as a way to express myself." ― Polo G
12. "I'm pretty good at delivering my songs, but I just want to perfect the craft by creating melodies." ― Polo G
If you're enjoying these quotes, you'll love our collection of song quotes from some of the biggest hits.
13. "Music is so important. Because in Chicago, it's up to us to tell the stories nobody else will." ― Polo G
14. "Good music you don't gotta know the words, the words know you." ― Polo G
15. "My writing process is I just reflect on situations that I've been through and just think about it as deeply as I can and then just translate it into lyrics." ― Polo G
16. "I grew a strong passion for music. The more I did the music thing, it's like I saw myself going far with it. I believed in myself." ― Polo G
Polo G quotes about life advice and struggle
17. "I put a lot of pressure on myself just to be the best version of me." ― Polo G
18. "Another man's success should never make you mad." ― Polo G
19. "I just try to be as humble as possible." ― Polo G
20. "Some of the hardest challenges I've faced throughout life was really just like bein' depressed, not feelin' myself." ― Polo G
If you're enjoying these quotes, you'll love our collection of powerful depression quotes that will provide perspective.
21. "In life you always see the darkest days before the sunshine." ― Polo G
22. "Don't dwell on the things you don't have. Every opportunity I felt like was passing me up had to catch back up with me." ― Polo G
23. "Time & time again you got have to remind the world who you are. That can only become difficult if you forget." ― Polo G
24. "At the end of the day, I'm willing to rock by myself over being with people that don't gat my best interest." ― Polo G
25. "I take full accountability for everything that happens in my life, even when I'm not inna wrong." ― Polo G
26. "I'm so traumatized from all this pain. Don't think I will ever be the same." ― Polo G
27. "Gatta calculate every move before you make it." ― Polo G
28. "I ride one deep by myself. I never needed no help." ― Polo G
29. "I knew when I left school, my stomach would probably hurt from having nothing to eat, and I would be going back to those same circumstances that were breaking me." ― Polo G
Polo G quotes that inspire and motivate us
30. "I know I ain't perfect. But damn, at least a nigga try." ― Polo G
31. "In order to keep a 1 track mind on your goals you gotta block out opinions… just do you." ― Polo G
32. "Everything gon fall in place at the right time." ― Polo G
33. "I wanted to get people to feel where I'm coming from and connect with people who are feeling the same way that I am." ― Polo G
34. "The worst thing a person can do is make another person feel worthless." ― Polo G
35. "It doesn't matter 1 v 100 I'm gone still stand my ground, regardless." ― Polo G
36. "A real gangsta humble enough to walk away from certain situations, everything ain't about proving a point." ― Polo G
37. "God, please watch over me, and please forgive me for all my mistakes." ― Polo G
38. "I'm cool with being me, I'm not tryna be nobody else." ― Polo G
39. "I have to be responsible with my character, my image, and my reputation." ― Polo G
40. "I didn't want my son to see the same things I had seen growing up or have to go through the same things I went through." ― Polo G
Polo G quotes about loyalty, love, trust and support
41. "I used to feel like it was up to me to help out everybody." ― Polo G
42. "To all my loved ones in heaven; I see you smiling." ― Polo G
43. "I just want genuine support from the people I love." ― Polo G
44. "When you are getting money, it's hard to tell who with you." ― Polo G
45. "Baby at the end of the day, no matter what we go through, I'd still do anything to be with you." ― Polo G
46. "These days loyalty be so fragile." ― Polo G
47. "I give 70% of loyalty, 20% of love, and 10% of trust." ― Polo G
48. "I ain't got nobody. But I'm always there for somebody when they need me." ― Polo G
49. "I been through so much that it be hard to say "I love you." ― Polo G
50. "Don't be having me out here thinking you mine. When in real life you somebody else's." ― Polo G
For more inspiration, also check out these rapper quotes about life and music.
51. "There's so much stuff that you see every day that you want to talk about, but I'm not the type to open up, so the only way I could open up is through music." – Polo G
52. "I'm versatile with my sound. I can switch it up a lot." – Polo G
Did you enjoy these Polo G quotes?
Polo G has sampled work from Tupac and been co-signed by Jay Z. His album, 'The GOAT,' proves he is on his way to being known as one of the greatest of all time, thanks to his lyrical magic and talent.
Some critics say that he could mix up the production and overall sound of his music, but the drive and talent are there.
Will this young rap artist become a household name and rap legend? It is clear he has the desire and talent to do so. He has said that he wants better for his son than he had growing up and uses that as his motivation.
Providing a life that isn't fraught with struggle for your child can be a powerful tool of inspiration. Keep an eye on Polo G, as I don't think we have heard the last from him, and I believe his work can only get better with time.
Did you enjoy these Polo G quotes and lyrics? What is your favorite Polo G song? Let us know in the comment section below.
May 14, 2021 6:00 AM EST
Click to view