Queen of the South Quotes from the Queenpin
These Queen of the South quotes will remind you that women can be equal or much stronger than men.
Queen of the south is a crime drama series that revolves around violence and the drug empire.
It is a direct adaptation of the novel written by Arturo Perez-Reverte.
The show is about the journey of Teresa Mendoza in becoming America's most dangerous queenpin and how a poor Mexican woman built a massive influence through drugs.
Queen of the South will take you through the life struggles of Teresa and how she works her way up in a Man's world using her cunning and wits to overcome all adversities.
This series depicts how dangerous and powerful a woman can be in a harsh situation.
Developed by M.A. Fortin and Joshua John Miller, the show features an ensemble cast that includes Alice Braga, Peter Gadiot, Hemky Madera, Molly Burnett, and Veronica Falcon among others.
It premiered on June 23, 2016, and ran for 5 seasons, concluding on June 9, 2021.
Enjoy these Queen of the South quotes!
Don't forget to also check out these Narcos quotes about the drug-kingpin himself.
Also, check out our most popular quote article, a list of short inspirational quotes for daily wisdom.
See the rest of our quote database for even more inspirational ideas and thoughts.
Memorable Queen of the South Quotes
1. "My instincts are seldom wrong." — Camila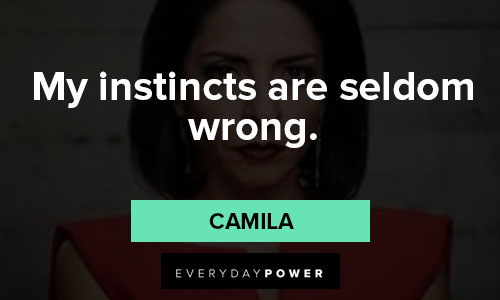 You will also enjoy our article on queen quotes.
2. "As long as you're alive you can recreate yourself." — Teresa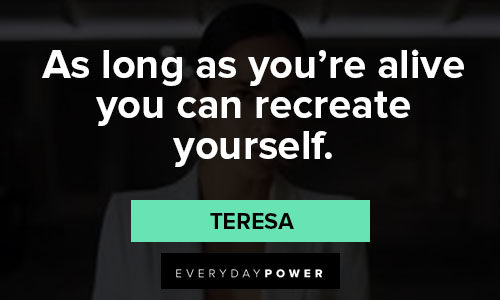 You will also enjoy our article on Boss Lady quotes.
3. "That thing you're trying to keep alive inside you. It's what's going to get you killed." — James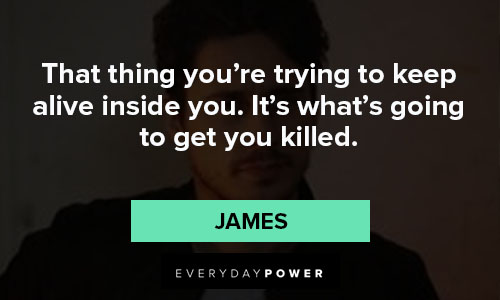 You will also enjoy our article on Jabba the Hutt quotes.
4. "Pull the trigger if it brings you peace. I will always love you, my daughter." — Camila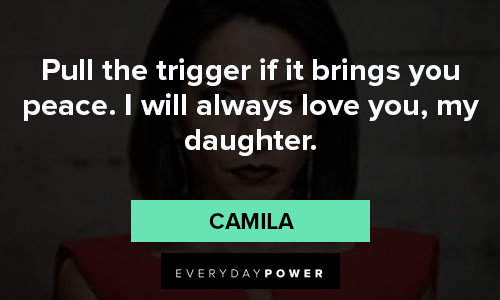 You will also enjoy our article on quotes by Mother Teresa.
5. "If they want to act like gangsters, let's treat them like gangsters." — Teresa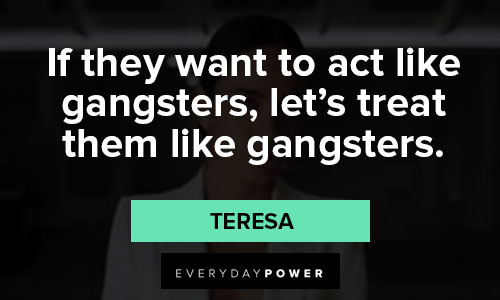 6. "There can only be one queen." — Camila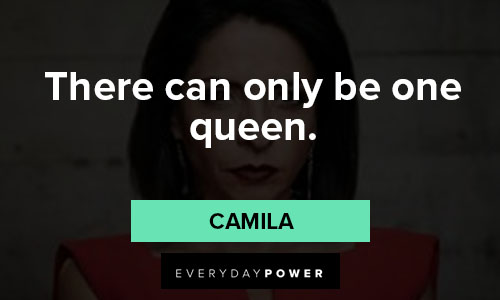 7. "That's a pretty castle. You know what your castle needs? A little soldier to protect it." — Pote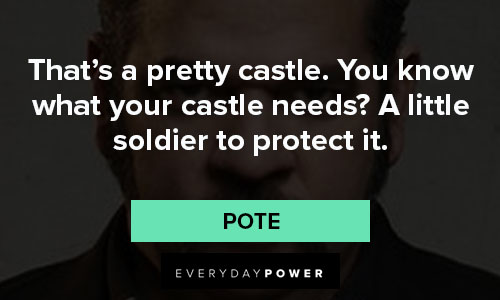 8. "If I know too much, I'm dispensable. If I know too little, I'm disposable." — Teresa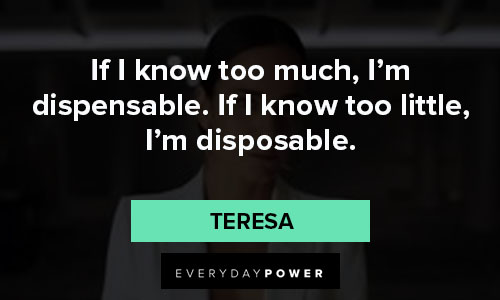 9. "It's easier to ask for forgiveness than for permission." — Camila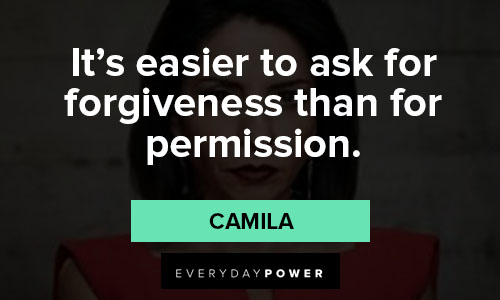 10. "I'll fight 'till I die but I'm not running anymore." — Teresa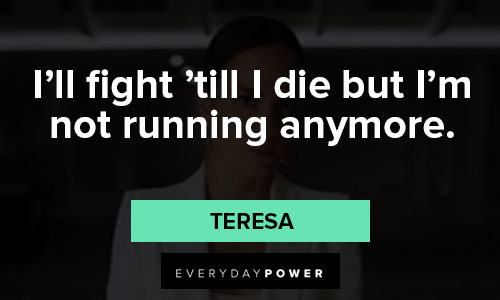 Queen of the South quotes from Camila
11. "If you want to succeed as a businesswoman, Teresa, you have to learn how to control your weaknesses before somebody else exploits them and costs you your life." — Camila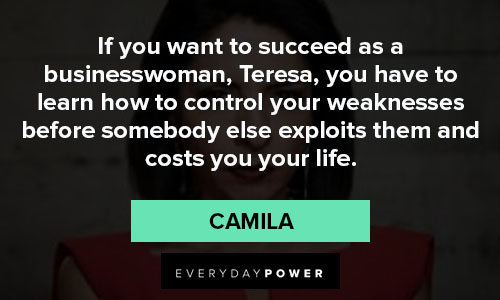 12. "There are people in my state who have doubts about my competence. There are those who think that a woman isn't worthy to fill her husband's shoes." — Camila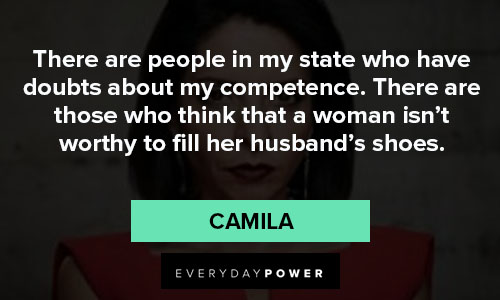 13. "I know you're scared. Use that fear to stay alive. After all, you're a survivor." — Camila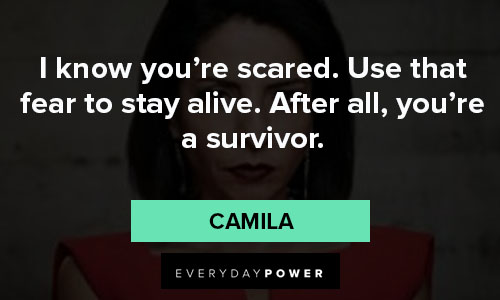 14. "I've been walking around that ego for 25 years. It's like a bad road that you learn to know all the bumps." — Camila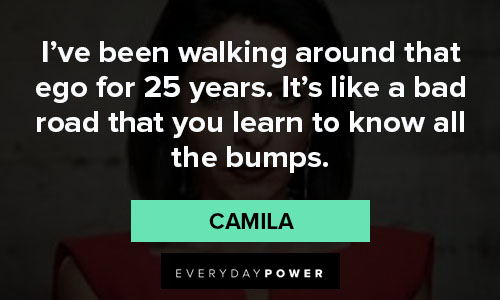 You will also enjoy our article on Blow movie quotes.
Queen of the South quotes from Teresa
15. " I trusted you. I don't trust anyone" — Teresa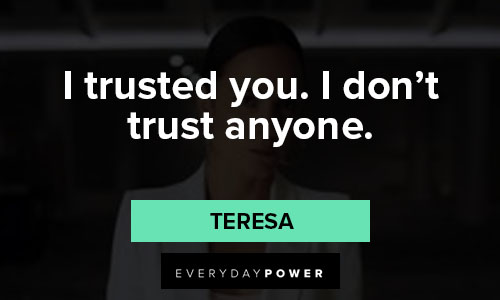 16. "Running a cartel is like driving a motorcycle a hundred miles an hour in traffic, any miscalculation, any mistake can have fatal consequences." — Teresa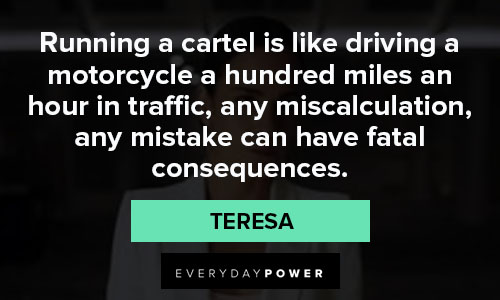 17. " If you want to succeed in this business, someday you will have to choose between survival and your heart." — Teresa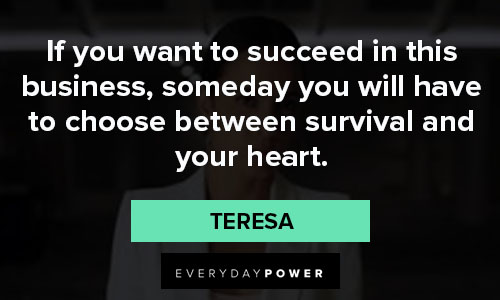 18. "We stay, we die. We go, we still have a chance." — Teresa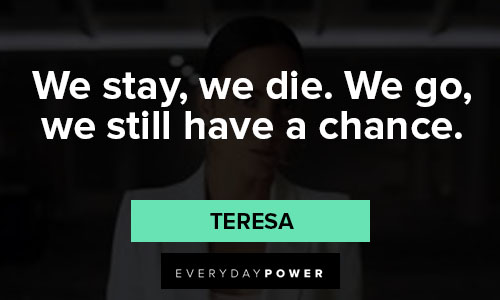 19. "No one gives you a manual on how to be the boss, so every difficult decision falls on you, and when your people fail you, as hard as it is, you have no choice but to let them go." — Teresa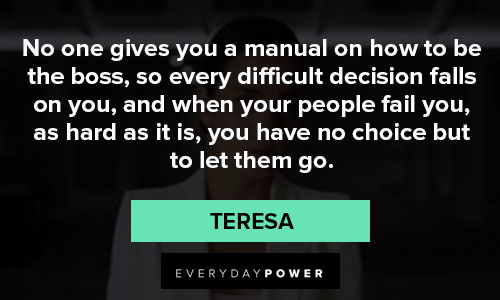 20. "You once told me I was better than Camila because I had a heart. This is what that looks like" — Teresa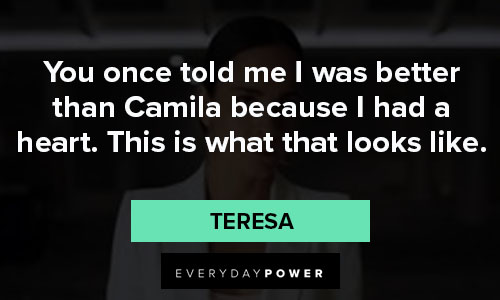 21. "Your life is painful and ugly but it's yours and you only get one." — Teresa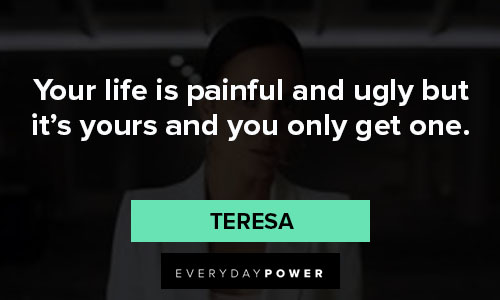 22. "Pain can make you strong or it can make you stupid. I hope those green eyes are worth it." — Teresa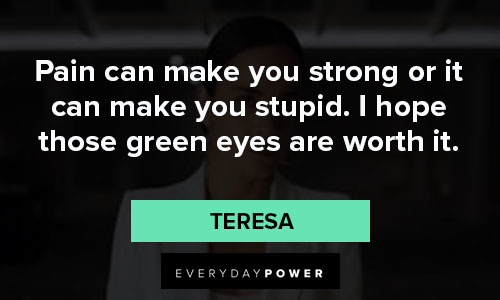 Queen of the South quotes from other characters
23. "Revenge is like any drug, it can please you or it can rule you. Obsession will kill logic when you need it most." — Cortez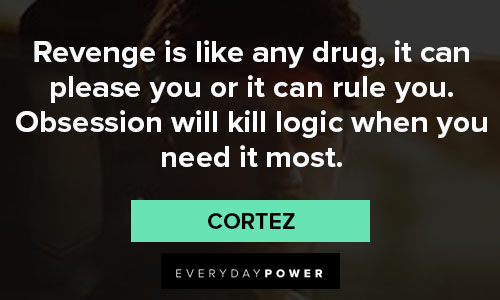 24. "I don't believe in omens. I believe in survival instinct, like the one that tells me to stay away from wounded lions." — James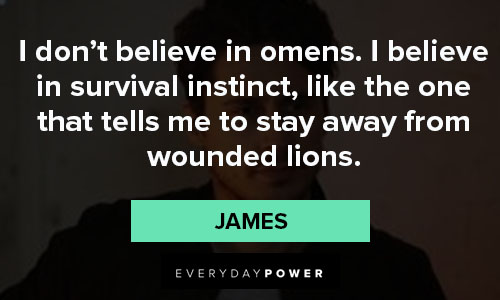 25. "Teresa was successful because she knew how to fly under the radar." — Devon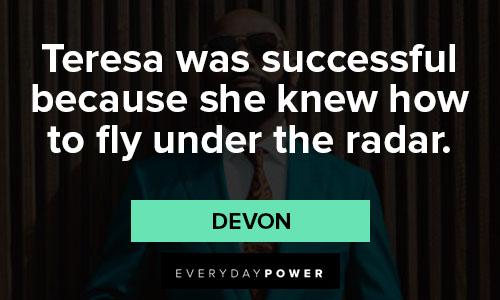 Which of these Queen of the South quotes is your favorite?
The show gets much of its inspiration from narcocorridos or drug ballads and powerful stories of real-life Mexican drug lords.
One of the real-life inspirations for the novel's conception and the series is Sandra Avila Beltran, also known as the "Queen of the Pacific", an infamous female drug trafficker that reached massive influence among Mexican Cartels.
These things created a unique and enticing story for fans of that genre.
The intense and violent story built up around the complex characters creating a storyline many enjoyed.
If you like these Queen of the South quotes and sayings, you are free to share them with your friends.