Road Trip Quotes to Keep You Entertained on Your Drive
These road trip quotes will keep you entertained on your journey.
Road trips are one of the most therapeutic things to do in today's modern age and time.
There is something about the combination of a long road, the isolated atmosphere of your car's interior, and the chaotic scene of the outside world.
Together with the fitting soundtrack and perfect company, you are all set for a ride that will fill the void we all have inside.
The journey may be long and varying.
It can be a dull, unexpected, or a totally wild adventure.
But one thing is for sure, the time on the road is a time for yourself, and nothing is more important than giving yourself time.
Here are some of the handy road trip quotes to accompany you on your drive.
Don't forget to also check out these journey quotes celebrating your path to greatness.
Check out our most popular quote article, a list of short inspirational quotes for daily inspiration.
Our inspirational quote category page has even more inspirational and educational quotes.
Adventurous road trip quotes to keep your mind awake
1. "Two roads diverged in a wood and I – I took the one less traveled by." – Robert Frost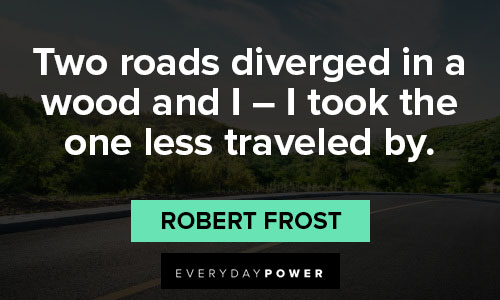 You will also enjoy our article on car quotes.
2. "Still, round the corner, there may wait, A new road or a secret gate." – J.RR Tolkien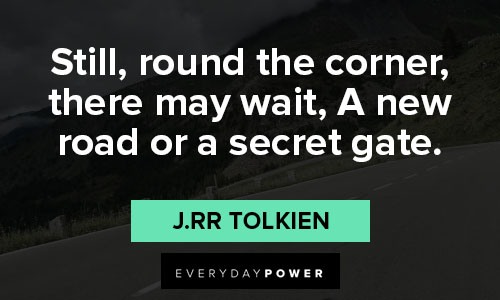 You will also enjoy our article on road quotes.
3. "Sometimes, the road less traveled is less traveled for a reason." – Jerry Seinfeld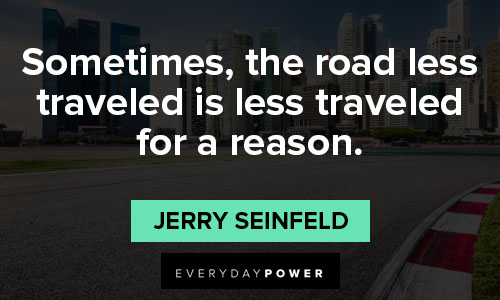 4. "Stop worrying about the potholes in the road and enjoy the journey." – Babs Hoffman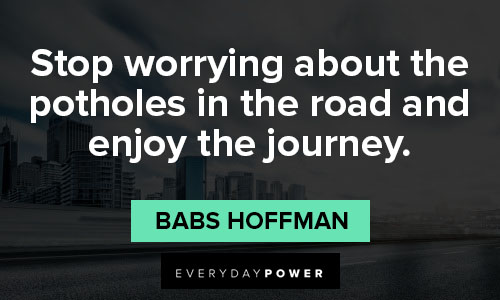 5. "I Take to the open road, healthy, free, the world before me." – Walt Whitman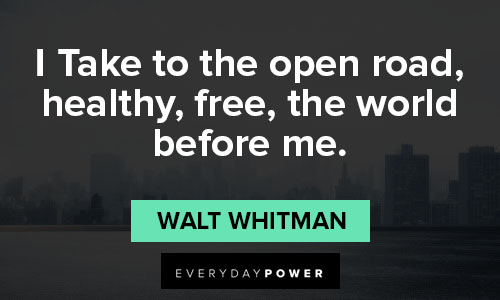 6. "Afoot and light-hearted I take the open road" – Walt Whitman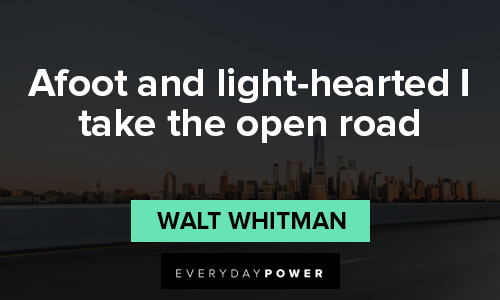 7. "I'm on the road constantly. I'm a nomad. I don't really have a home right now. I don't identify with one place in particular." – Daya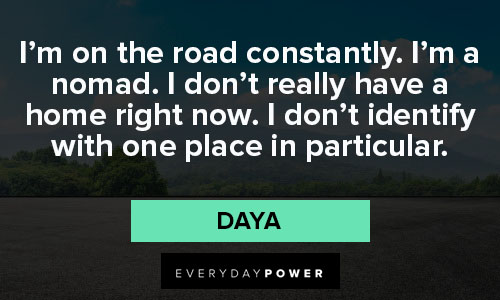 8. "I'm not lost. I'm exploring." – Jana Stanfield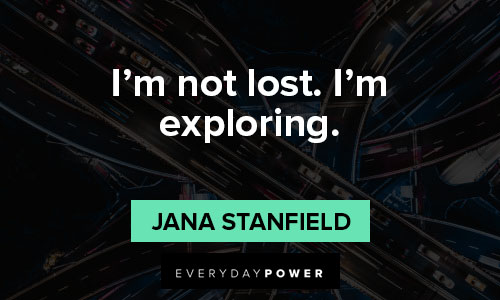 9. "Life is like a road trip – enjoy each day and don't carry too much luggage." – Unknown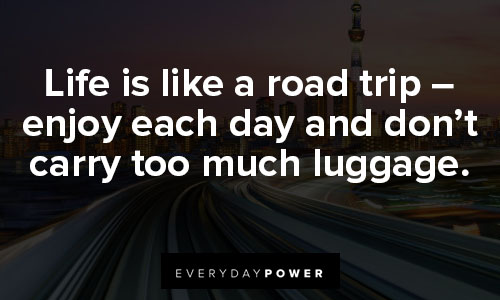 10. "I didn't plan on taking this road, but the journey gave me so much growth." – Jennae Cecelia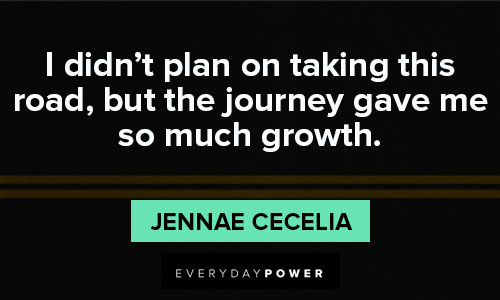 Road trip quotes and sayings to enjoy with someone
11. "The freedom of the open road is seductive, serendipitous and absolutely liberating" – Aaron Lauritsen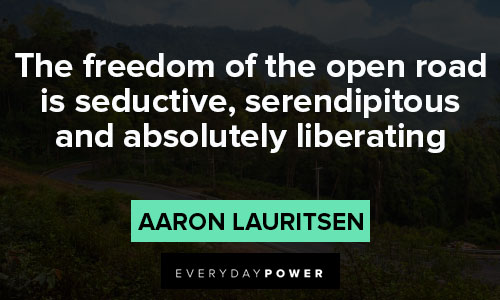 12. "A journey is a person in itself; no two are alike. And all plans, safeguards, policing and coercion are fruitless" – John Steinbeck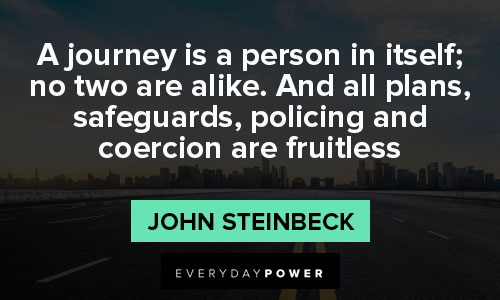 13. "Every journey is simultaneously a beginning and an ending: I was leaving my old life behind and starting on a road trip to find a new me." – Debi Tolbert Duggar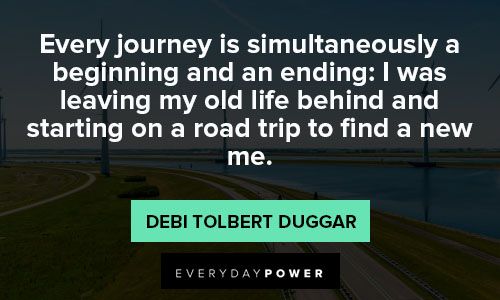 14. "She wasn't where she had been. She wasn't where she was going, but she was on her way." – Jodi Hills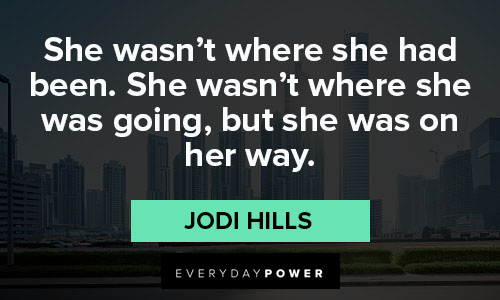 15. "Discovery consists not in seeking new landscapes, but in having new eyes." – Unknown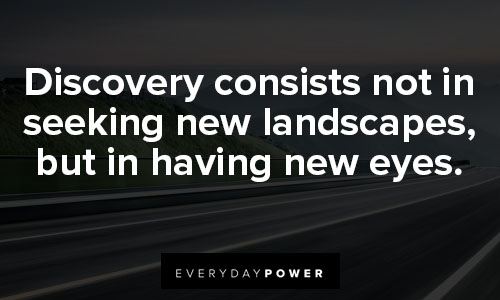 16. "Because the greatest part of a road trip isn't arriving at your destination. It's all the wild stuff that happens along the way." – Emma Chase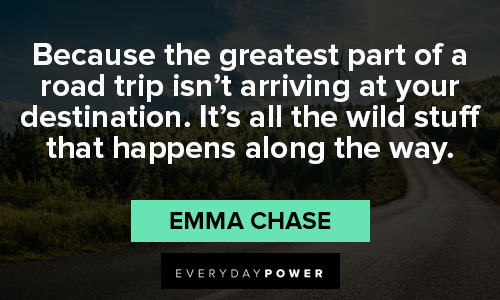 17. "It feels good to be lost in the right direction with someone" – Unknown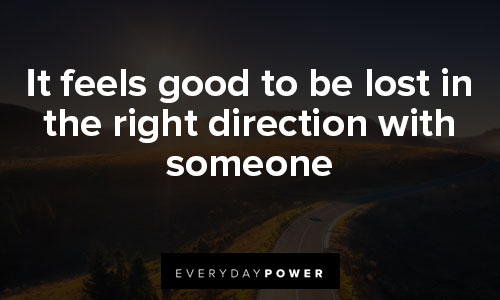 18. "No road is long with good company" – Unknown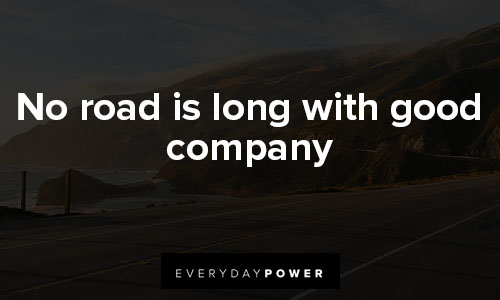 19. "It doesn't matter where you going, it's who you have beside you" – Unknown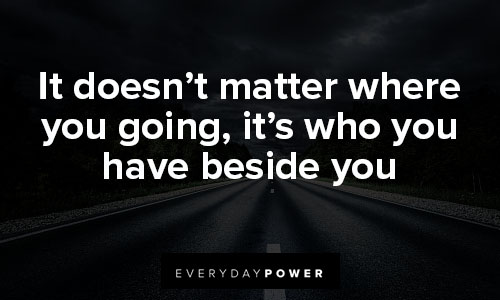 20. "Happiness is… planning a trip to somewhere new, with someone you love" – Unknown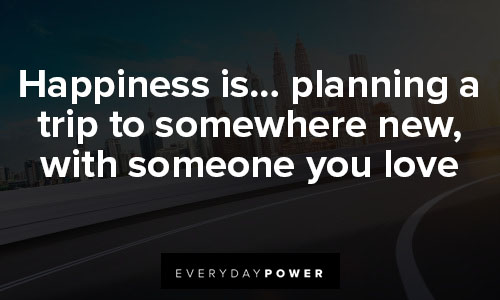 Road trip quotes to feel free
21. "Life is beautiful if you are on the road to somewhere." – Orhan Pamuk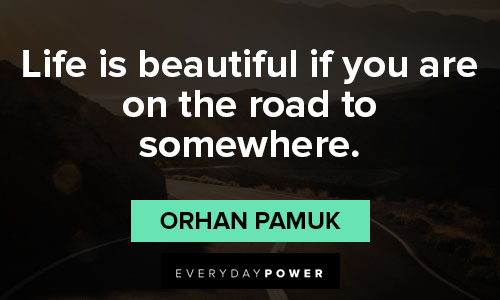 22. "Traveling can never be taken for granted, no matter how meticulous the preparations." – Eugene Linden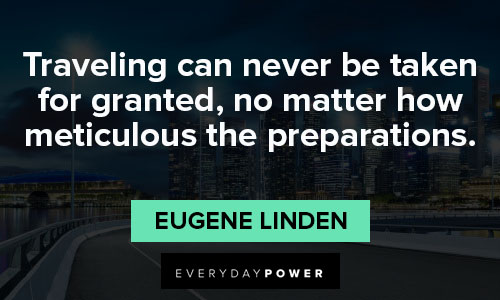 23. "What if I fall? Oh but my darling- what if you fly?" – Erin Hanson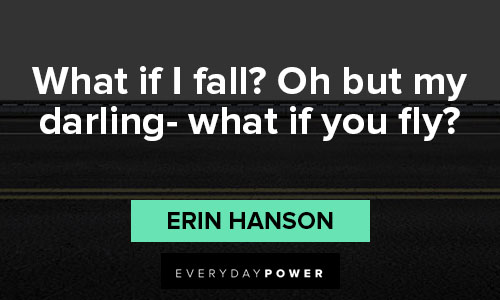 24. "At the end of the day, your feet should be dirty, your hair messy and your eyes sparling." – Shanti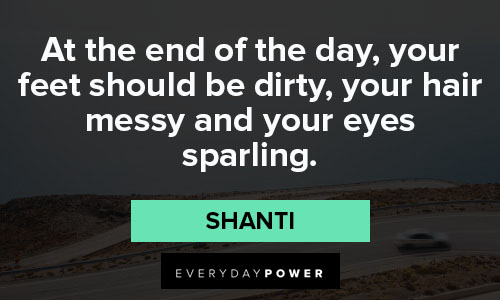 25. "People don't take trips…trips take people." – John Steinbeck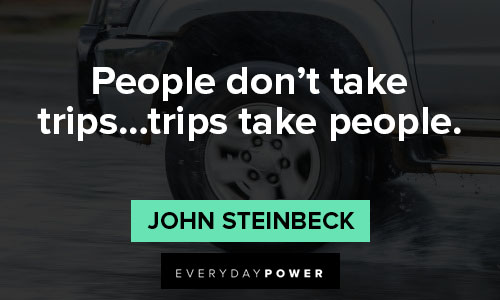 What did you learn from these road trip quotes?
A road trip is a valuable thing for every one of us.
Some even consider it luxury.
The most important part of it is always the journey and the company you have beside you.
The road will always be full of surprises.
It will not always be pretty and definitely will not be what you expected, but it will always be worthwhile.
The stories and memories you make along the way are priceless and will be with you forever.
The journey may end, but your experience will always live inside you and the people you share it with.
Try to reflect on your next road trip and enjoy the company you have.
These road trip quotes and sayings are a good souvenir to remind you of your most incredible adventures on the road.