Roald Dahl Quotes from the World's #1 Best Storyteller
If your childhood was filled with his books, you're going to enjoy these Roald Dahl quotes.
Roald Dahl is famously known for being the brains and words behind books like Charlie and the Chocolate Factory, James and the Giant Peach, and Matilda.
However, there was a lot more to him than the books that made him a household name amongst children books.
In his younger days, Dahl was a fighter pilot.
He was also a screenwriter for movies like James Bond's You Only Live Twice and Chitty Chitty Bang Bang.
Now, get ready to relive your childhood favorites with these Roald Dahl quotes.
Remember to check out these BFG quotes from the classic Roald Dahl children's book.
If you like this article, we suggest you explore our most popular quotes article, a list of short inspirational quotes for daily encouragement.
Look through our complete collection of inspirational quotes here.
Roald Dahl quotes from Matilda
1. "It's a funny thing about mothers and fathers. Even when their own child is the most disgusting little blister you could ever imagine, they still think that he or she is wonderful." – Roald Dahl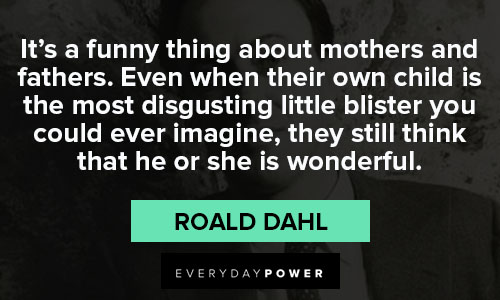 2. "If you are good life is good." – Roald Dahl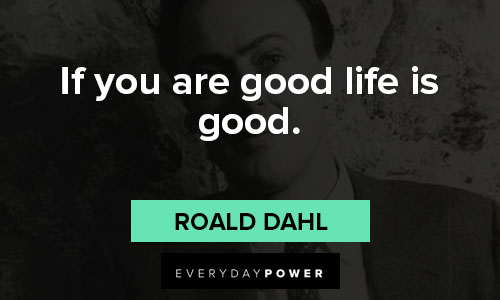 3. "Sometimes Matilda longed for a friend, someone like the kind, courageous people in her books." – Roald Dahl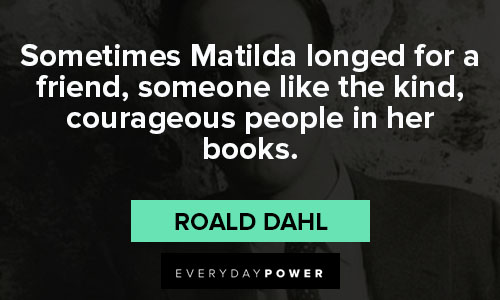 4. "Never do anything by halves if you want to get away with it. Be outrageous. Go the whole hog. Make sure everything you do is so completely crazy it's unbelievable." – Roald Dahl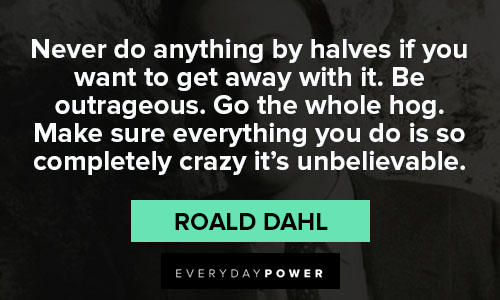 5. "So Matilda's strong young mind continued to grow, nurtured by the voices of all those authors who had sent their books out into the world like ships on the sea." – Roald Dahl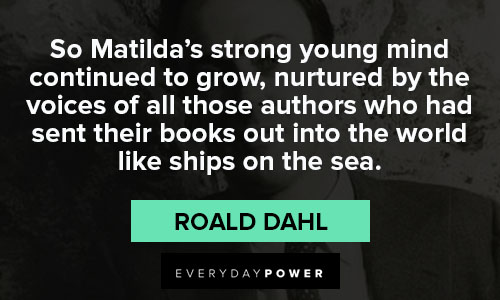 6. "It was pleasant to take a hot drink up to her room and have it beside her as she sat in her silent room reading in the empty house in the afternoons. The books transported her into new worlds and introduced her to amazing people who lived exciting lives." – Roald Dahl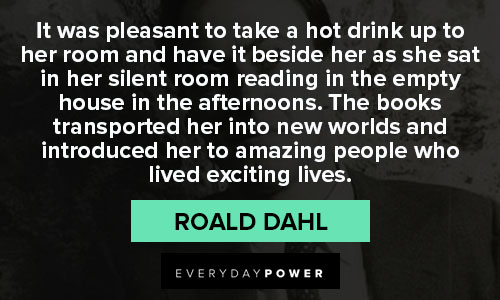 7. "She traveled all over the world while sitting in her little room in an English village." – Roald Dahl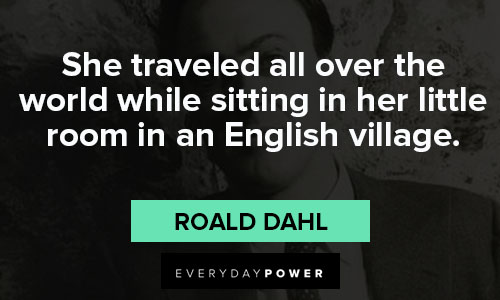 8. "You chose books. I chose looks." – Roald Dahl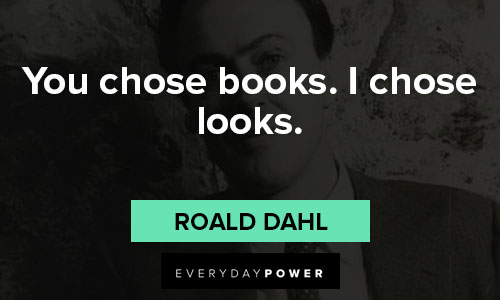 9. "I'm afraid men are not always quite as clever as they think they are." – Roald Dahl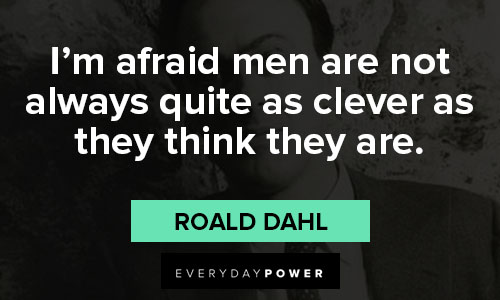 10. "A rowdy little girl who gave way upon the slightest provocation to uncontrollable laughter." – Roald Dahl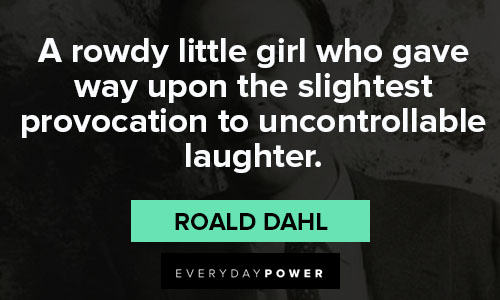 Check out our collection of Fantastic Mr. Fox quotes if you enjoy this article.
Roald Dahl quotes from Charlie and the Chocolate Factory
11. "You should never, never doubt something that no one is sure of." – Roald Dahl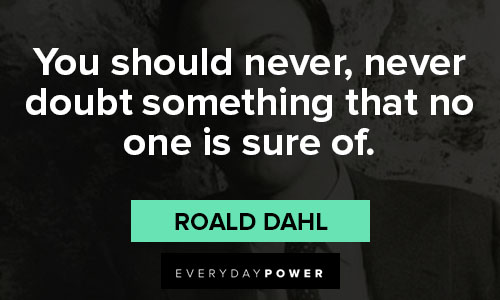 12. "I've heard that what you imagine sometimes comes true." – Roald Dahl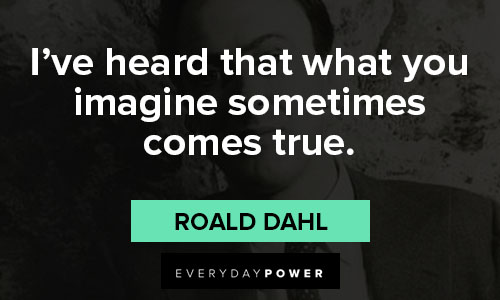 13. "Whipped cream isn't whipped cream at all if it hasn't been whipped with whips, just like poached eggs isn't poached eggs unless it's been stolen in the dead of the night." – Roald Dahl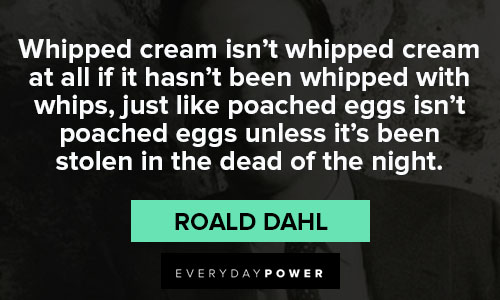 14. "So shines a good deed in a weary world." – Roald Dahl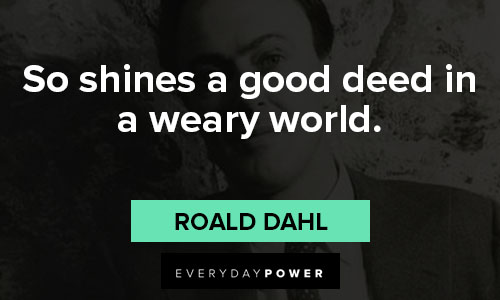 15. "Go throw your TV set away, And in its place you can install A lovely bookshelf on the wall." – Roald Dahl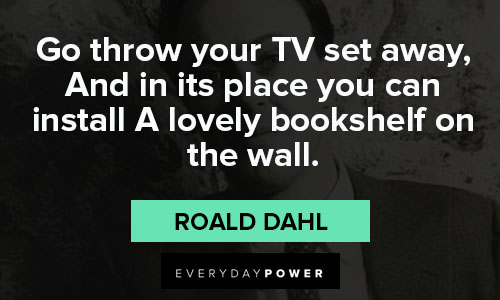 16. "Gorgeous chocolatey smell." – Roald Dahl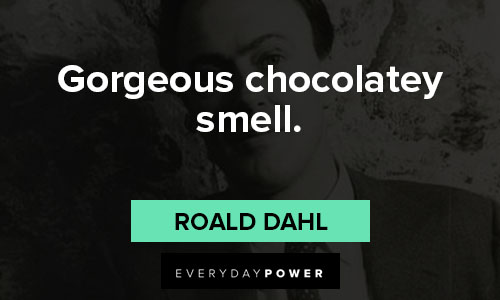 17. "This is Mr. Bucket. This is Mrs. Bucket. Mr. and Mrs. Bucket have a small boy whose name is Charlie Bucket." – Roald Dahl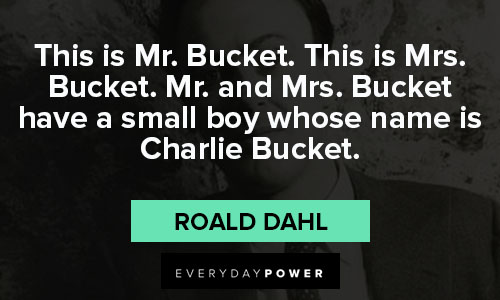 18. "He threw up his arms and yelled 'Yippeeeeeeeeeeeeeeeeeeeeeeeee!' And at the same time, his long bony body rose up out of the bed and his bowl of soup went flying into the face of Grandma Josephine, and in one fantastic leap, this old fellow of ninety-six and a half, who hadn't been out of bed these last twenty years, jumped on to the floor and started doing a dance of victory in his pajamas." – Roald Dahl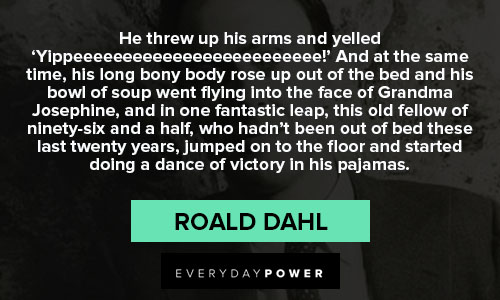 19. "'I, Willy Wonka, have decided to allow five children – just five, mind you, and no more – to visit my factory this year.'" – Roald Dahl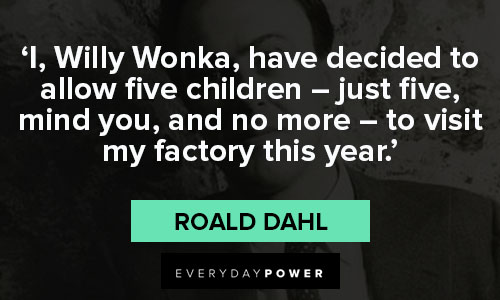 If you're enjoying these quotes, make sure to read our collection of Willy Wonka quotes to awaken your imagination.
20. "'Don't argue, my dear child, please don't argue!' cried Mr. Wonka. 'It's such a waste of precious time!'" – Roald Dahl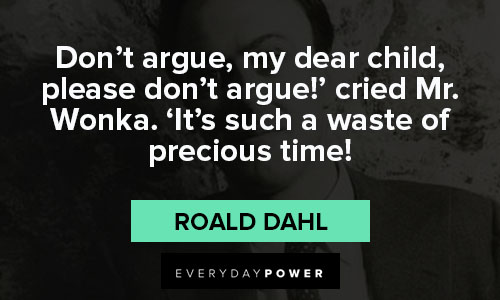 Roald Dahl quotes from The BFG
21. "Two wrongs don't make a right." – Roald Dahl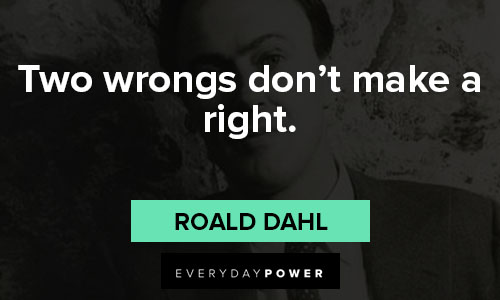 22. "Dreams is full of mystery and magic . . . . Do not try to understand them." – Roald Dahl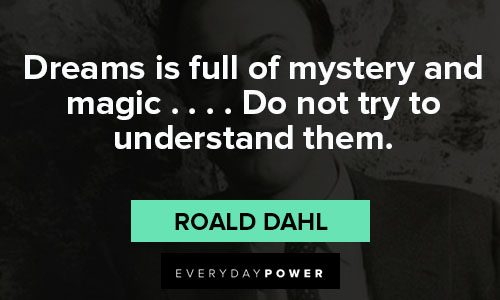 23. "Me is the only one what won't be gobbled up because giants never eating giants." – Roald Dahl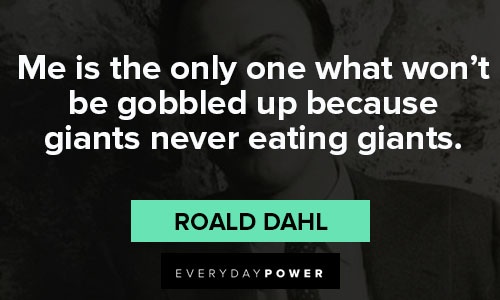 24. "Every dream in the world is making a different sort of buzzy-hum music." – Roald Dahl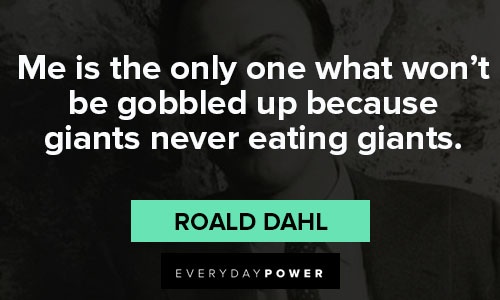 25. "I can see you is not born last week." – Roald Dahl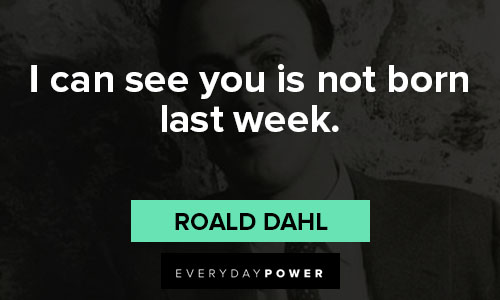 Which of these Roald Dahl quotes is your favorite?
If reading through these Roald Dahl quotes has you missing your childhood favorites, remember that you can still read books from childhood even as an adult.
Don't be afraid to let the stress of your adult life melt away as you follow along with the adventure of Charlie as he travels through the chocolate factory or Matilda's clever antics as she works to defeat Miss Trunchbull and her rude and uncaring parents.
And if you have children of your own now, read the stories aloud together and share your love for reading with them.
It won't be long before they are falling in love with the stories that you enjoyed at their age.
If you liked this article, you will also like our Beverly Cleary quotes!
Did you enjoy these Roald Dahl quotes and lines?
Which of the quotes is your favorite?
Let us know in the comment section below.