25 Roberto Clemente Quotes About Baseball
These Roberto Clemente quotes will inspire you to do what you love.
For him, it was baseball.
Born in Peurto Rico in 1934, Roberto Clemente grew up loving baseball.
By age 17 he was playing for the Santurce Crabbers, a Peurto Rican baseball team.
The following year he moved to Montreal and signed with the Dodgers' triple-A team, the Royals.
In 1954, Clemente was taken by the Pirates and he played 18 seasons for the team.
More than just a ballplayer, Clemente was a humanitarian, too.
He was heavily involved in charity work and would volunteer in the off-seasons.
In December of 1972, Clemente died in a plane crash while delivering aid to earthquake victims in Nicaragua.
He was 38 years old.
Don't forget to also check out these Satchel Paige quotes from the famous baseball pitcher.
Check out our most popular quote article, a list of short inspirational quotes for daily inspiration.
If you enjoy this collection, check out our inspirational quotes category page.
Inspirational Roberto Clemente quotes about baseball
1. "I was born to play baseball." ― Roberto Clemente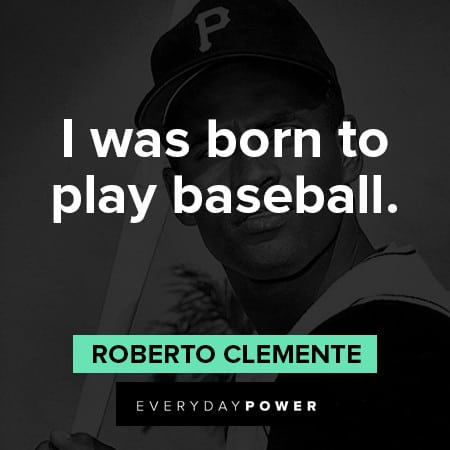 You will also enjoy our article on wednesday addams quotes.
2. "I couldn't ask for better teammates, and the Pirate fans are the greatest in baseball." ― Roberto Clemente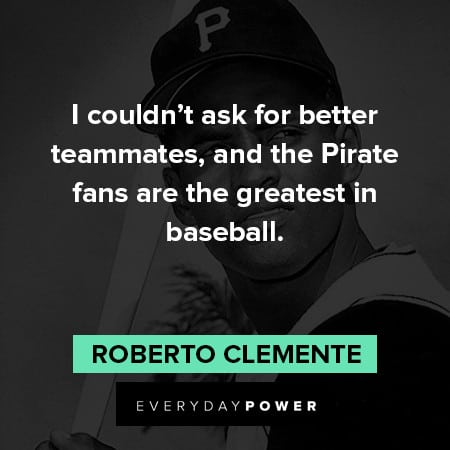 3. "I am convinced that God wanted me to be a baseball player." ― Roberto Clemente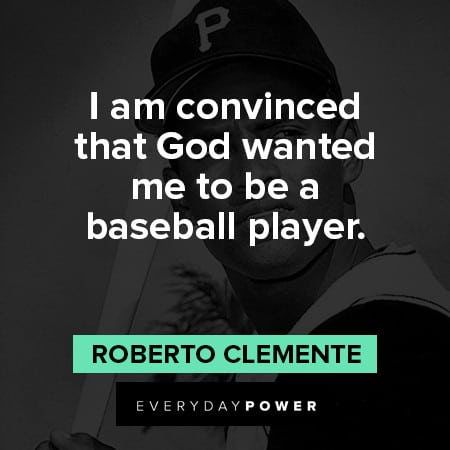 4. "I am more valuable to my team hitting .330 then swinging for home runs." ― Roberto Clemente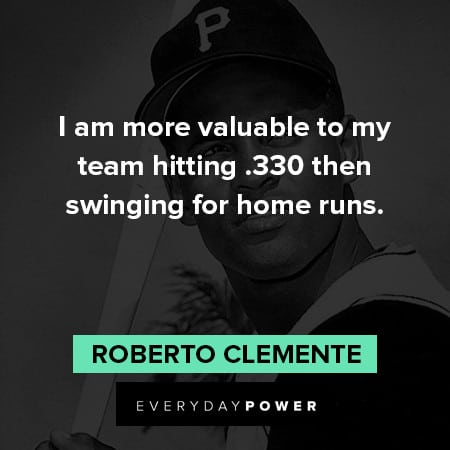 5. "I loved the game so much that even though our playing field was muddy and we had many trees on it, I used to play many hours every day." ― Roberto Clemente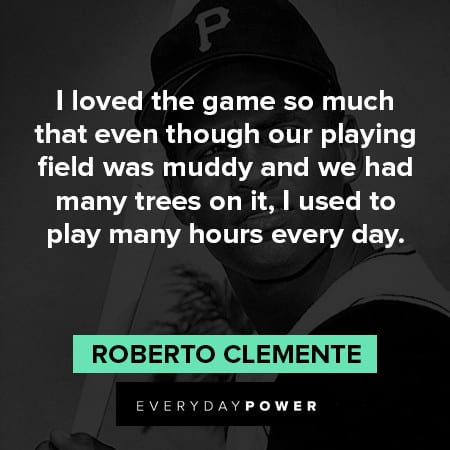 You will also enjoy our article on Bryce Harper quotes.
6. "I would like to get 3,000 hits." ― Roberto Clemente
7. "Baseball has been very good to me." — Roberto Clemente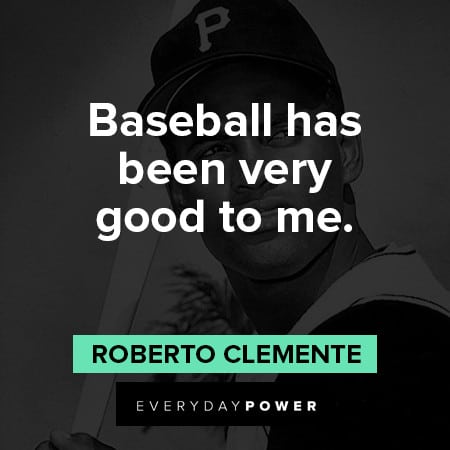 8. "If I would be happy, I would be a very bad ballplayer. With me, when I get mad, it puts energy in my body." ― Roberto Clemente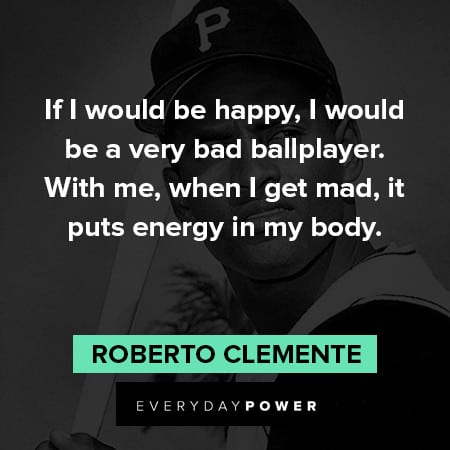 9. "My mother has the same kind of an arm, even today at 74. She could throw a ball from second base to home plate with something on it. I got my arm from my mother." ― Roberto Clemente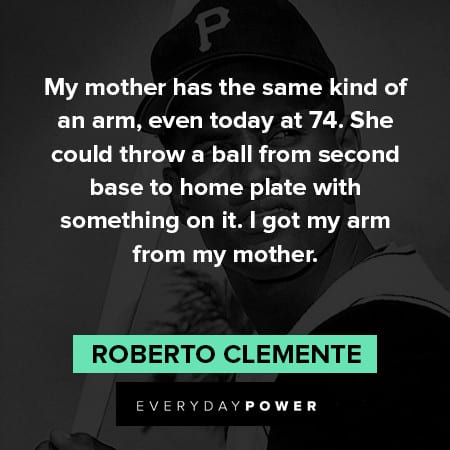 10. "It's not a bad ball if I can hit it." ― Roberto Clemente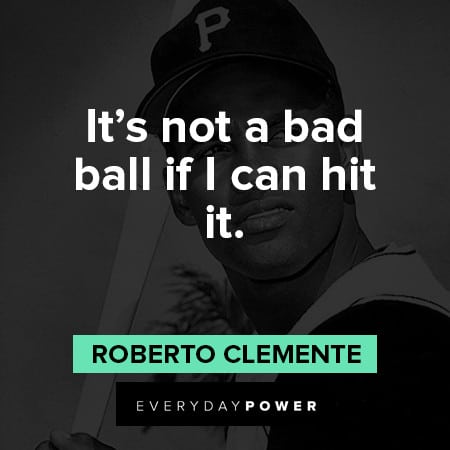 11. "I used to watch Monte Irvin play when I was a kid. I idolized him. I used to wait in front of the ballpark just for him to pass by so I could see him." ― Roberto Clemente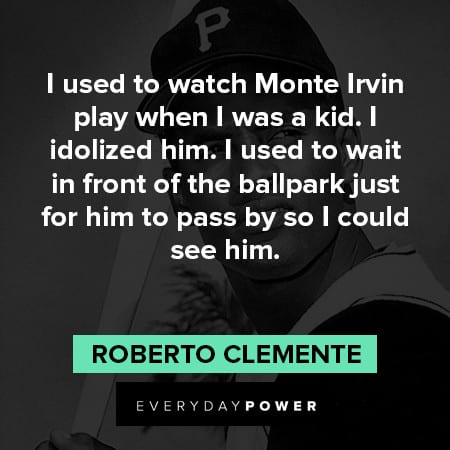 12. "Brooklyn was a famous team. I wanted to play for the Dodgers." — Roberto Clemente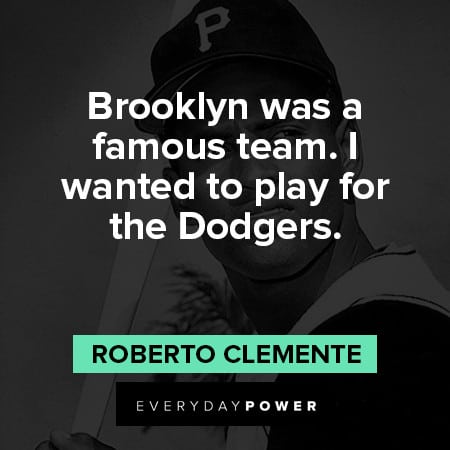 13. "The Dodgers told me a big bonus was no good, and they said other players would resent it. Better for me to take a small amount of money and work my way." ― Roberto Clemente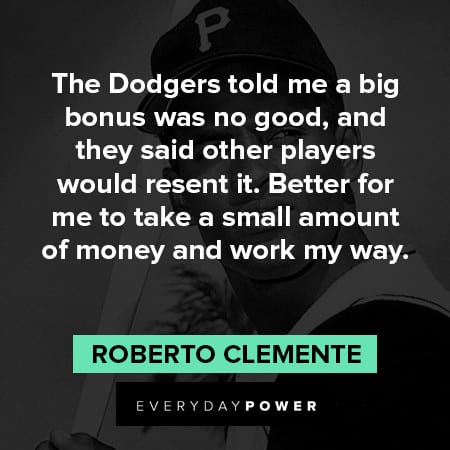 14. "I will hit.450 if you give me Ralph Garr's legs, Johnny Bench's age and cut the travel schedule." — Roberto Clemente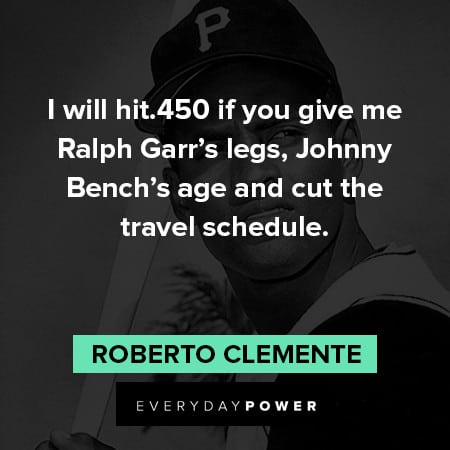 15. "I had offers from Dodgers, Giants, and Braves. Braves offer same amount as Dodgers but I have many friends on Brooklyn team. I feel more at home there and I sign." — Roberto Clemente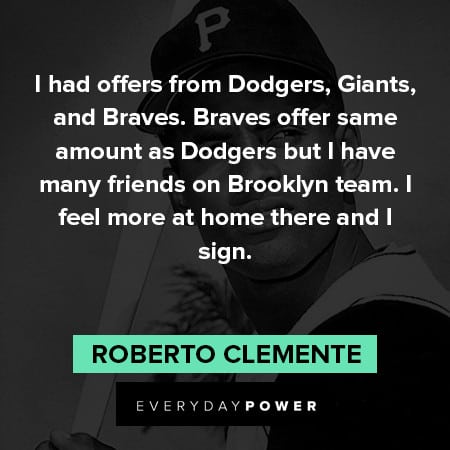 16. "I love the game too much to quit." — Roberto Clemente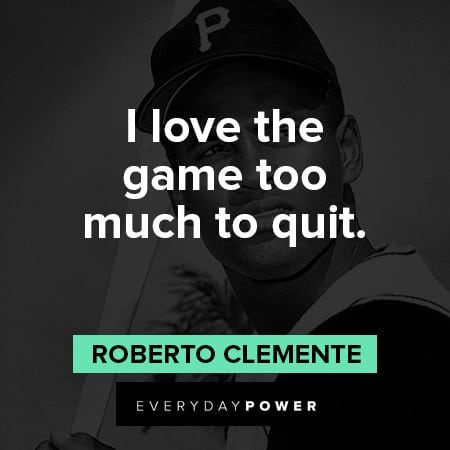 17. "You try to hit home run every time but you no can do. No man can do." — Roberto Clemente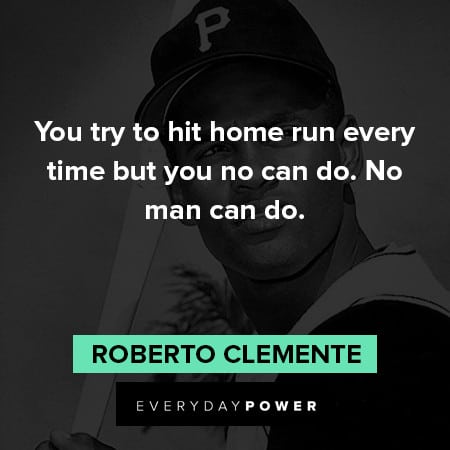 18. "They've been knocking me down all season in the National League and I've still gotten my share of base hits." — Roberto Clemente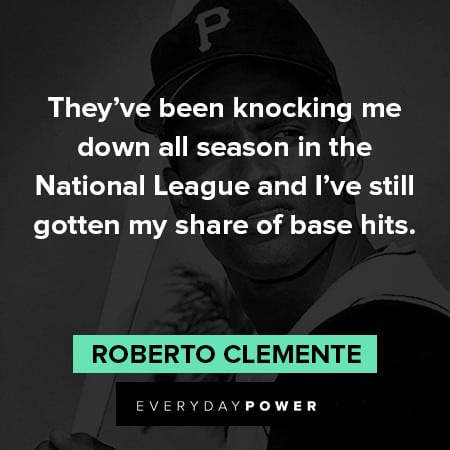 19. "This is my ballpark. Every game is played in daylight and I can see the ball good. And I can reach the stands in any direction." — Roberto Clemente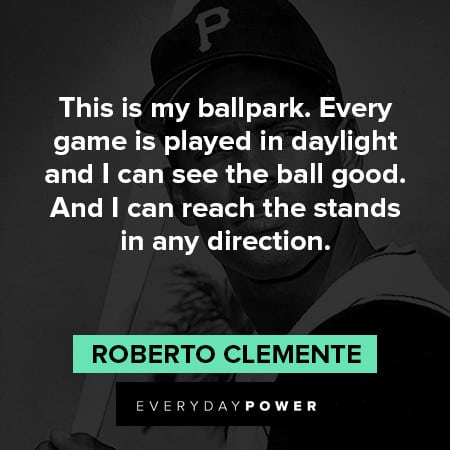 20. "I think the fans in Pittsburgh are the best in baseball. They've always been on my side, even when I'm going bad. I've made plenty of friends and I would not trade these people for anybody, anywhere." — Roberto Clemente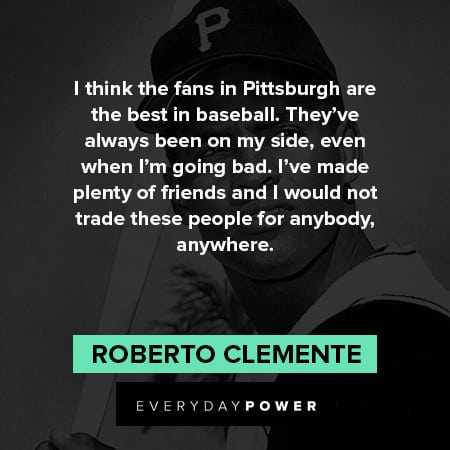 21. "There are many good players in this game. If they weren't good, they wouldn't be in the majors." — Roberto Clemente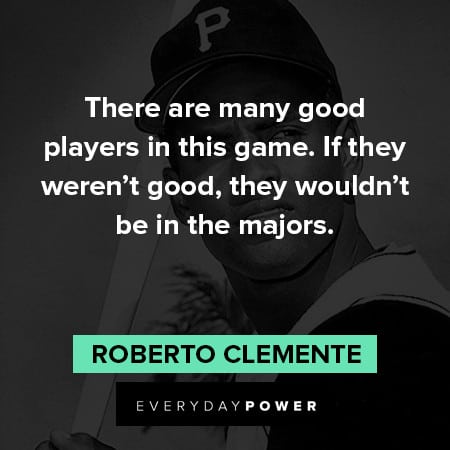 22. "In Puerto Rico, we like to laugh and talk before a game. Then we go out and play as hard as we can to win. Afterwards, we laugh and talk again. But in America, baseball is much more of a business. Play well and you get pats on the back and congratulations. Play bad and no pats and maybe nobody talks to you." — Roberto Clemente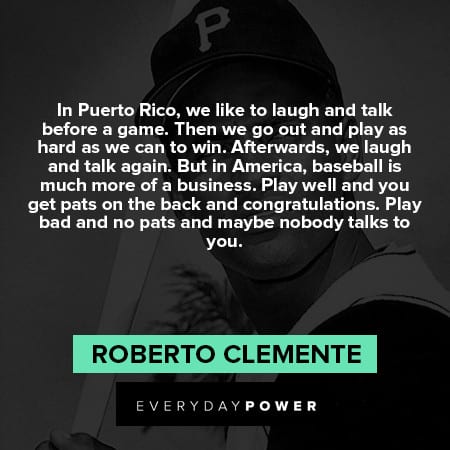 23. "Baseball was my whole life. I would forget to eat because of baseball." — Roberto Clemente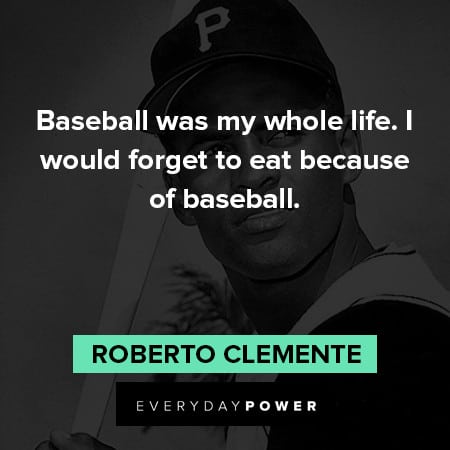 If you enjoy this article, check out our collection of Tommy Lasorda quotes from the baseball legend.
Famous Roberto Clemente quotes about his success from baseball
24. "I wasn't ready for the majors when I joined the Pirates in 1955. I was too young and didn't know my way around." ― Roberto Clemente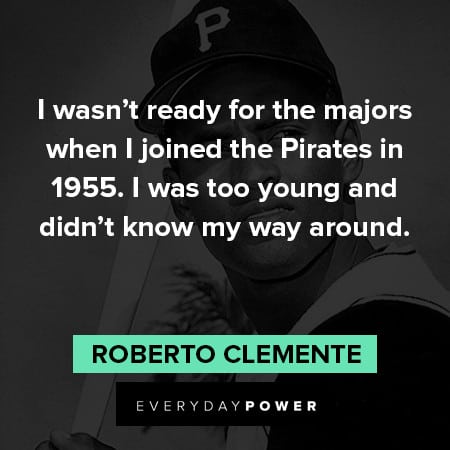 25. "After I failed to win the Most Valuable Player Award in 1960, I made up my mind I'd win the batting title in 1961 for the first time." ― Roberto Clemente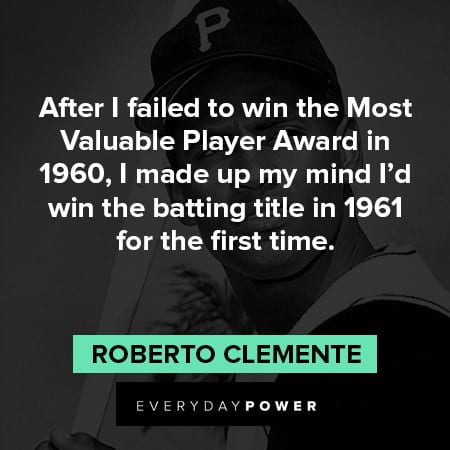 Did you enjoy these Roberto Clemente quotes?
Though he was an excellent ballplayer, Roberto Clemente did not come to America without challenges.
Not a native English speaker, Clemente had to overcome a language barrier for the first several years of his professional career.
He also faced racism from other players and reporters who discriminated against him for the color of his skin.
However, Clemente was proud of his Puerto Rican heritage and was an outspoken supporter of minority rights.
Because of Clemente's untimely death, the Baseball Hall of Fame changed their rules and allowed for Clemente to be inducted into the Hall of Fame six months after his plane crashed.
Prior to Clemente, there had been a mandatory five-year waiting period.
We hope you enjoyed these Roberto Clemente quotes and sayings.
If you did, you might also enjoy these Ty Cobb Quotes.
Let us know which quote was your favorite in the comments below.