Rough Day Quotes For A Better Tomorrow
If you are having a rough day, you should check out these inspirational and funny rough day quotes.
We have all been there before. We have one of those days where it seems if it wasn't for bad luck, we would not have any luck at all.
There are some who say having a rough day is a mindset and a choice.
Motivational speaker Dennis S. Brown shares that "The only difference between a good day and a bad day is your attitude."
There is wisdom in his words. But that wisdom is not always easy to enact when we are living in the moment.
Our lives are not going to always be hunky dory and positive all of the time.
Instead, the challenges in life are designed to reinforce the value of our triumphs.
Choosing our attitude is a powerful tool we can use to make the most out of our conditions, but it takes mindfulness and practice.
Enjoy reading the rough day quotes below!
Check out our most popular quote article, a list of short inspirational quotes for daily inspiration.
Check out our entire collection of motivational quotes here.
Rough Day Meme Quotes
Some days feel harder than others. If you're struggling today, find motivation in these quotes.
1. "A bad day doesn't cancel out a good life. Keep going." – Richie Norton
You will also enjoy our article on jealousy quotes.
2. "A good day is a good day. A bad day is a good story." – Glennon Melton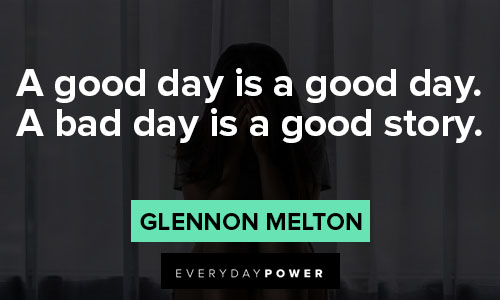 3. "The only thing worse than a bad day is no day at all." – Jonathan Lockwood Huie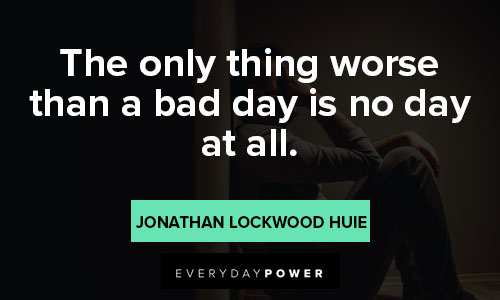 4. "There is no good day or bad day, only good or bad actions." – Amit Kalantri, Wealth of Words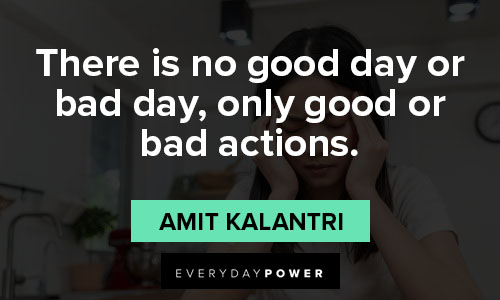 5. "It's just a bad day, not a bad life." – Mary Engelbreit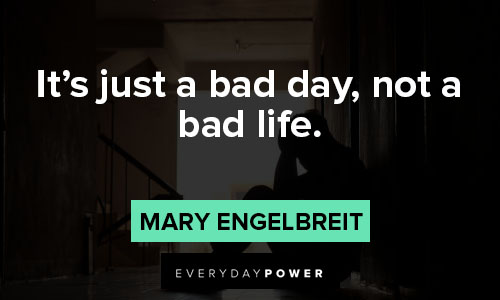 6. "A bad day is just a filler episode in our lives." – nynetailed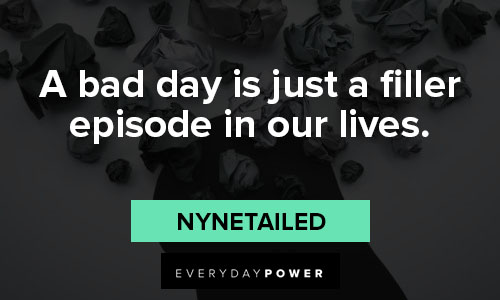 7. "I've had the kind of bad day no quote can fix." – Richelle E. Goodrich, Making Wishes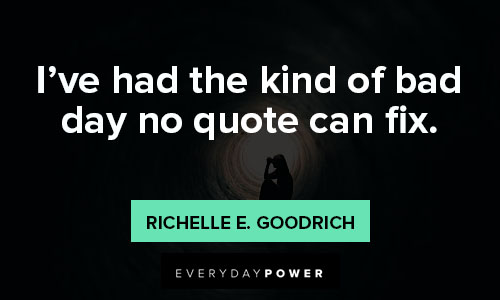 8. "Bad days always promise a better day tomorrow." – Arieana E.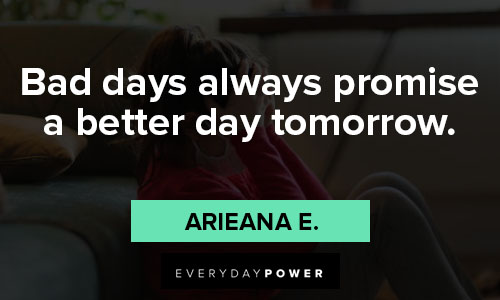 9. "If you wish to live to see better days, then you must endure the bad days." – Abdul Kalam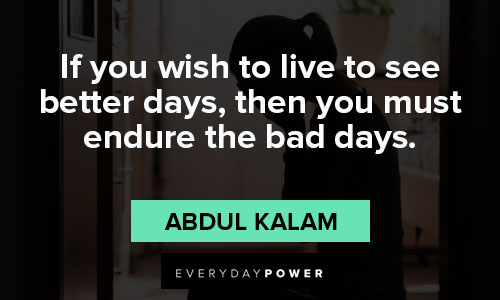 10. "To affect the quality of the day, that is the highest of arts." – Henry David Thoreau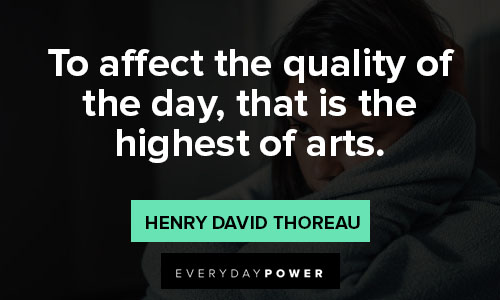 Rough Day Quotes to Reflect On
11. "Maybe it's not about having a beautiful day, but about finding beautiful moments". – Anna White, Mended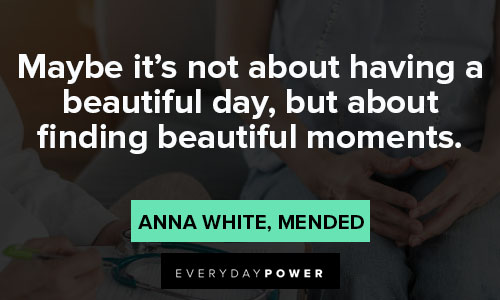 12. "Never give up on someone who is having a bad day. Tomorrow could be yours." – Giovannie de Sadeleer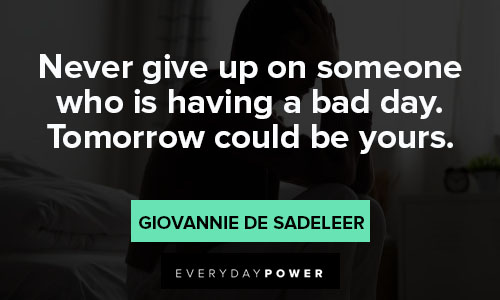 13. "A bad day doesn't mean a bad week or a bad month or a bad year." – Anuj Jasani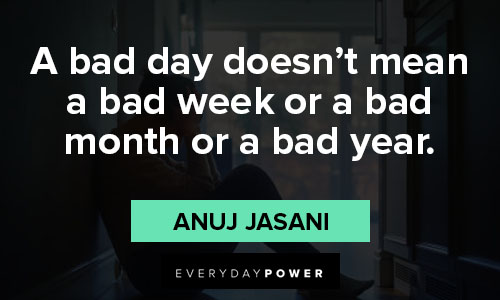 14. "One man's bad day is another man's good night." – Mokokoma Mokhonoana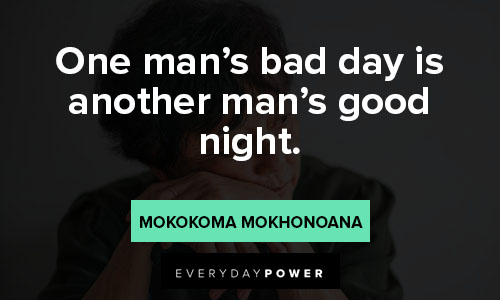 15. "Everything is terrible still. Today is terrible." – A.D. Aliwat, In Limbo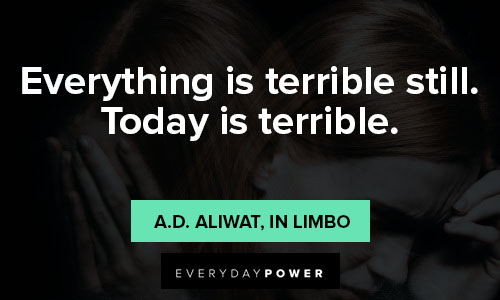 16. "Sometimes you need those bad days to help you appreciate the good ones." – Unknown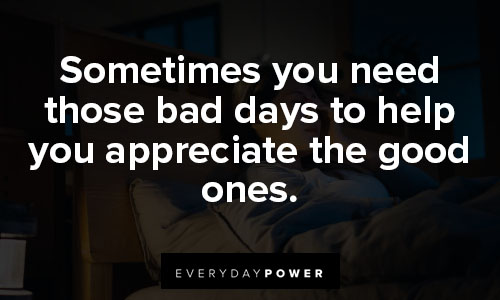 17. "When you have a bad day, a really bad day, try and treat the world better than it treated you." – Patrick Stump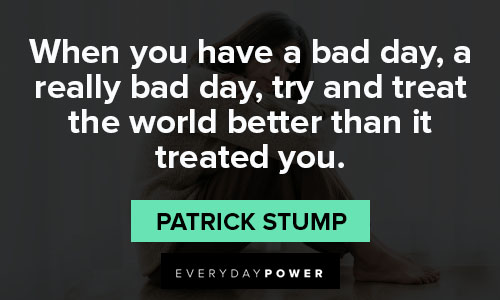 18. "The only difference between a good day and a bad day is your attitude." – Dennis S. Brown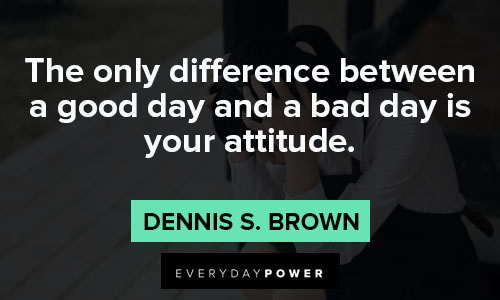 19. "Our greatest glory is not in never falling, but in rising every time we fall." – Confucius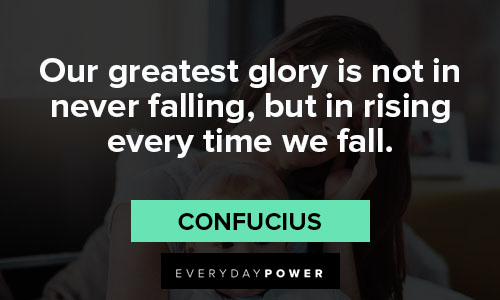 20. "For many of us, a day is neither bad or good. It is our attitude that seems to make it what it is." – Darryl Van Kirk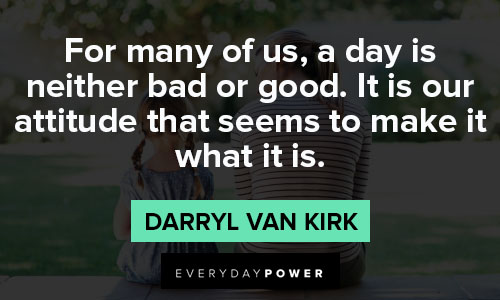 Rough Day Quotes to Inspire You
21. "Many bad days were preceded by a bad night's sleep." – Mokokoma Mokhonoana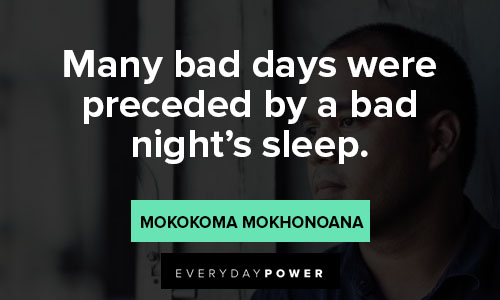 22. "So you had a bad day. Kick it aside and be grateful for one less bad day to pass through." – Richelle E. Goodrich, Making Wishes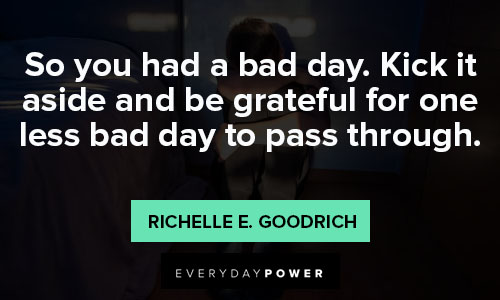 23. "I've learned that no matter what happens, or how bad it seems today, life does go on, and it will be better tomorrow." – Maya Angelou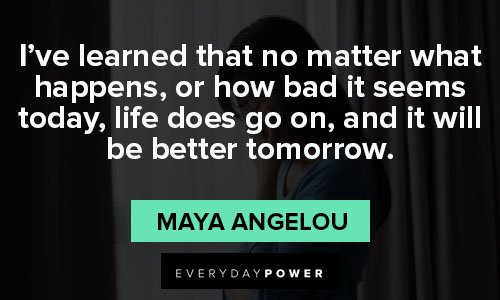 24. "A day gone is a day gone. As they say, don't let a bad day turn into a bad year. Every sunset is an opportunity to reset." – Richie Norton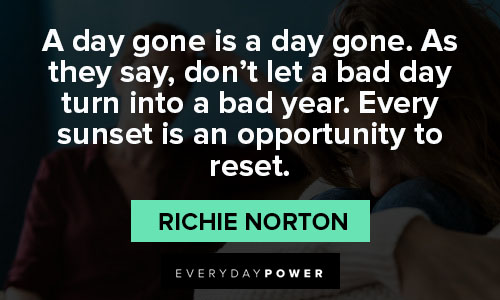 25. "I find some comfort in the thought of a fresh tomorrow. I am thankful for the opportunity to try again." – Richelle E. Goodrich, Being Bold: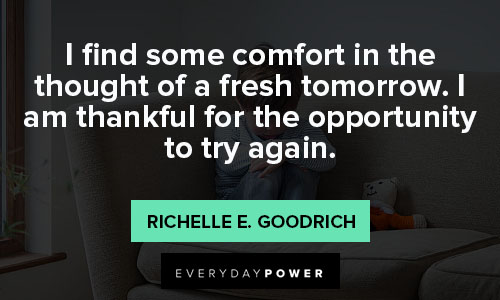 26. "No matter what the day brings and no matter how hard life hits you, if you can breathe, smile and keep moving on!" – Ernest Agyemang Yeboah
27. "When you fail, know that your past is anonymous to the world, so you might as well go about life as if you've had a good day." – Karl Kristian Flores, The Goodbye Song
28. "I could choose to believe that in every day, in all things, no matter how dark and ugly, there are shards of beauty if I look for them." – Anna White, Mended
29. "Keep calm when things don't go according to your expectations! Beautiful things always meet friction!" – Ernest Agyemang Yeboah
30. "We can get up, anticipate that the day will probably have a few good moments and a few bad ones, and then just deal with it. Take it all in and deal as best as we can." – John Corey Whaley, Where Things Come Back
Rough Day Quotes For a New Perspective
31. "In the sentence of life, the devil may be a comma – but never let him be the period, because it may just be a bad day, not a bad life!" – Usman Aman
32. "Sometimes, there are hard days. Days stretched so tight with pain that they seem as if they can allow no room for hope." – Libba Bray, Hope Nation
33. "When you're having what you feel like is a "bad day" and then someone comes along out of nowhere and extends to you the simplest of kind gestures, you feel it so deeply within your heart." – Miya Yamanouchi , Embrace Your Sexual Self
34. "When you are having a really crappy day, and life seems to be kicking your ass, try to force yourself to laugh. If you can achieve a smile and a laugh, you can chase any demons away" – L.F. Young
35. "Never view obstacles in your path as the enemy. Rather, view any obstacles as detour signs to avoid pitfalls." – Donald L. Hicks, Look into the stillness
36. "Today might be shitty, tomorrow might be shitty, the next day might be shitty… but who's to say that one of the next days won't be the best day of your life?" – Benjamin A. Collier
37. "I cannot let my blood pressure rise because someone wishes to spread his or her bad day around, as if to dilute instead of multiply it." – Thomm Quackenbush, Pagan Standard Times
38. "Remember the tough times. They'll help you appreciate the good times even more deeply". – Unknown
39. "When you're having a bad day at work, a lot of times it's your head. When you're having good days, a lot of times it's the absence of the mind." – Curt Schilling
40. "Don't judge each day by the harvest you reap, but by the seeds you plant." – Robert Louis Stevenson
Rough Day Quotes to Keep You Going
41. "Sail through the good days, and on bad days pick a spot of blue sky to steer toward." –Richelle E. Goodrich
42. "Tough times never last, but tough people do." – Robert H. Schuller
43. "When I'm having a bad day, I pick up my guitar." – Michelle Branch
44. "What? You're having a bad day? Think of those who didn't wake up this morning, and can no longer live this day." – Patty Medina
45. "…I've had a bad week." What's happened?" Nothing's happened. I've had a bad week in my head, is all." – Nick Hornby
46. "I get up every morning and it's going to be a great day. You never know when it's going to be over so I refuse to have a bad day." – Paul Henderson
47. "The greater part of our happiness or misery depends upon our dispositions, and not upon our circumstances." – Martha Washington
48. "When someone treats you badly it's because they feel bad. Don't inhale their bad feelings. Breathe it out then hope they inhale your inner peace." – Karen Sahlmansohn
49. "At the age of 18, I made up my mind to never have another bad day in my life. I dove into an endless sea of gratitude from which I've never emerged." – Patch Adams
50. "There's nothing wrong or evil about having a bad day. There's everything wrong with making others have to have it with you." – Neil Cavuto
Did Any Of The Rough Day Quotes Change How You Think?
No matter how positive we remain, rough days are inevitable.
There are many elements and conditions in our lives that will always remain beyond our control.
But learning to live with that concept is a necessity for a healthy balanced life.
Rough days may be challenging, but they often provide us with the most insight and opportunity for reflection.
We learn the most from the rough days we experience. So, to have a rough day is to be human.
It is unrealistic to simply reduce having a rough day to a feeling we can just overcome by remaining positive; that's toxic positivity.
When we look at the natural world around us, we see the moon, tides, wind, and even the sunlight all come and go as a balancing act.
Nothing is ever just one thing. Instead, it is more beneficial to accept that having a rough day is part of the ebb and flow of life.
These Rough Day Quotes do a good job of helping us appreciate life.
Did any of the quotes resonate with you or your family or friends?
Leave your thoughts below and share these on social media to keep the conversation going.