RuPaul Quotes From the World's Favorite Drag Queen
With a vibrant career in mainstream media spanning over 30 years, RuPaul is arguably the world's most famous drag queen.
From the fluidity of identity to the wonderful world of drag, check out 50 motivational RuPaul quotes below.
Have you ever watched RuPaul's Drag Race?
As a beloved producer, actor, model, television personality, and drag queen, RuPaul is a media master.
Within the music industry, RuPaul has created 14 studio albums, with his most popular 1992 single, "Supermodel (You Better Work), reaching number 2 on the U.S.
Dance Chart.
Most audiences will recognize RuPaul as host and producer of RuPaul's Drag Race, which has spanned eleven seasons and multiple spin-offs.
He has also made appearances in prominent films and television shows, most recently being the Netflix series AJ and the Queen.
Take a look at some of RuPaul's most inspirational quotes below!
And don't forget to also check out our collection of Margaret Mead quotes challenging societal stereotypes.
If you like this article, we suggest you explore our most popular quotes article, a list of short inspirational quotes for daily encouragement.
Read more related content on our inspirational quotes category page.
RuPaul quotes about success
1. "To win at life and to win in this competition, you have to be willing to die a thousand deaths and be reborn a thousand times." – RuPaul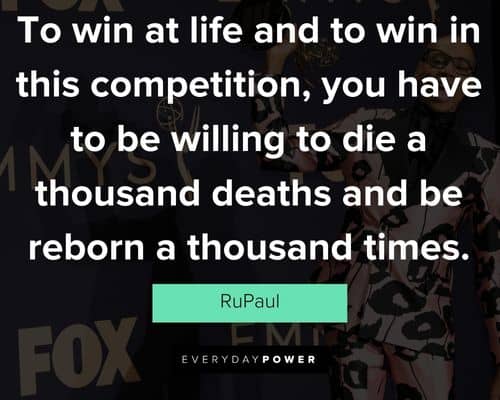 2. "When you become the image of your own imagination, it's the most powerful thing you could ever do." – RuPaul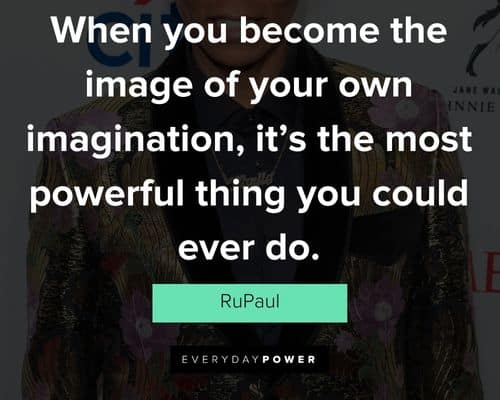 You will also enjoy our article on UNHhhh quotes.
3. "Success is something between you and yourself. I think only you know where you've come from and how far you wanna go." – RuPaul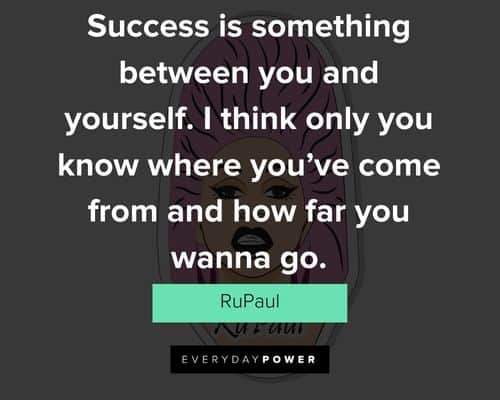 4. "It's true in everything, not just in drag: To be a success, you have to understand the landscape. You have to know thyself, and you have to know your history so that you can draw from people who have figured out the equation you are faced with. It's not rocket science." – RuPaul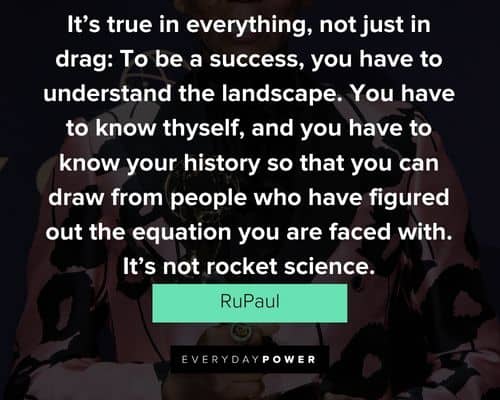 5. "You may not get the role you auditioned for, but make a lasting impression and they'll remember you for something else later." – RuPaul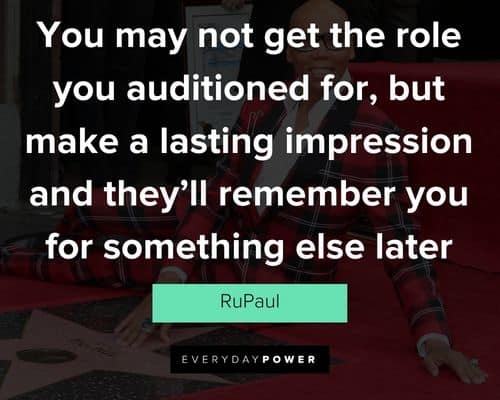 6. "If you want to be invited to the party, you better have something to bring." – RuPaul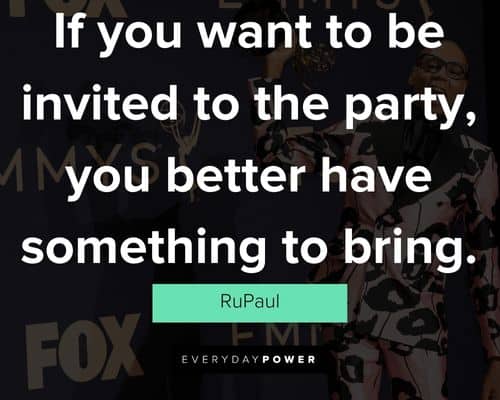 7. "To limit yourself to one thing, it's your business. But you have a choice." – RuPaul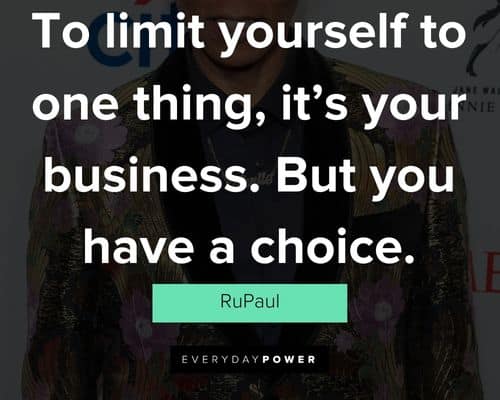 8. "Personally, I experience success when I enjoy what I'm doing. I love the creative process, even if the end result isn't embraced by anyone else." – RuPaul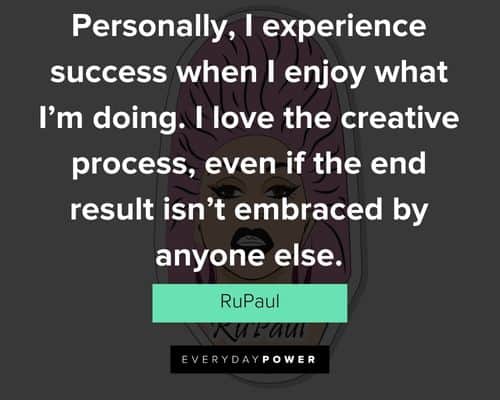 9. "If you have goals and the stick-with-it-ness to make things happen, people will feel threatened by you, especially if your goals don't include them. They believe that if you take a piece of pie then that leaves less pie for them. Seeing you follow your dreams leaves them realizing that they're not following theirs. In truth, there is unlimited pie for everyone!" – RuPaul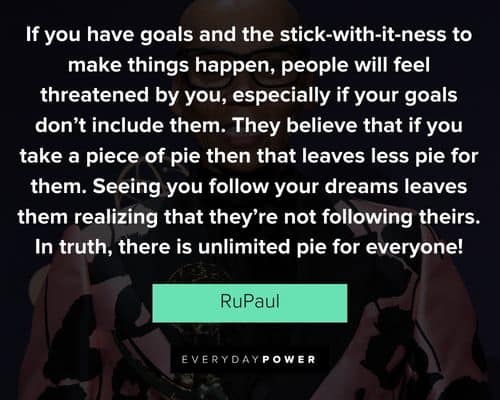 10. "I have been discriminated against by white people for being black, by black people for being gay, by gay people for being too fem. Did I let them stop me from getting to this chair?" – RuPaul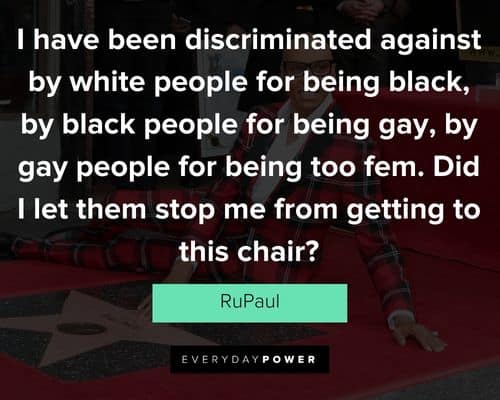 11. "The secret of success in every field is redefining what success means to you. It can't be your parent's definition, the media's definition, or your neighbor's definition. Otherwise, success will never satisfy you." – RuPaul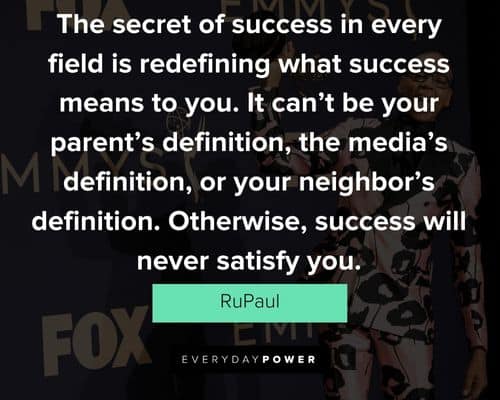 You will also enjoy our article on bad bitch quotes.
RuPaul quotes about self-confidence
12. "If you can't love yourself, how the hell are you gonna love somebody else?" – RuPaul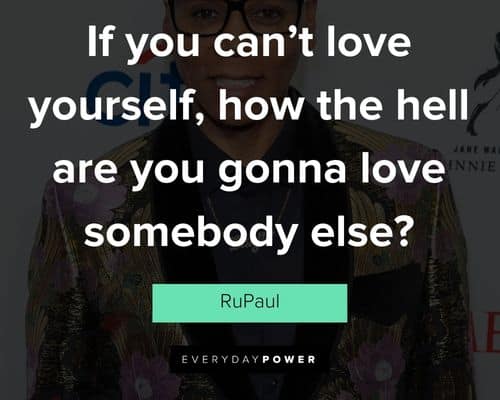 13. "There are so many sensitive souls; they don't know what to do with their feelings." – RuPaul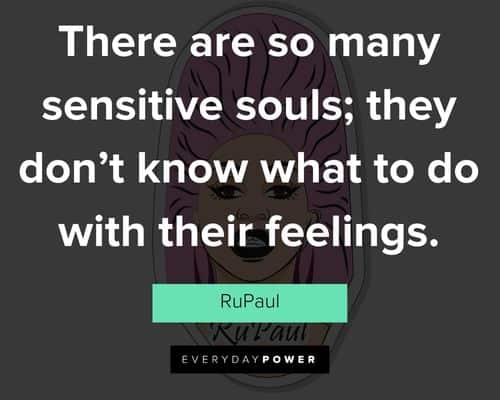 14. "Don't believe the hype; don't believe what it tells you on your driver's license. You are an extension of the power that created this whole universe." – RuPaul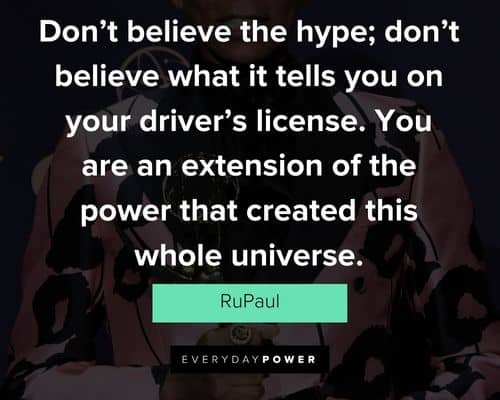 15. "Unless they're paying your bills, pay them bitches no mind!" – RuPaul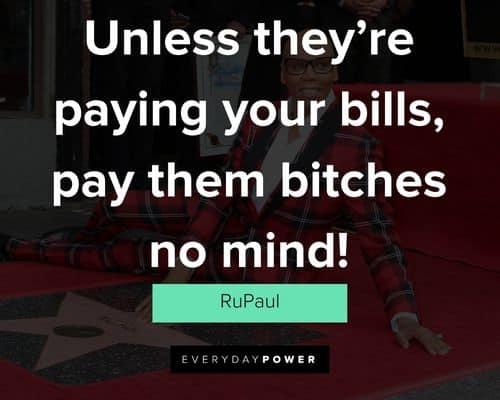 16. "Look at me – a big old black man under all of this makeup, and if I can look beautiful, so can you." – RuPaul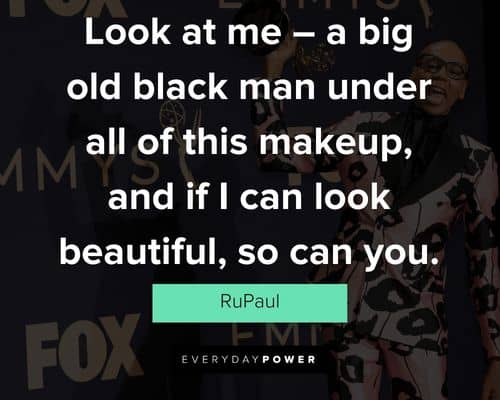 17. "I remember being 14 years old, making a pact with myself. I would never join into the matrix, never join into the status quo, and I would always fight it. It always felt like I was on an operating table and the anesthesia never worked." – RuPaul
If you're enjoying these quotes, make sure to read our collection of Matrix quotes that will challenge your understanding of what is real and what is not.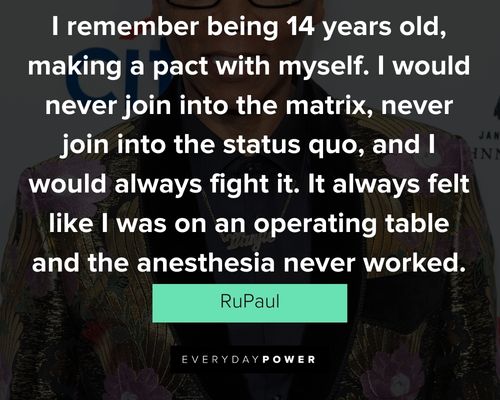 18. "What other people think of me is not my business. What I do is what I do. How people see me doesn't change what I decide to do. I don't choose projects so people don't see me as one thing or another. I choose projects that excite me." – RuPaul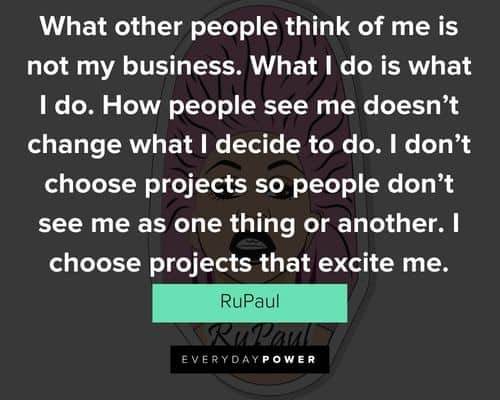 You might also like these magnificent Misty Copeland quotes that will inspire you to live a life of passion.
Powerful RuPaul quotes
19. "Biggest obstacle I ever faced was my own limited perception of myself." – RuPaul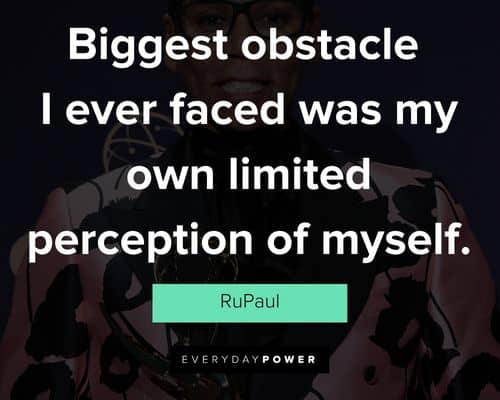 20. "Fulfillment isn't found over the rainbow—it's found in the here and now. Today I define success by the fluidity with which I transcend emotional land mines and choose joy and gratitude instead." – RuPaul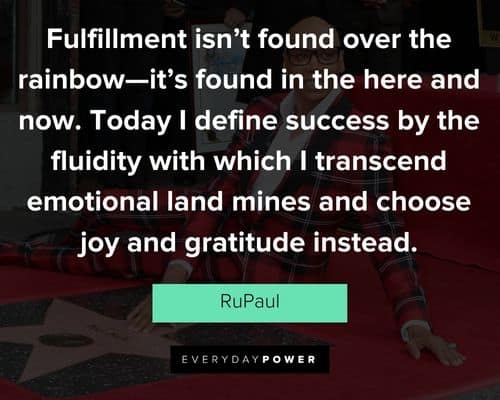 21. "It's very easy to look at the world and think, this is all so cruel and so mean. It's important to not become bitter from it." – RuPaul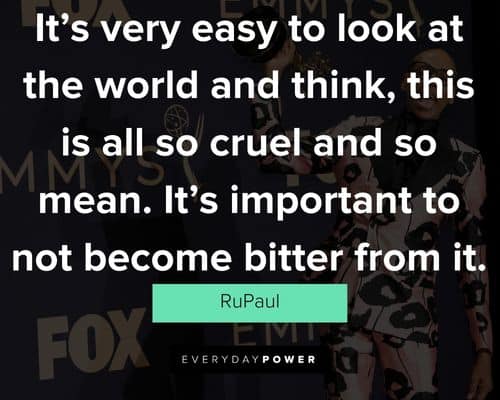 22. "In our subconscious, we all know we're playing roles." – RuPaul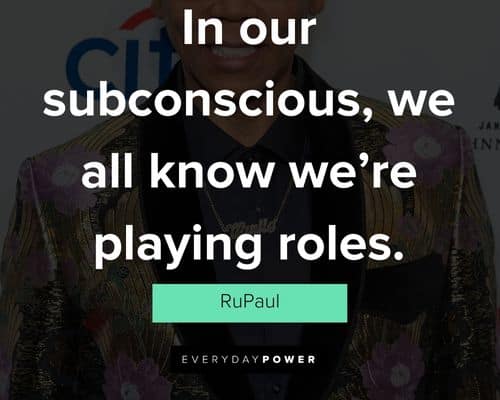 23. "It's not the word itself, but the intention behind the word." – RuPaul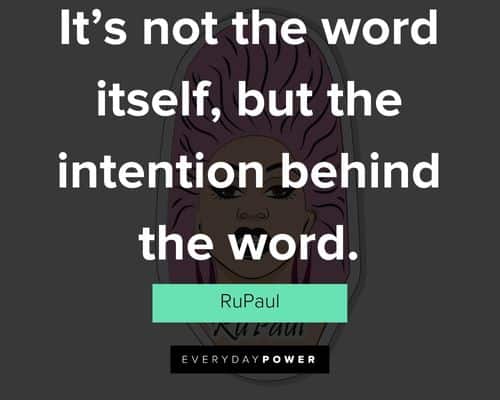 24. "When the going gets tough, the tough reinvent themselves." – RuPaul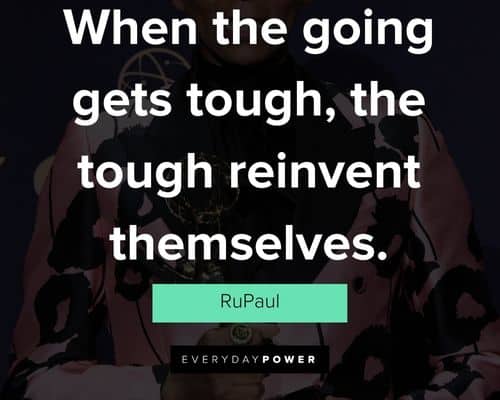 25. "The whole point is to live life and be – to use all the colors in the crayon box." – RuPaul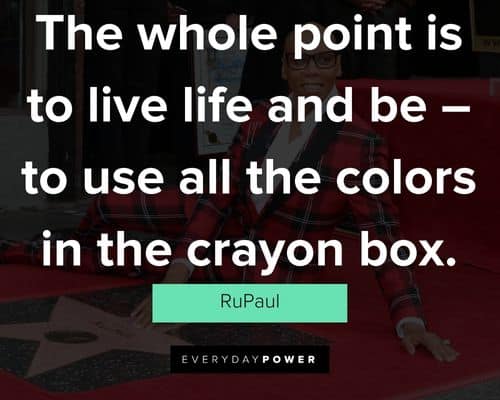 26. "Life is not to be taken seriously." – RuPaul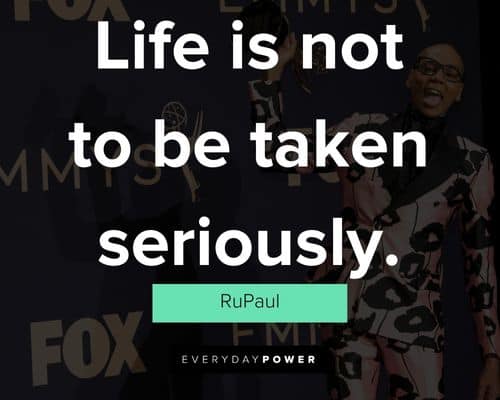 27. "Life's journey – it unfolds for you as you are ready for it." – RuPaul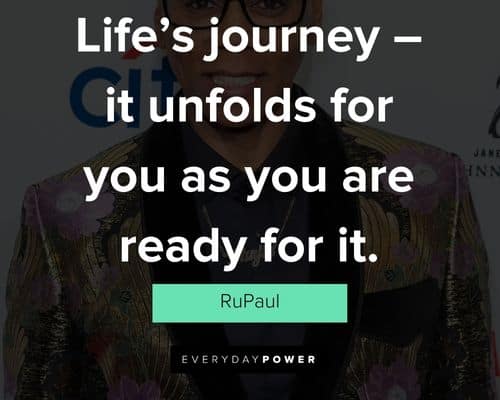 28. "Never forget that the most political thing you can ever do is follow your heart." – RuPaul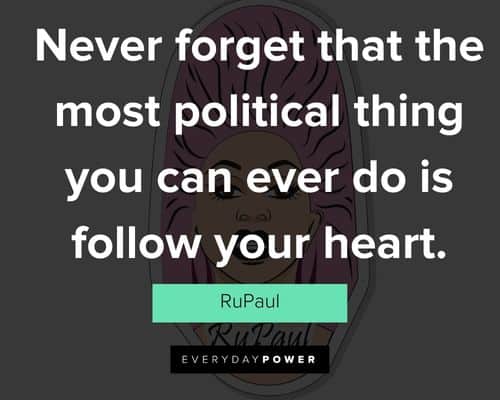 29. "Once you clear out from your consciousness things that no longer matter, you're able to make room for other things." – RuPaul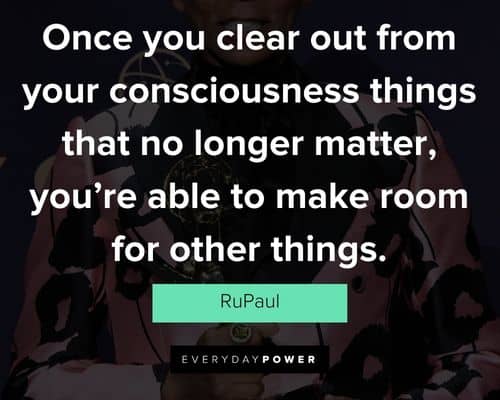 30. "All sins are forgiven once you start making a lot of money." – RuPaul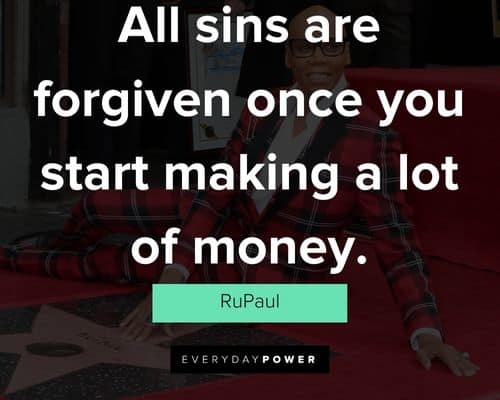 RuPaul quotes about drag
31. "We are all doing drag. Every single person on this planet is doing it." – RuPaul
32. "We're all born naked and the rest is drag." – RuPaul
33. "There's not another lip-synch song on the planet, in the history of lip-synching songs, that has been lip-synched more than 'I Will Survive.'" – RuPaul
34. "I love the creativity and the social and political aspects of drag." – RuPaul
35. "Drag is there to remind culture not to take itself too seriously. All of this is illusion." – RuPaul
36. "A regular old drag queen is usually your science teacher who's actually wearing women's panties underneath his slacks. A drag-queen superstar is someone who actually works in clubs and makes a living doing it more than one night a year, or even one night in six months." – RuPaul
37. "Drag is involved with changing identities and not taking identities too seriously at all. That's why drag is such a hard sell to a network – or anyone, really – because it's up against the ego." – RuPaul
38. "I don't think drag will ever be mainstream because it's counter to what the mainstream directive is, which is picking an identity and sticking with it for the rest of your life." – RuPaul
39. "The only time you will ever see me in drag is when I am – What? Getting paid. It is my job." – RuPaul
40. "From childhood, we're trained to be a certain way, to behave a certain way – so that the power base can control us, really. And punk and drag are completely outside of that." – RuPaul
41. "I love drag, and I love people who gravitate toward it. Because the people who do drag are people who dance to the beat of a different drummer." – RuPaul
42. "Drag breaks the fourth wall, which is why it's never been quite accepted, because nobody wants to be told that they are really a caricature of themself and to not take yourself too seriously." – RuPaul
RuPaul quotes about pop culture and society
43. "I think our culture is moving forward – slowly. And also, as we move forward, we're witnessing some of the old stalwarts rejecting that forward motion." – RuPaul
44. "Racism has nothing to do with race. It is the ego's way of making you feel 'better than'." – RuPaul
45. "The point about pop culture is that so much of it is borrowed. There's very little that's brand new. Instead, creativity today is a kind of shopping process—picking up on and sampling things form the world around you, things you grew up with." – RuPaul
46. "Usually, people who don't have a broad perspective see gay people as servants – as people who are there to make them look good." – RuPaul
47. "In my life, I've been able to really examine society in a way most people who aren't outsiders don't get a chance to do." – RuPaul
48. "In a culture, you can choose fear or love. It's been my experience and my observation that humans on this planet feel more comfortable with fear rather than love and openness… I do know what history tells us about humans. And humans, they actually don't feel very comfortable with openness and freedom." – RuPaul
49. "Unfortunately, in our culture, one person can write a letter to the network, and they shut something down. It's unfortunate." – RuPaul
50. "This is an important thing: People who live in the mainstream and the status quo think that everyone else is there to serve them." – RuPaul
51. "The amount of respect you have for others is in direct proportion to how much respect you have for yourself." – RuPaul
52. "Drag really is all about dipping into pop culture and then reshaping it into something else." – RuPaul
53. "First learn the rules, then break them." – RuPaul
54. "Young people need to know there are ways for them to navigate this life." – RuPaul
55. "Life is dangerous. There are no guarantees." – RuPaul
How are you unique?
A loving embrace of individuality is the driving force of RuPaul's career and the success of his wildly popular show, RuPaul's Drag Race.
From the societal standards that are constantly at our throats to the pressures of family and friends, many of us are constantly being told who we are "supposed" to be.
Media mogul RuPaul encourages his audience to instead live life on their terms.
As a result, fans are inspired to be their own person and follow their heart.
Did you love reading quotes straight from the mind of RuPaul?
Which of these RuPaul quotes was your favorite?
Let us know your opinion below.
Check out RuPaul on MasterClass where he teaches Self-Expression and Authenticity.