Scott Hall Quotes From the Famous Wrestler
Learn more about the man behind the wrestler with these Scott Hall quotes.
Scott Hall was an American wrestler who played the wrestling character Razor Ramon.
The Razor Ramon character was first introduced to wrestling in 1984 after Hall was inspired by the character Tony Montana.
Scott Hall's wrestling career began with him being known as the "Bad Guy," or Razor Ramon.
Scott Hall was the first person to win the Intercontinental Title three times.
In addition, he was also inducted into the WWE Hall of Fame in 2014.
Hall had a very successful wrestling career after introducing the character of Razor Ramon and was even invited to compete in World Championship Wrestling.
Get your sneak peek into his life by reading these Scott Hall quotes.
If you like this article, we suggest you explore our most popular quotes article, a list of short inspirational quotes for daily encouragement.
Check out more inspirational quotes on our motivational quotes category page.
Scott Hall Quotes
If you are a wrestling fan, you may know him better as Razor Ramon. However, these quotes let you get to know the man behind the character.
1. "My life is like driving down a road. I occasionally glance in the rearview mirror, but I'm not focused on the past or looking back anymore." – Scott Hall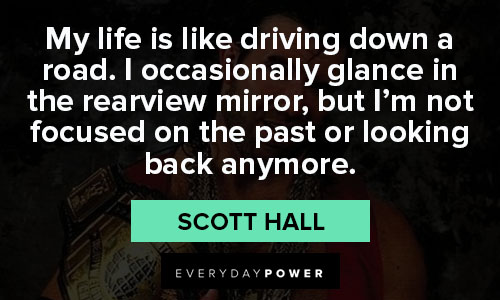 You will also enjoy our article on bullying quotes.
2. "I would consider myself one of the highest-paid job guys in history." – Scott Hall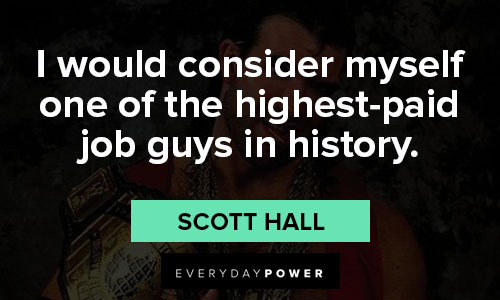 3. "My most important legacy is being a good father to my two children." – Scott Hall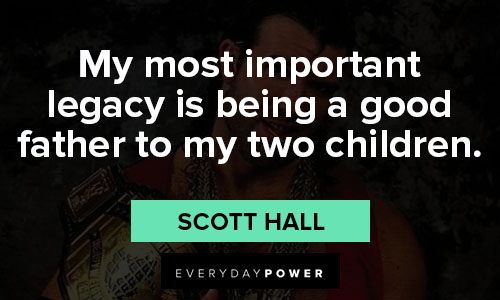 You will also enjoy our article on wrestling quotes.
4. "You can't choose your family, but you can choose your friends." – Scott Hall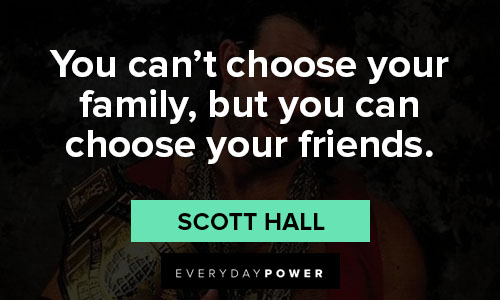 5. "If you have any talent, you can't be held back, and you can't be held down." – Scott Hall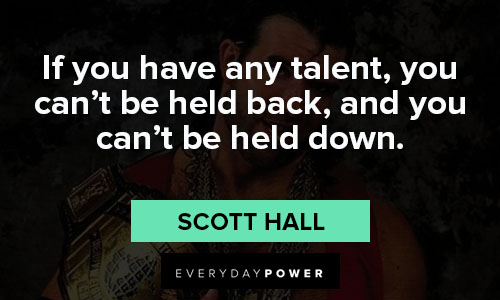 6. "Once you learn how to work inside the ring – once you learn how to tell a story – then you can come to a big company like the WWE and learn the extra stuff, like the video, the pyro, the music, and that adds to everything you can do." – Scott Hall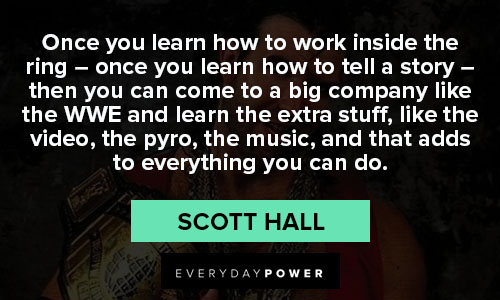 7. "It's hard to ask for help. It's even harder to accept it when people offer it." – Scott Hall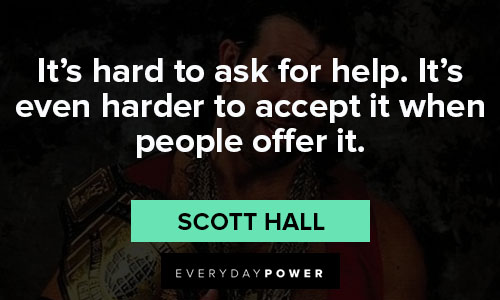 8. "What I want to do is bring back managing in the wrestling business." – Scott Hall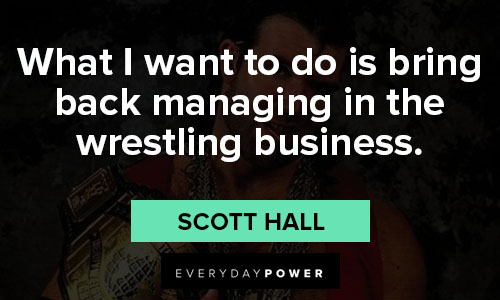 9. "If people are offering you help, swallow your pride and accept it because people who care about you want to help you." – Scott Hall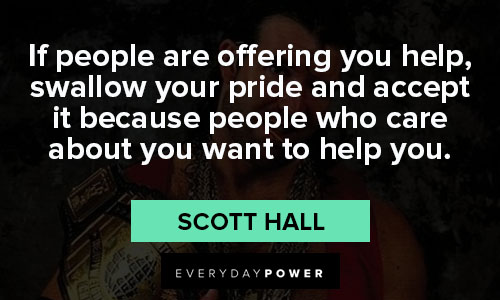 10. "I'm happy for anybody who gets an opportunity or a break in the wrestling business." – Scott Hall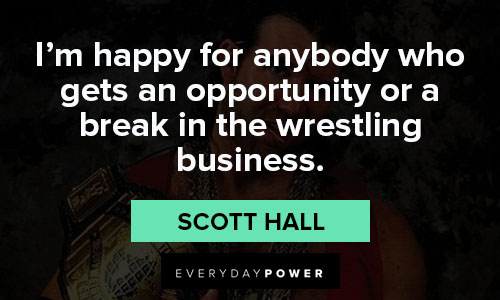 If you enjoy this article, check out our collection of Razor Ramon quotes from the bad guy.
Scott Hall Quotes
It can be easy to get caught up in a role someone plays, but there is often another side to them. These quotes show you more of who Scott Hall is.
11. "Whether they cheer or whether they boo really doesn't bother me as long as they're paying attention." – Scott Hall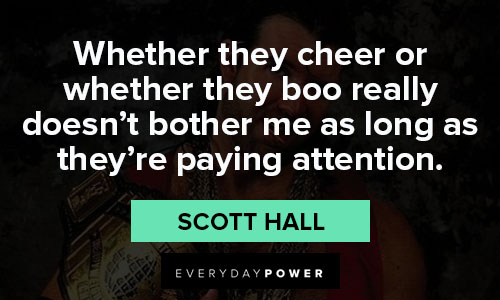 12. "Obviously, I'm against bullying, but it does happen." – Scott Hall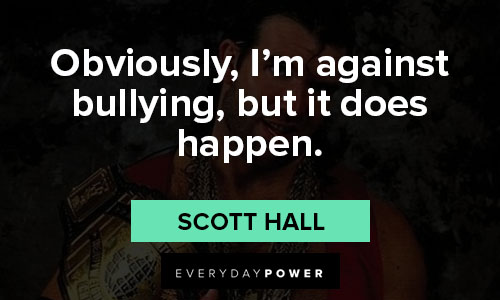 13. "You don't get any better unless you're around guys who know more than you." – Scott Hall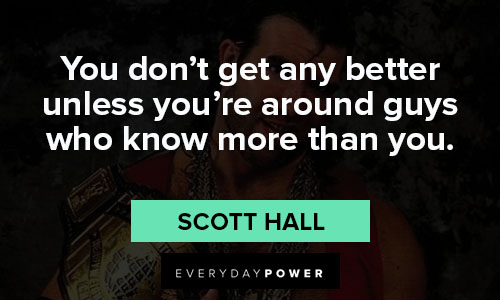 14. "No matter how many times you fall, you can't stay down forever. You need to get back up on your feet and carry on."- Scott Hall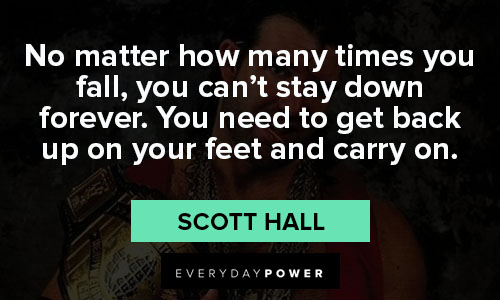 15. "Look at my life. I almost died. I almost died several times. My shoulders were down, man. But I kicked out. I kicked out again." – Scott Hall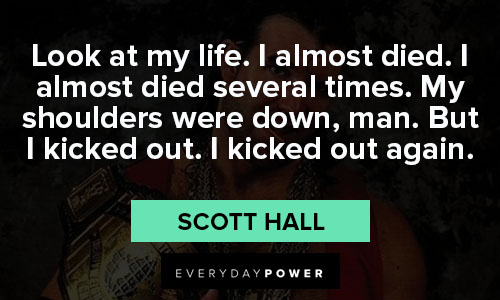 16. "Hard work pays off, dreams come true." – Scott Hall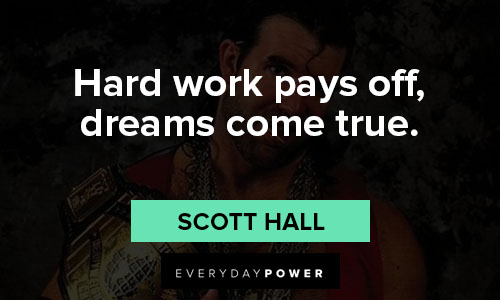 17. "When I'm in the ring, I'm doing great." – Scott Hall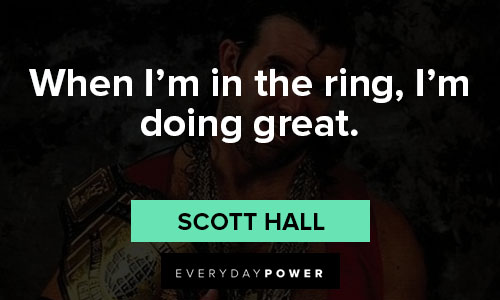 18. "I had the inability to ask for help when I needed it. People offered to help me, but I refused." – Scott Hall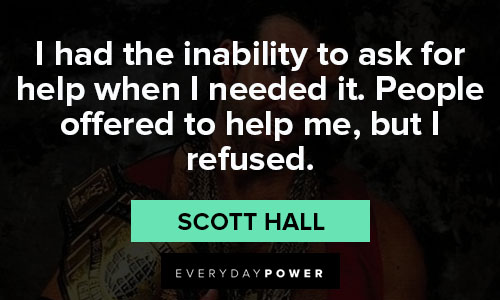 19. I think the best thing I can do for me is to show up places and be clear-headed. Because when I'm clear-headed, my phone rings. I get opportunities." – Scott Hall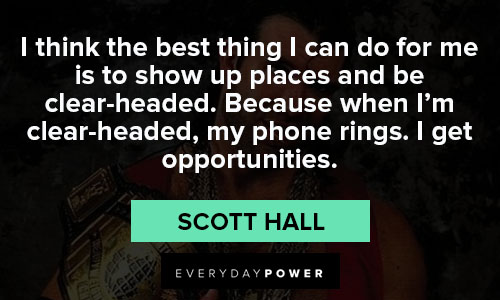 20. "You can't control the weather, but there are definitely things you can do to protect yourself and the investment you've made in your boat." – Scott Hall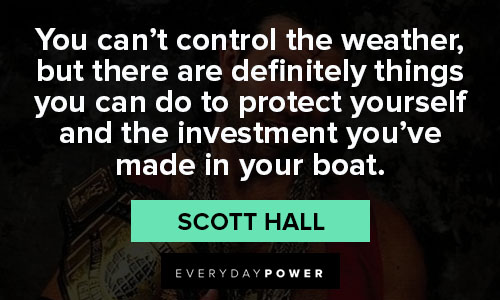 Scott Hall
In 1983, Scott Hall was charged with second-degree murder.
He got into a fight outside a nightclub where he wrestled a gun out of a man's hands. Out of self-defense, Hall shot the man in the head.
However, Hall suffered no charges pressed against him because of a lack of evidence of the situation.
In 2022, Hall broke his hip and needed to have hip replacement surgery.
Unfortunately, the procedure to replace his hip ended up dislodging a blood clot, which resulted in Hall having three heart attacks.
On March 14th, after being taken off life support, Scott Hall passed away.
You can pay tribute to his life by sharing your favorite Scott Hall quote below.