21 Soichiro Honda Quotes about Dreams and Success
These Soichiro Honda quotes will offer some insight into the mind of the infamous automaker.
Let us know your favorite Honda quote in the comment section below.
Imagine the Fast and Furious movies without their iconic cars.
The Honda Civic Letty and Dom used on one of their heists.
As a pre-teen, Suki's bright pink Honda S2000 was my (embarrassingly) temporary dream car.
Not to be overpowered by the Nissans, Chevys, Mitsubishis, and Fords on set, Honda's cars also became a staple car brand for these movies.
Soichiro Honda's success started off as a "rags to riches" story.
His father was a blacksmith who ran a bicycle repair business.
After graduating, he became an apprentice for an auto repair shop.
In his free time, he designed racing cars and concepts.
His first project was a bicycle.
Then he moved on to motorcycles, and finally, cars.
Today, Honda Corporation employs over 100,000 people in Japan and the U.S.
It is one of the world's largest automobile companies.
In 2016 alone, Honda sold about 4.7 million automobiles globally.
Surely there are a few words of wisdom we can get from the man behind one of the most successful car companies.
But first:
"If Honda does not race, there is no Honda."
Don't forget to also read our collection of road safety quotes to keep you safer on the road when driving.
Check out our most popular quote article, a list of short inspirational quotes for daily inspiration.
Explore our complete collection of motivational quotes here.
Famous Soichiro Honda Quotes on Work
1. "The day I stop dreaming is the day I die." – Soichiro Honda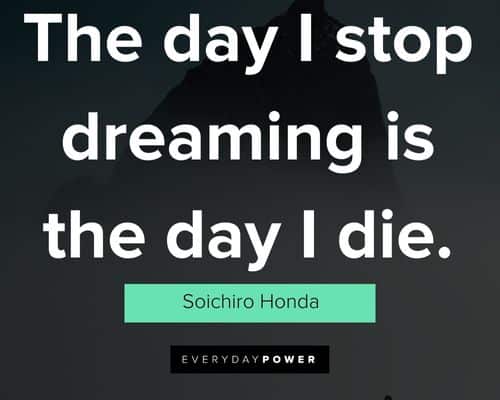 You will also enjoy our article on car quotes.
2. "Man is not interesting without some imperfection." – Soichiro Honda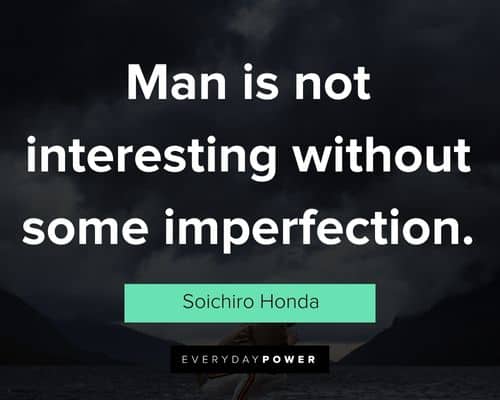 3. "Real happiness lies in the completion of work using your own brains and skills." – Soichiro Honda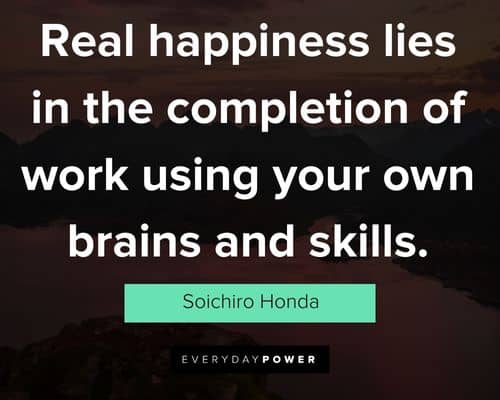 4. "I think best when I have a wrench in my hands." – Soichiro Honda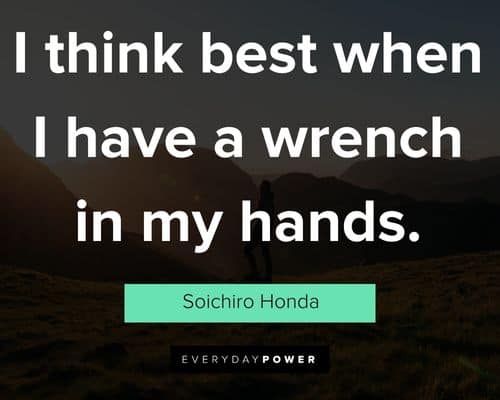 5. "A company is most clearly defined not by its people or its history, but by its products." – Soichiro Honda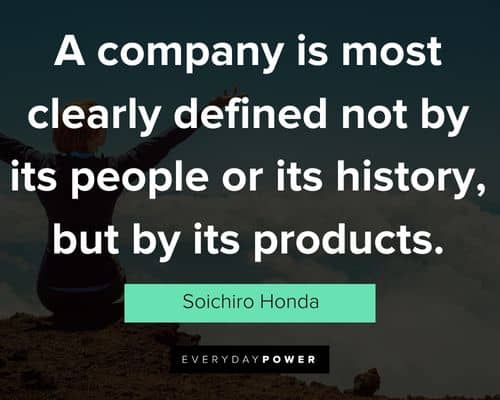 Motivational Soichiro Honda Quotes on Success and Failure
6. "I don't give a damn for the diploma. What I want is the knowledge." – Soichiro Honda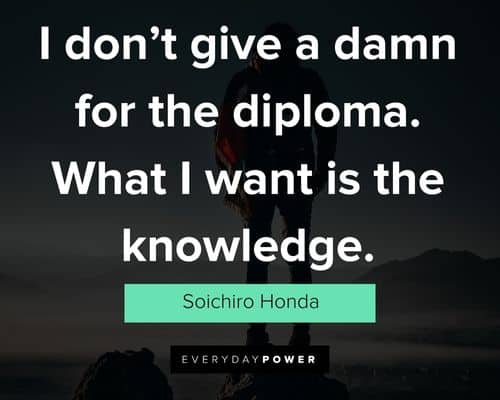 7. "Hope makes you forget all the difficult hours." – Soichiro Honda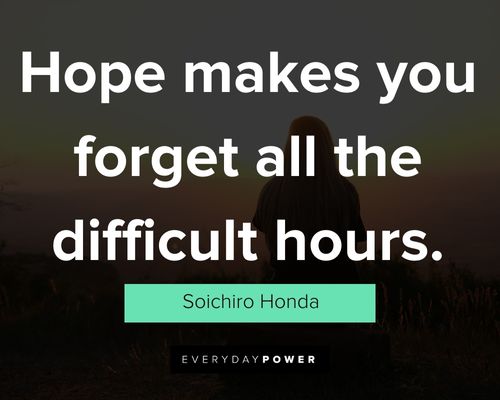 8. "I would have to put in the necessary time, but nothing could stop me from succeeding." – Soichiro Honda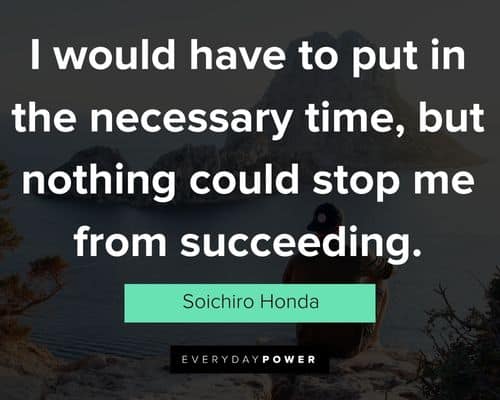 9. "When you fail, you also learn how not to fail." – Soichiro Honda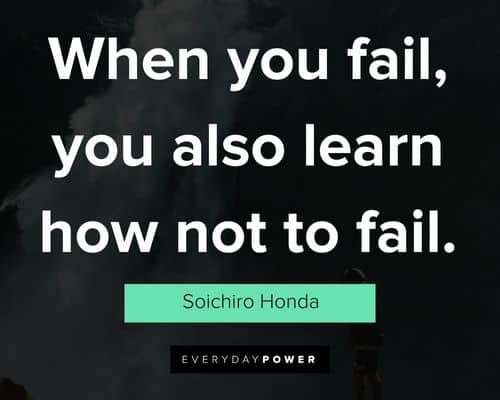 10. "Why should a man spend his days seated behind a desk, twiddling his thumbs to pass the time?" – Soichiro Honda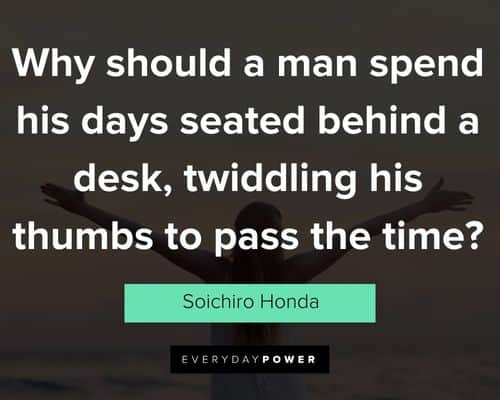 11. "I don't regret the thousands of times I came home empty-handed, having lost all my ammunition and bait. When the days get as gloomy as that, then you know you will soon find the treasure." – Soichiro Honda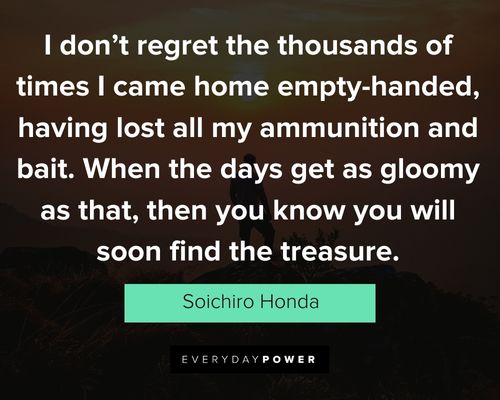 12. "My biggest thrill is when I plan something and it fails. My mind is then filled with ideas on how I can improve it." – Soichiro Honda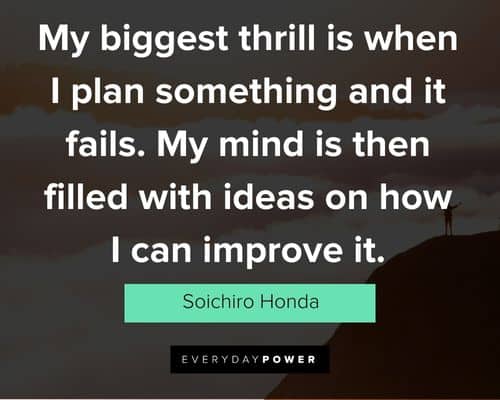 More Soichiro Honda Quotes on Perseverance
13. "If you hire only those people you understand, the company will never get people better than you are. Always remember that you often find outstanding people among those you don't particularly like." – Soichiro Honda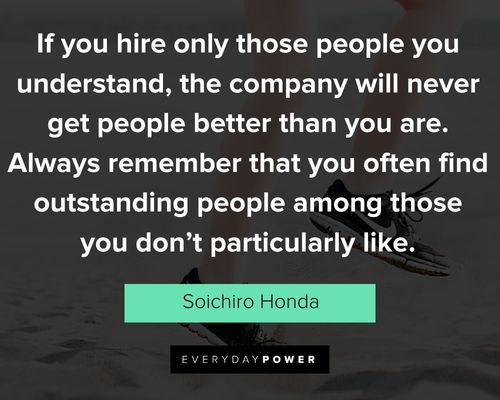 14. "The value of life can be measured by how many times your soul has been deeply stirred. There is a Japanese proverb that literally goes 'Raise the sail with your stronger hand', meaning you must go after the opportunities that arise in life that you are best equipped to do." – Soichiro Honda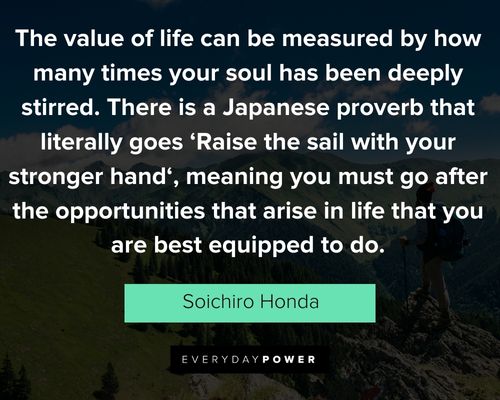 15. "Enjoying your work is essential. If your work becomes an expression of your own ideas, you will surely enjoy it." – Soichiro Honda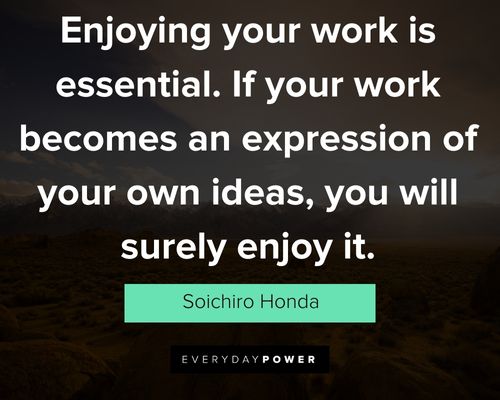 16. "Each individual should work for himself. People will not sacrifice themselves for the company. They come to work at the company to enjoy themselves." – Soichiro Honda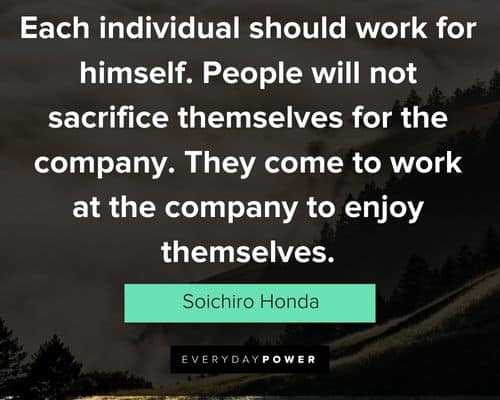 17. "You direct a garage or a business like you drive a bus. It does its round, stopping to pick people up, but it can't make a long-distance trip. Of course you can be happy driving the same route all your life. But I wanted to drive bigger and faster buses, and see other places." – Soichiro Honda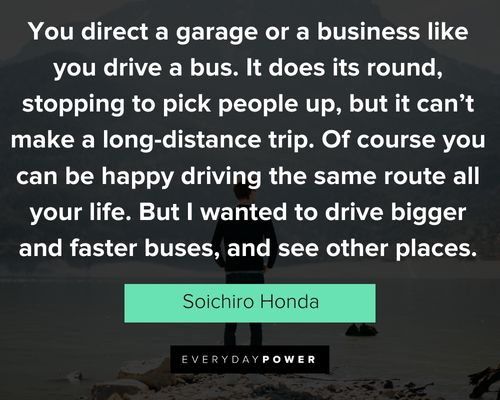 18. "You don't measure a man's greatness by his physical size, but by his acts, by the impact he makes on human history." – Soichiro Honda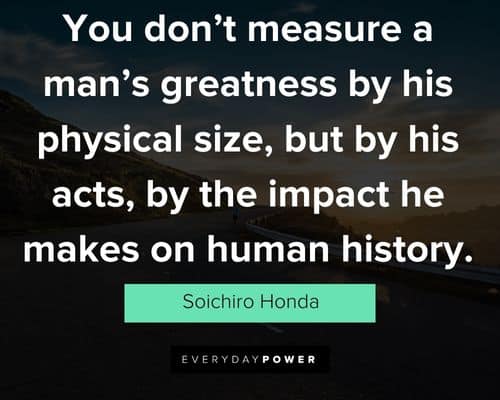 19. "What we learn through failure becomes a precious part of us, strengthening us in everything we do. So let the tough things make you tougher." – Soichiro Honda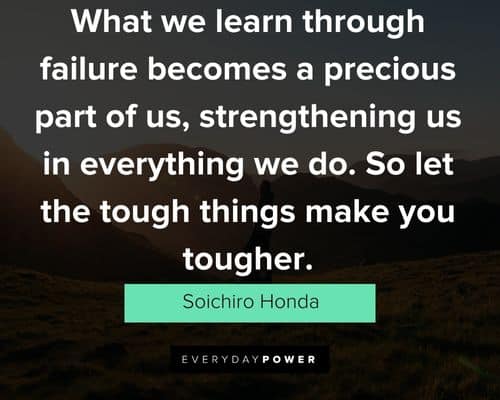 20. "Success represents the 1% of your work which results from the 99% that is called failure. Instead of being afraid of the challenge and failure, be afraid of avoiding the challenge and doing nothing." – Soichiro Honda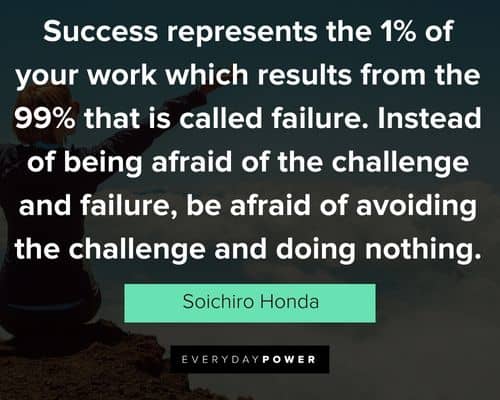 21. "We will not be content with this victory alone [first win in F1]. We will study why we won and aggressively apply those winning technologies to new cars." – Soichiro Honda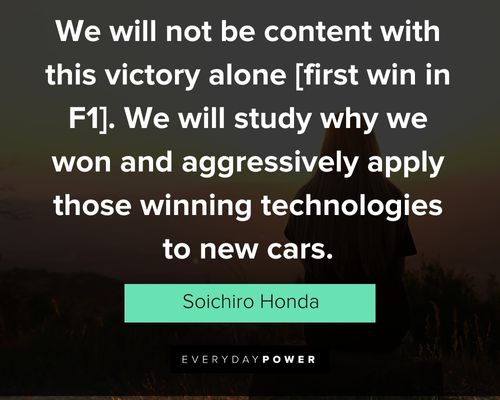 Did you learn something from these Soichiro Honda quotes?
World War II might've damaged the small business he started, but he didn't give up.
Instead, he sold the parts to Toyota again.
But with that money, he eventually opened up his own Honda Technology Research Institute.
Within 10 years, Honda became the leading motorcycle manufacturer in the world.
In his 65 years in the company, he personally tested every new car.
Also, rather than passing on the business to his heirs, he chose a trusted successor from his current employees.
No matter the model or where a car was manufactured, Honda no doubt remains a household name.