30 Steve Harvey Quotes About Life, Faith and Success
Our latest collection of Steve Harvey quotes on Everyday Power.
Steve Harvey is an American comedian, television host, producer, radio personality, actor, and author who is well-known for "The Steve Harvey Show."
Born on January 17, 1957, in Welch, West Virginia, Harvey built his name in comedy and later became known for his relationship advice.
He has hosted various shows, including "It's Showtime at the Apollo," "Family Feud" and "Little Big Shots," which he introduced in 2016.
Harvey is a hardworking comedian who's a six-time Daytime Emmy Award winner, two-time Marconi Award winner, and a 14-time NAACP Image Award.
He is also involved in philanthropic work through the Steve & Marjorie Harvey Foundation.
As successful television and radio personality who doesn't show any signs of slowing down, Harvey has clearly managed to tap into his everyday power.
In that respect, below is our collection of inspirational Steve Harvey quotes, collected from a variety of sources over the years.
Also, check out our compilation of funny and insightful quotes from Dave Chappelle.
Check out our most popular quote article, a list of short inspirational quotes for daily inspiration.
If you enjoy this collection, check out our inspirational quotes category page.
Steve Harvey Quotes On Success, Faith and Relationships
1. "You can be happy, or you can be right. If you want to be part of a couple and win every argument, you're in trouble." – Steve Harvey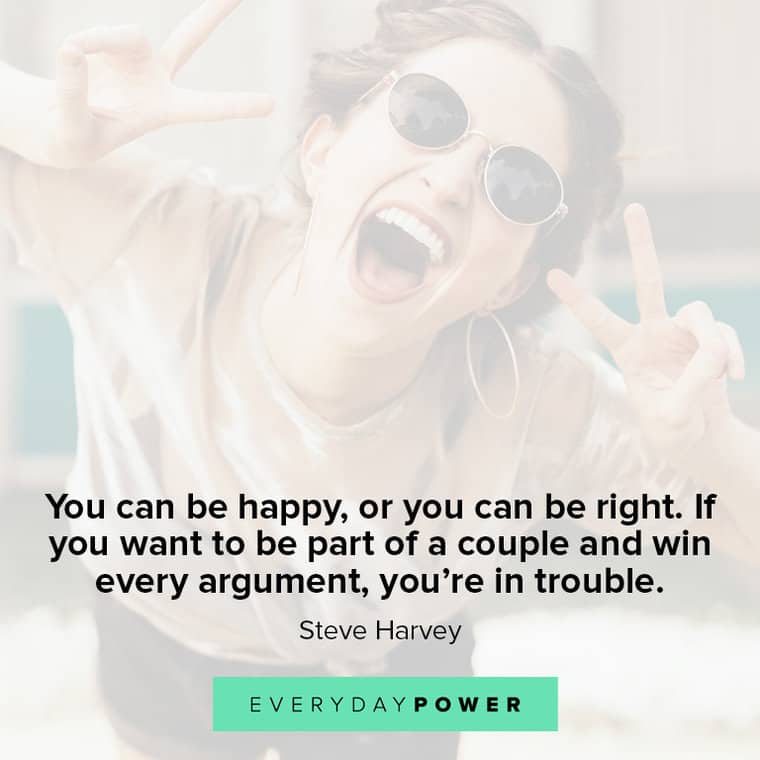 2. "You've got to quit lowering your standards. Set your requirements upfront so when a guy hooks you, he has to know this is business." – Steve Harvey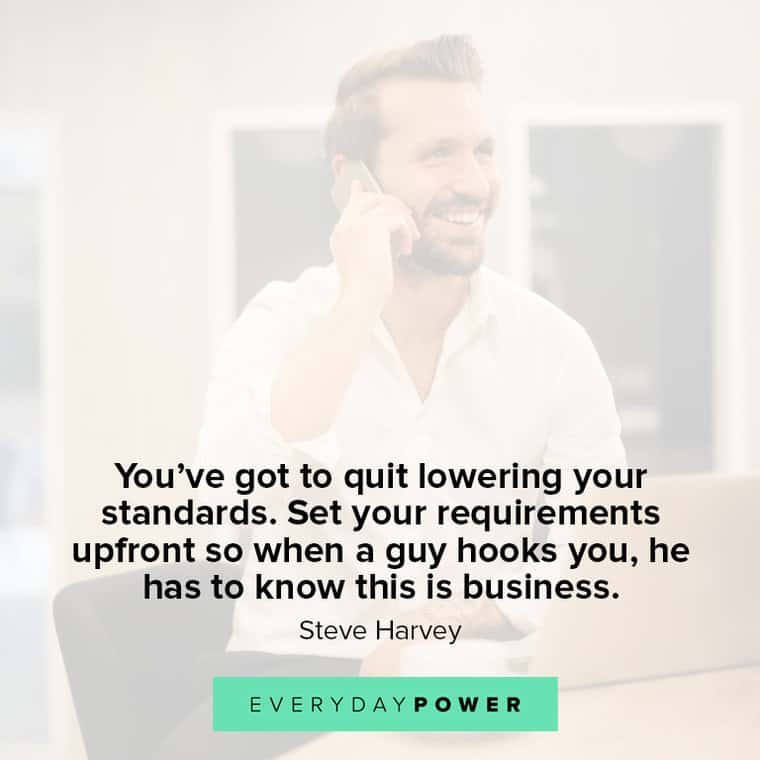 3. "I'm just a living witness that you can be an imperfect soldier and still be in the army fighting for God Almighty. Don't you think you got to be perfect 'cause I ain't." – Steve Harvey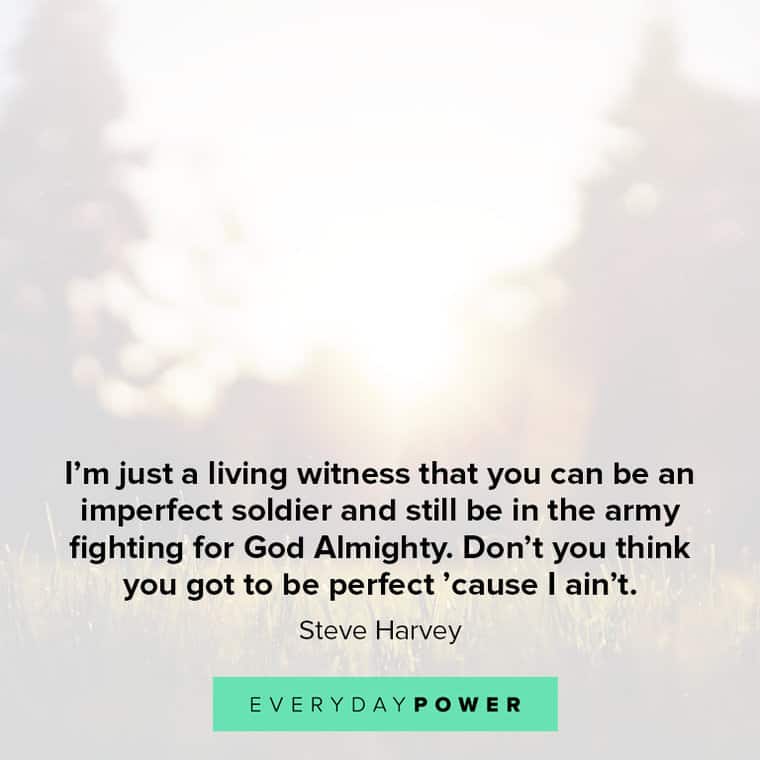 4. "A guy that's really serious about you, he's gotta be talking to you, he's gotta want to have one-on-one, in-your-face interaction. That's how we are." – Steve Harvey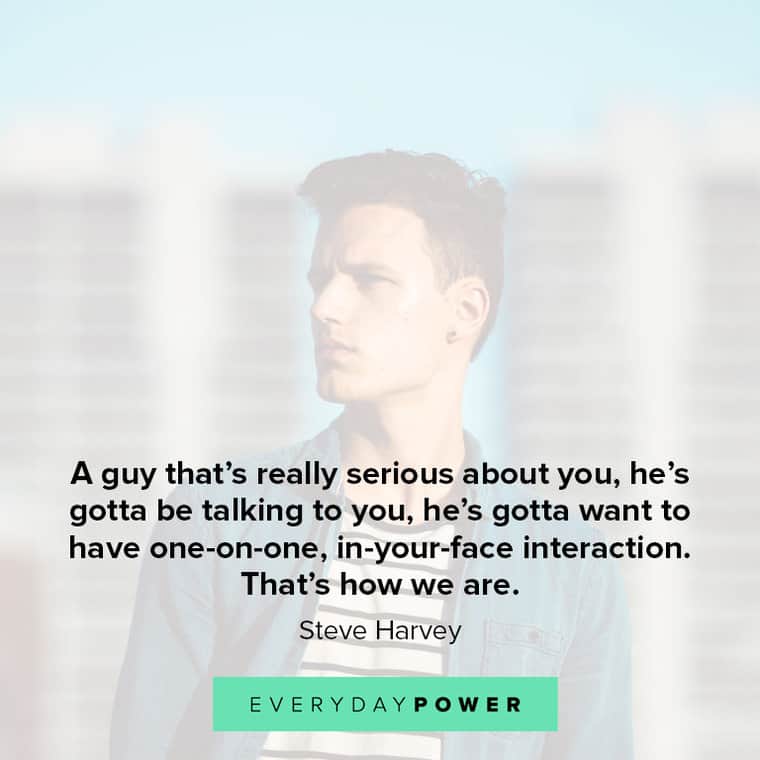 Steve Harvey Quotes on Success
5. "How can smart women be so stupid about men sometimes? Lack of knowledge. It's what men have kept secret for so long." – Steve Harvey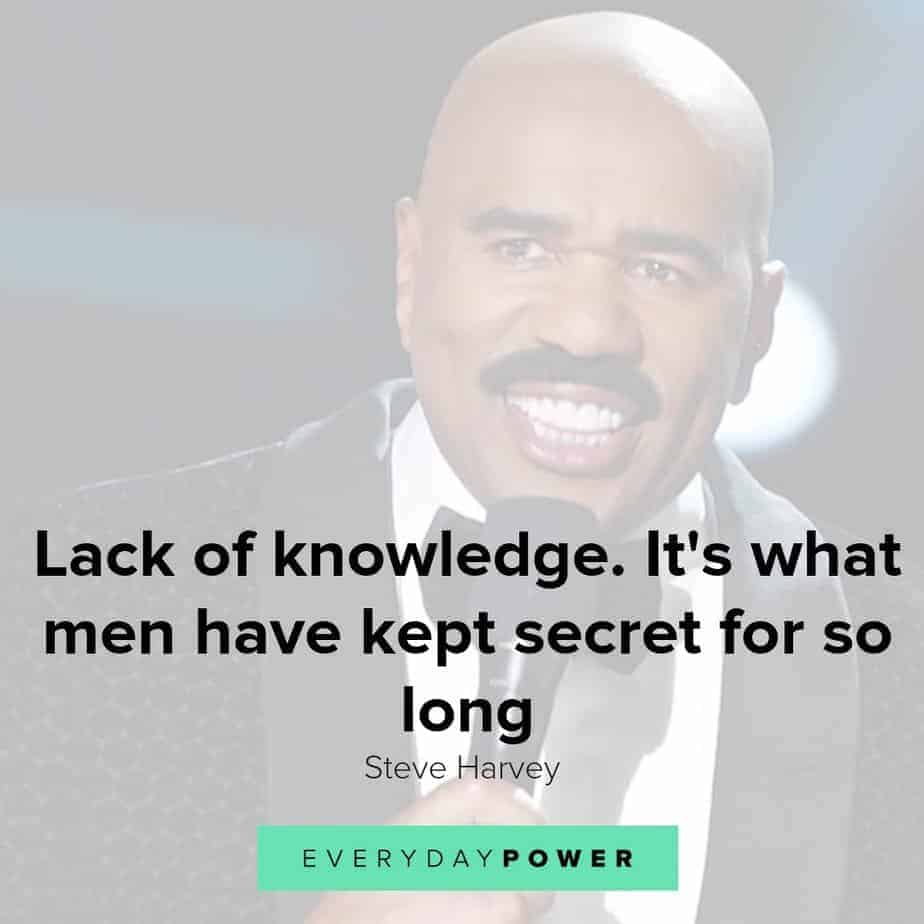 6. "I don't think it's cool for people to say, 'You shouldn't reference God because I don't believe that, and I don't want to hear it.' Well, there's a lot of stuff I don't believe that I still gotta hear." – Steve Harvey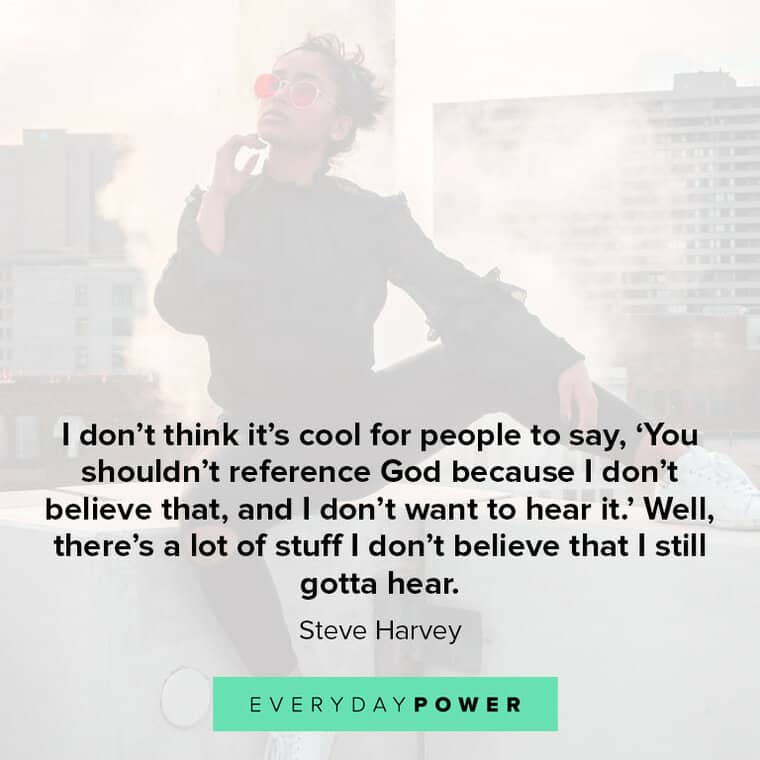 7. "God lets you be successful because he trusts you that you will do the right thing with it. Now, does he get disappointed often? All the time, because people get there and they forget how they got it." – Steve Harvey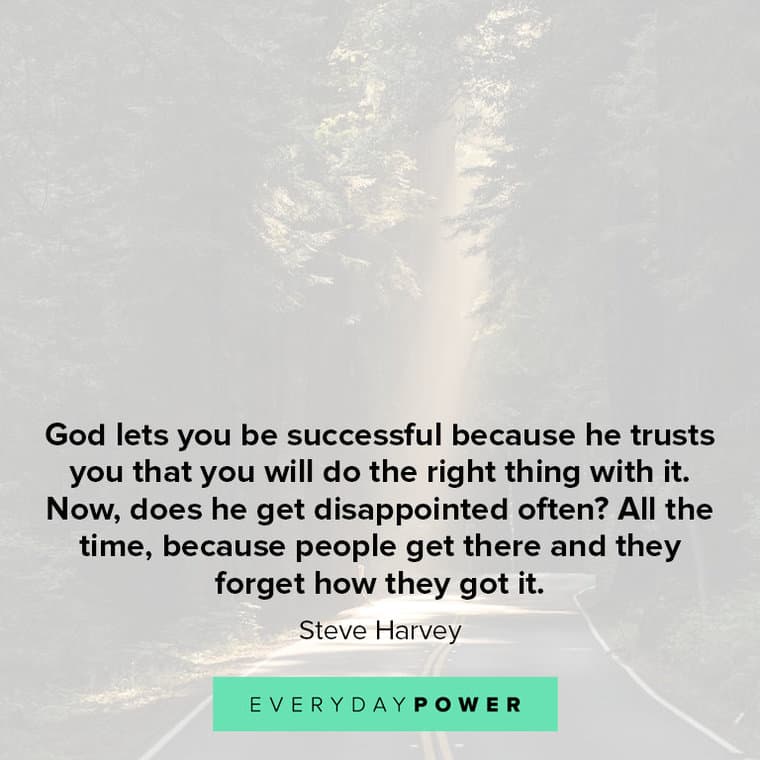 8. "Women are the real reason we get up every day. I'm talking about real men. If there were no women, I would not even have to bathe, because why would I care? These are guys I'm hanging with. I wake up for a woman every day of my life to make it happen for her." – Steve Harvey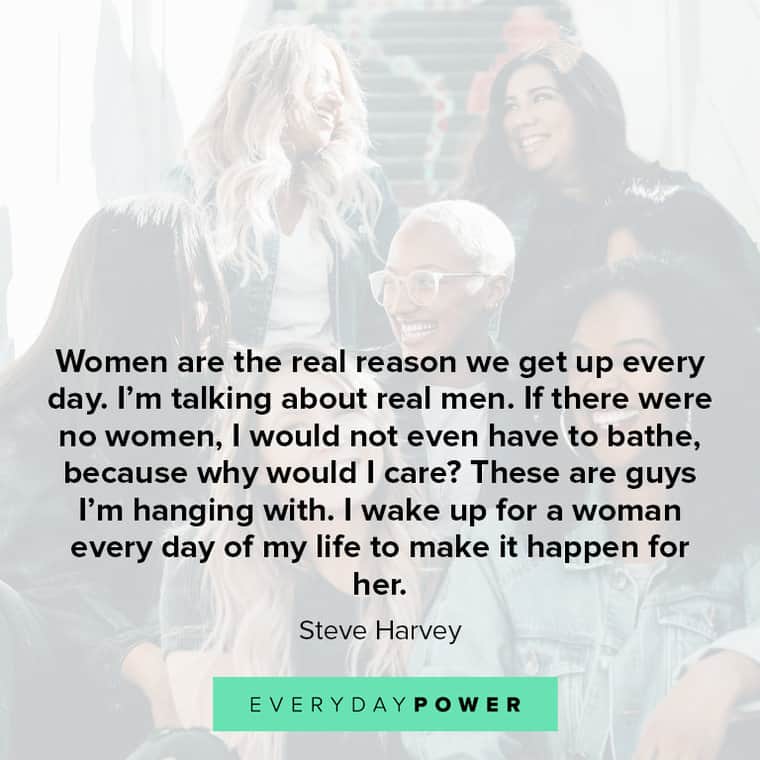 9. "A person has to remember that the road to success is always under construction. You have to get that through your head. That it is not easy becoming successful." – Steve Harvey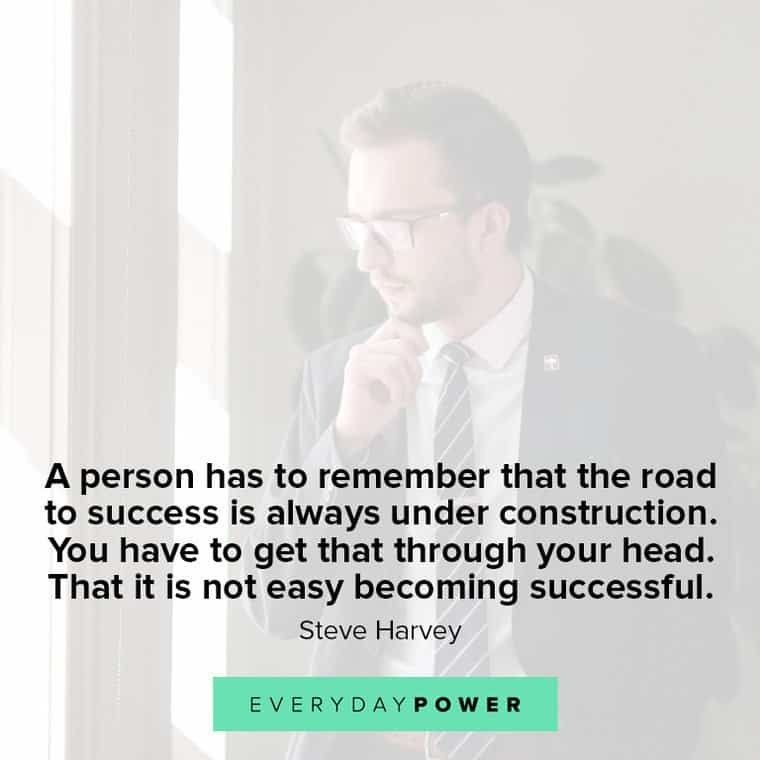 10. "I think there are so many books out there written on relationships and romance that women are the authors of. How can women know exactly how men think? And there are so many guys out there with relationship books who are just not telling the truth. They have shaded parts." – Steve Harvey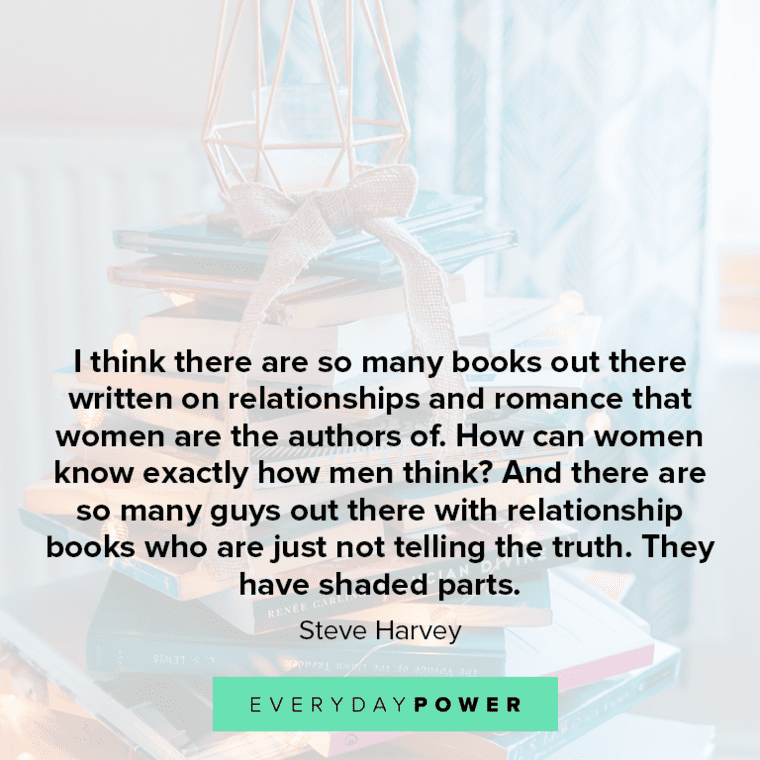 Steve Harvey Quotes on Relationships
11. "You are never too old to reinvent yourself." – Steve Harvey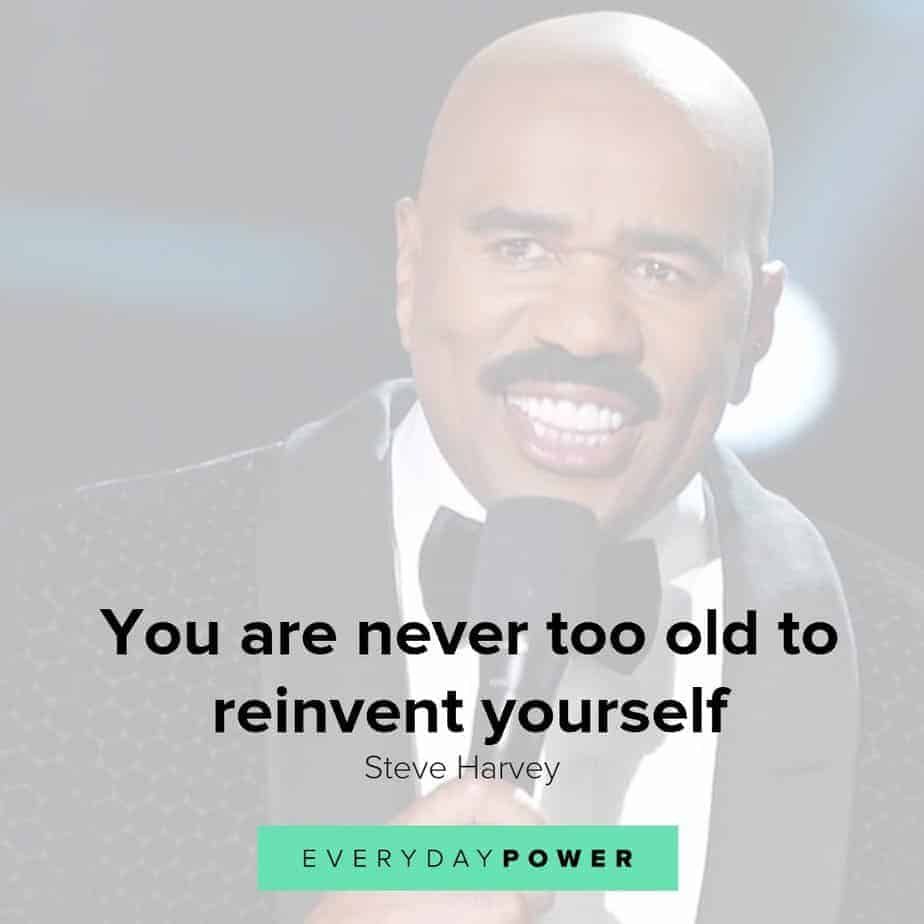 12. "The first time I saw my wife, Marjorie, I was doing stand-up in Memphis, and she was sitting in the front row. Afterward, I walked up and said, 'Ma'am, I'm going to marry you one day.' And 15 years later, I did." – Steve Harvey
13. "I'd have to say I'm most proud of my mentoring camp that I do in Dallas every year for one hundred boys from single-parent homes. I was raised by a mother who was a Sunday school teacher and a father who worked hard. Together they taught me to give back." – Steve Harvey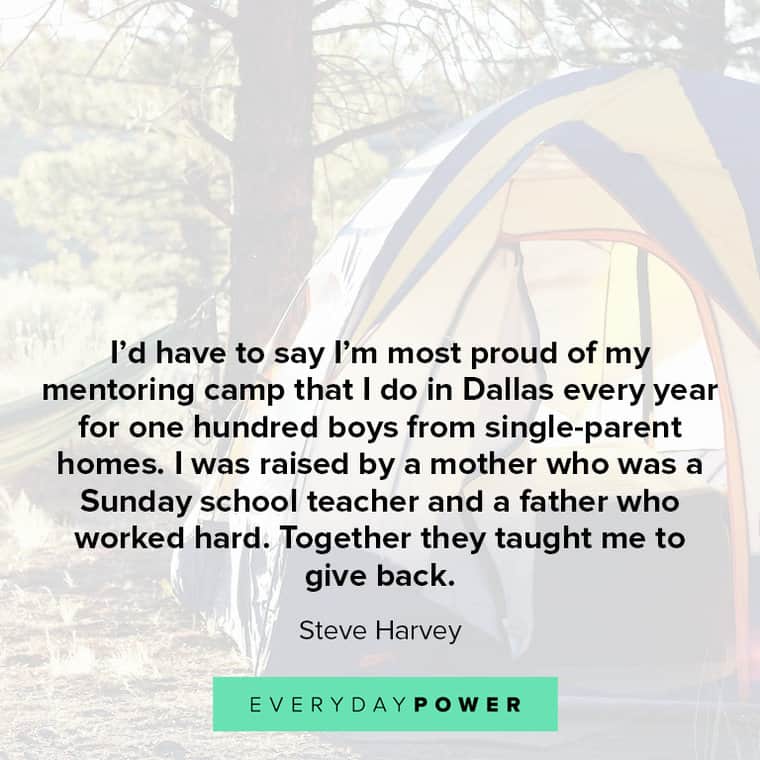 14. "I think that we, as the African-American men in hip-hop, we have a greater responsibly because we have the ears of so many millions of our young people. And they listenin'." – Steve Harvey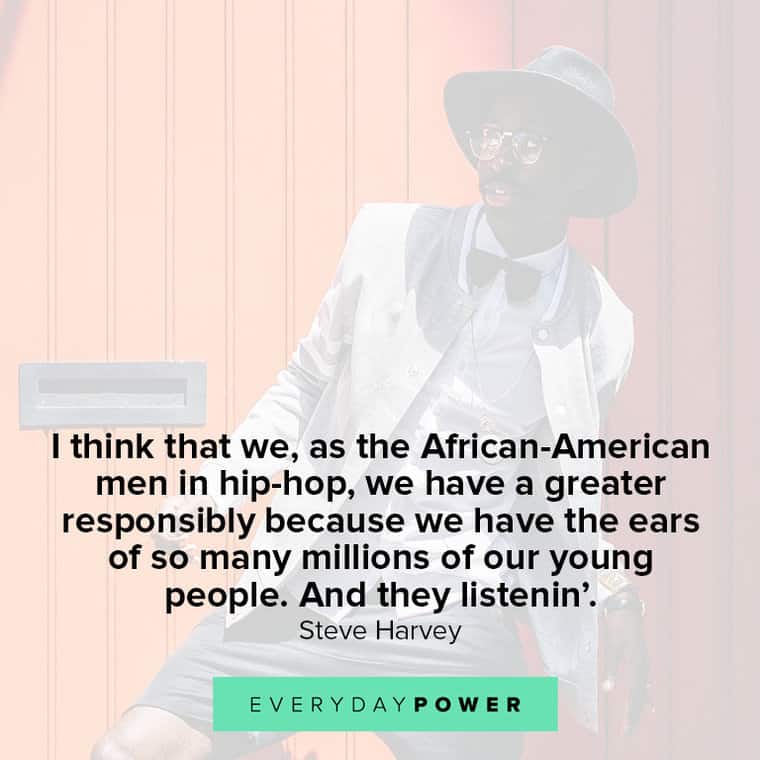 15. "Men don't come up to you to just talk. We come up to you with a plan. We're looking across the room at you, and we don't care about your hopes and dreams. We don't care about what your future holds. We saw something we wanted." – Steve Harvey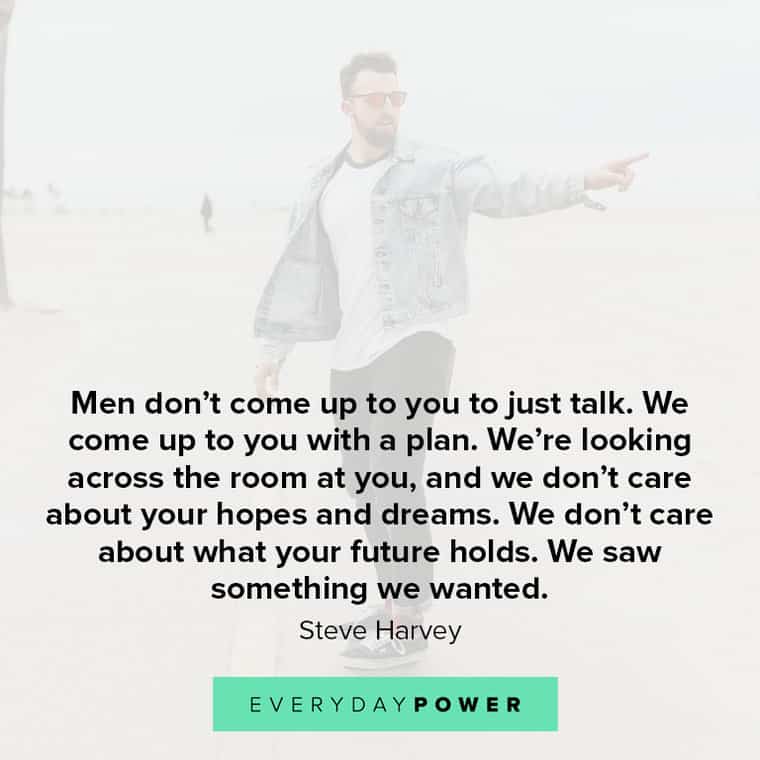 Steve Harvey Quotes on Success
16. "I never say 'nagging.' I think that 'nagging' is a term that men created to get women to pipe down some. But, it's a trap that we've created. We created several terms for women to back you down. Nagging means to stop asking me questions, then we get away with more. I think it's a term men created." – Steve Harvey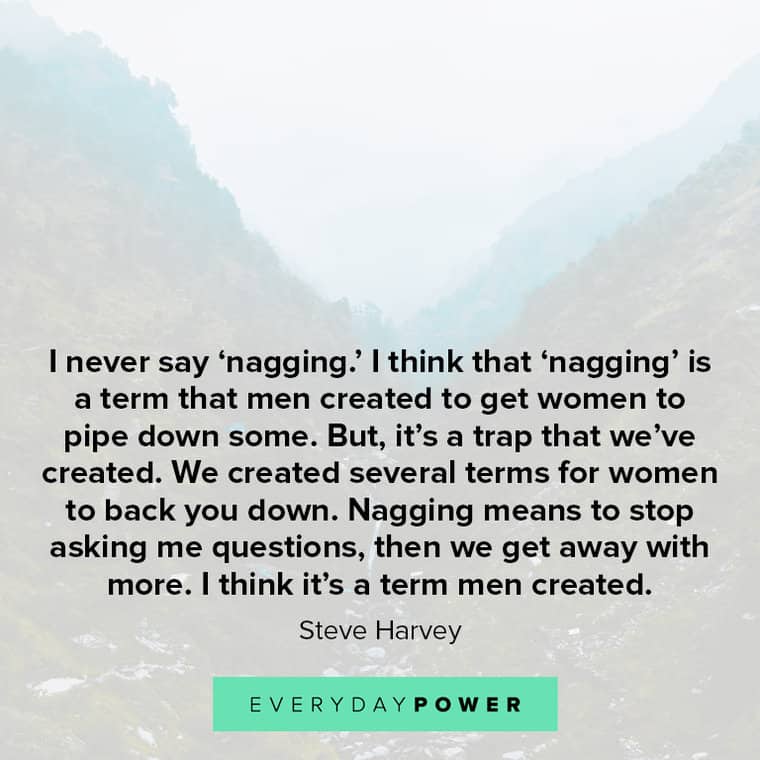 17. "You've got to be in a bad relationship to really understand what a great one is." – Steve Harvey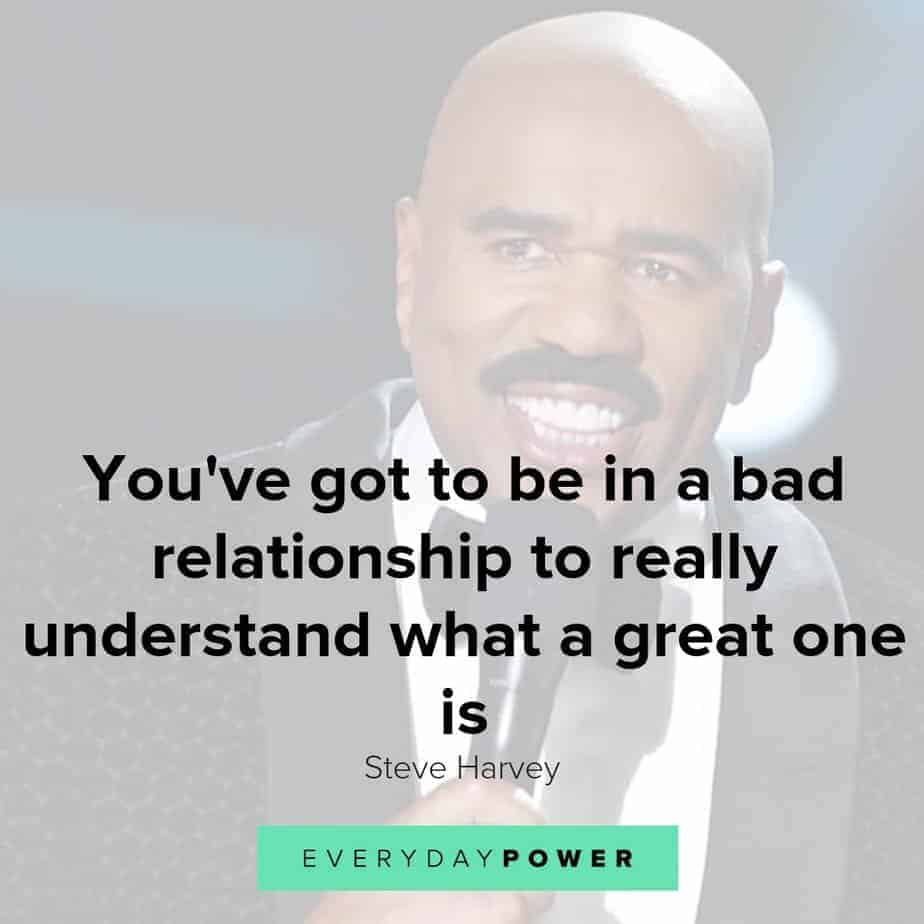 18. "Failure is a great teacher, and I think when you make mistakes and you recover from them and you treat them as valuable learning experiences, then you've got something to share." – Steve Harvey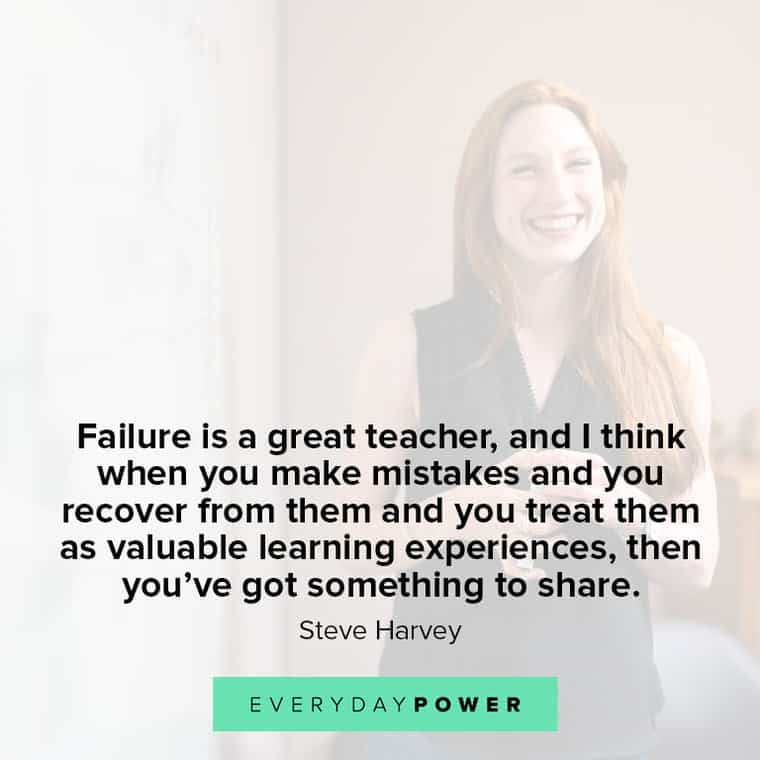 19. "There is no truer statement: men are simple. Get this into your head first, and everything you learn about us in this book will begin to fall into place. Once you get that down, you'll have to understand a few essential truths: men are driven by who they are, what they do, and how much they make. No matter if a man is a CEO, a CON, or both, everything he does is filtered through his title (who he is), how he gets that title (what he does), and the reward he gets for the effort (how much he makes). These three things make up the basic DNA of manhood—the three accomplishments every man must achieve before he feels like he's truly fulfilled his destiny as a man. And until he's achieved his goal in those three areas, the man you're dating, committed to, or married to will be too busy to focus on you." – Steve Harvey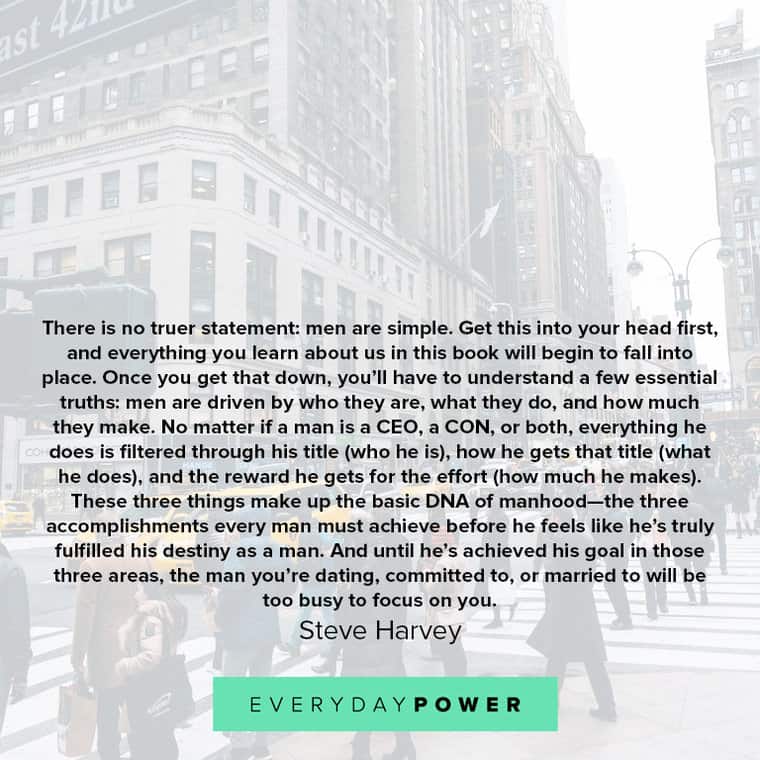 20. "Here's a generalization but in my experience, it's true. Women love to sit and talk for no apparent reason but to talk, but we men, we're just not cut out to chitchat for the sake of chitchat—we don't have time for it. We men are very simple people: if we like what we see, we're coming over there. If we don't want anything from you, we're not coming over there. Period." – Steve Harvey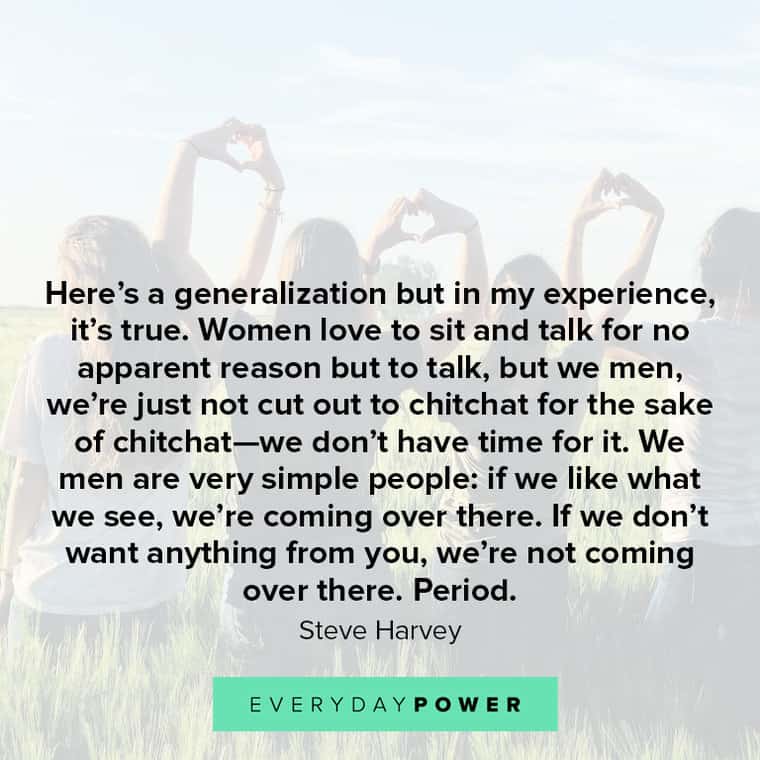 Steve Harvey quotes and sayings
21. "Your mission, your purpose and your destiny will all be tied to one thing – your gift." – Steve Harvey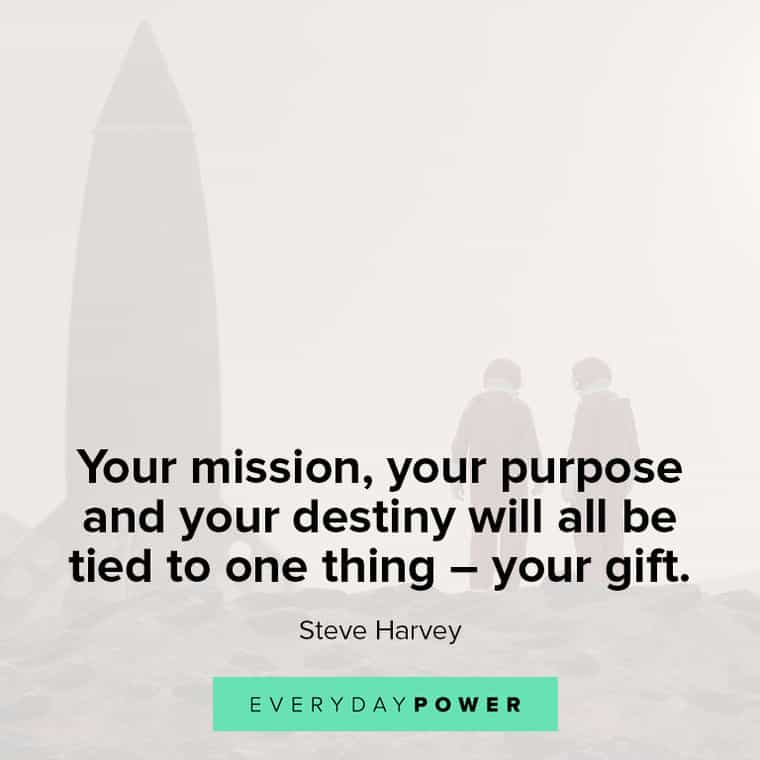 22. "Procrastination will delay your change! Today is a very good day to change; don't let you stop yourself from growing." – Steve Harvey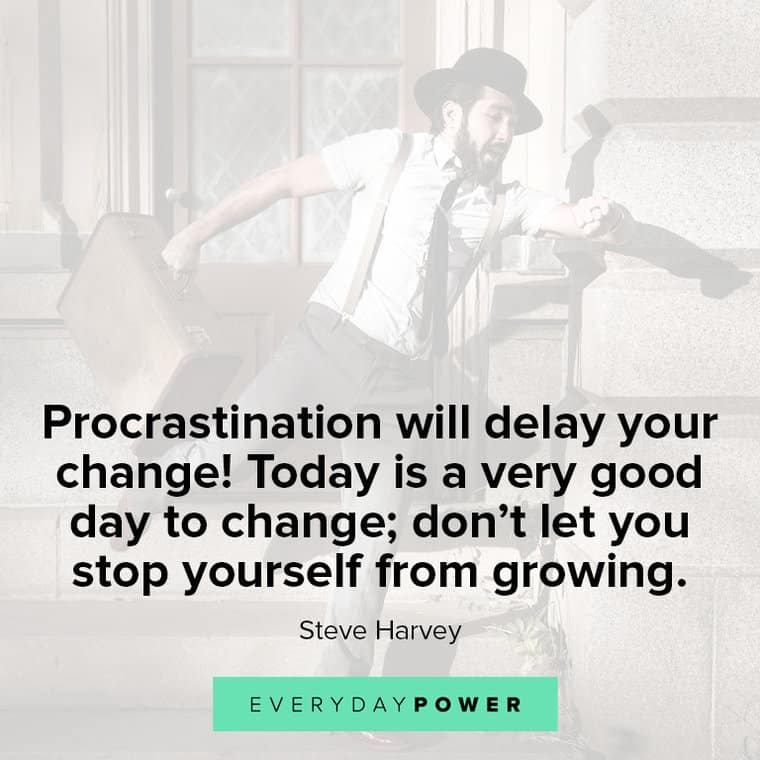 23. "Growth is in a series of mistakes. That's the only way you learn." – Steve Harvey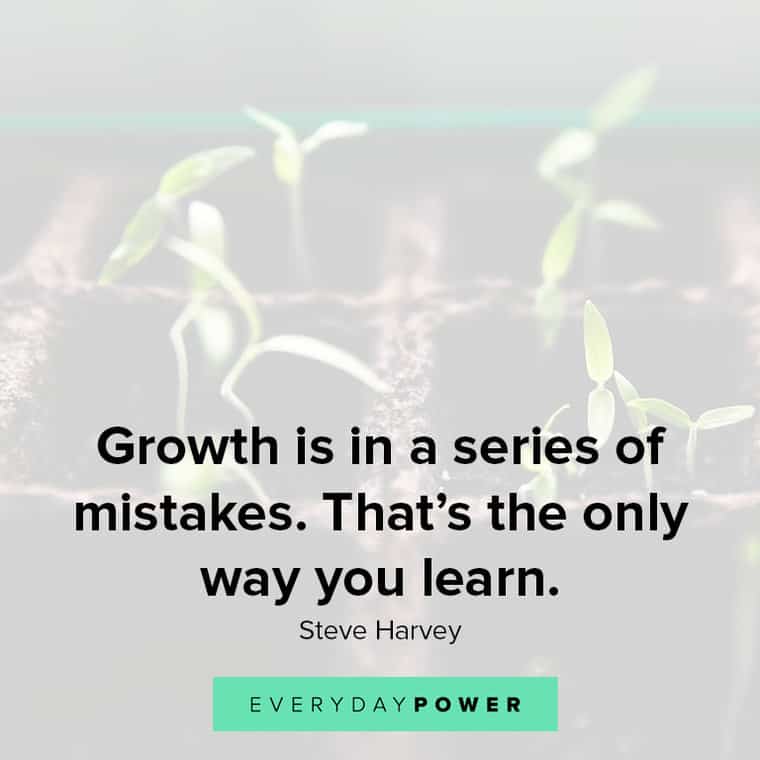 24. "Your career is what you're paid for. Your calling is what you're made for." – Steve Harvey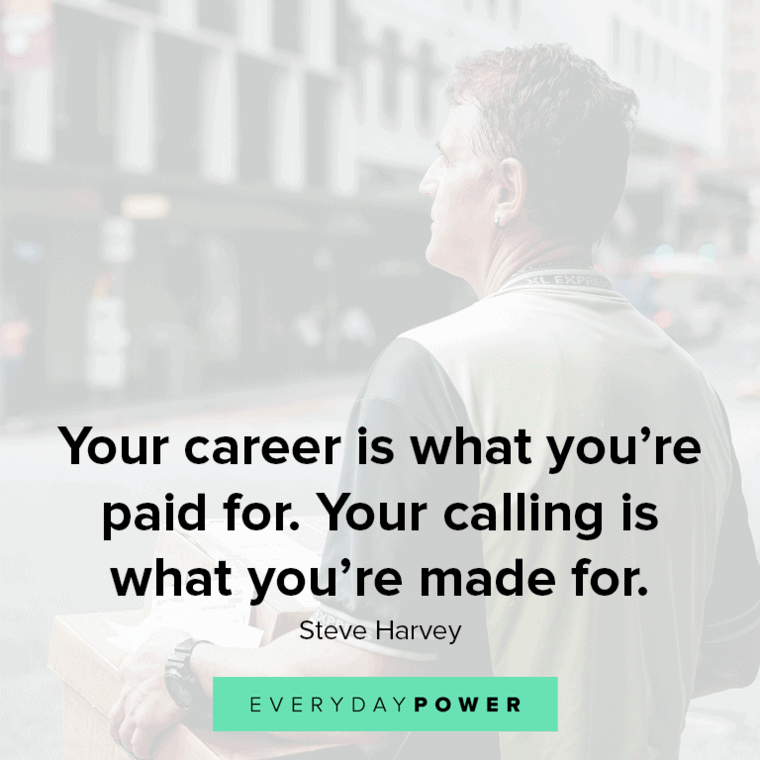 25. "I am from the hood; I never had nothing. Now that I have something, I must give back." – Steve Harvey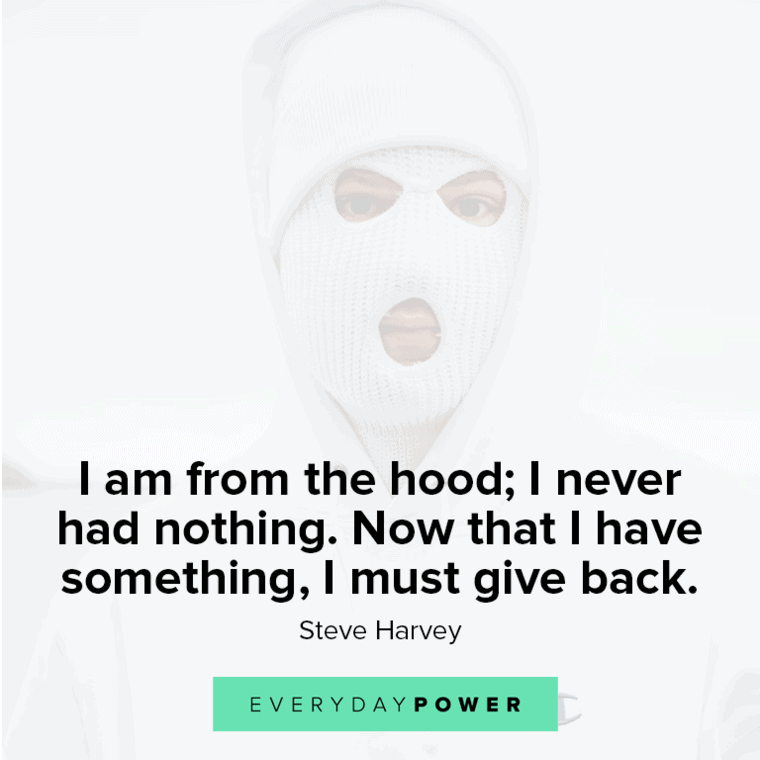 26. "He's an honest man who does what he says." – Steve Harvey
27. "What you want out of life is the thing you have to give the most of." – Steve Harvey
28. "The more people you help become successful the more successful you become." – Steve Harvey
29. "Your dream has to be bigger than your fear." – Steve Harvey
30. "People don't like to hear the truth out here because the truth makes them think." – Steve Harvey
Which of these Steve Harvey quotes was your favorite?
Steve Harvey is a charming man and one of the most hardworking personalities of our time.
Where other entertainers would either fade away or see their ratings fall after so much time on screen, Harvey shows no signs of slowing down.
Hopefully, the above quotes will inspire and motivate you to reach the greatness you desire.
Which of these Steve Harvey quotes resonated with you best?
Do you have any other Steve Harvey quotes to add to the list?
Let us know in the comment section below.