233 Bad Relationship Quotes To Help You Move On
Make these relationship quotes the game changer you need now!
One of the hardest parts of a bad relationship can be moving on afterward, but these bad relationship quotes should give you a bit of motivation.
Share the quote that motivates you to move on in the comments below.
Keep reading to see our inspirational quotes about bad relationships to inspire you to break free of yours.
What are the benefits of reading these bad relationship quotes?
Reading these motivational words and heartbreak quotes could be the crucial first step you need to take to make a change in a more positive direction.
Often, we needed the right inspiration, support, or that little push, to help us close that chapter.
It can help to read the words of others who have been in similar situations before us or to know that these feelings will pass.
These bad relationship quotes will:
open your eyes to some red flags
give you the opportunity to learn from others who have been there
help you know when it is time to let go and do what is best for you
give you some advice about what to do next if your relationship has ended
Perhaps the most meaningful is to see others who have successfully moved on and been the better for it.
In that vein, here are some inspirational, wise, and eye-opening bad relationship quotes, bad relationship sayings, and bad relationship proverbs collected from a variety of sources over the years.
Check out our most popular quote article, a list of short inspirational quotes for daily inspiration.
If you enjoy this collection, check out our inspirational quotes category page.
The best bad relationship quotes and sayings
1. "Cry. Forgive. Learn. Move on. Let your tears water the seeds of your future happiness." – Steve Maraboli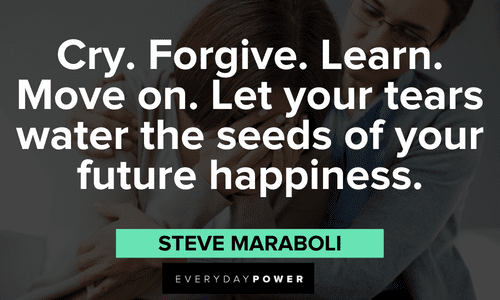 2. "Girls you've gotta know when it's time to turn the page." – Tori Amos, 'Tori Amos: From the Choirgirl Hotel'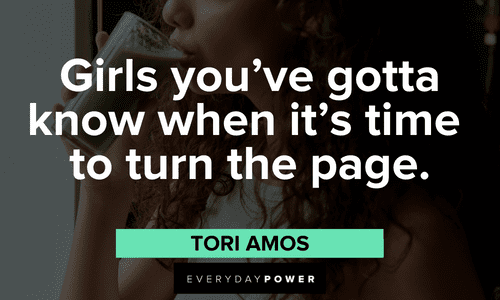 3. "It's better to be healthy alone than sick with someone else" – Phil McGraw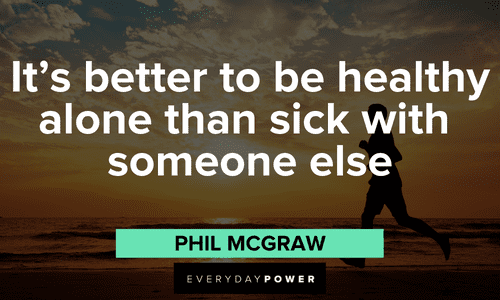 4. We teach people how to treat us." – Dr. Phil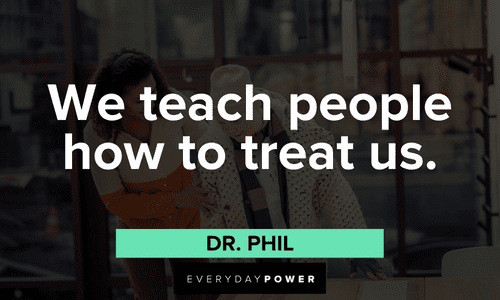 5. "You don't have to let that one thing be the thing that defines you." – Jojo Moyes, 'After You'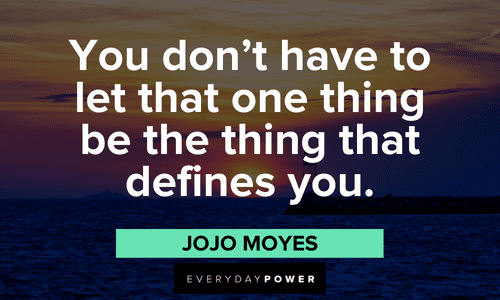 6. "The most difficult aspect of moving on is accepting that the other person already did." – Faraaz Kazi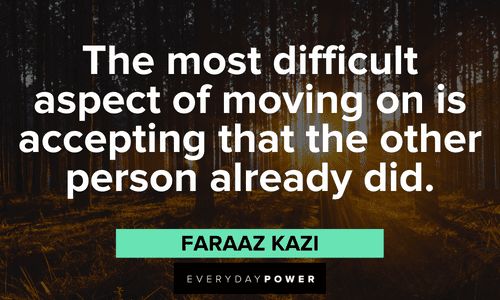 7. "Life becomes easier when you learn to accept an apology you never got." – Robert Brault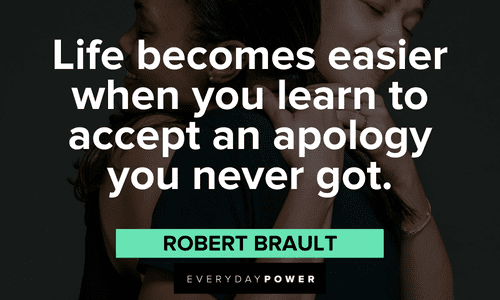 8. "If you look for the bad in people expecting to find it, you surely will." – Abraham Lincoln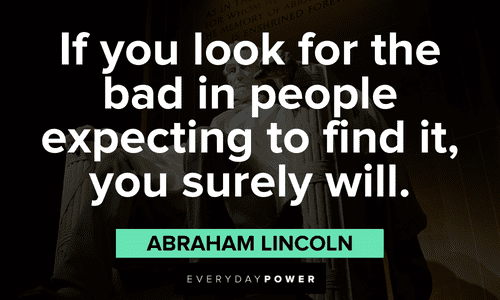 9. "You will evolve past certain people. Let yourself." – Mandy Hale, 'The Single Woman: Life, Love, and a Dash of Sass'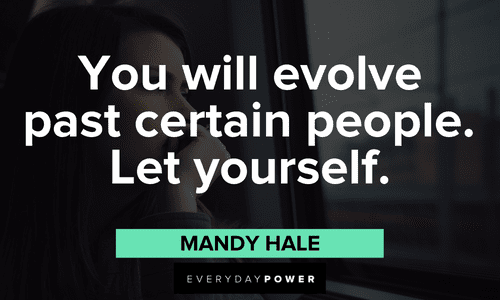 10. "It is far better to be alone than to be in bad company." – George Washington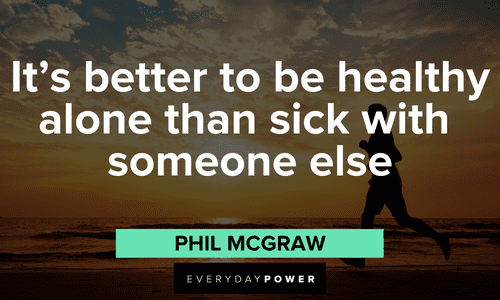 Toxic Relationship Quotes that are Painfully True
11. "It happens to everyone as they grow up. You find out who you are and what you want, and then you realize that people you've known forever don't see things the way you do. So you keep the wonderful memories, but find yourself moving on." – Nicholas Sparks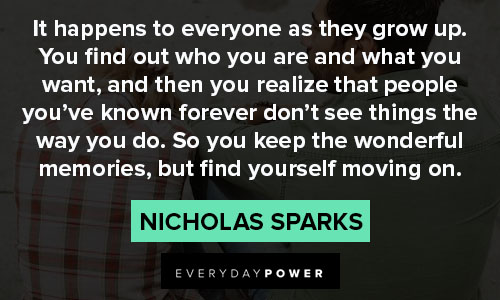 12. "You must make a decision that you are going to move on. It won't happen automatically. You will have to rise up and say, 'I don't care how hard this is, I don't care how disappointed I am, I'm not going to let this get the best of me. I'm moving on with my life.'" – Joel Osteen,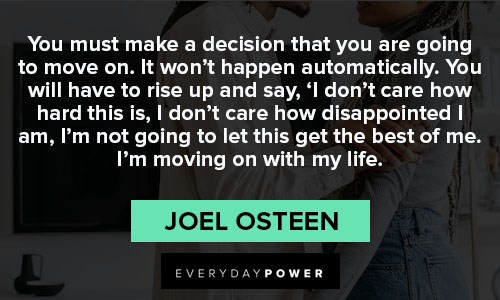 13. "Letting go doesn't mean that you don't care about someone anymore. It's just realizing that the only person you really have control over is yourself." – Deborah Reber, 'Chicken Soup for the Teenage Soul'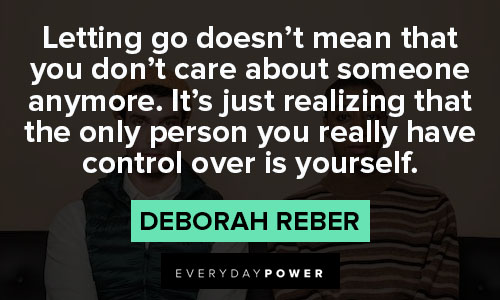 14. "You will find that it is necessary to let things go; simply for the reason that they are heavy. So let them go, let go of them. I tie no weights to my ankles." – C. JoyBell C.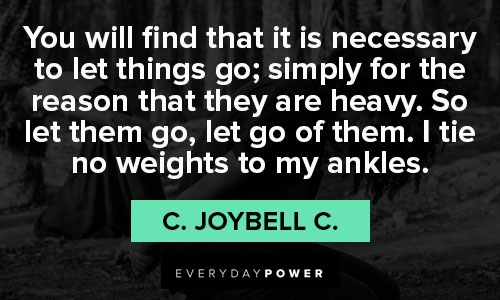 15. "Letting go means to come to the realization that some people are a part of your history, but not a part of your destiny." – Steve Maraboli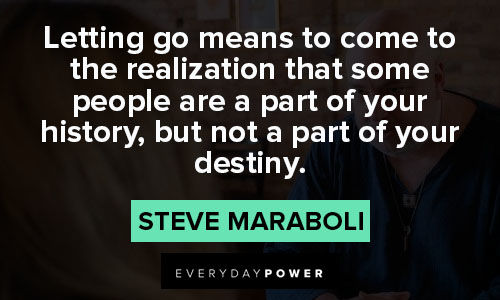 16. "Even though you may want to move forward in your life, you may have one foot on the brakes. In order to be free, we must learn how to let go. Release the hurt. Release the fear. Refuse to entertain your old pain. The energy it takes to hang onto the past is holding you back from a new life. What is it you would let go of today?" – Mary Manin Morrissey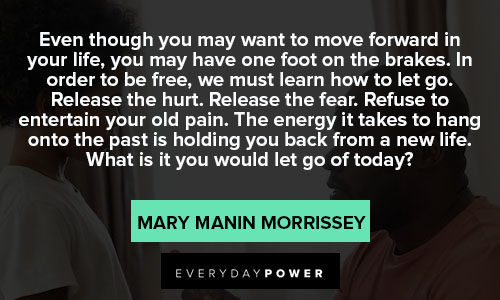 17. "Lots of things can be fixed. Things can be fixed. But many times, relationships between people cannot be fixed, because they should not be fixed. You're aboard a ship setting sail, and the other person has joined the inland circus, or is boarding a different ship, and you just can't be with each other anymore. Because you shouldn't be." – C. JoyBell C.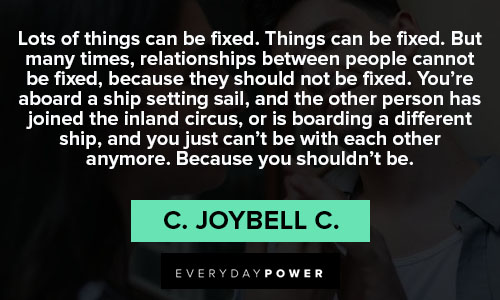 18. "Grudges are for those who insist that they are owed something; forgiveness, however, is for those who are substantial enough to move on." – Criss Jami, 'Salomé: In Every Inch In Every Mile'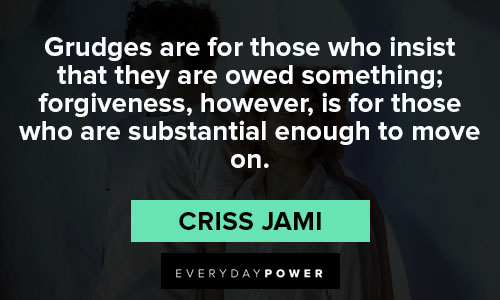 19. "If you spend your time hoping someone will suffer the consequences for what they did to your heart, then you're allowing them to hurt you a second time in your mind." – Shannon L. Alder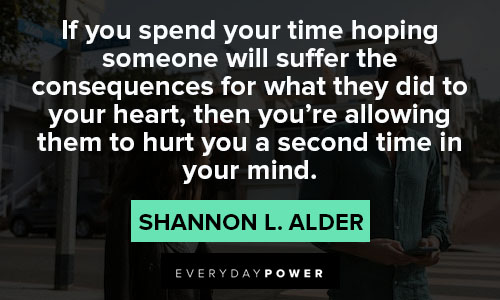 20. "Sometimes we must undergo hardships, breakups, and narcissistic wounds, which shatter the flattering image that we had of ourselves, in order to discover two truths: that we are not who we thought we were; and that the loss of a cherished pleasure is not necessarily the loss of true happiness and well-being." – Jean-Yves Leloup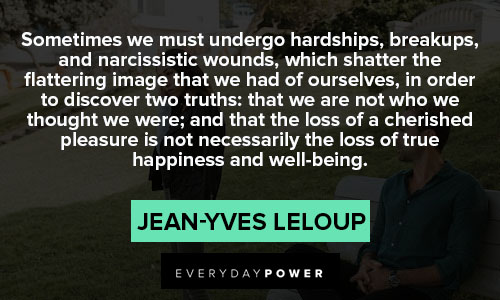 21. "I mean, if the relationship can't survive the long term, why on earth would it be worth my time and energy for the short term?" – Nicholas Sparks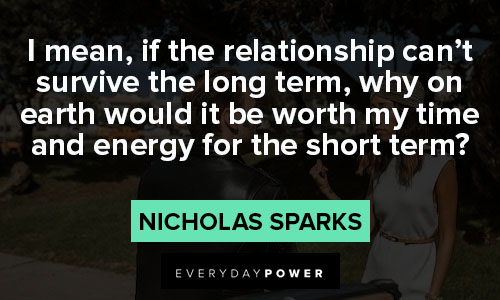 22. "What's broken is broken — and I'd rather remember it as it was than mend it and see the broken places as long as I lived." – Margaret Mitchell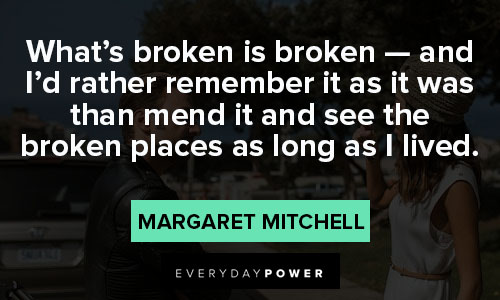 23. "Until you let go of all the toxic people in your life you will never be able to grow into your fullest potential. Let them go so you can grow." – DLQ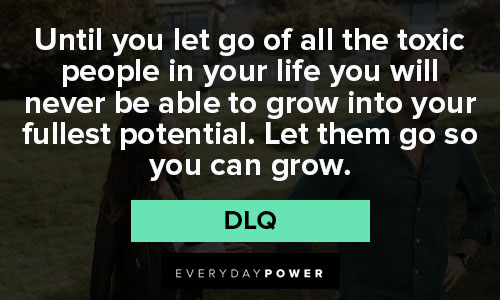 24. "Poisonous relationships can alter our perception. You can spend many years thinking you're worthless. But you're not worthless. You're underappreciated." – Steve Maraboli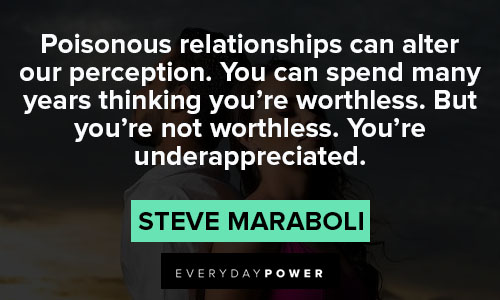 25. "One's dignity may be assaulted, vandalized and cruelly mocked, but it can never be taken away unless it is surrendered." – Michael J. Fox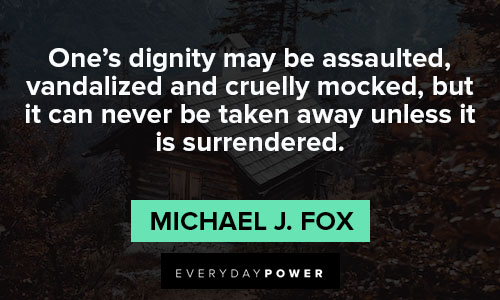 26. "A relationship without trust is like a car without gas, you can stay in it all you want, but it won't go anywhere." – Unknown
27. "Maybe the most that you can expect from a relationship that goes bad is to come out of it with a few good songs." – Marianne Faithfull
Bad Relationship Quotes About Moving On
28. "It is important that we forgive ourselves for making mistakes. We need to learn from our errors and move on." – Steve Maraboli, 'Life, the Truth, and Being Free'
29. "Sooner or later we've all got to let go of our past." – Dan Brown, 'Deception Point'
30. "Sometimes it takes heartbreak to shake us awake and help us see we are worth so much more than we're settling for." – Mandy Hale, 'The Single Woman: Life, Love, and a Dash of Sass'
31. "It was strange, really. A couple months ago, I had thought I couldn't live without him. Apparently I could." – Gabrielle Zevin, 'Memoirs of a Teenage Amnesiac'
32. "Every woman that finally figured out her worth, has picked up her suitcases of pride and boarded a flight to freedom, which landed in the valley of change." – Shannon L. Alder
33. "And perhaps there is a limit to the grieving that the human heart can do. As when one adds salt to a tumbler of water, there comes a point where simply no more will be absorbed." – Sarah Waters, 'The Little Stranger'
34. "To be bitter is to attribute intent and personality to the formless, infinite, unchanging and unchangeable void. We drift on a chartless, resistless sea. Let us sing when we can, and forget the rest…" – H.P. Lovecraft
35. "Make it a rule of life never to regret and never to look back. Regret is an appalling waste of energy; you can't build on it; it's only good for wallowing in." – Katherine Mansfield
36. "I had to cease to mourn what could never be and make the most of what was possible. And I would begin doing that by trying to mend the hurts of the past." – Cameron Dokey, 'The Wild Orchid: A Retelling of The Ballad of Mulan'
37. "Even seasonal situations can bring with them lessons that last a lifetime. If the love doesn't last, it prepares you for the one that will." – Mandy Hale, 'The Single Woman: Life, Love, and a Dash of Sass'
38. "That's all you can do in this world, no matter how strong the current beats against you, or how heavy your burden, or how tragic your love story. You keep going." – Robyn Schneider, 'Extraordinary Means'
Toxic relationship quotes to help you handle dejection
39. "No partner in a love relationship… should feel that he has to give up an essential part of himself to make it viable." – May Sarton
40. "For lack of an occasional expression of love, a relationship strong at the seams can wear thin in the middle." -Robert Breault
41. "Love cannot live where there is no trust." – Edith Hamilton
If you're enjoying these quotes, make sure to read our collection of trust issues quotes that will help you understand the meaning of trust.
42. "How can I let you be a priority in my life, when I'm still an option in your life?" – Hussein Nishah
43. "A bad relationship can do that, can make you doubt everything good you ever felt about yourself." – Dionne Warwick
44. "Relationships are supposed to make you feel good. Relationships are not supposed to make you feel bad." – Laura Bowers
Bad relationship quotes to inspire and teach
45. "Professionalism makes work relationships healthy, foolishness and dishonesty erodes them." – Ty Howard
46. "We are responsible for our own relationships, their success, their failures, the good times, the bad times. Take responsibility for creating the relationships that you desire." – Sam Owen
47. "I am a strong believer that a bad relationship must be brought to an end, no matter how." – Unknown
48. "Love is never lost. If not reciprocated, it will flow back and soften and purify the heart. – Washington Irving
49. "The wrong person will give you less than what you're worth but that doesn't mean that you have to accept it." – Sonya Parker
50. It is better for someone to break your heart once by leaving your life, than for them to stay in your life and break your heart continually. – Terry Mark
Toxic relationship quotes to motivate you to find one that you desire
51. "Problems in relationship occur because each person is concentrating on what is missing in the other person." – Wayne Dyer
52. "I think it is a bad relationship when you get blamed for the things that make you who you are." – Unknown
53. "The quality of your life is the quality of your relationships." – Anthony Robbins
54. "When you get into a bad relationship the best thing you can do is get out of it as soon you can." – Unknown
55. "Relationships end, but they don't end your life." – Steve Martin
56. "You broke my trust, and that is something that cannot easily be given back at that." – Unknown
57. "I think a relationship is like a shark. It has to constantly move forward or it dies." – Woody Allen
58. "There is no reason to believe that a bad relationship can be fixed, sometimes you have to let go." – Unknown
59. "I love to shop after a bad relationship. I don't know. I buy a new outfit and it makes me feel better. It just does. Sometimes I see a really great outfit, I'll break up
with someone on purpose." – Rita Rudner
60. "Love sometimes hurts when you're not with the right person But, don't give up loving." – Unknown
61. "Learn to walk away from those who cause harm to you." – Malika E Nura
Eye-opening bad relationship quotes
62. "Everybody has bad relationships and, at the end of the day, they are just a great way to set yourself up for a good relationship." – Anne Hathaway
63. "The death of one relationship always start with the small arguments and then the suspicions." – Unknown
64. "The most painful thing is losing yourself in the process of loving someone too much, and forgetting that you are special too." – Ernest Hemingway
65. "Relationships end, but they don't end your life. But people do often spending more time finding out about failed relationships than finding successful ones." – Unknown
66. "And ever has it been known that love knows not its own depth until the hour of separation." – Khalil Gibran
67. "Sometimes we just fall in love with the wrong people." – Unknown
68. "If you're giving your all and it's not enough, you're probably giving it to the wrong person." – Unknown
69. "Now I believe it when people say love is blind… because I must have been blind to love a person like you." – Mitch Cuento
70. "Nothing in the universe can stop you from letting go and starting over."—Guy Finley
More bad relationship quotes
71. "Whenever you're in conflict with someone, there is one factor that can make the difference between damaging your relationship and deepening it. That factor is attitude." – William James
72. "Don't settle for a relationship that won't let you be yourself." – Oprah Winfrey
73. "If you were in a bad relationship and you meet someone new, you're going to leave with your luggage. The next person is going to have to endure things that someone else causes." – Curtis Jackson
74. "There are two dilemmas that rattle the human skull: How do you hang on to someone who won't stay? And how do you get rid of someone who won't go?" – Danny DeVito
75. "Sometimes two people need to step apart and make a space between that each might see the other anew, in a glance across a room or silhouetted against the moon." – Robert Breault
76. "In a relationship, when does the art of compromise become compromising?" – Sarah Jessica Parker
77. "We are born in relationship, we are wounded in relationship, and we can be healed in relationship." – Harville Hendrix
78. "We were left with nothing because of a love like acid that ate its way through our entire family." ― R.D. Ronald
79. "Relationships based on obligation lack dignity." – Wayne Dyer
80. Don't be reckless with other people's hearts, and don't put up with people that are reckless with yours." – Kurt Vonnegut, Jr.
Toxic relationship quotes to make you strong
81. "Toxic people attach themselves like cinder blocks tied to your ankles, and then invite you for a swim in their poisoned waters."― John Mark Green
82. "Losing will not always amount to a loss, sometimes you have to lose those toxic relationships and bad habits to create a space for better things."― Gift Gugu Mona
83. "You don't know what's right or wrong. You've been told 'you're crazy' 'you´re overreacting' so many times you started to believe that's the truth."― Anna Akana
84. "We all have that toxic people around us that make our lives miserable… The day we take them out from our lives, we will all become better people; including them…"― Rodolfo Peon
85. "Fire False Friends as early as possible. Do it before they dig out the dream seeds you've planted! The earlier, the better; the quicker, the safer!"― Israelmore Ayivor
86. "There are people who break you down by just being them. They need not do anything. Dissociate."― Malebo Sephodi
87. "There are only two kinds of people who can drain your energy: those you love, and those you fear. In both instances it is you who let them in. They did not force their way into your aura, or pry their way into your reality experience."― Anthon St. Maarten
88. "Sometimes you don't get closure, you just move on."― Karen Salmansohn
89. "Forgiveness is a personal process that doesn't depend on us having direct contact with the people who have hurt us."― Sharon Salzberg
90. "Sometimes it's better to end something & try to start something new than imprison yourself in hoping for the impossible."― Karen Salmansohn
91. "You create more space in your life when you turn your excess baggage to garbage."― Chinonye J. Chidolue
92. "I felt an inner peace and softness. My Berlin Wall had been cracked; the toxic relationship between me and that critical voice had been severed."― Penny De Villiers
93. "You fell in love with my flowers but not my roots, so when Autumn arrived you didn't know what to do." – Unknown
94. "It is really exhausting to live in a dictatorship of 'Me', which is basically a tyranny of others."― Stefan Molyneux
95. "If someone keeps bringing you down, perhaps it's time to get up and leave."― Karen Salmansohn
More bad relationship quotes
96. "When you get out of it, you realize how toxic it actually was." – Steve Maraboli
97. "Sometimes trying to fix them, breaks you." – Steve Maraboli
98. "The creative process is lost in a toxic environment. The risk of staying is too great because in it you may never reach your full destiny." – Germany Kent
99. "The hardest part of being in an emotionally abusive relationship, it's actually admitting you're in one." – Anna Akana
100. "Just say no to complicated, dead-end, unhealthy, and toxic relationships." – Stephanie Lahart
101. "When being in a toxic relationship in life at times you may have to step outside yourself, to see yourself, so you can find yourself and love yourself again." – Angel Moreira
102. "Toxic relationships are like a good pasta that has been overcooked." – Asa Don Brown
103. "Sometimes the hardest part isn't letting go but rather learning to start over." – Nicole Sobon
104. "That's what love is like: mother of the greatest bliss and stepmother of the most tragic misery." ― Stefanos Livos
105. "When someone you love says goodbye you can stare long and hard at the door they closed and forget to see all the doors God has open in front of you." – Shannon Alder
Bad relationship quotes to help you love again
106. "Don't force together pieces that won't fit." — Unknown
107. "You gotta stop watering dead plants." — Unknown
108. "A wrong relationship will make you feel more alone than when you were single." — Unknown
109. "I went to war for what we had. You never even laced your boots." — Unknown
110. "Your relationship should be a safe haven, not a battlefield. The world is hard enough already." — Unknown
111. "You learn more about someone at the end of a relationship than at the beginning." — Unknown
112. "Just because you want it doesn't mean it's for you. Letting go doesn't always equate to losing." — Unknown
113. "People hold on to the wrong person because they think that person has the potential to be a better person." — Sonya Parker
114. "You don't let go of a bad relationship because you stop caring about them. You let go because you start caring about yourself." — Charles Orlando
115. "Bad relationships are like a bad investment. No matter how much you put into it, you'll never get anything out of it. Find someone that's worth investing in." — Unknown
Bad relationship quotes to help get you through tough times
116. "Assumptions are the termites of relationships." — Henry Winkler
117. "Nostalgia has a way of blocking the reality of the past." ― Shannon L. Alder
118. "When someone shows you who they are, believe them the first time." — Maya Angelou
119. "Truth is everybody is going to hurt you: you just gotta find the ones worth suffering for." — Bob Marley
120. "Letting go of toxic people in your life is a big step in loving yourself." — Hussein Nishah
121. "If you love someone, set them free. If they come back they're yours; if they don't they never were." — Richard Bach
122. "Nothing is perfect. Life is messy. Relationships are complex. Outcomes are uncertain. People are irrational." — Hugh Mackay
123. "Spend your time with those who love you unconditionally, not with those who only love you under certain conditions." ― Suzy Kassem
124. "It is only through labor and painful effort, by grim energy and resolute courage, that we move on to better things." — Theodore Roosevelt
125. "Don't ask why people keep hurting you. Ask yourself why you keep allowing it to happen." – Robert Tew
Bad relationship quotes that we can relate to
126. "If they do it often, it's not a mistake; it's just their behavior." – Dr. Steve Maraboli
127. "Being single is smarter than being in the wrong relationship." — Unknown
128. "Remove yourself from people who treat you like your time doesn't matter like your feelings are worthless, or like your soul is replaceable." – S. Mcnutt
129. "Relationships are like cooking, don't waste effort on bad recipes!" — Unknown
130. "Sometimes you just have to be done. Not Mad, Not Upset, Just DONE." — Unknown
131. "Break free of toxic people and relationships, they erode your quality of life." — Ty Howard
132. "Being alone may scare you, but staying in a bad relationship will damage you." — Unknown
133. "A bad relationship is like standing on broken glass, if you stay you will keep hurting…If you walk away, you will hurt but eventually you will heal." — Autumn Kohler
134. "In any relationship where one person depends on another to be his or her 'parachute' — and the other accepts this role — both will fall to the ground." — Guy Finley
135. "If you're giving love and not receiving it, you're not in the right relationship. If you're receiving it and not giving it than you are taking advantage of the other person." — Patti Stanger
Bad relationship quotes to help you cut ties
136. "We should fight for our relationships, but if fighting means ripping yourself to shreds and piggybacking all his demons, you need to leave." -Tara Love
137. "Love should not make you feel like walking on eggshells." -Emma Xu
138. "At some point you have to realize that some people can stay in your heart but not in your life." -Tara Westover
139. "Sometimes to keep yourself together, You must allow yourself to leave. Even if breaking your own heart, Is what it takes to let you breathe." -Erin Hanson
140. "The person who doesn't value you is blocking you from the one who will." -Robert Tew
141. "Let things come and go. Stay calm, don't let anything disturb your peace, and carry on." -Germany Kent
142. "May you reach that level within, where you no longer allow your past or people with toxic intentions to negatively affect or condition you." -Lalah Delia
143. "Losing excess fats through exercise is important, but losing useless friends is urgent. Treat urgent things first!" -Israelmore Ayivor
144. "Nothing hurts more than being disappointed by the one person who you thought would never hurt you." -Gugu Mofokeng
145. "Manage your relationships. Great relationships may not be profitable, but bad ones always result in losses." -Tarun Sharma
Why you should leave a bad relationship quotes
146. "To be forgotten by the one to whom you never forget is the worst thing ever happens." ― Zubair Ahmed
147. "Love is supposed to lift you up, not hold you down. It is supposed to push you forward, not hold you back." -Suzy Kassem
148. "I have to remember it is not love that has hurt me; but someone who could not love me in the right way." -R. YS Perez
149. "Defensive devaluation is a protective device that makes love bad, trust unimportant and people "no darn good any way". People who have been deeply hurt in their relationships will often devalue love so it doesn't hurt so much. And they often become resigned to never loving again." -Henry Cloud
150. "Suspicion and jealousy are the death knell of any relationship." -Jonathan Lockwood Huie
151. "I am getting nowhere with you and I can't let you go and I can't get through." –Ani DiFranco
152. "A deadness occurs in relationships when people are no longer willing to tell each other how they really feel." -Shakti Gawain
153. "Staying in an unhealthy relationship that robs you of peace of mind, is not being loyal. It is choosing to hurt yourself mentally, emotionally and sometimes, physically." -Kemi Sogunle
154. "Friends do not cast shade in order to shine. Remember that. I used to put up with my closest friends throwing shade all the time, because, I WANTED THEM TO SHINE. But then I learned that when you give other people, the space to shine at your own expense, you're slowly committing suicide. True friends mutually desire the other to shine without the need to cast shade or throw the other under a bus." -C. Joybell C.
155. "Unhealthy relationships keep our self-esteem low." -Sam Owen
Wise Relationship Quotes to prevent your next Relationship from Turning out Bad
156. "Being deeply loved by someone gives you strength while loving someone deeply gives you courage."– Lao Tzu
157. "There is always some madness in love. But there is also always some reason in madness."– Friedrich Nietzsche
158. "Love is not only something you feel, it is something you do." – David Wilkerson
159. "Love yourself first, and everything else falls into line. You really have to love yourself to get anything done in this world."– Lucille Ball
160. "Everyone in life is gonna hurt you; you just have to figure out which people are worth the pain." – Erica Baican
161. "You come to love not by finding the perfect person, but by seeing an imperfect person perfectly."– Sam Keen
162. "We're all a little weird. And life is a little weird. And when we find someone whose weirdness is compatible with ours, we join up with them and fall into mutually satisfying weirdness—and call it love—true love." – Robert Fulghum
163. "Love is patient. Love is kind. It does not envy. It does not boast. It is not proud. It is not rude. It is not self-seeking, it is not easily angered, it keeps no record of wrongs. Love does not delight in evil but rejoices with the truth. It always protects, always trusts, always hopes, always perseveres. Love never fails." – 1 Corinthians 13:4
164. I don't trust people who don't love themselves and tell me, 'I love you.' … There is an African saying which is: Be careful when a naked person offers you a shirt." – Maya Angelou
165. "If you aren't good at loving yourself, you will have a difficult time loving anyone since you'll resent the time and energy you give another person that you aren't even giving to yourself." – Barbara De Angelis
Bad Relationship Quotes To Keep You Going When it Doesn't Work
166. "The heart was made to be broken." ― Oscar Wilde
167. "People will never forget how you made them feel." ― Maya Angelou
168. It is a mistake to speak of a bad choice in love, since, as soon as a choice exists, it can only be bad." ― Marcel Proust
169. Those who don't know how to weep with their whole heart, don't know how to laugh either." ― Golda Meir
170. "I don't have bad relationships with my players. But I don't get into long conversations with them either." ― Scotty Bowman
171. "This is what happened in love. One of you cried a lot and then both of you grew sarcastic." ― Lorrie Moore
172. "Beauty, more than bitterness, makes the heart break." ― Sara Teasdale
173. "The only way a relationship will last is if you see it as a place that you go to give, and not a place that you go to take." ― Tony Robbins
174. "Winning an argument is losing it as it makes the loser feel bad." ― Deepak Chopra
175. "Every couple has ups and downs, every couple argues, and that's the thing—you're a couple, and couples can't function without trust." ― Nicholas Sparks
Bad Relationship Quotes To Know Your Worth
176. "For there is but one problem – the problem of human relations. We forget that there is no hope or joy except in human relations." — Antoine de Saint-Exupéry
177. "Don't allow someone not worth it to have the power to occupy your thoughts. If they don't find you worth the effort or the time, why should you waste yours?" — Donna Lynn Hope
178. "Why is it that the right people never wind up together? Why are people so afraid to leave a relationship, even if they know it's a bad one?" — Stephanie Perkins
179. "While one person hesitates because he feels inferior, another is busy making mistakes and becoming superior." — Henry C. Link
180. "Almost all of our relationships begin and most of them continue as forms of mutual exploitation, a mental or physical barter, to be terminated when one or both parties run out of goods." — Wiston Auden
181. "When you struggle with your partner, you are struggling with yourself. Every fault you see in them touches a denied weakness in yourself." — Deepak Chopra
182. "People must be taken as they are, and we should never try make them or ourselves better by quarreling with them." — Edmund Burke
183. "Positive, affirming relationships bring great pleasure while poor relationship brings great pain. Great happiness found in good relationships, greatest pain found in bad relationships." — Gary Chapman
184. "Relationship does not live in essence unless you can reliably tell the truth without being prompted." — Kathryn Hendricks
185. "I can't control your behavior, nor do I want that burden…but I will not apologize for refusing to be disrespected, to be lied to, or to be mistreated. I have standards; step up or step out." — Steve Maraboli
Bad Relationship Quotes To Help You Make A U-Turn
186. "You can love them, forgive them, want good things for them…but still move on without them." — Mandy Hale
187. "I seem to be torn between 'I wish we'd met earlier' and 'I wish we'd never met'." ― Ahmed Mostafa
188. "Sometimes there are things in life that aren't meant to stay. Sometimes change may not be what we want. Sometimes change is what we need." — Don Bolena Jr.
189. "Don't light yourself on fire trying to brighten someone else's existence." ― Charlotte Eriksson
190. "If you're in a relationship and all you do is cry, you need to stop and ask yourself, are you dating a human or an onion?" ― Karen Salmansohn
191. "Just because someone desires you, does not mean that he values you." — Julianne Cantarella
192. "If you walked away from a toxic, negative, abusive, one-sided, dead-end, low vibrational, relationship or friendship – you won." — Lalah Delia
193. "There must come a time when your love for yourself becomes more important than your need to hold onto the pain of your past." ― Karen Salmansohn
194. "If you keep pretending you're not hurt, how can you heal? True love doesn't expect you to deny you're in pain." ― Zara Hairston
195. "In order to reach your highest potential, it is imperative that you remove all negative people from your life." ― Germany Kent
Bad Relationship Quotes To Break Free
196. "Every relationship is just so tenuous and precarious." ― Larry David
197. "A lover's quarrel is always about every quarrel you ever had." ― Robert Breault
198. "Anger repressed can poison a relationship as surely as the crudest words." ― Joyce Brothers
199. "Don't smother each other. No one can grow in the shade." ― Leo Buscaglia
200. "I'm sort of…coming off a bad relationship," "When did it end?" "Slightly before it started." ― Rainbow Rowell
201. "There is no pain equal to that which two lovers can inflict on one another." ― Cyril Connolly
202. "If anyone tries to complicate your life, turn and walk away from them." ― Caroline Myss
203. "If you are in a bad relationship with anyone else, it is because you are in a bad relationship with yourself." ― Abiola Abrams
204. "You've got to be in a bad relationship to really understand what a great one is." ― Steve Harvey
205. "The end of anything is not fun because there's a nostalgia to it and everything else. Even the end of a bad relationship can feel so, so, so sad." ― Jessica Capshaw
Bad Relationship Quotes on Recognizing and Healing from Toxic Relationships
206. "The wrong person will never give you what you want, but they'll make sure they get what they want from you." — Sonya Parker
207. "In a bad relationship, you're like a caged bird thinking you're in a beautiful garden." — Jane Green
208. "Never love someone who treats you like you're ordinary." — Oscar Wilde
209. "A relationship that is truly genuine does not keep changing its colors. Real gold never rusts. If a relationship is really solid and golden, it will be unbreakable." — Suzy Kassem
210. "You should never have to look for evidence that someone loves you. True love is crystal clear." — Mandy Hale
211. "The wrong person isn't breaking their back to make you happy. So, stop breaking your back for them." — Sonya Parker
212. "Love is not supposed to be painful. It's supposed to heal, to be your haven from misery, to make living worthwhile." — Mia Asher
213. "A relationship that does not constantly increase you will begin to decrease you. Don't let people pull you into their storm. Pull them into your peace." — Karen Salmansohn
214. "Sometimes, it's better to end something and try to start something new than imprison yourself in hoping for the impossible." — Karen Salmansohn
215. "The biggest coward is a man who awakens a woman's love with no intention of loving her." — Bob Marley
Bad Relationship Quotes Reflecting the Struggles of Bad Relationships
216. "There is a real need for interpersonal skills to understand and resolve the differences between partners." — Michael Crowe
217. "Some relationships just move from one unresolved conflict to another." — H. Norman DMin Wright
218. "Some couples, of course, are better off splitting up, but far too many of them sabotage a relationship that could have worked." — John Tierney
219. "In the beginning they'll do / Anything to have you / And once they do it's never the same / And I, know everyone out there can relate." — Brandon Casey
220. "Now I was in a real bad abusive relationship / Knowing that, that was no way for me to live." — Robert S. Kelly
221. "It's amazing how you can not only know it's a relationship, but that it's a bad relationship based on nothing but nothing." — David Shore
222. "How can a woman be expected to be happy with a man who insists on treating her as if she were a perfectly normal human being." — Oscar Wilde
223. "The moment you feel like you have to prove your worth to someone is the moment to absolutely and utterly walk away." — Alysia Harris
224. "It is not a lack of love, but a lack of friendship that makes unhappy marriages." — Friedrich Nietzsche
225. "Don't ignore the signs. A bad relationship can drain you and make you question your worth." — Oprah Winfrey
226. "Plant each hour a thought of love for those who have hurt you, destroy the idea that anyone can take away your happiness." ― Albert E. Cliffe
227. "Every broken heart has screamed at one time or another: Why can't you see who I truly am?" ― Shannon L. Alder
228. "When one person is in control of another, love cannot grow deeply and fully, as there is no freedom." ― Henry Cloud
229. "Jealousy is a disease, love is a healthy condition. The immature mind often mistakes one for the other, or assumes that the greater the love, the greater the jealousy." ― Robert A. Heinlein
230. "Make no mistake God understands the hardships of loving someone who does not love back, and He knows the pain of abuse and rejection firsthand – yet still He comes for us." ― Brian Hardin
231. "If you love somebody, let them go, for if they return, they were always yours. And if they don't, they never were." ― Kahlil Gibran
232. "When you go through a breakup, it feels likesomeone died. And the truth is that someone has died – the relationship." ― Osayi Osar-Emokpae
233. "Absence is to love what wind is to fire; It extinguishes the small, it inflames the great." ― Roger de Rabutin
How did you find these bad relationship quotes?
Feeling hesitant or even afraid to cut loose a relationship you know has gone sour is alright.
More so if you know you and your partner are already hurting one another.
Everyone goes through these emotions, albeit in different situations.
A relationship gone bad doesn't need to define you—or your happiness in the future.
Through the tears, have hope that the skies will clear up soon.
It may not be tomorrow or the day after that.
But soon, things will be better.
After all, they say that a face full of smiles used to be filled with tears.
We hope these toxic relationship quotes have helped give you renewed strength and faith to keep moving forward.
For more helpful relationship quotes, check out these breadcrumbing quotes.
Which of these bad relationship quotes and sayings resonated with you best?
Do you have any other inspirational quotes to add?
Tell us in the comment section below.