50 Dave Chappelle Quotes That Are Hilarious and Insightful
These thought-provoking Dave Chappelle quotes will make you laugh and think at the same time.
Dave Chappelle is an American standup comedian, best known for his series Chappelle's show.
He is also an award-winning actor, writer, and producer.
He was also in the movies Robin Hood: Men in Tights and Half Baked.
Dave's parents were both politically active college professors.
Dave studied theater arts in school, graduating in 1991.
He began his career in the New York comedy circuit and has come along way since then.
Below is our collection of funny, wise and thought-provoking Dave Chappelle quotes, collected from a variety of sources over the years.
Don't forget to also check out our compilation of Kevin Hart quotes on success, family and work ethic.
Check out our most popular quote article, a list of short inspirational quotes for daily inspiration.
Our inspirational quotes category page has all of our motivational quotes for all the different areas of life.
Dave Chappelle Quotes That Are Hilarious and Insightful
1. "No matter how old you are, if a little kid hands you a toy phone… you answer it." – Dave Chappelle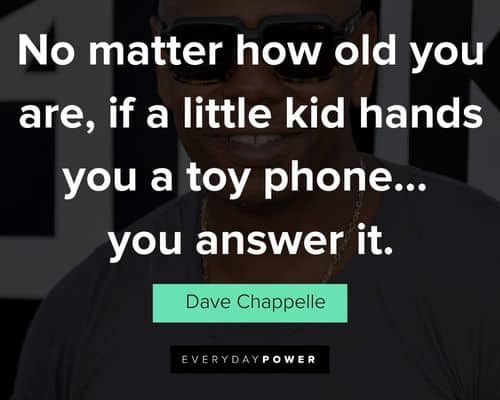 You will also enjoy our article on Rodney Dangerfield quotes.
2. "Constantly take inventory of what's important to you." – Dave Chappelle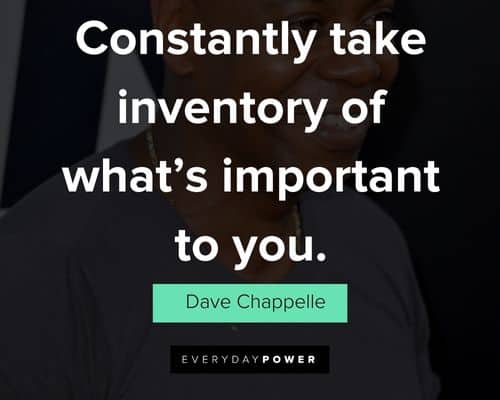 3. "You got to be careful of the company you keep." – Dave Chappelle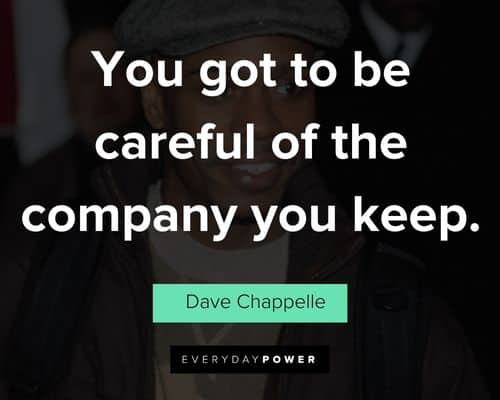 4. "If you don't have the right people around you and you're moving at a million miles an hour, you can lose yourself." – Dave Chappelle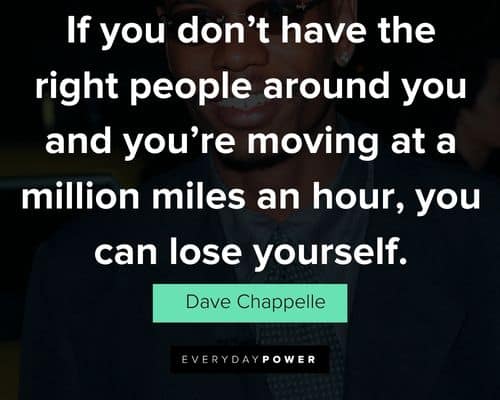 5. "I'm famous today. People like me today. Might not like me tomorrow. You can't count on it." – Dave Chappelle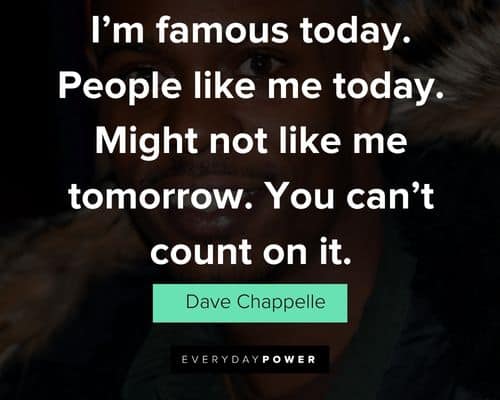 6. "After a while, a joke, if you say it too much, just becomes contrived, or fake-sounding." – Dave Chappelle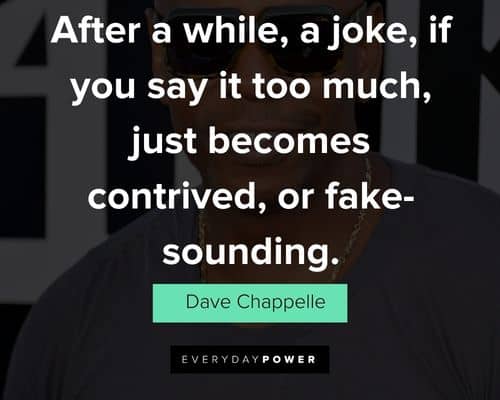 7. "You've got to say 'yes' to your destiny. Life's happening right now, look around you. There goes some life. Come on, Mamma, live!" – Dave Chappelle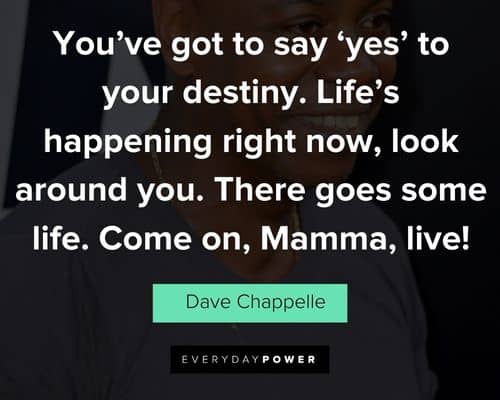 8. "Something about New York, man: You can do more comedy there probably than you can anywhere in the world. If you're interested in being funny, New York is the place to go." – Dave Chappelle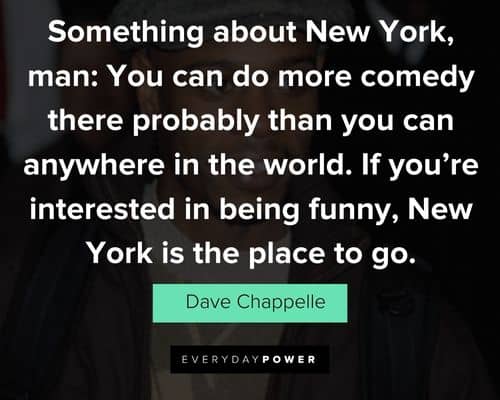 Also read these Steven Wright quotes that will make you laugh out loud.
Dave Chappelle quotes that impart wisdom
9. "I support anyone's right to be who they want to be. My question is: to what extent do I have to participate in your self-image?" – Dave Chappelle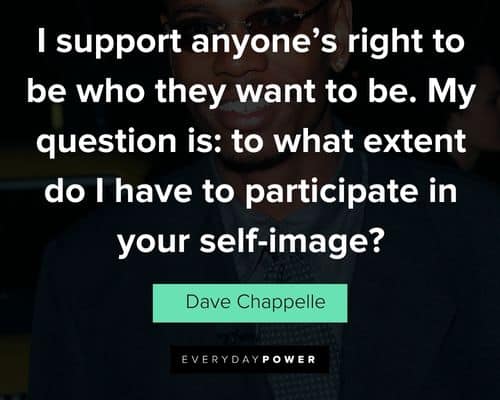 10. "The hardest thing to do is to be true to yourself, especially when everybody is watching." – Dave Chappelle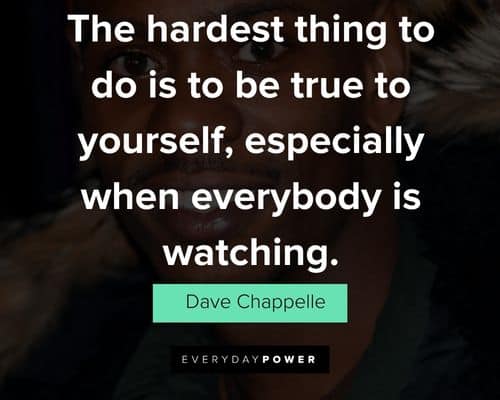 11. "The only way you can know where the line is is if you cross it." – Dave Chappelle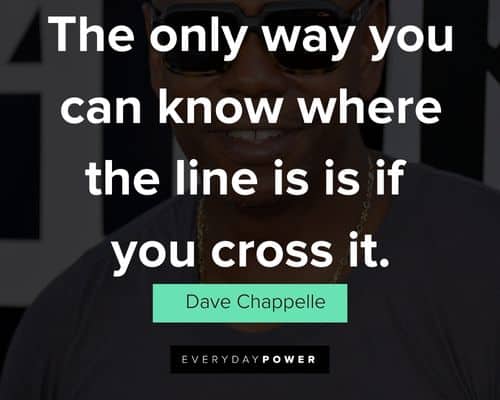 12. "You know, be able to do something great in your life, you're gonna have to realize your failures. You're gonna have to embrace them and figure out how to overcome it." – Dave Chappelle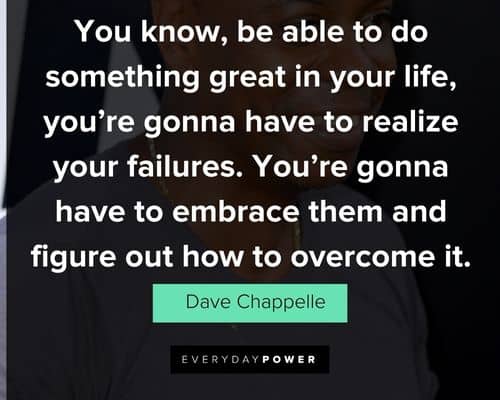 13. "The mark of greatness is when everything before you is obsolete, and everything after you bear your mark." – Dave Chappelle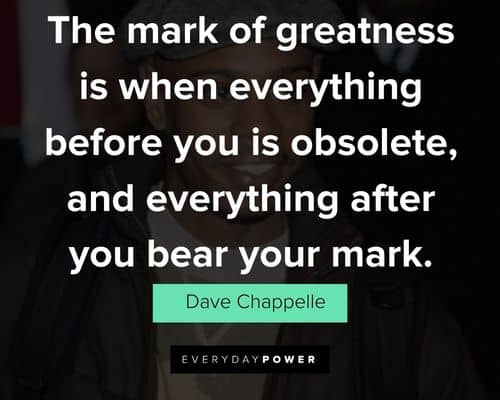 14. "You know you must be doing something right if old people like you." – Dave Chappelle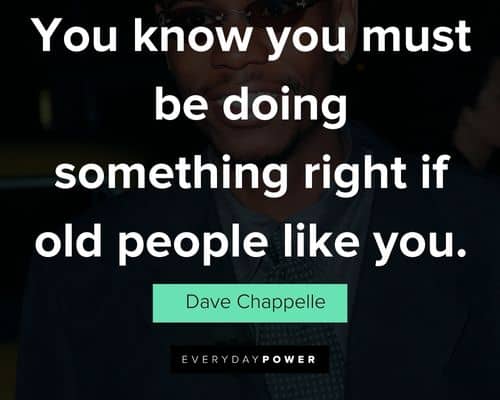 15. "The world can't tell you who you are. You've just got to figure out who you are and be there, for better or worse." – Dave Chappelle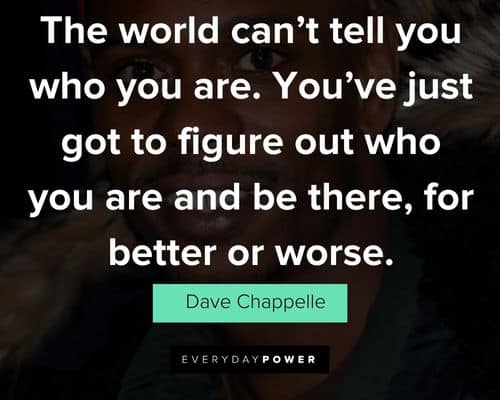 16. "I enjoy my own thoughts sometimes." – Dave Chappelle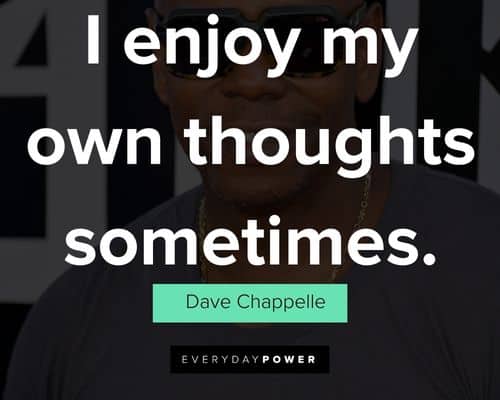 17. "When I'm on stage, I get real happy there. Maybe that's the only time in my adult life I feel like myself." – Dave Chappelle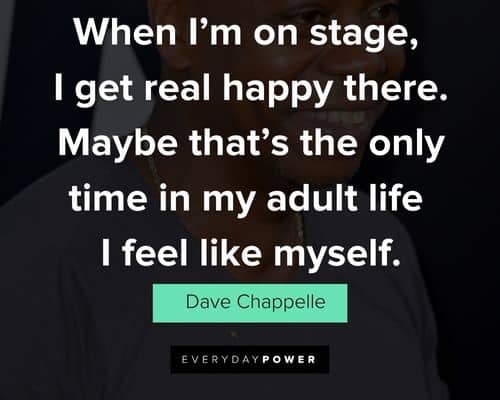 18. "People don't know what it's like standing up there on stage when you have a wall of people smiling at you." – Dave Chappelle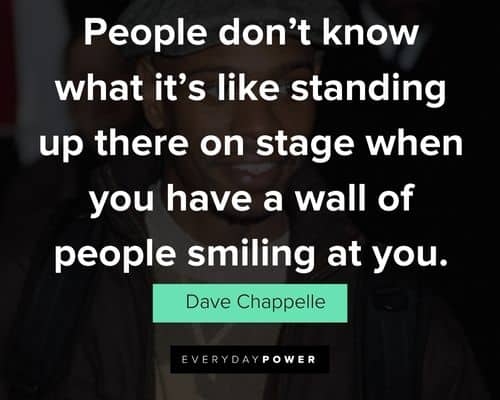 19. "Everyone around me says, "You're a genius! You're great! That's your voice! But I'm not sure if they're right." – Dave Chappelle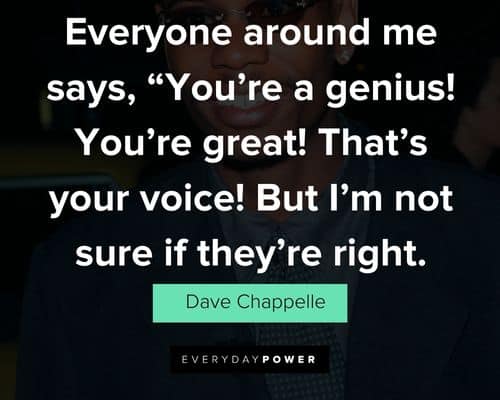 20. "You can become famous but you can't become unfamous. You can become infamous but not unfamous." – Dave Chappelle
21. "I have all these weird fantasies. Going coast-to-coast on my motorcycle and having random barbecues all over America. No show, no nothing." – Dave Chappelle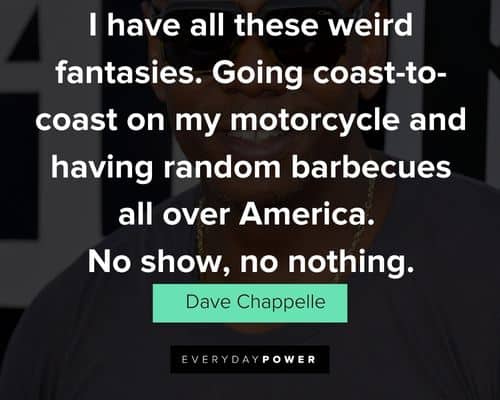 Also check out these Step Brothers quotes that will make your day.
Dave Chappelle quotes on success, failure, and money
22. "I'm cool with failing so long as I know that there are people around me that love me unconditionally." – Dave Chappelle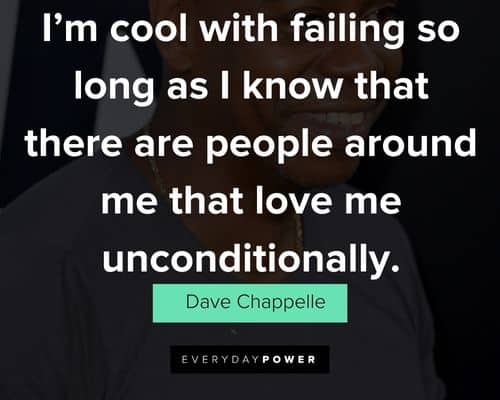 23. "Fame for me is like a place, a country I'm taking a tour through." – Dave Chappelle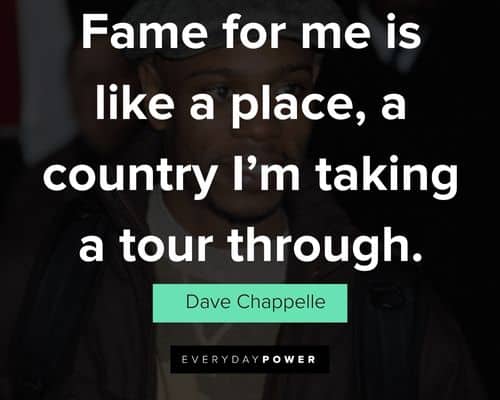 24. "They do what they do for money – that's all. I don't even know why you're listening to me. I've done commercials for both Coke and Pepsi. Truth is, I can't even taste the difference, but Pepsi paid me last, so there it is." – Dave Chappelle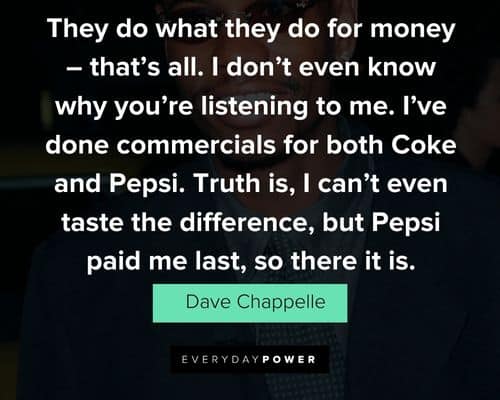 25. "My father told me 'Name your price in the beginning. If it ever gets more expensive than the price you name, get out of there.'" – Dave Chappelle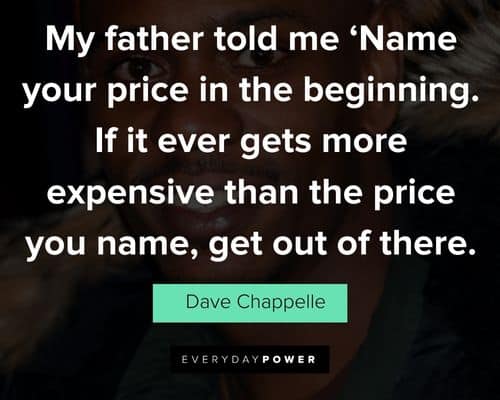 26. "Money is the fuel for choices. Money gives me choices, so it's not nothing, it's something…" – Dave Chappelle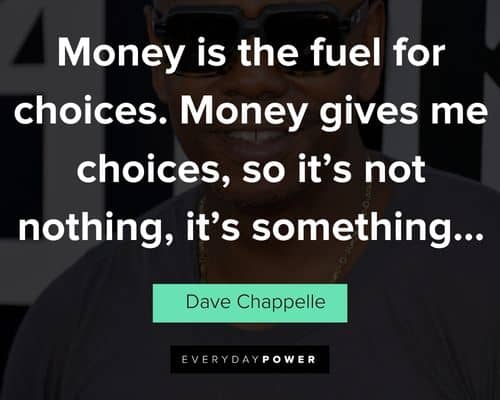 27. "One of the things that happens when people make the leap from a certain amount of money to tens of millions of dollars is that the people around you dramatically change." – Dave Chappelle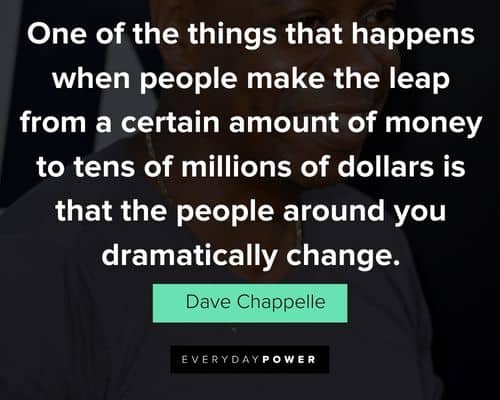 28. "Once you been performing on the streets you can conquer any venue." – Dave Chappelle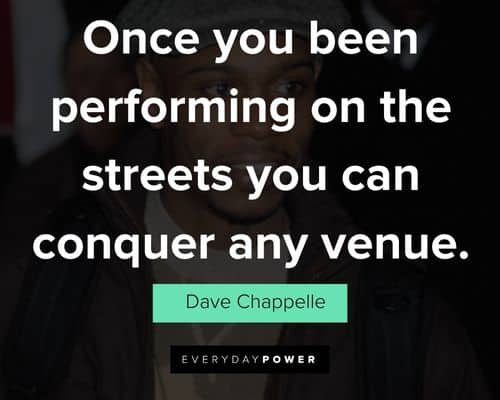 29. "If I can make a teacher's salary doing comedy, I think that's better than being a teacher." – Dave Chappelle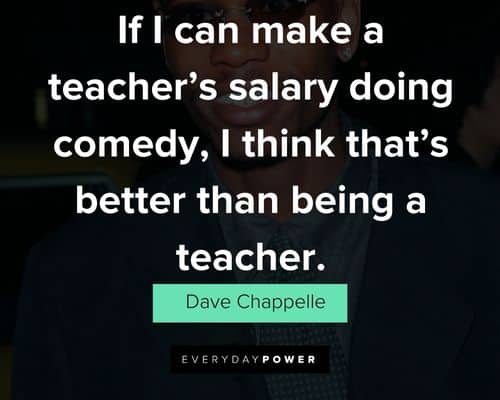 30. "My wife asked me once if I weren't a comedian what I would do. I couldn't answer the question. I never imagined doing anything else." – Dave Chappelle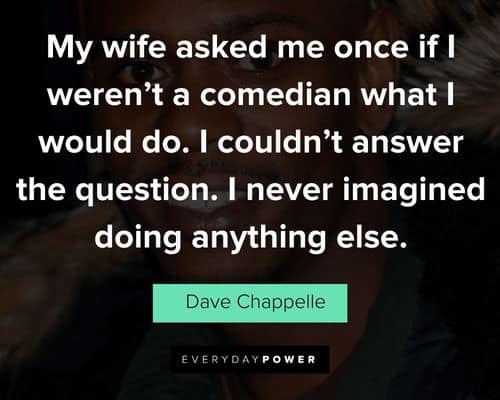 31. "My own life is accessible to people still. I could see a guy walking down the street and, even though I'm famous, I got more in common with this guy than, like, Brad Pitt." – Dave Chappelle
Don't forget these quotes from Rodney Dangerfield as well.
Politically incorrect quotes by Dave Chappelle
32. "Chivalry is dead. Women killed it." – Dave Chappelle
33. "The worst thing to call somebody is crazy. It's dismissive." – Dave Chappelle
34. "Every black American is bilingual. All of them. We speak street vernacular and we speak 'job interview.'" – Dave Chappelle
35. "All white people talk about when they get high is other times that they got high." – Dave Chappelle
36. "I always take a relationship to the next level. If that works out, I take it to the next level after that, until I finally reach that level when it becomes absolutely necessary for me to leave." – Dave Chappelle
37. "Hey hey hey, smoke weed every day." Dave Chappelle
38. "I think every group of black guys should have at least one white guy in it." Dave Chappelle
39. "Somebody broke into my house once, this is a good time to call the police, but mmmm, nope. The house was too nice. It was a really nice house, but they'd never believe I lived in it. They'd be like 'He's still here!" – Dave Chappelle
40. "But money is not the end-all, be-all. There are other things in my life that I did not purchase with money that are very valuable." – Dave Chappelle
41. "Weed's not as bad as everything else… 'cause weed is a background substance. You know what I mean, you can smoke some herb and still function. You ain't crisp… but you'll function." – Dave Chappelle
You will also enjoy our article on funny birthday quotes.
Funny Dave Chappelle quotes
42. "What did the 5 fingers say to the face? S L A P!"- Dave Chappelle
43. "Stand-up is the kind of gig that'll show you where you're at." – Dave Chappelle
44. "Being famous is great, it's not like bad or horrible or anything." – Dave Chappelle
45. "I think extreme sports are really good for relieving stress." – Dave Chappelle
46. "Dave! Relax! Close your buttcheeks!" – Dave Chappelle
47. "The language you are about to hear… is disturbing." – Dave Chappelle
48. "My generation is under-entertained." – Dave Chappelle
49. "Where I'm from? A little town called none of yo god damn business." – Dave Chappelle
50. "If someone sits and stares at you while you eat, you won't even eat the way you normally do, because it'll make you so uncomfortable. If I look at my dog when he's eating, he will look at me like, "Dave, I will bite you. What are you looking at? I'm trying to eat." It's something that dehumanizes a person, being on display like that." – Dave Chappelle
Have you seen these funny quotes by John Mulaney?
Did you enjoy these Dave Chappelle quotes?
I'm glad that Dave Chappelle doesn't think being famous is too terrible, as he is an amusing comedian.
If he had decided to be a teacher the world would laugh a little less…and be under-entertained for sure!
He is not just comical though and offers inspiration frequently.
Some of Chappelle's comedy might not be for the faint of heart (although he does claim that old people like him).
If you find yourself in need of a little laughter tune in and catch some of his act!
Which of these hilarious Dave Chappelle quotes is your favorite?
Do you have any other inspirational quotes to add?
Tell us in the comment section below.
We would love to hear all about it.