The Little Mermaid Quotes to Relive Your Childhood
April 9, 2023 5:00 AM EST
Listen to article
4 minutes
Enjoy this throwback to the 90s with these The Little Mermaid quotes.
If you grew up in the nineties then there are certain movie quotes that will take you right back to your childhood.
One of those movies is The Little Mermaid.
According to Box Office Mojo, the 1989 release of The Little Mermaid grossed over $211 million worldwide, making it the highest-grossing animated film of its time.
This success helped revive Disney's animation studio and ushered in the "Disney Renaissance" era of animation.
Who's your favorite character from The Little Mermaid?
The story of Ariel longing to become a human so she can explore the world and be with Prince Eric quickly became a favorite of children and Disney fans.
Children and adults loved the movie extras such as the crab Sebastian who worked for King Triton, Ariel's father, and Flounder her fish friend.
And who can forget the Disney villain, Ursula?
Enjoy the memory of the movie as you read through The Little Mermaid quotes below.
We also have a collection of Moana quotes that you can't help but like.
So, be sure to also check that out.
If you enjoy this article, check out our most popular quote article, a list of short inspirational quotes for daily motivation.
Browse our entire collection of inspirational quotes for more motivating ideas and concepts.
The Little Mermaid quotes from Ariel
In a 2021 survey conducted by Morning Consult, 46% of U.S. adults said they had a favorable opinion of The Little Mermaid, making it one of the most popular Disney animated films among respondents.
The film's themes of love, sacrifice, and following your dreams continue to resonate with audiences of all ages.
1. "I don't see how a world that makes such wonderful things could be bad." – The Little Mermaid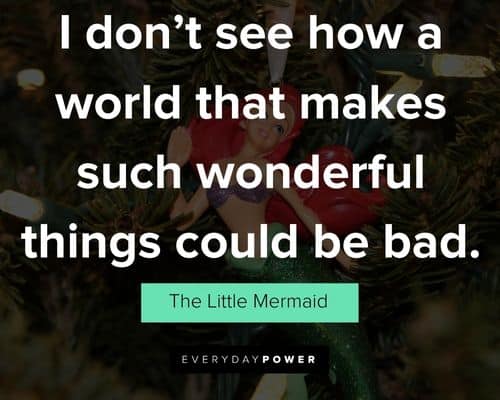 2. "I've never seen a human this close before." – The Little Mermaid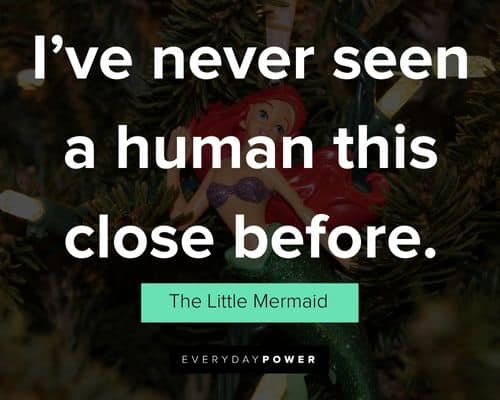 3. "I don't know when, I don't know how, but I know something's starting right now." – The Little Mermaid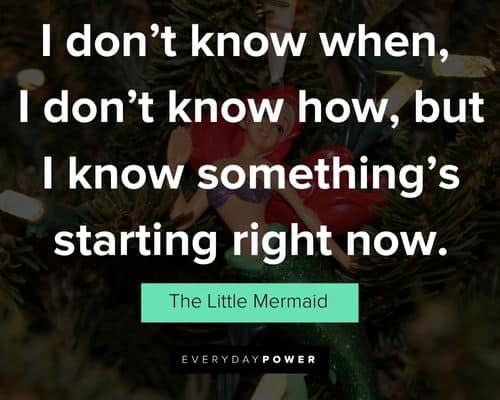 4. "I'm sixteen years old. I'm not a child anymore." – The Little Mermaid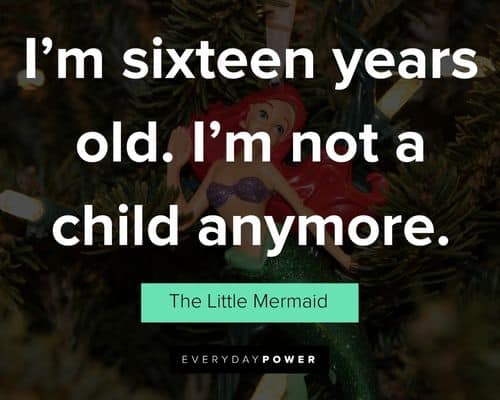 5. "What would I pay to spend a day warm on the sand." – The Little Mermaid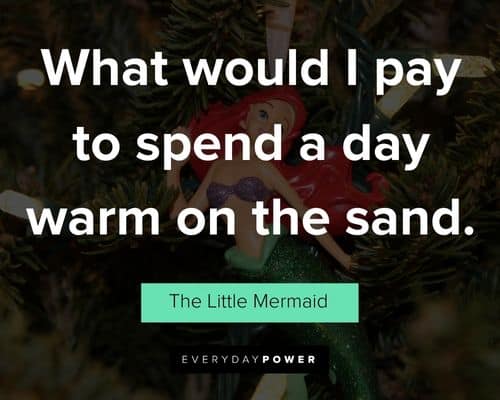 6. "Have you ever seen something so wonderful in your entire life?" – The Little Mermaid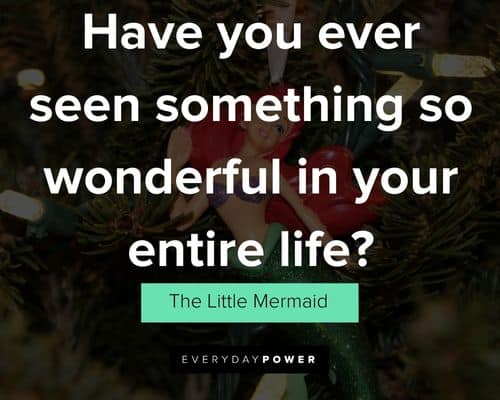 7. "Watch and you'll see, someday I'll be part of your world." – The Little Mermaid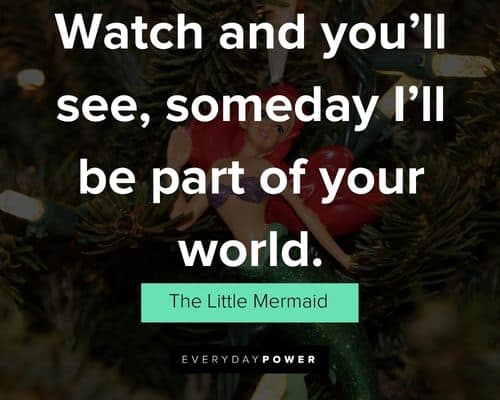 The Little Mermaid quotes from Sebastian
A study by researchers at the University of Bristol found that watching Disney films, including The Little Mermaid, can increase children's emotional intelligence and understanding of emotions.
The researchers found that children who watched Disney films had better recognition of facial expressions and emotions compared to those who didn't watch the films.
8. "The human world, it's a mess." – The Little Mermaid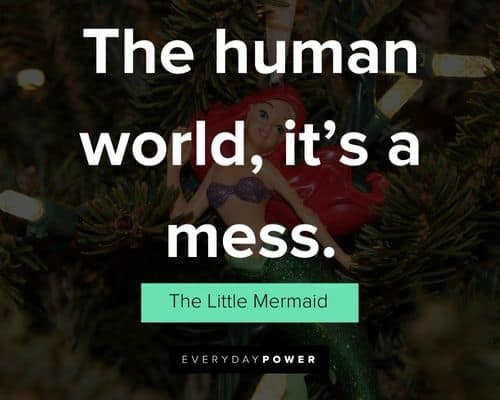 9. "We got not troubles… life is the bubbles under the sea." – The Little Mermaid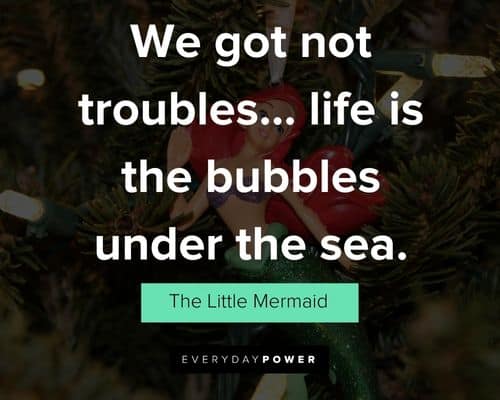 10. "You gotta bat your eyes, like this. You gotta pucker up your lips like this." – The Little Mermaid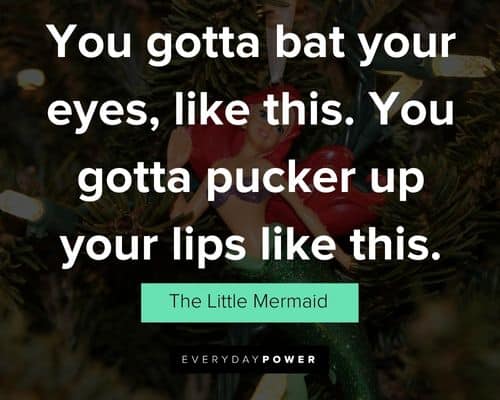 11. "This has got to be, without a doubt, the single most humiliating day of my life." – The Little Mermaid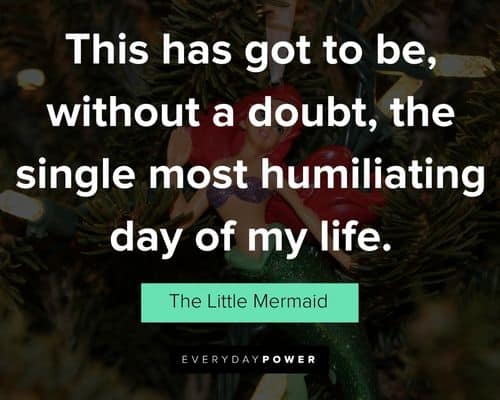 12. "Teenagers. They think they know everything. You give them an inch, they swim all over you." – The Little Mermaid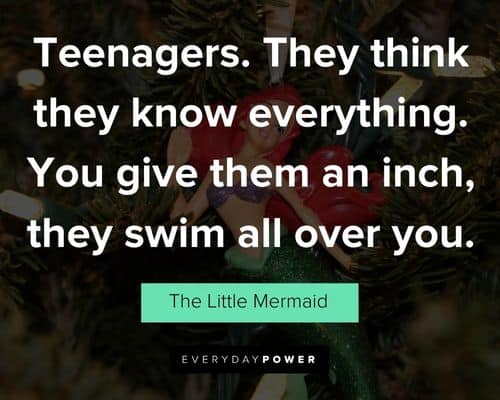 If you're enjoying these quotes, make sure to read our collection of teenager quotes about navigating this period of life.
13. "You want something done, you've got to do it yourself." – The Little Mermaid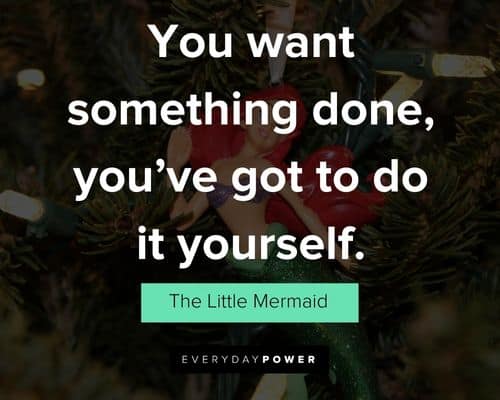 14. "Somebody's got to nail that girl's fins to the floor." – The Little Mermaid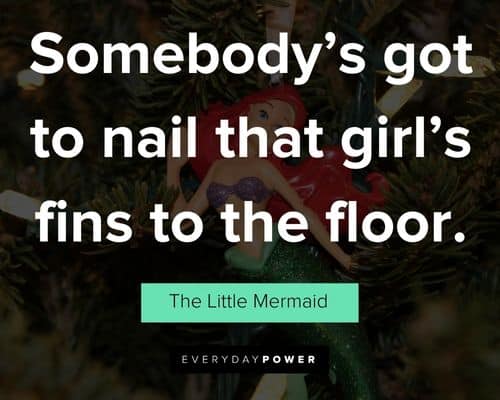 15. "Children have got to be free to lead their own lives." – The Little Mermaid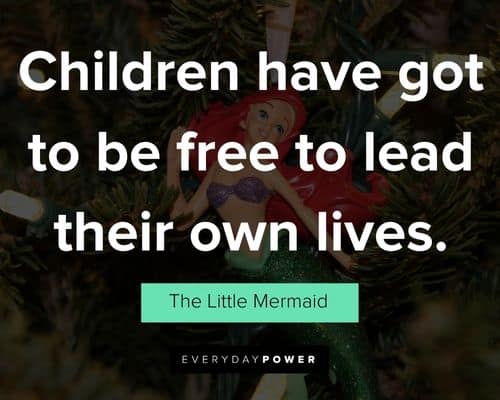 16. "Boy. What a softshell I'm turning out to be." – The Little Mermaid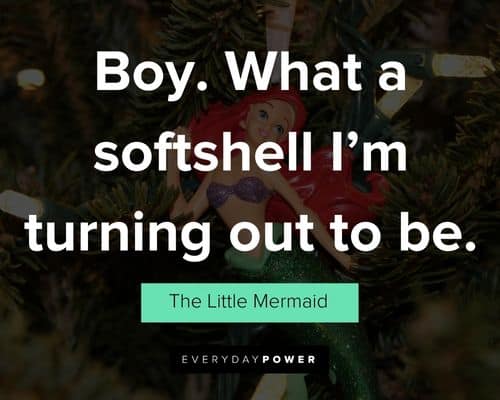 The Little Mermaid quotes from Ursula
In a survey conducted by YouGov in 2021, 68% of Americans aged 18-34 reported watching Disney movies as children, indicating the enduring popularity of classic Disney films like The Little Mermaid.
This statistic highlights the potential appeal of sharing quotes from the film with a broad audience who may have fond memories of watching it.
17. "Life's full of tough choices, isn't it?" – The Little Mermaid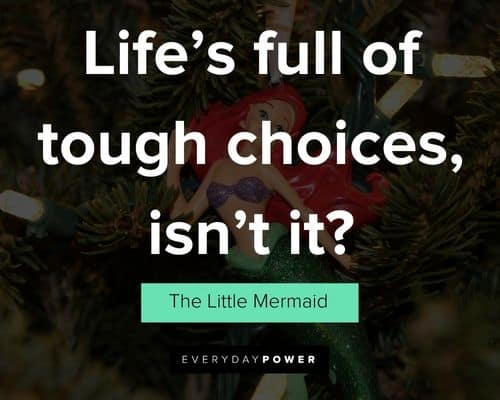 18. "Come in. Come in, my child. We mustn't lurk in doorways- it's rude. One might question your upbringing." – The Little Mermaid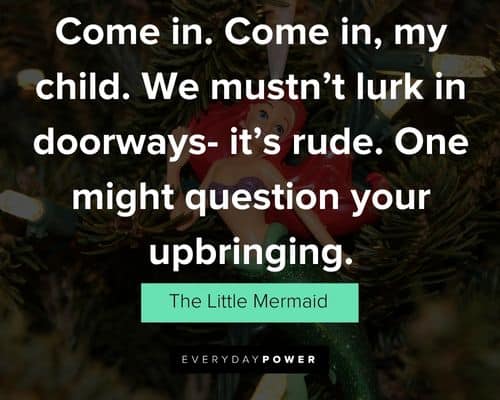 19. "So much for true love!" – The Little Mermaid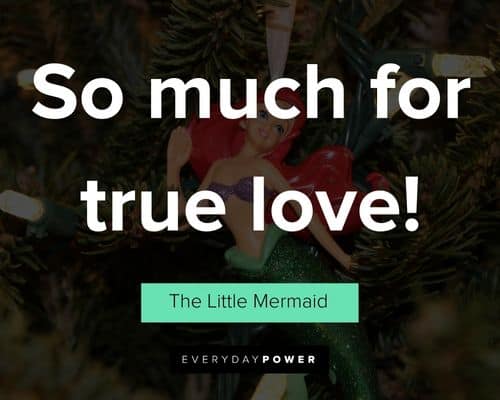 20. "King Triton's daughter will be mine, and then I'll make him writhe. I'll make him wriggle like a worm on a hook." – The Little Mermaid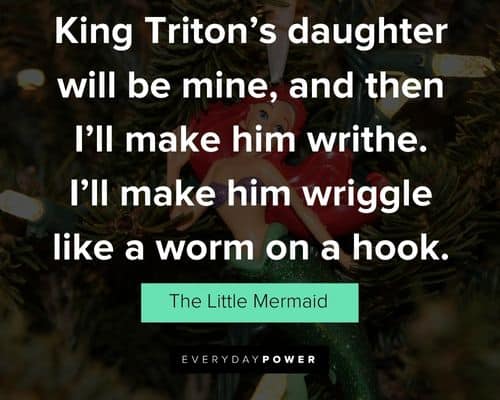 You might also like these quotes from Aladdin that will make your day.
The Little Mermaid quotes from Flounder
The Little Mermaid has been identified as a particularly quotable Disney movie, with quotes from the film frequently appearing in popular culture and media.
This suggests that sharing quotes from the film may resonate with a wide audience and potentially increase the article's virality.
21. "But it wasn't her fault! Ah well first, ahh, this shark chased us yeah yeah! And we tried to but we couldn't and then grr and and we whoa! Ah, and then we were safe. But then this seagull came, and it was this is this, and that is that, and." "Okay. Yeah, you go. I'll stay and—what? Sharks? Ariel!" – The Little Mermaid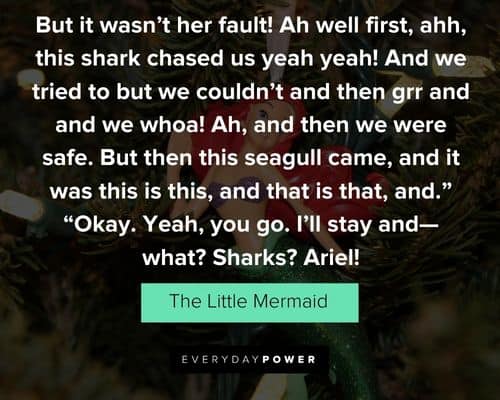 22. "You're not gonna tell him, are you?" – The Little Mermaid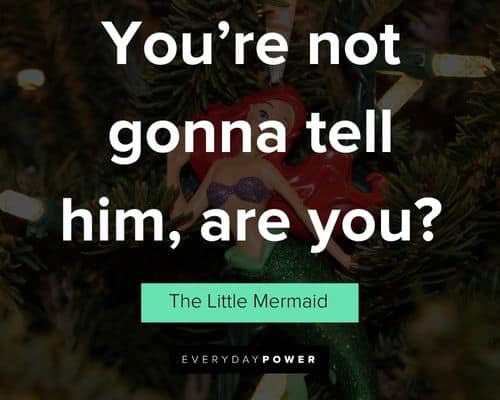 23. "I'm not a guppy." – The Little Mermaid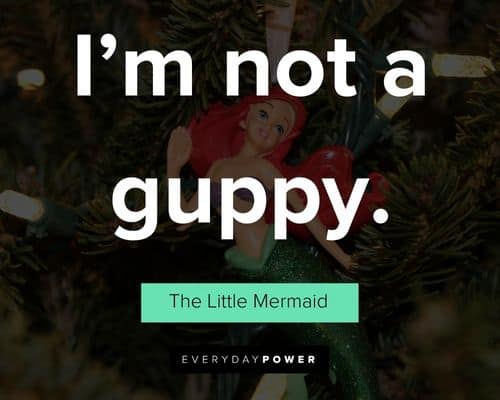 24. "Ariel's been turned into a human. She'll have to make the prince fall in love with her, and he's gotta he's gotta kiss her." – The Little Mermaid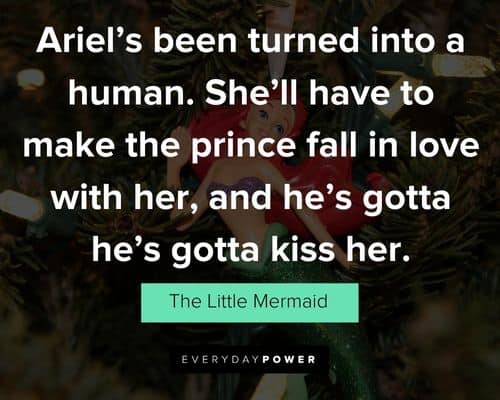 The Little Mermaid quotes from Prince Eric
According to a study published in the Journal of Experimental Social Psychology, using quotes from popular media can increase a speaker's persuasiveness and likeability.
By sharing Ursula's memorable quotes, readers may be more likely to engage with and share the article.
25. "Isn't this great? The salty sea air, the wind blowing in your face. A perfect day to be at sea!" – The Little Mermaid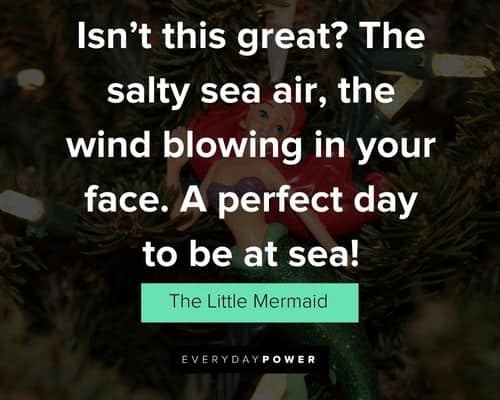 Also read these Dumb and Dumber quotes that will make your day.
It's time to watch the movie again
After reading through these Little Mermaid quotes from the favorite characters of this popular Disney movie, you probably feel like watching the movie again.
It's fun to relive childhood as you sing along with the catchy songs sung by creatures under the sea and watch as Ariel tries to take control of her own destiny by working with Ursula the sea witch.
Pop some popcorn, stream the movie, and enjoy watching Ariel and Prince Eric on their quest to find each other once again.
You can cheer on the couple and King Triton as they work to defeat Ursula and live happily ever after.
Did you enjoy these Little Mermaid quotes and lines?
Which of the quotes is your favorite?
Let us know in the comment section below.