25 The Walking Dead Quotes From The Hit Show About a Zombie Apocalypse
The Walking Dead is an AMC series and it's about, well you guessed it a zombie apocalypse!
If you are already a fan of the show, then you have been waiting for season 10 a little longer than usual.
AMC had some production problems and the show was effectively split into parts and aired later than usual.
People speculate it might hit Netflix in July of 2021, but that still has not been confirmed.
In the meantime, these The Walking Dead quotes from your favorite characters, like Rick Grimes, might help tide you over!
If you haven't seen the show, you might be missing out! It has won several awards and has quite a fan following.
Rick Grimes is a sheriff who wakes up from a coma, only to discover that the world has collapsed, and the zombies, called walkers, are terrorizing any surviving humans.
On top of that, humans have formed their own groups and social structures with their own ideas on the law and morality.
It is definitely a fight for survival as you can see in some of these Walking Dead quotes.
I won't leave any major spoilers but keep reading to discover why so many people have loved this show since 2011.
Don't forget to also check out this collection of The Kite Runner quotes from the dramatic novel and movie.
If you like this article, we suggest you explore our most popular quotes article, a list of short inspirational quotes for daily encouragement.
Read more related content on our inspirational quotes category page.
The Best The Walking Dead quotes from Rick Grimes
1. "I'm not your governor." — Rick Grimes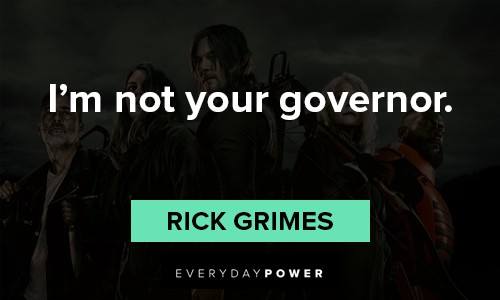 You will also enjoy our article on Catwoman quotes.
2. "I'm not the good guy anymore." — Rick Grimes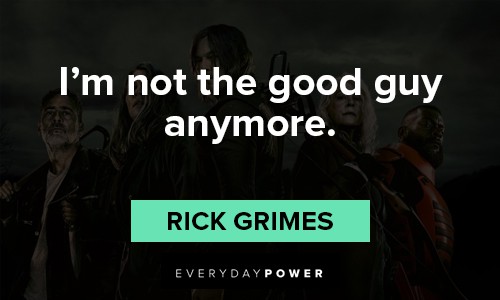 You will also enjoy our article on walking quotes.
3. "I try not to mix it up with the almighty anymore." — Rick Grimes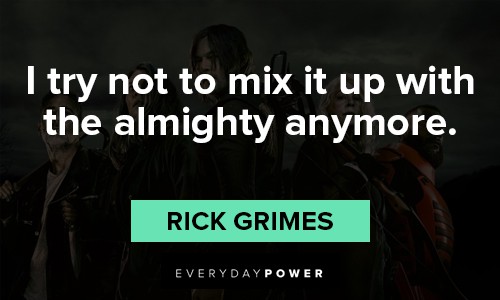 4. "Rest in peace. Now get up, and go to war." — Rick Grimes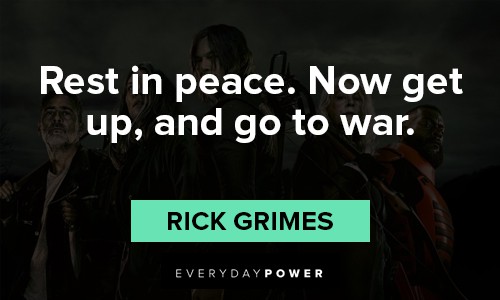 5. "We don't kill the living." — Rick Grimes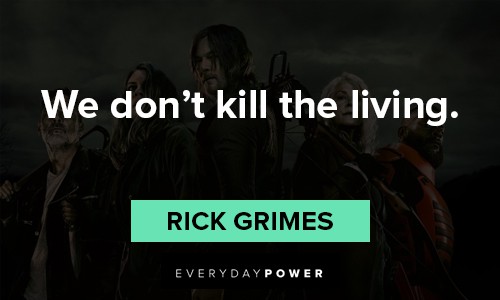 6. "There's a compound bow and a machete with a red handle. That's what I'm gonna use to kill you." — Rick Grimes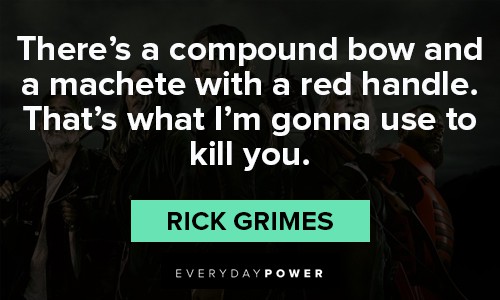 7. "You don't know what it's like out there. You may think you do but you don't. It's only a matter of time. There's too many of those things. My boy, my wife, I never told them what I really thought. I never even hinted, just, just kept it in, kept us moving, kept it in, kept us moving." — Rick Grimes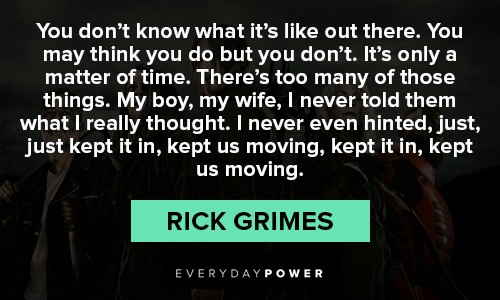 8. "They're screwing with the wrong people." — Rick Grimes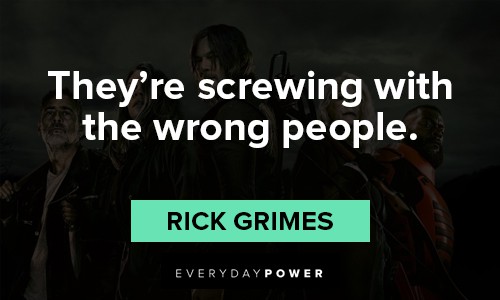 9. "Ought to be polite to a man with a gun. Only common sense." — Rick Grimes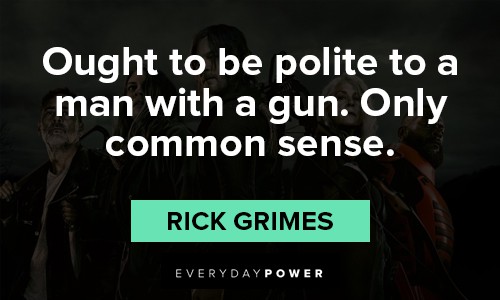 10. "We won't get weak. That's not in us anymore. We'll make it work." — Rick Grimes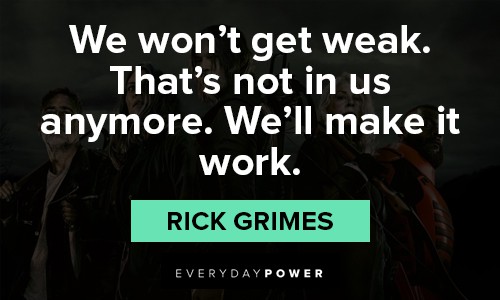 The Walking Dead quotes from Negan
11. "Lucille's beautiful, smooth surface is never gonna look the same, so why should yours?!" — Negan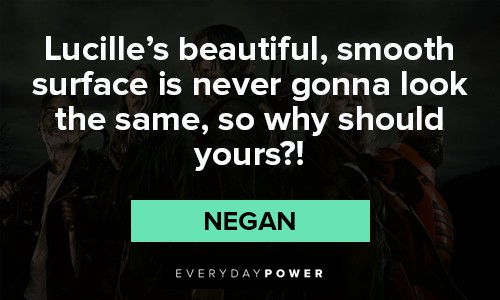 12. "You can breathe, you can blink, you can cry. Hell, you're all gonna be doing that." — Negan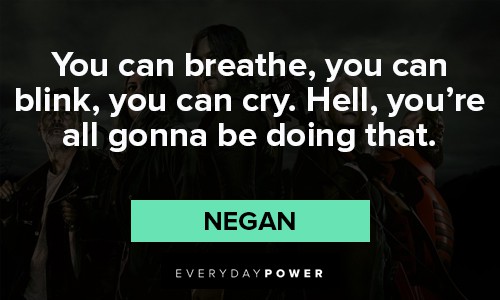 13. "Funny how a little 'Holy sh*t! Somebody's gonna die!' lights a fire under everybody's ass!" — Negan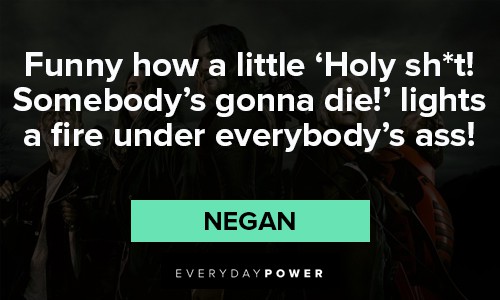 14. "You don't look at him, you don't talk to him, and I don't make you chop anything off of him." — Negan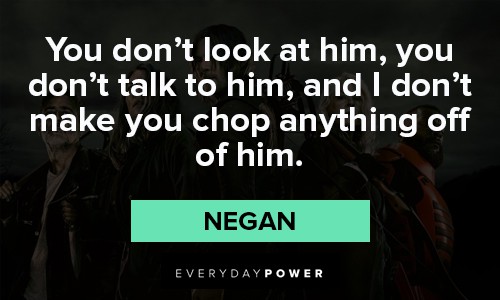 15. "I just popped your skull so hard your eyeball popped out, and that shit is gross." — Negan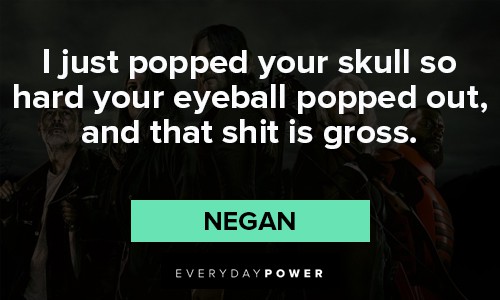 16. "While they're at it, I just want to point out to you that I'm not taking a scrap of your food." — Negan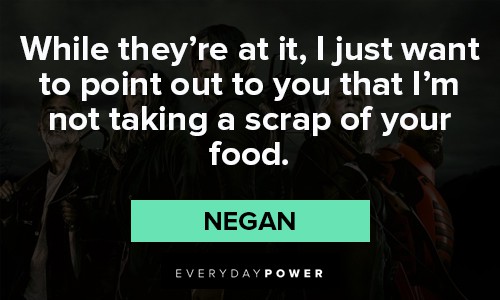 17. "Is that you, Rick? Underneath all that man bush? Sh*t, I would not have messed with that guy." — Negan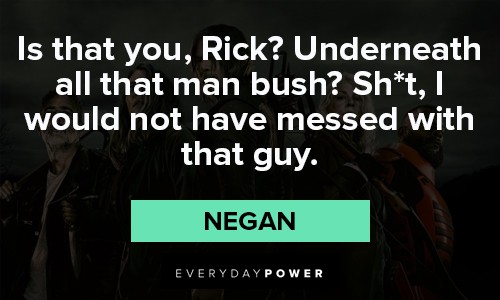 18. "You got some beach-ball-sized lady nuts coming in kamikaze like that." — Negan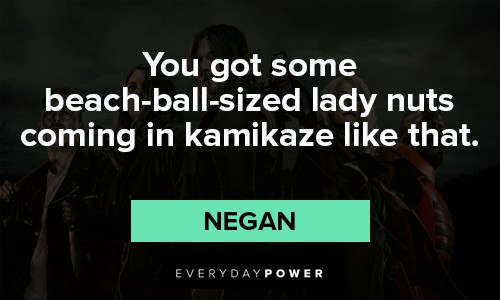 19. "I've got my fingers crossed for a little freaky deeky." — Negan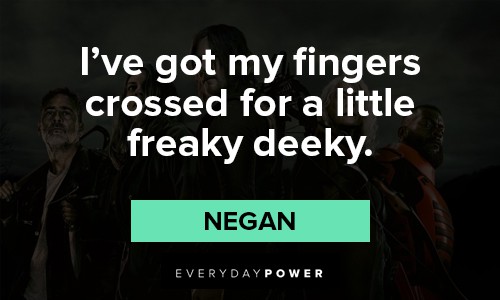 20. "A good leader uses everything to their advantage." — Negan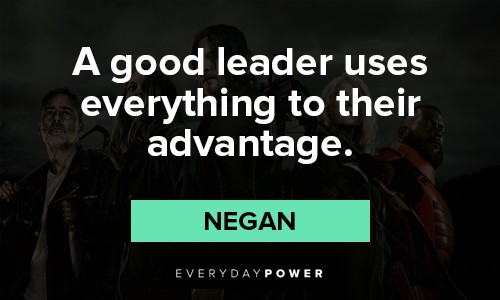 21. "People are a resource. Money on the table. People are the foundation of what we are building here!" — Negan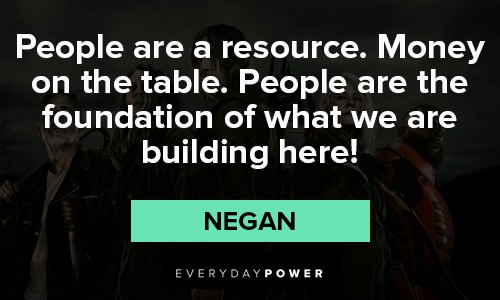 22. "If you don't have something interesting for us… somebody's gonna die. And no more magic guns." — Negan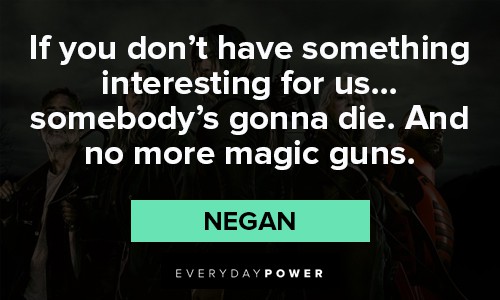 23. "I care about my people. I don't want to just march them into the line of fire because I want to play 'my dick is bigger than yours.' It is. We both know it." — Negan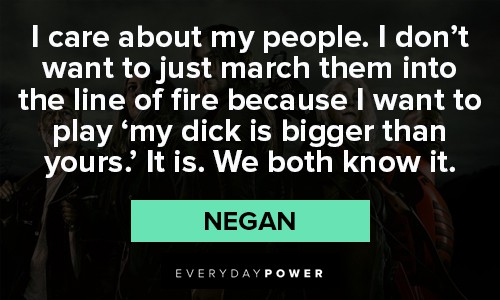 24. "Punishment — can't do anything without that. Punishment is how we built everything we have." — Negan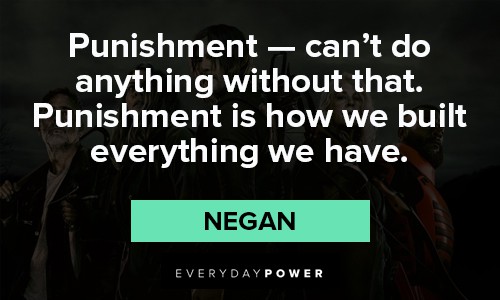 25. "You can't keep a big dog locked up forever. Sooner or later, he's got to run." — Negan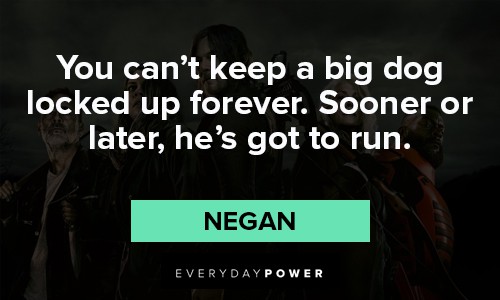 Which of these The Walking Dead quotes is your favorite.
The post-apocalyptic horror series is actually based on a comic book!
The 'walkers' are quite terrifying indeed, and Rick Grimes ends up leading a group of humans and trying to keep as many people as possible safe.
The 'walkers' feed on humans and other creatures, completely devouring them.
They are attracted to loud noises, like gunshots.
They can sniff out the humans as well because they have an enhanced sense of smell.
Early on in the series, it seemed that a person would be turned into a walker if they were bitten or scratched.
However, it was later revealed that all humans carry the pathogen that caused these people to mutate into zombies The mutation occurs after the death of the host.
In order to stop anyone who dies from turning into a 'walker,' survivors must damage the host's brain or destroy the body, by burning it.
The show has spawned several spinoffs, and people just can't get enough zombies.
Although, not everyone was happy with the ending of Season 9… If you haven't watched it yet, it might be a good one to stream!
If you already like the show, feel free to share some of your favorite The Walking Dead quotes and lines that didn't make the list in the comment section below!