40 Justin Bieber Quotes from the Former Childhood Star
Even though he's had a lot of negative media attention over the years, these Justin Bieber quotes show another side.
Justin Bieber was a Canadian child that was first discovered when he was just a young teenager.
He grew quickly in popularity.
In fact, he was the first artist ever to have seven of his songs show up on the Billboard Hot 100.
However, he struggled with the life that fame brought him.
Just several years later he began to have problems with the law and was even arrested multiple times.
In 2019, he announced that he was taking some time off to work on some issues in his personal life.
Later in the year though he was back at it including collaborations with those such as country music's Dan & Shay.
Enjoy these Justin Bieber quotes and lyrics!
And don't forget to also check out our collection of Selena Gomez quotes that will make you stop and look at her.
If you enjoy this article, check out our most popular quote article, a list of short inspirational quotes for daily motivation.
Browse our entire collection of inspirational quotes for more motivating ideas and concepts.
Justin Bieber quotes about music and fame
1. "I want girls to hear my music, and I want them to play it again because it makes their hearts feel good." – Justin Bieber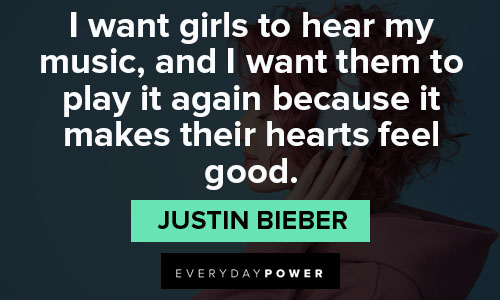 2. "I'm not into screamo music, but I respect that. It's hard to do, to keep your voice and stuff like that." – Justin Bieber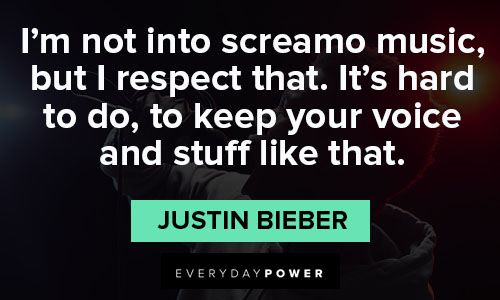 3. "Haters scream, trying to bring me down, but my Beliebers can scream louder than that and I am proud of that." – Justin Bieber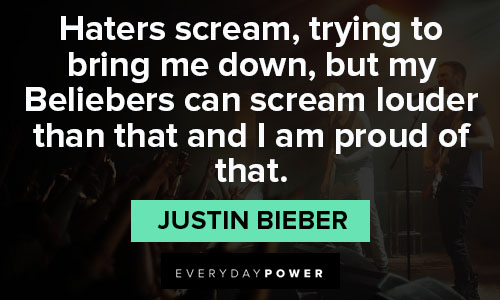 4. "I think older people can appreciate my music because I really show my heart when I sing, and it's not corny." – Justin Bieber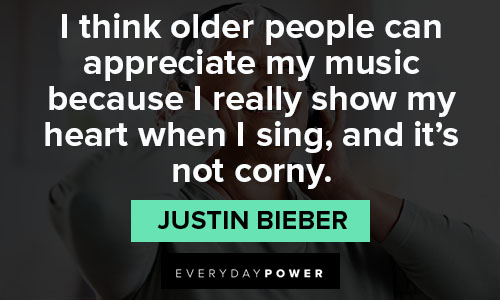 5. "I feel like it's my responsibility to be the greatest I can be. If I go out there and start making terrible music, I don't expect people to like me. If I'm making great music and there's no reason for people to not like me, that's when it's going to make me upset. People just need to take a chance and listen." – Justin Bieber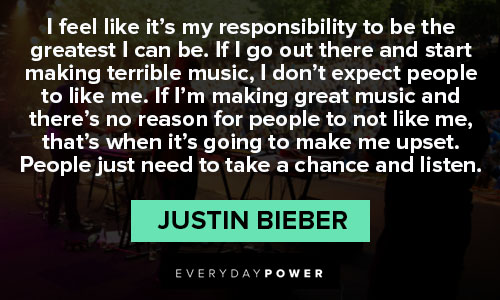 6. "I love that my fans are so devoted because without them I wouldn't have this opportunity." – Justin Bieber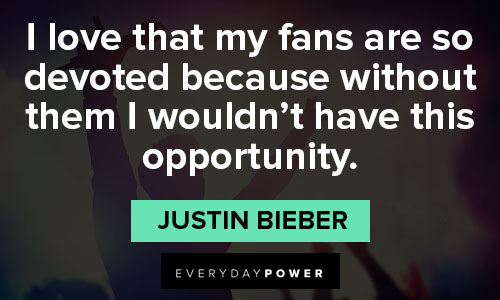 7. "Music is the universal language no matter the country we are born in or the color of our skin. Bring us all together." – Justin Bieber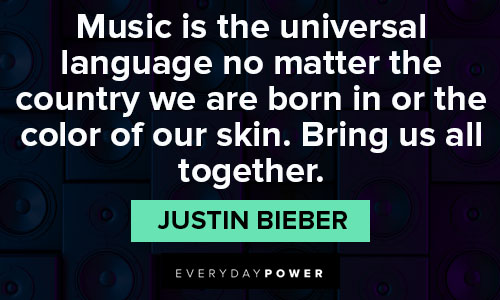 8. "Every one of my fans is so special to me." – Justin Bieber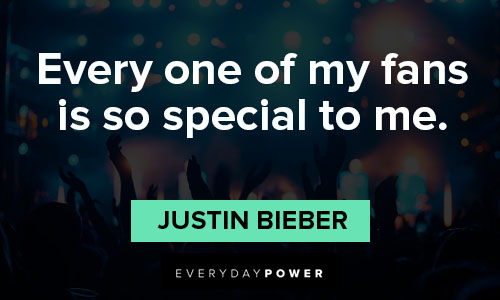 9. "I want to grow as an artist and I'm taking a step out, I want my music to mature." – Justin Bieber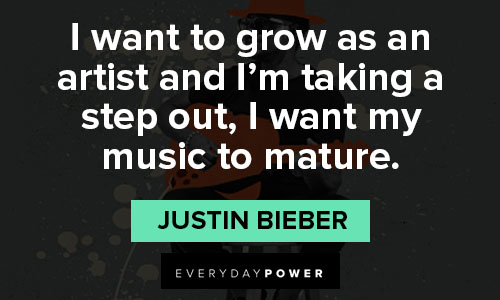 10. "It's crazy that I have so many fans that will appreciate me that much. It really gives me – I'm like, I wish that I really could love someone that much. Just think that there's so much power in being young and stuff like that." – Justin Bieber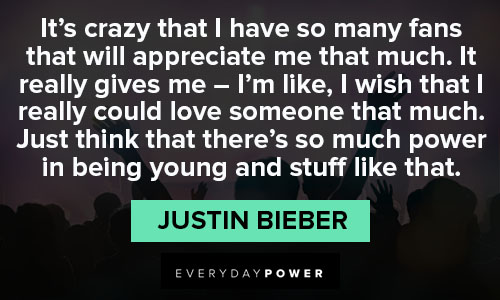 11. "I just get so happy when I think about the fact that I get to do what I love every day as a job." – Justin Bieber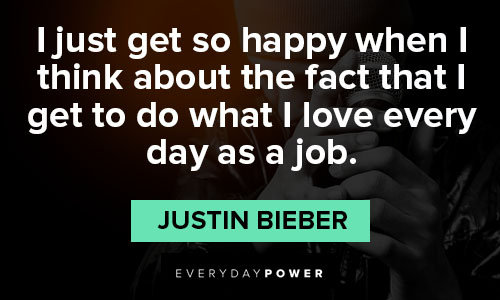 12. "Not everyone's going to like my music. People might not like my music because I'm just not their style of music that they like to listen to." – Justin Bieber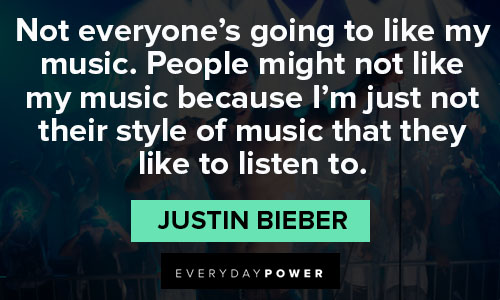 You will also enjoy our article on sling blade quotes.
Justin Bieber quotes about success
13. "People will tell you, you cannot live your dreams." – Justin Bieber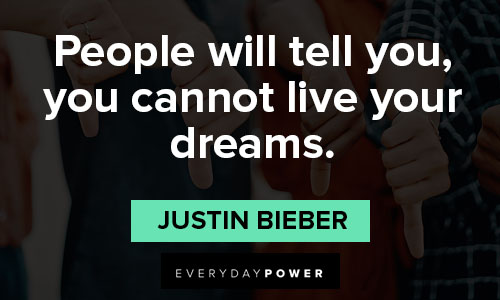 14. "The success I've achieved comes to me from God." – Justin Bieber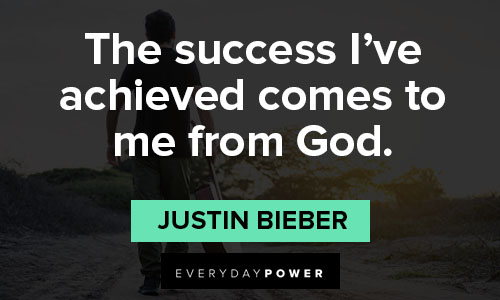 15. "Now that I'm on top, everyone wants to bring me down. Everyone's trying to tug at me and take my spot." – Justin Bieber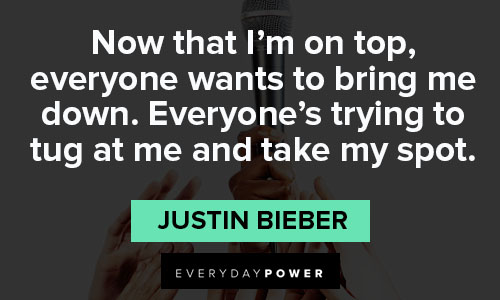 16. "If you don't dream big, then there's no use in dreaming. If you don't have faith, there's nothing worth believing." – Justin Bieber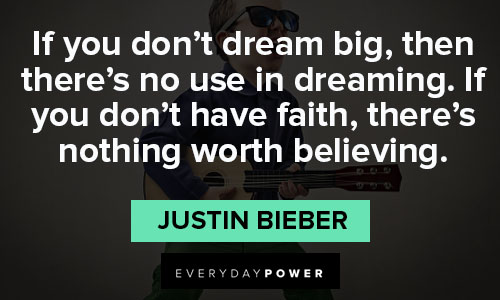 17. "Everybody just tries to be successful. Like, sure, it's good to be successful, but if you're working that hard? This is how I feel, I work so many hours a day, and I'm always working, I'm always traveling." – Justin Bieber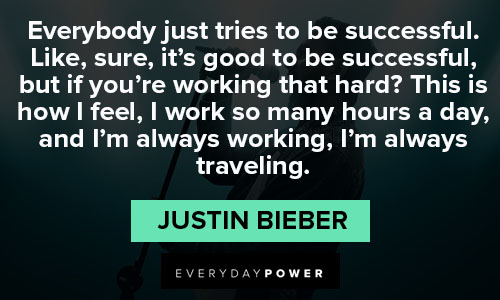 Also check out these Rick Ross quotes that show his many sides.
Inspirational Justin Bieber quotes
18. "Be humble, be grateful, give back, share, pay it forward, chase your dreams, go for it, and take a moment to remember where it is ALL from." – Justin Bieber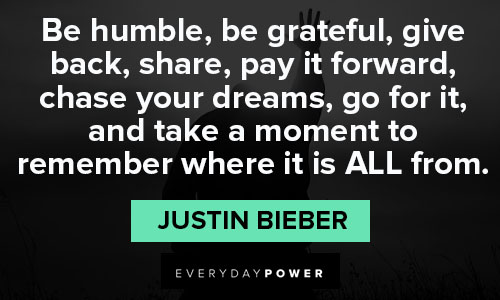 19. "If you start taking yourself more seriously than you do God then there's a problem." – Justin Bieber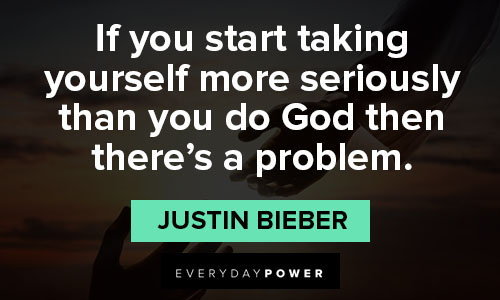 20. "To all the haters out there I wish you the best. You can't bring me down. I wake up every day grateful for the opportunity and grateful to the fans." – Justin Bieber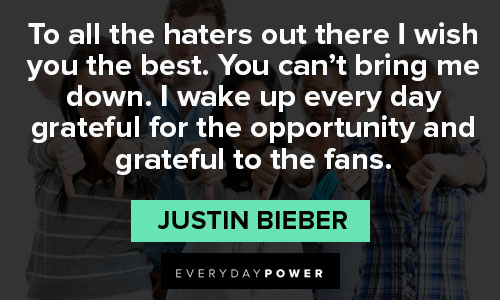 21. "When you've reached a certain point in your life, there are people out there waiting to see you fall. but rather than let gravity take you down, sometimes you have to take matters into your own hands and fly." – Justin Bieber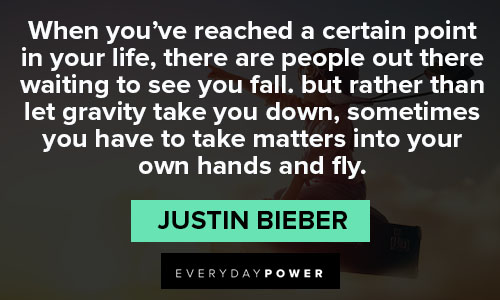 22. "I'm living proof that dreams do come true. Work hard. Pray. Believe." – Justin Bieber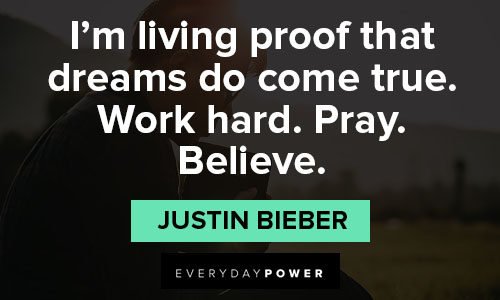 23. "Haters will say what they want, but their hate will never stop you from chasing your dream." – Justin Bieber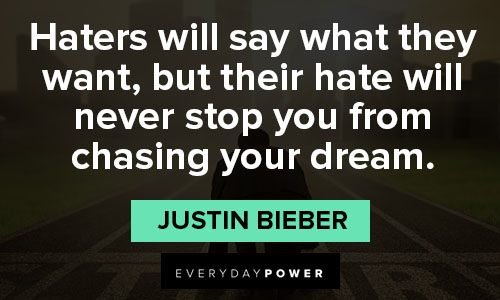 24. "Someone once told me to never dream. I said NEVER SAY NEVER!" – Justin Bieber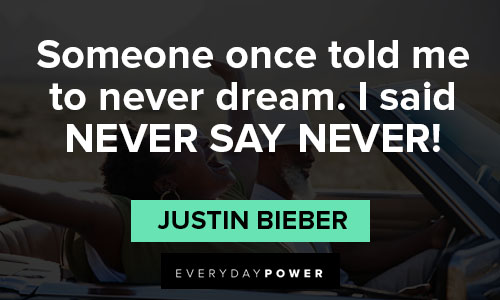 25. "When life pushes you down on your knees you're in the perfect position to pray." – Justin Bieber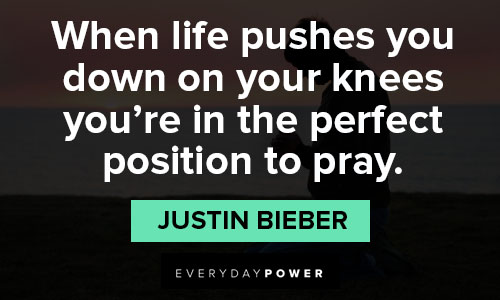 26. "You can't always get what you want. But, if you're lucky, you get what you need." – Justin Bieber
27. "I make mistakes growing up. I'm not perfect; I'm not a robot.'' – Justin Bieber
28. "Friends are the best to turn to when you're having a rough day." – Justin Bieber
29. "Are you curious about cutting off your finger? Do you want to know what that feels like? To me, taking drugs is the same type of thing. In the end, all that happens is you get hurt by it." – Justin Bieber
You will also enjoy our article on Gravity Falls quotes.
Justin Bieber quotes about his fans
30. "My fans will grow up with me." – Justin Bieber
31. "My fans are flawless. As long as you ride with me I will always be there for you." – Justin Bieber
32. "Without the Internet, I would have no fans and I wouldn't be in this business. I owe everything to the Internet and my fans." – Justin Bieber
33. "My fans are really loud but they are great. I've never liked someone so much to go up and scream that loud." – Justin Bieber
34. "My mom is my biggest fan. She's been a fan since I was a baby." – Justin Bieber
You might also like these Snoop Dogg quotes and lyrics that will remind you how to stay fly.
More Justin Bieber quotes
35. "I think it's important to make all women feel like they're princesses because every girl is a princess. I'm serious." – Justin Bieber
36. "I don't care if the girl is slim or fat, I just want the girl that makes me happy." – Justin Bieber
37. "It's cool when fans spend so much time making things for me. It means a lot." – Justin Bieber
38. "I don't understand why my fans ask for a hug, like, I don't mind, just come and hug me!" – Justin Bieber
39. "Change is uncomfortable. Write that down." – Justin Bieber
40. "My parents were very young when they had me. They were still growing up and learning themselves. They did the best they could, but my mom and dad split up when I was little… So that kind of made me stronger." – Justin Bieber
Which of these Justin Bieber quotes is your favorite?
There are a lot of lessons that we learn as we go through life.
When people achieve early fame they often seem to struggle with the responsibility and lifestyle that comes with it.
While Justin Beiber has had his fair share of negative attention in the spotlight, there's no denying that he has had incredible success in his life as well.
You can hear his appreciation for both music and his fans in the quotes above.
And there are even inspirational quotes that can help motivate you to achieve your dreams.
Whether you're a Justin Bieber fan or just a fan of music, you can enjoy and learn from the words above.
So, which of these Justin Bieber quotes and lyrics is your favorite?
Do you have any other quotes to add?
Let us know in the comment section below.