50 Wander Quotes That Will Inspire You to Let Go and Explore
Wander quotes remind us that there can be a purpose to wandering, seeing the world, and experiencing new people and customs.
For example, almost everyone has heard the quote, "Not all those who wander are lost."
It can be a beautiful thing to deliberately wander. However, as these wander quotes show, there are two sides to everything.
Tell us about a time you went wandering in the comment section below.
What are the benefits of reading these wandering quotes?
The definition of the word wander itself—is a thought or trip that seems to go nowhere or has no purpose.
An example of wandering is a walk a person takes without a destination in mind, making it seem like a useless endeavor or a waste of time.
Yet, just because a person might start a walk with no destination in mind does not mean they will not find a great purpose or a destination along the way!
When our minds wander, we lose focus of our thoughts and often the task at hand.
Research has been ongoing to answer whether mind-wandering is a good or bad thing.
Initially, it was seen as something that made us unhappy and, therefore, not in our best interest.
However, new research has determined that mind-wandering is a natural part of how our brains function.
In fact, thoughts wander about 50% of the time.
Would our brains spend so much time (and energy) wandering if it was not good for us?
These wandering quotes will:
help you create perfect captions for documenting your adventures
encourage you to be curious about the world around you
offer perspective on life and death
Keep reading through these wandering quotes to inspire you to take a journey without purpose or to better understand your wandering mind.
If you enjoy this article, check out our most popular quote article, a list of short inspirational quotes for daily motivation.
Browse our entire collection of inspirational quotes for more motivating ideas and concepts.
Wander quotes that make the perfect Instagram captions
Pare these quotes with a photo, and you will have the perfect Instagram post! Look and see which quotes you would turn into a social media post.
1. "Go where you feel most alive." — Unknown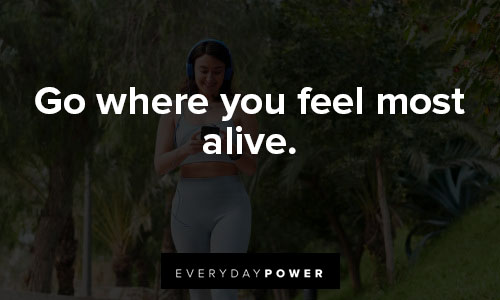 2. "How wild it was to let it be." — Cheryl Strayed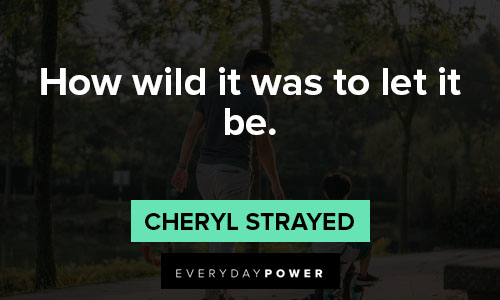 3. "Leave the road, take the trails." — Pythagoras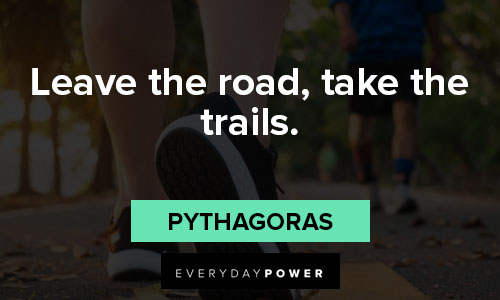 4. "Wander without purpose or reason." — Unknown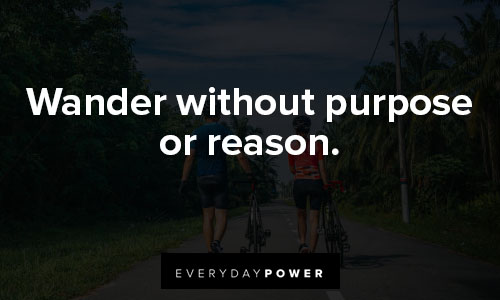 5. "Not all those who wander are lost." — J. R. R. Tolkien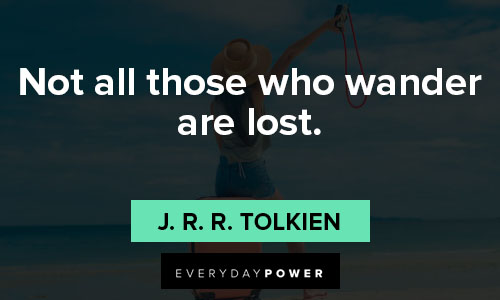 6. "Sometimes it takes a wrong turn to get you to the right place." — Mandy Hale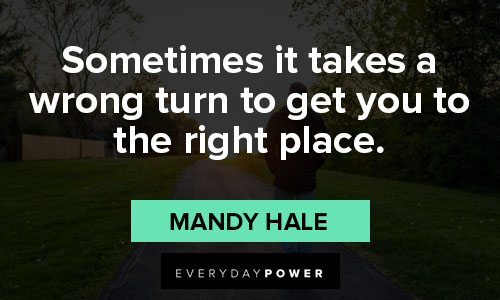 7. "Have we ever thought that being lost is our destination?" — Craig D. Lounsbrough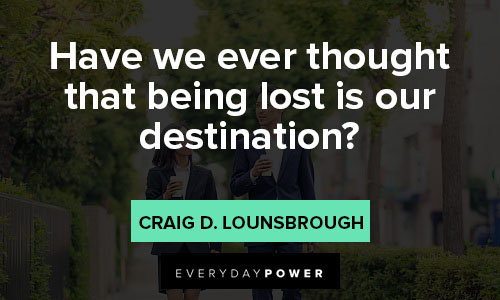 8. "Anyone who needs more than one suitcase is a tourist, not a traveler." — Ira Levin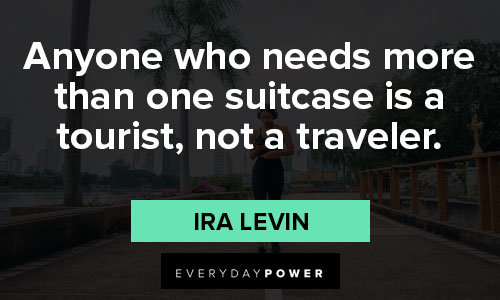 9. "It doesn't matter where you go in life, as long as you go to the beach." — Unknown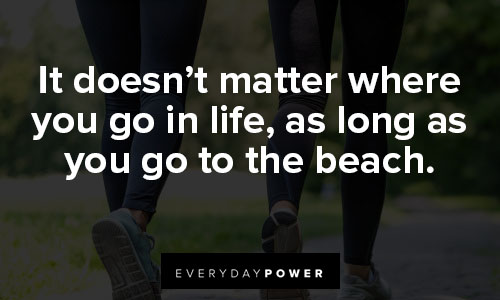 10. "I am much inclined to live from my rucksack, and let my trousers fray as they like." — Hermann Hesse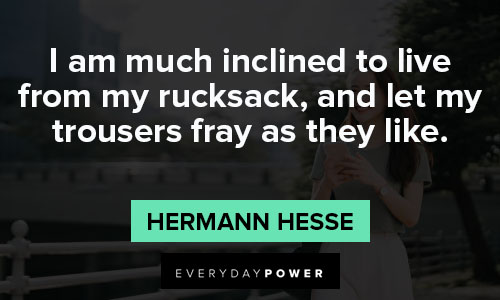 Wander quotes about the mind and curiosity
These wander quotes explore the curiosity of our minds. Look and see if any of these apply to you.
11. "Never let your mind tell your heart not to wander." — Unknown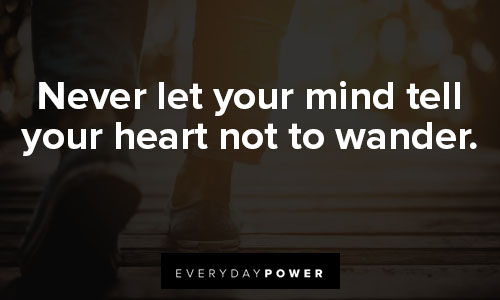 12. "I can just let my curiosity wander unleashed." — James C. Collins
13. "The mind can wander while still focusing on one task." — Herbert Benson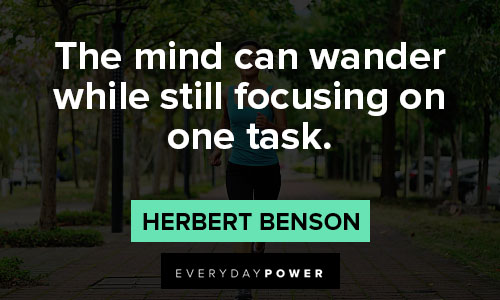 14. "I was trying to daydream, but my mind kept wandering." — Steven Wright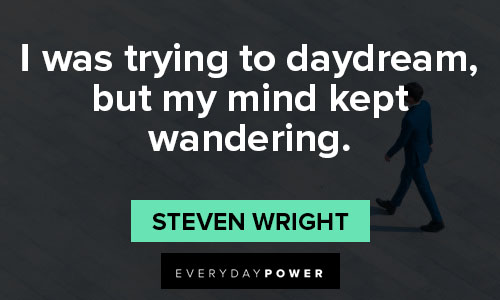 15. "I have a fear of letting my mind wander. I'm afraid it might not come back." — Jim Davis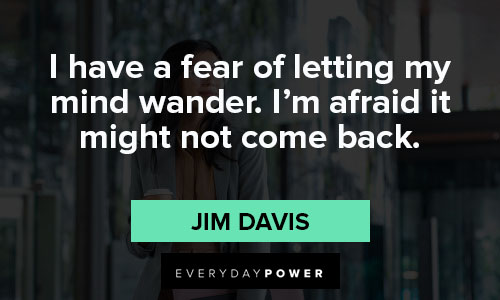 16. "We can realize, not that our mind is wandering, but that it was." ― Mokokoma Mokhonoana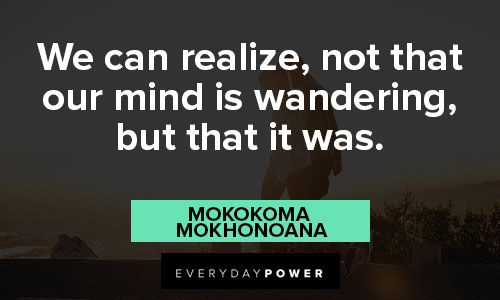 17. "The mind does some of its best wandering when the body's moving forward." — A.D. Aliwat, In Limbo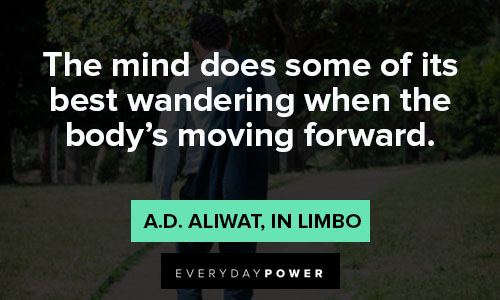 18. "Meditation stills the wandering mind and establishes us forever in a state of peace." — Swami Muktananda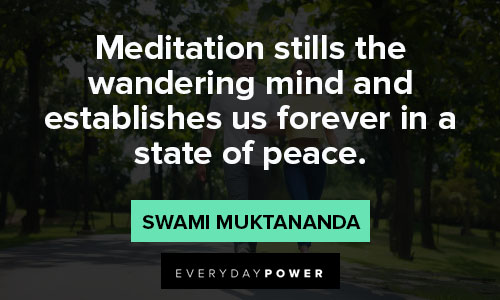 19. "To be able to walk out the door when you come home from a job and wander into the garden to do a bit of watering gives you time to be creative in your mind." — Mary Berry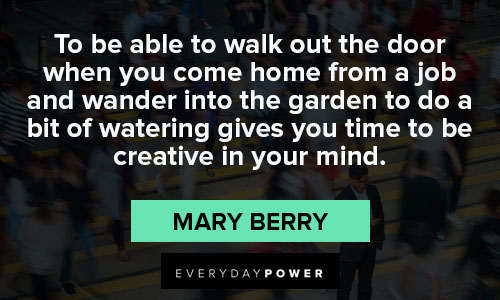 20. "When you procrastinate, you're more likely to let your mind wander. That gives you a better chance of stumbling onto the unusual and spotting unexpected patterns." — Adam Grant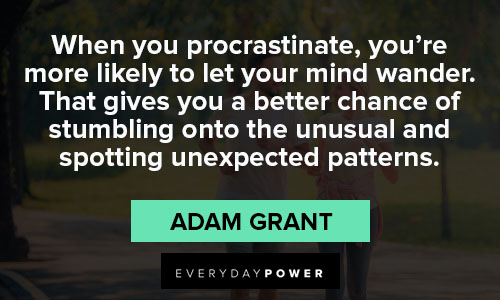 Wander quotes about life (and even death)
These quotes remind us not to wander through our lives right to death. Find out what matters to you and live a life of meaning.
21. "By the light of our insistent truths we wander into death." — Edmond Jabes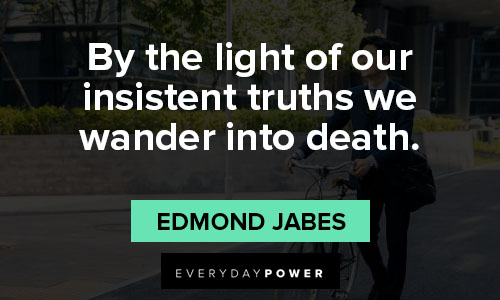 22. "Time is the deepest wilderness in which we wander." — Christopher Cokinos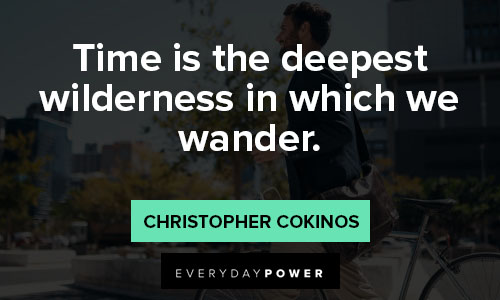 23. "Life has a special meaning for those who wander!" — Paul Sachudhanandam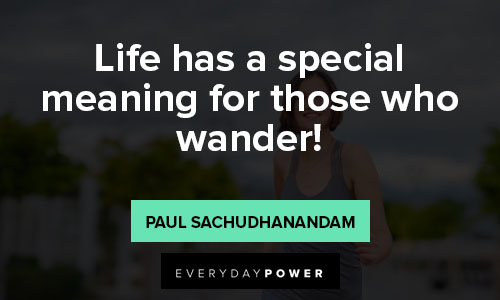 24. "Whenever I get fed up with life I love to go wandering in nature." — Andrea Arnold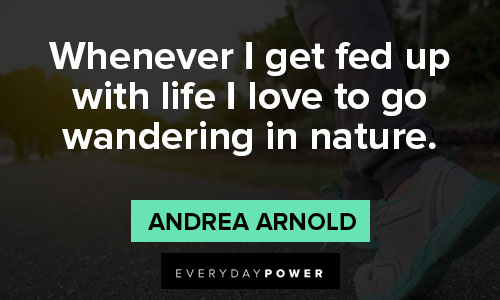 25. "Our life seems cursed to be a wiggle merely, and a wandering without end." — Annie Dillard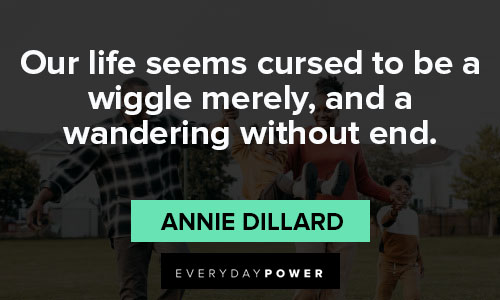 26. "I sing the joy of wandering and the pleasure of the wanderer's death." — Guillaume Apollinaire
27. "My life is like a stroll upon the beach, as near to the ocean's edge as I can go." — Henry David Thoreau
28. "I'll never stop wandering. And when the time comes to die, I'll find the wildest, loneliest, most desolate spot there is." — Everett Ruess
29. "The key to a wonderful life is to never stop wandering into wonder." — Suzy Kassem, Rise Up And Salute The Sun: The Writings Of Suzy Kassem
30. "Wander a whole summer if you can. Time will not be taken from the sum of life." — John Muir
What makes a wanderer quotes
Are you curious about what a wanderer is? Look at the quotes below to see what makes a wanderer.
31. "The wandering photographer sees the same show that everyone else sees. He, however, stops to watch it." — Edouard Boubat
32. "She was free in her wildness. She was a wanderess, a drop of free water." — Roman Payne, The Wanderess
33. "Tell me what you yearn for and I shall tell you who you are. We are what we reach for, the idealized image that drives our wandering." — James Hillman
34. "What is a Wanderess? Bound by no boundaries, contained by no countries, tamed by no time, she is the force of nature's course." — Roman Payne, The Wanderess
35. "A person does not grow from the ground like a vine or a tree, one is not part of a plot of land. Mankind has legs so it can wander." — Roman Payne, The Wanderess
36. "I have wandered all my life, and I have also traveled; the difference between the two being this, that we wander for distraction, but we travel for fulfillment." — Hilaire Belloc
37. "I am a free soul, singing my heart out by myself no matter where I go and I call strangers my friends because I learn things and find ways to fit them into my own world." — Charlotte Eriksson
38. "People who wander are nicer to be with. Movement militates against hoarding possessions and against bigotry, because you are constantly moving across boundaries and having to negotiate with people." — Robyn Davidson
39. "The center of all my enjoyments is the home wherein are my wife and children, and I have no wish to wander out from that home in pursuit of any pleasures that the world presents." — Lucius Quintus Cincinnatus Lamar II
40. "I've always been inspired by small details that make me wander. My mother would ask me, 'What are you looking at so intensely?' I would answer, 'Everything and nothing.'" — Mark Bradford
More wander quotes to offer some perspective
Why we wander is different for all of us. Check out these quotes for more perspective.
41. "I haven't been everywhere, but it's on my list." — Susan Sontag
42. "Wander into the center of the circle of wonder." — Hongzhi Zhengjue
43. "I am not a wandering slave, I am a woman of choice." — Lady Gaga
44. "Wandering seemed no more than the happiness of an anxious man." — Albert Camus
45. "The world is vast and meant for wandering. There is always somewhere else to go." — Nick Burd
46. "Forget not that the earth delights to feel your bare feet and the winds long to play with your hair." — Kahlil Gibran
47. "Indeed it is better to postpone, lest either we complete too little by hurrying, or wander too long in completing it." — Tertullian
48. "I have never known what it feels like to wake up in the morning full of the joys of spring, and wander through the day feeling capable of coping." — Sarah Lancashire
49. "It is quite cruel that a poet cannot wander through his regions of enchantment without having a critic, forever, like the old man of the sea, upon his back." — Marianne Moore
50. "No one can live without relationship. You may withdraw into the mountains, become a monk, a sannyasi, wander off into the desert by yourself, but you are related." — Jiddu Krishnamurti
Should you let your mind wander?
Researchers now believe that mind-wandering is an important part of our cognitive processes.
Letting your mind wander can bring forth new ideas and perspectives.
However, there are two sides to this debate.
Matt Killingsworth's Track Your Happiness project concluded that mind-wandering makes us unhappy.
Although data from his research also concluded that our minds wander 47% of the time, it also seemed that when people let their minds wander, their thoughts were usually negative.
Often, this can lead to rumination.
From a mental health standpoint, rumination is one of the co-occurring symptoms found in anxiety disorders and depression.
It is often a primary symptom of Obsessive-compulsive Disorder (OCD) and Generalized Anxiety Disorder (GAD).
Ultimately, whether you wander around the city on a cool evening or let your mind wander is up to you!
Some of our best experiences and adventures begin from an urge to wander.
Many creators and inventors get their best ideas when they allow their minds to wander.
However, it is undeniable that mind-wandering and rumination can make people unhappy.
After reading the wander quotes, which side of the argument do you stand on?
Share with your friends and leave your thoughts about wandering with us in the comment section below.