Wilbur Soot Quotes from the Minecraft Legend
For the Gamer in you, check out these Wilbur Soot Quotes!
Wilbur Soot is the professional name of Wil Gold.
While still in his 20s, he has already become famous as a YouTuber, Twitch streamer, and musician.
In 2017, along with a group of friends, he started SootHouse, a comedy YouTube channel.
Two years later, he started the Wilbur Soot channel, which now has over 6 million subscribers and features mainly video game content, especially Minecraft.
In 2020, Soot joined the private survival multiplayer server for Minecraft, known as Dream SMP.
He created a nation called L'Manberg, leading him to become one of the server's lead writers.
He has also competed in Minecraft tournaments over the last few years.
Check out the Wilbur Soot quotes below to learn more about this high achieving young man.
Check out our most popular quote article, a list of short inspirational quotes for daily inspiration.
Check out our inspirational quotes category page for more inspirational life quotes.
Gamer Wilbur Soot quotes
Wilbur Soot is a great gamer. Check out some of his quotes below.
1. "I'm a 24-year-old man pretending to be a high-pitched ghost on a Minecraft server!" – Wilbur Soot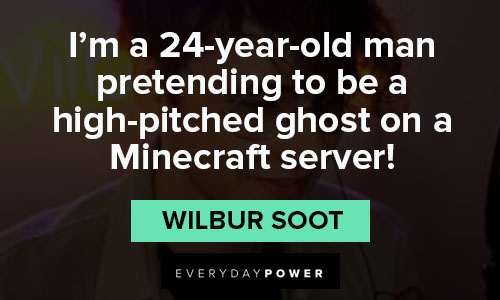 You will also enjoy our article on gamer quotes.
2. "Do you want to do competitive solitaire again?" – Wilbur Soot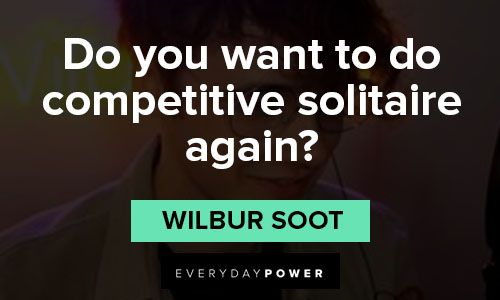 3. "Have you not noticed?! Everyone who's claiming to be on our side they're lying to us! Tubbo?! He's lying to you, man! He- He would drop us at the SECOND he realizes we're not in the lead anymore!" – Wilbur Soot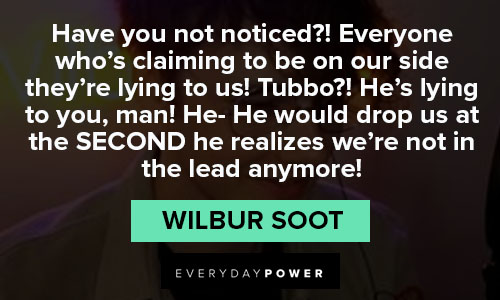 You will also enjoy our article on Emma Chamberlain quotes.
4. "There's been so many great artists throughout history; there's been — Picasso, you got Van Gogh, you got Wilbur Soot, you know. And they all went through a crippling depression." – Wilbur Soot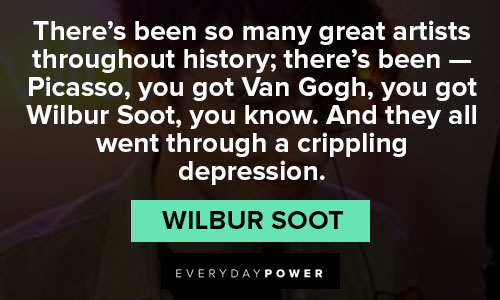 5. "The roads are my home as horizon's my target/ If I keep on moving, never lose sight of it/ Treating my memory of you like a fire, let it/ Burn out, don't fight it and try to move on." – Wilbur Soot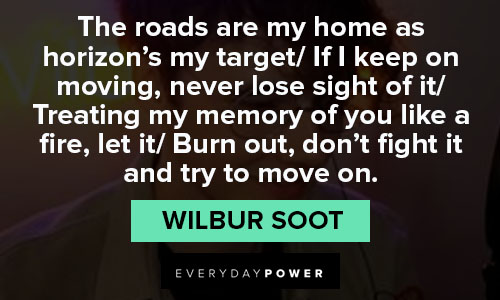 6. "You're going to kill Casper the friendly ghost!" – Wilbur Soot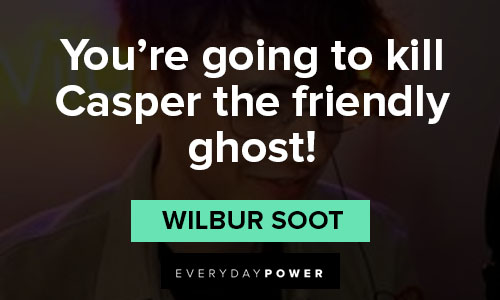 7. "Who's my little champion?" – Wilbur Soot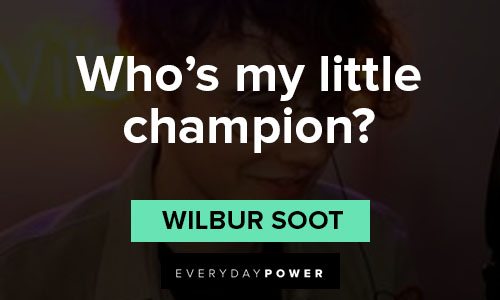 8. "Fundy is in desperate need of a father figure. Certainly. And I owe it to myself to make up for what I did. I need to make up for what I did." – Wilbur Soot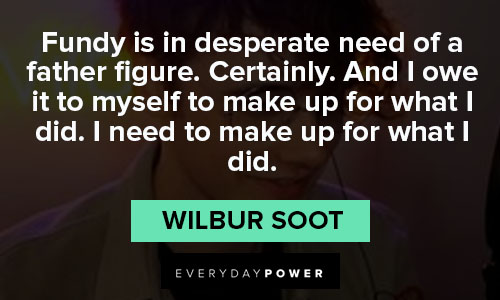 9. "If it pleases the court, I would like to say that my opponent is talking shit." – Wilbur Soot
10. "A villain is just a hero you haven't convinced yet." – Wilbur Soot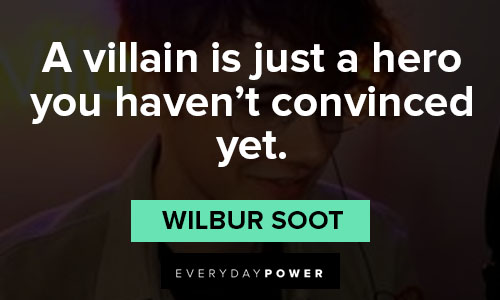 Wilbur Soot quotes About Going All In
If you are going to go for something, then really go for it. Take a look at the quotes below.
11. "There is so much more to the world… You can go and explore it. It's all yours." – Wilbur Soot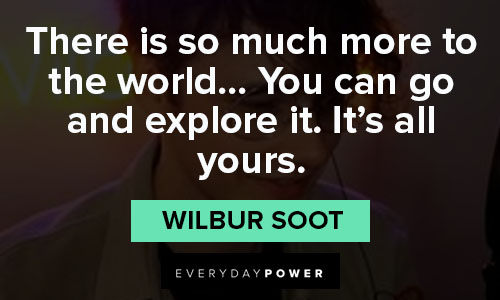 12. "History is written by the winners." – Wilbur Soot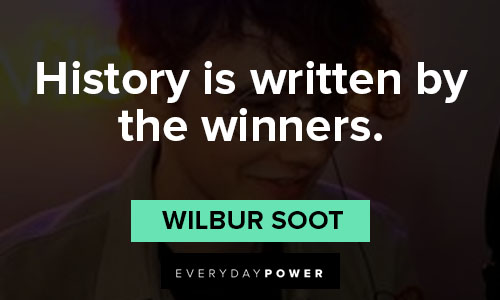 13. "My unfinished symphony, forever unfinished." – Wilbur Soot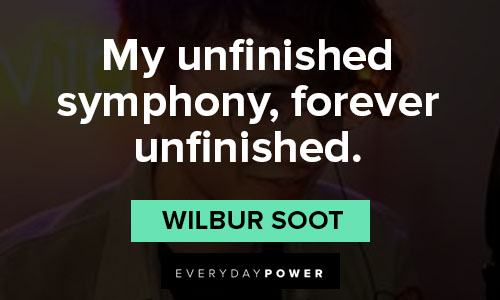 14. "I planted the seeds of peace, but I'm the one who pays the price of war." – Wilbur Soot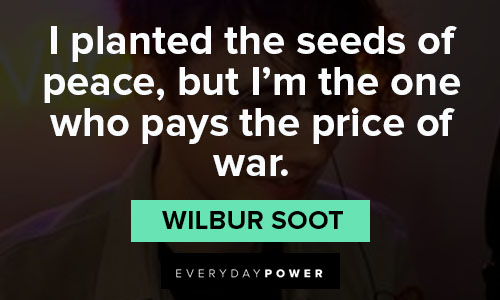 15. "Don't get me wrong; I'm super dead." – Wilbur Soot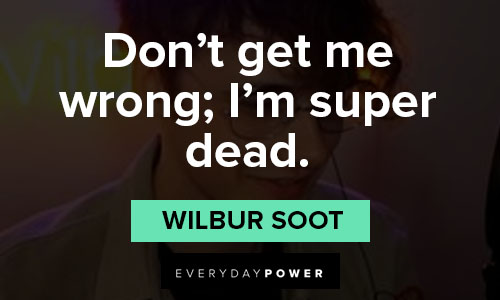 16. "In order to insult me, I must first value your opinion." – Wilbur Soot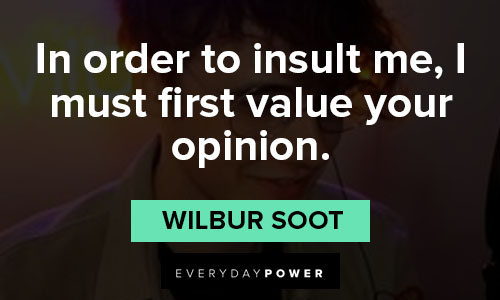 17. "I know what I'm like.. and that's the issue." – Wilbur Soot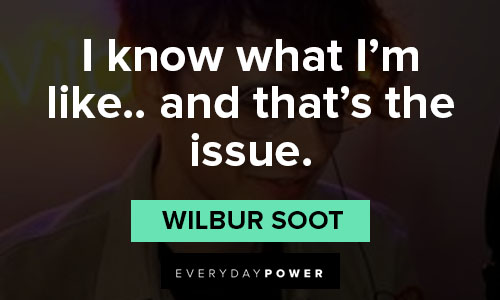 18. "Most of your issues in life are due to the fact you can identify problems but lack energy and devotion to fix them; and so instead, you take the easy route so as to avoid the sense that you may fail." – Wilbur Soot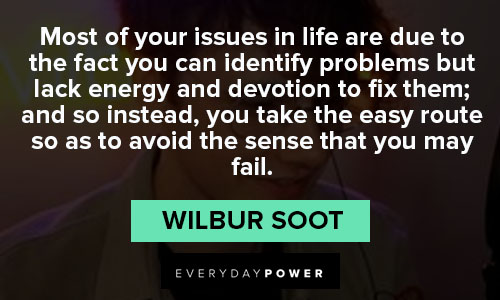 19. "Look at my son! Tearing down the walls I built to keep him safe!" – Wilbur Soot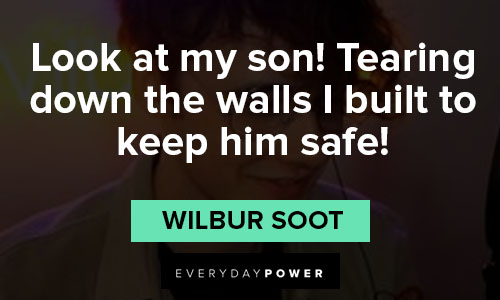 20. "I'm aware of that… but sometimes, in order to feel comfortable and safe, you have to be ready to give up the things that you're worried you might lose." – Wilbur Soot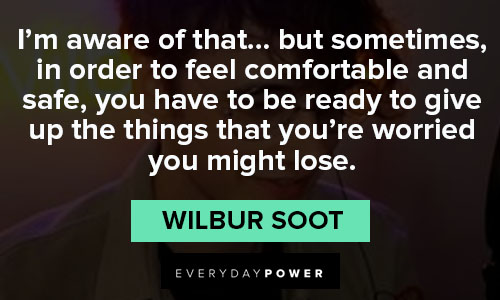 Did The Wilbur Soot Quotes Change How You Think About Gamers?
Outside of his work as Wilbur Soot, Will Gold began a music career in 2018.
He performed solo until 2021, when he formed The Rock band known as Lovejoy.
In the spring of 2022, the band performed under a different name—Lampwith Sock.
Gold has two extended plays and seven singles as part of his solo career.
Lovejoy has two extended plays, one single, and eleven additional songs that have made the charts.
He has also been working on co-writing a book with Tom Simons, scheduled for release in October 2022.
The book is titled TommyInnit Says… The Quote Book and all sales will be donated to the Sarcoma Foundation of America.
You can see from the Wilbur Soot quotes that the young man is successful across multiple platforms.
Does that inspire you to pursue your passions?
Post for your friends to see and share comments below.