5 Writing Tips from Successful Bloggers To Motivate You
When writer's block hits, it hits hard, but these writing tips can help you overcome it!
Share your favorite writing tip with us in the comment section below.
It feels like you'll never be able to think creatively again and that everything you write belongs in the trash bin.
If you start to feel like this, don't let it derail you.
Writing is hard work – but you can't let yourself be overcome by difficulties.
Feel like you can't make it out of that slump?
Here are some excellent writing tips from experienced bloggers that can propel you forward.
Check out more inspirational quotes on our motivational quotes category page.
Writing tips from successful bloggers to motivate and inspire you
1) Neil Patel: "Write What You Love"
Internet marketing guru and blogger Neil Patel has his work cut out for him.
His biggest advice to those looking to write a successful, monetizing blog is to write about what you love. He says:
"You need to enjoy your subject matter. Nobody is forcing you to pick a topic that you loathe. Pick something that energizes you, excites you, and keeps you going! You have to love your topic as a whole. That's the first ingredient to having a successful blog."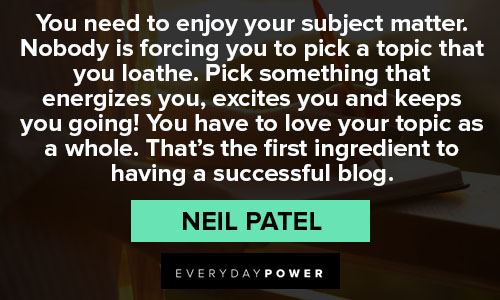 Like Julie Andrews sang about in The Sound of Music, if you find yourself struggling to write, just think about some of your favorite things.
Then, write about them!
It'll be easier to do when you have a passion for the subject.
2) Mike Butcher: "Just Have a Conversation"
Bloggers have a maddening knack for psyching themselves out.
It's easy to think about how big of a task it is to write the "perfect" blog post (which doesn't actually exist).
You spend a lot of time thinking about keywords, trending topics, and other metrics that will make your blog more successful.
But Mike Butcher, 'Editor at Large' of TechCrunch, says that you shouldn't worry nearly as much about the nitty-gritty details as you should about getting people talking.
This is one of these quotes about writing:
"Blogging is a conversation, not a code. Once you start that conversation, the rest will take off from there."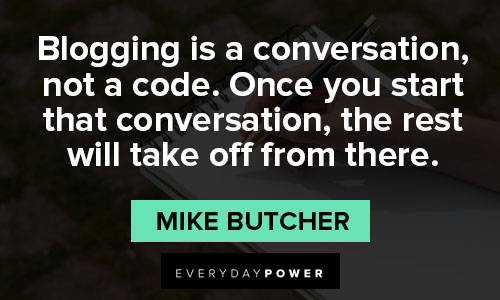 3) Jerry Shoemaker: "Everybody Fails"
So you wrote a boring blog post and only a handful of your readers liked it. Everyone does that.
You can't have wild success without a few bad turns.
While you're always shooting for that incredible viral article, you shouldn't give up when it doesn't turn out just right.
Jerry Shoemaker, the genius behind Shoemoney.com, says, "I think I am about 5 for 500 when it comes to successful ideas vs. flops."
You're probably in the same boat, and it's totally okay.
You can still build a successful blog with some okay articles sprinkled throughout.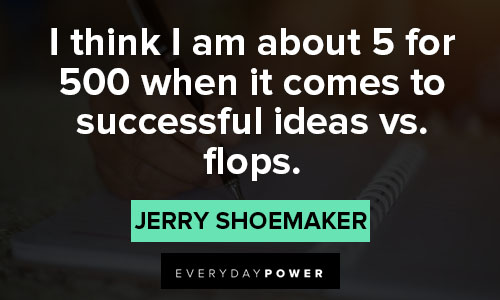 4) Lee Odden: "Invest in Your Readers"
This is definitely one of the quotes about writing to keep in mind.
The next time you're really struggling to come up with good content, think about your readers.
What are they talking about? What topics have they particularly enjoyed in the past?
Sometimes, you have a hard time coming up with blog topics because you're focusing on yourself rather than the recipients.
"A blog is only as interesting as the interest shown in others," says Lee Odden of the successful marketing and blogging platform TopRank Blog.
Think about how you show interest in your own readers and use that to put a deeper investment into what you're writing.
You can even ask your followers about what they'd like to read next.
By pulling from their responses, you can show genuine faith and trust in them while also delivering highly valuable content.
There's no better way to think of topics when you're in a rut.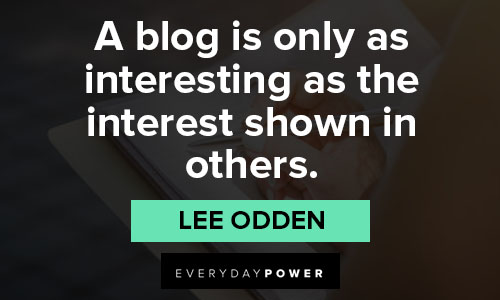 5) Michael Conniff: "Shrug Off the Label"
For most people, it's really hard to be creative when you're under the pressure of running your own blog.
All the metrics you need to measure, the number of followers you have, and the quality of your posts can really stress you out.
That's when it's time to shake off the limitations and focus on making art.
Famous author Michael Conniff believes that labels shouldn't exist for those in the blogging sphere.
"Blogs are whatever we make them. Defining 'blog' is a fool's errand."
In other words, don't let the pressures that surround you define your writing and your voice.
It's easy to become stifled if you get overwhelmed by things that don't matter.
Look at blogging as a free-form art with no rules and see where your creativity can take you.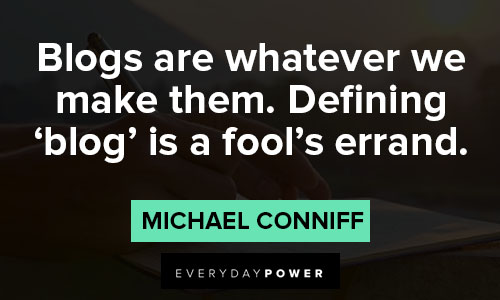 Writing quotes to ignite your writing motivation
6. "You fail only if you stop writing." — Ray Bradbury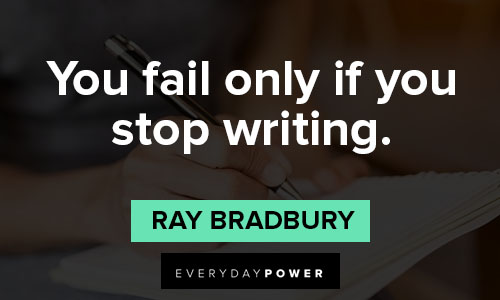 7. "Some editors are failed writers, but so are most writers." — T.S. Eliot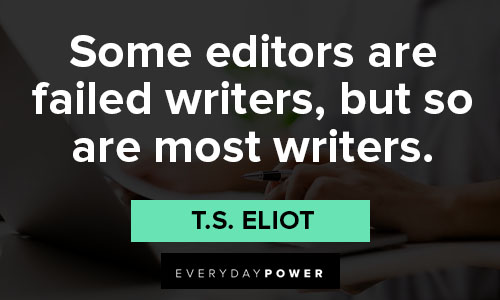 8. "There are three rules for writing a novel. Unfortunately, no one knows what they are." — Somerset Maugham
9. "You can make anything by writing." — C.S. Lewis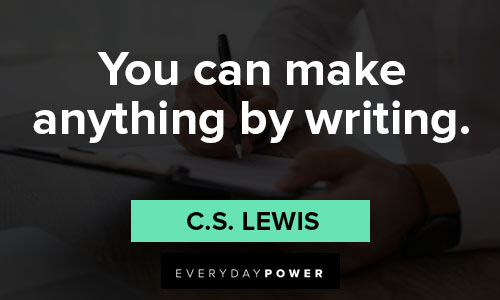 10. "You may not always write well, but you can edit a bad page. You can't edit a blank page." — Jodi Picoult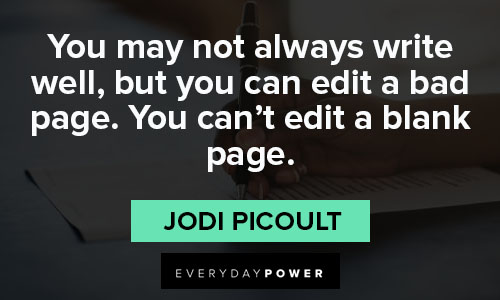 11. "If the book is true, it will find an audience that is meant to read it." — Wally Lamb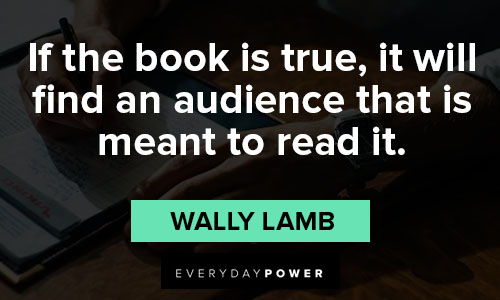 12. "Write. Rewrite. When not writing or rewriting, read. I know of no shortcuts." — Larry L. King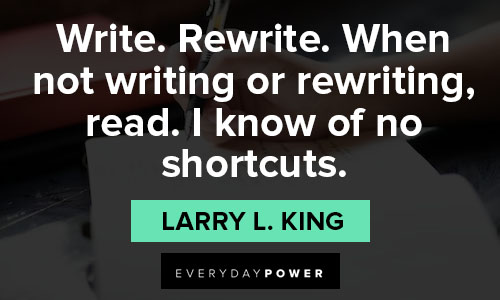 13. "A professional writer is an amateur who didn't quit." — Richard Bach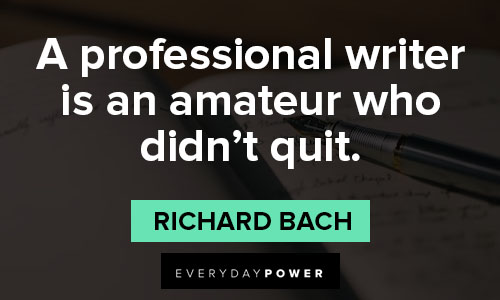 14. "Good writing is rewriting." — Truman Capote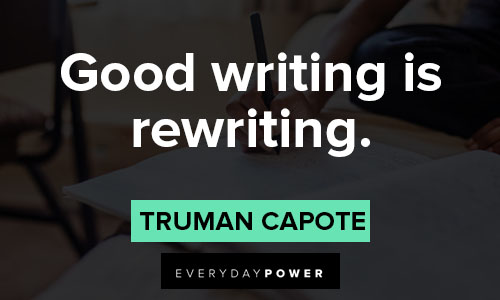 15. "I write to discover what I know." — Flannery O'Connor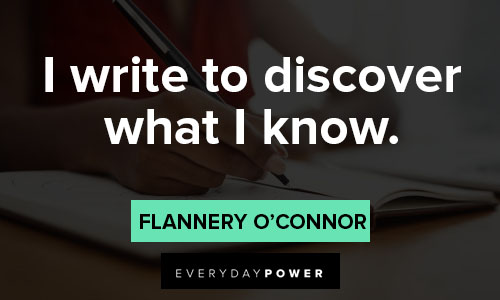 Whenever writer's block hits you again, just remember these wonderful quotes about writing, and you'll be crafting masterpieces soon enough.
Check out these related lifestyle articles:
Make Things Happen Starting Today
Wondering why some people can make things happen and others can't? Know the other things you can do to start becoming more productive today.
14 Steps To Find Your True Calling
Uncover the 14 essential steps to help you find your true calling and embark on a fulfilling journey of self-discovery with this empowering article.
How To Increase Your Dedication To Work That You Love
Increasing your dedication to work can help you advance your career, improve your financial outlook, and help you achieve goals.
3 Ways Brainstorming Can Help You Plan Out Your Future
Unlock your creative potential with these dynamic brainstorming exercises for a brighter future. Explore innovative techniques and enhance your planning skills.
Check out these related quote articles:
Journal Quotes that Make You Want to Write
Writing your thoughts is powerful in many ways, as these journal quotes show.
Ernest Hemingway Quotes to Inspire Writers
Embark on a literary journey with Ernest Hemingway's inspiring quotes, delving into the profound experiences of a writer's life, filled with both challenges and joys.
Agatha Christie Quotes From the Famous Writer Known for Her Detective Novels
If you enjoy reading a detective novel or murder mystery, then you will love these Agatha Christie quotes!
Creativity Quotes About Expressing Your Real Self
These creativity quotes from artists, writers, musicians, and superstars will inspire you to tap into your own creative energy.
Motivational January Quotes to Elevate Your New Year
January represents a fresh start and a new beginning. As the first month of the year, it offers the chance to set goals, reflect on the past year, and look ahead with optimism.