50 Young Thug Quotes Showing His Thoughts on Music and Life
There are many Young Thug quotes that are worth sharing online.
As one of the most influential rappers of his time, the 29-year-old singer and songwriter has been a major personality in the music industry, thanks to his innate talent.
Born in Atlanta, Young Thug started small in his career.
His rapper skills were discovered by Gucci Mane and eventually led to his signing of a contract with the label '1017 Records."
He has amassed many fans worldwide, especially the youth, for his relatable lyrics.
Aside from music, Young Thug is also a fashion icon.
He has worked with many luxury brands such as Calvin Klein and GQ.
This proves that Young Thug's talent goes beyond the rapping world, inspiring many other people his age.
Below are 50 Young Thug quotes you might want to read on.
Don't forget to also check out these Moneybagg Yo quotes & lyrics.
If you like this article, we suggest you explore our most popular quotes article, a list of short inspirational quotes for daily encouragement.
Read more related content on our inspirational quotes category page.
Best Young Thug Quotes About Fellow Rappers
1. "Gucci Mane is my brother, Birdman also, we're working together but it is a form of brotherhood. We're friends but there is no need to contract. In a sense, I'm signed on their labels, but there is no lawyer, no contract." – Young Thug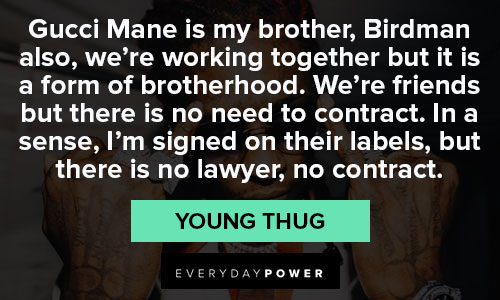 You will also enjoy our article on Lil Wayne quotes.
2. "I spend more time with Gucci Mane or Birdman than 300, but all this is just family. Who cares about contracts?" – Young Thug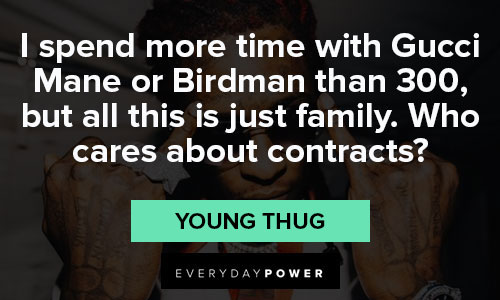 3. "It's a pretty crazy thing in which I tried to make songs, real songs, not the quick stuff like on tape. A dose of Kendrick Lamar, a dose of J. Cole… because it's got to be an album that goes in the club." – Young Thug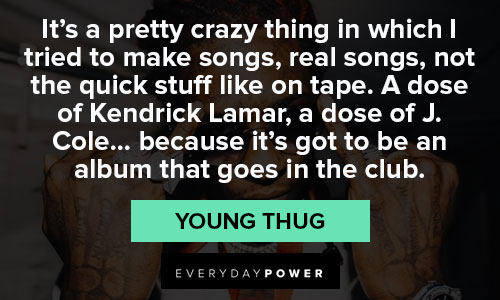 4. "I am always with London On Da Track, Wheezy, 808 Mafia Mike Will Made It, Ricky Racks." – Young Thug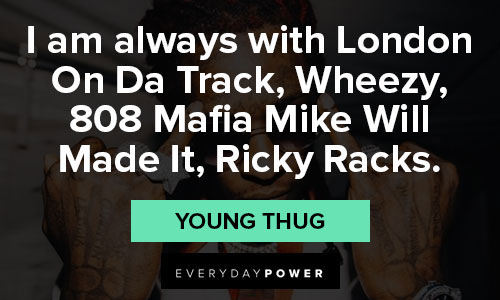 5. "I'm pretty sure JAY Z don't wanna rap right now." – Young Thug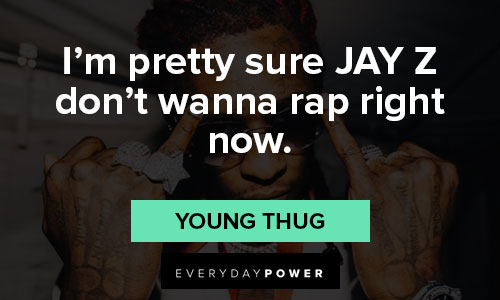 6. I always paid attention to Lil Wayne — close attention. He's my idol. He's still my idol." – Young Thug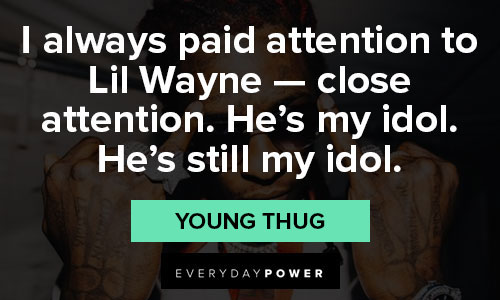 7. I only listen to Lil Wayne." – Young Thug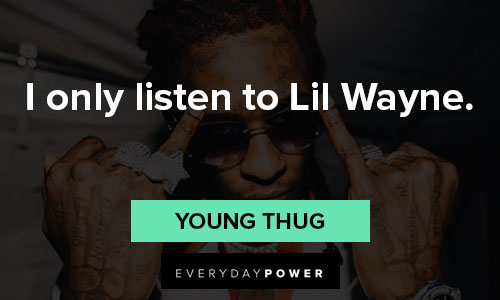 8. "If you're 30, 40 years old, you're not getting listened to by minors." – Young Thug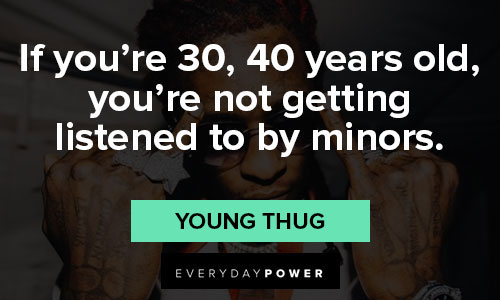 9. "Like, Jay Z has some of the sickest lyrics ever, but I would never buy his CD, just because of my age and because of his age. By the time I turn that old, I ain't gonna be doing what he's doing." – Young Thug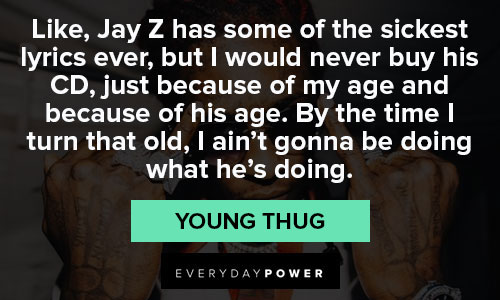 10. "It was Kanye West who spoke, and then we met and recorded some songs. After, you know what it is: we all bump like crazy." – Young Thug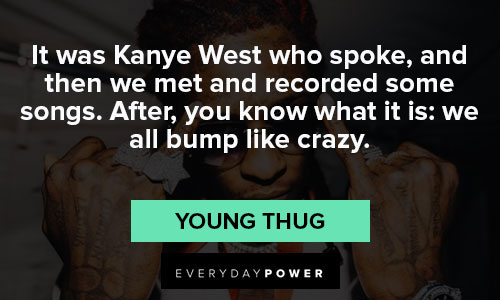 11. "I feel close to Kanye West. We're friends, this is not just a working relationship." – Young Thug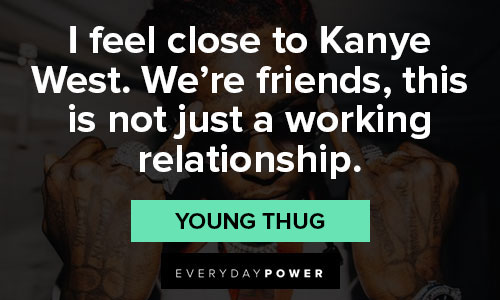 Young Thug Quotes on Rapping and Music
12. "You must not worry about leaks or pieces stolen on your computer. Just make songs, you gotta make music, keep stuff out. You may not know rap, but that's how it works." – Young Thug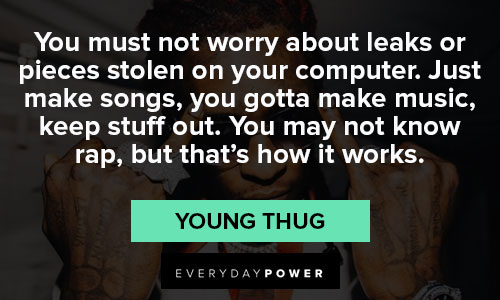 13. "I always knew I could rap, and in a sense, I always rapped. And I've always behaved like a rapper. But I started to take it seriously when I recorded with the people of Brick when I started to receive some money." – Young Thug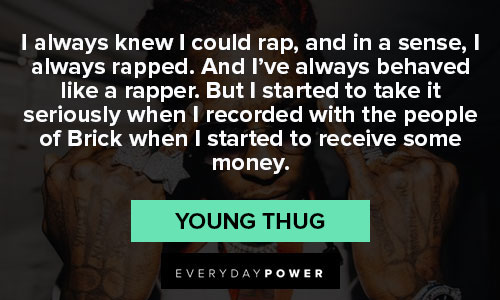 14. "I must have in stock 3000 songs you've never heard." – Young Thug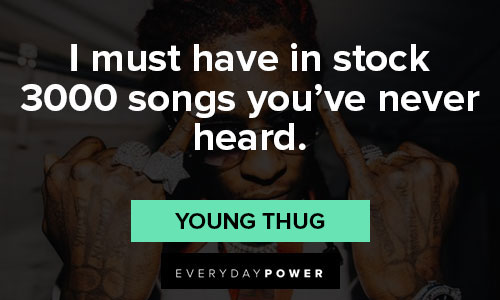 15. "The best way to use the auto-tune is not to! And that's what I do: I do not use auto-tune!." – Young Thug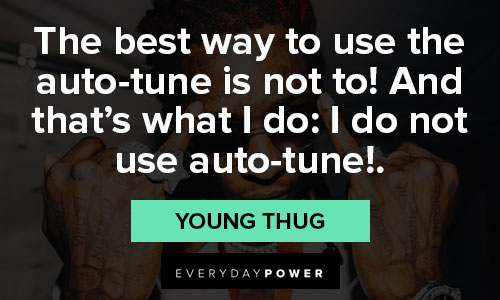 16. "A mixtape is for the street, it's something you do without necessarily thinking about it because you have to stay in the game. It's like writing an e-mail saying hello to your friends." – Young Thug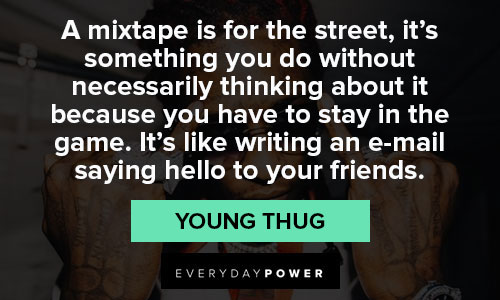 17. "I do not always listen again but if something strikes me, I exploit it." – Young Thug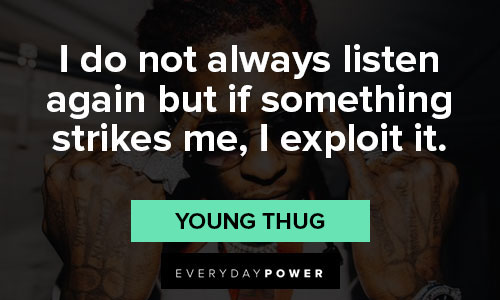 18. "I know that everybody listens to me, but only my true fans will go and buy my album." – Young Thug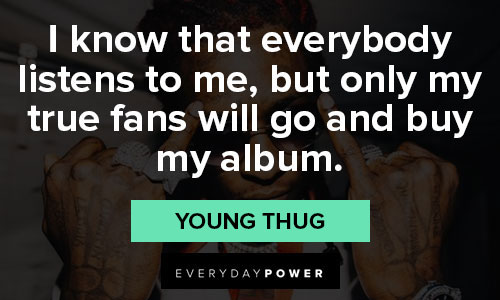 19. "I repeat it until it works. It is important to record, otherwise, you lose ideas. That's why I never stay away from the studio, I always have something to ask." – Young Thug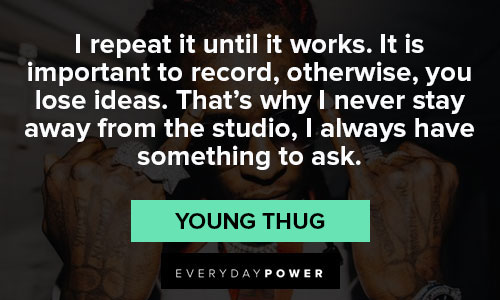 20. "This is where the guys who copy me are planted: I do not use auto-tune, I sing. That's my advice!" – Young Thug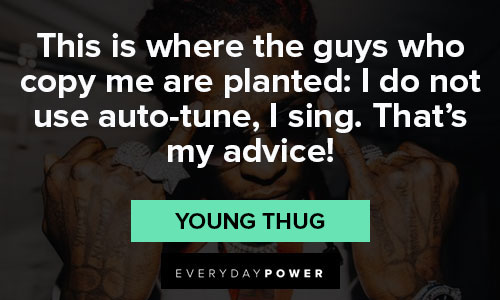 21. "This is the industry that wants music, the rap industry. You have to be on deck all the time, but you do not have the time to do the album. It is an energy; it must be present in everyday life." – Young Thug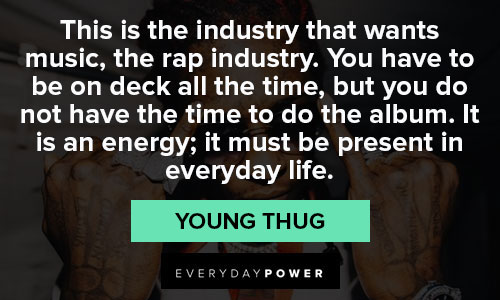 22. "An album is a project with which you have to hit hard." – Young Thug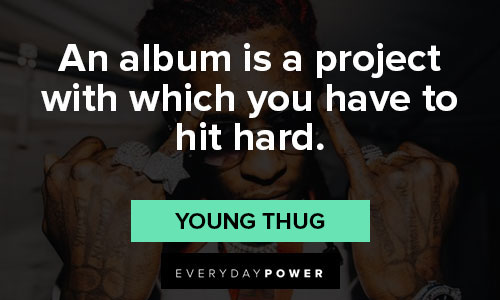 23. "I know I have this image but in reality, if you take all my records, I had to use five or six tracks." – Young Thug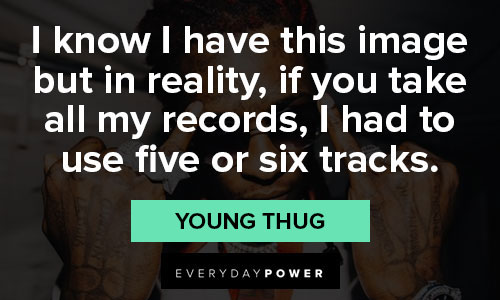 24. "I never write. Never! I do not even remember if I can write." – Young Thug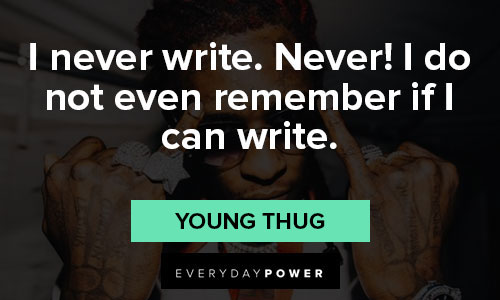 25. "I'm signed to Atlantic through 300 Entertainment Lyor Cohen's label. That is my only contractual relationship." – Young Thug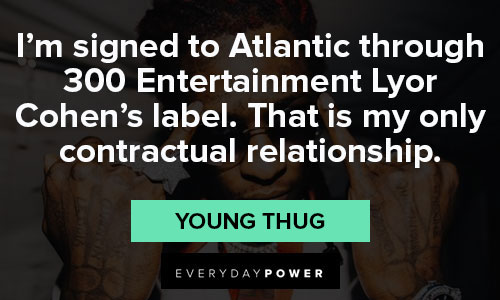 26. "Anyone can rap if you've got brains. So I just went with it." – Young Thug
27. "I don't want to be 50 years old and rapping, man. I'm pretty sure nobody wants to do that. Young Thug." – Young Thug
Young Thug Quotes About Family
28. "I don't want my kids saying, 'My dad was a gangster, so I need to be a gangster. I would rather mine say, 'My dad was a stunna, so I need to be a stunna." – Young Thug
29. "My dad wanted me to play football so bad, he took me to Washington High School on the west side of Atlanta because they were number one. They never lost." – Young Thug
30. "I don't ever want to be like a peasant. I want to always be all right. But motivation is fans — not your kids, your mum, none of that. All of that matters, but number one is your fans." – Young Thug
31. "My dad wouldn't buy me tight pants. I had to get my own money to buy them." – Young Thug
32. "I ain't want my kids to grow up and call me Thug. I don't want anybody to kind of look at me like that." – Young Thug
Young Thug Quotes about Life
33. "I know, every time I get somewhere, it'll be strange. But if I understand correctly, I also have fans here and it reassures me." – Young Thug
34. "For a long time, I heard rap without paying attention, but it is still a way of life, even when you're a kid." – Young Thug
35. "I'm the type of person to put myself in everybody else's shoes." – Young Thug
36. "It was stressful to live as a child in a Sylvian Hills. It's always been complicated, honestly… I do not really want to tell you, actually. It bothers me that you want me to tell this." – Young Thug
37. "The same image that I have of all the countries where I am supposed to go: it's far, it's different, it will be necessarily complicated … It's another part of the world for me coming from the United States." – Young Thug
38. "When you see them be successful, however small, you say to yourself, wow. And everything becomes possible. Never denigrate, to say we will not succeed." – Young Thug
39. "When it comes to swag, there's no gender involved." – Young Thug
40. "We need money. We need hits. Hits bring money, money brings power, power brings fame, fame change the game." – Young Thug
41. "All those who came out of my neighborhood before me. Beyond those you see on TV, the most important people are those who are close to you because they share the same reality." – Young Thug
More Young Thug Quotes and Captions
42. "I just put anything on my back. I take what I have on hand." – Young Thug
43. "I like everything that people say. No matter what they say. You gay, you a punk. You got a nice girlfriend, you're ugly, you can't rap, you're the hardest." – Young Thug
44. "I'm the type of person to put myself in everybody else's shoes." – Young Thug
45. "I hope to be like Bill Gates, bro. With all the money in the world." – Young Thug
46. "I feel like the phone was in my way. So I got rid of the phone to focus." – Young Thug
47. "You have to be yourself." – Young Thug
48. "I feel like I started a lot of things. [But] I don't try to downplay nobody career. I ain't make they career, I just made a lot of people not be scared to be them. I just like to see people do what they want to do." – Young Thug
49. "Atlanta is the number one place to live. You live better, you eat better, the rides are better, vehicles are better deals. It's better people. More mean people, but at my level you want it to be about business, so it's perfect for me." – Young Thug
50. "When I was in high school, I had a gambling problem." – Young Thug
What did you learn from these Young Thug quotes?
If you look into Young Thug's life story, you will be inspired by how he started.
Young Thug had a troubled past.
He was in juvenile prison for four years when he was a teenager, something that stemmed from various fights and encounters.
Despite this, his experience has molded and inspired him to make songs that reflect his life.
These also mirror other people's experiences, making him a relatable personality.
His story attests that one's future should not be defined by his past experiences.
Rather, this just makes him stronger and tougher.
All these Young Thug quotes and lyrics can be inspiring and motivating words to keep you going.
That is why they are being shared by many.
Do you have any other favorite quotes to add?
Let us know in the comment section below.